PLAYING BY THE BOOK
Faced with a tight timeframe to shoot Heartstopper's second season, cinematographer Simona Susnea reveals the creative and technical processes that helped her beat the clock when capturing Charlie and Nick's cross-Channel adventure, while paying homage to its graphic novel origins.  
Navigating the ups and downs of relationships while dealing with the pressures of school and family life: being a teenager is far from simple, as LGBTQ+ drama Heartstopper reminds us. Returning to Netflix after a smash-hit first season, the streamer's adaptation of Alice Oseman's bestselling graphic novel follows its young cast – led by lovebirds Charlie (Joe Locke) and Nick (Kit Connor) – as they explore the world beyond the school gates on a trip to Paris.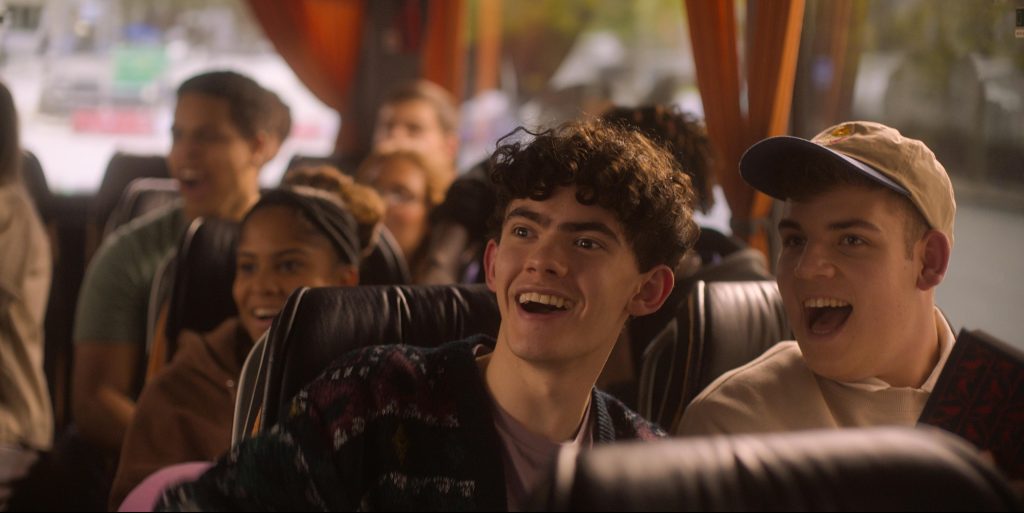 Assuming the mantle from season one cinematographer Diana Olifirova is the rising British-Romanian DP Simona Susnea. Since graduating from the UK's National Film and Television School in 2016, Susnea's credits have included Leo Leigh's 16mm debut feature Sweet Sue and lyrical Audrey Hepburn documentary Audrey: More Than an Icon. With an eye for a character-driven narrative and a love for colour, she found her ideal first foray into lensing a full episodic series in Heartstopper.
"What was important with Heartstopper is to always feel like it's an authentic depiction of the LGBTQ+ community, and not make it overly romanticised or sugarcoat what it's like to be gay or come out," she says. "That really reflected in our camerawork and lighting – you still want to feel the magic of what it is to be a teenager and discover yourself, but we didn't want to sell it like it's all roses."
I wanted to bring an "explosion of colour" to the show, which is an exciting prospect. She adds: "That's something I'm very interested in, working with very bright colours and pushing saturation to the limits."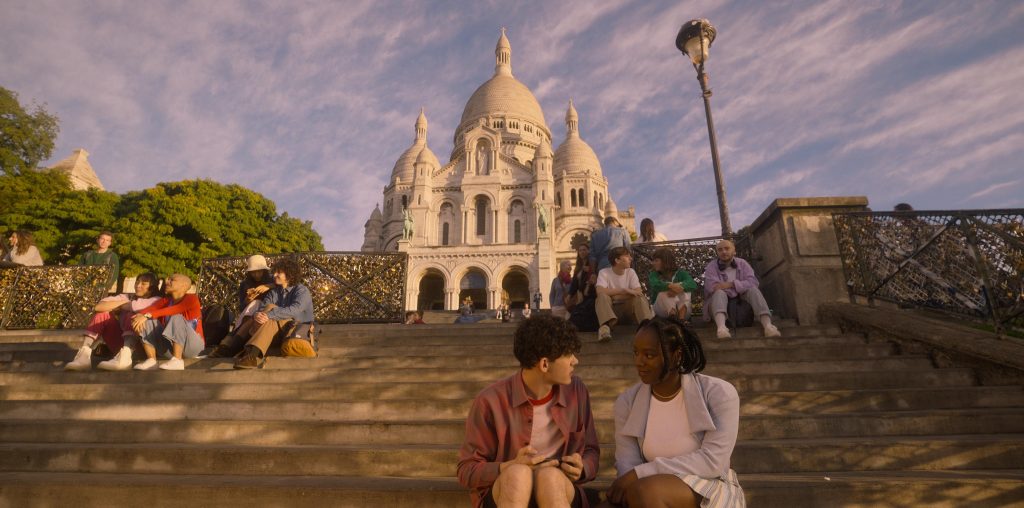 Starting out
When prep for the eight half-hour episodes began in summer 2022, Susnea (who describes herself as an "extremely diligent" prepper) devoted herself to breaking down the script. "We had a lot of scenes to do and a lot of material to cover, so I couldn't just arrive on set and start telling the guys what to do – everything had to be pre-rigged to a certain extent, and I would do the finishing touches on the day," she explains. "I had a plan for exactly where each light would be for each scene, which was an overwhelming amount of prep."
Her approach involved dividing the script into more manageable small-, medium- and large-scale setups to see which scenes demanded the most attention. "I didn't know what the schedule was going to be at that point and things were changing – in fact, the schedule even changed two days before the shoot," she recalls. "I just wanted to make sure that the wide-scale scenes were prioritised, so I didn't get into trouble with something extremely last-minute, one example being the midsummer bonfire party, which we filmed in Black Park with around 200 extras, where I had to light a forest for two nights in a row."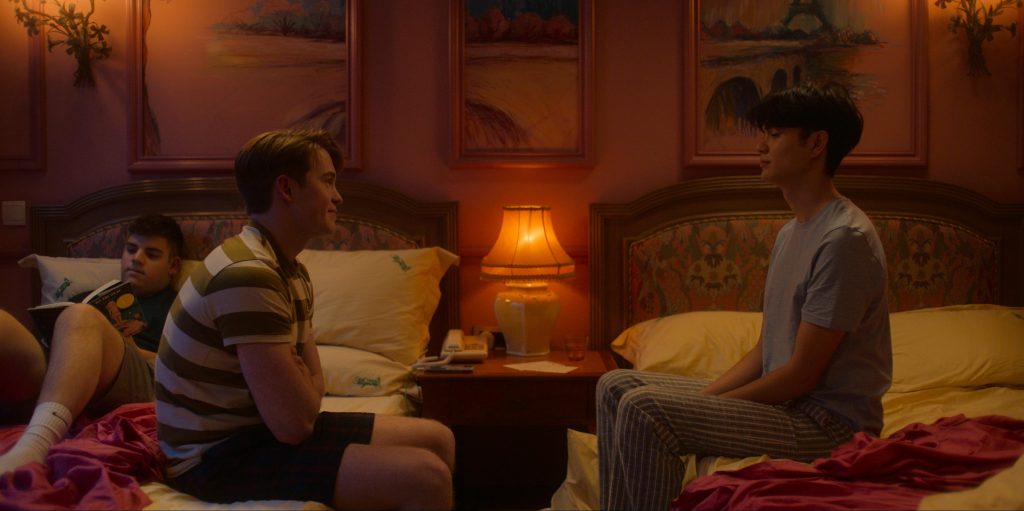 Several episodes in season two would take place on a school trip to Paris, so planning for this French excursion took up a lot of her prep time. Throw into the mix some scenes shot at iconic Paris locations like the Eiffel Tower, Louvre, Sacré-Cœur Basilica, Pont Neuf and Montmartre, and there would be time and access constraints to grapple with; not to mention the fresh challenge of collaborating with a local crew.
Equally aware of the scheduling challenges and on hand to offer his perspectives from season one was returning director Euros Lyn. "He's amazing to work with because he fully trusts his collaborators and gives you the space to bring your own ideas," says Susnea. Sitting down together early on in prep to shotlist, the pair's discussions centred around three key questions: "What is the scene about? What are we really trying to show the audience in the scene? And what's the best way of showing it visually? That was our dynamic throughout."  
A lot of the references that Susnea shared with Lyn came from photography – the DP herself comes from a stills background, as well as painting. "One of the main tools I wanted to use was composition and how we placed people within the frame. I love centre-framed compositions, or putting people on the edges of the composition, or playing with angles that are slightly different," she says, referencing the influence of snappers William Eggleston and Hannah Starkey.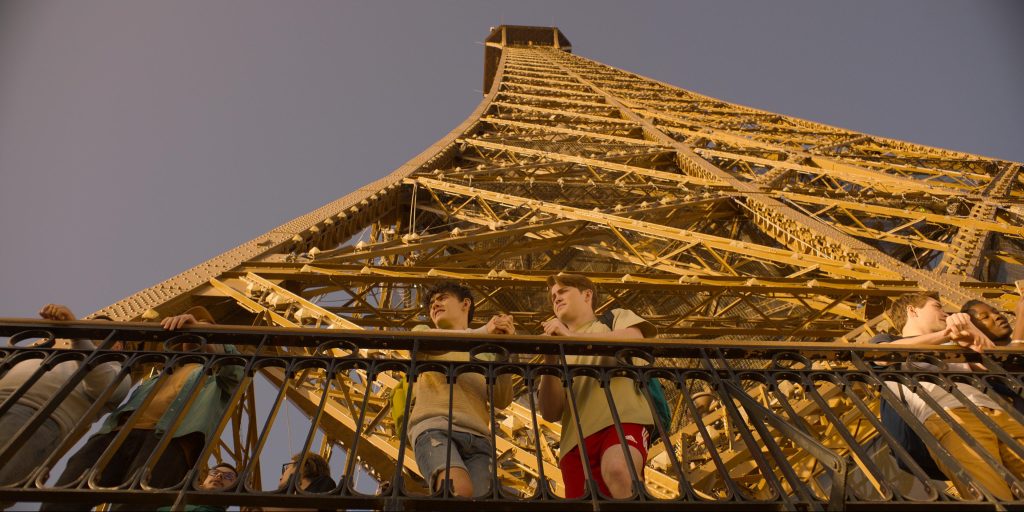 Inspirations from cinema included Andrea Arnold's American Honey (cin. Robbie Ryan BSC ISC), chosen by Susnea for its stunning rendering of skin tones on film, as well as Alonso Ruizpalacios' 2014 Mexican road trip feature Gueros. "What was beautiful about DP Damián García AMC's work on Gueros is how he used softness and shallow depth of field," she notes. This shallower depth of field would inspire Heartstopper when it came to close-ups: most of these were shot with +2, +1 or 0.5 dioptres.
Naturally, Oseman's original work (season two is adapted from Heartstopper Volume 3) played a big role in inspiring framing and compositions. Lyn and Susnea wanted to emulate as much of what the author depicted in her book as possible. "We went through all of our Paris locations, trying to find the exact, precise angles that Alice drew," the cinematographer says. "We'd be fully matching our [frames] in terms of angle and size of the frame, which was an amazing challenge. Sometimes, what you draw doesn't really represent the physical world and the way we record it with the camera, so it was really fun to figure out how to work around it to get that frame."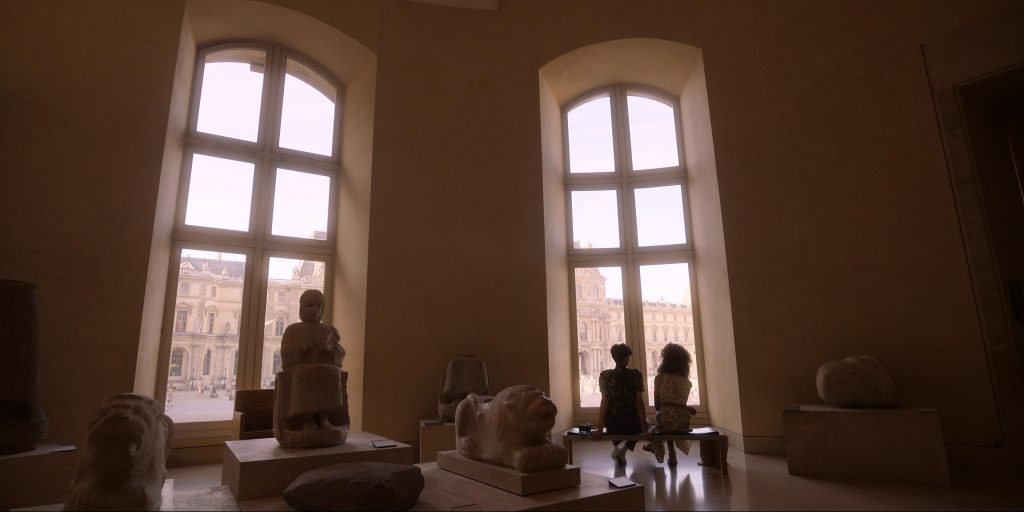 Colour to the test
Susnea engaged Molinare senior colourist Lee Clappison early in the project to help develop her creative vision. She was able to test with the actors in prep while they came in for fittings to help her establish the LUT for the new season. Her process would also help decide which lighting direction best suited each actor's face, and to see which focal lengths would work best.
When deciding on the LUT, the DP was looking for something that really brought out the cast's skin tones, as well as something that would help her emulate the warmth of summer, as shooting would actually take place from September to December 2022. She and Clappison quickly established their hero LUT after their first session, playing around with variations in contrasts: "softening the blacks, and going up or down half a stop".
For the grade, she used one of Clappison's previous projects – 2018's Teen Spirit – as a point of reference. She loved how the musical drama had a softness, a delicacy to it, and the strong colour at the end of the film. "I wanted him to understand what I'm after – not to emulate what they did, but more: this is something that feels close to what I want to achieve."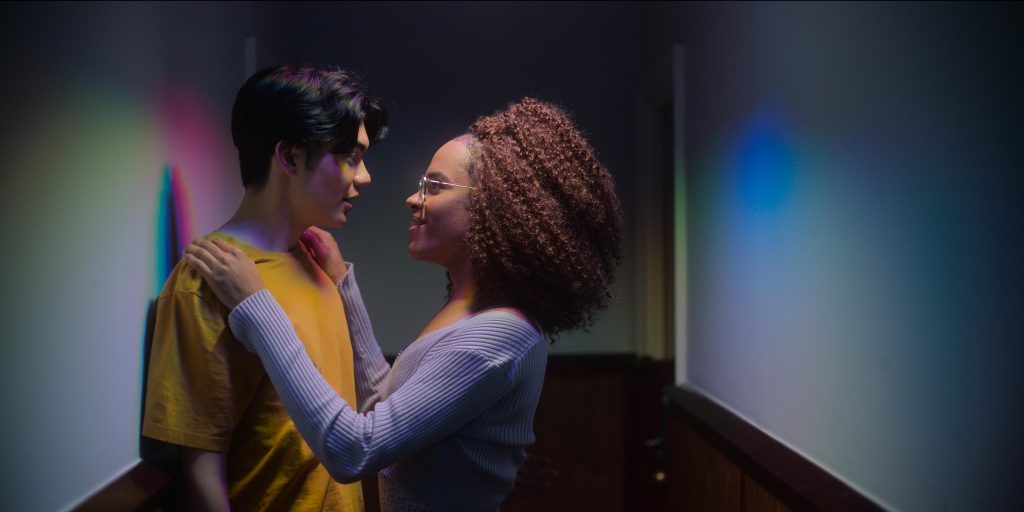 Flamboyant filters
Like season one, Susnea's season was shot on the ARRI Alexa Mini LF as a two-camera setup, but it was in her characterful choice of lenses and filters where she really put her own stamp on the show. She decided to blend vintage and modern aesthetics with both Panaspeeds and the H-Series glass from Panavision. "The reason I thought the Panaspeeds would pair well with the H Series was basically the nature of their flares and the colour they have in the flares," she explains. "The Panaspeeds bring a glossier texture to the image which I liked and felt would be amazing to use in Paris. There were certain scenes where I gave my second unit to shoot on those lenses to feel like there's a freshness, and youthful charm to the city."
The H Series was chosen for its softness and bokeh. "I felt there was something in the contrast that felt relatable to the characters. Some of the lenses were naturally warm and fitted what I wanted to do in terms of colour palette."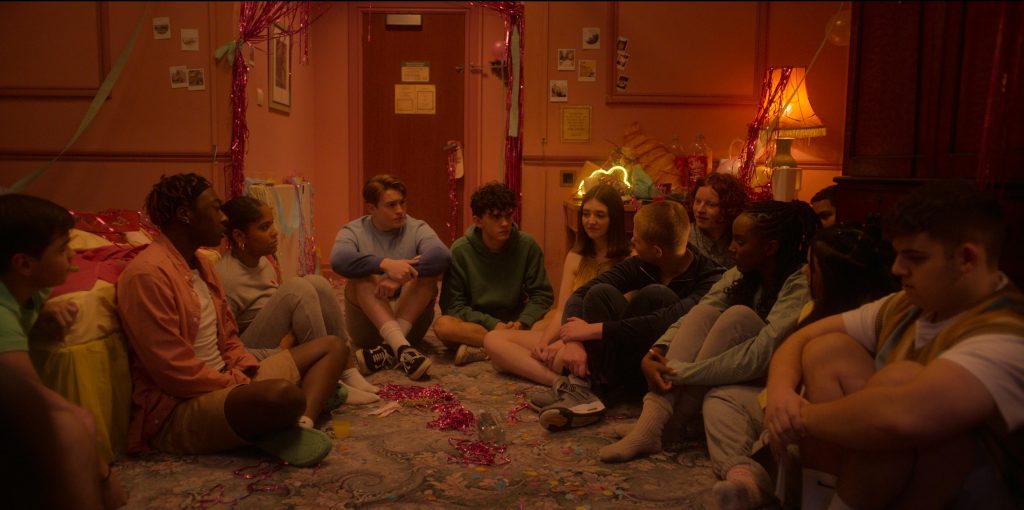 The lenses were teamed with different optical flats to reinforce Heartstopper's playful aesthetic. Susnea took to hand-painting the corners of three of the flats with varying degrees of thickness and colour – one was a rosy pink, one gold, one turquoise – which she would use when shooting on the H Series at T2 in particular. She would also put dots of colour on the middle of the optical flats, to try and soften the lens or to produce artefacts.
"I love the distortion and lack of sharpness on the H-Series and felt like if I brought a bit of colour into that imperfection, it would talk more about the characters," she says. "I love the texture. I just wanted to bring as much colour into the world and still make it feel organic and subtle. It's quite hard to see the effect – it's not in every scene and there are some moments where it stands out, but I just wanted to experiment with that."
The key members of Susnea's department included A-cam focus Benjamin Kirkman, B-cam focus Louise Harris, A-cam key grip Ed Livesey, B-cam key grip Johnny Smith, B-cam/Steadicam operator Chris Dumont, gaffers Ramil Sheriff and Colin Thwaites, and best boys Ana Vilar and Mitch Fitzsimons. In France, she worked with key grip François Perrault-Alix and gaffer Hans Krumenacker.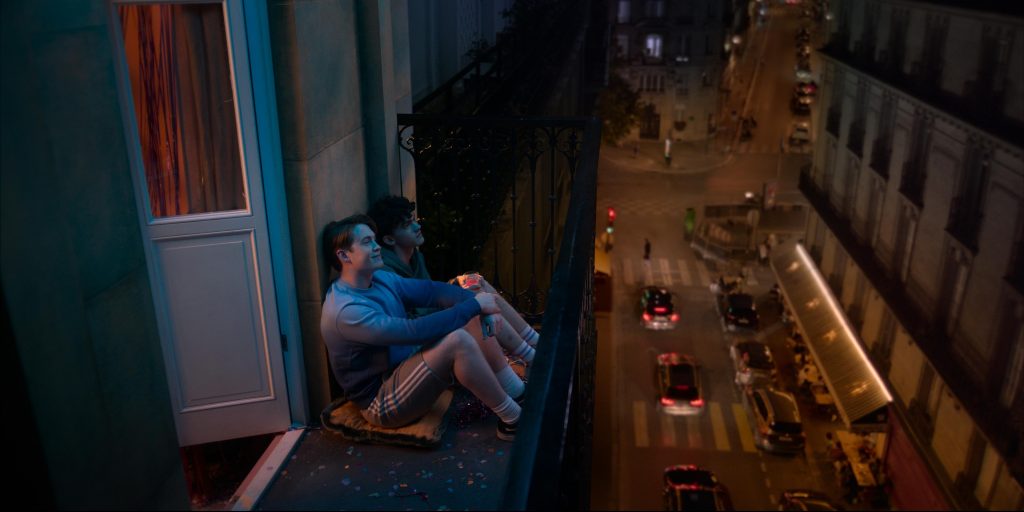 Bedding down
Heartstopper's second season comprised roughly 60-40 of location and stage work. The main characters' bedrooms are all sets, but the crew came up with a canny hack to make life easier for the production: building the bedrooms at the same location as the school. The Paris hotel, the biggest set, was built in the school's gym; its modular design meant that with a few small adjustments to the walls, it was used for the boys' hotel room, the girls' room, with an additional build for the teachers' hotel room.
"Some studios I inherited from season one which was difficult because they were too small for the pace and amount of dialogue we had in S2, with multiple characters," Susnea remembers. "When we were looking at building the hotel set, I told the design team in advance of my height requirements and what necessities I have from a lighting point of view, so I could actually rig the lights on the ceiling or outside the main windows."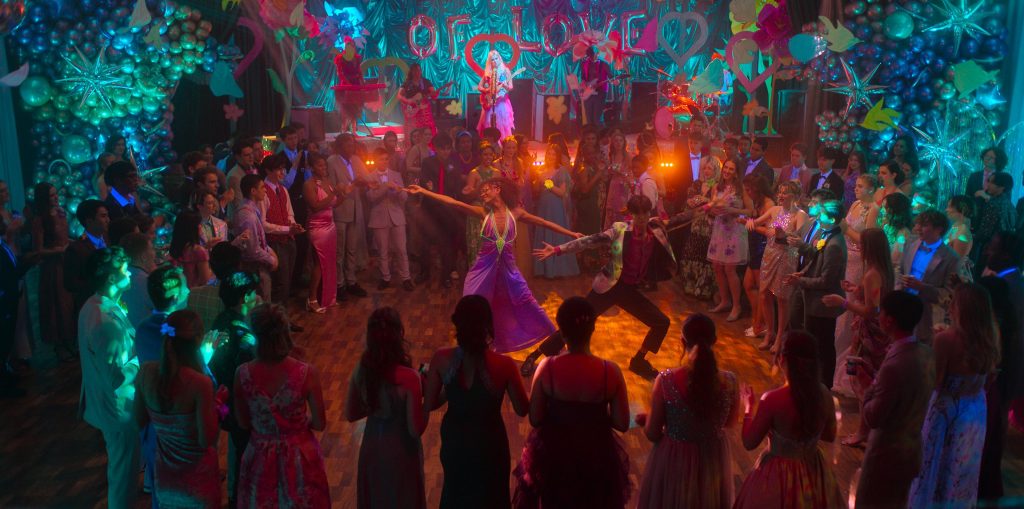 With some experience in gaffing under her belt, Susnea had a clear vision in mind when it came to the show's lighting aesthetic. For the hotel rooms, she rigged a system of 6 Litemat 4's in the ceiling and created special Astera tube rigs for the hallways and the bathroom, as well as Litetile softboxes outside the main windows. We also lit a transite to easily transition from day to night, with additional sources through the window to set up the time of day. For the girls' hotel room party, she introduced some quirky practicals to help set the space apart from the main lighting approach. When the pupils enjoyed a clandestine party one night, she changed up the lighting design in the bathroom. "It's when Elle and Tao's love affair is starting to blossom, so I used colour to reflect that kind of first love discovery – monochrome pink in this case and neon practicals."
The hotel set also included a physical balcony, with a set extension made in post, to give the impression that Nick and Charlie hide from the party on the top floor balcony overlooking Paris at night. This was achieved with a green screen and compositing plates which the VFX supervisor, Joe Batten shot in pre-production.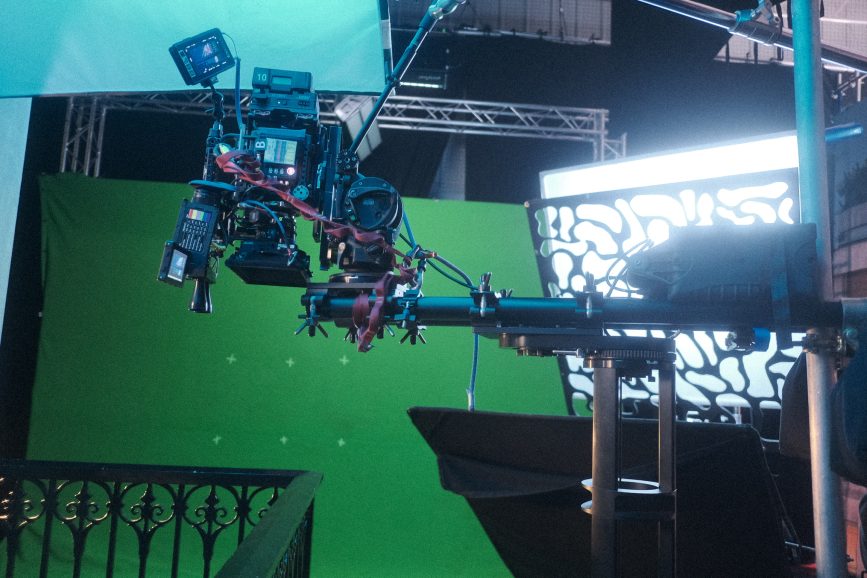 In another scene in the hotel, Elle and Tao are running along a corridor where they have their first kiss. The DP used a clever rainbow effect, which meant the shadows had a full range of colour, but their faces remained lit normally. "That was a lot of fun to do," she smiles. What was exciting about that is I knew the blend of colours is going to give me a white light for the faces but a lot of weird colours in the shadows. It would create something special that still felt realistic but reflected the characters and their new love affair."
These rainbow colours formed the DP's leitmotif throughout the show. "At the queer expo, we had the rainbow colours on a chase that was lighting the walls of the gallery, and you can see the colour transition. What I did there was bring the saturation down, so it doesn't feel overwhelming. I wanted the colour to create the atmosphere, but at the same time, disappear and not steal the show. We used a lot of Astera LED lights for that, controlled through a desk, run by Alan King, who was brilliant."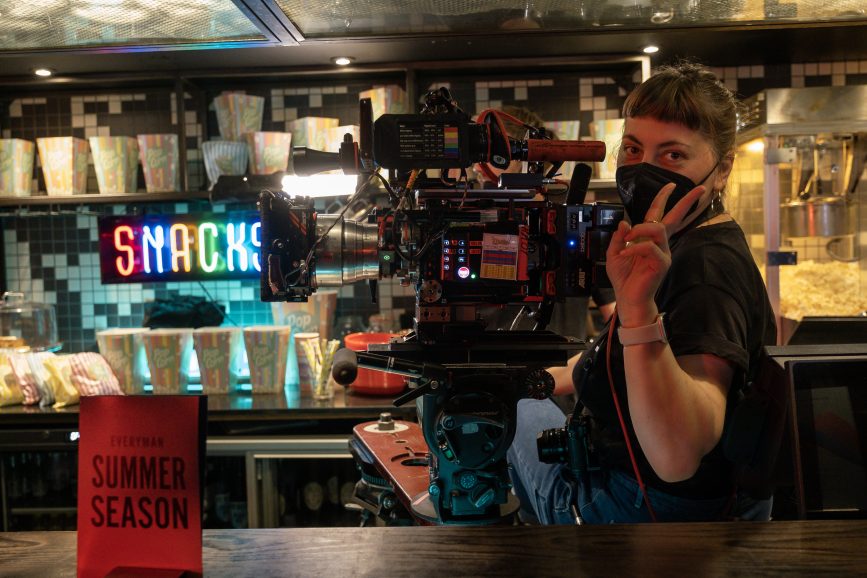 Portraying Paris
When the action moved to Paris, Susnea embraced natural light as much as possible, complementing and augmenting it. Some exteriors were lit, to build that feeling of summer and get nice skin tones. "I love Paris, and I love the warmth when you're walking in the evening, and you have this beautiful glow from the restaurants – this beautiful tungsten light. I tried to bring that into the show as a whole, but particularly for Paris. For exteriors, I would shoot towards the sun, towards west or east, to have this very strong, warm lighting and a very heightened feeling generally."
Shooting at the city's most iconic landmarks added an extra layer of complexity to the production. At the Eiffel Tower, the team were given two 90-minute slots on two October mornings to capture their scenes. With such a limited timescale, every second mattered and Susnea needed to prep to extreme detail. "It was incredible being on the Eiffel Tower – it was a crazy experience as a film crew to be there," she remembers. "There was very strict protocol about how you load your camera kit and how much kit and crew we can take. But we got to watch the sunrise on the Eiffel Tower, which nobody else really has access to."
The Louvre was another captivating, yet limiting, location. Only a dozen members of the cast and crew were allowed in at any point, and all their equipment had to be condensed into two Magliners. Crew members also had to double up in roles: Susnea's grip, François Perrault-Alix, would help her light and she had to play with only two sources of light (one 1×1 and one 1×4 Aladdin), textiles and flags. Thankfully, the DP got to indulge her love of natural light, shaping it and controlling it.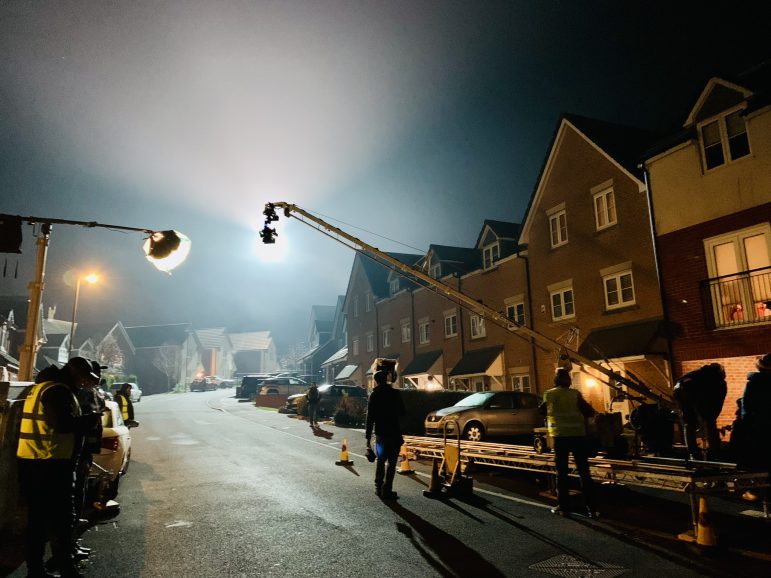 The cinematographer worked closely with the first AD, Brett Thomas. She explained where she needed to be depending on the time of day, so she could get the best light in each location while minimising setup. "I think that worked really well," she comments. "In the Louvre, there was a lot of beautiful hard light coming in through these massive windows, so I was planning my locations and shots in relation to the sun. I embraced the imperfections that came from that way of working, to reflect the story. I loved that because I didn't want to create something that felt overly polished, because that would have felt like a lie or a lack of authenticity in relation to what the story and the characters are."
The Louvre's cavernous galleries allowed her to get creative with framing. "The kids are discovering the world and they're embracing the good and bad. They're growing and becoming adults. For me, it was a question of scale, seeing them small and vulnerable in these massive interiors and structures. The Louvre environment feels brutalist at times. I wanted to have that cohesion of vulnerability and what it is to be in the big wide world."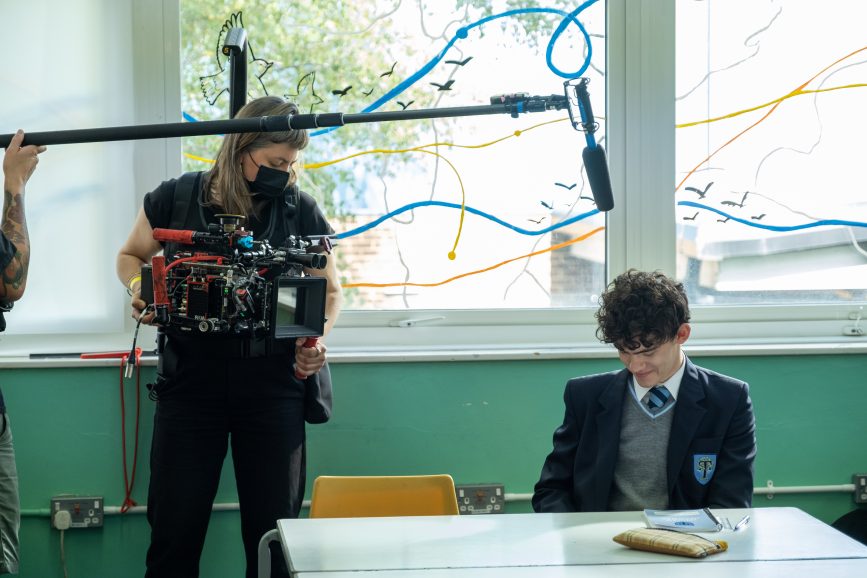 New perspectives
An exciting new experience for Susnea on Heartstopper was shooting on a virtual production stage. The scenes between Paris and London on a coach were shot at 80six's West London facility – a move that Susnea describes as both a necessity and a creative choice. "There are so many threads between the characters – romantic couples, friendships, love interests. That translated into a lot of coverage, a lot of angles, a lot of shots to do within a timeframe where being in a real coach was unrealistic." It allowed the crew to bring elements of warmth into the lighting and control the coach itself, to let them tell the story how they wanted.
There was more fun experimentation towards the end of the season, during the flamboyant school prom. To help show Elle's transformation into a young woman and a blossoming artist, Susnea collaborated with the costume department in using UV lighting. In testing she tried out mixing UV lighting with RGB lighting – what colours would work best and how fabrics and make up would react to UV. "Essentially, we use it as a cue during the dance between Elle and Tao to express Elle becoming a woman and her transition, embracing her relationship with Tao and her new life at Lambert," she explains. "I love that because it was just a brief moment and we wanted it to be subtle and a visual treat for the fans who would notice it," she explains.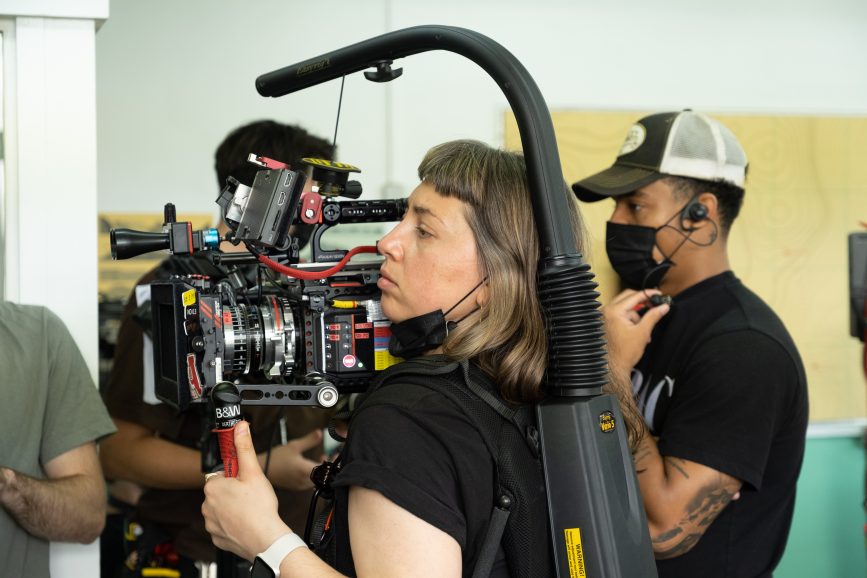 To ensure she had time to experiment as well as work to the tight timeframes, Susnea was sure to make full use of the lighting desk. "That was a huge part of the creative process, but also about making sure that we could be ready and not waste time on setting up lights," she says. " I mostly worked with LEDs on the show, apart from having the HMI through the windows. Because of the scale of the setups for the prom and a Baby Queen concert to light, there was so much to control and the only real way to do it was through the desk. It was about making sure that I chose the right palette that felt appropriate for the scene, but also having control of the saturation and level, so it looks good if the audience sees it in a SD colour grade. In addition to that, I wanted to light the prom room 360 and transition from setup to setup in matter of minutes, which made our director very happy."
For the prom, nearly 90 sources of light were used, mostly RGB, with some Source 4 tungsten, moving heads, LED par cans, Astera tubes, and Rosco DMG. The design behind the lighting was a result of both practical and creative needs, inspired by the DP's love for colour and light installations.
Pulling off such a complex shoot amid time and logistical constraints was a big achievement for Susnea – especially with the additional challenges of an international shoot. She summarises: "We had to be extremely resourceful and creative which I love – I find there is really some magic in limitation."