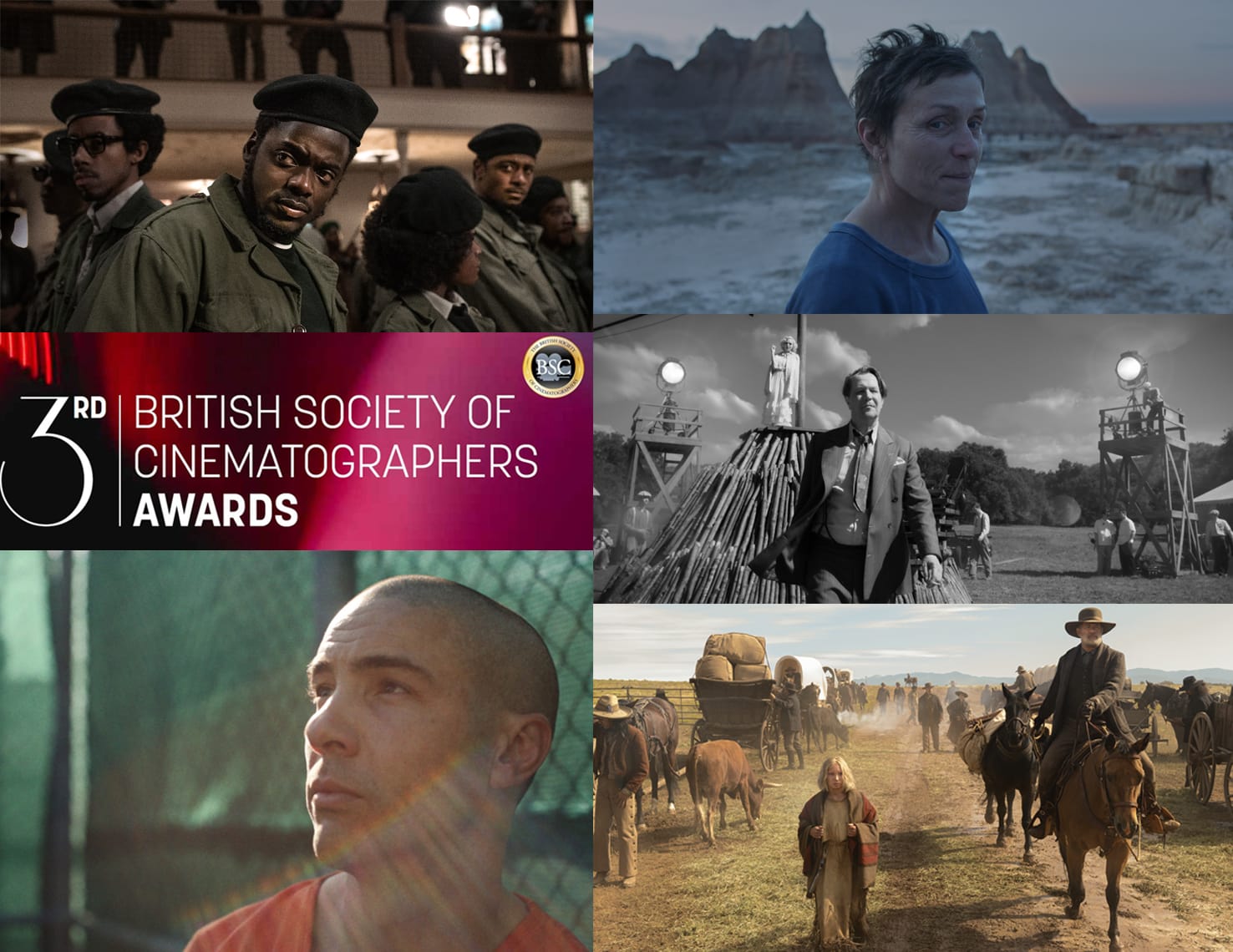 We're excited to announce the BSC Awards nominees for the Best Cinematography in a Theatrical Feature Release category are…
Sean Bobbitt BSC for Judas and the Black Messiah
Joshua James Richards for Nomadland
Alwin Küchler BSC for The Mauritanian
Erik Messerschmidt ASC for Mank
Dariusz Wolski ASC for News of the World
The nominees for BSC Best Cinematography in a TV Drama 2020 – which were announced earlier this month – are…

Adriano Goldman ASC BSC ABC for The Crown (season 4 eps 3 Fairytale); Rob Hardy BSC for DEVS (season 1, eps 7); Shabier Kirchner for Small Axe (season 1, eps 1 Mangrove); Suzie Lavelle BSC ISC for Normal People (season 1, eps 2) and Steven Meizler for The Queen's Gambit (season 1, eps 7 End Game).
On awards night, the winners of the Bert Easey Technical Award, BSC ARRI John Alcott Memorial Award, BSC Special Achievement Award and the BSC Short Film Cinematography award will also be announced.
The BSC and the GBCT have worked together on The Operators Award as it has gone through several iterations, joining forces with the ACO in 2011. The nominees for the Operators award categories are:
The Operators Award nominees for TV Drama are…
Chris Bain for The Crown (series 4, episode 6); James Layton/Matt Poynter for His Dark Materials (series 1, episode 7); Dan Nightingale for Dracula (series 1, episode 3); Benjamin Semanoff for Ozark (series 3, episode 3) and Benjamin Treplin for Das Boot (series 2, episode 8).
The Operators Award nominees for Feature Film are…

Colin Anderson/Graham Hall for Star Wars: The Rise of Skywalker; Christopher Ball for The Lighthouse; Maceo Bishop for Uncut Gems; Brian S Osmund for Mank; and Peter Robertson for The Gentlemen.
The winners will be annouced at the 3rd BSC Awards virtually on Friday 9 April.