Wizarding World

Philippe Rousselot AFC ASC / Fantastic Beasts: The Crimes Of Grindelwald
Wizarding World

Philippe Rousselot AFC ASC / Fantastic Beasts: The Crimes Of Grindelwald
Header Image by Jaap Buitendijk
"I probably work best under a sense of terror, and feel that way when I start every single job," remarks Philippe Rousselot AFC ASC candidly. The French DP was the cinematographer on the first two movies in the Fantastic Beasts franchise - Fantastic Beasts And Where To Find Them and the recently-released Fantastic Beasts: The Crimes Of Grindelwald.
"I was terrified for the first few weeks on the original movie, and felt the same second time around," he continues. "The first scenes, the first week, are always tricky, as you establish the look, and the mental and physical process of production. But that sense can give you a way to start with fresh eyes. Beginning a new project, not knowing exactly how you are going to do it, is a very good thing.
"I knew this was going to be an absolutely enormous production again, with lots of key decisions to make and many challenges along the way. Nothing exists, not even the beasts, until a team creates it. The terror aside, though, I did count myself as very lucky to be have been invited to work once more on this magical movie franchise, and to work once again with an amazingly talented set of collaborators."
Directed by David Yates, and written by JK Rowling, the $200m Heyday Films/Warner Bros. production, Fantastic Beasts: The Crimes of Grindelwald, is the second in a series of five movies, and the tenth overall in Rowling's Wizarding World, whose chief legacy includes the hugely-successful Harry Potter movies.
Opening in 1927 New York, the Magical Congress Of The United States of America is about to render the powerful dark wizard, Gellert Grindelwald (Johnny Depp), from its maximum security prison to London to be tried for his crimes in Europe. But, aided by a follower, Grindelwald escapes. This triggers a series of sinister events in London, Paris and Germany, as Newt Scamander (Eddie Redmayne) and Albus Dumbledore (Jude Law) attempt to take Grindelwald down, whilst facing new threats and conspiracies themselves from a divided wizarding world.
The movie went into physical production in January 2017, with Rousselot joining for cinematographic prep in April. Principal photography commenced in July, and took place over 100 subsequent shooting days, before wrapping in December.
Whilst the final movie is set amongst the towering skyscrapers of 1920s' New York, plus the streets of London and Paris, it involved very little location work. Apart from brief stints at Lacock Abbey in Wiltshire, Highgate Cemetery and Whitehall in London, the Seven Sisters on the Sussex Coast, and central Paris, the vast majority of Fantastic Beasts: The Crimes Of Grindelwald was shot on a series of sets, built on the stages and backlot, at Warner Brother Studios Leavesden, near Watford. The sets were designed by Stuart Craig, with the exquisite wardrobe produced by costume designer Colleen Atwood, both of whom are triple-Oscar winners for previous works.
Given that the cinematographer's key task is turning the script into moving images, Rousselot - whose other credits include Sherlock Holmes: A Game Of Shadows (2001) and Sherlock Holmes (2009), both directed by Guy Ritchie, Charlie And The Chocolate Factory (2005) for Tim Burton, and Shane Black's The Nice Guys (2016) - says he took the only route possible in the circumstance: "To immerse myself very, very slow into the project by talking with all of the key collaborators, and try to enjoy a new voyage of discovery."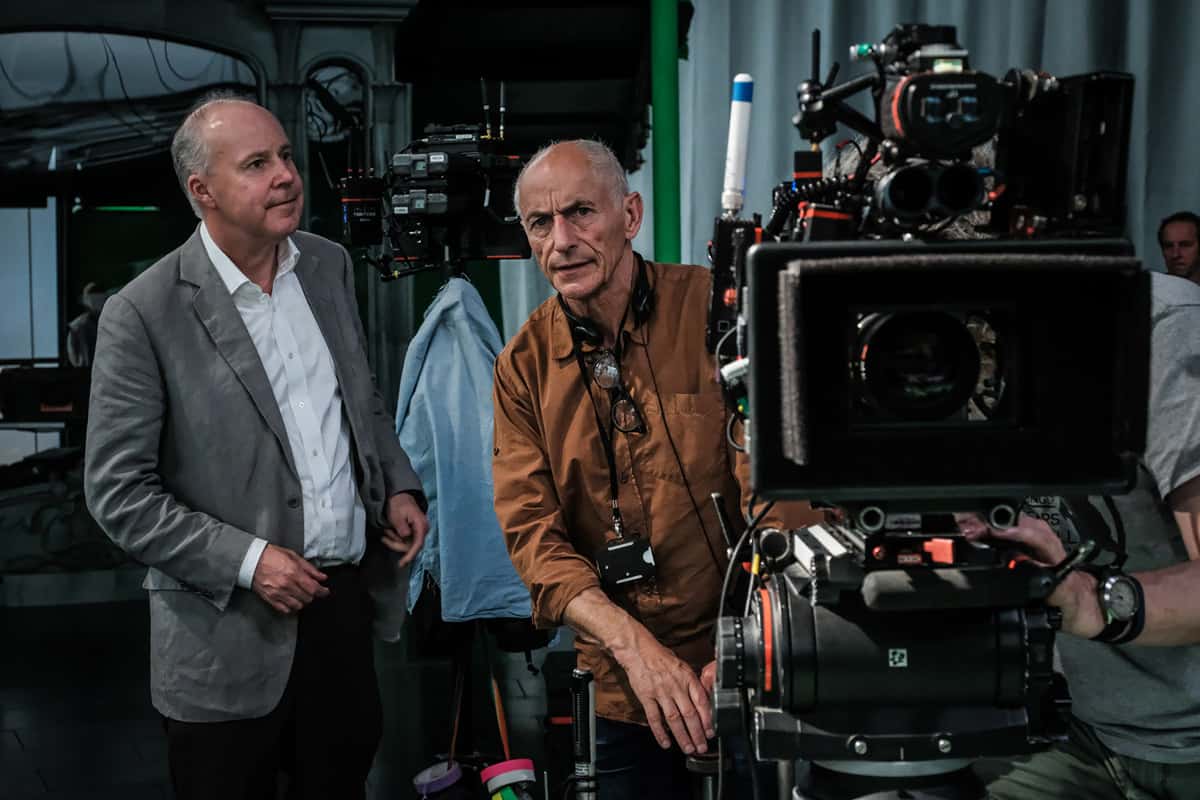 For any cinematographer the first port of call is always with the director. "Whilst the original movie was fantastical, and really quite dreamy in places, this story was something fresh and of its own. The task was really to create a new aesthetic that was altogether darker, more sinister, murky and mysterious. But, my initial conversations with David were not definitive statements about doing one thing or another. Rather it was more of a sorting and refining process."
Rousselot says guidance came partly by absorbing the imagery from a huge number of vintage photographs of London and Paris from the period, which were spread over the walls of the production offices.
"You cannot do without references, but you cannot mimic them," he says. "They provide talking points, and a means of communication between you and the director, set and costume designers, and the VFX teams. Actually, my take on references is that you can use them more negatively than positively. By which I mean, you can subtract and avoid things you don't like, so as to arrive at what you really want to achieve."
As with the inaugural movie, so too Fantastic Beasts: The Crimes Of Grindelwald was a digital shoot from the outset. However, whereas the first film combined G- and E-series Anamorphics with Alexa Studio XT, this time Rousselot chose Leica Thalia spherical glass fitted to ARRI Alexa 65, to affect a change to the overall aesthetic.
"We didn't want to go Anamorphic, but did want to frame the production 2.40:1 widescreen again," he explains. "I didn't test other cameras, as I wanted the continuity of look from the ARRI sensors. So my tests with the Alexa 65 were concentrated on evaluating a variety of spherical lenses.
"To be honest, there are lots of brilliant optics on the market today, and I would have been happy with any of the other three that I evaluated. I went with the Thalias, as they are very even from centre to edge, with no loss of focus or distortions. Whilst they are crisp in combination with the Alexa 65 sensor, they are gentle on faces. This meant I would not have use any diffusion on close-ups, and in fact never did. On top of that, the VFX team had an enormous number of effects to create and contend with - strange creatures, digital set extensions, and physical effects, such as flames, smoke and explosions. They were very happy about having lots of clean-looking pixels to play with in post, and was I glad to make their job easier."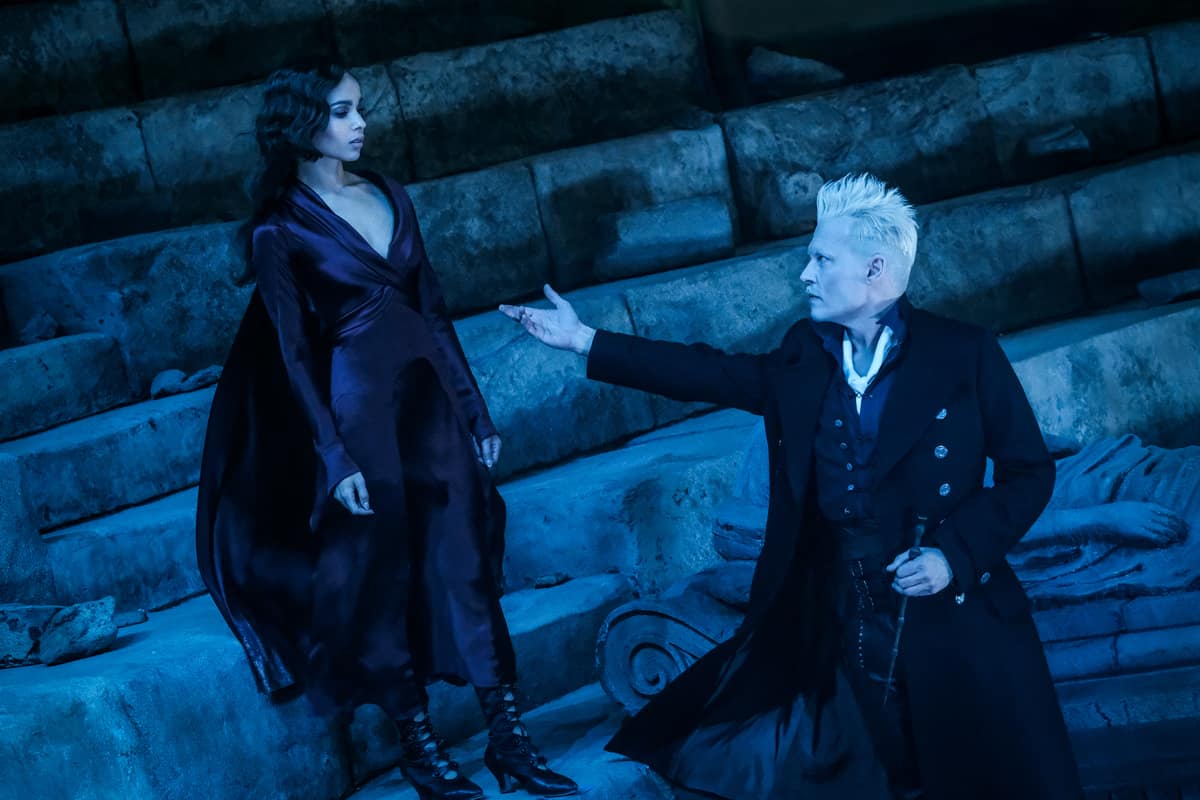 "I went with the Thalias, as they are very even from centre to edge, with no loss of focus or distortions. Whilst they are crisp in combination with the Alexa 65 sensor, they are gentle on faces. This meant I would not have use any diffusion on close-ups, and in fact never did."
- Philippe Rousselot AFC ASC
During production, the first unit shot with two cameras, with a third always ready to be deployed as required. The Alexas 65s were typically rated at 1200ASA for both day and nightime sequences. Rousselot says the sensitivity of the camera at this setting delivered no significant aesthetic difference to that of a lower ASA, but, importantly, it allowed for apertures between T4.5 and T11, supporting the vital work of the focus pullers. The camera and lens package was supplied by ARRI Rental.
With one or two changes to the line-up, Rousselot's camera and lighting crew was almost identical to that on the original film. As Des Whelan was not available this time around, Vince McGahon stepped up from his previous duties on B-camera/Steadicam, to operate A-camera/Steadicam. Iain Struthers came in on B-camera. In the DIT role, Peter Welch substituted for Peter Marsden. Other than those small switches, the first unit crew was the same.
The busy second unit - headed once again by director Stephen Woolfenden, with DP Jean-Philippe Gossart AFC - was responsible for shooting a wide range of stunt and other action scenes, pick-ups involving the actors, and the majority of VFX plates needed for the visual effects department. Once more, the gaffer was Chuck Finch, supported by his family team of sparks.
"It was a great reassurance to have almost exactly the same team on my side," says Rousselot. "I have worked with most of them for many years, some for decades, and I regard them as friends and family."
Reuniting with Tim Burke and Christian Manz, the joint visual effects supervisors, Rousselot remarks, "Their task was more enormous and more challenging than mine. We kept up a constant communication throughout the production, but being careful not to step on each other's toes."
Highlighting his work with the VFX team, Rousselot says, "There was quite a lot of pre-viz for the VFX sequences, such as the dramatic carriage chase around the New York skies and cityscape. I made some suggestions here and there, and I would have voiced my dislike to a scene, but I don't recall ever doing that. Christian and Tim are excellent at what they do. I like them and trust them too, so there was no reason to interfere."
A particularly close collaborative effort was required for the scene in which Newt and Dumbledore walk through the smoggy centre of London, as Rousselot says there was no practical way to achieve such an intense level of murkiness on the actual streets.
"If we took perhaps one cue from the old reference photos, it was images of the real pea-soupers London experienced in that period. We knew we would have to recreate that look on stage," he explains. "In practice, we took the longest stage at Leavesden. The art department provided foreground pieces and elements of sets - the roads, walls, bits of statues, and portions of other landmarks, such as Trafalgar Square. We pumped in a combined mixture of smoke and fine water particles to create a foggy atmosphere, with points of light added to establish a sense of perspective. The VFX team then did the rest, combining the live action with all sorts of other set extensions and digital artefacts. But you would never see the join."
As for the lighting, Rousselot considered the set plans and models very carefully during prep, in liaison with gaffer Chuck Finch, to decide where the fixtures would be placed. Lighting was supplied by the Warner's on-site facility at Leavesden.
"Although I went with normal Tungsten illumination on the previous production, we used many more LEDs, such as ARRI SkyPanels, this time round, to flood the massive sets. They allow great control over the amount, colour and temperature of light, but without burning the set down. Obviously, you need to control the volume and shape of the light on faces. Whilst quality of LED fixtures is getting better for that, I still used Tungsten illumination on the close-ups, as well as LEDs, but never felt we had to visit the hardware store for candles or bulbs."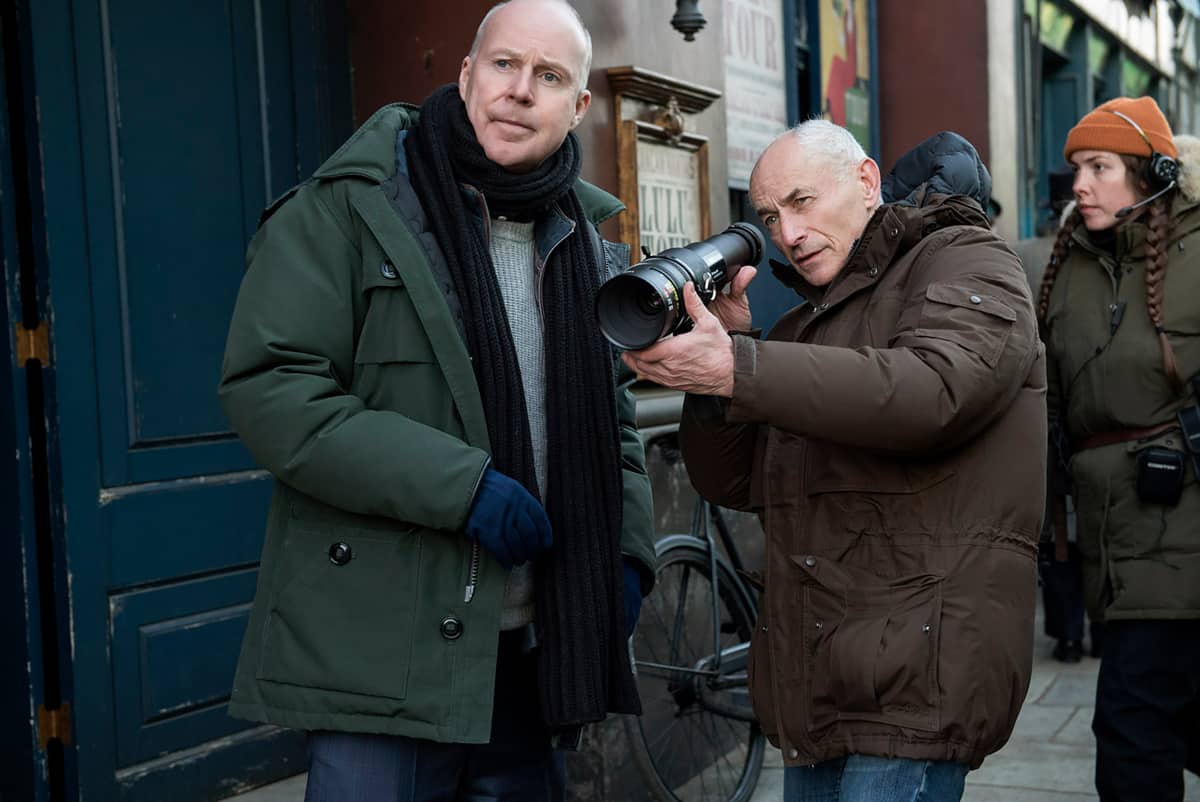 Rousselot says there were plenty of tricky scenes to light and shoot, and was particularly happy with the result of the sequences in Grindelwald's Parisian apartment.
"We wanted a free-floating camera around the drawing room, but there were gigantic mirrors at either end. With traditional fixtures on the floor, it would have been a nightmare trying to avoid infinity reflections. We got away with murder by using strips of LEDs on the ceiling, and behind props, as well as judiciously moving lights around on-set, all controlled from the dimmer."
During production, the working regime mainly took the form of continuous 10-hour days, five days a week, apart from brief weekend sorties to London, with very little overtime. "It's a very decent way to work," he recalls. "These shows are unavoidably slow, with the costume, make-up, VFX line-ups and lighting to bring together - and there is nothing you can do about it. So there was always time to eat and have a coffee."
An additional, but equally important, collaborator in Rousselot's incredible jigsaw was Peter Doyle, then Technicolor's supervising visual colourist. Along with performing the eventual DI grade, Doyle also worked with Rousselot during pre-production to implement a best-light viewing LUT for the dailies, and to establish a secure colour pipeline into post production. On-set grading was performed using Pomfort Live Grade, with the CDL passed from set post on a USB-drive, where the settings were relinked with the dailies. Rousselot completed the final DI grade on Fantastic Beasts: The Crimes Of Grindelwald, with Doyle at Technicolor Soho.
"I love Peter, and thank God that he was available again," says Rousselot. "He's a wizard, one of the greatest. The DI itself was pretty straightforward, as the look we were after was not too far away from the original dailies, which we had been happy with on-set. We did initially try to push the look a little, but David wanted to retain consistency with the images he'd been working with in the edit. So it was all very modest - no bleach bypass or grain added - and rather more about balancing shots and scenes, and enhancing the sinister element of the overall aesthetic."
Reflecting on his experience on Fantastic Beasts: The Crimes Of Grindelwald, Rousselot readily acknowledges that it is due to the many collaborations he enjoyed, with consummate professionals, that his initial terror eventually melted away.
"Making a movie is always a team effort," he observes, "and I am glad to say the combined result of those efforts is a most engaging movie."
As for his next project, Rousselot says, "That's a good question! I always want to push and challenge myself. It would be interesting to see how I respond to the terror of making a much smaller movie. Let's see."