Visual Delight
Ben Richardson / Beasts of the Southern Wild
Visual Delight
Ben Richardson / Beasts of the Southern Wild
Beasts Of The Southern Wild, directed by Benh Zeitlin, is the story of six-year-old Hushpuppy who, faced with her father's fading health and environmental changes that release an army of prehistoric creatures, leaves her Delta-community home in search of her mother.
It's a fantasy that has captured the imaginations of festival audiences and critics alike, scooped a hatful of awards at the Cannes Film Festival 2012, and earned its British DP, Ben Richardson, the gong for best cinematography at this year's Sundance Film Festival.
Richardson first met director, writer and composer Zeitlin in Prague in 2003, whilst he was working on Zeitlin's animated short Seed, an 11-minute stop-motion film, which took 605 days to finish and would go on to win Best Animated Short at Slamdance in 2010.
The pair were introduced through mutual friends and clicked right away, both professionally and personally. They stayed in touch via email after Zeitlin left Prague, and in 2006, when Richardson moved to NYC, Zeitlin shared the script of Glory At Sea with him. It's a short film about a group of mourners and a man spat from the depths of Hades, who build a boat from the debris of New Orleans to rescue their lost loved ones trapped beneath the sea.
"Glory At Sea really laid the groundwork for Benh to get people interested in Beasts Of The Southern Wild," says Richardson, "Unfortunately, I'd only shot about half of Glory At Sea when production had to be suspended whilst they raised more funds." Rob Leitzell, Richardson's gaffer on that first phase of the shoot, completed photography once they had raised the final funds, and Richardson was delighted with the final result.
Glory at Sea, which took home Jury Prizes at SXSW, Woodstock Film Festival, Boston Independent Film Festival and more, was a sort of precursor to Beasts Of The Southern Wild and gained traction for Zeitlin's reputation as a creative forward-thinker. Eventually, Cinereach came on board as primary financiers.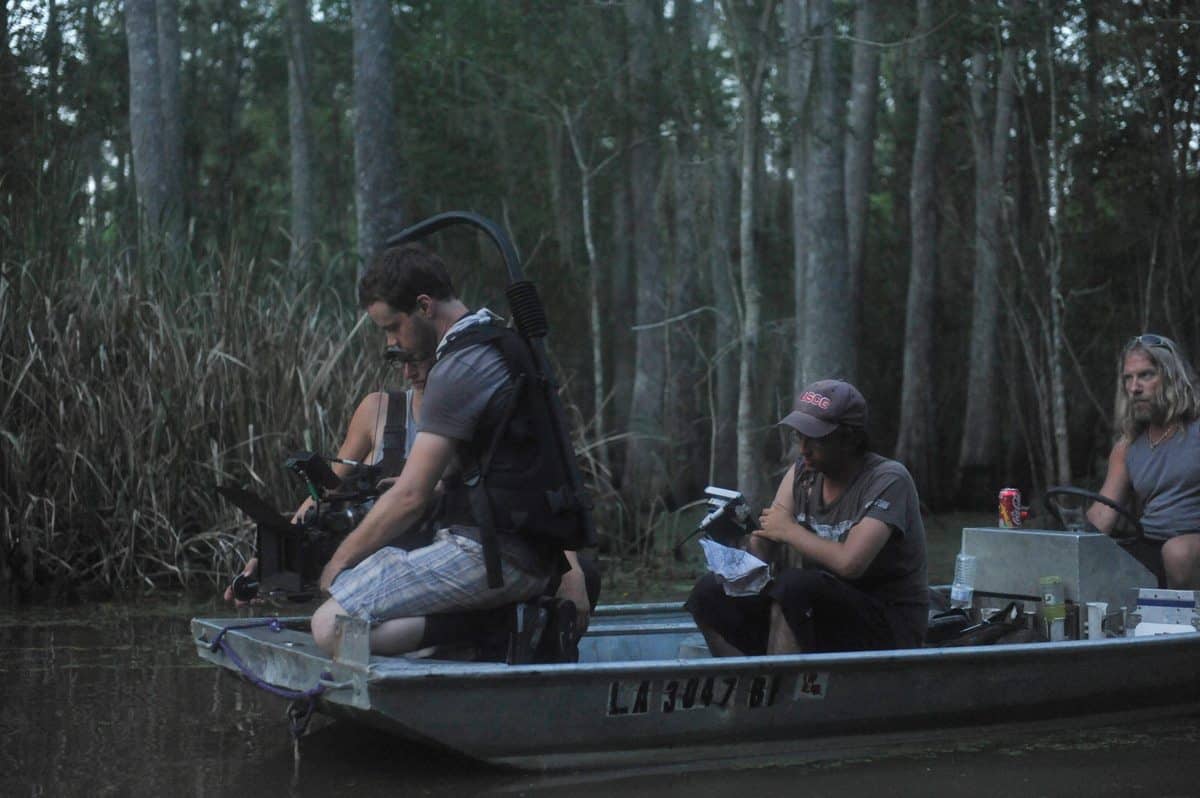 Because he was a first time feature director with first time producers, Zeitlin was advised that his key crew needed to have feature film experience for Beasts Of The Southern Wild. Richardson understood this reasoning and was "OK with it", having secured the job of DP for the miniatures component of the film. However, when he visited the set in Terrebonne Parish of Louisiana for some meetings, he felt they still hadn't found the right person for the job.
"I saw a few tests and talked with Benh about it and didn't feel that they'd found the right match," recalls Richardson. "At that point I'd known Benh for six years, and believed I knew what the film was meant to be and how it was meant to look."
Richardson took a camera and went for a stroll with a friend around the half-built sets and locations, exploring the approach he felt would work for the project. The two walked around for an hour and played with the pig and cat that end up in the film. Richardson cut it together and called it Matt In The Bayou.
"I got it in the hands of Benh and the producers," says Richardson, "and it went a long way to persuading them that I was the right person for the job. They told me that they were going to push for me to shoot Beasts."
"Film looks the way it looks not because it's inherently better, but because it's a 100-year-old technology that has been refined by some of the best colour scientists in the world."
- Ben Richardson 
Richardson – a self-taught lighter, learning most of what he knows from stop-motion animation, which doesn't require huge amounts of light – shot Beasts on Kodak Super16 200T and 500T stocks with an ARRIFLEX 416.
"Film looks the way it looks not because it's inherently better," discusses Richardson, "but because it's a 100-year-old technology that has been refined by some of the best colour scientists in the world. No wonder it works well. The digital cameras, they're all brand new, along with the thought given to the aesthetics and the colour."
Richardson and Zeitlin wanted the look of Beasts to have a naturalistic feel to it. It is a 6-year-old girl's understanding of the world and they wanted to ground it as firmly as possible in realism. In early testing, Richardson tried diffusion and soft lenses, but realised that it made most sense to shoot it clean and sharp.
"I wanted to look for the beautiful things happening naturally in the world," he says. "If a character had to go from a dark space into a light one, I wanted to feel those contrasts. I wanted the camera to explore the world the way that Hushpuppy would."
Not having to use massive lights, or lots of it, in his stop-motion projects was pivotal in informing the way Richardson thinks about lighting a space. He concedes that you don't need to worry about pointing light directly at things, but rather manipulating the space and things you already have to get the feeling you need.
"I can bounce a lot more," he says. "I can diffuse, I can hide, I can fill the space a bit better. I don't tend to think in terms of big lights and I like to use the natural light as much as I can."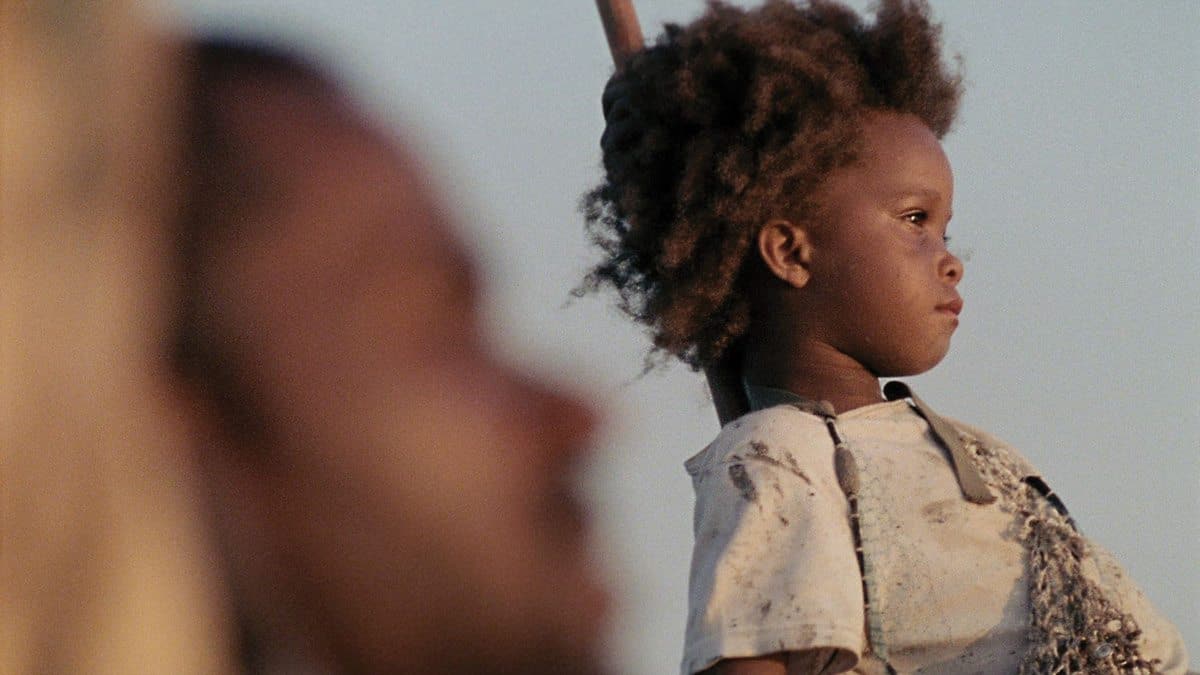 This technique found itself very useful on the set of Beasts, where money was limited and the lens and lighting packages were minimal. Collaborating with production designer Alex DiGerlando – whom Richardson says did a fantastic job putting in windows, fixtures, places and spaces that he could light with – Richardson put his minimalistic approach to the test.
"We had to replicate an entire storm [for the hurricane scene]," explains Richardson. "Because they could only shoot Hushpuppy [played by newcomer Quvenzhané Wallis] for one hour at night, we had to tent the entire tree which Hushpuppy's father's [played by Dwight Henry] house was built into."
They rented seven 20x20 black solids and other Duvateens and wrapped the tree. They ran fire truck hoses all the way through and in and around, creating a dark and dank world for Hushpuppy and her father.
"That scene was key for me," remembers Richardson. "I wanted it to be as bare as possible. This was supposed to be a town that didn't have a lot of electricity or lighting around in the streets and I wanted it to feel authentic. My key lighting for that scene was this bundle of flashlights that Alex's team had fashioned into a chandelier. It created a little hotspot on the floor that motivated the tiny bit of lighting I did use: just one covered wagon and a tiny China Ball. When Wink [Hushpuppy's father] puts the head flashlight on, it plays around the room and it reads as a scary dark space. That was what Hushpuppy was feeling and what I wanted to portray.