The Wild West

Mauro Fiore ASC / The Magnificent Seven

The Wild West

Mauro Fiore ASC / The Magnificent Seven
Western action film The Magnificent Seven  is a remake of the 1960 western of the same name, which itself was a remake of the 1954 Japanese film Seven Samurai. Directed by Antoine Fuqua, written by Nic Pizzolatto and Richard Wenk, and with cinematography by Mauro Fiore ASC, the $110m MGM/Columbia Pictures production sees the townsfolk of Rose Krick put under siege by malevolent industrialist Bartholomew Bogue.
The helpless residents enlist the support of seven mercenaries – comprising of a bounty hunter, a gambler with a fondness for explosives, a sharpshooter, a tracker, a professional assassin, an outlaw and a Comache warrior – to protect them whilst they prepare for a violent confrontation. However, upon meeting the town's residents, the Seven find themselves fighting for much more than money.
The movie stars Denzel Washington, Chris Pratt, Ethan Hawke, Vincent D'Onofrio, Lee Byung-hun, Manuel Garcia-Rulfo, Martin Sensmeier, Peter Sarsgaard and Haley Bennett, with music by James Horner, who passed away during the early phases of the production, and Simon Franglen.
Principal photography began in the north of Baton Rouge, Louisiana, on May 18, 2015, concluding 64 days later in the middle of August. Two huge, dust-filled, Western towns were built on the fertile cow pasture backlot, under the auspices of production designer Derek Hill. Other locations included St. Francisville and Zachary, Louisiana. A further two weeks of shooting took place in New Mexico.
The Magnificent Seven is the fourth movie collaboration between Fiore, who won the Academy Award for Best Cinematography on Avatar (2009), and director Fuqua – the pair having teamed-up previously on Training Day (2001), Tears Of The Sun (2003), The Equaliser (2014) and Southpaw (2015), along with many commercials.
"Antoine spoke to me about The Magnificent Seven while we were shooting Southpaw during the summer of 2014," recalls Fiore. "Most DPs dream about shooting period films or Westerns as these genres just don't appear so much these days, and you get to prove your skills on these sorts of movies. So I jumped at the chance. Also, Antoine and I have had a good long stint of working together over the last few years. We're really good friends and have evolved a shorthand together. Antoine obviously has the freedom to think up whatever he wants, but also he allows me to go about my work in my way."
Looking back to the early discussions and creative references for the up-and-coming production, Fiore says, "We both watched the original The Magnificent Seven movie (1960, dir. John Struges, DP Charles Lang) with Yul Brynner, Charles Bronson and Steve McQueen. It's a brilliant Western, and a wonderful showcase of Hollywood actors, but we were never going to make ours in that style. We preferred to revisit the neo-realism of Seven Samurai (1954, dir. Akira Kurosawa, DP Asakazu Nakai), which, although pretty dated now, is told from very close to the heart. We loved Kurosawa's way of telling the story in detail, his way of breaking down each character, their relation to tyranny, and the way the story weaves in and out of locations – all in a very naturalistic way.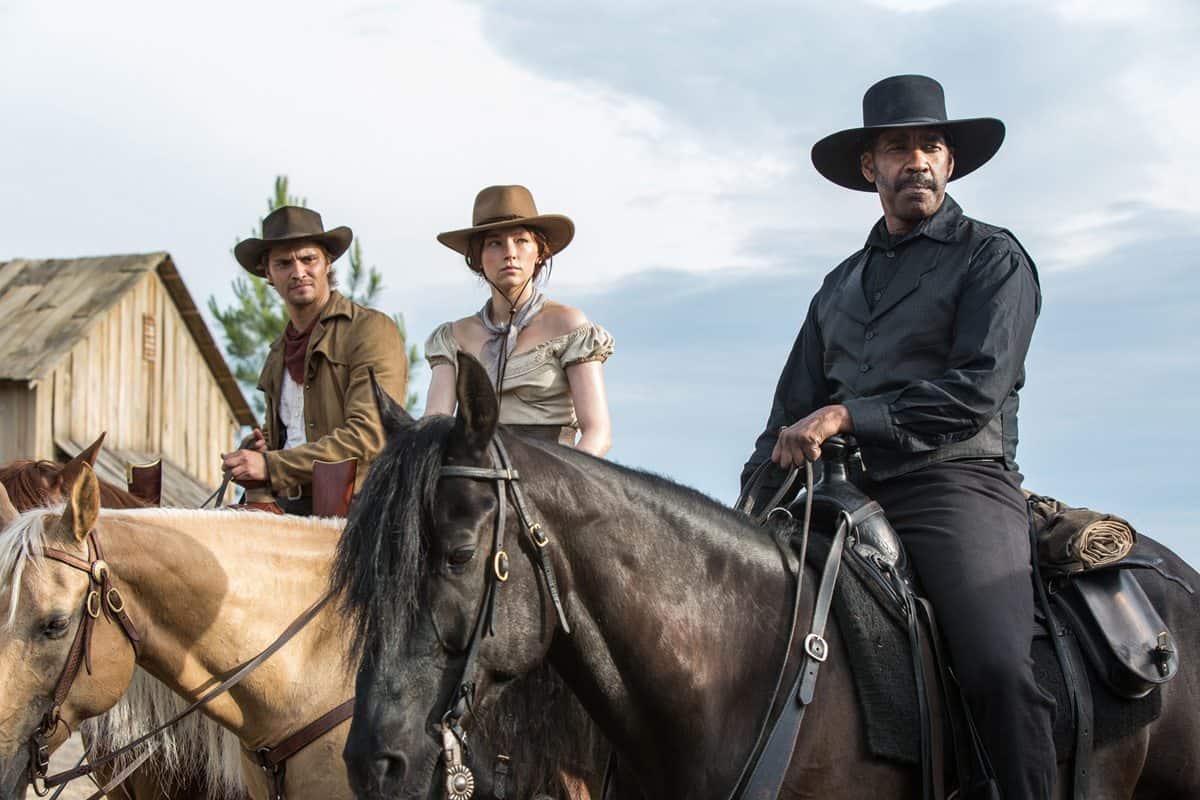 "We were also influenced by the Spaghetti Westerns of Sergio Leone, and looked at The Good, The Bad & The Ugly (1966, DP Tonino Delli Colli) and Once Upon A Time In The West (1968, DP Tonino Delli Colli). Leone's storytelling style – his portrayal of the West as a mythological place, with larger-than-life characters, the use of discomforting close-ups and majestic wide shots – creates a very powerful visual language that also has real heart. Especially with the evocative Ennio Morricone scores playing such a big part in audiences' engagement."
He adds: "All of this really excited Antoine and me, and we wanted to take this opportunity to pay homage to this sort of filmmaking rather than the traditional, realistic or modern stylized Westerns. We wanted our style to a self-evident, self-conscious style instead of just storytelling, but didn't want to bombard the audience with too much of a style. Although, as you will see, we spent a lot of time on the big action sequences."
Fiore says that, from the outset, The Magnificent Seven was conceived as a widescreen celluloid experience. "Apart from The Equaliser and Southpaw, Antione and I have always shot on film, and we always had a desire to shoot The Magnificent Seven on film using Anamorphic lenses. I think Antoine might also have had this stipulated in his contract. ARRI had recently launched the Alexa 65 and I did side-by-side tests to check it out. It is a spectacular camera, but I didn't choose it – partly as I knew the idea of film was fixed in Antoine's mind, and partly as I was looking forward to returning to the discipline of shooting and lighting with film. My last feature productions on film were The A-Team (2010) and Runner Runner (2013). I was also interested to experience again the innate richness of colour you get from celluloid, as opposed to the flatness of RAW images."
Fiore worked with Panavision in LA, who assembled a lens package that would eventually combine of G, C and E-series Anamorphic lenses, and Panavision Panaflex Millennium XL2 cameras.
"The widescreen aspect ratio was important to us as, along with this being our personal homage to Westerns, this format takes you back historically – the audience feel they can relate to the time period and the genre. It's also great for landscapes and faces. And, with the bokeh, flares and little lens imperfections, Anamorphic can be as much a welcome character in a movie as the actors themselves."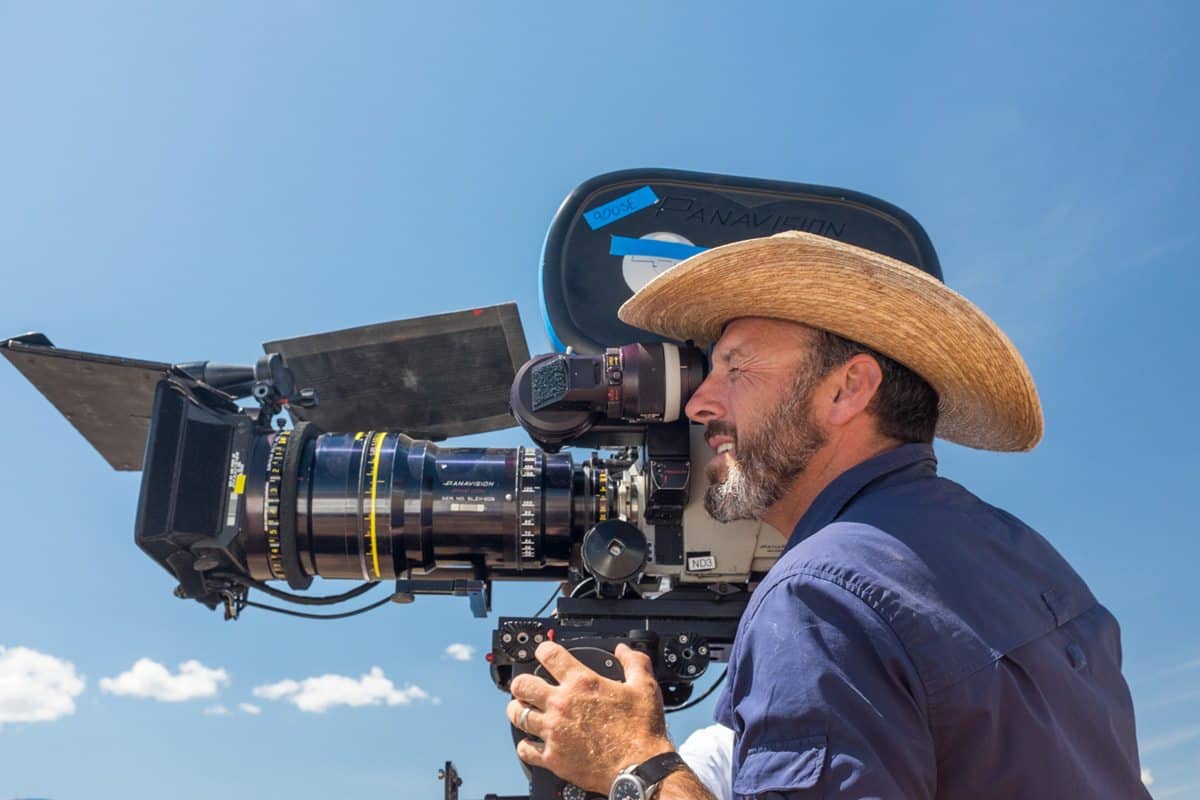 "One huge aspect of shooting a Western is how exposed you are to the elements – dealing with the changing weather and lighting conditions, never mind the heat and dust – day-in day-out. You can't plan for everything, so you must be able to think on your feet and react quickly as required."
- Mauro Fiore ASC
In terms of lighting and look, Fiore says he broke the movie down into distinct moods – the idyllic world of the town before it gets taken over, and then the harshness of the place under siege.
"On day exteriors, you have to be aware of the time of day and position of the sun for each scene, and I scheduled this, as far as I could, with first AD Joe Camp III," he remarks. "I used the slower Kodak Vision 3 5203 50D stock to bring out the brilliance of the colours in the sets, costumes and skies in exterior day scenes and to evoke a romantic almost magical feel to the town at the start of the story. When the place gets devastated and the Seven appear, I switched to the faster and more contrasty Kodak 5207 250D to bring some grit to the image and I spent more time sculpting the faces from light into dark shadows. I loved the results I achieved with film. Something in the negative is richer than you get with digital, and it's a great way of capturing colours."
Regarding the filming of nighttime sequences with 500ASA film Fiore declares, "It was unbelievably exciting and creative to have to re-adapt to this again. When you shoot digital at upwards of 800ASA, you often don't need to light too much at night. But with film it's very hard to rely on just ambient light and you really have use your skills. The actors and directors are not used to this anymore, and it's very impressive when you have a 100ft softbox to create moonlit exterior."
Fiore's crew on The Magnificent Seven included A-camera operator Kirk Gardner, and B-camera operators Dave Richert and Lucasz Bielan. Focus puller was Larry Nielson, with John Janusek key grip and gaffer Mike Kelly. "I've worked with these guys for many years on many movies. We are a tight-knit family, not just a team, and that's very important to me," he notes.
Fiore also points out the talents of second unit DP Lukasz Jogalla, "who did those impossible, lyrical, epic shots you always want of sunrises, mountains, landscapes and skies, often with the doubles," and stunt coordinator Jeffrey Dashnaw, "who ran a sizeable action unit and whose considerable experience was absolutely pivotal during this production." The working regime was five-day weeks, 12 hours per day, "which I love," Fiore remarks.
The production worked mainly with two cameras: the A-camera delivering a wide of each scene and the B-camera providing "enhancing, subtext images, profiles or something else off-skew." Multiple cameras were deployed on the action sequences, "to save the actors having to fall off horses too many times, as much as anything else," he says.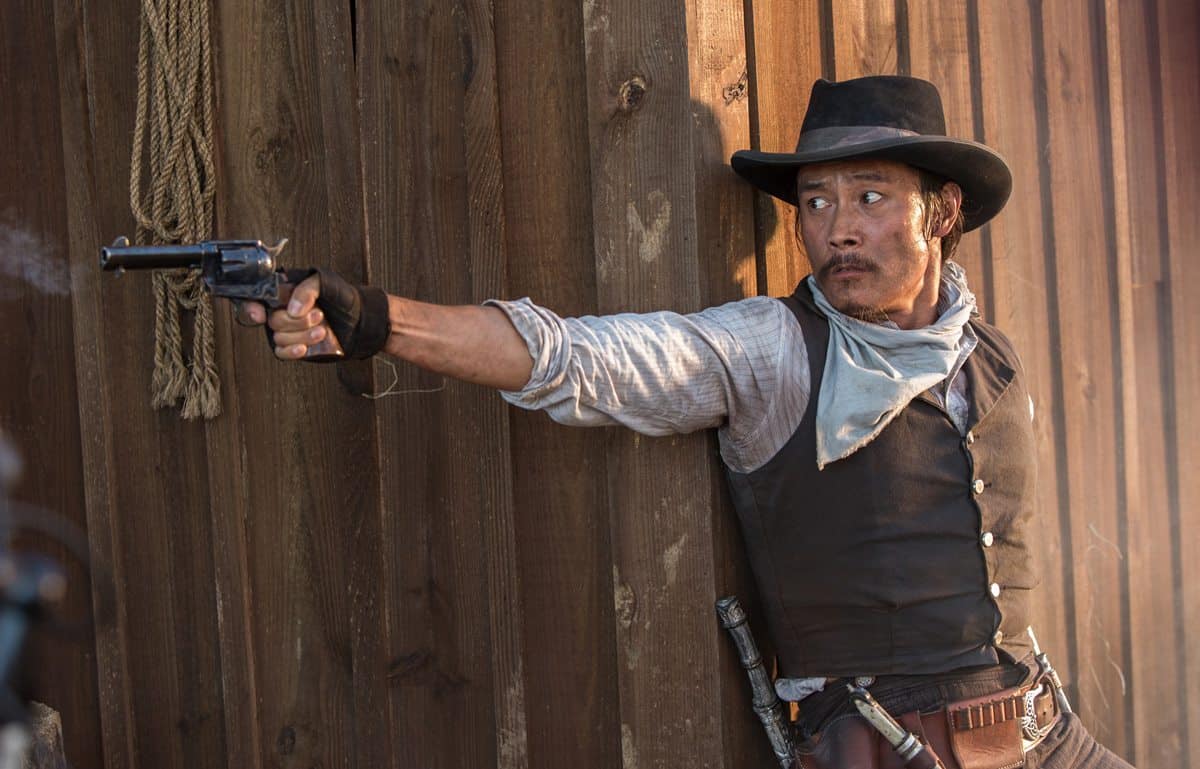 As for the camera movement, Fiore says, "We wanted the camera to have an observational style, to watch the drama rather than being part of it. Consequently there is very little use of handheld, apart from the final fight scene. For the wide/master shots, the A-camera was frequently mounted on a Chapman Hydroflex crane, with Raptor base – which has no problem at all moving around the exterior sets in sand or mud – or mounted on a dolly."
Discussing some of the pro and cons of shooting film versus digital Fiore says, "Compared to digital, when you can review and QC your imagery right there on-set, the celluloid workflow feels really slow. Plus, waiting to see your rushes, and spotting any unwanted imperfections, can be problematic, as production might have moved on by the time you notice something. It's a shame that the quality of the video tap on film cameras has not evolved further, as questions are often raised on-set, and you can only answer them when you see the rushes. With digital ­– for better and also for worse sometimes – you get used to having a look applied on-set and living with that look from there.
"However, the sheer depth, range, vibrancy and tonality of colour you get from shooting on negative, is unbelievable. It was a really pleasant shock for me to have such a huge range of control in the DI. I think if you retool the filmic workflow, with better video taps and have the support of on-set colourist, then film can work very well indeed. Furthermore, when you shoot with a film camera you have fewer cables, no umbilical cord to the DIT, no one telling you the exposure nor what the video signal looks like. Shooting with film is a freeing experience; you put the camera on the dolly and roll. Simple as that."
Fiore completed the DI grade on The Magnificent Seven with Stefan Sonnenfeld at Company 3 in LA over a ten-day period. "As far as I was concerned, each scene in this movie had its own specific look," says Fiore. "So we went through the entire movie, evolved the looks for each scene, and then Stefan did the colouring for me. He knows colour and the end result is amazing – just what I wanted."
When asked how this movie had challenged his cinematographic skills, Fiore says, "One huge aspect of shooting a Western is how exposed you are to the elements – dealing with the changing weather and lighting conditions, never mind the heat and dust – day-in day-out. You can't plan for everything, so you must be able to think on your feet and react quickly as required."
On a final note, Fiore mentions composer James Horner who passed away at start of the production. "Music played a big part in the original Spaghetti Westerns that inspired us to make this film. Antoine was able to take the music James had written for our version of The Magnificent Seven and apply it to the movie. It's a great score that adds a great deal to the visuals."