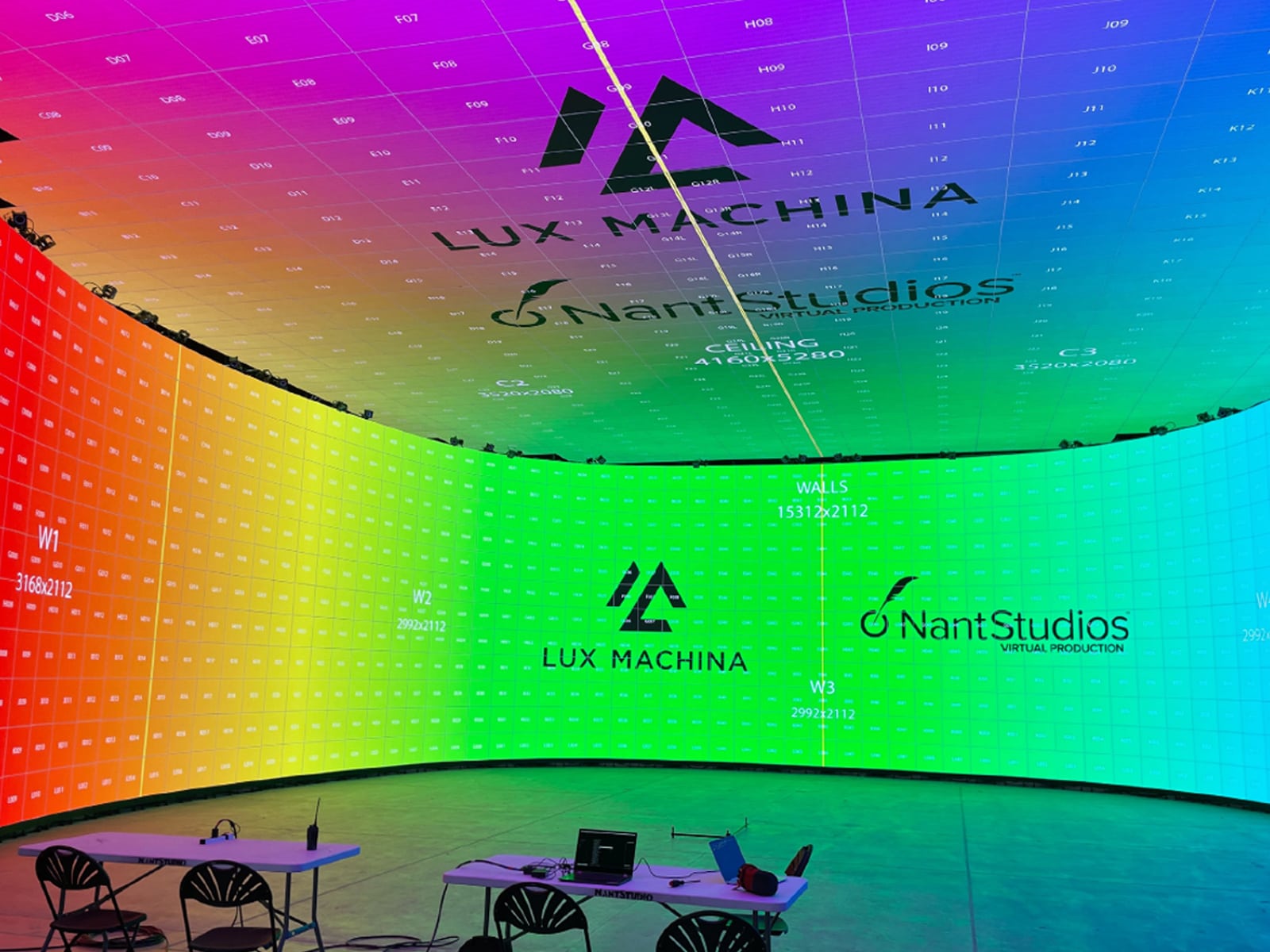 Lux Machina Consulting (LuxMC) and NantStudios has just completed a state-of-the-art LED in-camera VFX (ICVFX) volume at NantStudios' new 24,000 square foot sound stage in El Segundo, CA. 
The Unreal Engine driven LED volume will deliver photo-realistic and camera-tracked environments in real-time and is designed for the specific needs of film, television, and live performance. 
"This has been about a year in the making; from designing custom steel and safety equipment to a unique 360-degree LED design meant to improve audio and create immersive wrap-around shot capabilities, as well as providing a flexible space for any production type. We put a tremendous amount of thought into optimizing the stage in every possible way." said LuxMC's co-CEO Phil Galler. 
"We are thrilled that our state-of-the-art virtual production platform bringing the next generation of film and television production to Los Angeles, is now in full production mode," said Michele B. Chan Soon-Shiong, president of NantStudios. "Building on the success of our studio in Culver City, NantStudios' ICVFX sound stage in El Segundo marries the engineering behind real-time video games with the art of filmmaking in a versatile studio environment. At this stage we will bring to life the machine vision and artificial intelligence platforms we have spent a decade building." 
Utilizing ROE Visual LED panels and OptiTrack mocap cameras powered by real-time render servers running Epic Games' Unreal Engine, Lux Machina designed, engineered, installed and integrated the multi-frustum, HDR capable NantStudios LED virtual production stage.  Lux Machina additionally trained the NantStudios virtual production staff to take on the daily operation of the stage. 
"These techniques and in many cases these technologies have been in use for quite awhile, but we are finally at the nexus point where we can fuse these varying workflows together to create an extremely powerful tool for storytellers.", said LuxMC CTO Kris Murray. "Our goal is to empower creatives with what we believe is the future of storytelling and to give them tools that remain familiar to their current workflow and vernacular. Additionally, we want productions to have the fullest confidence in utilizing one of these systems and having spent years at the helm of some of the largest projects in live television and film, we have developed and deployed systems at NantStudios that we ourselves would stand behind."  
The launch of the NantStudios virtual production stage will be the first of many steps to aim to develop a virtual production ecosystem and innovation campus, with Epic Games recently choosing to co-locate its Los Angeles Lab at NantStudios.