"My main takeaway from Cine Gear this year was that while there wasn't any one product that really surprised me or knocked my socks off, it appears that companies are really making an effort to return control of the image to the cinematographer, and I really like that trend. ARRI's textures, Angenieux's in-lens filters, LED Volume production, are all leading to more in-camera filmmaking, and less post-production shenanigans."
That was cinematographer Luke Miller, speaking about this year's edition of Cine Gear, held earlier this month in L.A., and returning to the LA Convention Center, for the second time. Only this time, President Biden and Vice President Harris were attending the Summit of the Americas, held in the rest of the center's facilities, and making for even livelier traffic planning (though conversely, much more easily crossed streets, due to so many being shut down).
We'd normally take this column to fully report on a show that was back at least at half-strength, compared to its halcyon days on the Paramount lot, and the delight the mostly maskless crowd had at being back, but that reportage is deferred to the magazine side of this publication's multiplatform offerings, where you can read it imminently.
Besides, we have lots of DP shenanigans (and shoots) to catch up with here, so let's get started – in fact, with Mr. Miller, and the show he just wrapped shooting, Netflix's just-concluded Grace and Frankie, with Jane Fonda and Lily Tomlin as the titular characters forced into an unlikely friendship when their law partner husbands discover, late in life, a romantic preference for each other, alongside their professional one.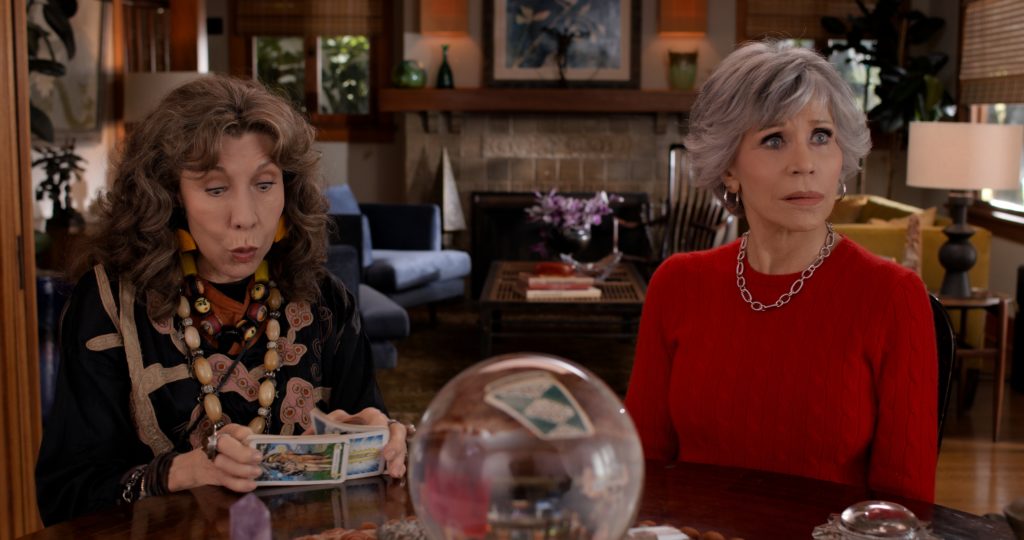 The series was co-created by Marta Kaufmann, perhaps best known for having created Friends, and DP Gale Tattersall – who hails from the UK, and counts films like Tank Girl, and the series House, among his many credits – calls this Kaufmann's "first foray into regular comedy, instead of sitcom," by which we can reckon he means a single camera series, rather than the traditional 3-in-a-studio set up pioneered by Lucy and Desi.
Tattersall knew Kaufmann from "a project called Call Me Crazy, with five women directors, that she asked me to shoot. And she liked my work on House. So, she asked me to join them on Grace and Frankie. We never imagined it would go such a long period of time!"
But it did, seven seasons worth, which in the old days of television, would've meant the series would now be ripe for syndication, instead of living on in the Netflix library.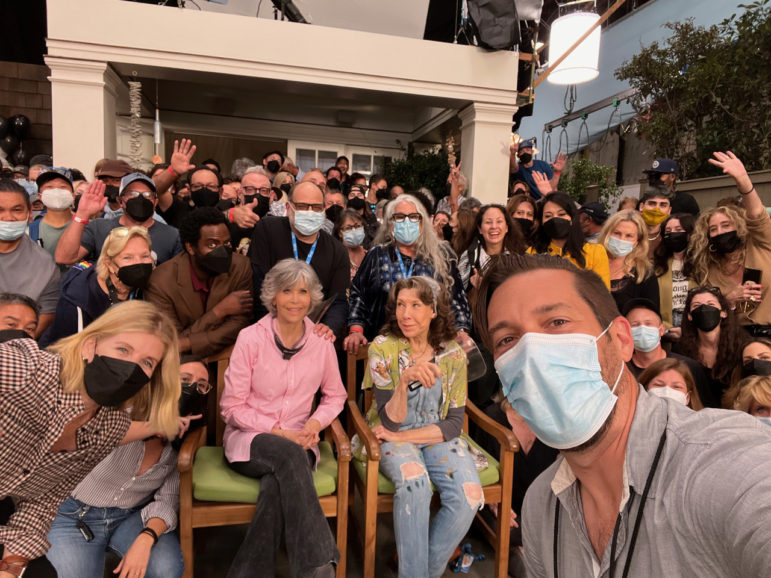 Even without knowing what lay ahead, Tattersall knew he "needed a really great gaffer," and so brought Miller aboard.
Part of the look of the show came from a system they "worked out together, where we use very very soft light in the foreground, and a huge amount of white muslin, laid on the floors, the walls everywhere – to create a wraparound softness," particularly for the scenes featuring either Fonda or Tomlin.
Which, to be fair, was the majority of them.
"Because the light is coming from everywhere – you fill in everything," Tattersall continues, which in turn minimises the contrasts on the leads' faces. "It became a system to implement very quickly," especially with the muslin rolled on out-of-frame walls.
But another thing that went too quickly, as the show grew in popularity, and the seasons extended, was the time Tattersall had to prep with each incoming series director, so, "it was decided Luke would take over one or two days of shooting on each episode."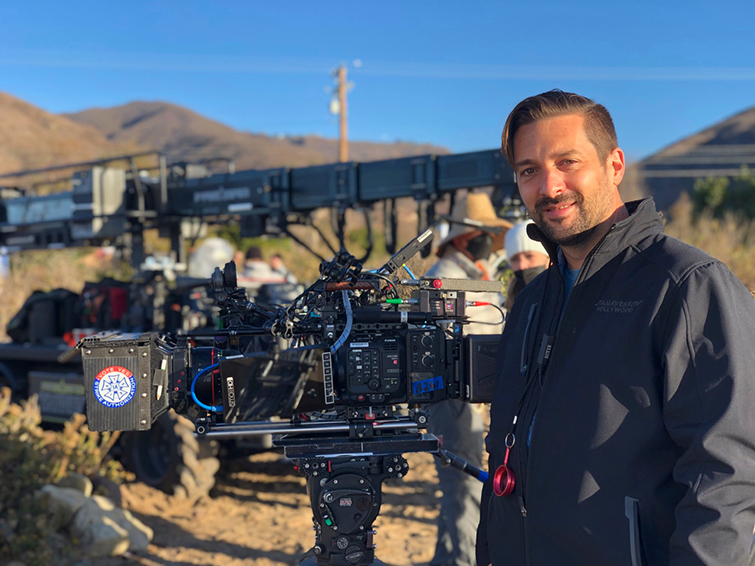 "In my mind," Tattersall recalls, "there was no way another DP could take over. He was the only person who could take over in a beat."
One hitch though was that Miller wasn't in ICG 600 yet – but in another local – so Tattersall, Fonda, Tomlin, and Skydance Productions all wrote letters "on my behalf," as he recounts, "imploring them that is what we need, and why."
Eventually, 600 relented, with the caveat that Miller had to have 30 days of work as a DP on the season. "They don't want people getting into the union that aren't serious about this."
So, in Miller's favor, the call for extra days meant that he wound up shooting entire episodes on his own, as well.
Throughout, they used Canon gear, though when the show started, in an earlier phase of the digital era, Tattersall really liked the Alexa, but "being 3.8k, it was not allowed in the VIP circle of Netflix,' which was calling for 4K masters" That left the Sony F55, the RED Dragon, and the Canon C300, with the latter selected, along with what Tattersall calls "some very smart plugins," for what was a more filmic look, with Angenieux zooms figuring among those "smart" peripherals.
Over the course of the show, the 300s gave way to 700s, and for "the last season, (we used) the C500 Mark II – things that were better for the operators or assistants."
The cameras were affixed to Canon's own Sumire Prime lenses so "we ended up in the final episodes with a Canon pipeline."
As for what happens now that the series is wrapped, and they're "post-pipeline" entirely, Tattersall says "I'm quite likely to retire – hopefully Luke is going to have the most illustrious career."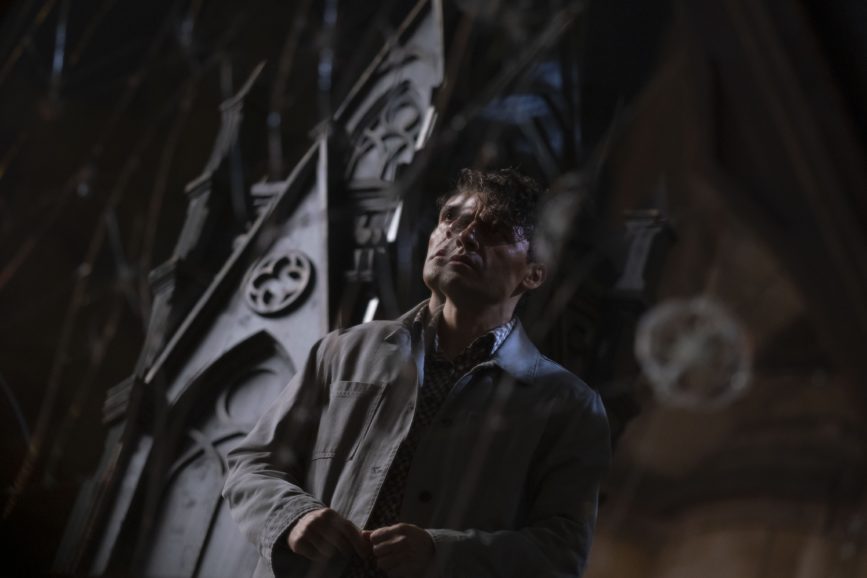 To which Miller adds, "I'm very much available and excited to try my hand at something after Grace and Frankie," noting a short he's already done with series actor Michael Charles Roman.
Cinematographer Andew Droz Palermo found himself also trying something new, as he moved from one project to the next, even though both had the name "Knight" affixed to them.
Known for his collaborations with director David Lowery, which included the spare-but-effective A Ghost Story, and more recently, the Arthurian reworking of The Green Knight. But when it came time for the Disney+ series Moon Knight, star and producer Oscar Isaac "heard I was up for the job and really liked A Ghost Story." Since star Casey Affleck spends the majority of that movie in a white sheet, inhabiting various corners of the house he "haunts" through the generations, the thinking was that if he could make that work, Palermo would have an easy time of it with Isaac's superhero garb – all swirling white cloth, cape, cowl, and leggings.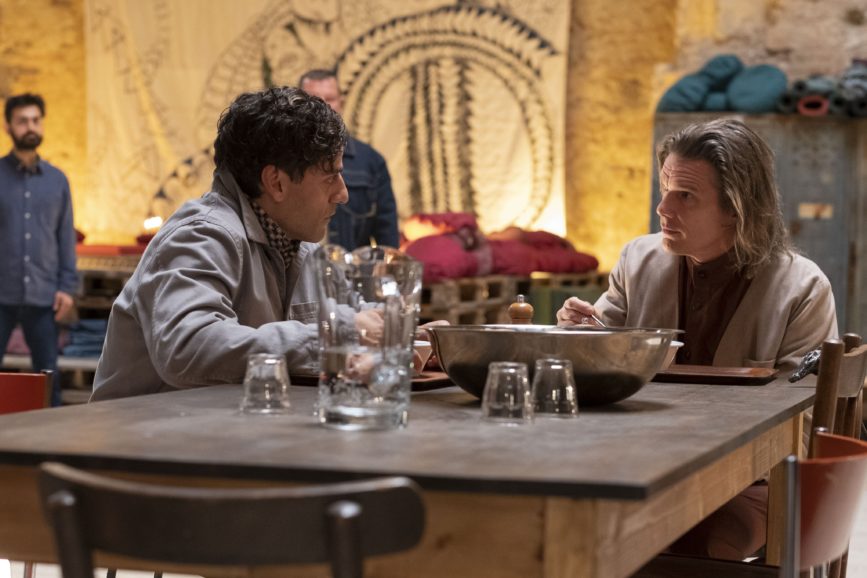 Moving from indie films to an MCU property, "I went into the job thinking there'd be a lot more studio involvement. They wanted us to be cognizant of visual effects and, protecting the shadows; there's information there. (But) I was pleasantly surprised how much creative freedom I had even on this studio project."
That freedom – and shadow protection – was shared with the series' other DP, Gregory Middleton, a Game of Thrones alum, and Emmy winner for his work on HBO's Watchmen.
Middleton, Palermo says, "was super collaborative. He invited me in on the process," which hadn't moved too far along when he came on board. DPs and directors "talked as a group about the visuals of the show, really paving the way for how it would look."
Visual references, for a series filled with archaeological sites, and the gods, demigods, and secrets that emerge therefrom, included films like Raiders of the Lost Ark, "any Spielbergian things," along with "previous Marvel shows," and the comic itself. He particularly cites the recent run by writer Jeff Lemire and artist Greg Smallwood. "The original was an inspiration for me – the psychedelic images excited me."
Just as they excite and terrify the story's characters, who find themselves switching identities and dimensional planes, throughout.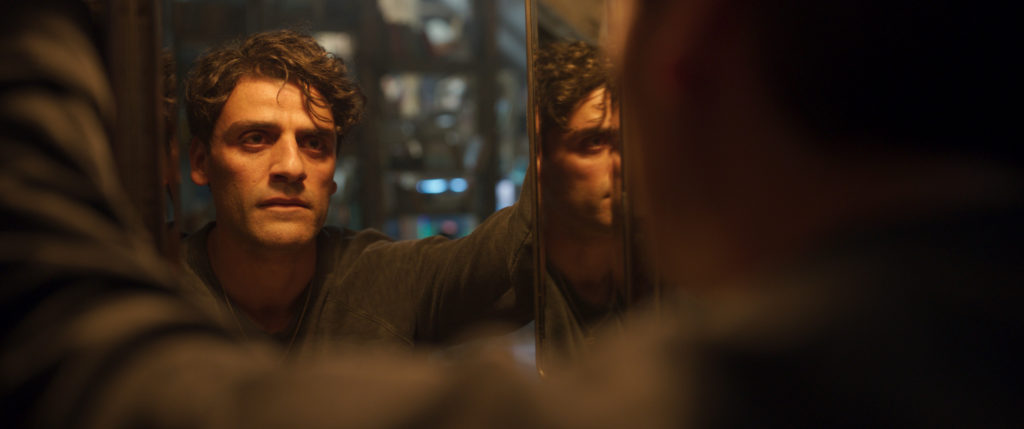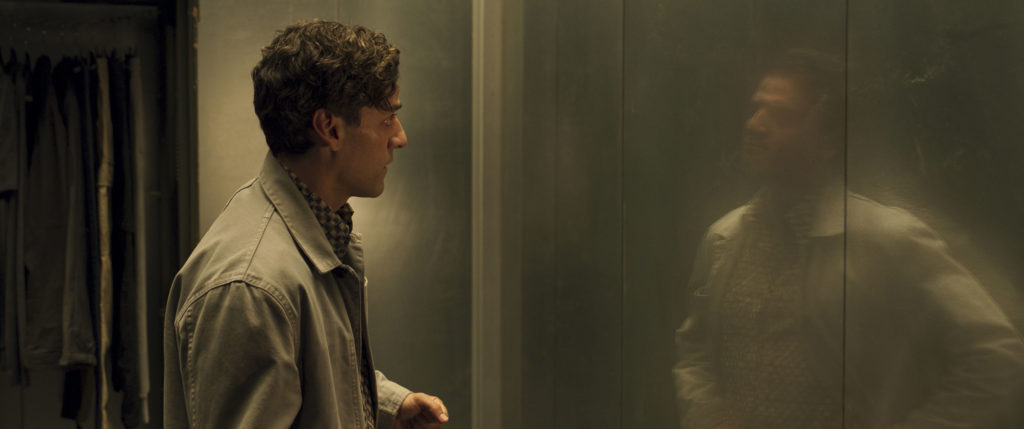 He and Middleton, meanwhile, were on the same plane, as far as visuals: "Greg and I have similar tastes and aesthetics. Looking at previous Marvel shows, what did we want to push?" Moon Knight
One thing, it turned out, was contrast. "We can't have a show about Moon Knight without the presence of a real inky black. So, Greg and myself really wanted to push more into contrast and tried to push a little further."
To help with the pushing there were Alexa Mini LFs and Zeiss Supreme Prime lenses, "and we had a lot of them… so many cameras. On the second unit, they carried a full size LF, knowing they'd need slow motion."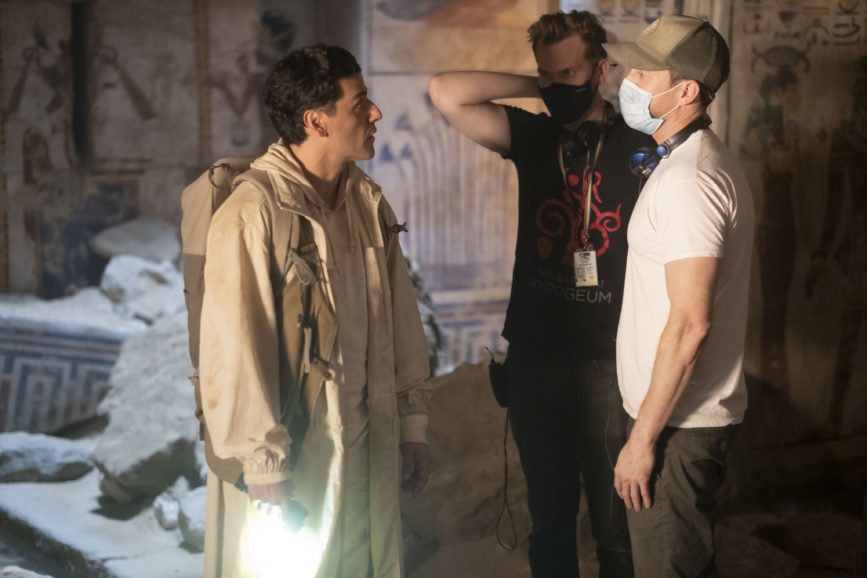 One main component for the lighting was "the latest and greatest SkyPanels," which helped in his aim "to have some consistency (since) we really were genre-hopping."
One sequence in a mental hospital is "lit largely from the ceiling, then I would bring in a small key, or something from the floor," in the manner of a Cuckoo's Nest-era setup. For "the Tomb Raider-y things I tried to motivate from their flashlights."
But he also "had a great time overly-lighting, overly saturating colours on the lights themselves. And then in post, they added a bit of chromatic aberration, to make it look a little grungier."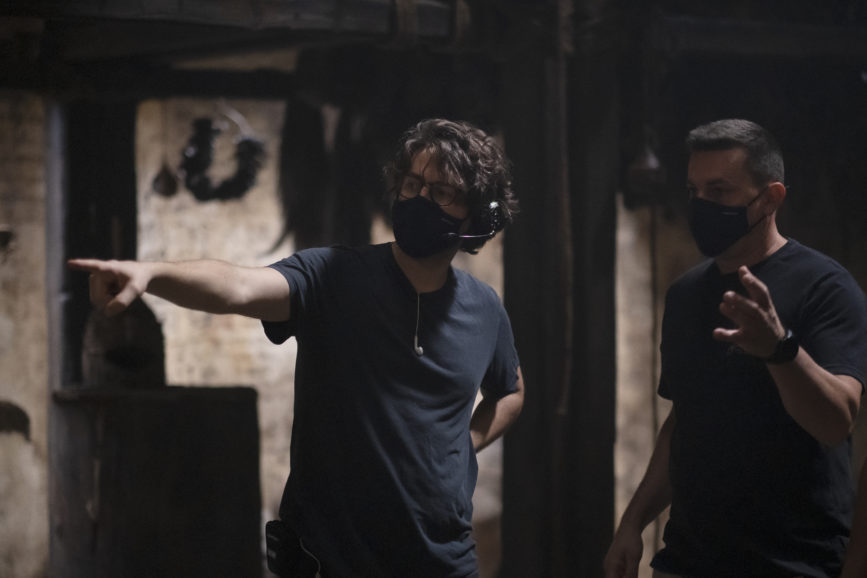 Palermo also "got to do colour timing – the producers were super welcoming of my and Greg's feedback. They let us each do a pass, and then we did a group communal pass as well. And also gave a little feedback on VFX!"
All benefits – as perhaps he knew since A Ghost Story – of protecting your shadows well.
Often lurking in shadows can be masks, especially of a superhero variety similar to Moon Knight's. But also running on Disney is a show about a superhero not in the shadows at all, but one who creates trouble for herself by constantly streaming herself in action, searching for "likes" – until a few life lessons come her way.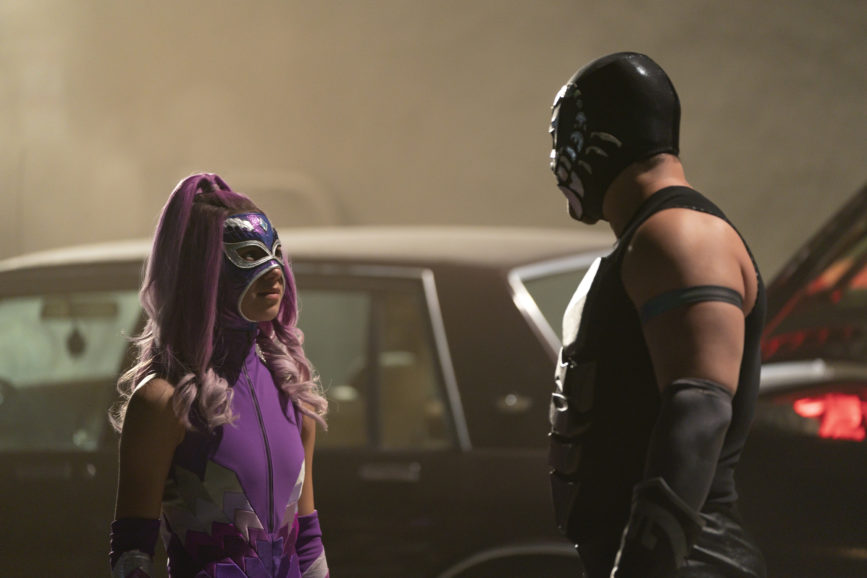 We speak of Ultra Violet & Black Scorpion, where the middle school aged "Ultra" (or is it "Violet?") comes across an enchanted luchador mask – or rather, it comes across her – that grants her powers. Similar to what her uncle – as it turns out – has had all along in his guise as Black Scorpion.
It was shot by DP Rafael Leyva, who came on board "after a two-round process with the studio. I think they saw my passion, and I knew what the lucha libre culture meant to the Latin American community." He also thanks his publicist, Meredith Emmanuel (full disclosure: an old friend of the column, as well), who let him know that Disney was looking for him.
"The studio seemed to check with the ASC about who's who in the upcoming track, and apparently they told them about me. They tried contacting me via my representation but at the time, the agency was closing shop. Luckily, the line producer saw my publicist contact on my IMDb," and "I believe that two weeks later, I was getting ready to interview. Isn't that neat?"
Almost as neat as some of his visual references, which included not only comic books and video games, but "films like Scott Pilgrim vs. the World and Batman (1989). For me, that was one side of the show. The other had strong influences from the bold and lively culture of Latin America and its lucha libre tradition. Wrestling in Latin America is huge. As I was born on the island of Puerto Rico, it was nice to visit similar childhood memories of watching wrestling with my grandmother."
Capturing the superhero-cum-wrestler excitement "was a combination between big sources through unbleached Muslin, LED LightMat sources through Magic Cloth on snap grids, a one-stop Rota Pola on camera, Angénieux Optimo Large Format Lenses because of the wonderful creamy coating, and finally most practicals on LED."
The camera was also an ARRI Alexa LF, and the show was "the first single-cam Large Format Capture Latin X show for Disney. Even though LF cinematography had been on the horizon already for quite some time, there weren't enough lens manufacturers to cater the flavor I wanted for the show. At first, I shot the pilot on the new Leica Leitz over the pandemic. Thanks to Keslow, once the pilot got the green light, I tested the new Angénieux Optimo lenses and ever since the camera test, there was no way of going back."
Sort of like what happens when your life partner suddenly leaves you, an ancient Egyptian God bequeaths you powers, or an enchanted mask beckons you to put it on.
We too will plunge more irrevocably into the future next time out. Until then, @TricksterInk / [email protected]