MEETING OF MINDS
Cine Gear Expo marked its fully-fledged, post-pandemic return to the tradeshow scene with aplomb in its 2022 edition. Our highlights reel from the event rounds up the latest and greatest innovations and some of the professionals making an impact.
"The objective… is to shine a light on the technical and artistic achievements of those who paint with light, those who dance with our actors all the while keeping them in focus, and those who tell meaningful, thoughtfully crafted stories in the camera arts. Our winners were exceptional! Their reels speak for themselves."
Has award season suddenly kicked off earlier than reckoned? Yes and no, since we come to report on a particular dance that involves not only the aforementioned cinematographers, but everyone else they work with in lighting and grip, vendors, studios, etc, along with the whole careful minuet of trying to mount a successful industry trade show in a time of lingering pandemic, rampant inflation, digital networking, and world upheaval.
In this case, though, Cine Gear's 2022 edition successfully negotiated the ballroom floor, or rather the showroom floor, at the LA Convention Centre, with a much better attended gathering than the spare, placeholder version held last fall, at the same locale.
And it was replete with an opening award show to boot! The speaker in question is Tema Staig, Executive Director of Women in Media, and she was referring to the Altitude Awards, "created in partnership with ZEISS to celebrate our members in the camera and lighting departments."
Winners there were bookended by the VIP Awards a couple nights later, with a tribute to the event's late co-founder, Karl Kresser, a Legacy Lifetime Award to Steven Poster ASC, a Visionary Award to Lawrence Sher ASC, and an Emerging Star nod to Loki (and the upcoming Black Panther sequel) DP Autumn Durald Arkapaw.
Kresser was also memorialised at one of the highlight events in the middle of the expo, between the award bookends, namely the traditional ASC Cinematographers panel, which had always been moderated by George Spiro Dibie ASC. Now it's fallen to the Society's own George Mooradian, a recent Emmy winner for the Netflix series Country Comfort. To recognise the passing, a toast was observed in both Dibie and Kresser's honour, with wine from Kresser's own Central California vineyard.
His professional and life partner, Juliane Grosso, was there to lead the panel in lifting glasses in memory of both, and while coverage of the ensuing panel could take up an article or two of its own, including the initial praise of Owen Roizman ASC, from current Bosch director/DP Patrick Cady ASC (along with Larry Sher ASC, admonishing younger audience members to study up on Roizman's work), perhaps a good summation of the show itself came from recently minted ASC member Ava Berkofsky, recalling her observations when working as an operator: "Some DPs are about framing, some are about lighting – I'm about framing," she told herself then. Yet on becoming a DP, found herself focusing on "lighting, lighting, lighting!"
Happily, the floor show had plenty of vendors, many of whom were missing during last autumn's edition, with cameras and new sensors for those focused on framing, and the LEDs, cranes, cloths, and everything else, to light those compositions.
Indeed, on the lighting side, there was honouree Mr. Poster again, now in his capacity as a board member at 6P Color, whose mission, as COO Gary Feather told us, is "to suggest a big part of the colour spectrum is missing."
6P seeks to rectify that by, as its FAQ declares, transforming "data to take maximum advantage of its own display characteristics: color gamut, (and) dynamic range," by letting you see, for starters, all the cyan you've been missing 'til now, in FCR, or Full Range Color.
Poster himself puts it: "It's a very exciting prospect to think that soon we will have an understanding of how specific colours can affect our audience's unconscious to elicit emotional responses. Vittorio said it all along in his lectures about the colours of light. With Full Range Colour we will be able to create these emotional hooks to our stories."
As for other emotional effects, Robert Machlachan ASC echoed Staig's reference to brush strokes and pigment, talking about the "painterly masters" the Sony VENICE 2 afforded him, on a panel devoted to the camera, as well as consistent options in post.
Canon was also touting workflow, with firmware updates for its EOS C300 Mark III and EOS C500 Mark II digital cinema camera, in partnership with Frame.io, allowing the automatic distribution of clips to any authorised production device, for immediate review
ARRI was there too, after missing the previous show, with its buzzy new ALEXA 35. In addition to the hands-on demo'ing at the booth, there was a whole spotlight presentation given by their cinema lens specialist Art Adams, who noted this was the company's "first major sensor design in 12 years," all toward that same "faster, easier workflow," that remains a constant grail in the digital age. With the new ALEXA, there was particular attention paid to more accurate steps between hues, based on the look (and gradations) of HDR, rather than film, though with the camera's built-in filters – or "textures" – with names like "Nostalgic," and "Soft Nostalgic," those Roizman-y film looks can be recreated in-camera.
Which was something DP Luke Miller noted about the show. He was there after several years of using Canon gear, with co-DP Gale Tattersall, on his multi-season run on Netflix's Grace and Frankie, and said his "main takeaway from Cine Gear this year was that while there wasn't any one product that really surprised me or knocked my socks off, it appears that companies are really making an effort to return control of the image to the cinematographer, and I really like that trend. ARRI's textures, Angénieux's in-lens filters, LED Volume production, are all leading to more in-camera filmmaking, and less post-production shenanigans."
Though it's dubious that in Hollywood – or even down the freeway, in downtown LA, where Cine Gear resides until further notice – the shenanigans will ever abate. Still, it was good to see the idea of the "trade show" return. Even if its future remains as opaque as the clouds in a John Constable canvas.
Words: Mark London Williams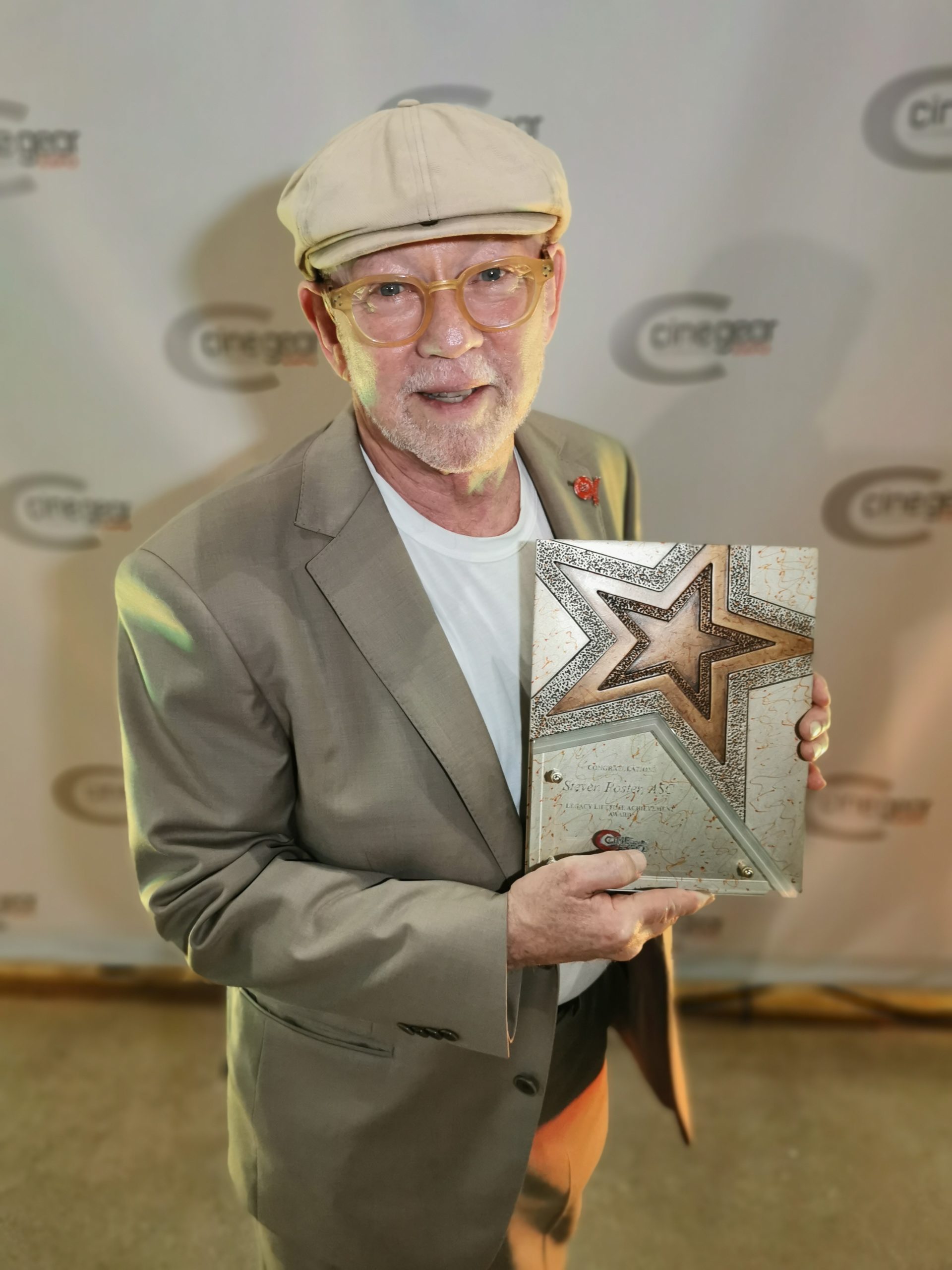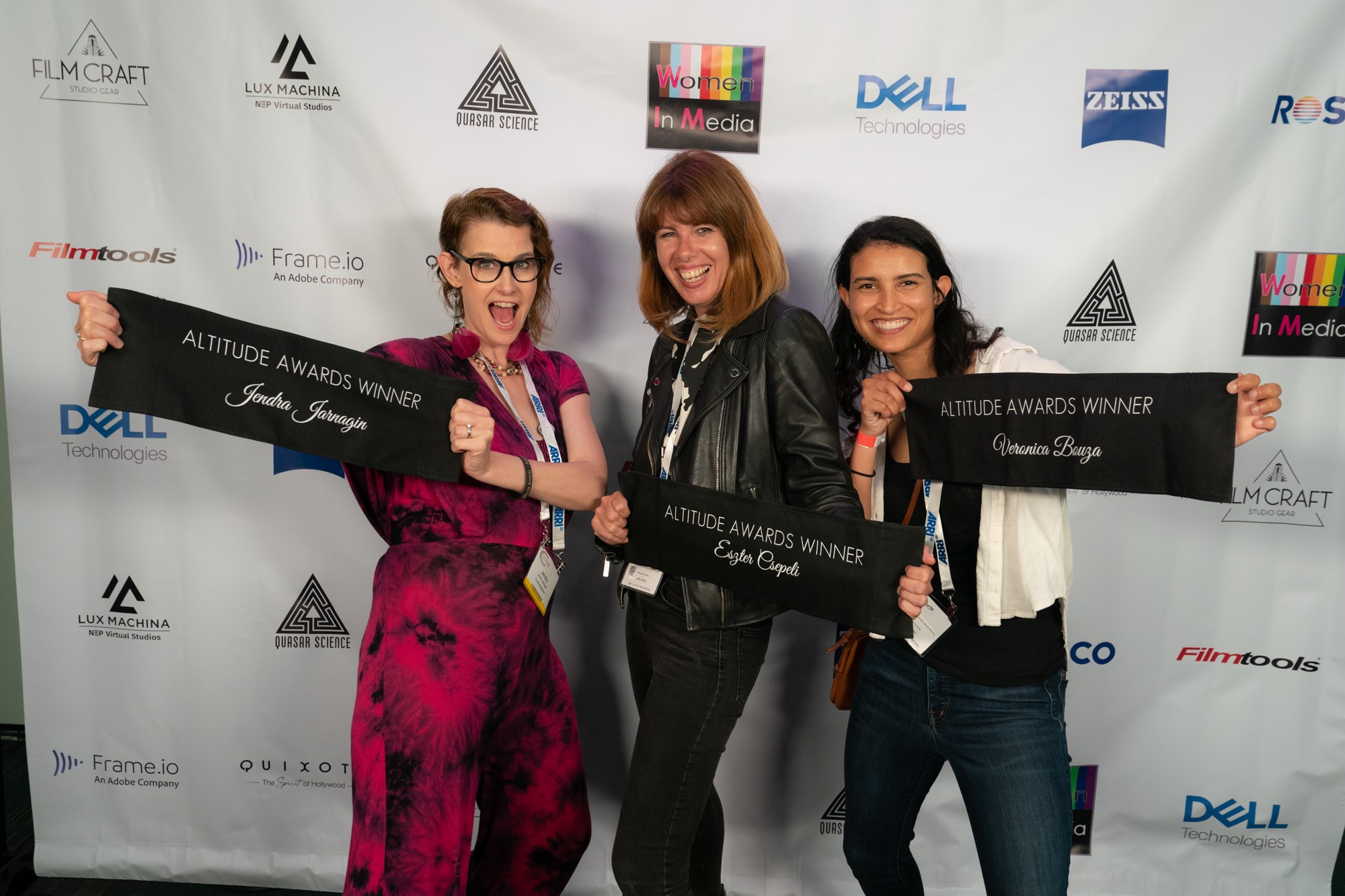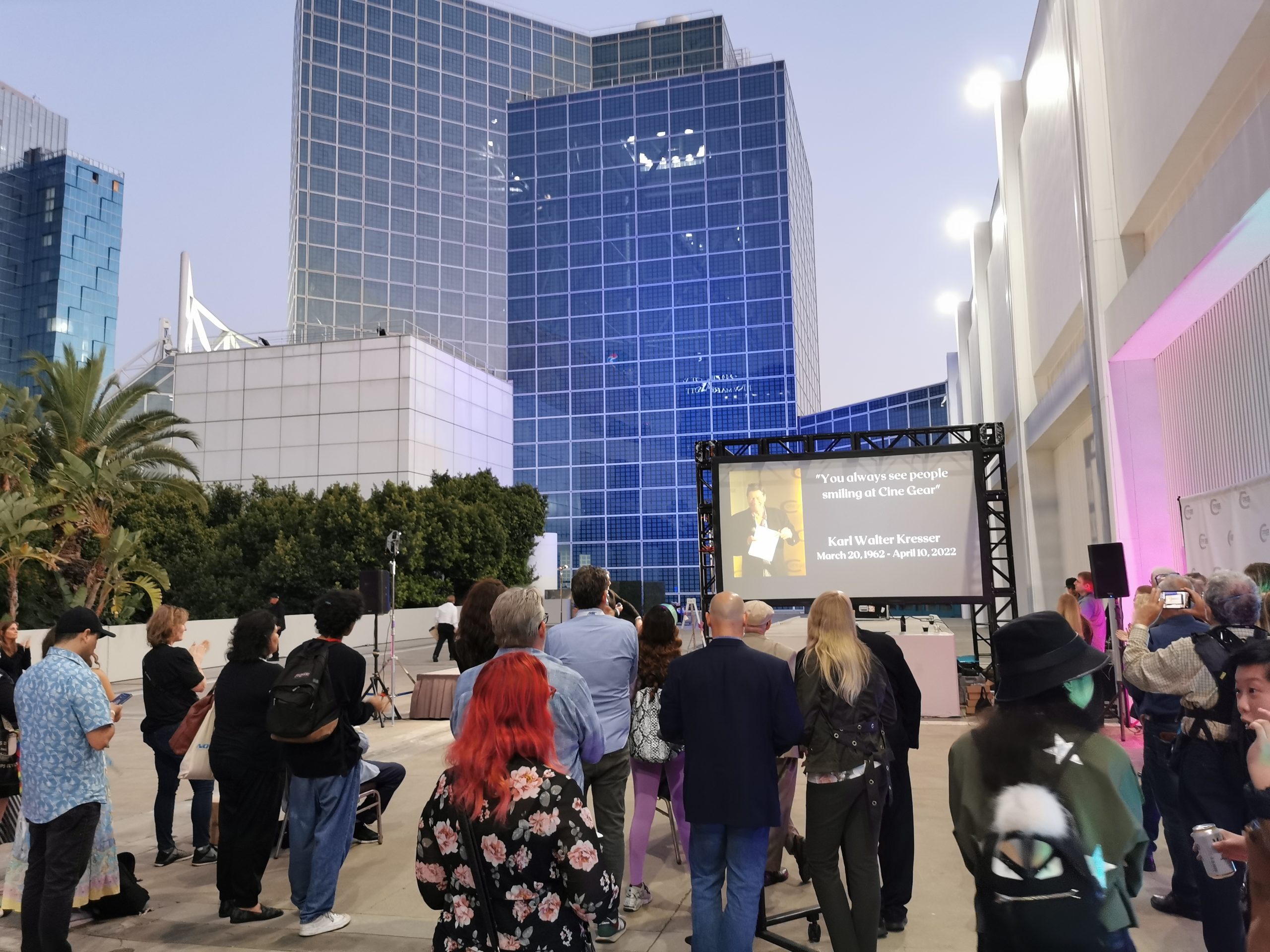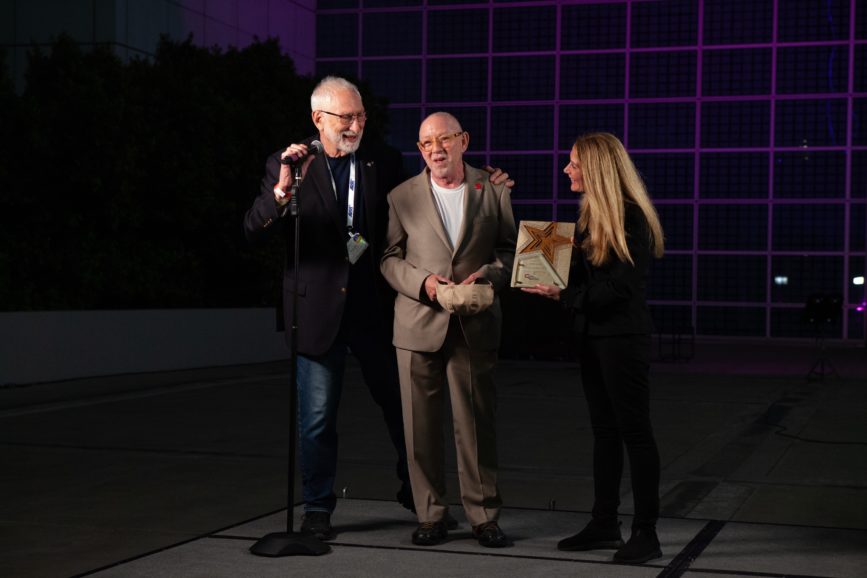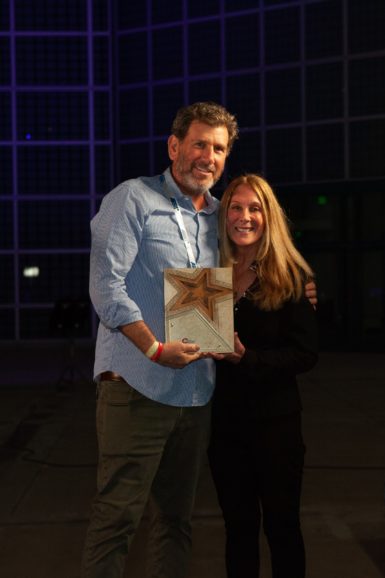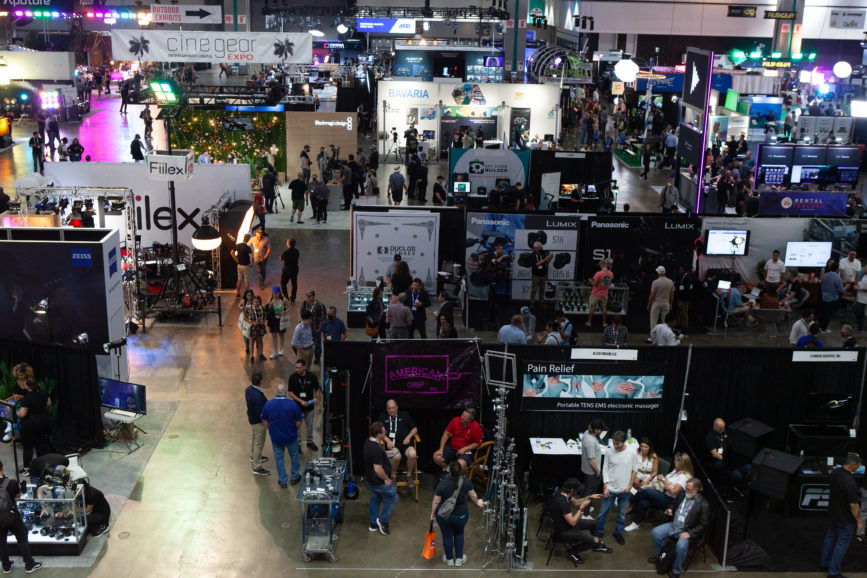 Cine Gear Expo 2022: technology and product round-up
After a strong showing under difficult circumstances last year, many of the cinema and filmmaking technology market's leading manufacturers returned to Cine Gear Expo with their latest products. Over 160 top companies in this field were present. We round up some of the highlights.
This year has already turned out to be a good one for new camera releases. Among the highest profile introductions was Sony's VENICE 2. This is an updated and reworked version of the original large format model and is an 8.6K device featuring several additional sensor modes. VENICE 2 features Cinemascope capability (2.39.1), which enables shooting in 8.2K up to 72fps and in 5.5K up to 120fps. Other ratios offered include Large Format Scope using Full Frame, Super35 17:9 and 6:9, with support for Super35 full height 2.0x squeeze anamorphic‌. This year will also see Sony launch a version two of its Rialto extension system. This is designed for confined space and, along with a separated VENICE, featured in cockpit shots for Top Gun: Maverick.
Blackmagic Design showcased two digital cinematography cameras. The URSA Mini Pro 12K feature a 12,288 x 6480 12K Super 35 sensor and 14 stops of dynamic range in the established URSA Mini body. Oversampling from 12K provides 8K and 4K images, while it is possible to shoot at 60 fps in 12K, 120 fps in 8K and up to 240 fps in 4K Super 16. The Pocket Cinema Camera 6K Pro has been designed for handheld work and features a 6144 x 3456 Super 35 high resolution HDR sensor, dual native ISO, EF lens mount and direct recording to USB-C disks.
ARRI had a number of cameras on its stands, including the ALEXA Mini LF camera. The ALEXA Mini LF has featured on major feature films including The Batman, The Power of the Dog, and Dune. It can run in both Super 35 and large formats and offers ARRI's colour science for natural skin tones and colour correction, plus compatibility with HDR and wide colour gamut displays. A recent development has been the launch of second-generation versions of ARRI's introduced TRINITY and ARTEMIS stabilisation systems. These now work as a modular package but with two different stabilising methods. Users can choose between the wholly mechanical ARTEMIS 2 and the hybrid TRINITY 2, which has electronic stabilisation that allows for a wider variety of movement and angles. Also on the ARRI stand, visitors will find the Hi-5 lens control hand unit, Signature Zoom and Prime lenses and a full range of lights, with the Orbiter being the featured item.
ARRI Rental was exhibiting alongside ARRI and showed a black and white model of the ALEXA 65, a specially engineered version of ARRI Rental's exclusive 65mm camera, facilitating monochromatic digital cinematography of unprecedented clarity, texture, and beauty. ARRI Rental also showcased its latest lens options for large format: ALFA anamorphic and Moviecam spherical lenses. The ALFA lens set comprises eight lenses ranging from 40mm to 190mm. Developed in collaboration with leading cinematographers, they offer a characterful and carefully detuned anamorphic look, and have already been used on The Batman. The Moviecam lenses combine vintage optics and a cinematic backstory with modern, high-performance lens housings. Respectfully updating a 1980s design, they are impressively compact and lightweight for large-format lenses. Moviecam lenses come in 11 focal lengths, from 16mm to 135mm.
Panasonic's LUMIX range of mirrorless cameras were on show during Cine Gear. Introduced in early 2022, the GH6 is now the flagship of the Micro Four Thirds G Series. This mirrorless camera can record internally on CFexpress Type B cards at 5.7K using ProRes 422 HQ and ProRes 422 codecs and is aimed primarily at videographers and stills photographers but also for shooting independent films, documentaries and B or C camera footage.
Also launched at the beginning of this year was the Canon EOS 5 C. This is the manufacturer's first full frame 8K Cinema EOS camera. It is a hybrid, combing filmmaking capabilities from the Cinema EOS series with the photographic features of the EOS R System. The 5 C has a high-resolution, full frame CMOS sensor, DIGIC X processor and RF Mount for 8K shooting, while its 45 megapixel still photo mode is able to capture images at burst speeds of up to 20fpsecond. Canon will be showing other digital cinema products, including the EOS C70, which has been upgraded with new firmware that adds features such as 12-bit Cinema RAW Light recording, and the EOS C300 Mark III.
Among the camera support systems on show at this year's Cine Gear Expo were Cinema Devices full product lines: The main focus was on the Ergorig System, which own the Society of Camera Operators' 2022 Technical Achievement Award. The whole range is designed to allow operators to work in a familiar way but without the pain often associated with handheld working. The latest addition to this range is Ergorig CenterFit, which was designed for female body types but has also become popular with male operators as well. Also on the Cinema Devices stand was the AntigravityCam system and the ZeeGee support, which is said to deliver a recognisable handheld look.
For camera and accessory power, Bebob introduced additions to its range of B-Mount batteries. This series of multi-voltage interfaces was launched three years ago and has now been expanded through the 24V and 12V products. These support multiple voltages and comprise the B90cine with 86Wh capacity, B155cine (156Wh) and B290cine (285Wh). A fourth newcomer is the B90cineHS. This battery is also a hot-swap adapter and can be connected in series to other B-Mount batteries. Supporting the new batteries are the BS2 and BS4 chargers and a variety of adapters.
Lighting was a dominant presence at this year's Cine Gear Expo. Both the NANLUX and NANLITE brands were on display. Recently released products from both include the NANLUX Evoke 1200, described as a LED version of a HDMI spotlight; the NANLITE Forza 720/720B, promoted as the brand's brightest spots, which were launched in March; and the NANLUX Dyno 1200, seen as an alternative to the ARRI SkyPanel S360.
French manufacturer K5600 highlighted its move into COB (chip on board), which has been applied to both the Alpha 300 LED Fresnel and Joker 300. The company says it is using a 600W COB of approximately 1cm diameter that can produce a consistent beam without shadows on the Fresnel and be dimmed for low light working.
SUMOLIGHT's latest high output LED lamp is the SUMOMAX. This 700W fixture is hexagonal in shape and has a high lumen output and modular construction. It was produced to satisfy requests from cinematographers, lighting directors and gaffers for a more powerful entry in the SUMOSPACE+ range and can be used as a key, hard, punch, space, or soft light.
Among NBCUniversal subsidiary Cineo Lighting's recent introductions are the ReFlex R15 hard source LED, which can be switched between spot to flood light; the Quantum II panel, featuring fourth generation LED technology plus control by the C²OS touch screen console; and the LB800, which allows for multi-zone operation as well as operation by the C²OS.
FilmGear International brought its new beam projectors to Cine Gear Expo. The Power Beams come in both HMI and tungsten form, with new models including the 1.8/1.2kW Daylight Power Beam and 5/2kW Tungsten Power Beam. These have higher output and greater versatility and are already being used in the industry. The range includes 18, 24 and 36-inch faced lamp heads, which are claimed to give better beam definition over longer distances.
Chimera Lighting has this year been producing both standalone fixtures and systems for working with other manufacturer's products. These include the new, octagonal Daylite Octa 7, accessories for the ARRI SkyPanel S30, Medium Lightbank for the Creamsource Vortex 8 and POP Bank for the Aputure P600. Aputure itself has recently introduced two new tube lights (the two-foot full colour T2c and the four-foot full colour T4c) and four new flexible mats (the high output, full colour F21c and F22c and bi-colour F21x and F22x).
Litepanels' big launch was the new Gemini 2×1 Hard RGBWW LED panel. This is claimed to be brighter than other 2×1 panels, being able to deliver up to 23,000 lux @10ft/3m of output. It has a lightweight construction but is twice the size of the Gemini 1×1 Hard, which was introduced last year. Weighing 11.5kg, it includes a yoke and integrated power supply and has a maximum power draw of 500W. The Gemini 2×1 Hard can produce a 20-degree beam of hard white light but is also able to switch to a soft 100-degree wash using diffusion panels that are included.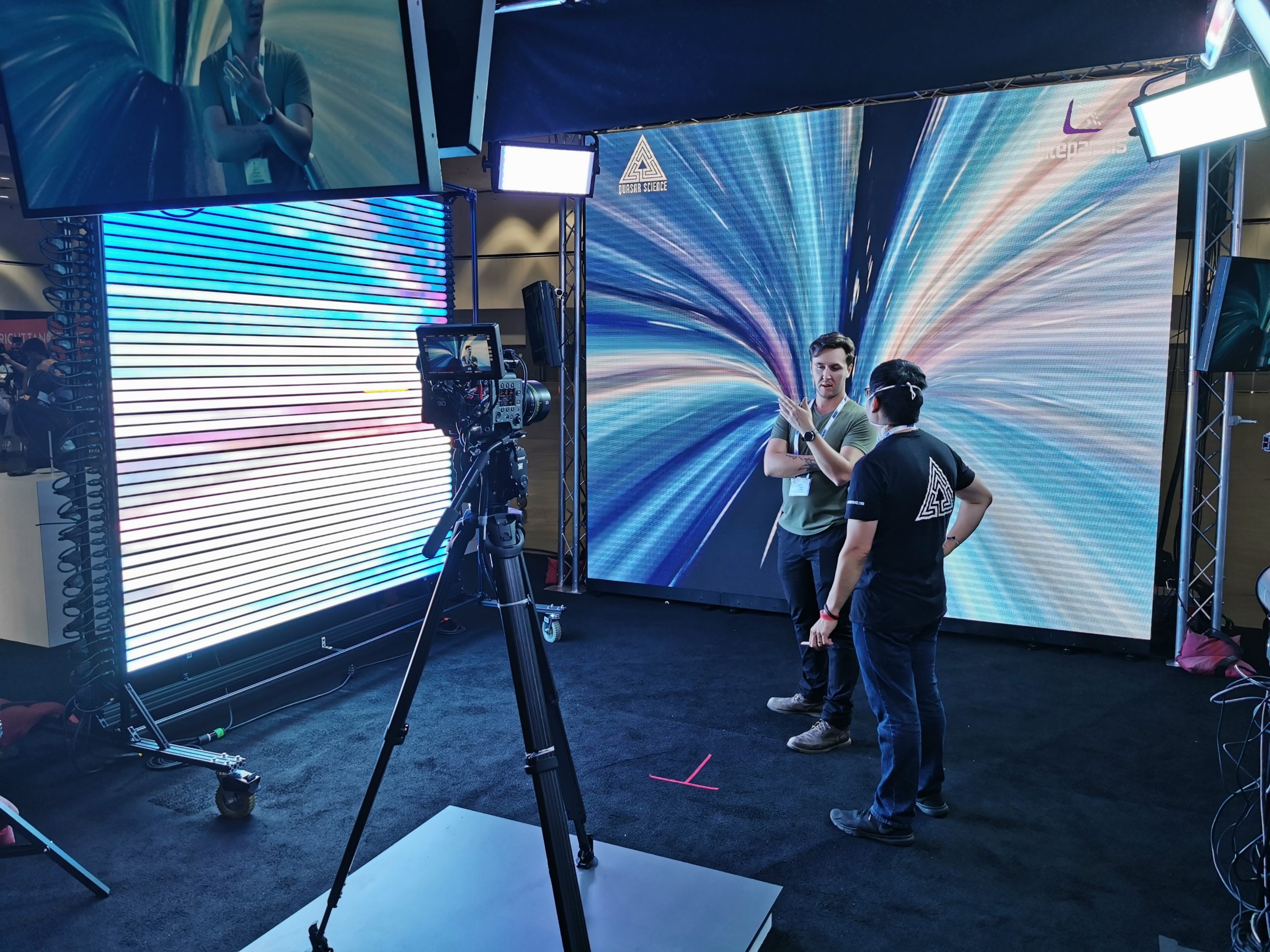 The most recent product from Creamsource, which was seen at the 2022 NAB Show, is the Vortex lighting series. This an LED lighting system designed for film production and comprises two fixtures: the high-powered flagship 650W 2×1 Vortex8 and the 1×1 325W Vortex4. The Vortex8 fixture is designed to be robust and can be used in any conditions (it is IP65 water resistant). It has a wide CCT range and can work with high shooting speeds of up to 5000 frames per second (fps). The Vortex4 is a smaller all-in-one system, includes integrated PSU and antennas and can be used as a hard or soft light when operating in conjunction with Creamsource's Diffuser or Dome.
Fiilex showed its latest LED Fresnel, the Q10 Color. This is a 900W LED luminaire, which the manufacturer is offering to director of photography and gaffers as a new type of 5K tungsten lamp that is able to quickly produce high quality colours.
Moss LED's recent products include the FlexLED strip. By using a new LED chip, Moss has produced something that combines the best features of 24V (lower current, less voltage drop) with the benefits of a traditional 12V FlexLED strip. Short Cut bi-colour FlexLED comes in two versions: 120 LED/meter (12mm width) standard version and the higher output 240 LED/meter (12mm width) high output version.
Elation Professional has expanded its KL Key Light series of LED Fresnel luminaires with the introduction of the full colour KL Fresnel 6 FC. This is designed for applications where high output soft light, precise colour reproduction and adjustable colour temperature are required. Features include a 220W RGBMA LED engine calibrated at 6500 Kelvin and the ability to produce up to 8,000 field lumens with a manual zoom range of 10-degrees to 32-degrees for convenient beam adjustment. Elation has also added new models to its IP65 Proteus and Fuze ranges. These include the Excalibur, the 70,000 lumen Proteus Brute LED wash, the Fuze MAX full spectrum LED moving head and the Wash 500 Fresnel moving head.
Among Environmental Lights' recent launches in the run-up to Cine Gear Expo was the Pixel EcoFlex 4-in-1 Neon LED. This allows operators to mix RGB with 3000K white, 6500K white or amber in a vertical bending or horizontal bending profile. The vertical bending version can flex up and down, which makes it possible for users to wrap it around 3D structures but still have the light facing outwards. The horizontal bending version can flex side-to-side so that shapes or signage can be formed on flat surfaces. Both versions can produce pre-programmed or customised effects through the use of any Environmental Lights LED pixel controller.
Launched earlier this year, the LiteGear Auroris is a large area lighting fixture with dimensions of 3 m x 3 m and weighing 114lbs. It is aimed at being used in shooting environments such as hangars, soundstages, and warehouses, as well as situations where there are low ceilings and not enough rigging points. The body is 1-inch thick, allowing Auroris to be used in 12-inch-deep soft boxes. Designed to be easily set up by two people in under 20-minutes, Auroris features next-level spectrum colour, a range of 2,000K to 11,000K, cinema quality white light, wide gamut hue and full spectrum technology.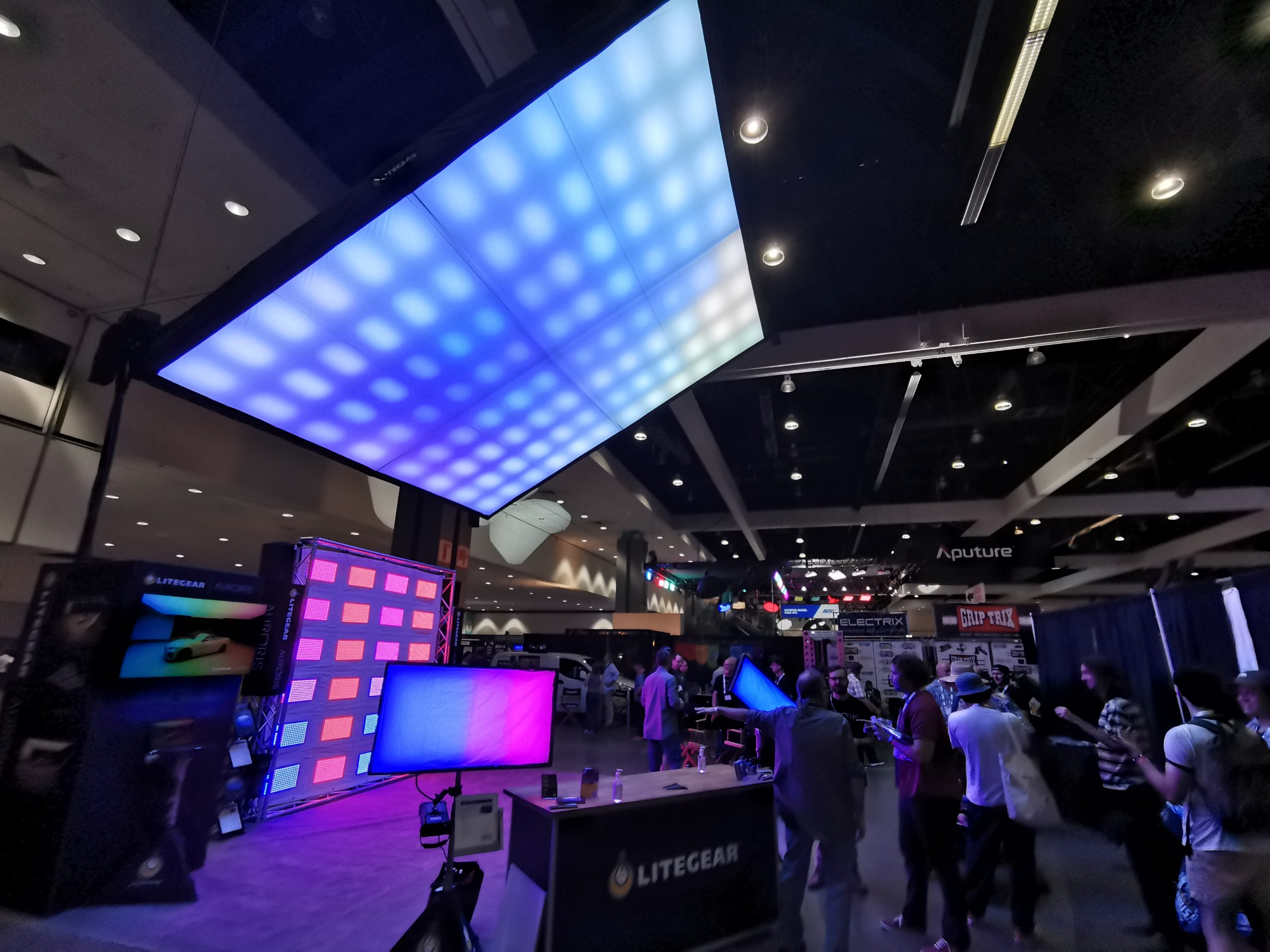 Distributor AC Lighting had its full portfolio of brands on display. Among recent products is the Luminex GigaCore 30i. This is a 10Gb Ethernet switch for AV integration, installation, and touring work. Because of its 10Gb connectivity, the GigaCore 30i enables full networking of lighting control, audio, intercom, and compressed video. Also new is standardised colour output for PROLIGHTS' Spektra. The system is now being used increasingly in film and TV production, which calls for greater consistency of colour output. PROLIGHTS now says that every Spektra fixture will meet the standard it sets and match other units with the same marking.
Rosco Laboratories showed a larger, improved version of the prototype interactive background system that was seen at the BSC Expo in April. The RDX (Rosco Digital Experience) LAB itself was developed in conjunction with visual effects studio FuseFX, with the aim of creating a digital backdrop specially for virtual production within a LED volume. The system uses what is described as "the world's most extensive library of background images", with FuseFX's Live Action Backdrop technology enabling a chosen image to be manipulated on set in real-time through an Android laptop.
On the lens side, Zeiss had the new 15mm Supreme Prime, which was introduced in April. This is an extreme wide-angle T1.8 (maximum). Also on display was the CinCraft Mapper. This is Zeiss' first entry in its new CinCraft ecosystem, which is intended to offer a range of lens looks, for visual effects as well as other applications, in the digital domain. Also on show will be current lenses, including the CZ.2 Zooms, CP.3s, LWZ.3 Zoom, the 11 lens set Radiances range and all 14 focal lengths of Supremes. Zeiss also hosted main stage panels on Thursday, Friday, and Saturday, plus a Women in Media party on Thursday night.
Chrosziel's booth at Cine Gear Expo was formatted in a similar way to its display at the NAB Show. It will feature three distinct 'stations', each of which showed different aspects of the company's product offering. Station 1 had the Chrosziel TP7-II lens test projector, which features a laser rangefinder, USB hub and Chrosziel software for displaying lens data. This was used in conjunction with a PL mount and a Prime lens for demonstration purposes. Station 2 featured the Chrosziel Premista servo drive on a Fujifilm Premista 28-100mm lens and Sony VENICE camera. On Station 3 there was a Sony FX9 camera with an E-mount cine lens working with a Chrosziel Zoomer Z2 servo motor on its zoom ring with the cable spliced into the connection from the Sony grip for control. There was a new product in the form of the Chrosziel hot mount E-to-PL adapter with metadata transmission, 12-pin Hirose connector and LEMO power in.
The post-production and interchange aspects of modern filmmaking were well represented at Cine Gear Expo 2022. Dailies and transcoding specialist Colorfront was showing upgraded capability, plus expanded DCP/IMF mastering toolsets, for its entire product line during the Expo. A key element of this is integration with Frame.io's Camera to Cloud workflow initiative, which is enabling greater cooperation and collaboration between the cinematographer and DIT on set with the colourist and visual effects artists at the post house. New features of the Colorfront system include Express Dailies 2022, which has been optimised through working with Apple using the new Mac Studio M1 Ultra workstation. This allows SDR and HDR material to be processed simultaneously and then outputted to Apple XDR displays. Express Dailies 2022 is now also able to work with the newest native camera formats, including RED V Raptor 8K VV and VENICE 2 8.6K, as well as providing improved performance for Blackmagic Design 12K RAW. Also new are expanded mastering features for Transkoder 2022.
Blackmagic Design gave preview of DaVinci Resolve 18, which is currently in beta test. Central to this is an important update to the colour correction/editing/audio mixing/VFX system's cloud collaboration capability. The new version will enable multiple editors, colourists, VFX artists and audio engineers to work on the same project simultaneously, on the same timeline from anywhere in the world. DaVinci Resolve 18 will support Blackmagic Cloud for hosting and sharing of projects, in addition to a new DaVinci proxy workflow. Also part of the update are new Resolve FX AI functions, which run on the DaVinci Neural Engine; time-saving tools for editors; a Fairlight legacy fixed bus to FlexBus conversion feature; and GPU accelerated paint in the Fusion graphics section. Also seen was the Blackmagic Cloud Store Mini fast storage system, and the Cloud Pod for transforming any USB-C disk into a network storage device.
Camera movement and hardware is always a feature of Cine Gear Expo and among the leading companies showing this necessary equipment was Gyro-Stabilized Systems. The company recently upgraded its Cinema Mini 512EX system. The GEN2 version features faster camera swaps to added tuning profiles, which are designed to deliver a smoother cinematography on land, water or in the air. GSS has also introduced three new gimbals aimed primarily at industrial inspection work. The Utility Series U416, U512EX and U512EX OGI are 4 and 5-axis gimbals that were designed for aerial inspection and survey. Many features on the systems are a result of direct feedback from the industry specialists. They offer the ability to work with: Digital Stills Imagery, 4K/HD Daylight Cameras, High-Resolution Thermal IR (infra-red), Corona Detection and Geo-referencing/Tracking. The U512EX and U512 EX OGI are small, light devices with dual sensor capability, while the U416 houses up to four sensors.
Among the innovation showcased on the Frame.io booth was the company's end-to-end workflow for Hollywood storytellers. It has developed an ecosystem built on best-in-class security, industry-leading review and approval, and a native 4K HDR experience across web, iOS, and Apple TV to a collaborative, advanced, intelligent, and intuitive workflow.
Matthews Studio Equipment (MSE) is known for its range of grip gear, which can be used in both studios and on location. Its products include stands, sliders, dollies, and light modifiers. Among these are the Air Climber modular pneumatic grip and lighting stand, which can extend to 25 feet/7.62 meters, the new Veeboxx portable soft box and Claw, which are used together to transform the Astera Titan tubes into a diffused lighting source, and the BM1 Bulb Mount for mounting E26/E27 battery-powered bulbs on grip equipment and hardware.
Words: Kevin Hilton
Other highlights in photographic form from the event…