"For me the great part about storytelling isn't all the amazing things you can do with atmosphere or scenery or exciting visuals," muses Haris Zambarloukos BSC, "rather it's the portraiture."
For Denial, director Mick Jackson's drama that captures the true story of acclaimed writer and historian Deborah E. Lipstadt and her battle to validate the Holocaust, Zambarloukos was given exquisite faces to shape his portraiture. The cast included Rachel Weisz, Timothy Spall, and Tom Wilkinson. Zambarloukos knew that despite much of the film taking place in a courtroom, the portraiture would be something compelling for him to capture.
"Courtroom dramas aren't generally the most visually stimulating films," says Zambarloukos. "At least not visually stimulating in the way to evoke the kind of emotion and the feelings that we wanted to give this kind of story justice."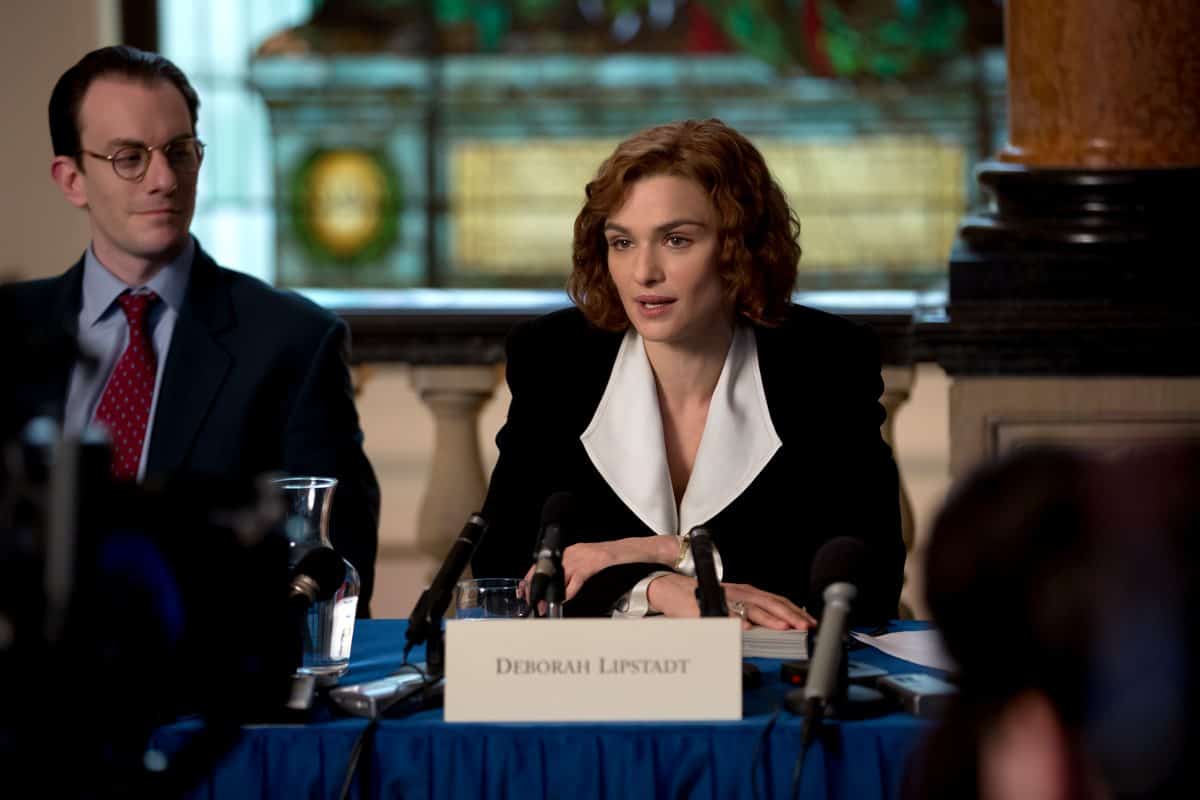 Zambarloukos and Jackson chose RED cameras with Dragon sensors, paired with Panavision Anamorphic C-series lenses. "The size of the RED cameras was fitting for the production – they're small and compact – and the smaller pixels offer a finer resolution," he notes.
Zambarloukos referenced Polish art-house director Krzysztof Kieślowski and his films such as Three Colors: Red and 1989 TV series Dekalog. The latter Zambarloukos calls, "great examples of maintaining a certain morality that you can grasp onto," which he hoped his camera and lens choices would promote in Denial. It was the tension he could feel coming off the screen in those films that created the excitement, and Zambarloukos wanted to make sure his audience was engaged with this story.
The entire production was shot at locations in London and Poland. Whilst much of the film was shot in the courtroom, there were also many night scenes of Deborah running, pounding the pavement in the evenings after a long day in court during her trial. For these scenes Zambarloukos used Technocranes with Scorpio heads, plus Steadicam shots by operator Stamos Triantafyllos.
He also used the Stabileye for a few shots, which the DP found to be a useful and an interesting bit of kit.
"It's a stabilised head that is handheld," Zambarloukos describes, "but you have independent pan-and-tilt control. An operator can be on the camera and move it around there, stabilised, and then another operator can have an independent pan-and-tilt control. It's all gyroscope, so some of the running shots and some of the tracking shots that went from the courtroom to one chamber after another and connect different rooms, they were on the Stabileye. We wanted to give a real fluid feel to the film."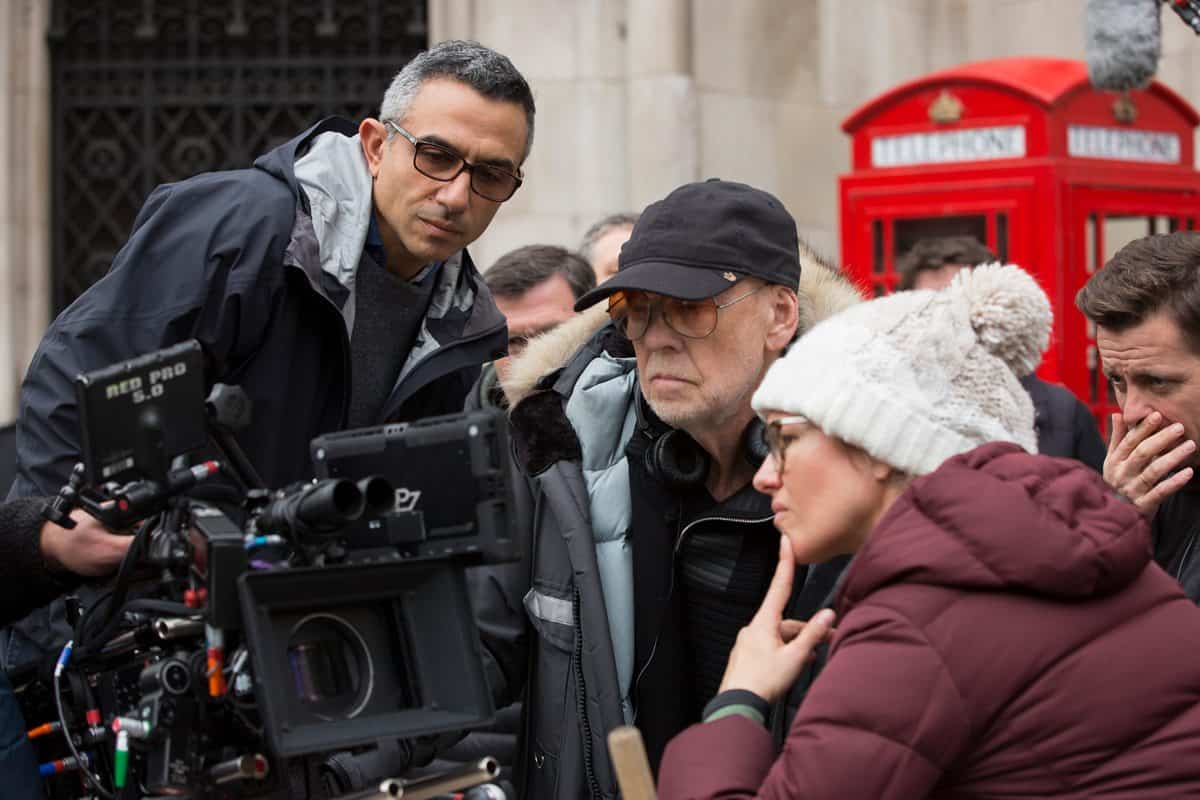 Zambarloukos and team completed quite a bit of macro and specialty sequences using the Anamorphic lenses. When the writing and delivery of the verdict occur – which Zambarloukos admits can be boring activities in themselves – he went with more a visceral look and created some tension with the macro shots.
When it came to lighting the courtroom, Zambarloukos went for a naturalistic palate to make audiences feel as if they were really there. To get the job completed, Zambarloukos turned to his London stomping ground crew – operators Roger Pierce and Luke Redgrave, first assistant Dean Thompson and Pete Burns, second unit DP Hamish Doyne-Ditmas and gaffer Dan Lowe. Lowe had to be clever with the lighting rigs, and he went to great lengths to use the windows and get a lighting rig that they could control. He and the crew used helium balloons that floated around the court and sculpted the light in places they couldn't reach.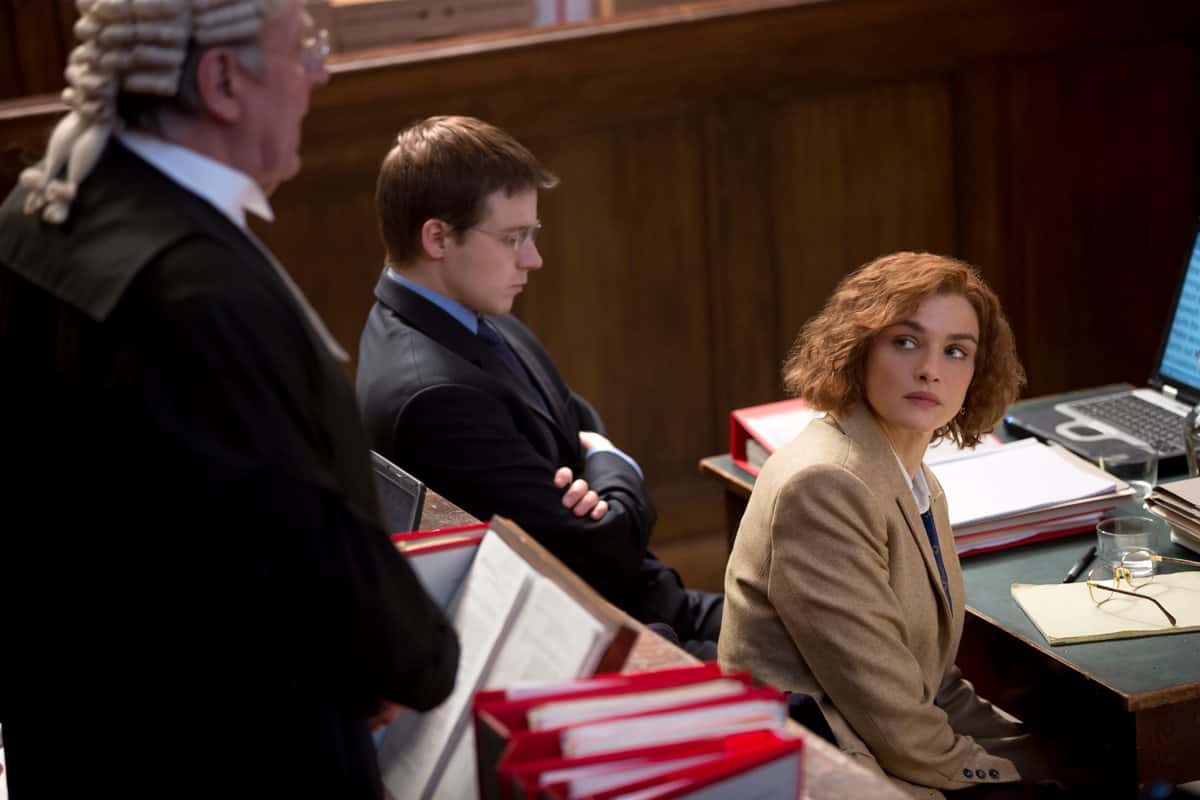 Denial has scenes at Auschwitz, when Deborah and her lawyers visit for evidence and research purposes. During the visit, Deborah has what Zambarloukos calls "visual impressions" – memories that overlay her immediate and current movements and thoughts in the scene.
"It's almost like peripheral vision," he says. "We shot quite a bit of these memories, but one really stands out for me: the dissolve at the peephole into the delousing chambers. We shot on film for that, using a hand-cranked ARRI camera with a Fraser lens system. We were trying to emulate an older feel and we used a close focus effect where you could basically be in that chamber. We used a Borescope to go through the peephole and get an extremely close look at the characters portraying the victims at Auschwitz, marching into the chambers."