Moral Maze

Haris Zambarloukos BSC GSC /Eye In The Sky
Moral Maze

Haris Zambarloukos BSC GSC /Eye In The Sky
Eye In The Sky,  helmed by South African director Gavin Hood, stars Helen Mirren as Colonel Katherine Powell, a UK-based military officer in command of a top-secret drone operation aiming to capture terrorists in Kenya.
Through remote surveillance and on-the-ground intelligence, the hard-edged Powell discovers the targets are planning a suicide-bombing raid and the operation escalates dramatically from "capture" to "kill." But, as American drone pilot Steve Watts (Aaron Paul) remotely targets the terrorists' safehouse for destruction, a nine-year old girl enters the kill zone. This triggers an international dispute, which rapidly reaches the highest levels of US and British government, concerning the moral, political and personal implications of modern warfare.
"Eye In The Sky is why you make films, and the script flew off the page," recalls cinematographer Haris Zambarloukos BSC GSC about his initial reaction to the screenplay, written by Guy Hibbert. "It's an extremely intelligent, absolutely current, human condition story, that reveals the moral dilemma our military and politicians face with the use of modern military equipment.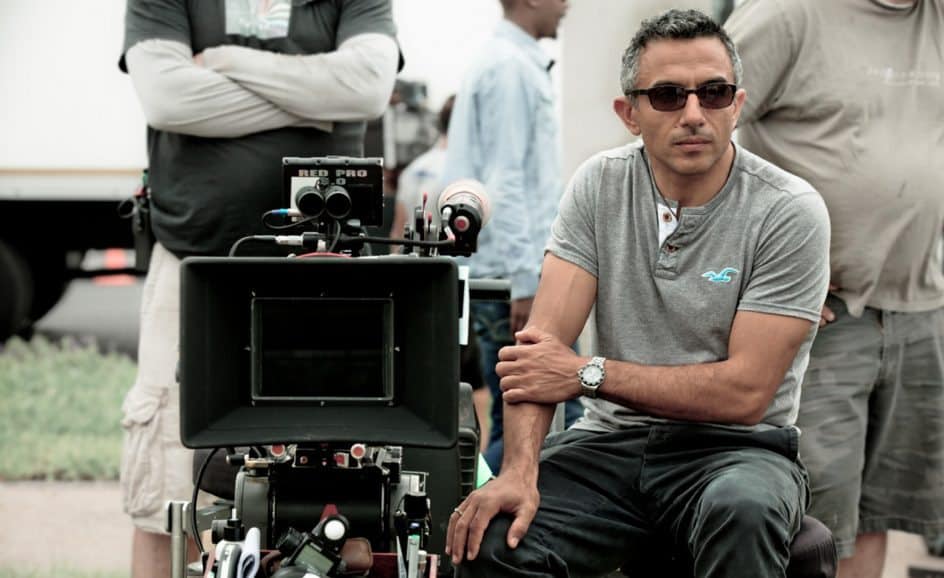 "I have been an admirer of Gavin for many years with his genius, courageous movies such as Tsotsi and Rendition. Eye In The Sky was a project I knew he would tackle well, as it was from his heart. We witness the events unfold via a set of different locations and an intriguingly varied set of actors. Cinematographically, I could see it present some interesting technical challenges, whilst keeping the performances a priority, and I could not wait to work with him on it."
Hood was born in South Africa and elected to shoot Eye In The Sky in his home country. Zambarloukos was attached to the Entertainment One/Rain Dog Films' thriller in June 2014 and undertook prep until principal photography started in September. The production shot predominantly in practical locations throughout South Africa that substituted for different settings in the film. These included: an area that looked like a UK command centre for Mirren's character; Beaufort West in Western Cape, which formed the backdrop for the US state of Nevada, from where the drone is piloted: adapted warehouses that are part of Cape Town Studios, for the Kenyan military hideout and interior of COBRA rooms in London, and the marshland backlot of Cape Town Studios for the terrorist's safehouse ghetto. None of the four lead actors – Mirren, Paul, Barkhad Abdi who plays an on-the-ground agent in Kenya, and the late Alan Rickman, a lieutenant dealing with warring politicians in London – met each other during production, due to the separate geographical locations of their characters' in the film, and shot alone instead. The shoot wrapped at the end of November.
"It's an extremely intelligent, absolutely current, human condition story, that reveals the moral dilemma our military and politicians face with the use of modern military equipment."
- Haris Zambarloukos BSC GSC
"We were able to access and research the drone technology that the military had a couple of years ago, although goodness knows what they have now," says Zambarloukos recalling the Reaper hunter-killer drone that features in the movie. "They can carry a great deal of ordnance, including laser-guided Hellfire air-to-ground missiles, which are hugely powerful and destructive.
"The action takes place on one long and stressful day in the lives of those tasked with making life or death decisions, and there's lot of weight to every decision being made. The tension ratchets up, and it has the feel of Harold Pinter play. Yet there is an element of farce too, akin to Dr Strangelove, about the dreadful power that decision-making can have over the lives of other people, many of whom are innocents. Should they or shouldn't they shoot?"
Rather than countenance other movies for appropriate creative references, Zambarloukos instead approached the look of the movie through the reportage-style images of contemporary Magnum photographers in war zones and refugee camps.
"I did not want Eye In The Sky to look like a typical high-contrast thriller with a staged look, but to be more naturalistic, modern and human – colourful and full of life, rather than dark and dingy. With Gavin's agreement, I decided to give the different locations their own photographic looks by working hand-in-hand with the production designer, Johnny Breedt, and the costume designer, Ruy Filipe, rather than planning and imposing looks through LUTs per se."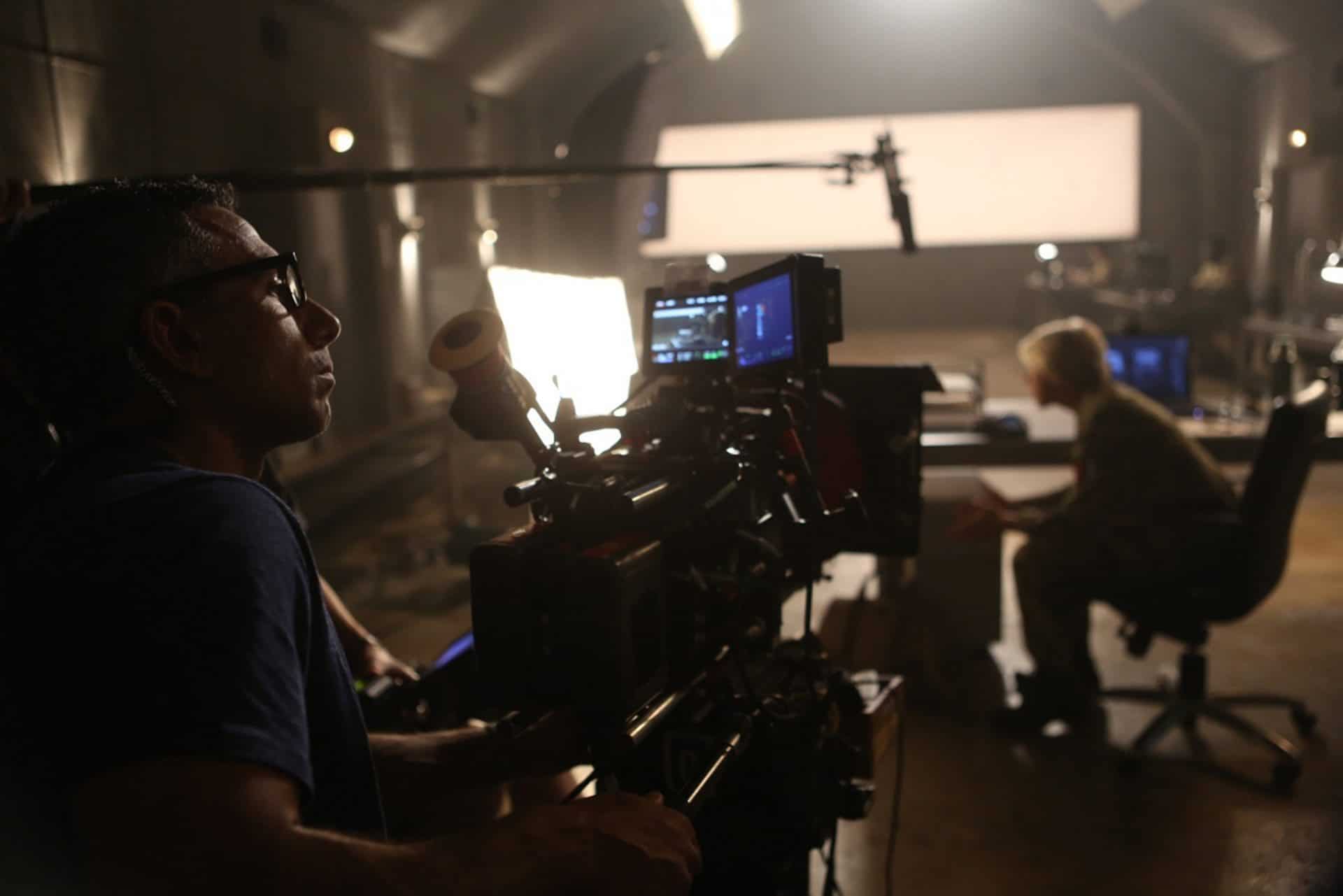 Regarding his choice of camera and lenses, Zambarloukos opted for RED Dragons paired with G-series Anamorphic lenses. The camera equipment was provided by Panavision Cape Town and London.
"The G-series are modern, contemporary lenses ­– compact and fast," he explains. "They soften the look of digital nicely and are great for portraiture and landscapes. During production, I was very sparing on diffusion, and used 1/8 or ¼ Schneider classic softs about ten percent of the time, with some ND. I love antique C-series Anamorphics, but G-series are a bit more reliable, and have nicely-designed, tactile rings for focus pullers, and I knew they would withstand the rigours of this shoot."
He continues: "Eye In The Sky was only my second digital feature. I used RED Epic cameras on Locke (2013). The size of the camera, its resolution and combination with Anamorphic glass make for a technical, pragmatic and aesthetic sweet spot that I really like. The RED cameras let me bring out and experiment with lens characteristics and skin tones in a way that I really like. Furthermore, as I knew we'd be flying the cameras around, weight was an issue, and we were able to use the then brand new carbon-body RED Dragons.
Although Zambarloukos shot most of the movie at 4.5K, he also wanted to have the ability to shoot at 6K too, just in case the director wanted to punch more tightly into any of the aerial shots.
"One further advantage for me of using RED cameras is HDRX, and the ability to capture two exposures at the same time," says Zambarloukos. "I knew this would be useful in the South African sunshine, when the camera moves from indoors to outdoors on the Steadicam or Technocrane. Being able to encompass the dynamic brightness range of a shot can save your bacon in the DI."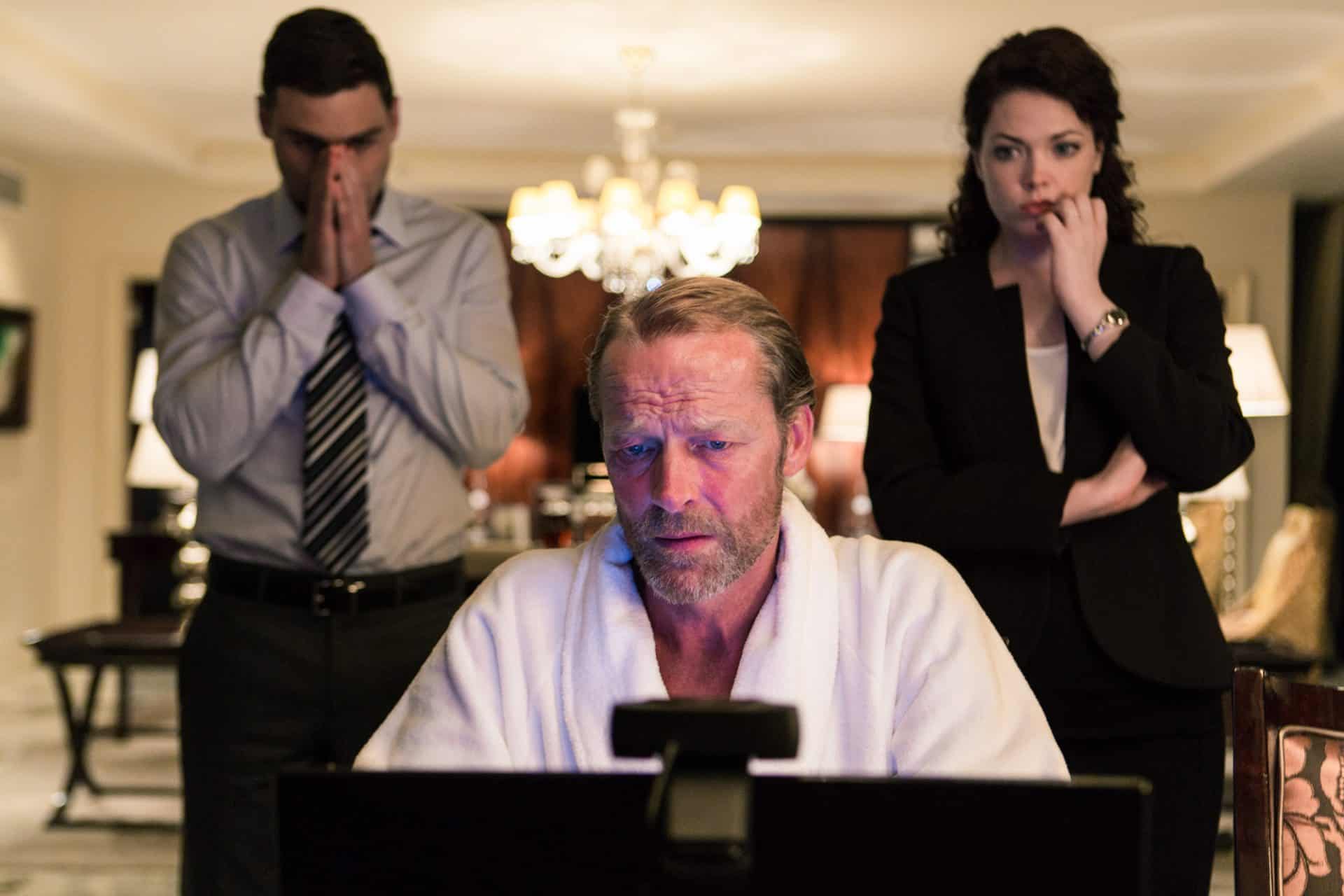 Curiously, as the South African Civil Aviation Authority did not grant the filmmakers permission to fly real drones in the country's airspace for the production, Zambarloukos had to find alternative means to display drone-style footage.
"Although I did plenty of testing, I did not use a single drone on this production," he admits. "On a healthy and safety level this was fine as it meant we didn't have equipment hovering above the cast and crew, especially the young actress. Also, I don't have anything against using drones, but I preferred the idea of entrusting my crew and mechanics to perform and perfect repeatable camera moves."
To fly the camera around and capture the appropriate aerial experience for the movie, Zambarloukos had the RED cameras variously attached a 50ft Technocrane, a variety of wirecams, a helicopter with Cineflex gyro-stabilised head, and a gigantic crane used in industrial construction, which measured around 180m at full extension.
"The industrial crane was incredibly tall and we discovered that the initial images were too unstable to use," he says. "So we experimented with different heads and found that the Cineflex, shooting tight, plus Libra head shooting wide, worked just fine. For continuity and constancy of images sit in the helicopter, I asked my aerial operator Skip Margets to operate the Cineflex on the industrial crane as well."
For certain shots – mainly surveillance camera footage, POV shots from rifles, and various tight corners – Zambarloukos deployed Blackmagic Pocket Cameras, shooting at 2K, fitted with a selection of his own personal Leica Summilux lenses.
"The Pocket Camera is very compact, and when you pair the Super 16mm sized image sensor with decent lenses, you can easily get a realistic Cassavetes-style cinéma vérité look," he says.
Zambarloukos is no stranger to South Africa, having lensed a multitude of commercials there over the years. However, the dedication of his crew never ceases to amaze.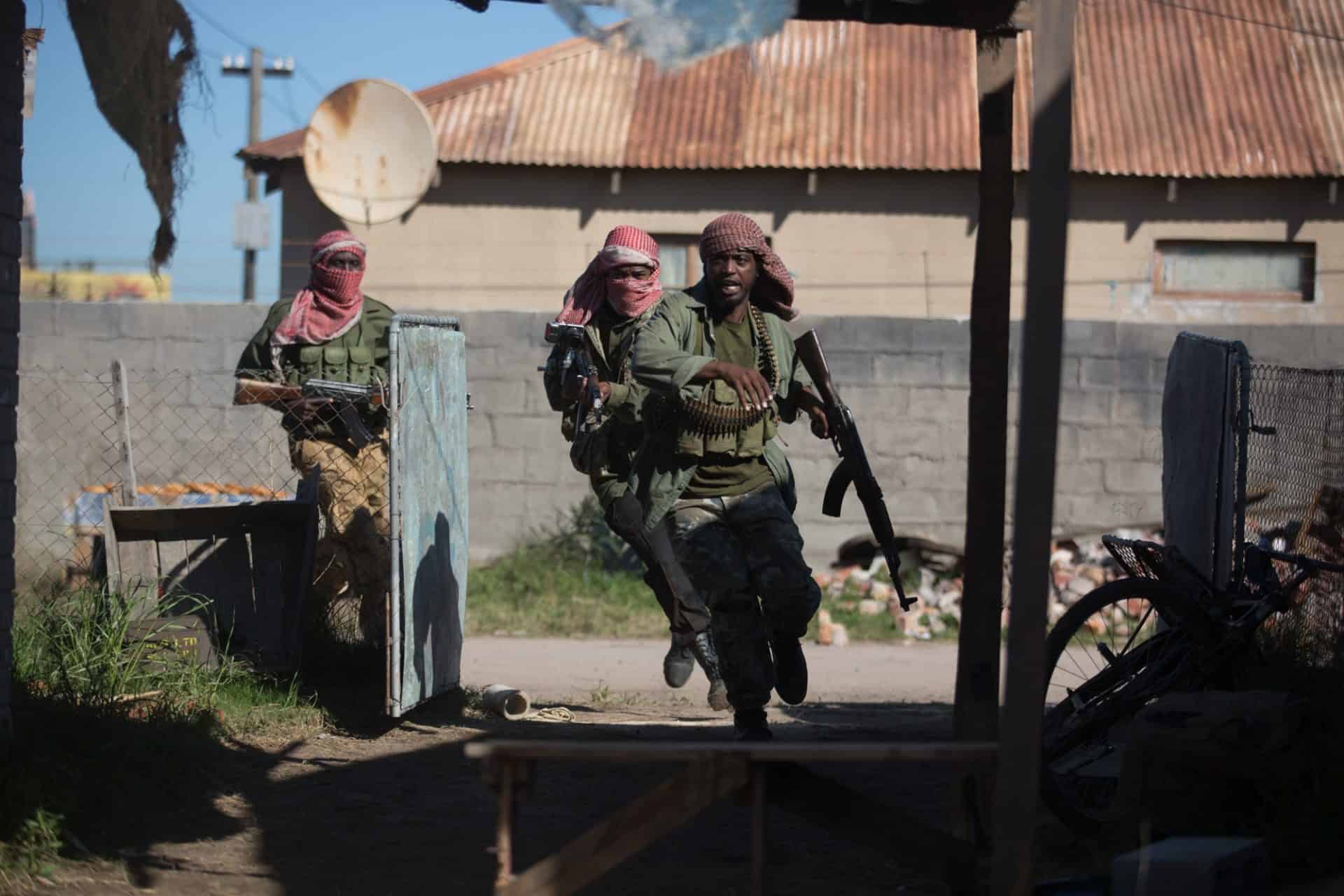 "I was delighted to have an entirely South African crew, a good many of whom are my regular collaborators on commercials. Their knowledge, resourcefulness and determination were exceptional, and they adapted perfectly to the longer narrative-based production routines. Also, this was by far the most racially-integrated crew I have ever worked, and it's good to see positive inclusion and diversity.
"My key grip JP Ridgeway and gaffer John McKay worked closely with Jaco van Niekerk and the team at i-Rigging Solutions in Cape Town, to rig lights and figure out how to fly the cameras around safely and acrobatically in tandem with Skip my aerial operator. It was reassuring to have Derek Carlow as my first AC, who has pulled-focus on every commercial I have ever done in South Africa. I was on A-camera, and James Frater operated Steadicam and B-camera wonderfully well. I also extend huge thanks to Cristo Duvenage, my experienced DIT, and playback operator Simon Wright, who were my mobile digital laboratory, and who made sure we always had an image on from ground from the airborne cameras."
Due to paternal responsibilities – he became a father during post production on the movie – Zambarloukos was unable to attend the DI at Modern VideoFilm in LA. Accordingly, he liaised remotely with colourist, David Cole, providing written instructions, graded stills plus references of the Magnum photography that had been the initial inspiration behind the naturalistic look he wanted.
"Gavin and David followed my brief in the DI, and the look is just what I wanted," he remarks.
Along with his crew, Zambarloukos is also full of praise for the producers at Entertainment One and Rain Dog Films, particularly Ged Doherty and David Lancaster. "I started this project with great enthusiasm in the initial interview and ended the production with the same enthusiasm, if not more. Along with Gavin's passion, it's only with supportive producers that you can make this sort of film. The result is a great tense drama, of which I am very proud, that will have people on the edge of their seats in the cinema."
Next up for Zambarloukos is Murder On The Orient Express, directed by Kenneth Branagh, shooting at the end 2016. Zambarloukos says he has some tricks up he sleeves for this, and a promise that he can get to drive the train.