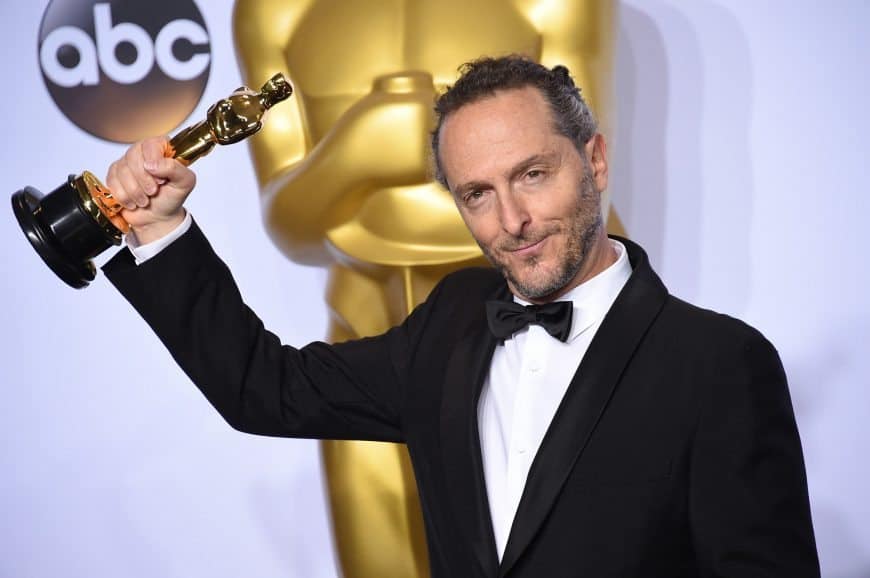 Whilst they may not have come as a complete surprise, this year's best cinematography wins by Emmanuel "Chivo" Lubezki AMC ASC at the Oscars, BAFTA and ASC Awards, for his work on Alejandro G. Inarritu's The Revenant, certainly made history. Lubezki has become the first cinematographer to achieve the same trio of awards, over three consecutive years, having won in the last two years for Inarritu's Birdman Or (The Unexpected Virtue Of Ignorance) in 2015 and Alfonso Cuaron's Gravity in 2014.
Along with being only cinematographer to have won this trio of awards three times in a row, Lubezki is now only one win away from matching the all-time Oscar-winning record in the cinematography category.
"This is incredible," Lubezki said during his Oscar acceptance speech for The Revenant. "I want to share it with the cast and crew, especially with my compadre, Mr Inarritu. To your passion, Alejandro. And I want to share this also with Leo [DiCaprio] and Tom [Hardy], for their great performances."
He later paid homage to the other cinematographers nominated this year for Oscars – Roger Deakins OBE BSC ASC for Sicario, Ed Lachman ASC for Carol, Robert Richardson ASC for The Hateful Eight and John Seale ACS ASC for Mad Max: Fury Road – who he described as, "true masters of cinematography, the real deals, my idols, who have played an important role in who I am today."
Lubezki is the eighth cinematographer to win a total of three Oscars, joining, among others, Freddie Young OBE BSC, who won for Lawrence Of Arabia (1963), Doctor Zhivago (1965) and Ryan's Daughter (1970), Conrad Hall ASC for Butch Cassidy And The Sundance Kid (1969), American Beauty (1999) and Road To Perdition (2002), Vittorio Storaro AIC ASC for Apocalypse Now (1979), Reds (1981) and The Last Emperor (1987), and Robert Richardson ASC for JFK (1991), The Aviator (2004) and Hugo (2001).
Only two cinematographers have won a record four Oscars in the category: the late Leon Shamroy for The Black Swan (1942), Wilson (1944), Leave Her To Heaven (1945) and Cleopatra (1963), and the late Joseph Ruttenberg for The Great Waltz (1938), Mrs. Miniver (1942), Somebody Up There Likes Me (1956) and Gigi (1958).
Last year, Lubezki became one of four cinematographers to win back-to-back Oscars, joining John Toll ASC who won for Legends Of The Fall (1995) and Braveheart (1996), late Winton Hoch for Joan Of Arc (1949) and She Wore A Yellow Ribbon (1950), as well as Shamroy.
The Revenant was filmed on location in Canada and Argentina, with support provided by Panavision, along with a special set of lenses. Around 40 percent of the photography used the new ARRI Alexa 65, 6K large-format digital cinematography camera. Lubezki and director Inarritu shot The Revenant using only natural light, giving the movie a haunting, ethereal glow throughout its depiction of savage events and harsh natural environments.