Engaging Mystery
Dirk Nel / Leonardo & The Cheapside Hoard
Engaging Mystery
Dirk Nel / Leonardo & The Cheapside Hoard
Set against the backdrop of 15th century Florence, Leonardo is far from a typical period drama. The 13-episode series playing on BBC1, follows the teenage Leonardo da Vinci, and his friends – the street-savvy and quick-witted Machiavelli, Lisa, the subject of the world's most iconic painting, and rich-kid Lorenzo de' Medici, son of Italy's foremost banking dynasty – as they embark on a series of engaging mysteries and adventures.
Leonardo, the star of the show, is charismatic, reckless and a genius brimming with energy, and it's his inventions that provide the show with its central focus and on-going story arc. Machiavelli, the most 'street' of the four, ducks and dives through the streets of Florence, whilst Lorenzo, attractive but none too bright, is escaping from his privileged existence in the family palace.
"I was attracted to the idea of the show simply because of its outrageous ideas. Shooting a period drama with a modern twist, and many modern elements, immediately set it aside from a traditional period drama," says cinematographer Dirk Nel (Swinging With The Finkels, Children Of Beslan, Simon Schama's The American Future: A History), who hails from Cape Town.  "The director, Beryl Richards, and I had previously worked together on a documentary, about ten years ago, and she contacted me out-of-the-blue. She was looking for a fluid, handheld style to the cinematography. I loved the script and was delighted to be offered the project."
The series, produced by Kindle Entertainment, was shot in South Africa, between October 2010 and February 2011. The production discovered a disused Citroen car factory on the outskirts of Johannesburg, the size of a large aircraft hangar, with a backlot where exteriors of the city of Florence were built. The stage had been sound-dampened with a material made from recycled plastic bottles hanging by cables from the ceiling, which Nel says proved quite effective.
"The scale of the project didn't really dawn on me until I arrived in Johannesburg," says Nel. "My first thoughts were how to contain the light on the exterior in the harsh South African mid-summer sunshine. The sets were over 200-feet long and 60-feet wide. To do this would be a major task, and without it we would be wrangling 20 x 20 frames around the set."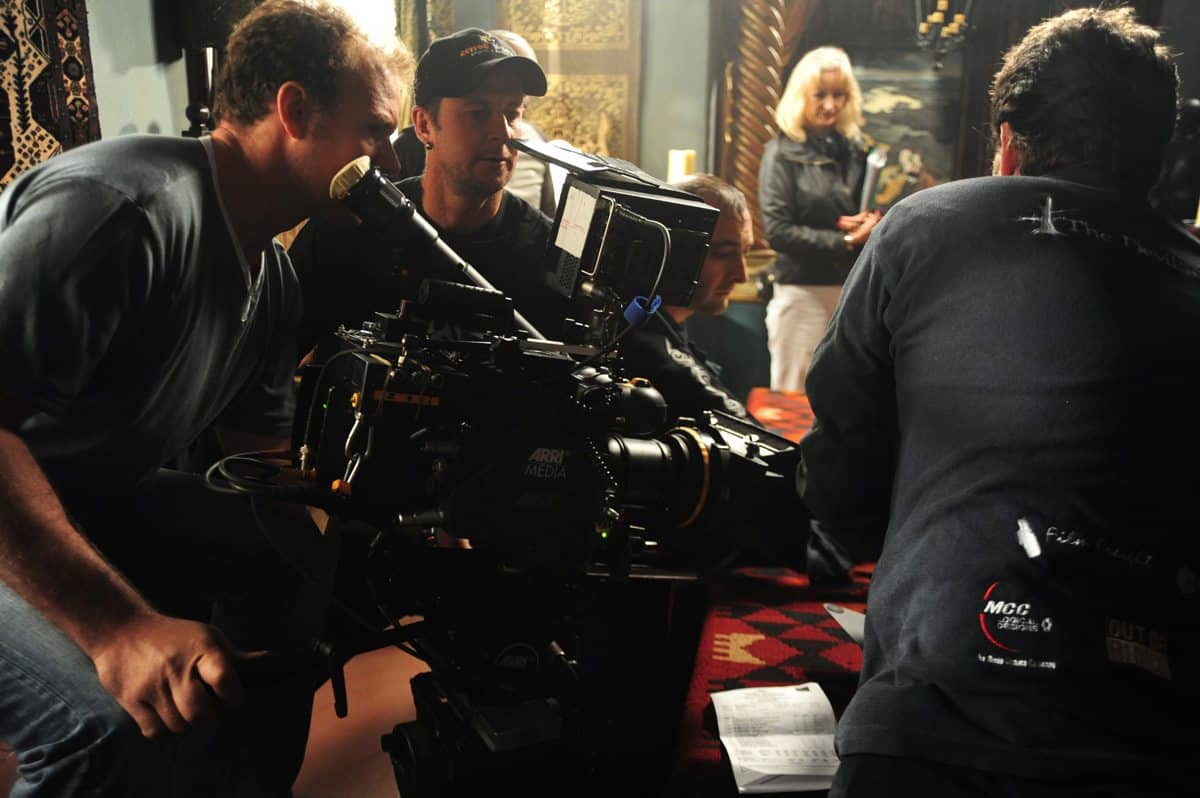 Nel says he first contacted a local plastics company to see if it could match Rosco's Highlite material, but this wasn't possible. He contacted another company which makes netting for carports, which would have been a great alternative, if it had not turned out to be prohibitively expensive.
"My grip, Zann Wienand, came up with a simple and clever solution of joining four 20 x 20 Highlites together and roping them off four scaffold towers on a rope-and-pulley system. This meant the main Piazza could be covered all day and soften the hard shadows on the actors faces. It allowed us to shoot pretty much all day in the same place on a 360-degree axis, which was very important considering we were shooting up to six screen minutes every day," he says.
The ARRI Alexa, which Nel had originally intended to use, wasn't available in South Africa at the time, so with the help of Neil Horsefall and Gideon Furst at ARRI Media in Johannesburg, he put together an ARRI D21 package, which also included the lighting. Nel went with the Zeiss Ultra Primes, but dropped the zoom for budget reasons.
Thinking about the production workflow, Nel says, "I did a lot of research on the best avenue to go down regarding post production and looked at the Cinedeck as a data workflow option, along with the P2 system, but both turned out to be more expensive for us at the back end in post, because of the conform. So we decided to shoot 444 on HDCAM SR, which was far higher quality than both of the data formats, and helped the VFX process. This now looks like a fairly old-fashioned way to work, but the post houses still seem to love tape.
"To make further budgetary savings we recorded a DVCAM copy alongside the HDCAMSR for the offline edit. This proved a little challenging in terms of timecode and applying a LUT, which was done through a FIG box and a Mac-based grading package called Tomato, which enables rudimentary grading on set," Nel explains.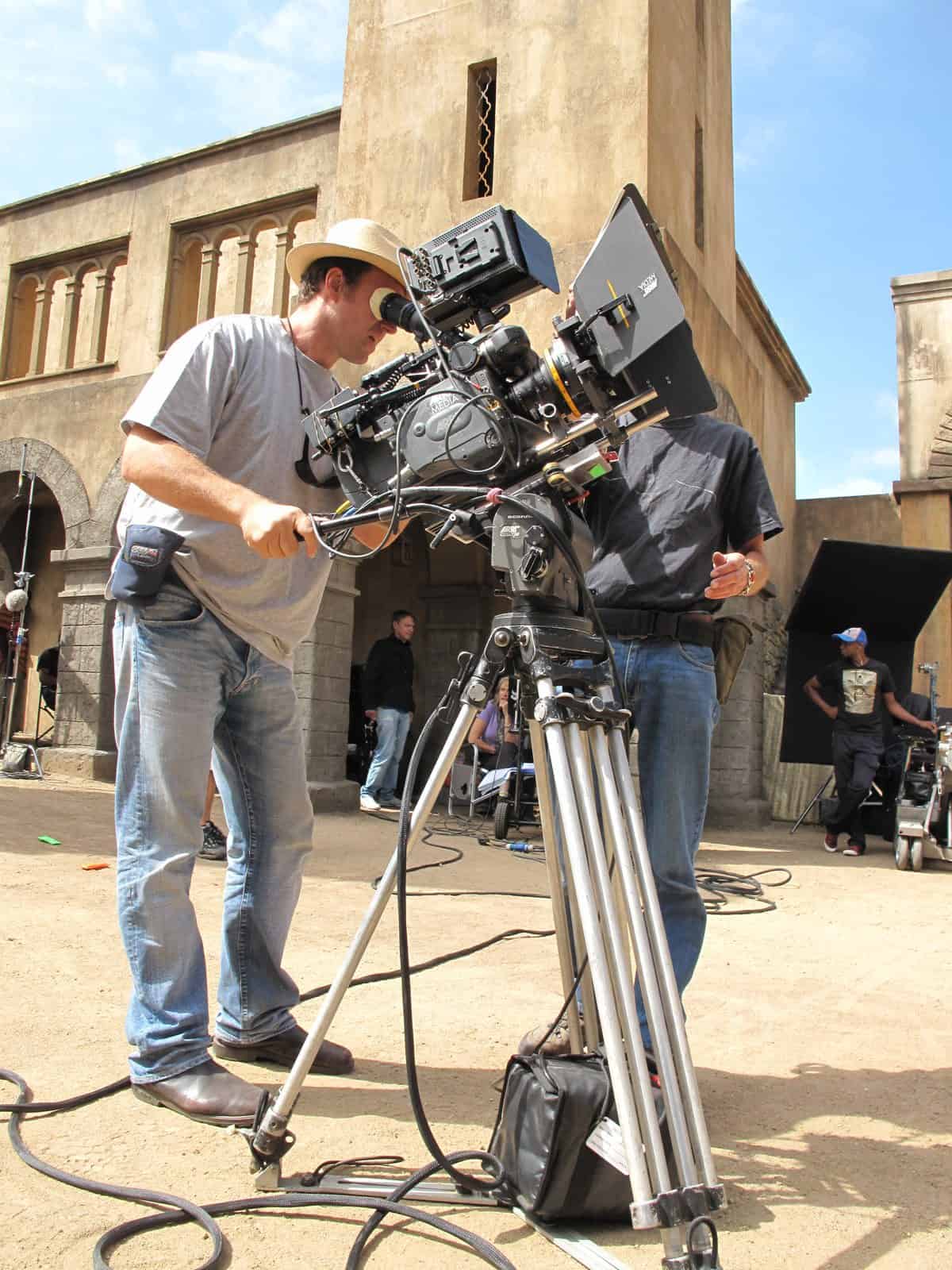 "My grip, Zann Wienand, came up with a simple and clever solution of joining four 20 x 20 Highlites together and roping them off four scaffold towers on a rope-and-pulley system. This meant the main Piazza could be covered all day and soften the hard shadows on the actors faces."
- Dirk Nel
Nel's describes his lighting package as simple affair, comprising mainly of tungsten units – 10Ks, 5Ks and two 6K daylight compacts for the exterior sets. The interiors were all lit with tungsten, which was cheaper, as well as being quieter for the sound department.
"Steadicam was not an option on our budget, but luckily the interior sets all had smooth concrete floors, which enabled us to track directly on the floor with soft wheels on a Hustler dolly. This gave us some amazing shots and felt like a Steadicam. Zann, my grip, was fantastic with what he called his 'Lady'", he says.
"All the crew were local and hugely experienced, due to the volume of production that happens in South Africa," remarks Nel. "I was very lucky to have a fantastic 1st AC/FP in Housten Hadden, a top gaffer Mani Chonko, along with my trusty grip Zann, and DIT Gareth Penberthy, who all helped me endlessly. The guys at ARRI Media were totally supportive too."
The second block of Leonardo was directed by Luke Watson, which Nel says was a very different experience, but very positive. "The pace at which we shot was much faster and that produced an energy which was fun and high octane," he says. The series was graded at Lipsync in Soho by Simon Graham.
Most recently Nel has worked on a 3D stereoproject for BBC Arts, shooting The Cheapside Hoard. This remarkable cache of 15th century jewellery, discovered in a rotting wooden box by workmen demolishing a house in 1912, has had an equally remarkable shoot. The precious bling was shot using a single Canon 7D attached to a Mark Roberts motion control rig, in the Museum Of London. The 3D stereo was created by offsetting the camera by different increments, of between one and five millimetres, and then making multiple passes on the rig, with a two-second pause between shots to ensure steadiness. Nel says he is pleased with the results, as each frame is 25 mega-pixels, although shooting each 800-frame pass on the moco rig took around 26 minutes.