Neo Noir
Ed Lachman ASC / HBO mini series Mildred Pierce
Neo Noir
Ed Lachman ASC / HBO mini series Mildred Pierce
Since its founding, in the dawn of the cable television era, HBO has built a reputation for quality. It is highly thought of by cinematographers, who appreciate the respect and support accorded them by the network.
This year, HBO has further blurred the line between television and feature films with a miniseries that re-imagines Mildred Pierce, the 1941 novel by James M. Cain. The story was made into a classic 1945 Warner Bros. feature film directed by Michael Curtiz, photographed by Ernest Haller ASC, and starring Joan Crawford and Ann Blyth.
This time, the filmmakers are Todd Haynes and Ed Lachman ASC, the duo that previously collaborated on Far From Heaven and I'm Not There. Lachman earned an Oscar nomination and the Silver Frog at the Plus Camerimage International Festival of the Art of Cinematography for Far From Heaven, and took home the Bronze Frog for I'm Not There. His other credits include Erin Brockovich, The Virgin Suicides and The Limey.
The miniseries stars Kate Winslet, Evan Rachel Wood and Guy Pearce. Haynes and Lachman decided to hew more closely to the source material, which is a psychological character study between a mother and a daughter. The story is set during the Depression, within middle class privilege, and deals with issues of pride and status.
"Most domestic dramas inevitably concern female characters confronting social constraints, suburban repression and vulnerability," says Lachman. "Mildred Pierce is an exception. She becomes liberated sexually and finds herself financially independent, but her tragic, unrequited love for her daughter becomes her undoing, and she self-destructs."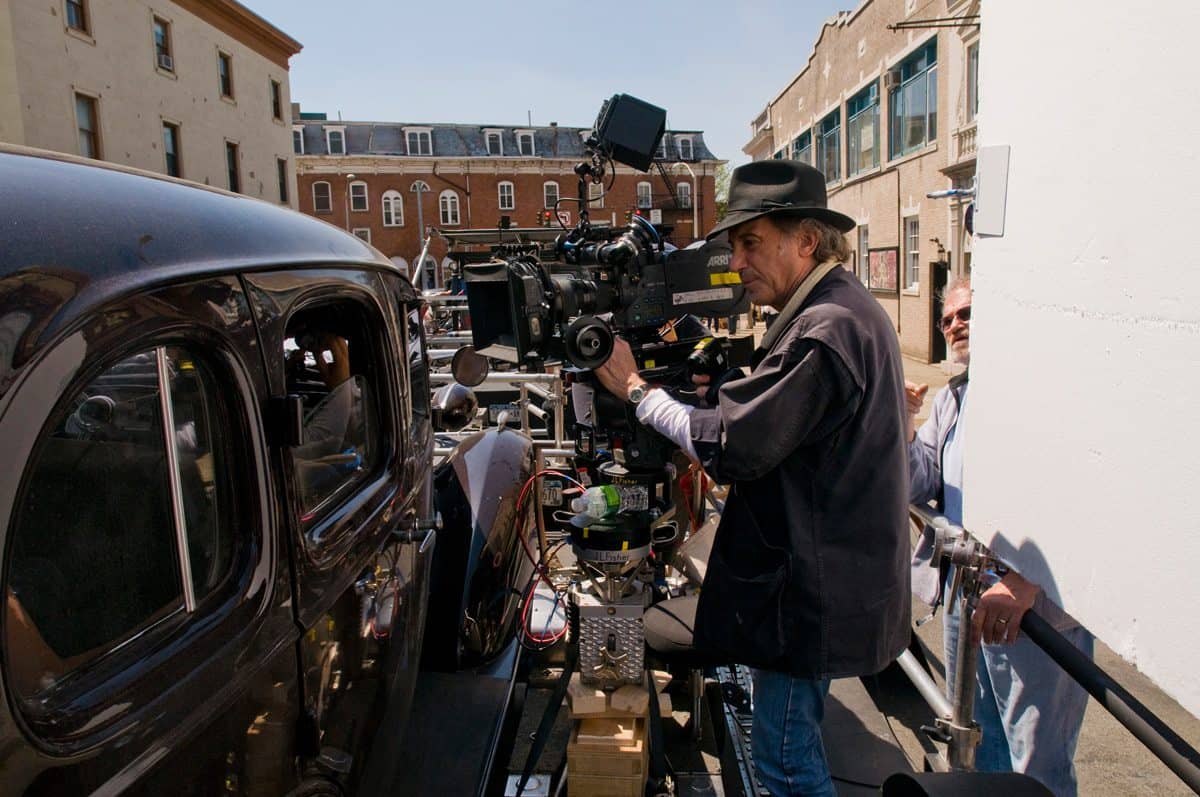 In designing the look of the miniseries, Lachman and Haynes decided to avoid the consciously stylised dramatic studio look of classic '30s and '40s noir lighting, in favour of a style that echoes neo-noir films of the 1970s.
"We saw this neo-noir approach in films like Klute (1971, photographed by Gordon Willis ASC), Chinatown (1974, John Alonzo ASC) and the Day Of The Locust (1975, Conrad Hall ASC)," says Lachman. "Those films have noir elements, but there is a relatability and frankness that comes from their naturalism, even when they are slightly expressionistic. Those cinematographers used longer lenses, and light that was more motivated from practical sources, as opposed to studio lighting."
Lachman's preparations included studying the work of still photographer Saul Lieter. "Lieter was a street photographer more like a painter," says Lachman. "He used found objects, textures and reflections as the content for his images. The images' abstractions, within a social realism context, became the content of the found objects. On the street and in the world around him, Lieter's search is less about finding content in the image and more about the feelings these shards of reality evoke."
Lachman envisioned images that create a certain distance between Mildred's character and the audience. She is observed through objects, reflections in mirrors, and through beveled glass doors. "These choices fragment her world and create a prismed, dislocating and ultimately broken state," he says. "The images become not only a representational view of the world, but a psychological one."
Lachman and Haynes took colour cues from still photography of the period, including images commissioned by the Farm Security Administration. In addition to the more familiar FSA photos from the Dust Bowl, they studied images of Los Angeles in the late 1930s and early 1940s taken by photographers including John Vachon, Russell Lee, and Marion Post Wolcott. Colour range in these images was more limited, and saturation and contrast was much different from today's full range colour negative films, according to Lachman.
"Another photographer I rediscovered from that period was Paul Outerbridge, who worked in still life, nudes, and stage photography," says Lachman. "Outerbridge became a master of the tri-colour carbo transfer, an early three-colour process that resulted in richly-muted colours with a limited range of saturation in the green-magenta layer. But his images became almost translucent, and unsurpassed."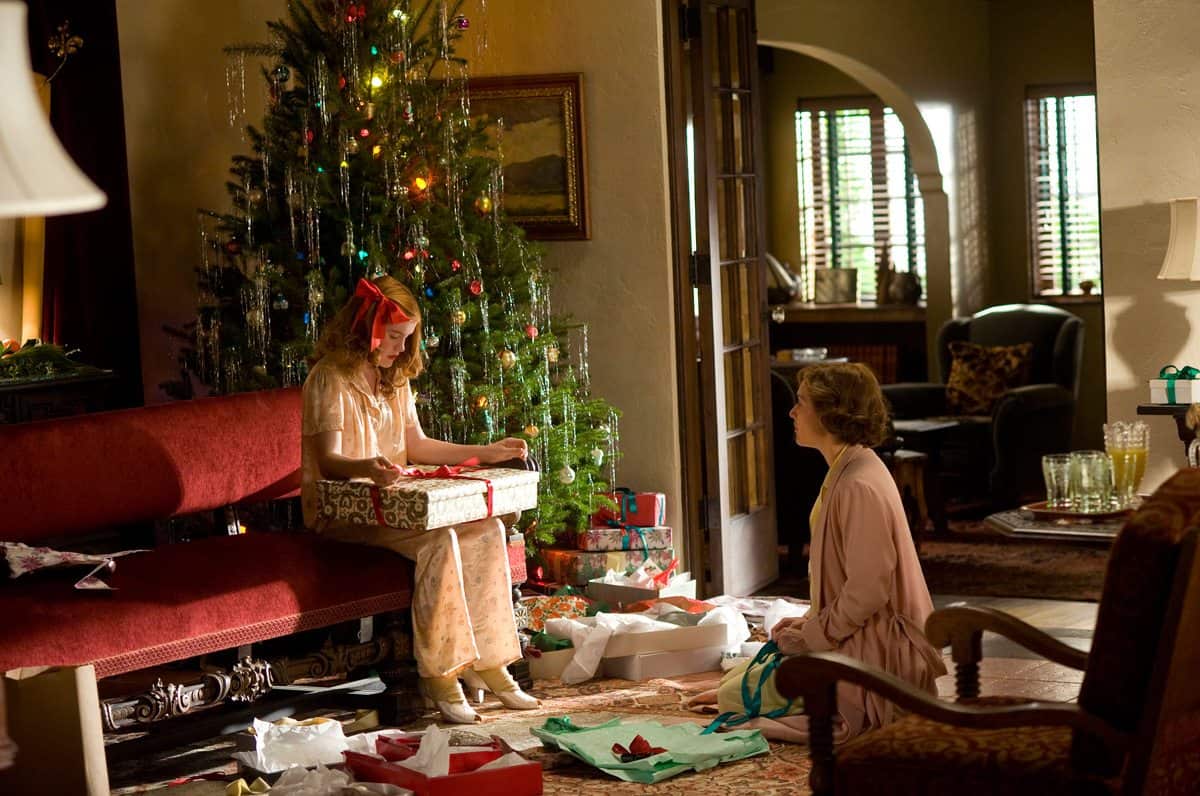 A key decision – one that affected all their other choices – was the format. The filmmakers chose to photograph Mildred Pierce using the Super 16mm film format. The reasons were partly aesthetic. Lachman says that the grain structure of Super 16mm film was reminiscent of the '70s neo-noir films that inspired them. Those films were shot on 35mm on film stocks that predated the advances in emulsion technology behind today's high-tech camera films.
"I have shot two films with digital cameras – Prairie Home Companion and Life During Wartime," says Lachman. "For me, the tests I've done show that film still has a greater exposure latitude, and the way it renders colour is different, whether in colour temperature or using gels. The exposure latitude is greater than with digital formats. And to my eye, film still lends more depth and emotion to the image than digital formats."
Lachman used Kodak Vision3 500T Color Negative Film 7219 and Kodak Vision2 250D Color Negative Film 7205. He also shot some exterior scenes on Kodak Vision2 50D Color Negative Film 7201.
Lachman generally used two cameras for efficiency's sake. The crew had about 70 days to create five and a half hours of content. The cameras were ARRI 416s, often with Cooke S4 primes lenses or a Zeiss 16.5-110 mm zoom. He also speaks highly of a zoom that had been converted from a 35mm format Cooke 20-60 mm T-3.1 lens to a Super 16mm format 10-30 mm T-1.6 lens.
Mildred Pierce was filmed on exterior locations on Long Island and in Connecticut, and on stages at Steiner Studios in New York. Lachman mimicked the sunny California setting with PAR T-12s, lamps that produce an extremely intense light. He says he concentrated on lighting the environments, as opposed to the individuals. He allowed windows and cars to be dirty, and he sometimes let TransLites overexpose slightly to avoid the impression of total control.
"For me, the tests I've done show that film still has a greater exposure latitude, and the way it renders colour is different, whether in colour temperature or using gels. The exposure latitude is greater than with digital formats."
- Ed Lachman ASC
Lachman says he was wary of a sentimental tendency in period films. "We did everything to capture a reality and naturalism of light on the set, including the atmosphere, the pollution and the grittiness," he says. "Even the mansions we filmed in are portrayed in their frayed decrepitude because these characters are barely holding on.
"Our job is to allow the audience to enter this world with their emotions," he continues. "The Super 16mm film format was chosen with this in mind. I like the idea that light etches the different layers in the film like an etching, and the randomness of the grain structure contributes to the sense of depth."
Lachman says that Haynes thinks of film as one language, even when he is using different visual references and styles to tell his stories. "Mildred Pierce is a domestic drama of the 1940s set during the Great Depression," he says. "But it mirrors the times we live in today."