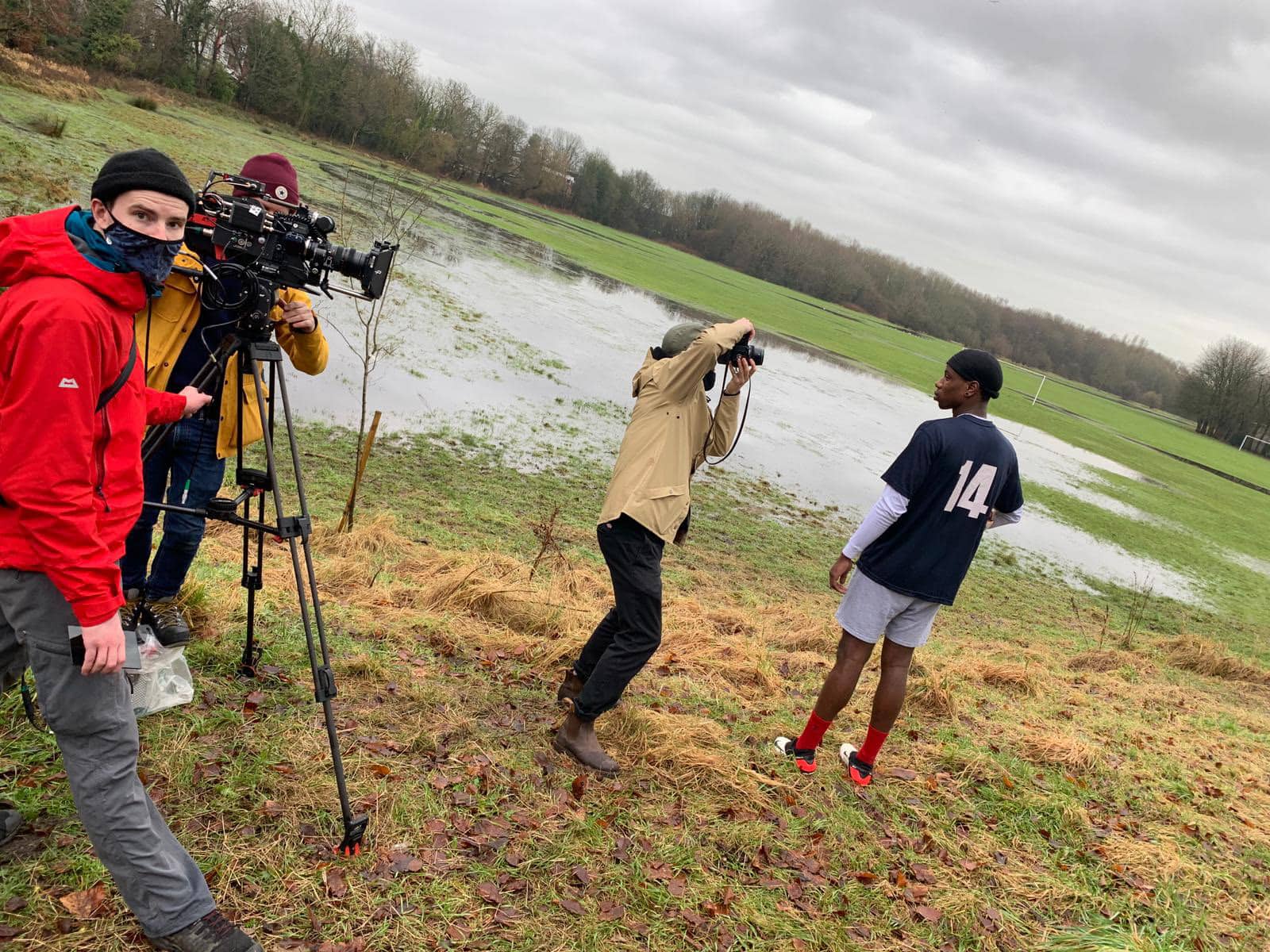 As two million grassroots footballers in the UK count down the days to return of amateur sport on 29th March, COPA90 and Mind have partnered to reveal a unique film exploring the impact of the beautiful game on the nation's mental health.
Sunday, a three-minute spot shot entirely on 16mm film and directed by Charlie Watts, captures the meaning, emotion and unseen beauty of Sunday League football across a number of locations in North West England.
The project combines raw, honest and powerful imagery from football pitches and dressing rooms that currently lie dormant, with audio commentary gathered from dozens of amateur players from every corner of the country, who are feeling the impact of the current COVID-19 lockdown.
Sunday will be hosted across COPA90's digital platforms, and is the latest example of the publisher's resonance within football culture. In partnership with mental health charity Mind, the film seeks to provide vital messages of support not only for players having problems with their own mental health, but for anyone who may know people in need.
The film was directed by filmmaker Charlie Watts, who recently collaborated with COPA90 to release 'Mbappe '93 Famille' in partnership with EA SPORTS. Watts, himself an amateur footballer, had a vision to create a story that would empower grassroots footballers to open up and support the mental health of their teammates. DP Arron Monkman lensed the powerful film.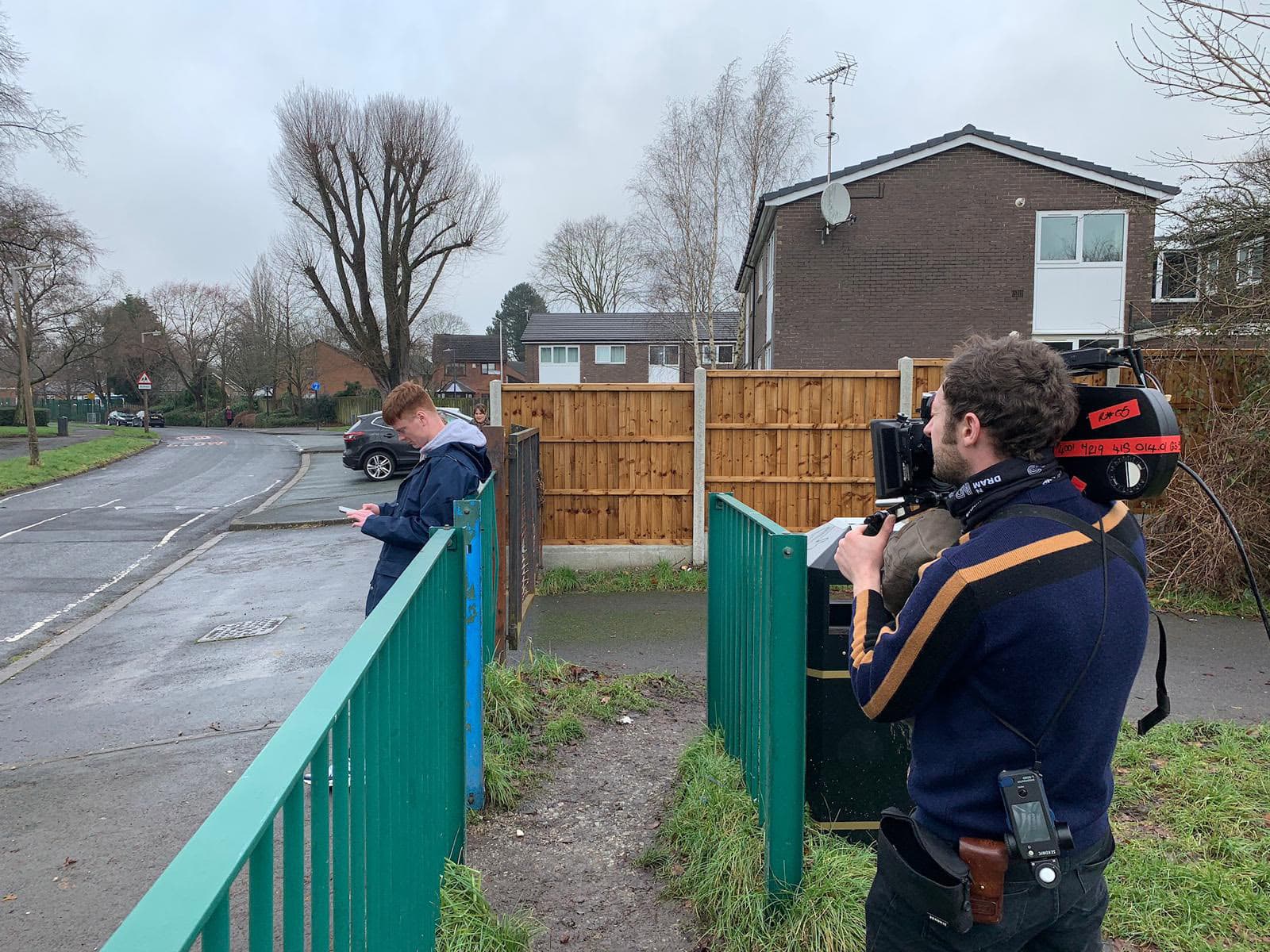 During the first lockdown Mind surveyed 16,000 people about the impact that the COVID-19 pandemic was having on their mental health. Almost half (49 per cent) of adults and over half (52 per cent) of young people said their mental health had gotten worse because they weren't able to play sport or exercise. Watts wanted to represent the voices of millions of players up and down the country who, like him, have desperately missed the feeling of community and connection that Sunday League football brings.
Hayley Jarvis, Head of Sports for Mind, said: "We're proud to partner with COPA90, and inspired by the visual way in which Charlie Watts has brought this important topic to life. Through our work with COPA90, the EFL, and other partners in the game we know the power football can have to improve mental health, from grass-roots through to elite level. While all forms of physical activity can boost your mental wellbeing, the camaraderie and strong social element of team sports, like football, can be particularly beneficial. Having a group of people around you who regularly check in on you and motivate you to get out for a kick about, even if you're not feeling your best, can make a huge difference."
Gav Rowe, Chief Creative Officer, COPA90, said: "We are incredibly proud to work with Mind and to collaborate with the talented Charlie on a subject matter that is now more important than ever. We didn't just want to make a film for those who aren't feeling great, and it's okay to not feel ok, for us it was important to make a film for those people who are coping too, reminding them of their mate who might be alone right now too."
Sunday can be viewed on Twitter HERE.
We caught up with director Charlie Watts and cinematographer Arron Monkman to discuss the film's creation…
–How did the project come about?
Charlie Watts: It was born out a few things. It was January, work was slow, the football season was on hold and mentally I was feeling quite fatigued with the lockdown. I was out with my stills camera and I took this candid shot of an empty football pitch, it was a foggy day and in the distance, you could see a father and his sons playing football. It got me thinking about how we have all be deprived of amateur football recently and the effect that must be having on those thousands of people that play.
Why was being a part of this production and helping tell this story so important to you?
Charlie Watts: I had such a personal affiliation to the story. I myself am amateur footballer and also someone who suffered with depression and anxiety pre COVID. At the time, it took a lot for me to speak up, but when I did speak to a professional about my mental health the burden got a hell of a lot lighter. I wanted to make a film that celebrated what it meant to play at the amateur level, which at the heart had a message of talking openly about your feelings. I did over 30 telephone interviews with guys up and down the country and without them really the story wouldn't have the narrative.
What were your inspirations and creative references? What research was carried out?
Arron Monkman: Like Charlie, this is a subject matter that's close to my heart and I've also grown up with football so the imagery around Sunday league was something we had a fairly clear understanding of, then in support of that was a lot of research into stills photography around the subject, Simon Di Principe's Grass Roots is an obvious one. I love L.S. Lowry and his depictions of the North. For me this is always a natural influence. I think some of those working class elements have bled through into this project. Similarly, films like Lynne Ramsays Ratcatcher, and a lot of Ken Loach steered my motivation for framing.
What did your initial discussions about the look and feel of the film include?
Arron Monkman: We wanted it to have a gentle and reflective pace, and the photography has to support that. We spoke about having these little character vignettes, but also how the other main character would, of course be the pitch and how we could use that imagery to tell these stories.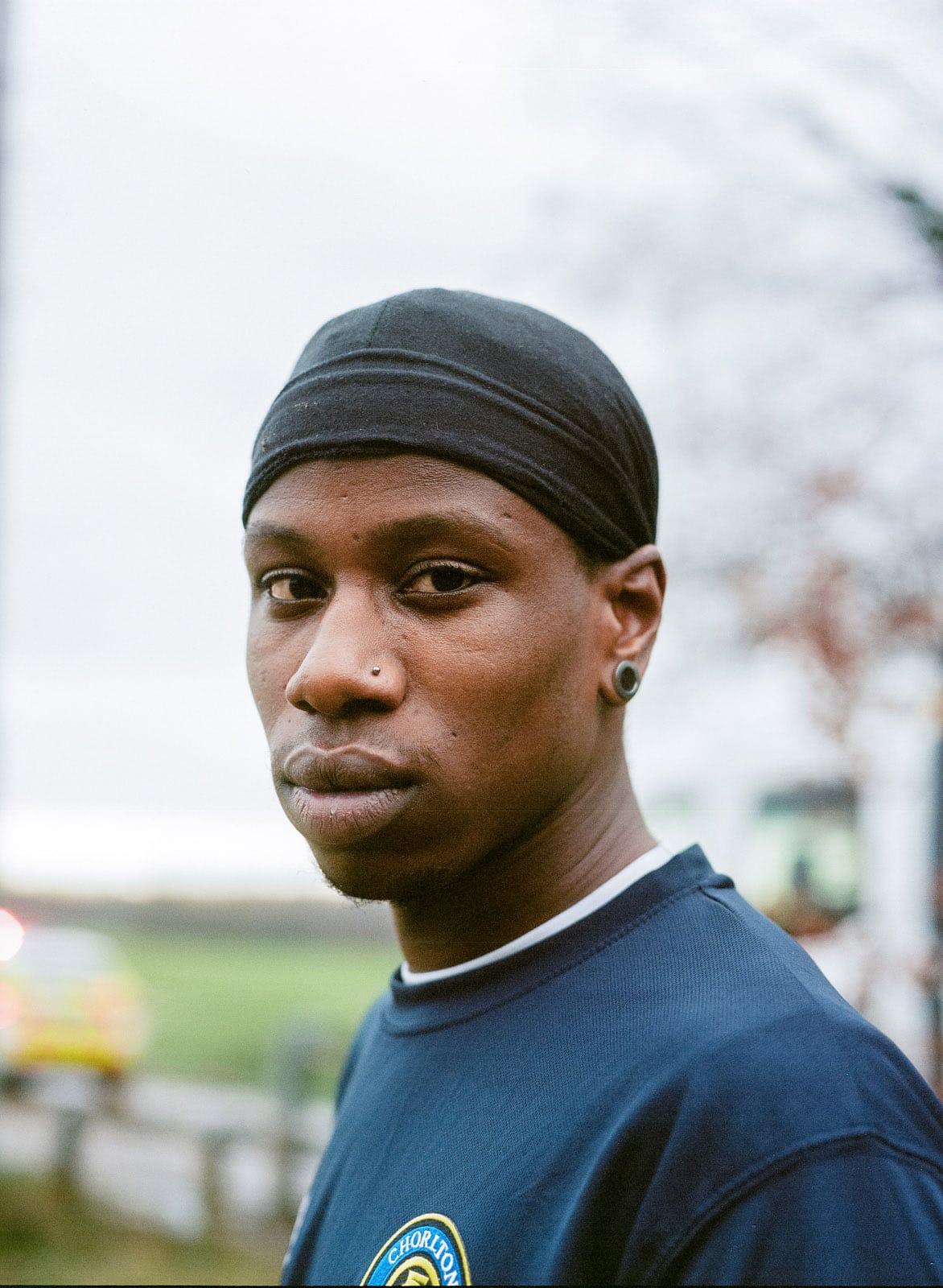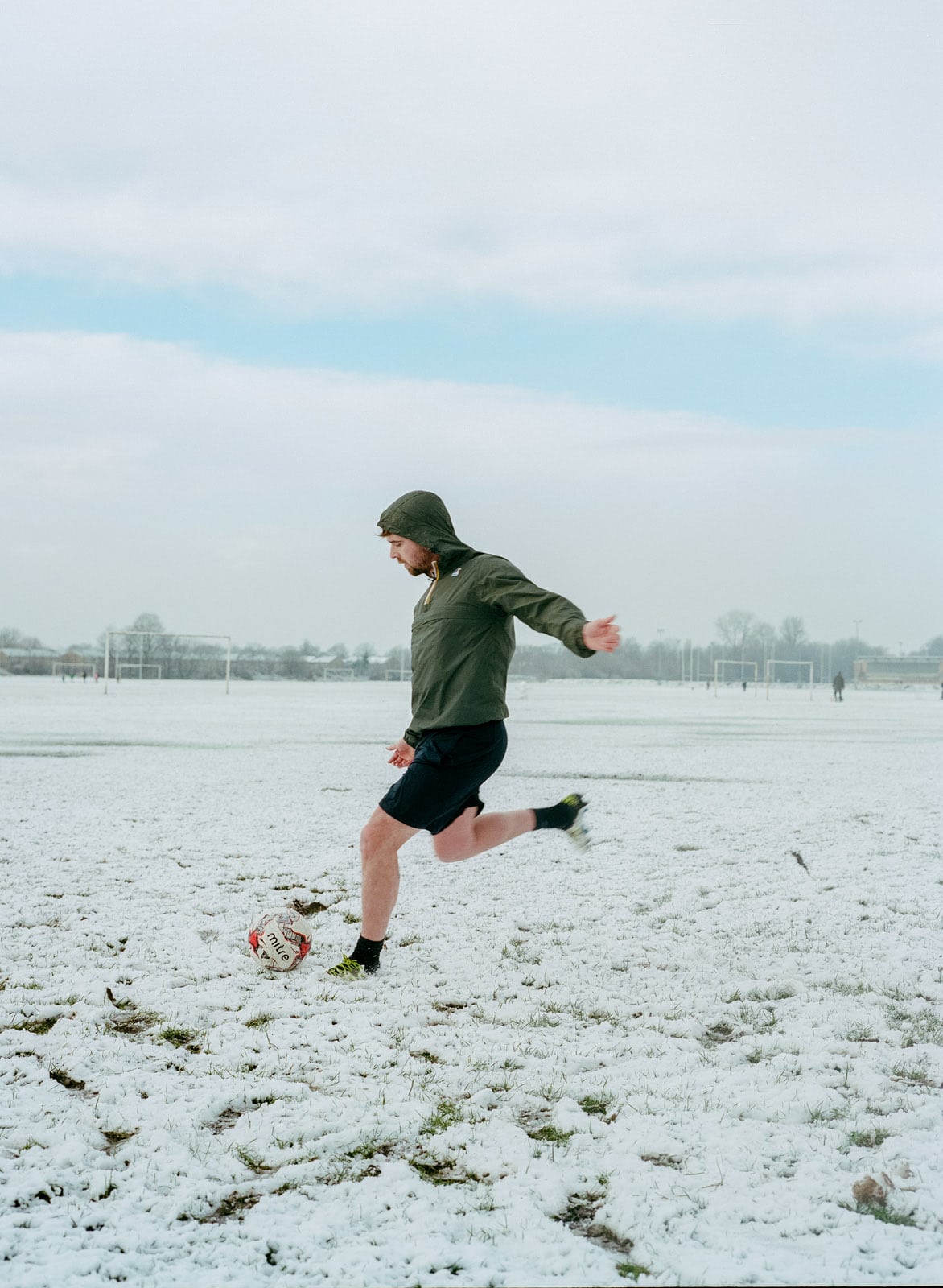 How did you approach directing and shooting the film?
Charlie Watts: Arron and I worked very closely in discussing how the frame should feel and be composed. We wanted each frame to almost feel like a photograph, something that could hold on it's own as an image which could reference amateur football. It was great working along side Arron, I consider him a friend first and foremost before a member of my crew. Due to the low budget, my directors monitor was pretty poor and my image was a low quality reference. It took me putting my trust solely in Arron to compose the frame and find the story within the scene – I think he did that brilliantly.
Arron Monkman: Ive always loved film, and luckily I'm just old enough that my first trainee jobs were still when s16mm was used. It's something that has stuck with me ever since and I try to go back to it as regularly as possible, so naturally I was thrilled when Charlie approached me about this project. We're good friends and it was joy to shoot on film together.
Kodak's 7219 was the stock of choice, mostly uncorrected and overexposed. I wanted a little coldness and grain to add to the bleakness of the imagery.
How did you use framing and composition creatively throughout the visual storytelling?
Arron Monkman: Like Charlie says, we wanted the images to feel like photographs, and the natural stillness that comes from that enhances that lack of activity felt by these men. I liked the idea of these graphic frames of empty pitches. Part of the character of Sunday league is the crazy locations you often find these pitches, so I really tried to capture that.
Which shooting locations/sets were used?
Charlie Watts: We shot all on location around Greater Manchester. My knowledge of amateur football pitches is pretty vast from my time playing, so it was just a case of visiting some of the places I knew had character and could represent grass roots in its truest form.
What camera package did you use and why was it so well suited to the production?
Arron Monkman: I used my own Aaton XTR Prod, which was absolutely perfect. Obviously it was designed for handheld doco work so it felt really nice using it how it was originally intended. I had a Zeiss 12-120 with micro-force which worked great for the pitches and a set of Super Speeds from Panavision. We needed to be light on our feet, and this package gave us that.
How did you use camera movement to help tell the story?
Arron Monkman: Handheld felt the right choice for anything with cast, just helping give a little realness. The more composed empty frames of nets I used the micro-force zoom control dialled right down to 2, so we were creeping in so slow you might only notice it subconsciously. This emulates the state of mind of the characters.
What camera tricks and effects did you use? Did you use any brand-new techniques?
Arron Monkman: There's not much trickery on this to be honest, its not that kind of film. One of my favourite shots is the only night exterior, theres a motorway in the background and I shot it at 6fps to show the world wizzing by this pitch that stood dormant. Not really a "trick" but I like the effect it gave.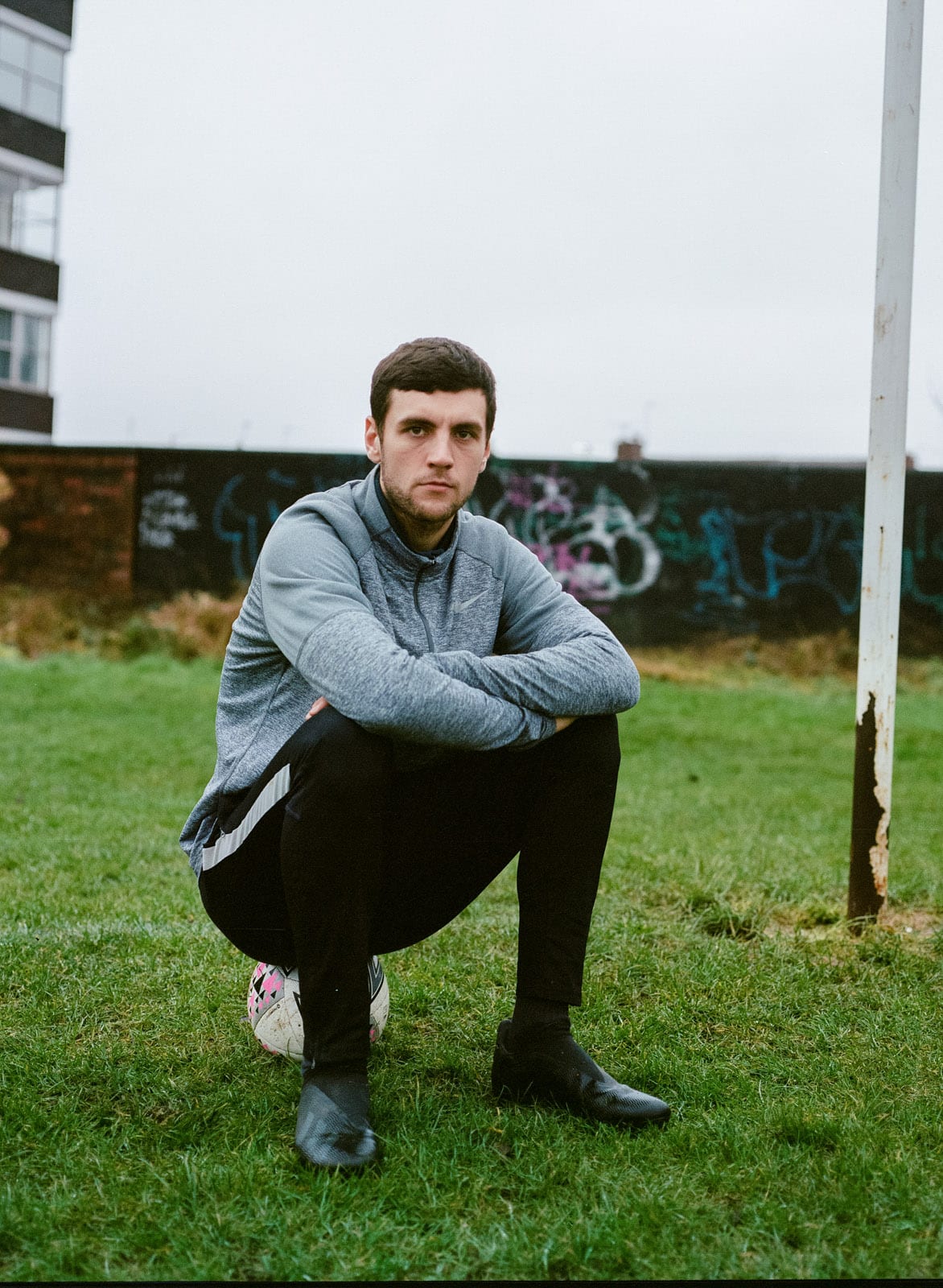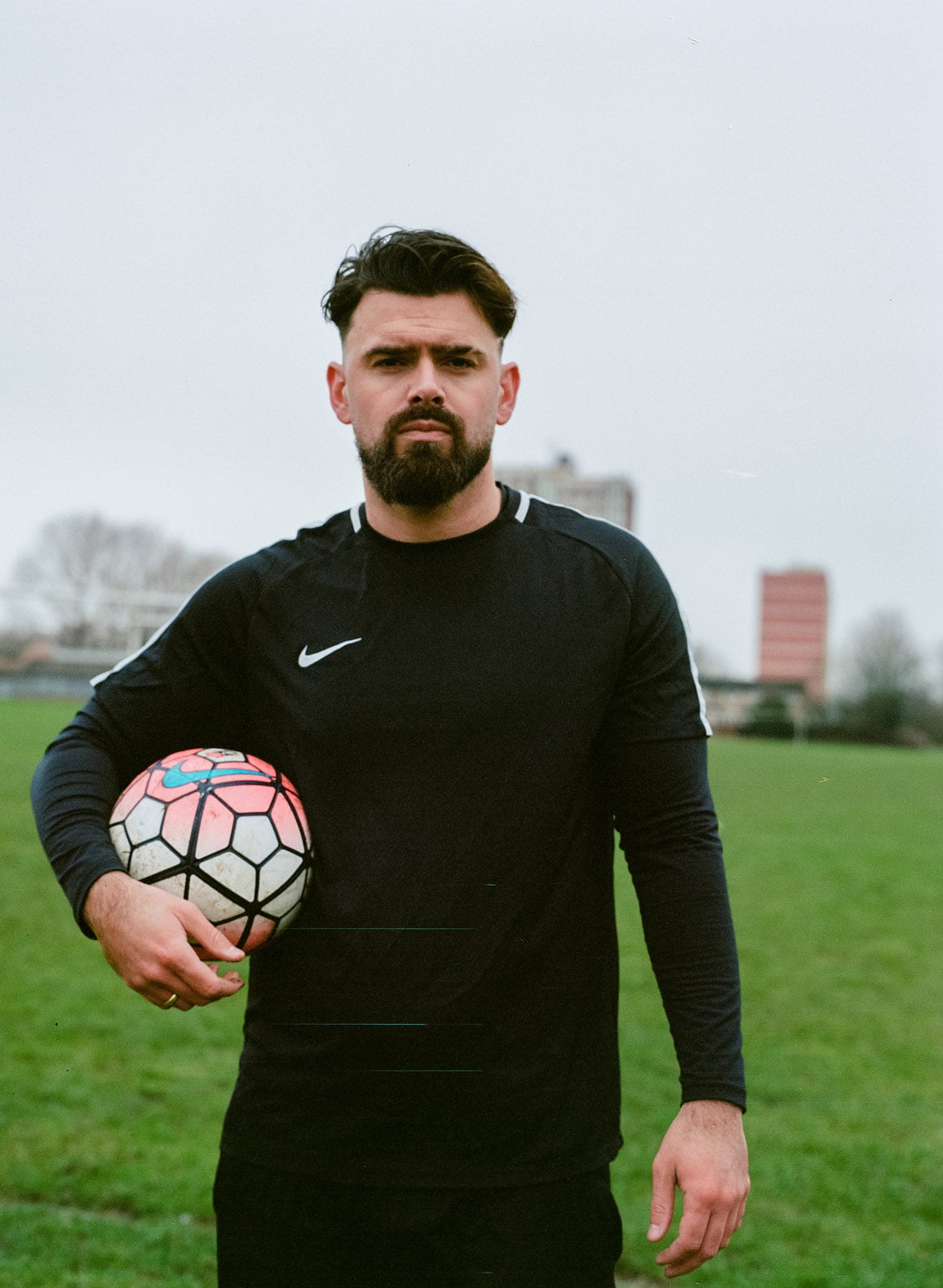 You shot on 16mm film. Why was that choice made and what was the experience of shooting on film like? What did it bring to the production?
Charlie Watts: It felt appropriate to document this period in time on film. The motivation for shooting on motion picture was to really evoke those reminiscent visceral moments, and those things we all miss so much about the beautiful game. They say you don't know what you've got until it's gone. Only when something is removed from your life do you recognise its true significance. For so many people sport plays a massive part in benefiting both ones physical and mental health. As someone who has struggled with mental health issues in the past, it's was important for me to share the message of importance in speaking openly about your mental wellbeing.
What was your approach to lighting? Which equipment did you use and why? How did you work alongside your gaffer to create the desired effect?
Arron Monkman: Most of this is day exteriors so using natural light and a bit of gold bounce on the faces. We had to be light on our feet so we just carried LiteMats and a pancake – everything on batteries. Dan, my gaffer, did a great job hand balling the gear about and keeping everyones spirits high.
What was your proudest moment throughout the production process?
Charlie Watts: I think it has to be with the response the film has received and the work the crew put in on the 3 days of shooting. This was a film everyone invested in to make without a fee – we all wanted to shine a light on this story. I am so proud of my 'friends' for helping me make this film.
What lessons did you learn you will take with you onto future productions?
Charlie Watts: To be braver and shoot more takes. I think at times we maybe worried about using too much of the stock, and perhaps it overshadowed what we were looking to capture. However, I say that loosely and in general we achieved exactly what we set out to do.
Credits
Agency: COPA90
Partner: Mind
Director: Charlie Watts
Producer: Ed Newell
Executive Producer: Dave Birchall
DOP: Arron Monkman
1st AC: Rico Bam
Gaffer: Dan Tunstall
Sound Recordist: Mike Mullen
Runner: Scott Nolan
Editor: Polly Ward
Colourist: Alanna Miejluk
Music Composer: Jonathan Colgan
Audio Mix: Nice Sound
Casting Director: Claire Bleasdale
Cameras: Panavision
Film stock: Kodak
Production company: You Boy Films