Grand Images
Christian Berger AAC / Le Cahier, The Notebook, Das Grosse Heft
Grand Images
Christian Berger AAC / Le Cahier , The Notebook , Das Grosse Heft
To catch and capture the essence of a tale or story, and translate this into powerful, mesmerising images, best describes a skillful cinematographer's eye, writes Annette Zoeh.
Director of photography Christian Berger AAC, who was recently presented with The Golden Camera 300 Award in Bitula, Macedonia, during the 33rd Manaki Brothers Film Festival in September 2012, is a hawk-eyed, soulful perfectionist of image composition behind the camera.
Le Grand Cahier (also know as The Notebook) is his latest captivating cinematic achievement – a co-production from Hungarian Hunnia Film, Germany's Intuit Film and the Austrian, Vienna-based, Amour Fou Vienna GmbH. It is directed by prize-winning Hungarian screenwriter and director János Szász.
The movie is an adapted screenplay, based on the award-winning bestselling book "Le Grand Cahier" by Swiss-Hungarian author Agota Kristof. A postmodern anti-war drama, it tells the story of twin brothers, played by Laszlo and Andras Gyemant, who are raised in a small Hungarian village, located close to the Austrian border, towards the end of World War II. In order to survive in the absurd adult world, they have to learn all kinds of evil and gruesome tricks. It's a fascinating and oppressive parable about the aftermath of war on a child's psyche.
The director Szász wanted a cinematographer whose skillful talent could best emphasise and express this unique story. With Berger on the job, the project successfully resulted in an almost three-month long, positive, intense and above all, respectful cooperation between the pair.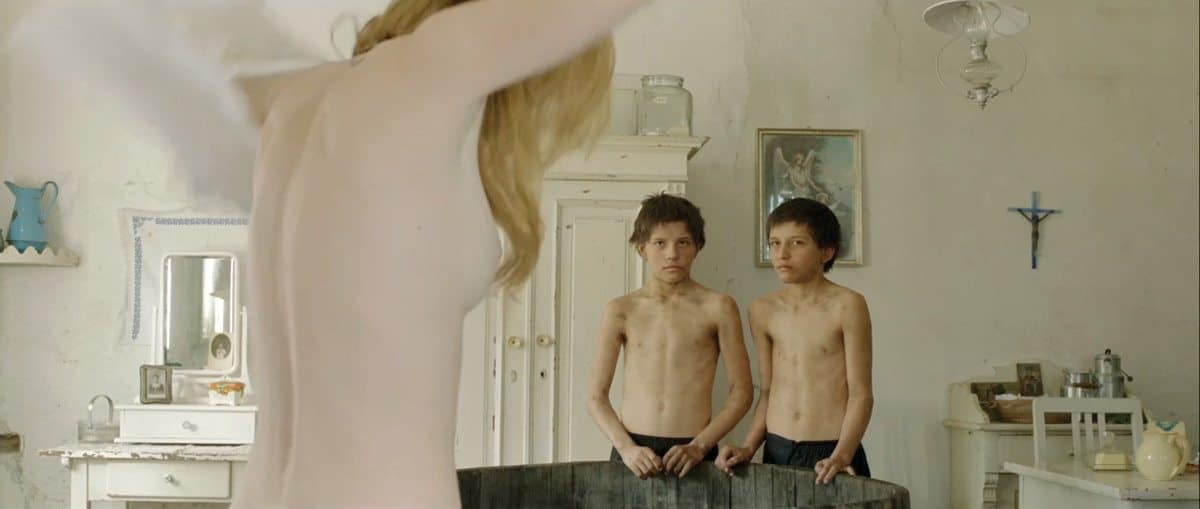 Shooting started as early as February 2012 in Hungary, near Cegled and around Budapest, under harsh and hard production conditions – including frost and bitter cold, with a limited infrastructure, many low-light and night shots, and daily trips to difficult, cramped locations - initially on wintry, icy roads and later on in the spring, in nothing but mud. Additional interiors and location shots required the production to move to the town of Arnstadt in Thüringen, Germany, and the surrounding area.
Although Berger filmed The White Ribbon with ARRICAMs, his decision to go with ARRI Alexa on Le Grand Cahier was based on the extraordinary, and largely positive, experience he had with Alexa on his previous movie Ludwig II.
As he explains, Le Grand Cahier required extensive pre-discussions whether to go film or digital. Although the grandiose story itself contains historical aspects of World War II, such as the Nazis being driven out of the country, and Russians invading the country, it is a story told using today's image language.
"In my opinion, it is essential to create a subtext and texture for today's world," he said "With today's viewing habits, and everyone using their mobile, smartphone or laptop for digital image and movie recording, the digital look has become the common standard; anything deviating from this now looks old."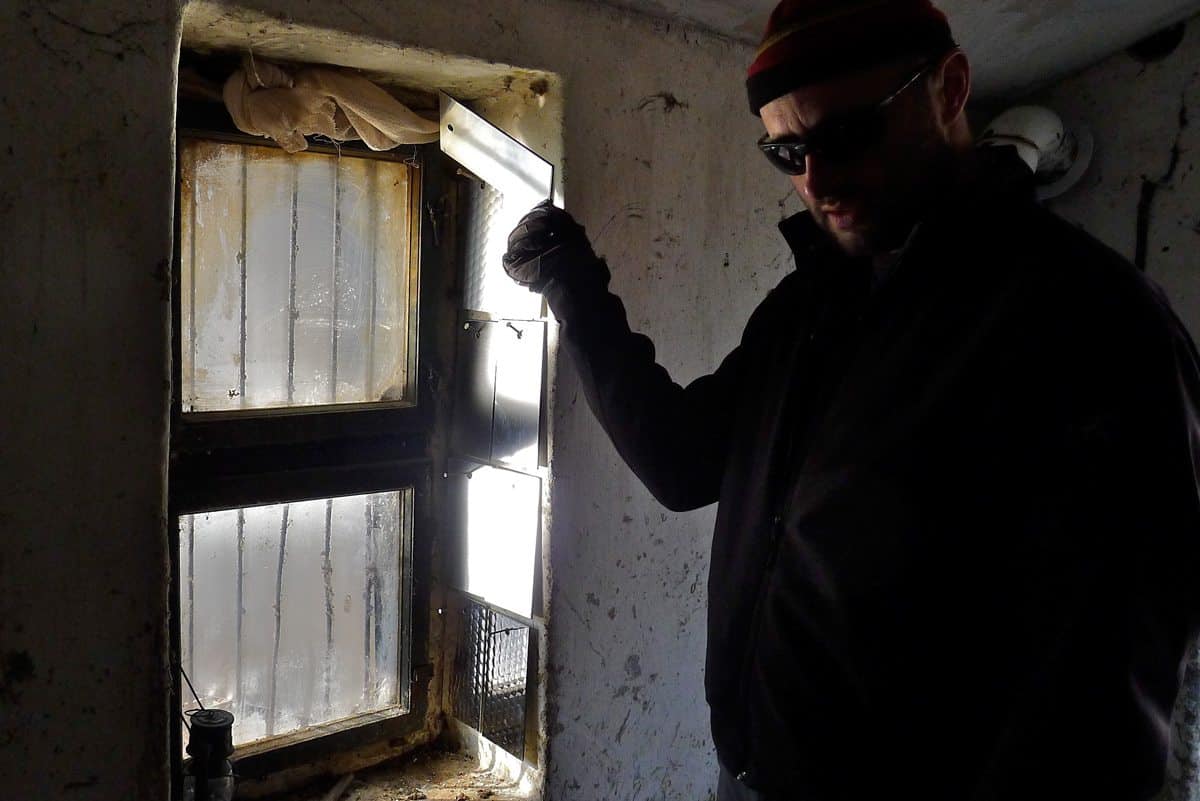 With regard to the many challenges on Le Grand Cahier, Berger says Alexa proved, once again, a superb camera to work with, even when space was restricted.
"The digital image capture with Alexa really allows, and guarantees, complete control of the image and lighting, and lets you concentrate fully on you creative cooperation with the director. For the first time, I worked together with my former 1st camera assistant Gerald Helf as the operator, and although I felt a little nervous at first, we enjoyed a superb experience of working together."
The equipment Berger selected for Le Grand Cahier remained similar to that he chose for Ludwig II; the complete film was captured with just one Alexa, in 1:2.35 cinemascope, shooting ARRIRAW to Codex recorders.
"With the very valuable experience of Ludwig II, I knew what cinemascope in combination with ARRIRAW would render in terms of brilliant, pristine images as well as richer possibilities during post production," he says.
Talking about the lens choice, Berger says, "I originally wanted to choose the Leica Summilux lenses that I used on Ludwig II. However, since the set of focal lengths I desired was not complete at that time, I went for Cooke S4 lenses. I am a big fan of Cooke lenses, and mainly used focal lengths of 32mm and 35mm, and sometimes 27mm, 50 and 70mm."
"The digital image capture with Alexa really allows, and guarantees, complete control of the image and lighting, and lets you concentrate fully on you creative cooperation with the director. "
- Christian Berger AAC 
To light the production, Berger used the CRLS lighting system, supplied by Pani Projection and Lighting in Vienna.
"Working with my lighting crew was often hilarious, but always efficient. The difficult, often unforeseeable, set conditions sometimes required us to rework some of our pre-planned situations. Whilst János, the director, was re-writing individual sequences on the set together with his co-writer András Szekér, my lighting team, with chief gaffer Jacob Ballinger, might work for 20 minutes to an hour to create a complete new set-up. Moreover, many scenes were manually lit, 'live' during the shoot."
As Berger recalls, "One of our largest and most interesting lighting situations was in the church. For example, we had to flood the church interior with dazzling sunlight, whilst there was a storm outside and the sky was almost black. To achieve the desired result required six 1200W Panibeam luminaires, positioned on the ground outside the church, and one inside at the rear of the church. This allowed us to record with reasonable T-stops of +2.8. When controlling the iris, we never went to the limit, as digital reacts sensitively with regard to focus."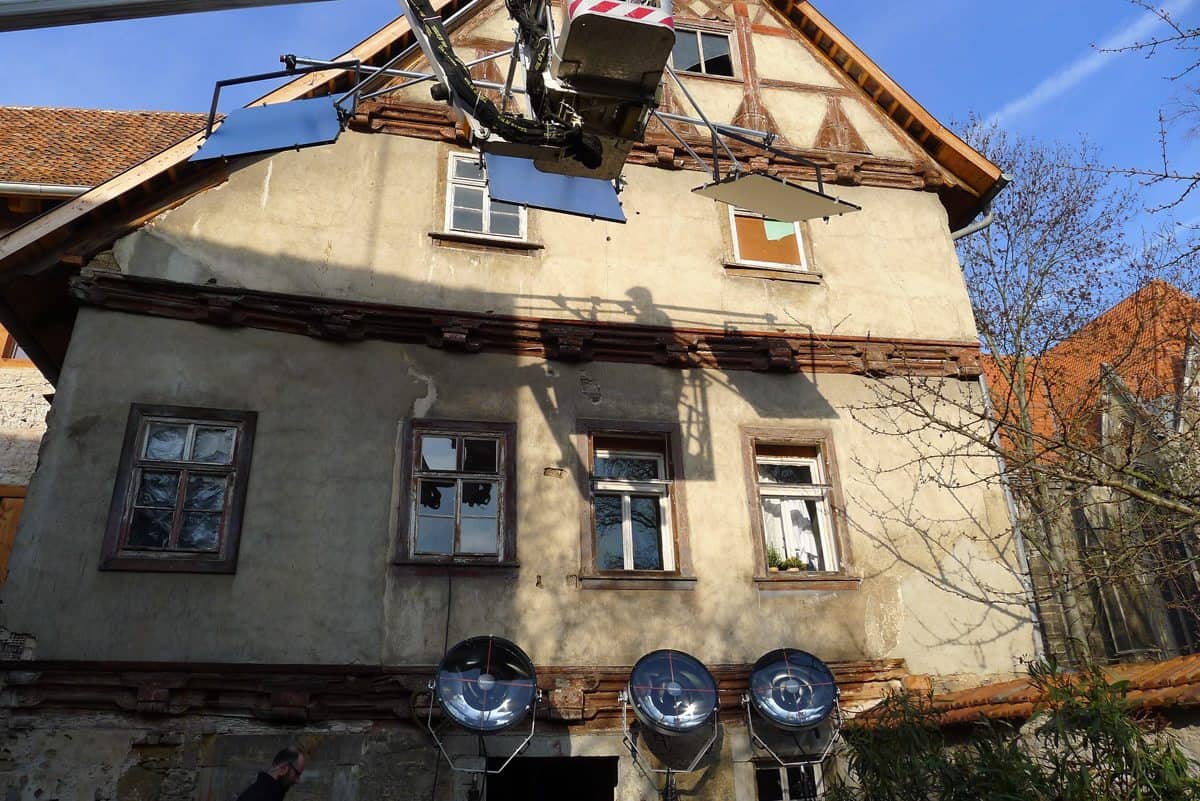 Another noteworthy scene of Le Grand Cahier was a risky night shot, as Berger explains, "Illuminating night-time exterior scenes can be very difficult, as you have to position the diverse light sources out-of-frame, and there's always the possibility of creating false shadows, etc.
"The scene we were shooting shows a mother and her baby, standing grief-stricken, and spot-lighted from the rear by a car's headlights. We used three cranes, extended up to 25 meters, with a total of three 1200W luminaires, and a petrol lamp, to light the complete scene, and the surrounding area. The effect created gave us a most sensitive, very natural and beautiful light."
Le Grand Cahier is a film that, with its soulful images, reaches beyond the norms of viewing. It is a film that is complex and compassionate, not only due to the overwhelming nature of the captured images, but also the great performance by the Gyemant twins.