Fearful Symmetry
Claudio Miranda ASC / Life of Pi
Fearful Symmetry
Claudio Miranda ASC / Life of Pi
From behind the monitor Ang Lee calls out, "Hold the camera still!". Meanwhile, just around the corner, Claudio Miranda ASC grapples with a lemur that has taken a sudden interest in operation of the ARRI Alexa, sitting atop the camera, pulling out its wires and generally ignoring the DP's attempts to bat it off, writes Wyatt Moss-Wellington.
All in a day's work on the set of Life Of Pi, 20th Century Fox and Rhythm and Hues's adaptation of the 2002 Man Booker award-winning novel by Yann Martel, featuring a boy adrift at sea with a tiger.
David Magee adapted the screenplay, maintaining the basic structure and thematic concerns of the book, including philosophical references and religious connotations. The film follows Pi Patel (Suraj Sharma in his screen acting debut), the son of a zookeeper, whose family moves to Canada. En route they are shipwrecked, leaving Pi the sole survivor, sharing his lifeboat with a hyena, zebra, orang-utan and a Bengal tiger.
Although the project took a while to land with the right director, when Lee took it on he made it his own. The director also produced alongside Gil Netter and David Womark.
Miranda was surprised to receive the call to meet with Lee. He had been told it was unlikely he'd get the job as another cinematographer was attached, but Lee wanted to meet him anyway. Prior to Pi Miranda shot 3D on TRON: Legacy and worked with David Fincher on pioneering CG techniques for The Curious Case Of Benjamin Button. Miranda was well-placed to advise on 3D technology and lensing for CG in a realist context.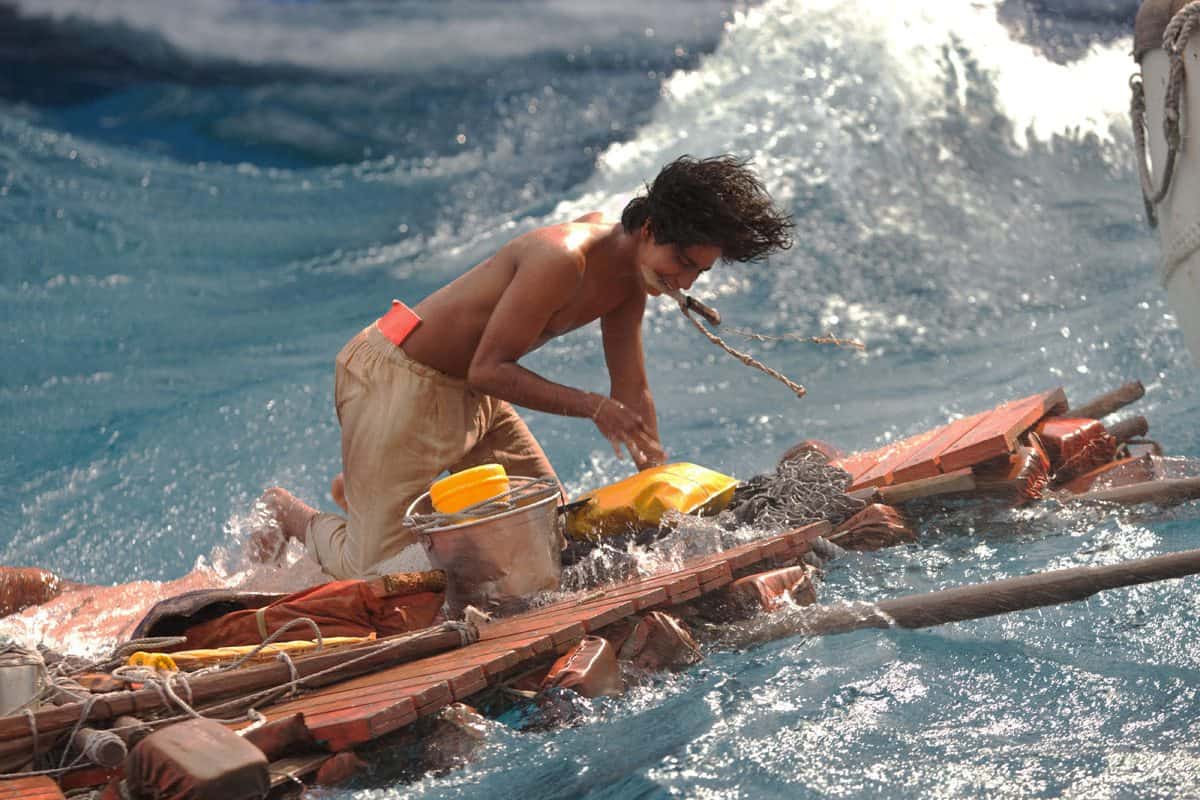 The initial meeting between the pair ended up going so well that Miranda was called in for the job, which he estimates took about 100 days to shoot across Munar, Kerala and Pondicherry in India, Taichung in Taiwan and Canada. They discussed the look they wanted and decided the world of Pi couldn't be magical and beautiful all of the time. At certain times, such as high noon, it would need to get quite ugly and menacing to retain a sense of both realism and danger – to feel like you're really there.
Pi being Lee's first 3D movie – and his first digital movie, too – the director wanted to get it right, so Miranda had a reasonable amount of time in prep. Despite the flexing space available, Miranda didn't need to do extensive testing to settle on the Alexa with Master Primes. He shot tests off the Venice pier in Los Angeles; the Alexa won hands down.
"It was stunning what we captured," he says. "I told Ang he could look further, but I think there was a clear winner. This was the benchmark of what we needed to get. It was magic with the clouds, the boat, and a little sun coming through – it looked unworldly.
"For me, highlights were going to be a huge deal. Just to hold the highlights on the water and not make it look electronic – it's critical. This is a big test for a camera and, of course, I'll always test new cameras. The only one that won this battle though, from what I tested, was the Alexa."
Having watched some 3D films for reference, Lee was uneasy about shooting 3D as he'd seen a lot he didn't like: "My eyes are just jiggling," he said of one. Miranda explained that they'd used a tight shutter angle, like a music video and agreed, "It felt like your eyes were going back inside your head."
In the end, they decided to run with some of the techniques Miranda had developed on Tron. The DP describes the style as "through-the-window 3D – we don't force anything, we don't go crazy.
"Ang wanted to go a little bit further in this movie, however – to bring out emotions by where people sit in the screen, how much they intrude into your space, and at times just bring things a little bit closer. He really wanted to tell the story using the tools that 3D provides."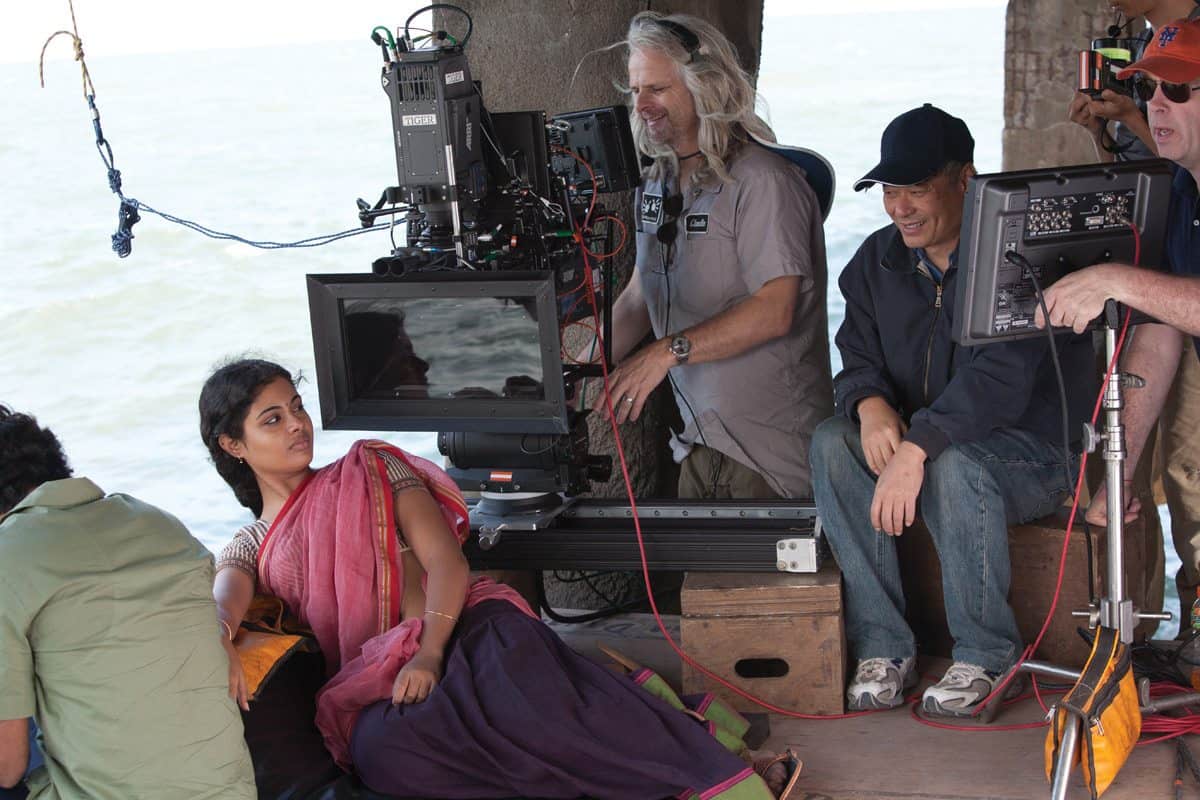 They worked hard at getting the right kind of staging to achieve the emotional balance Lee was after. Miranda describes the staging as analogous to lens choice: "It's the reason why you choose a 32mm or a 50mm, to bring out that range of emotion."
They discussed certain perceptions and misconceptions about 3D shooting. Miranda explains his philosophy: "When I did Tron people told me the rules and I said: "Okay, well, let's see why we don't want to do any of that stuff." He ended up experimenting, pushing the envelope and shooting Tron his own way; he took this ethos to Pi and occasionally tried the "stuff you're not supposed to do ... you need to ask questions; maybe a certain technique's not right all the time but it could be great now. So there are a lot of rules broken!"
Lee wanted to shoot the whole movie in sequence, so Suraj Sharma would go through a visible transition. At the beginning, they quickly captured some scenes with co-star Gérard Depardieu (the film also has appearances from Rafe Spall, Irrfan Khan and Tabu) before heading to India, where Sharma really started to blow them all away.
"Suraj is awesome," says Miranda. "The kid just pulled this together, being so focused for the whole movie – he didn't miss a beat at all. We'd shoot a line a couple of times and I was shocked how well he'd go through it with emotion and understanding and clarity. He's doing his own stunts – hanging on the oar as the waves are going up and down. By the end everyone was just amazed; I don't think I've experienced that before."
"Ang wanted to go a little bit further in this movie, to bring out emotions by where people sit in the screen, how much they intrude into your space, and at times just bring things a little bit closer."
- Claudio Miranda ASC
They continued on to Taichung, where Lee was born and raised. "Ang really wanted to give back to the Taiwanese people," Miranda says of the decision. "So we found an abandoned airport in Taichung, took over their hangars and converted them into stages. We dug a 30 x 90 metre hole in the ground for a giant wave tank."
Lee spoke to numerous oceanographic and wave scientists, gathered a group of researchers and developed the "most perfect tank ever." The tank could oscillate and replicate all kinds of sea phenomena: triangle waves, slow rolling waves. They could create whatever weather they wanted.
Working around the tank, Miranda was able to exercise complete control over the lighting. "Surrounding it we had a structure that was roughly 120 x 40 metres. We flew silks and I had blacks and I could change and shape the light however I wanted. We had doors lined up to the sunset, so if I wanted to I could open these giant 40 x 60 foot doors to catch some ripples of the sunset on the water."
Because Taichung has very little in the way of a filming community, the entire kit had to be shipped over courtesy of Pace. Truckloads of containers came from Los Angeles as the whole engineering system came out; lights, rigging and grips all came over.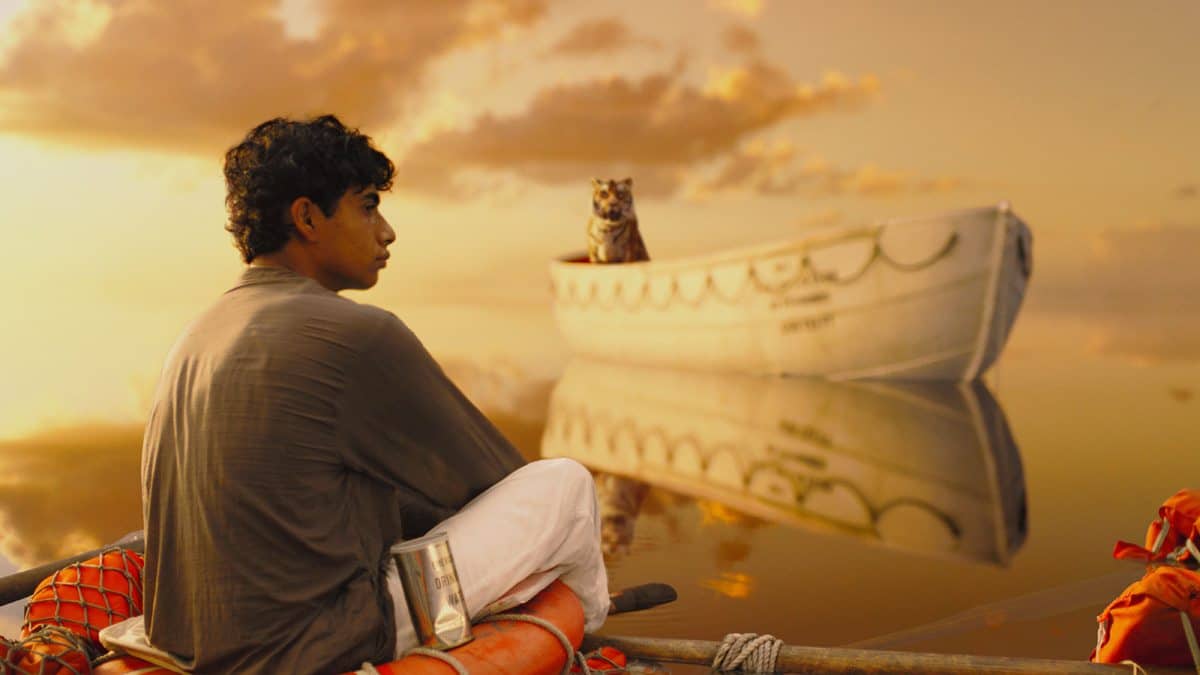 Pi utilised Pace Fusion for 3D. "The main reason is they had experience with underwater," says Miranda. "They built us a pretty amazing 3D housing – we ran down the stairs and jumped in the water with it. It ended up being the scene you see on the trailer with Pi running down, then he splashes into the water and you follow as he swims through.
"I knew this scene was coming and I drew images to try and figure out how we were going to do it, move the camera, weighing maybe 150 pounds, fluidly down from above and into the water. That was technically challenging. In 2D, when water hits the lens it's kind of okay, but in 3D if it hits the lens it's kind of on your eyeball. It's really out front and can be quite distracting.
"We had to keep the lenses as clean as possible – we had a lot of water and wind and everything, spraying and hitting the lens. The tank creates eight-foot swells, up and down – it was going to hit the lens so all we could do is get it off as fast as we could and keep it as clear as we could. It was interesting for the operators – operating on a guy with a long lens, just trying to keep it all in shot with all this stuff happening ... the crew basically had to become part plumbers! A lot of stress, but it did work."
Miranda used Codex recorders and Colorfront digital dailies systems. "We went Codex DPX," he says, "as Raw wasn't available at the time. However, I knew what to expect from the digital workflow and had a good team, so it was fine."
Miranda's "good team" included camera operator Lucas Bielan, who has worked with Miranda on multiple projects and Dan Ming as lead focus puller.
"Dan's incredible. There's a different way people focus visually on digital than film. Especially when you're shooting on water, where there are no marks. You really have to put in some trust. All the focus pullers are head deep into the monitor because they know from the get-go there are no marks you can get that mean anything. The waves are going, we're on the Spidercam rig – so we can move anywhere we want to in the tank. Thanks to Todd 'Hammer' Semmes and the Spidercam guys, who did that. It was a highly versatile team."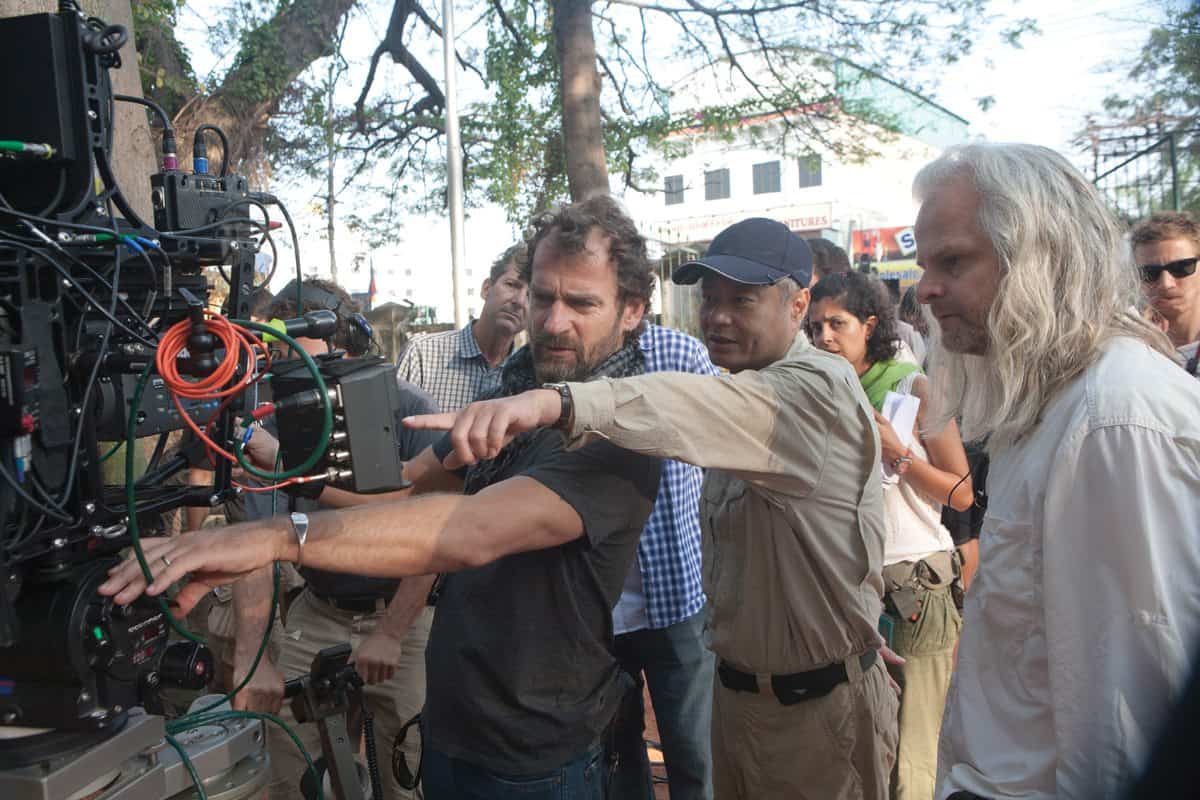 The conversation with Miranda too place whilst he was still grading the film with David Cole at Laser Pacific. "As we're originating on digital and using a lot of VFX, I think the DI is pretty critical for the look," says Miranda. "We're putting in a lot of time right now!"
Apart from the cheeky lemurs, Miranda did enjoy working with the animals, especially the Bengal tigers used for Richard Parker. They mixed four real tigers with CG when shooting close to Sharma.
"There was one called King," recalls Miranda. "Visually he was the most aggressive, the scariest-looking tiger. Ang loved his look; he had a great snarl, a great voice. But Jonas was the sweetheart – I actually got to pet that tiger... through a cage of course, standing really far away and holding out my hand, but you know, I still patted him!"
There were also some unforgettably magical moments on the shoot. "For one scene in India we used almost one hundred thousand candles," recalls Miranda. "We lit up the night. In the scene, a sleeping Vishnu is carried down to a pool and is paraded around the water on a floating barge. The whole production crew was lighting candles – everyone was lighting candles. That was an awesome moment."
Miranda's work will next be seen on Tron-director Joseph Kosinski's new sci-fi movie Oblivion, starring Tom Cruise, Melissa Leo and Morgan Freeman.