Light Fantastic
Meet the New Wave / Ula Pontikos
Light Fantastic
Meet the New Wave / Ula Pontikos
Filmography (so far):
Weekend (2011), Run (2012), Anda Union (2012) and Playhouse Presents for Sky Arts The Minor Character (2012).
When did you discover you wanted to be a cinematographer?
I studied environmental science in my hometown in Poland, but was really passionate about photography. One of my earliest memories is of my father and I locked in the bathroom of our small communist flat learning how to print B&W pictures. He also taught me to build my first computer. The combination of geekiness and creativity was there at an early age.
Where did you train?
I enrolled at Goldsmith's college and took a module covering photography and camera operating. I remember being scared of having a big camera on my shoulder, but I fell in love with it when I started moving about. My last job as an assistant was on Richard's Eyre's Notes On A Scandal. I was at the initial prep at JDC when I was offered a place at NFTS. I was really excited and badly twisted my ankle as I ran for the bus. I almost jeopardized working on the film, but the job later paid for my first year of studying.
What are you favourite films, and why? (Perhaps 3 or 4 films, and very brief reasons)
Three Colours: Blue (dir. Krzysztof Kieslowski, DP Slawomir Idziak, 1993) – Kieslowski involved his DPs in very early stages of writing scripts and had his music composed before his production to influence the pace of filming.
Tulpan (dir. Sergiei Dvortsevoy, DP Jolanta Dylewska, 2008) – set in the famine-stricken steppes of Kazakhstan, they filmed unforgettable sequences of man and nature.
The Consequences Of Love (dir. Paul Sorrentino, DP Luca Bigazzi, 2004) – I love how little happens in that movie yet how tense it feels. Beautifully filmed.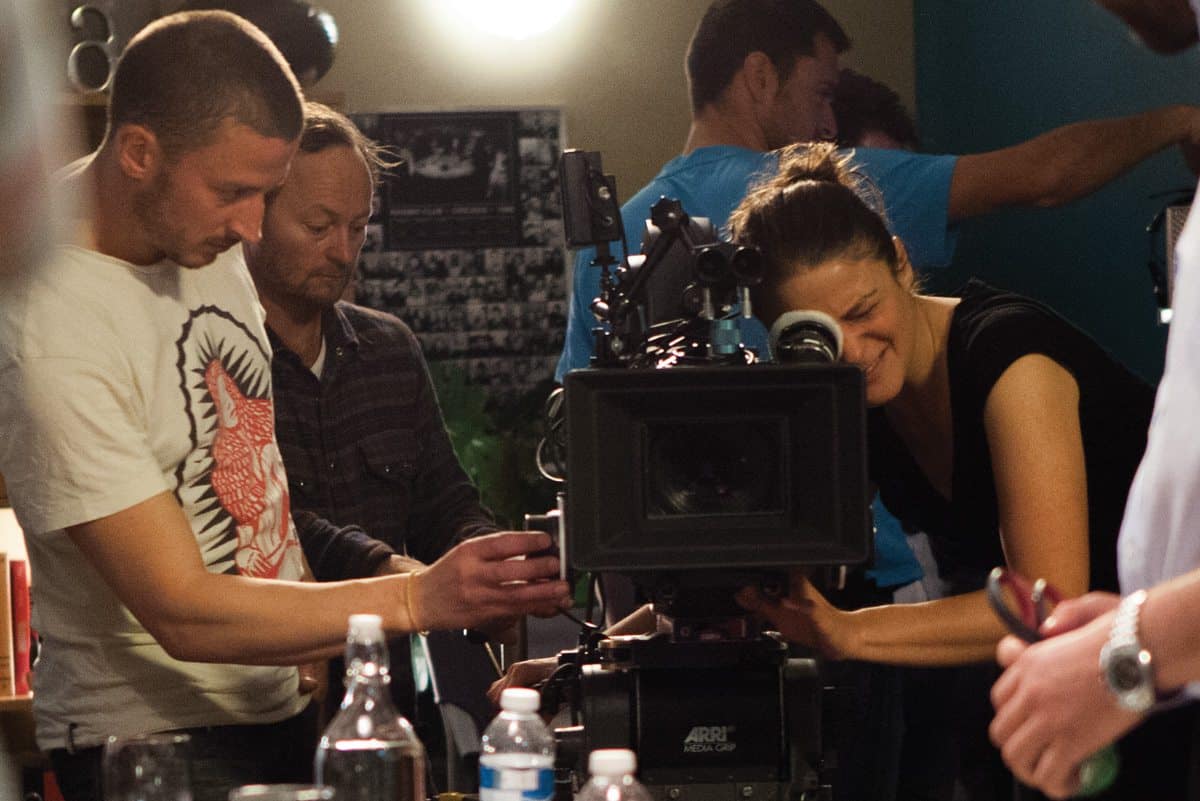 What's the best advice you were ever given, and from whom?
Before I went to NFTS Adam Suschitzky said that I would never progress if I were scared of failure.
Who are your DP/industry heroes?
Chris Menges BSC ASC has always been my primary influence. I was lucky enough to work with him. His lighting is intuitive, and he is an amazing operator. Seamus McGarvey BSC ASC, who was my mentor during the time of Guiding Lights. I also love work of Emanuel Lubezki AMC ASC, Roger Deakins BSC ASC, and Harris Savides ASC. I cannot express how sad I was to hear he had passed away.
Have you won any awards or received any nominations?
China's Wild West (2008), which I shot and directed, premiered at the Sundance Film Festival. The Pit (2010) won the Fuji Shorts cinematography award. I Do Air, written/directed by Martina Amati, won a 2010 BAFTA Film Award.
What's the worst knock-back/rejection you ever had?
For me it is important to look forward. Mistakes and rejections are part of life. Why look back?
What's been your best moment on set? And your worst moment on set?
Best moments on set are when there is a perfect synergy between the story, actors, set, lighting and camera. When operating I become so engrossed that I forget I'm at work. The worst is not to be able to go to the bathroom because it's too far away from set and we still need to complete the scene!
"Chris Menges BSC ASC has always been my primary influence."
- Ula Pontikos
What was you biggest challenge on your latest production?
The two episodes of the mini-series Run for C4 were told from different points of view. The challenge was to create the canvas of the same world they occupy but differentiate between the emotional storytelling. Charles Martin, the director and I talked a lot about movement and lighting. Hopefully we managed to successfully express the same world from two different perspectives.
Tell us your most hilarious faux pas?
Dirty Pretty Things (2002) was my first film job, and I was really clumsy and kept knocking over props. Steven Frears was very patient with me.
Away from work, what are your greatest passions?
Travelling and taking photographs. I love diving, it's really calm, and all you can hear is the sound of your breathing. Also cooking, as it relaxes me. One day I'm going to have a perfectly equipped kitchen.
What one piece of kit could you not live without?
My stills camera. I observe the world. I love doing the recce, finding angles, interesting corners, and things I can shoot through. I get inspired from real situations, real people, and these influence my future projects.
" [greatest extravagance] Spending every penny on photography books. Sometimes I worry that my IKEA bookshelf is not going to take all the weight."
- Ula Pontikos
Which films are you most proud of to date?
Weekend. It was made on a tiny budget, with crew of 15, but was released all over the world. I got many messages from people saying how moved they were watching it. At SXSW I discovered it was the 'Buzz' film of the festival and it then received an Audience Award. I just love working on films that touch people.
What's weirdest place you've ever shot in?
Hulunber in Inner Mongolia, shooting a documentary. We were filming a party scene and very small Mongolian woman kept tapping me every fifteen minutes demanding I have a drink with her. I stayed sober somehow without offending her. It's the most magical place. We did a lot of horse and camel riding. The locals didn't realise the film crew was there, and it was priceless to see their necks bending when they saw me on horseback riding after a day of shooting.
Tell us your hidden talent/party trick?
I'm a damn good dancer, especially after a shot of Polish vodka.
In the entire history of filmmaking, which film would you love to have shot?
Aguirre, Wrath Of God (1972) ­– Herzog and Kinski made a visually striking movie about man descending into madness in the jungle.
What are your current top albums?
I love music from Mali and Senegal: Salif Keita, Oumou Sangre, Issa Bagayogo, Baaba Maal etc. Jose Gonzales' Veneer, is a very beautiful album. I go running to the Younger Brother's Vaccine.
What's your greatest extravagance?
Spending every penny on photography books. Sometimes I worry that my IKEA bookshelf is not going to take all the weight.
Give us three adjectives that best describe you and your approach to cinematography?
Instinctive. Passionate. Expressive.
If you weren't a DP, what job would you be doing now?
Either unemployed or working on environmental issues in Inner Mongolia.