LOVE AND WAR
Tasked with shooting the second block of Dangerous Liaisons, Ashley Barron ACS was able to add her own creative stamp in her lensing.   
When Ashley Barron ACS started on Dangerous Liaisons as the second block DP, the first block team were so deep into shooting already that she hardly had any communication with cinematographer Christos Voudouris GSC and director Leonora Lonsdale. Instead, she dove headfirst into the second block's four-week prep for 13 weeks filming with director Olly Blackburn.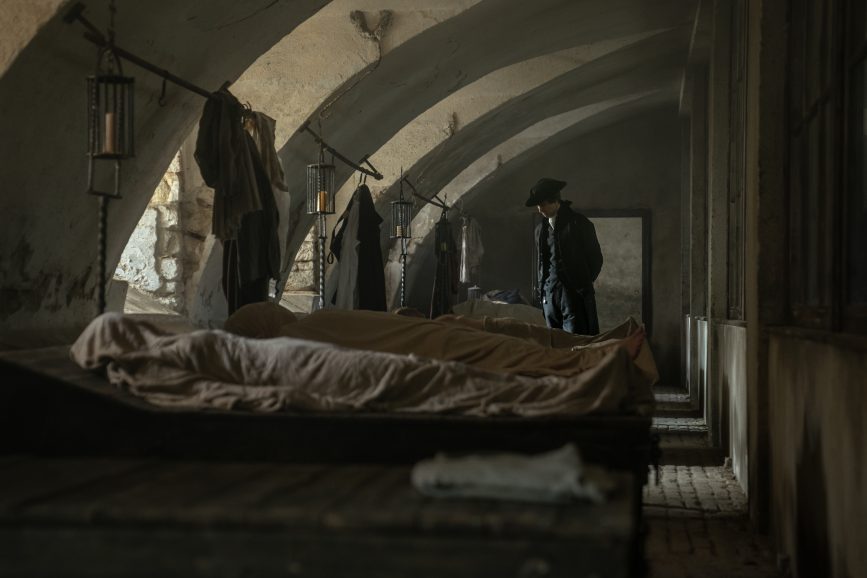 "It was quite a unique experience," says Barron, who shot Australia's much-lauded series, The Tailings, and Channel 5's second season of All Creatures Great and Small. "We shared a few of the same locations as block one but so much was new in my episodes [five-eight] that there was a lot of freedom for us to build."
Starz's Dangerous Liaisons is created by Harriet Warner, adapted from the famous 18th-century novel, Les Liaisons Dangereuses, and follows ex-lovers (Alice Englert and Nicholas Denton) whose scheming seduction is their means to power in a class-divided 18th-century Paris.
Stylistically, the sensibility of the first block of episodes and the second block was to be same: a sexy high-end show that could stand alongside other Emmy contenders. But Blackburn – a historian himself – had numerous painting references for Barron to acquaint herself with, like Joseph Wright of Derby, Johann Heinrich Füssli, Walter Sickert, and Goya. He also referenced period films like Barry Lyndon, Paths of Glory, and Temptress Moon, along with photography from fashion to Nan Goldin.
"I tried to look at alternative sources outside of period pieces to think laterally," says Barron. "To follow the feeling of an image and quality of light we were after, I compiled from ShotDeck."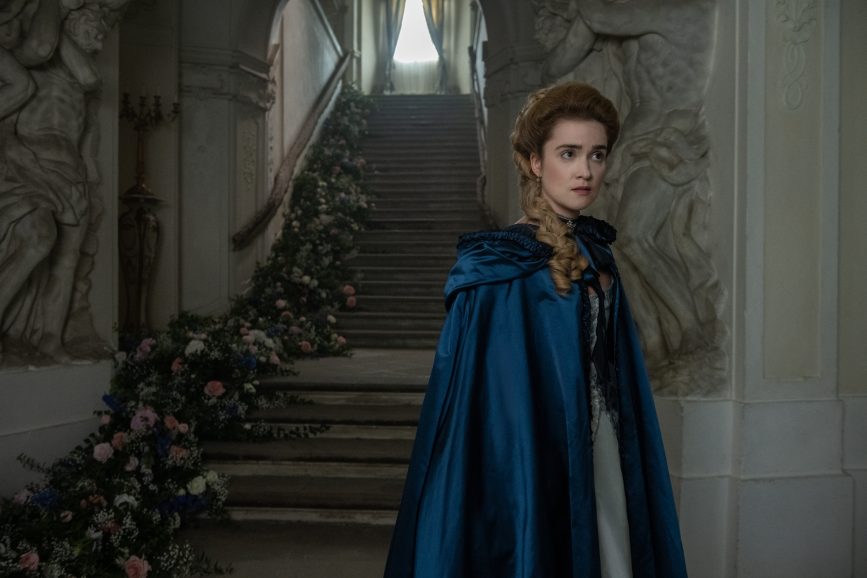 Barron worked with the lighting package and camera and lenses that were already in place from block one – an Alexa Mini and Canon K35s. Vantage Prague was integral in testing and sourcing for additional lenses, and Barron added a 40 and 65mm and zooms to the arsenal.
"As far as I'm concerned, it's always the director that motivates what I do," she says, "But what I was hoping to achieve – and everyone supported this, starting with Olly – was that I wanted to create progression from a beautifully shot block one, and to reflect the emotion of the story in the lighting."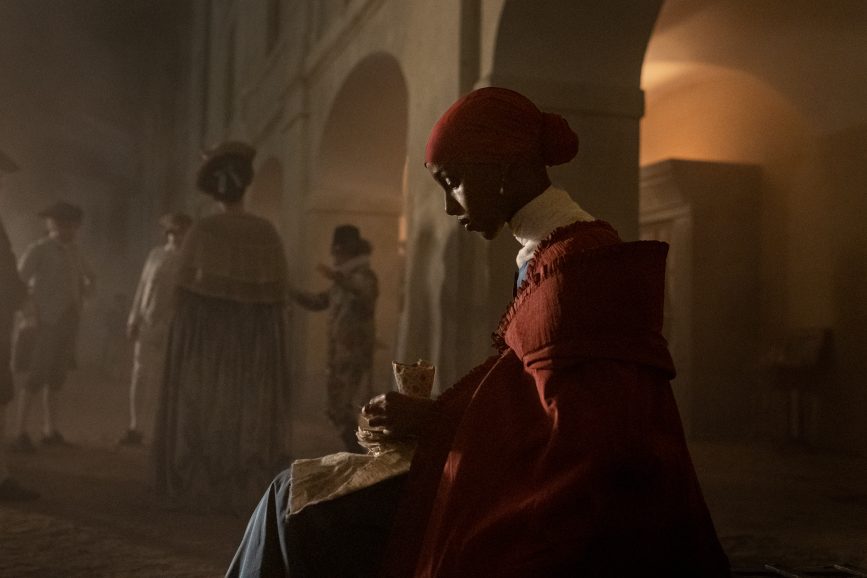 Because of the constant moving between locations and a schedule that mimicked a Tetris board, Barron feels that her experience on this show – particularly with her gaffer, Martin Granilla – was an incredibly collaborative one. Indeed, necessity can sometimes be a blessing in disguise.
"Much of this shoot was necessity-driven," says Barron. "We'd sit there at the beginning of every day and think about what we should use to achieve what we needed to. My process with Martin was responsive: I would point to references, we'd react to the practicalities and logistics about each location – Martin was generally both innovative and considered – and what quality we'd want from the scene. Then we'd build from what I gauged during the rehearsals and how to make it 360, as Olly has a penchant for moving the camera. There was much pre-rigging, so we had to discuss a lot in advance."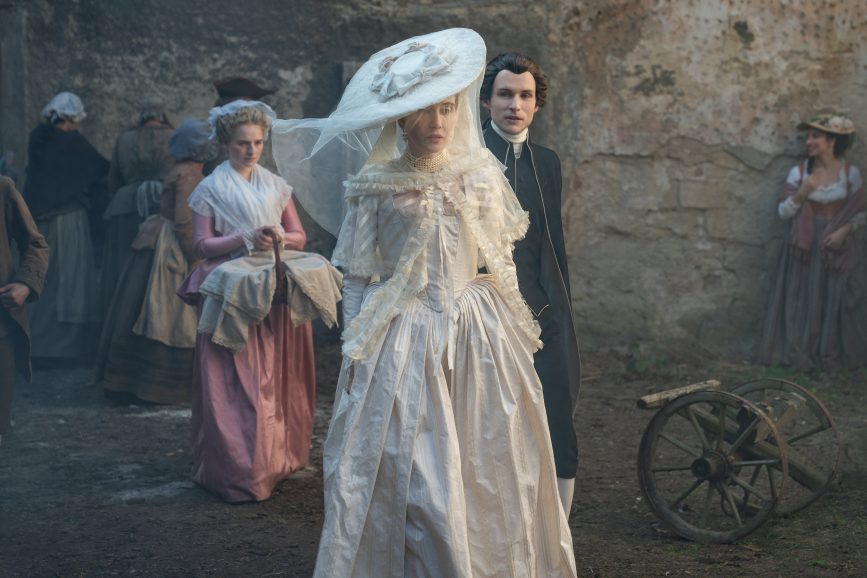 One of the sequences that Barron is most proud of is the final scene of the final episode. It takes place inside a church at a funeral. In the script, the directive was, "We find Camille amongst the masses." The idea was to start very high looking at all the funerial attendees from overheard and to glide down to face Camille head-on. The Kutná Hora church is a popular tourist destination and came with logistical and permitting restrictions. Blackburn's initial desire to capture the moment of finding Camille was with a drone, but due to size restrictions, signal and safety issues, and the matter of getting that close to an actor's face without air from the wings disturbing them, the drone was abandoned. Barron and her key grip, Kim Worthington, figured out what was the maximum height they could take it, and so worked from that point. Initially, the shot was meant to only look down, but Olly built on what he was seeing and asked for a camera tilt.
"The challenge was to combine a zoom and iris pull," says Barron. "I had Olly on the zoom control, which he loved, and as we tilted, I was rolling the iris ring, as it went from a very bright space to a lot of darkness. What was most important for this scene was that even though we were in a church, I never wanted 'God rays' – those huge shafts of light didn't feel right for us. Olly was like, 'Imagine if Gordon Willis (ASC) was to light this.' It was a huge space with pockets of light."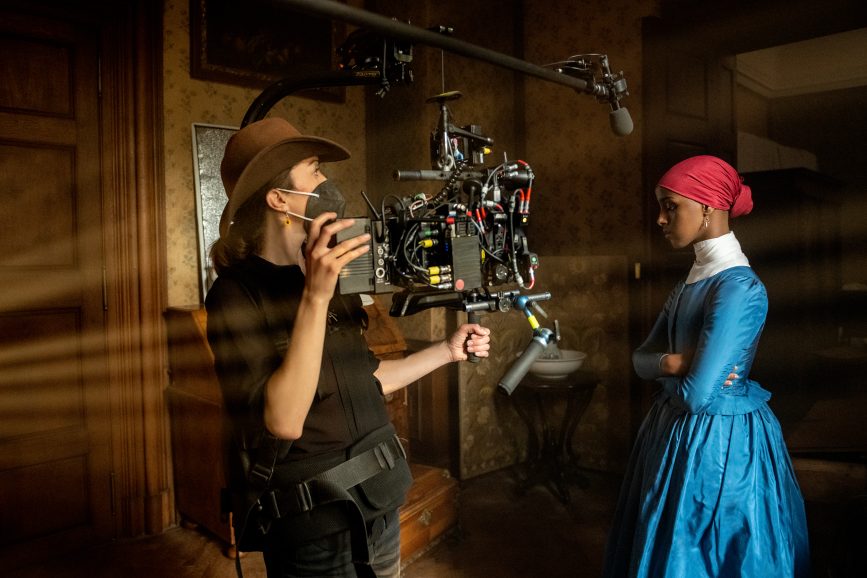 A concern was that they were going to lose the light since they couldn't put machines outside the massive windows due to the permitting restrictions. But Barron reckon it worked out for the best. She had Granilla put ARRI Maxes outside the entrance to create small shafts of light, which helped to place a character who needed to be lurking in the shadows in them. And they had an 8×8 LED softlight that Granilla developed to supplement.
"The cherry on top of such a fulfilling experience was my colourist, Jodie Davidson, providing the finishing touches" says Barron. "In the process of making this, Jodie's collaboration, speed, ideas, management, and skills were an integral part of the process elevating the show."
Dangerous Liaison is currently available on Lionsgate+ in the UK.