IN TUNE WITH THE TIMES
The halcyon nights of the British drum and bass scene take centre stage in coming-of-age drama Purple Beatz, lensed by Violetta D'Agata AEC AIC.
It was the not-so-quiet revolution that captivated the UK club scene in the Nineties, punctuated by fast breakbeats and heavy basslines, and giving artists like Goldie and Andy C a mainstream stage. Now, the heady heyday of the drum and bass scene finds a new rhythm in Purple Beatz, the debut feature from British writer-director Lola Atkins.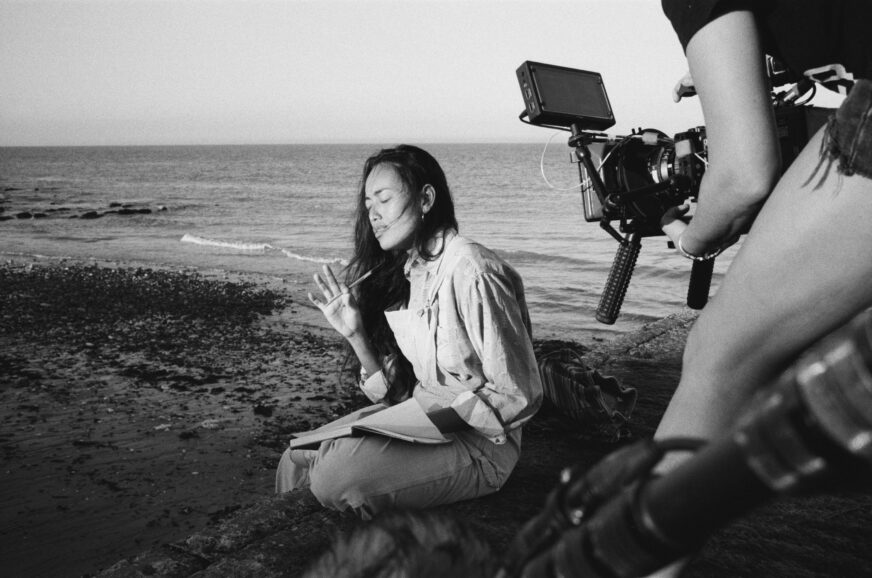 Premiered at the BFI in July as part of the I Will Tell International Film Festival, Purple Beatz sets the classic girl-meets-boy love story against a toe-tapping drum and bass backdrop, as aspiring singer SJ (Izzy Jones) moves to London from Bournemouth to kickstart her singing career. She is promptly signed by a slimy music producer and starts to perform on the underground club scene.
Londoner Atkins grew up on a diet of drum and bass in Nineties' Hackney and draws upon her own love of music for the film. "There's something about [the genre] that's just so raw and authentic – and it's so London – that it really needs its own presence," she said at the film's premiere. "[Purple Beatz] is my homage to the Nineties."
Meanwhile, cinematographer Violetta D'Agata AEC AIC, who was born in Rome, spent her teenage years in Ibiza – and though no stranger to a party atmosphere, wasn't introduced to the particular drum and bass music genre until well after its genesis. So, in pre-production, the director and DP spent time researching those halcyon Nineties nights "in order to invest the film's own thematic atmosphere and mood of both newness in love and music".
"She had a few movies that she wanted me to watch, and we looked back at pictures and colours," recalls D'Agata, who is now based in London after more than half a decade living and working in the US, having studied for a Masters in filmmaking at the New York Film Academy in 2010. Featured on the DP's to-watch list were cult coming-of-age drama Human Traffic (1992), and Weekender (2011), a glimpse into the hedonistic European clubbing scene. Between these movies, photographs of the period and an exploration of the music, they came together and "aligned on an axis of vision and intent".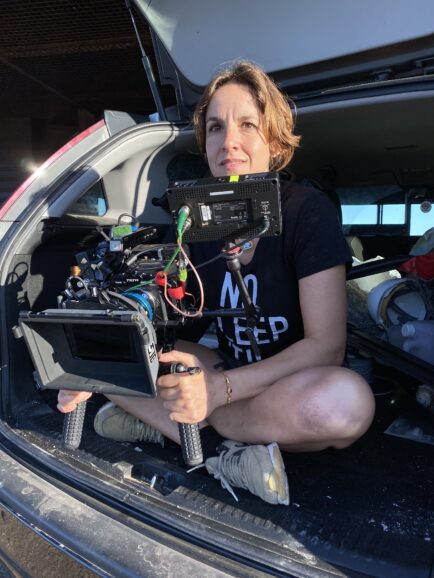 It was crucial for both Atkins and D'Agata that Purple Beatz looked filmic and reflected the energy of the era as it was captured then – on film – despite contending with a tight budget. D'Agata was unfazed by the financial limitations, provided she had three crucial elements to make it work: the best key crew, the perfect locations and the right choice of lenses.
"I told Lola: I need two key members of my crew to be really good – the gaffer and the focus puller – the locations need to feel real and have the right texture, and we need to use vintage glass," she says.
Atkins agreed, giving D'Agata free rein to choose a team that would set her up for success. She brought on board the "very experienced and easy to work with" gaffer Barry Read, along with focus puller Deniz Yildiz. "[Barry] was amazing – we barely needed to talk, he came up with great solutions and was very fast and up for improvising" she recalls. "We shot the entire movie at 1.3. The shots changed all the time, I would grab the camera and go and [Deniz] was sharp on the focus all the time."
Lens-wise, D'Agata opted for uncoated ZEISS Super Speeds to accompany her own RED Komodo. "They had a vintage look and the flare helped to create depth," she notes. "Beside the look, we needed fast lenses so we could use the available light together with our lighting kit, because I knew we were not going to have a huge lighting truck."
Filming took place around Peckham and Hackney in London, with one scenic segue to the seaside at Broadstairs. Shooting locations included The King's Head, a characterful member's club in Hackney, and Waterloo's The Vaults.
"I think we did at least four or five different clubs in there," D'Agata says of The Vaults. "It's a big space and has a lot of different rooms. Things are falling off the walls, there are old pipes, and the space feels alive."
Given the scope of the project, D'Agata was keen to adopt a flexible approach to filming. "We shot the whole movie guerrilla-style," she explains. "We had to improvise a lot as locations were being locked in and changed while we were already shooting. Often we had to walk in, discuss and come up with a lighting plan on the spot. This was possible thanks to the fantastic crew and having a clear idea of how we wanted the film to look."
As in every independent project, there is always something that goes wrong and at The Vaults, due to an unlucky episode, the production lost most of their extras. D'Agata's crew were put on the spot to innovate. She remembers: "The DJ was really famous, so Lola put out publicity for people to come. And they did! But there'd been a crime at the main entrance so the door was blocked by the police and most of our extras went away. It was a shame; all these people were dressed up like it was the Nineties and they were really excited to be part of the movie.
"It was supposed to be a big club scene – it's the first time SJ sings in a famous club. We only had 20 extras and the room in The Vaults. I remember Lola coming to me and saying, "work your magic". I tend to gallery light so I have the freedom to move almost 360 with my camera once the lights are up. Each club had to have a different atmosphere and we wanted to play with popping colours. The space we shot in had devils on the walls from a previous theatre show, so it felt right to go orange and red, coupled with white strobe backlight. With some smoke and a lively handheld camera work floating through the crowed we managed to make it look good!"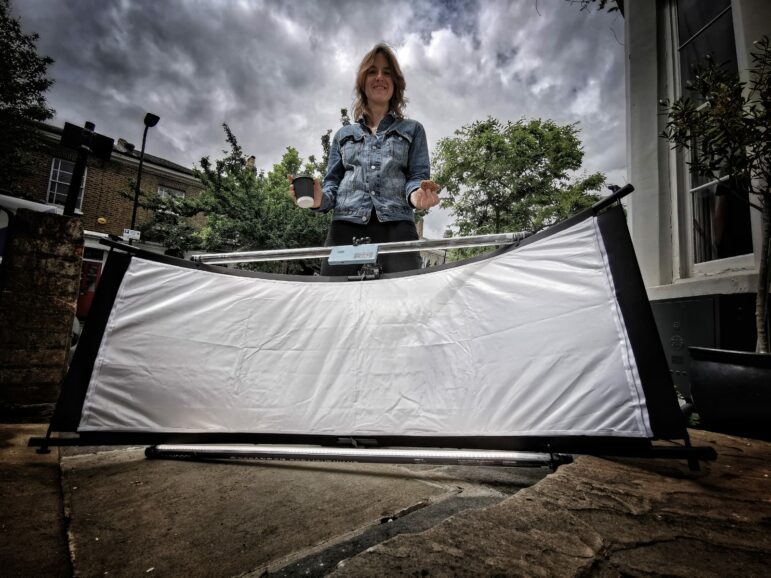 Operating the camera herself on Purple Beatz, D'Agata chose to shoot a lot of the film handheld. "It's exciting when you jump on a project like this, so you want to have the freedom to move around," she says. "It gives the audience the feeling they are part of the scene.
One of the hallmarks of D'Agata's lensing is her creative use of angles – something that was planned in advance but developed organically as the film progressed. "Right from the very start, we discussed that we wanted the movie to feel dynamic, fresh and lively" she says. "It's important to plan the shots that are going to help transition the film from scene to scene."
The grade was undertaken by Giancarlo Scussel. "The brief was to go for saturated poppy colours, contrasty images and really crushed blacks. I was really happy when I saw it on the big screen at the BFI for the first time, it looked very filmic and gave the film the right tone. You really felt you were living the Nineties all over again."
In general, D'Agata enjoyed the opportunity to lens the production, which was shot in summer 2021. "It was a really good experience. There was a lot of trust, passion, and hard work. It was a team effort: art director Vasco Durao and Anna Bevan (costumes) did an amazing job helping create the right look of the film too."