MEETING OF THE MINDS
Director of photography Tami Reiker ASC lenses Regina King's directorial debut One Night in Miami, the imagined story of a meeting between Malcolm X, Cassius Clay, Jim Brown, and Sam Cooke.
Not every film allows the crew to lose themselves so entirely in the moment that they forget they're making a film, and instead call out with a "that's right!" at the words of the minister being recreated and reembodied on the set. But cinematographer Tami Reiker ASC reports that's exactly what one of her dolly grips did when hearing the words of Malcolm X, as rivetingly portrayed by actor Kingsley Ben-Adir in director Regina King's award-buzzy One Night in Miami, debuting on Amazon over Martin Luther King weekend in 2021.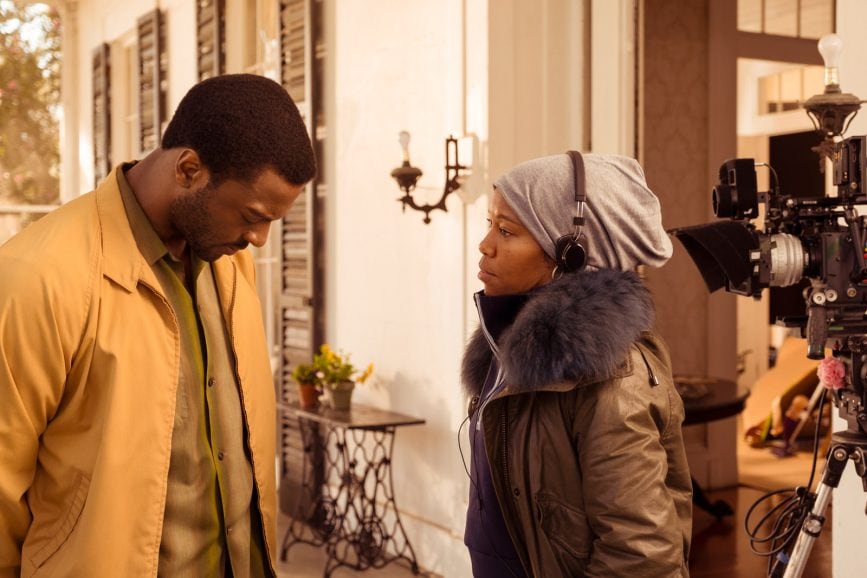 As for the degree to which that grip kept the camera moving as well, there was, Reiker reports, a lot of motion to reckon with, for not only was there a Steadicam, but "these giant 12-foot jib arms in a very small space, with four large men."
And "large" in a physical sense was the least of it, as the quartet would loom over American political and cultural history for decades, even in the case of Malcolm X, whose death would follow about a year after the film's conjectural events.
For joining Malcolm in his Miami hotel room are singer Sam Cooke, NFL player Jim Brown, and a young Cassius Clay (not yet Muhammad Ali), who, on this night of 25th February, 1964, has just defied the oddsmakers and beaten Sonny Liston to become heavyweight champion of the world.
All those men really were in Miami on the night of that famous fight, and they apparently repaired to a hotel room later, for at least part of the evening, before further celebration. No one knows what was said between them, but playwright Kemp Powers made a well-regarded theatrical evening out his speculations – with Malcolm exhorting his colleagues, each accomplished and respected in their fields – to advance the cause of racial equality with their public megaphones, a cause that still seems several decades late in reaching its full potential in the US.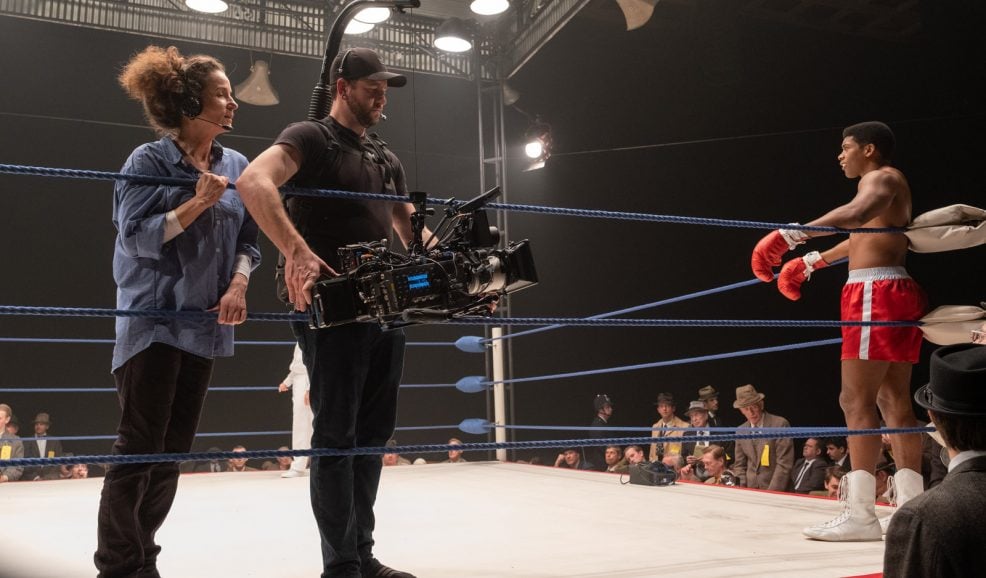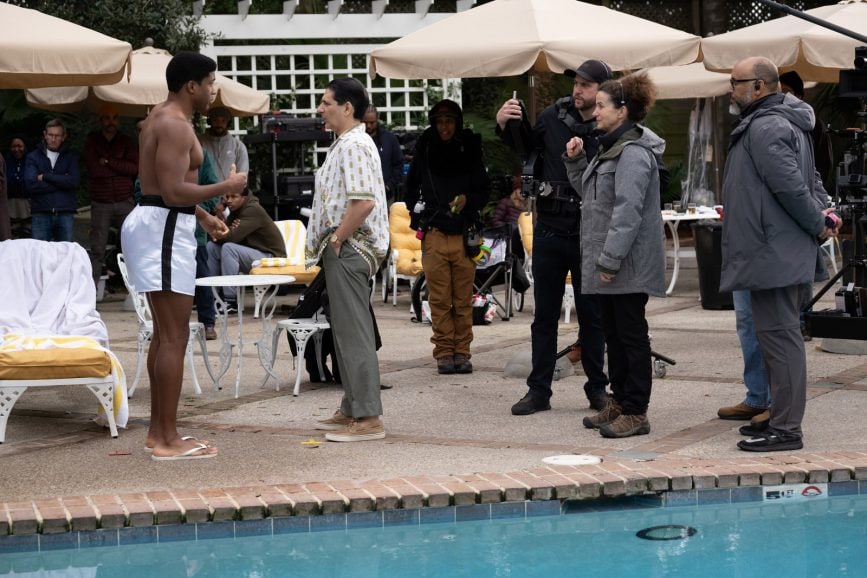 This, in turn, became the directorial debut of the multi-talented King, working off Powers' own adaptation. Reiker says her involvement started when she was sent the script "and I absolutely loved it. Put together a look book that was super saturated, full of colour, and full of movement," and then "met with Regina. I got the job, and we were off to Miami."
Though presumably, mostly to scout, since the bulk of the film was actually shot "an hour outside of New Orleans," at a period "motor hotel" that Reiker notes "had the bones that we needed – it had the interior pool, it had the parking lot."
But in addition to the "bones," Reiker credits production designers Barry Robison and Page Buckner, who "really transformed it – Regina wanted to keep things historically accurate."
King wanted to keep other things accurate as well, such as shooting a culminating rooftop scene – where Malcolm tries to get Clay (an also-terrific Eli Goree), Cooke (Leslie Odom Jr., remarkably doing his own singing) and Brown (Aldis Hodge), to finally reckon with their own standing, and moment, in history – on an actual rooftop.
"Regina and I wanted to shoot, outside, on a real roof." But to do that, they "had to get the Miami skyline" – in its early '60s incarnation, no less – and "we also wanted to keep some light, as we pivoted to all four sides. So we worked with visual effects there (adding) practicals and neons deep in the background." The VFX folks "added the Miami skyline and the fireworks," as sky rockets explode during the evening, whether a celebration of Clay/Ali's victory, or a harbinger of the "fire next time," to use it in James Baldwin's context, or perhaps both.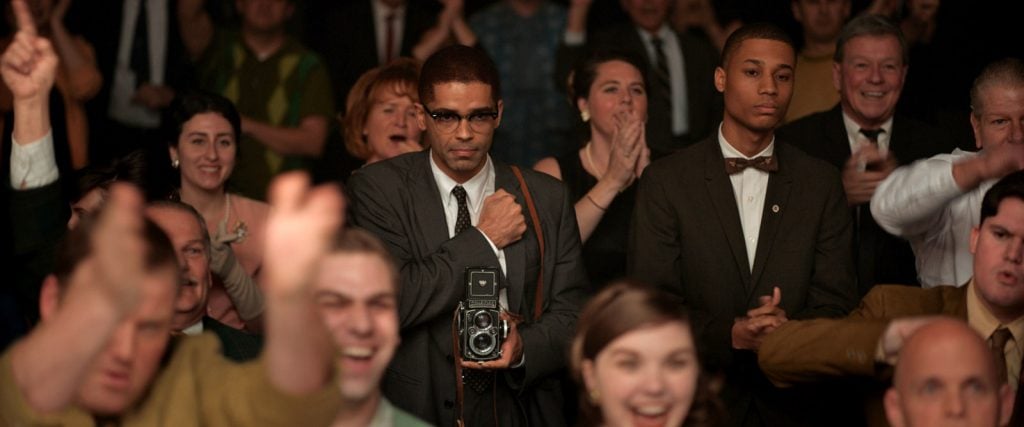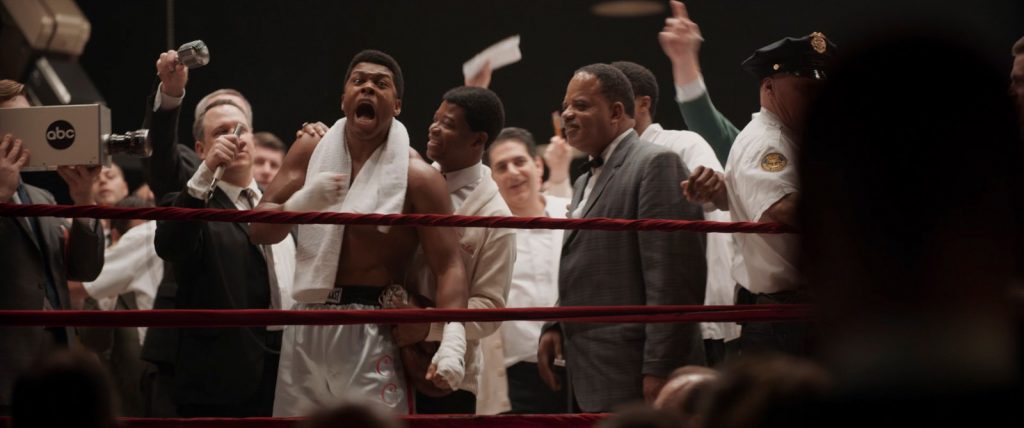 To capture it were two Alexa 65s, though "we wanted to keep the movie floating" (much like Ali's boxing style). So when not on jib arms, the "the operators could drift between characters – go on their own instinct. They were able to push in and drift. They couldn't talk to me, but I could talk to them."
Back in the hotel room, "it worked beautifully – we had little hidey holes where the pictures were. I worked with Barry in making sure the doors would pop, the walls would pop. Every picture that was hung, there was a hole behind it as big as the picture," mostly so the B camera could come in.
And in addition to the pop was the "glow." Though hopefully not from any non-practical, non-source lighting, which was kept "low enough it was out of the camera." They used a lot of Quasar LED tubes in "every corner, so we could turn them on and off depending on the scene," with "Magic Cloth on the front (with the) LEDs. It was dimmable, and the colour could be changed.
"We used that a lot on set. I will always use them – (the lights) are so soft with the Magic Cloth," and when they would occasionally add lights, Reiker would sometimes also add a second layer of diffusion.
But that wasn't the only filtration. The glass on the large frame Alexas was Prime DNA lenses, themselves engineered for a "vintage" look. And added to that, Tiffen's Bronze Glimmerglass, which Reiker says "softens the image, besides crushing down the shadows (and) also gave it that tinge of warmth."
All of which, she noted, "looked beautiful on black skin." Which, sadly, would not have been a consideration for an Oscar-contending release, when Malcom X, Cassius Clay, Sam Cooke and Jim Brown were originally crossing paths in Miami. But, in the words of one of Cooke's most notable lyrics, released shortly after that putative summit (and in the months before his own death at the end of 1964), "it's been a long time, a long time coming."