NATURAL TALENT
Selected filmography (as gaffer unless otherwise stated):
1200+ commercials
600+ music promos
The Son (2022)
The Essex Serpent (2022)
Brave New World (2021)
The Innocents (2019)
Avengers: Infinity War/Endgame (2018/19) (Electrician)
Rillington Place (2016)
SuperBoB (2014)
Leave to Remain (2013)
Captain America (2011) (Electrician)
Ghosted (2011)
Hugo Cabret (2011) (Lighting Grip)
You Will Meet a Tall Dark Stranger (2010) (Electrician)
Lady Godiva (2008)
Dubplate Drama (2005)
How did you first get started in the industry?
The early 2000s was a particularly quiet period for the British film industry and it tested my mettle. Seasoned professionals filled most positions and opportunities for newcomers were extremely rare. Without industry connections, a career in film was a pipe dream.
Music promos and short films were the only real entry point for people looking for a start. Consecutive 16-hour days were spent scrambling around trying to light multiple sets at once – it was a real trial by fire, but good fun.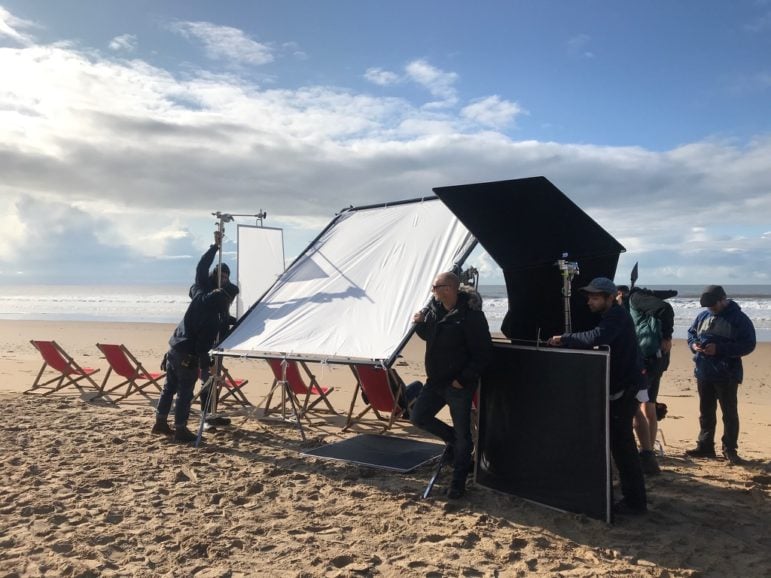 What was your career progression?
The first film I was offered was Game Over and I jumped at the chance. I don't think it ever made it off of the editor's shelf, but we enjoyed every minute making it. The crew was almost entirely composed of friends including Genki McClure, Luke Bryant, and James Friend BSC ASC.
More low budget films followed and soon I was making 3-4 films a year, mostly midnight movies and British gangster films. In between films I'd work on promos and commercials, but then the promo market started to wane. It was a terrible shock to many promo companies when their budgets halved and then halved again. The face of that industry changed in the space of a few years.
I gravitated towards commercials – a friend Aldo Camilleri was making a name for himself there and we'd work together as often as possible. As the years went by waiting for the right long form projects, I worked more regularly in commercials and less in films and promos. After a few years, I became a de-facto commercials gaffer. It suited me well, but the urge to work in film was still strong and I'd jump on dailies for other gaffers whenever I could.
The rise of streaming high-end television changed the face of the industry again. I hadn't really worked in TV drama, but all of a sudden there was a swathe of new shows being made. The mid-budget films I had always wanted to work in have all but disappeared, replaced now by streaming television.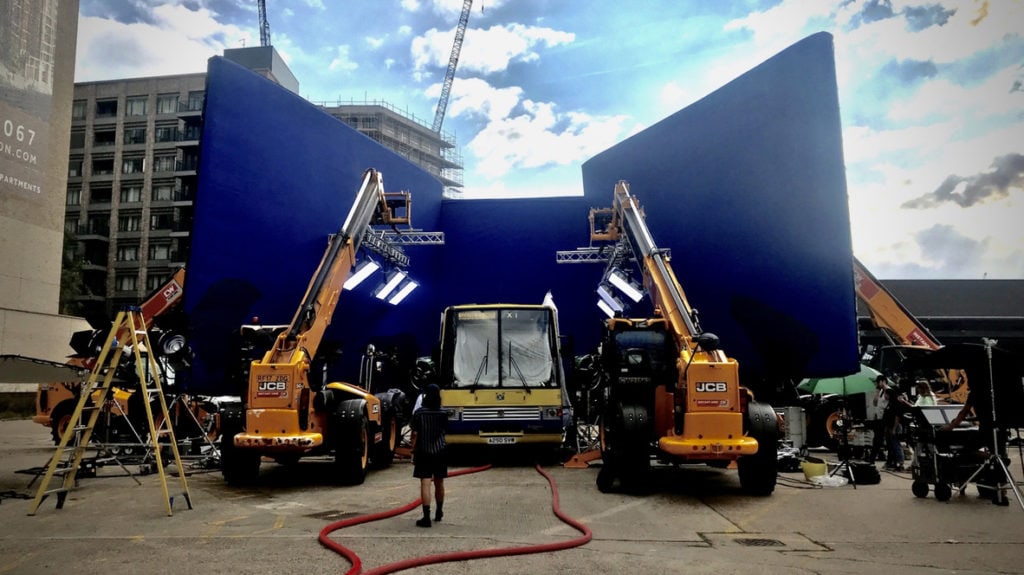 How did you learn the trade?
In the deep end of promos – learning how to work quickly and safely with chaos erupting all around us. There were plenty of opportunities to try new ideas, meet new people and gain experience quickly.
There were very few books published specifically on lighting when I was starting out and Young Cinematographers was a huge release (2004). It had dedicated chapters on contemporary DPs like Seamus McGarvey BSC ASC, Harris Savides ASC, and Darius Khondji ASC FSC.
I've been lucky enough to work with some of the top gaffers: Biggles; Aldo Camilleri; Wick Finch; Reuben Garrett; Ian Kincaid; Andy Lowe; Jeff Murrell; Dan Riffel; Pat Sweeny; Lee Walters; and Julian White. Each had their own very particular approaches and personal styles. Gaffers very rarely get to work closely with each other and it's incredibly beneficial to watch other gaffers working at the top level.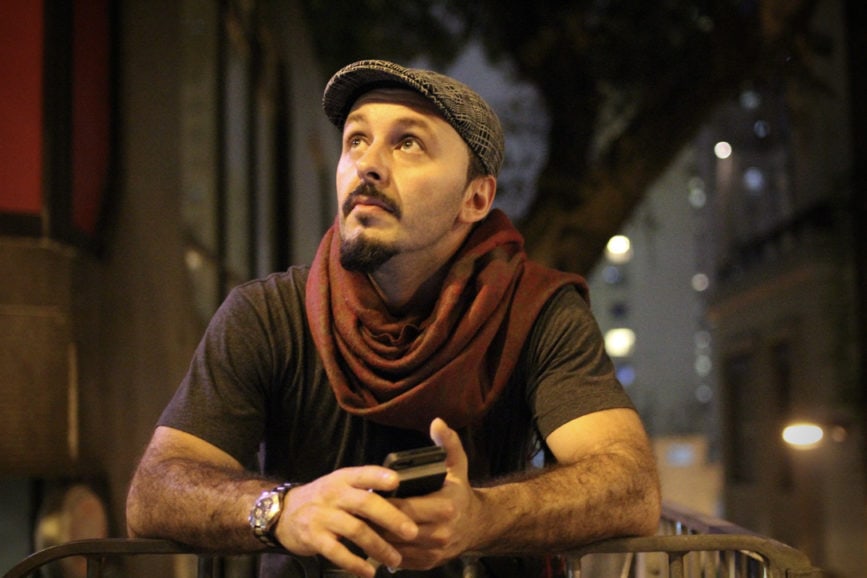 What are the key qualities of a great gaffer?
Dedicate as much time as you can to planning and prep as it gives you more time on set to think. You need to address each shot, sequence, or scene on its own merit and when you are on set, time is precious.
Film sets can be high pressure environments. It's vitally important that a gaffer absorbs that pressure, so their team can work unimpeded. Calmness is contagious and it allows you and your team to work with clear heads.
When you've done all your homework and your plan is working, you can relax and focus easily, giving you freedom to make finer adjustments to the lighting or just enjoy the work you've done. Being a gaffer is a fantastic job and a great privilege and on the best days, when everything is going to plan, it's a lot of fun.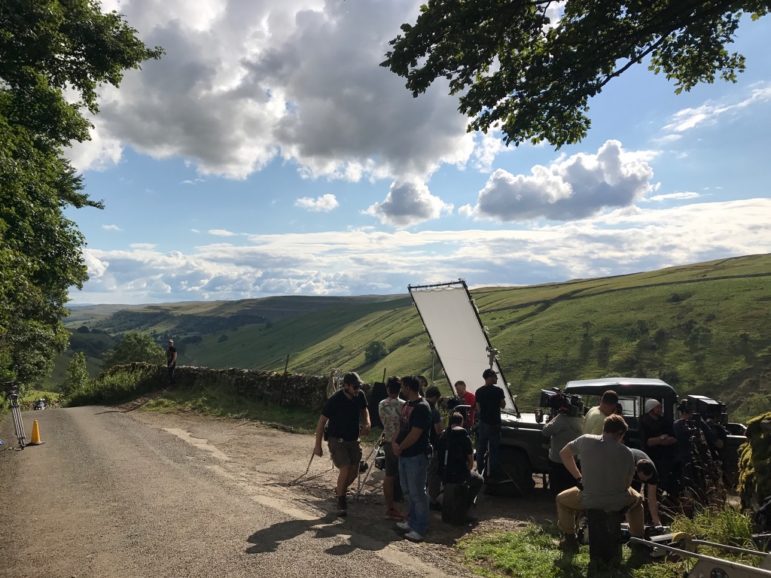 What are the fundamentals of a successful gaffer/DP relationship?
Trust is the foundation of collaboration and communication should be free flowing. Discuss ideas at the earliest possible stage, as that's when you both have the most time to think and when you have the most headspace.
By the time you are on set, the broad strokes should already be in place, giving you both time to concentrate on each shot or scene and make fine changes or adjustments.
Who are your regular crew?
Working mostly in commercials, we often have a mixed crew, depending on people's availability. There's a crew of about 20 I work with regularly, each one of them world class technicians and good friends.
I've known Genki McClure for nearly 20 years and I'd have him on every show if I could. His light-hearted nature and effortless wit have an incredible effect on the entire crew, and no one is cooler when put on the spot.
The lovely Jim Agnew has been best boy on my last two shows. He's a phenomenal addition to the team and I am already greatly in his debt. He absorbs an incredible amount of pressure and I never hear of any problems or issues because he's always there to pre-empt them. He is forever in a positive mood – it's contagious and the whole crew feeds on that good energy.
I met Al Brown whilst loading a truck in the yard at Panalux in 2006 and we've been friends ever since. Like all of the top rigging gaffers, he knows what you want before you do, but he always pretends that you thought of it first and commends you on your great idea.
Dom "Packshot" Palgan is a core member of my crew, whenever I'm lucky enough to have him. There is not a better technician working in the industry today.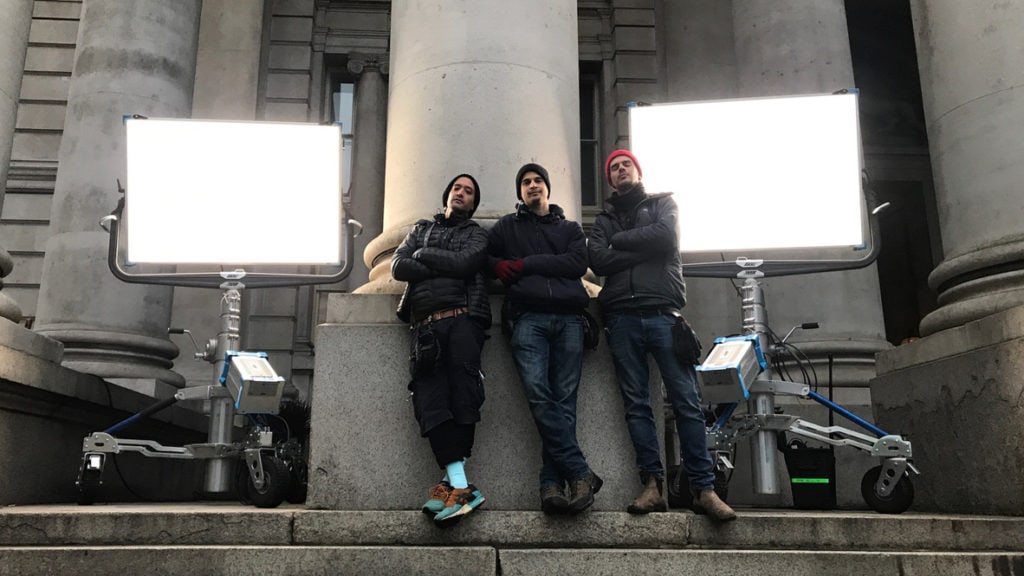 Which have been your favourite movies to work on?
You Will Meet a Tall Dark Stranger with Woody Allen, Vilmos Zsigmond, ASC HSC, Biggles, and Sir Anthony Hopkins. I was completely starstruck.
Hugo Cabret with Martin Scorsese, Howard Davidson, Robert Richardson, ASC, Ian Kincaid, and Lee Walters. The most beautiful sets I'd ever seen, designed by Dante Ferretti. Winner of the Best Cinematography Oscar.
Captain America with Biggles, Shelly Johnson, ASC, and Wayne Leach. An incredibly organised operation and the rigs that Wayne put in for Biggles were a real eye opener. Everything was planned to the nth degree by Biggles and Shelly.
Avengers: Infinity War/Endgame. The biggest films ever made! Pat Sweeney, Jeff Murrell, Dan Riffel – three of the world's top gaffers working together.
What advice would you give aspiring gaffers?
Be sure to take the time to understand the medium you are working in.
Scale your approach to suit the production. When you are starting out, budgets will be low, and time will be tight. If you can work within your means, you'll ultimately have better results.
Choose your crew extremely carefully. You are only as good as your crew.
Do your homework. Prep tirelessly in every way you can – script notes, drawings, CAD, lists. Work with the DP and your team as much as you can in advance.
Your best boy, rigging gaffer and your riggers are critical to your planning. Involve them as soon as you can.
Knowing when and where to concede and when to push is a difficult balance and needs careful consideration.
Strive to work on projects you are interested in.
Be yourself.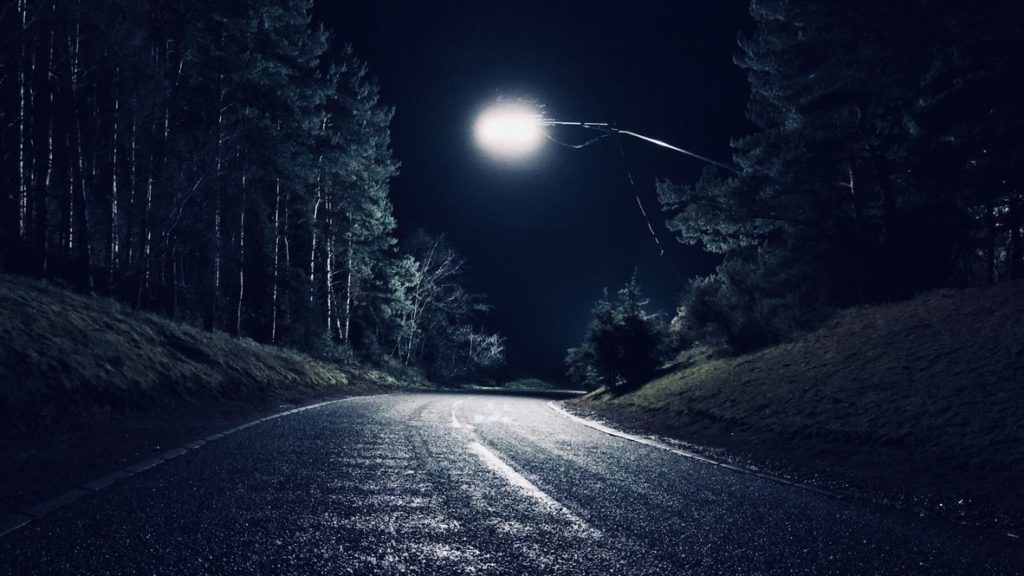 What movie/production has been your biggest challenge?
Lighting The Essex Serpent with David Raedekker BSC has been a great experience. David proposed that we use eco-friendly solutions wherever we can. We've run an entirely LED shooting kit – a first for me – and best boy Jim Agnew found battery generator solutions to suit nearly every location.
The show is set in the late 19th century, and we go from Bloomsbury – lit with period electric light and gas, with high contrast exteriors – to The Essex Estuary which was all oil lamps, candles, and soft exteriors. Balancing a natural but mysterious gothic, atmospheric look with moments of great beauty has been really tough.
David has a fantastic roving handheld camera style. After a blocking, he would walk us all through the coverage, often starting off with following a character into a room and transitioning into a 270-degree camera move for a master. He'd always turn to me and whisper "that's okay, isn't it?" Every scene was a challenge!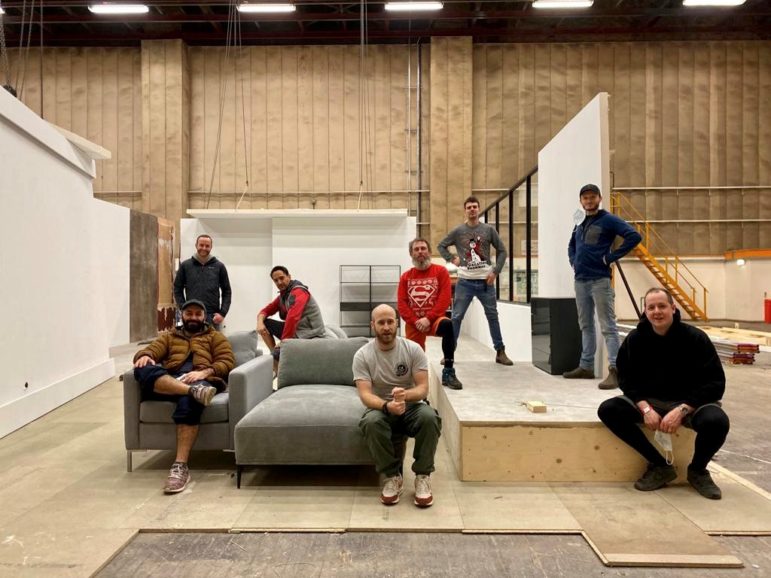 Cinematographer James Friend BSC ASC says:
"Sol is much more than a gaffer; he is a storyteller. He has a deep understanding and appreciation of the artistry of photography and how it invokes emotion. It's natural and instinctual with him to the point that you can't teach. His collaboration simply elevates the images."
Cinematographer Rina Yang says:
"I worked with Sol when I was a camera assistant. Having seen his work on set, it was one of my aspirations to be able to work with him when I became a DP. He has the kindest soul, great diplomacy skills and knowledge about the new technology, as well as the creative input that I greatly appreciate."
Cinematographer David Raedeker BSC says:
"I have collaborated with Sol on three dramas now and he never stopped impressing me with his knowledge and creativity. He is always a step ahead regarding creative solutions for seemingly insurmountable problems and they are often ingenuous in their simplicity.
On our recent collaboration, after establishing the look on many occasions I left the lighting to him to free myself up for operating the camera and to give my full attention to the director. I really don't know how I could have done my five months shoot without him.
What I most appreciate about Sol is his calm demeanour. The last ten minutes of a shooting day, when everybody else is panicking, Sol does exactly the opposite and often gets it done much faster and better that way. In addition, he brings with him a lovely crew who are brilliantly supportive. 
I also must acknowledge the excellent work Sol did in making our department as green as possible."
Cinematographer David Procter says:
"Collaborating for over a decade in commercials before moving into drama, Sol has been an invaluable colleague and friend. Whether battling storms or air-lifting equipment into the Norwegian fjords, Sol is unfazed by even the most overwhelming of challenges. Revered for his knowledge of new technologies and creative problem solving, Sol combines deep technical mastery with the calm temperament of a 15th century monk. He's an ally I'm blessed to have had by my side."