Flights of Fancy 
Seamus McGarvey BSC ASC / Pan
Flights of Fancy 
Seamus McGarvey BSC ASC / Pan
Warner Bros.' Pan  is the upcoming fantasy feature, directed by Joe Wright and written by Jason Fuchs, offering a new and imaginative take on the classic tale created by J.M. Barrie.
The $200m movie follows an orphan who is spirited away from war-ravaged London to the magical Neverland. There, he finds both fun and dangers, and ultimately discovers his destiny to become the hero who will be forever known as Peter Pan.
The script for the film was listed on Hollywood's 2013 Black List, the annual survey of the "most liked" motion picture screenplays not yet produced. The movie has an A-list cast – starring Hugh Jackman as Blackbeard, Garrett Hedlund as James Hook, Rooney Mara as Tiger Lily, Amanda Seyfried as Mary Darling, British model Cara Delevingne as a mermaid, and Levi Miller as the title character
The movie was shot in the UK on huge sets at Warner Bros. Studios Leavesden, and Cardington in Bedfordshire, and on-location in Vietnam, by Seamus McGarvey BSC ASC, who had previously shot Anna Karenina, Atonement and The Soloist with Wright, along with John Mathieson BSC, who stepped-in to assist during prep and the early phases of the principle photography.
Ron Prince caught up McGarvey over Skype at his home in sunny Tuscany to discover more…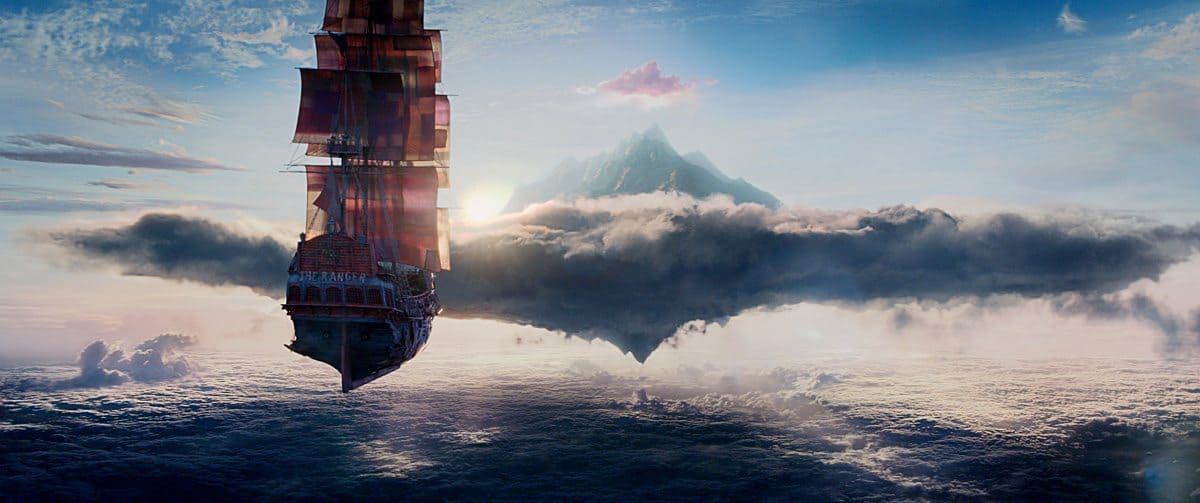 How did you get involved with Pan?
SM: It was through Joe, with whom I'd shot three movies before, not to mention loads of commercials and music videos. It was great to work with him again, but Pan came at us out of the blue. We had actually been working together on The Little Mermaid (Universal) and had started doing extensive testing, but suddenly that movie got pushed back. So Joe went to LA, and had a meeting for Pan with Warner Bros.. He must have blown them away with his ideas, as he was hired – and the movie was greenlit – pretty much on the spot, and we were hurtled into it.
What's your working relationship like with Joe?
SM: I love working with Joe. He's one of my best mates and we have a great rapport. When I say rapport, I don't mean the shorthand that collaborators often talk about. Rather we cogitate together over ideas and no one gets upset if their idea gets blown out of the water. For Joe there's a democracy of ideas with the main collaborators, the different heads of department, on a movie, and I love working this way. He takes an holistic approach, creates an umbrella, where we can all inter-communicate. For me, as the cinematographer, he works the image shot-by-shot, and on a big VFX movie like Pan this keeps you thinking and on your toes. But the result of this approach is that his movies have a definite visual consistency and cohesion.
What were your initial conversations and creative references for Pan?
SM: Joe's starting point on Pan was that once we leave grimy London and the awful 1940's orphanage, we enter a child's imagination that knows no bounds, apart from being tethered by Peter's experiences. Essentially it's a wild ride inside a kid's imagination. I knew Joe would do this like no other. I think some of this goes back to Joe's own childhood and upbringing. His parents founded the Little Angel Theatre, a puppet theatre in Islington. They conceived and designed shows on a weekly basis, and this facility for story and how to tell it – through design, staging, choreography and colour – really show in Joe's thinking and his work.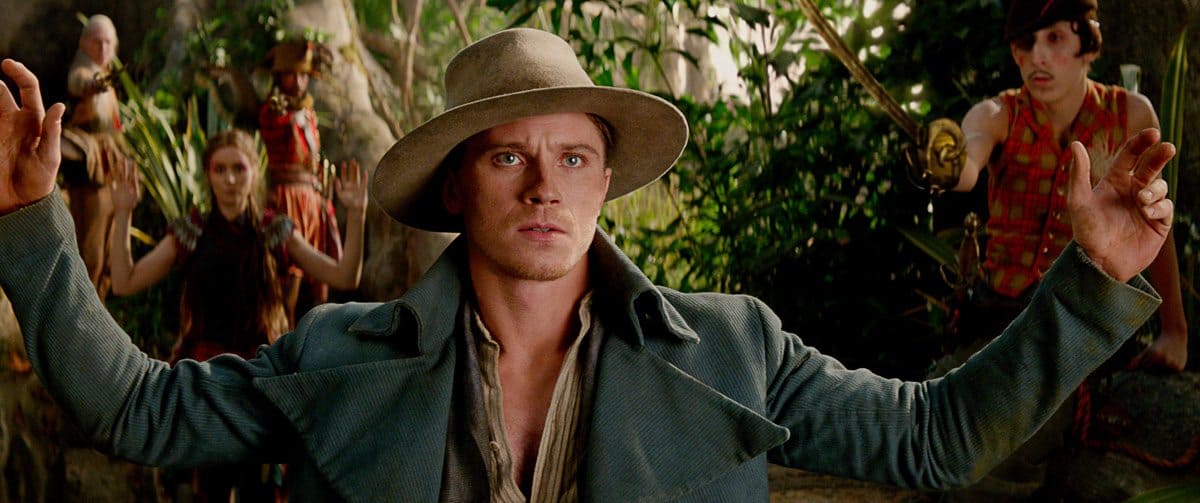 Did you reference the original Disney movie?
SM: No, we never once mentioned it, although I think Disney is somehow in the collective DNA. So whilst it was not a direct inspiration, it may just have been in Joe's mind.
We mainly looked at colour references and talked about photochemical processes to get us thinking about how we could summon up the distinct worlds of humdrum London and the fantastical scenarios in Neverland. With this in mind I watched Moby Dick (1956), shot by Ossie Morris BSC, who experimented with monochromatic colours to produce the effect of old whaling prints, and looked at the colour-bleeding effect in the Technicolor 2-strip process, and these were among the muses that gave us the tonal inspiration for the very terrestrial and slightly depressing world of nuns and the orphanage. Peter Doyle, the colourist on the movie at Technicolor, was very helpful during this phase and developed a LUT that helped to emulate this look.
By contrast, Neverland gets pretty psychedelic and more than a little trippy, with very saturated, vivacious colours, and although we didn't watch it, I had Yellow Submarine in mind.
Other references for Neverland were more oblique. For example, we looked at National Geographic and travelogue articles about expeditions, and imbibed the images we saw of tribes, the painted faces and ornate, vividly colourful costumes.
Also, when Peter arrives at the mines where pixum fairy dust is being extracted for the pirates to snort, we based the imagery loosely around Sebastião Salgado's powerful images of Brazilian gold mines.
But, we wanted some thematic colours to run as a central line through the colour arc of the movie – the same pale pinks and greens that crop up in the Renaissance paintings of Piero Della Francesca and Masaccio.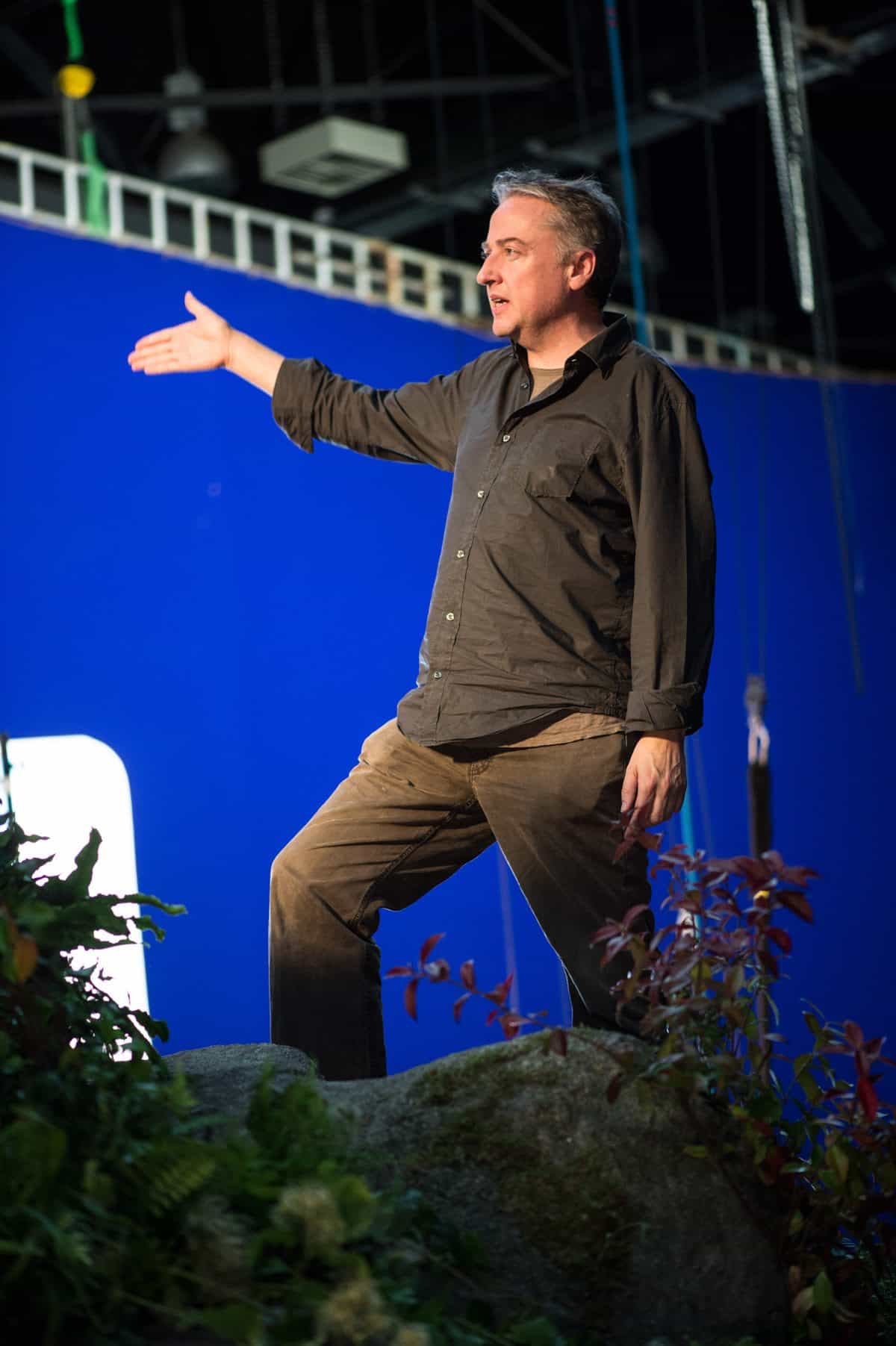 "As for the camera I selected the Alexa XT. I love its dynamic range, the rendering of skin tones, and the ergonomics of the camera."
- Seamus McGarvey BSC ASC 
John Mathieson BSC gets a co-credit as cinematographer on the movie. Please tell us more about his involvement?
SM: Although I was always Joe's first choice cinematographer on the picture, I was committed to another project in New York during the prep period and first couple of weeks of principle cinematography on Pan. So Joe asked John to cover in my absence. He did an amazing job with very little advance notice, working with me remotely, in bringing the cameras and lenses together, and getting the huge sets at Cardington rigged and the lighting plotted with Chuck Finch. He shot the atmospheric opening sequence in the orphanage. I can't thank John enough for his help. His support epitomises the camaraderie of cinematographers and the spirit of the BSC – and I'll never forget that!
Please explain the reasoning behind your choice of aspect ratio, camera and lenses??
SM: It was always going to be Anamorphic, but for a variety of creative and practical reasons. The widescreen aspect ratio of Anamorphic suited the sets and shooting on and around the various ships, and indeed these were designed with Anamorphic in mind. There was going to be lots of wire work too, with the actors flying around, and the relatively low ceiling you get with the 2.35:1 frame helped with that as well. I have shot many movies using Panavision C-series Anamorphic lenses – including Godzilla and 50 Shades Of Grey – and know how beautifully this older glass fits with the modern digital sensor. They have enough distortions that you don't need to rely on introducing diffusion to take the edge off the digital sharpness.
As for the camera I selected the Alexa XT. I love its dynamic range, the rendering of skin tones, and the ergonomics of the camera. As Pan was a heavy VFX movie, I knew the Codex ARRIRAW workflow would help the VFX pipleine. I also knew that in the event of any technical issues, I could contact Panavision or ARRI for back-up.
We used the RED Epic cameras on the aerial/drone shots over Vietnam to set the scene for Neverland, and on the Wirecam shots through the Fairy forest – but it was mainly an Alexa show.
To get more edge-to-edge clarity on wide-angle scenarios, and to mitigate image distortion on some of the greenscreen VFX sequences, we occasionally shot spherical with Panavision Primos rather than Anamorphic, from which the VFX teams did the necessary extraction. For example, there's a terrific scene in which Cara Delevingne plays three mermaids darting and swimming around a lagoon, which we shot Spherical, using the repeatable moves of a Milo moco rig synchronised with a Kuka robotic arm that was holding the actress.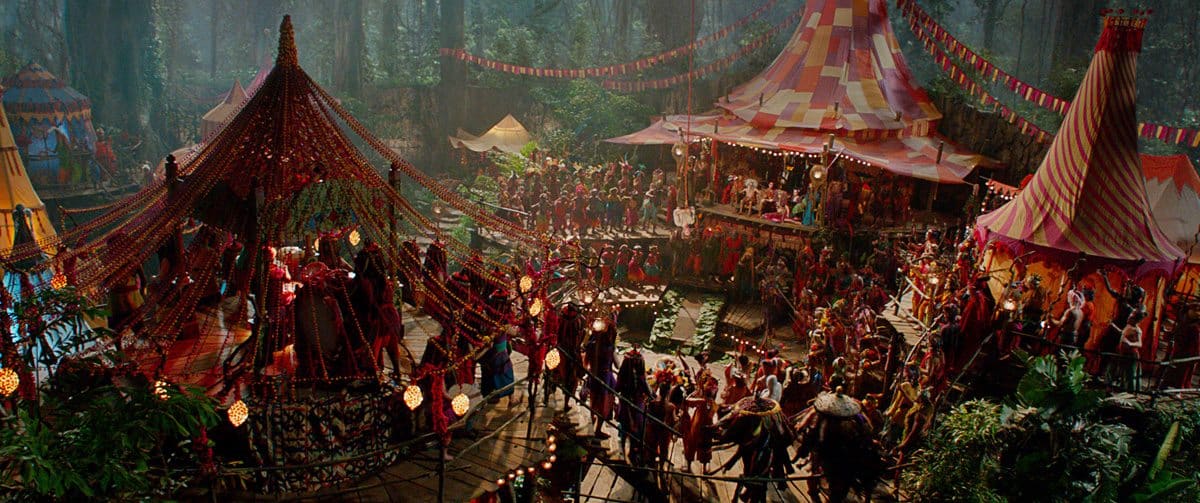 Who were your crew?
SM: I worked once again with the amazing gaffer Chuck Finch on first unit, and his brother Wick on second unit. They are part of an amazing dynasty and always do an amazing job. Peter Robertson is a great collaborator, has done a lot of work on Joe's films as A-camera operator and Steadicam, and was brilliant once again, ably assisted by Iain Struthers as the first AC. Second unit director Thomas Napper and DP Alan Stewart did some excellent work throughout the production, and worked with the VFX supervisor, Chaz Jarrett, to render the top shot of Neverland as well as the camera moves in to the Crystal Caves using drones. Key Grip Gary Hutchings is a wonderful problem-solver and helped to devise a Wirecam shot with the RED camera that shows the extent of the Fairy Forest and explores the Fairy Village in a single take. Francesco Giardiello did a great job too, not just as DIT, but in working with different technology vendors and departments in getting the ACES colour pipeline to work faultlessly.
What was your approach to the camera movement on Pan?
SM: Pan is full of fun and flights of fancy, and Joe wanted a kinetic energy to the camera movement. Obviously the photographic ethos at the start of the movie is one of stasis, as we are stuck in London, but in Neverland things really take flight. We mirrored that with an exuberance and élan in the style of the camera movement. So along with dolly and Steadicam, there was a bit of Wirecam to create a swooping camera, as well as the motion control for some energetic VFX shots.
Did you work with storyboards and previz?
SM: Some of Joe's films, such as Atonement, have been fastidiously storyboarded and these have been religiously followed, and Pan is no exception. Joe is very keen on the continuum of shots, and how they work together, and nothing is haphazard. His mise en scene is very considered, and his shots are almost like words in a sentence, with rhythm and meaning.
There was extensive previz doe on Pan, such as the scene in which Hook falls from the airborne ship into the Crystal Caves and Peter follows him. To achieve the twists and oscillations of the previz'd image in-camera, we again used a combination of the Milo moco rig and the opposing movement on the Kuka arm. It was fantastically technical, but the reward is a great visual experience for the audience. I have to say that we saved these sorts of shots for the least couple of weeks of the shoot, as moco work can be hugely time-consuming.
We followed the storyboards except for the final battle scene which takes place in the air. Due to the predominance of sky, paucity of sets, and reliance upon VFX plates, the cinematography was really in service to Joe's direction on the day. We had to decide how the action would unfold and where the hits strike and work out moves accordingly. It was demanding, but its very exciting for a cinematographer.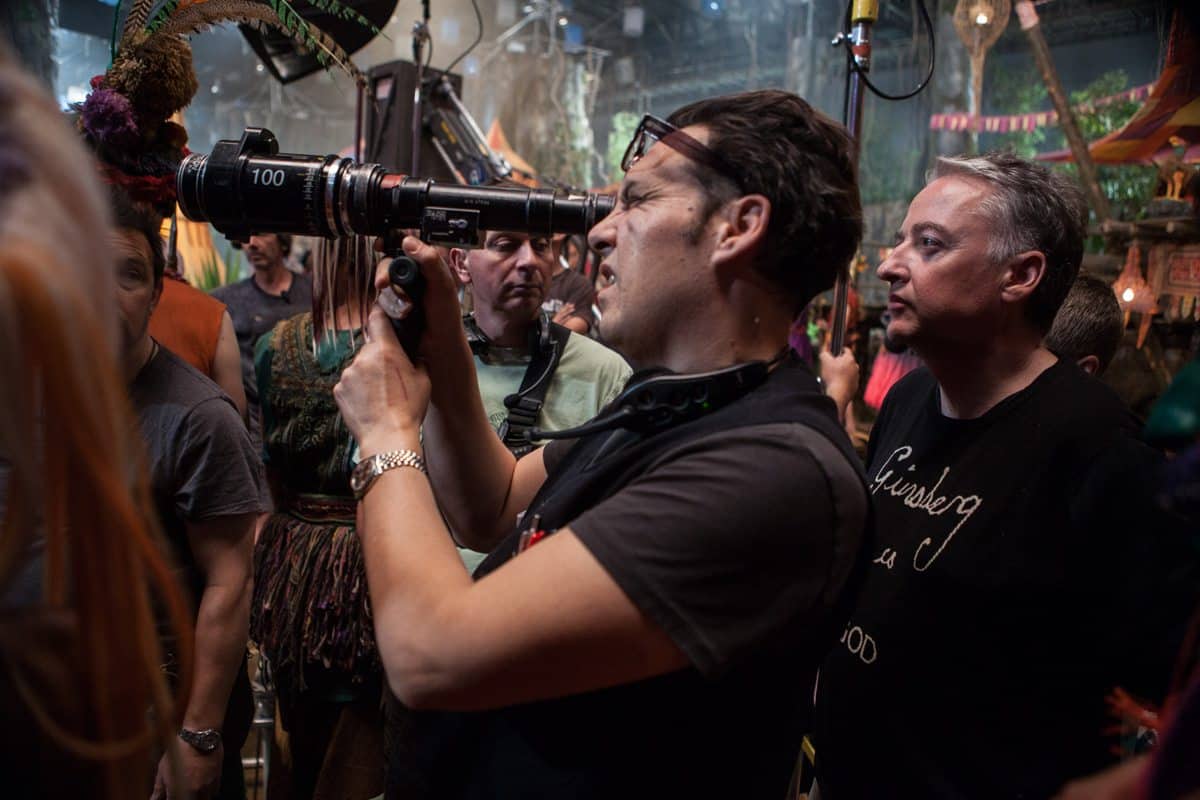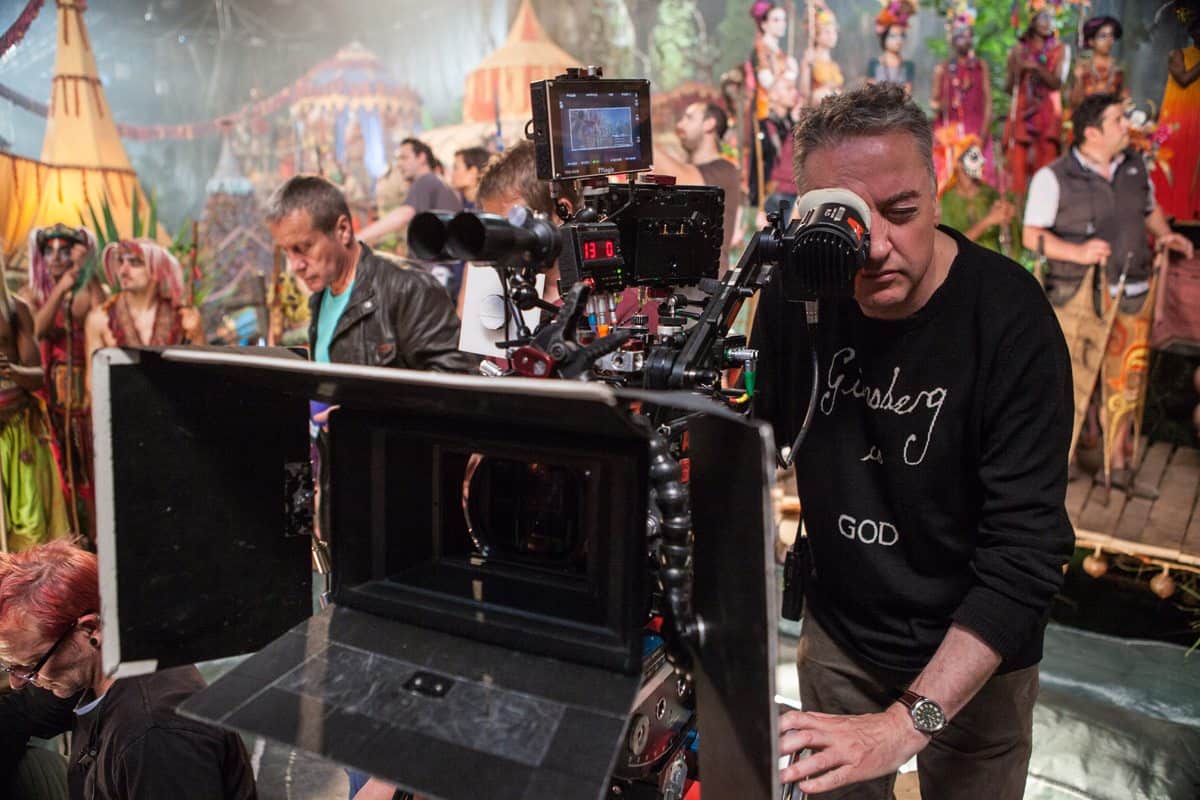 What are you thoughts about deploying ACES on Pan?
SM: We were one of the first production to use ACES end-to-end, and thanks to Francesco, vendors like Codex, and Peter Doyle it worked like a dream, just perfect in giving me colour consistency between the shoot and the DI. It's great to be part of a new standard that I think all cinematographers will appreciate.
Tell us about your experience with the VFX?
SM: I think the VFX sequences in Pan are startling. Under the auspices of Chaz Jarrett, the various VFX vendors have created wonderful imagery. This is down to Chaz being very sensitive to on-set lighting and his forté in being able to bring a photographic verisimilitude to the computer-generated images. There was a lovely cross-fertilisation and collaboration between us during production. My lighting was completely coherent with his background plates, and vice versa. There's nothing worse than when CG and in-camera cinematography don't work together, but in Pan they fuse together beautifully and the results are terrific.
How about the DI?
SM: I spent six weeks in the DI theatre with Peter Doyle, and it was a fantastic experience to see the live action and VFX sequences come together to make the final movie in the suite. As I had lit and shot many daylight scenes in different enclosed studio environments, we worked really hard to open up the shadows when there was an absence of fill, and on the soft toplight too to give it that sense of realism. In the end I think the result is not quite what audiences might expect, quite outré – unusual and startling.