Dazzle and Delight

Seamus McGarvey BSC ASC / The Greatest Showman

Dazzle and Delight

Seamus McGarvey BSC ASC / The Greatest Showman

20th Century Fox's $80m musical feature, The Greatest Showman, is inspired by the story of PT Barnum's creation of the Barnum & Bailey Circus – billed as "The Greatest Show On Earth" – and the lives of its extraordinary attractions. It follows Barnum's magical rise from unemployed clerk to entrepreneurial impresario.
With director Michael Gracey making his motion picture debut, and written by Jenny Bicks and Bill Condon, the film stars Hugh Jackman, Zac Efron, Michelle Williams, Rebecca Ferguson and Zendaya, with US songwriting duo, Pasek and Paul, of La La Land fame, hired to write the songs.
On its theatrical release, including IMAX, during Christmas 2017, The Greatest Showman received critical praise for its performances, particularly Jackman, memorable music and visually-resplendent production values, which dazzle and delight by turns and approach the lavish spectacle that movie musicals offered once long ago.
At the 75th Golden Globe Awards, the film received three nominations: Best Motion Picture – Musical or Comedy; Best Actor – Musical or Comedy (Jackman); and Best Original Song ("This Is Me").
Rehearsals for the production started in October 2016 in New York City, and principal photography began on November 22, 2016 under the auspices of Seamus McGarvey BSC ASC. Shooting with Alexa 65 and Alexa Mini cameras, the 14-week production encompassed physical locations around New York City, as well as major set builds at Steiner Studios, including the rooftops scenes above the Barnum's humble tenement. Production also took place at the New York Armory in Brooklyn, where a real big top was erected, and at a massive enclosed shipbuilding yard where Barnum's Museum Of Curiosities was built.
Ron Prince caught up with McGarvey to discover more about his approach to shooting this spectacular story.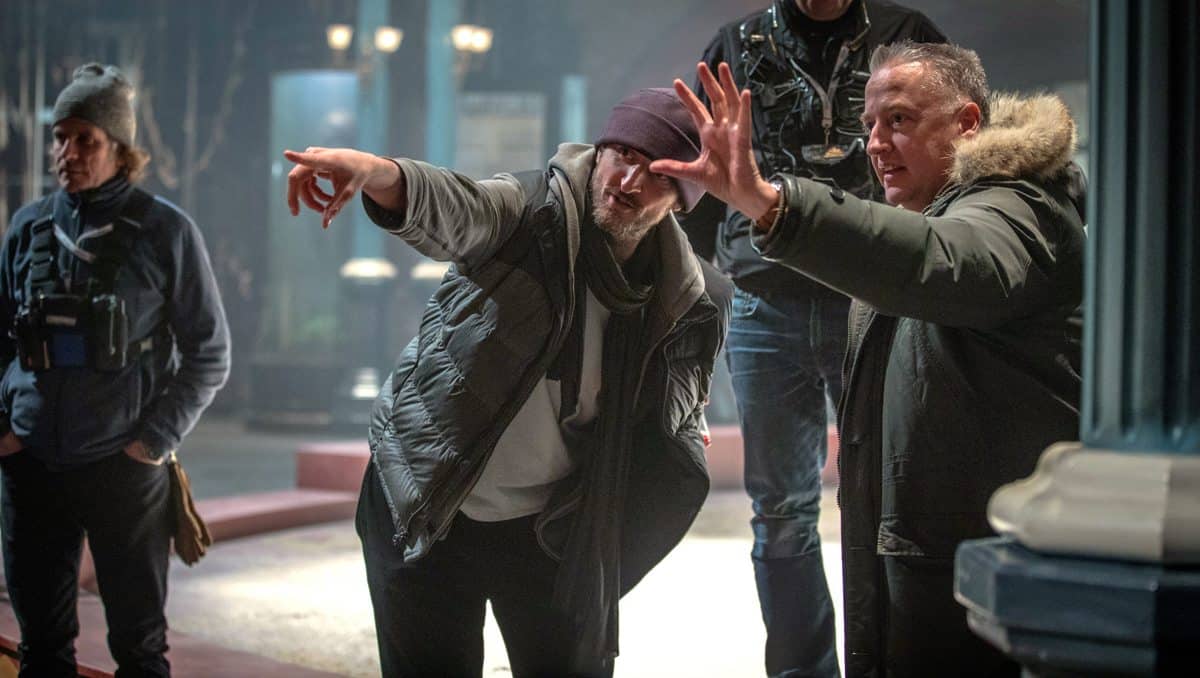 How did you get involved with The Greatest Showman?
SM: I first met Michael about six years ago, when he was trying to get a superhero film, set in China, off the ground. It got very close to production, but unfortunately the finances got pulled. We met again when I was shooting Pan (2015, dir. Joe Wright) starring Hugh Jackman. I discovered that The Greatest Showman was actually Hugh's passion project, and that he and Michael had been working on it together for several years. It was very close to being greenlit, and Michael asked if I was interested.
I said absolutely "yes" for several reasons. I had never shot a musical before, and the idea of bringing a 19th century musical-circus extravaganza to life in pictures was very appealing. Michael is a wonderful director, with extraordinary experience and a unique talent in combining music, choreography and the camera from his work in commercials. Looking back to my work in music videos, I love the challenge of fusing music and dance together with the cinematography. It creates something very special, with very pleasing on-screen results.
I was also enthused about continuing to work with Hugh. He is a tremendous actor, dancer and singer, and his enthusiasm and dedication were instrumental in getting the project going. Furthermore, with bearded ladies, very small and very tall people from the melting pot of New York ethnicities in this story, this was a film about diversity and inclusivity, as well as having the feel-good factor.
What references did you consider in achieving the look of the film?
SM: Michael already had a very strong visual notion of the film, as he had been working on it for such a long time. He had created a range of digital storyboards and previzualised scenes to sell the idea to the studio. These were quite elaborate and took the visual look away from a photorealistic approach and more into the realms of theatricality, artifice and the magical imagination. They had a sort of handmade quality – the live action was to be blended with old-school, painterly backdrops, and other elements such as miniatures of the Manhattan cityscape.
We didn't look at any other films about Barnum and his life. Rather we talked about developing a Technicolor-based look to support the artifice. We considered the effect of the two- and three-strip Technicolor process on colour in movies such as An American In Paris (1951, dir. Vincente Minnelli, DP Alfred Gilks), Seven Brides For Seven Brothers (1954, dir. Stanley Donen, DP George J. Folsey) and The Robe (1953, dir. Henry Koster, DP Leon Shamroy). The idea was to take the real and transform it into this vivid, imaginative, magical Technicolor realm.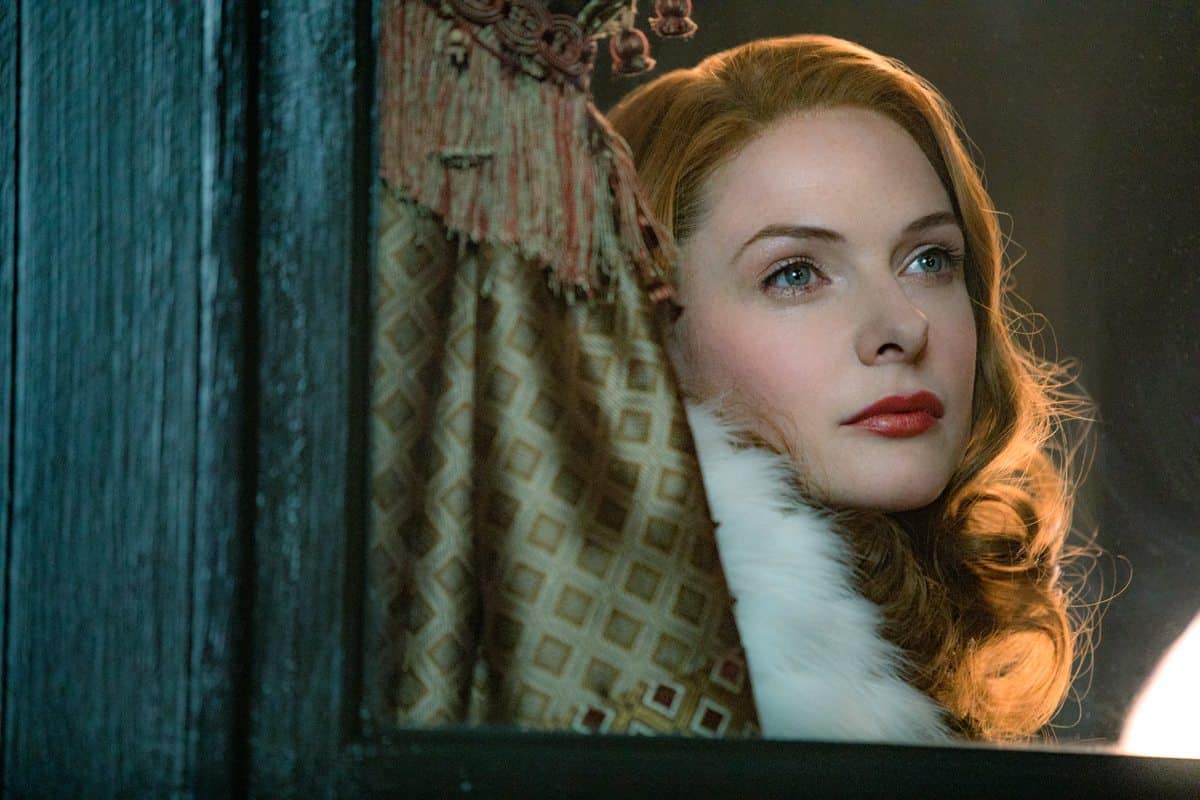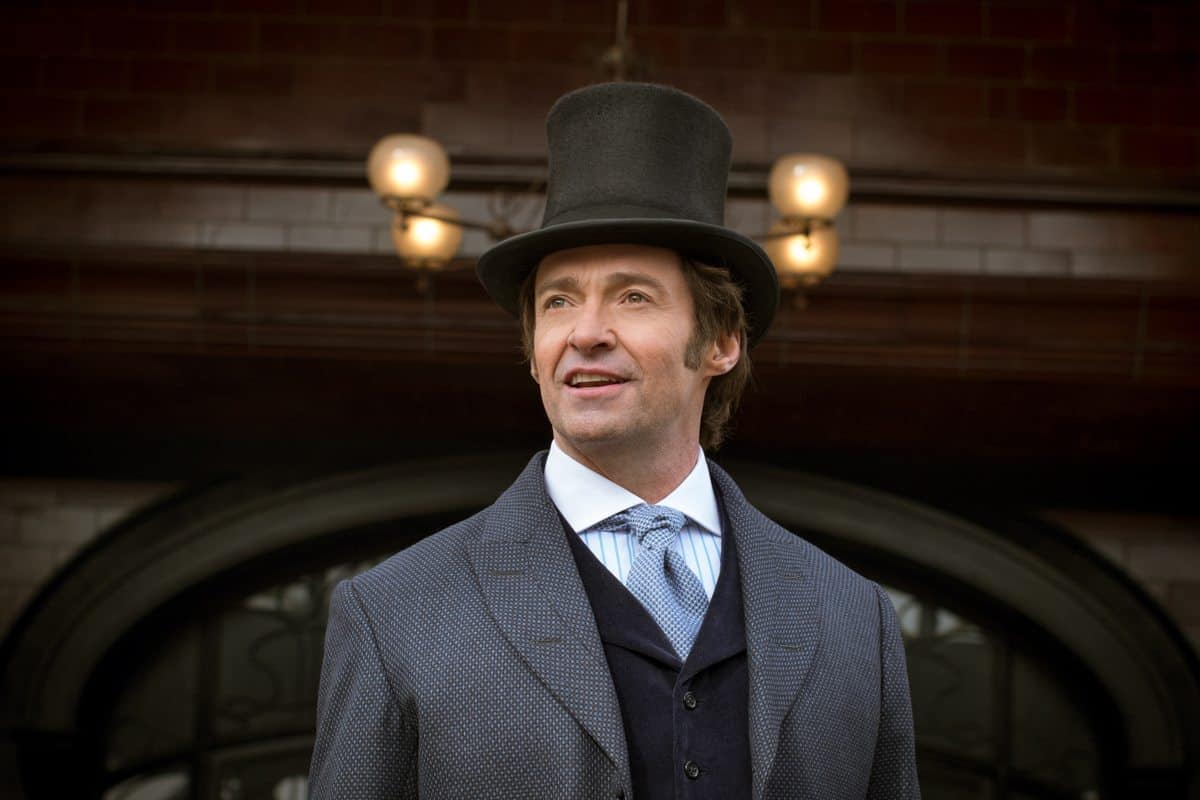 Was it a given that you would shoot on Alexa 65?
SM: The conversation about which cameras to use came up very quickly. I had just completed Life (dir. Daniel Espinosa) using the Alexa 65 camera, and felt it was the perfect camera for The Greatest Showman – but for different reasons. I used the Alexa 65 on Life in combination with the ARRI Prime 65 lenses, incorporating Hasselblad glass, for the sense of portraiture. However, this time I wanted to use the Alexa 65 to capture the spectacle. We had some fantastic sets, with very wide shots of the performers, lots of extras and lots of detail going on, and the Alexa 65, shooting in Open Gate ARRIRAW mode, was perfect for that.
However, having seen the digital storyboards and previzualised scenes, I knew that some of the camera moves would prove too athletic for the Alexa 65. So along with having two Alexa 65s to capture the epic nature of the sets, we also had three ARRI Alexa Minis – one permanently rigged for Steadicam, and the other two floating – to get in amongst the thick of the action.
Did you create LUTs for the shoot?
SM: Although we did some tests, we opted not to devise a set of LUTs for our DIT, Abby Levine, to apply on-set. We reasoned that it would be too elaborate to create and control something as sophisticated as that Technicolor look on-set, and that it would be much better to hone the look later on in the DI with our brilliant colourist Tim Stipan.
Which aspect ratio and lenses did you choose, and why?
SM: We shot widescreen 2.39:1 spherical, which we protected slightly for the IMAX versioning later on in post. We considered more vertical aspect ratios, such as 1.66:1 and even discussed 1.33:1, but when we saw the horizontal nature of the choreography, with 30 or 40 performers together in a line, the widescreen ratio proved a more natural fit. It also gave us that great sense of scale and spectacle, and the dynamism of a tilt-up in 2.39:1 actually worked in our dramatic favour.
My first AC, Bobby Mancuso, worked with Dan Sasaki at Panavision to get together a great set of prime lenses, and we shot principally with Panavision 65 Sphero prime lenses. They have more of a period feel than ARRI Prime 65 lenses that I used on Life, and I love that effect. The 65 Spheros are fast enough that we rarely had to shoot wide open, and I was able to choose decent apertures that didn't put our focus pullers through hell.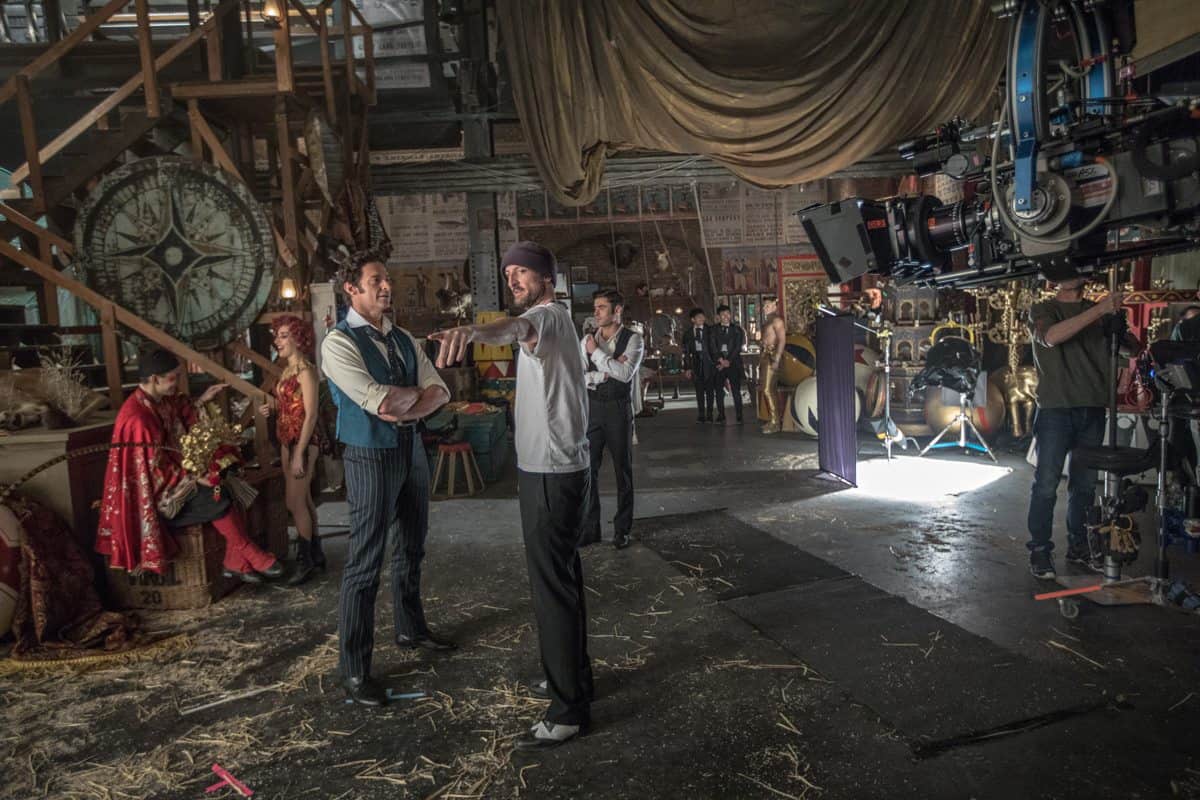 Did you use any filtration?
SM: Yes. As the movie was set in the period before electricity, I used Tiffen Glimmer Glass 1 filtration to soften the look of the modern lighting we were using, and make the practicals bloom and glow, with Glimmer Glass 2 to soften the look on our leading ladies.
How did you move the camera?
SM: Whilst the drama has elements that we captured in a composed manner, the camera really played an integral role in the choreography, and I reckon The Greatest Showman has more camera movement in it than any other film I've worked on to date. We wanted a kinetic picture, with a vivid energy and dynamism, and worked very hard on precisely choreographing the dancers and the cameras together.
Depending on the shot, we might have Maceo Bishop on A-camera/Steadicam weaving carefully in and around the dancers on the floor, with Jack Donnelly on B-camera and Patrick Capone on C-camera strategically-placed to shoot wides, close-ups and other insert material for the edit.
Or we would lift the camera through the air on a 50ft Technocrane to follow the aerial acrobatics. Thankfully, on these shots, I had several other collaborators – A-camera dolly grip Joe Belschner, crane operator Kevin Gilligan, and Lance Mayer on the Libra Head – who rose admirably to the challenge.
How did you shoot the spectacular moments when Zendaya flies around the circus ring?
SM: We shot this in the big top that had been erected in the Brooklyn Armory. My key grip, Richie Guinness, and our stunt coordinator, Victor Paguia, developed a special rig that allowed Zendaya to be suspended off one end of a 10-foot truss and a Libra Head on the other. The stunt team then pulled the truss around the ring as we filmed the shot. We had a lot of fun with that, and the look of the wind through her hair, close-ups of her face and the swirling background is really effective.
I have to mention the focus pulling talents of my first AC Chris Silano and Bobby Mancuso, on a shot in this sequence, in which Zendaya flies straight towards the camera from about 100ft away to a tight close-up. We shot with a Phantom Flex camera. Working with Bobby, Chris set up a Preston Light Ranger 2, supplied to us by Monster Remotes, which tracked Zendaya perfectly through the entire arc of her swing. Nailed in one go on a 100mm lens at 500fps. Wonderful.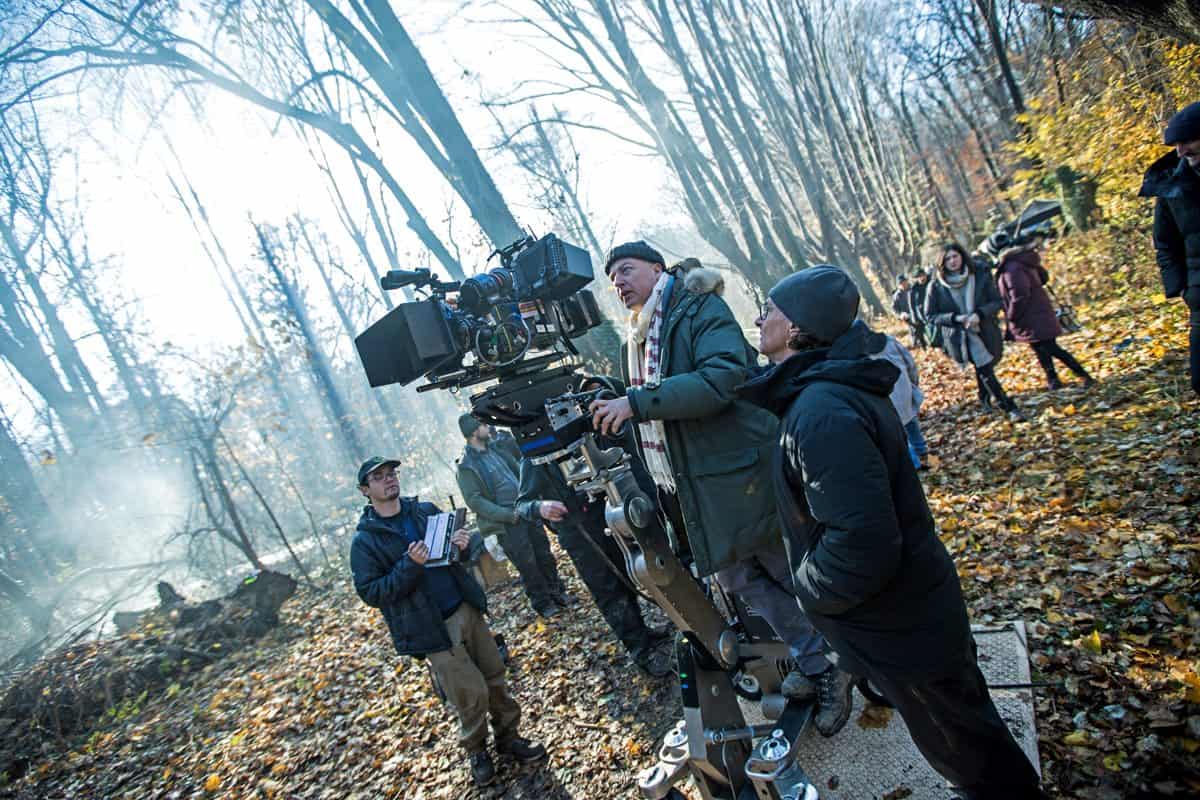 "We had some fantastic sets, with very wide shots of the performers, lots of extras and lots of detail going on, and the Alexa 65, shooting in Open Gate ARRIRAW mode, was perfect for that."
- Seamus McGarvey BSC ASC
And how about the dynamic swirling shot, towards the end of the film, when Barnum and his troupe perform a full-on dance number in the circus ring?
SM: We shot this in the big top too. It was based on one of Michael's previzualised scenes, and it took some working out. I decided to go with a DJI Inspire 2 drone, fitted with a Panasonic camera for this shot. The drone circled and gradually descended into the hands of Richie Guinness, whereupon we cut the rotors, and Ritchie then seamlessly continued the move with two complete 360-degree revolutions around Barnum, who then exited the scene into a huge puff of smoke.
To enhance the visual spectacle, my gaffer Andy Day, and his team, built a circle of LED spotlights on a special armature at the top of the tent. We filled the tent with atmosphere, and when these lights fired down in a strobing pattern it created a kind of Zoetrope effect to the imagery. The combination of the drone move and the lighting effects really support the idea of Barnum's enterprise evolving and modernising for him to literally be "the greatest showman".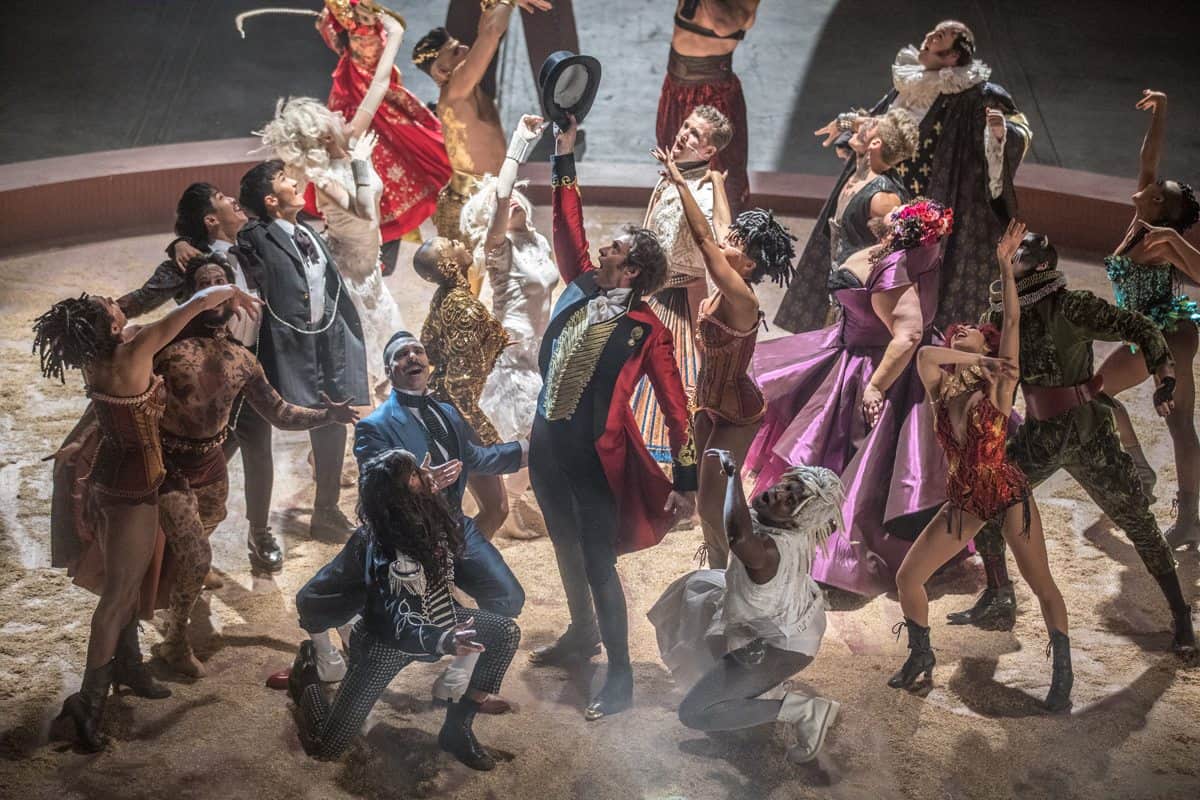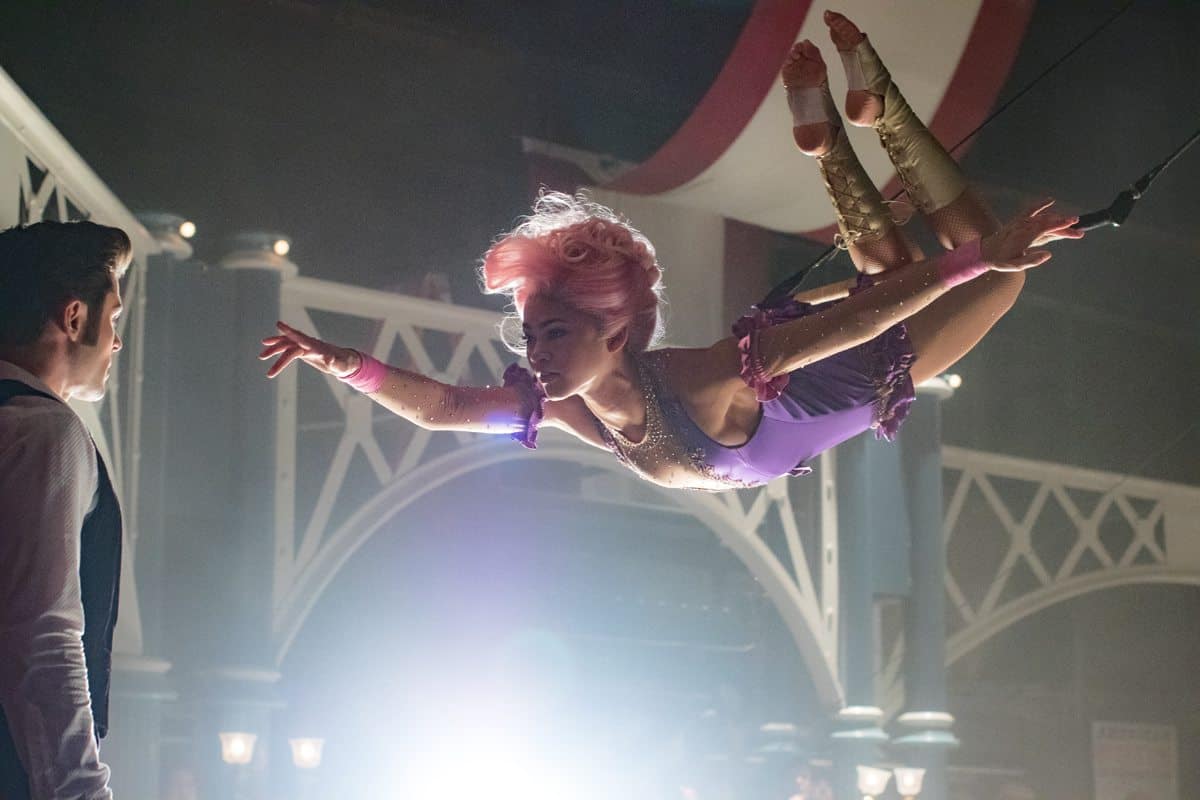 Tell us about some of your other lighting innovations?
SM: One of the biggest sets for The Greatest Showman was the rooftop scene above the tenement where the family lives. Barnum promises his family a better life as his wife hangs out the washing. The set was built on the huge stage at Steiner Studios, and was surrounded by vast, 360-degree painted backdrop of New York, Manhattan and Brooklyn skylines. It measured about 40-feet tall and 400 feet long. Barnum makes a "wishing machine" out of perforated pencil cup-holder, through which a candle shines and casts dappled light on the sheets and blankets, and the family. But the question was how to light it?
Thanks to the collaboration between my gaffer Andy, our construction electrician Gene Lynch, assistant prop master Joel Weaver and head of SFX Jeff Brink, we created a small, intense lighting source which simulated the pattern of the candle Barnum holds, and projected that lighting effect across the characters and the washing.
Gene found a small-filament, high-wattage quartz bulb as the source and Joel drilled holes in a metal mixing bowl. We then mounted the bowl upside down on a spindle over the quartz bulb, and controlled the spins with a variable speed motor. It worked really well, and shows you what inter-departmental cooperation can really achieve.
There was also another lovely scene on the rooftop, in which Barnum and his wife perform an intricate dance routine in the moonlight. Initially, I considered front lighting the painted moon, but after testing I realised it would be better to backlight it and have the ability to change the colour, ambience and translucency. So I lit through the canvas of the moon with a huge circular array of ARRI Sky Panels. It was really effective as I could adjust the brightness and actual colour of the moon as required by the shots.
Tell us about the task of lighting Barnum's Museum of Curiosities?
SM: The location is a big, enclosed industrial space where ships were once built – around 300ft long, 200ft wide and 100ft high – that needed a lot of prep to get it ready. We started by blacking out windows at the top of the building, which was fairly straightforward. However, the building has a six-storey, south-facing window at one end, through which daylight shines. I knew we would run into all manner of problems controlling the light during the short winter days of our shoot. So we built a huge, vertical lightbox outside from shipping containers, lined with bleached muslin. We then erected a scaffolding tower inside from which we suspended 12 ARRIMax's all connected back to a dimmer board. The effect of this massive controllable softbox was to deliver exquisite light, allowing us to shoot throughout the day, irrespective of what the weather and lighting conditions were outside.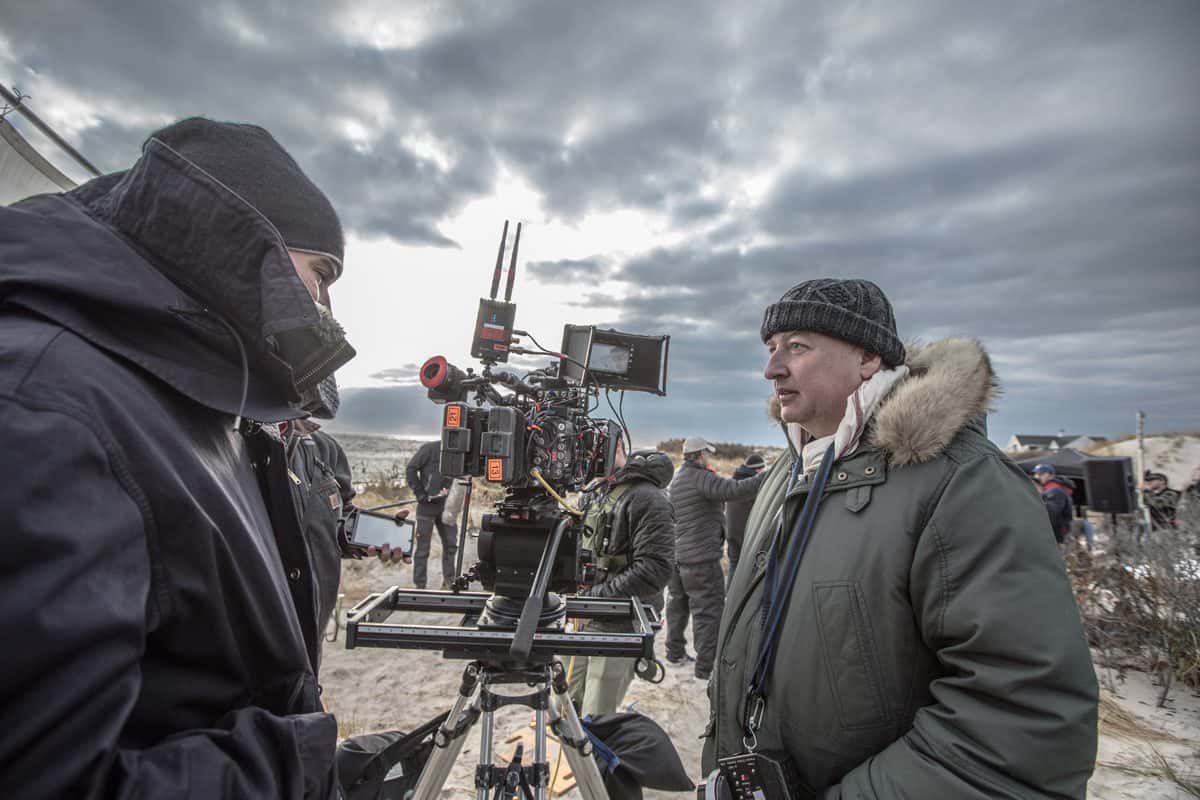 What were your working hours?
SM: I had 10-weeks prep, which was great, although rehearsals began three weeks before I arrived. Thankfully our B-camera operator Jack Donnelly, was already on-hand shooting footage on a Canon 5D – some of which was sketching out shots that Michael was considering, some just documenting the overall choreography. It was tremendously useful for me to see what they were devising in advance of my arrival.
The shoot lasted for 14 weeks, and we generally worked 12-hour days, five days a week. There were some days when we had to shoot in the city on Sundays, but generally the weekends were free.
What can you tell us about the DI?
SM: The DI was completed by Tim Stipan at EFILM in Los Angeles. Due to my commitments on The Widow with Neil Jordan, I was only able to attend the start and the end of the DI process. The majority of the grade was done by Tim under Michael's supervision. I have to say they did a wonderful job together in emulating the Technicolor look we initially envisaged, and the colours are quite strong and strident.
Final thoughts?
SM: The Greatest Showman was one of the most intense and technically challenging productions I have worked on so far. It was pretty physical too, contending with all of the camera movement and choreography, but all the more invigorating for that. I was fortunate to have assembled a really great crew, who understood our challenges and created solutions with ingenuity, energy and great humour. All of this helped Michael bring a spectacular story – with wonderful dance routines, acrobatic displays and the memorable songs – to the screen. I would be more than happy if another musical came my way.