FREEDOM OF MOVEMENT
Finding what one wants to do in life is not always straightforward. Rob Drewett, co-founder and chief executive of Motion Impossible, knew he wanted to travel and work outdoors but could not foresee that would lead to becoming an underwater and wildlife cameraman, which led to developing free moving camera support technologies.
Drewett had an interest in photography and natural history when he was young but never thought they could be of use to him in the future. After various post-school jobs, his passion for being outside led him to train first as a sports turf technician and later a tree surgeon. Following the theft of his truck and wood chipper, Drewett used the insurance money to go travelling. In Thailand he started scuba diving and "fell in love with being underwater".
During this time Drewett bought a camera and underwater housing to film his students diving, which built up over the next six or seven years of travelling to him gaining more experience as a cameraman. On returning to the UK, he was selected to work on the 2011 documentary Desert Seas, after which he won a BBC bursary and joined the Natural History Unit in Bristol. "I worked on some amazing shows, cutting my teeth not just underwater but also topside," Drewett says. "What I loved about underwater work was the freedom of moving cameras, just floating around and feeling weightless. You're able to move the camera around in such a cinematic way without any obstacles."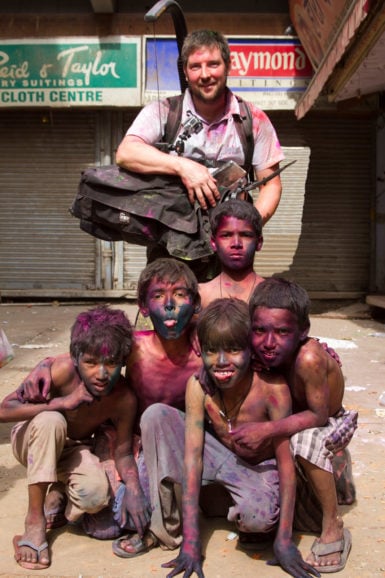 Due to problems with his ears, Drewett developed his 'topside' shooting skills. "I took a Steadicam course and looked into ways to make sequences more immersive," he explains. "When I worked on the BBC series Africa [2013] I filmed a rock python, but to make that come alive on film you can't be on a tripod. You've got to slide with the snake, so I set up sliders and robotic arms to get immersed in that world. This was the first Eureka moment topside for me – that I could do this but had to think outside the box."
Drewett began experimenting with different movement and stabilisation techniques, including gimbals: "I used those on Planet Earth II and was one of the first people within the BBC to use gimbals. I then thought about putting a camera on a remote control
car, which I thought would be a pretty cool way to get close to animals." To make that happen, he called a remote-controlled car club near where he lives in the West Country and left a message saying what he wanted to do. "This guy phoned me back and said, 'It sounds a crazy idea but I love it.'"
The caller was Andy Nancollis, a product design engineer of 20 years' experience who is now chief development officer of Motion Impossible, which he co-founded with Drewett in 2014. "Together we made the first system, which was called BuggyCam," Drewett says. "He's now been my business partner for seven years."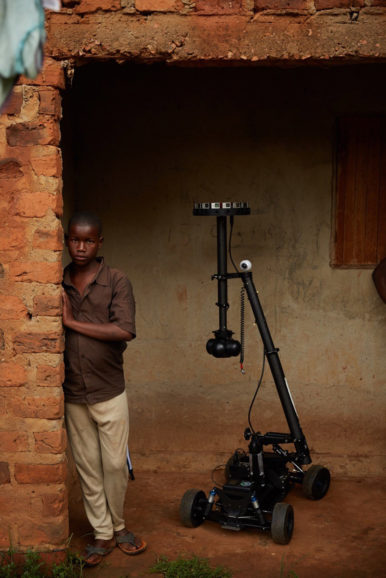 BuggyCam was originally designed for Drewett's own purposes, not as a commercial product, but on advice he took it to the IBC and NAB shows, leading to several sales. At that stage the unit was a low-level camera car but was redesigned to allow the camera to move upwards. "People were calling it the Shin Cam, which was horrible, so we put a telescopic pole and a gimbal on it to get the camera up to eye height."
Around this time virtual 360-degree shooting was emerging, with the inherent problem that there was no way to move a multiple array camera without the support being visible. Motion Impossible addressed this by using a Kenyon gyro, allowing the camera to be supported from below. The result was the Mantis 360 (now branded and expanded as the M-Series), which sold approximately 150 units in two years. "We worked on some amazing shows and sold to the likes of Facebook, MTV and GoPro," Drewett says. "We started to see the value of moving cameras remotely but needed to get our technology into more mainstream markets, because we had pretty much saturated 360."
A larger, empty chassis featured in the Futures Park section of the 2017 NAB Show, generating a lot of information about what users wanted. "We had to stop at a certain spec but even that did not prevent it from being too heavy to get on an aeroplane, which, as a wildlife cameraman, I see as a priority," Drewett says. "That's when we decided to split the system into three parts, with a centre core section and drive-ends either side. That allowed us to take the drive-ends off for travelling but we realised we could put on other drive-ends to do different things. That's how the whole modularity of the AGITO family came about."
This range includes the AGITO Sports, which can travel at up to 30mph but also at one centimetre per second; and AGITO Trax, with a different drive-end that allows it to work on rails. "It's a system that can work on lots of different types of filming," Drewett
says. "It could shoot concerts as Trax during the week and then change to Sports mode at the weekend to cover a football game."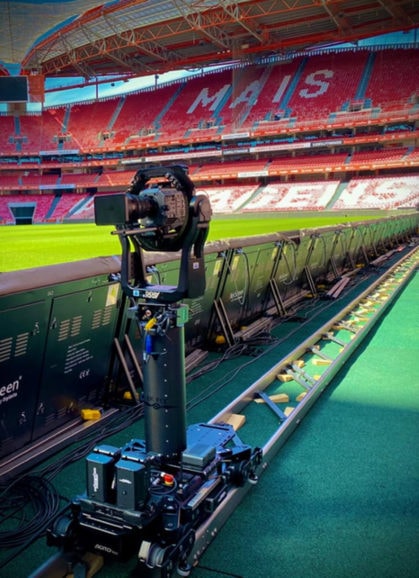 AGITO has also been used on feature films – including for a chase sequence in Tom and Jerry (2021 DP Alan Stewart) – due to its ability to produce dolly shots without tracks. "That will be important for the future because budgets are getting smaller," Drewett says. "AGITO can mimic moves from a traditional dolly without any set-up time. A dolly grip can train with it in 10 minutes to make moves that it can take an experienced grip years to finesse."
Filmmaking is becoming a major focus for Motion Impossible due to increasing demands from directors and cinematographers to move the camera in ways that have not been seen before. "There is a hunger for innovation all the time," says Drewett. "Technology is advancing so fast, especially in robotics, and cameras are getting lighter. Robotics are getting faster and cheaper to utilise. I doubt we'll make a humanoid robot camera but in the future we'll certainly be able to move things around more organically."
Whatever the form of such technologies, with Motion Impossible's twin influences from the natural and the robotic worlds, filmmakers are likely to get the new movements they are looking for.