A SNAPSHOT OF HISTORY
Phedon Papamichael, ASC GSC, has been making good use of the 1960s lately, gaining BAFTA and ASC nominations for his work on Ford v Ferrari, and now, a year after that film's release, finding himself at the tail end of that storied decade with Netflix's The Trial of the Chicago 7, from writer/director Aaron Sorkin.
In fact, Papamichael almost had a trifecta for the era, with a third historically-based project, but that has been delayed – as have so many other things – by the current pandemic. Meanwhile, this compressed retelling, replete with Sorkin's trademark fast-flung dialogue, rich with quips, ripostes, and the occasional self-reflection, chronicles the celebrated trial that grew out of the unrest at the 1968 Democratic convention in Chicago.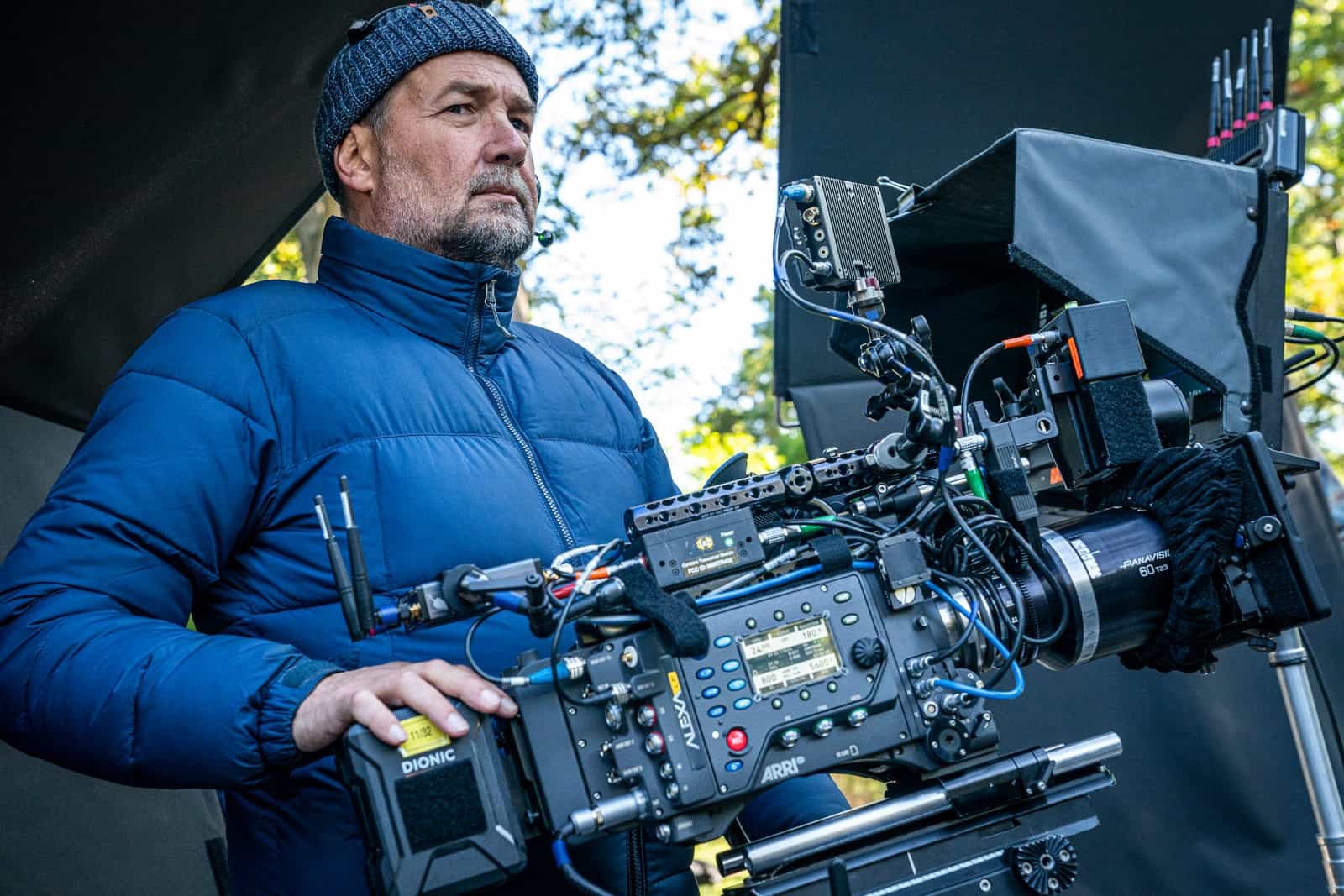 Activists Tom Hayden, Abbie Hoffman, Jerry Rubin, and Bobby Seale (when they were still "The Chicago 8," before Seale's trial was separated, and played, respectively, by Eddie Redmayne, Sacha Baron Cohen, Jeremy Strong, and Yahya Abdul-Mateen II) and others, faced nebulous conspiracy and incitement charges. The trial, like so many of the events at the time, became an unfolding Rohrshach test for the rest of the country.
But for Papamichael, the pattern was clear: He was sticking with much of the same gear he'd used with director James Mangold on the earlier film: "I went with the same package – a large frame with expanded anamorphics we custom-built and discovered with Ford v Ferrari. That was the first time it was done with Panavision C series and B series lenses."
The LF in question was an ALEXA, and this time, Papamichael also went with T-series glass, "because I wanted close focus (and) it was a more controlled environment."
The trial itself of course was anything but controlled: Seale was ordered bound and gagged in the courtroom, by the presiding judge, Julius Hoffman, who went to great pains to note he was in no way related to Abbie. The latter Hoffman, meanwhile, and Rubin show up one day in judges' robes, and then – being ordered to take them off – revealed Chicago police uniforms underneath. Most defendants – and even their lawyers – were cited for "contempt" of court by Judge Hoffman, and were given excessive sentences for such, all later overturned.
Cohen turns in a terrific performance as Abbie Hoffman (as does Frank Langella as the infamous jurist), along with Mark Rylance as renowned "people's lawyer" William Kunstler. Indeed, the whole cast is on top form, all of them recreating the six month-long trial on a set built in an abandoned schoolhouse in New Jersey.
"Knowing I would spend so much time in a courtroom drama," Papamichael says, "I wanted to convey the passage of time, just how ridiculously long this went on for." In order to "assign different moods" for different stages of the trial, and the calendar, he "created this big timeline spreadsheet (and) assigned which scenes should be brighter contrast, which should be warm, which should be cool," all with the help of "this really controlled lighting rig."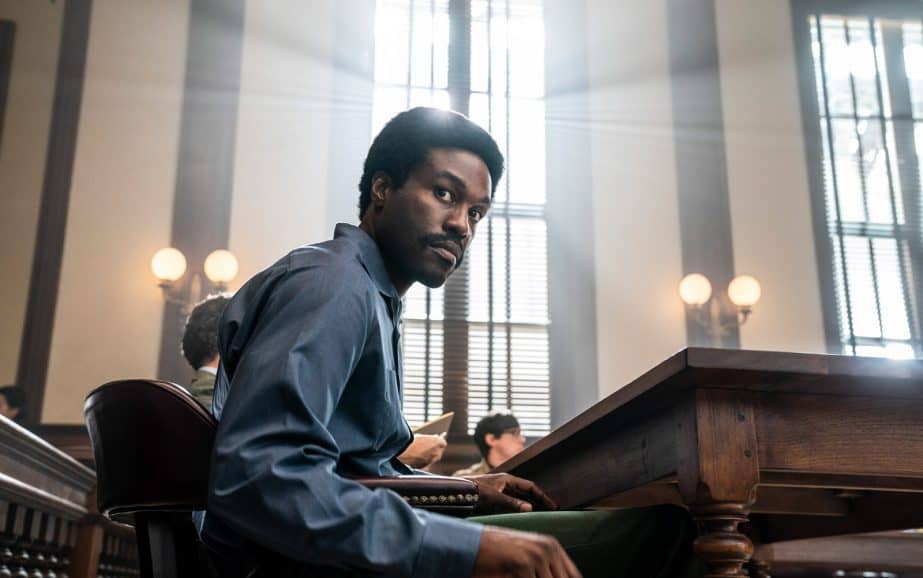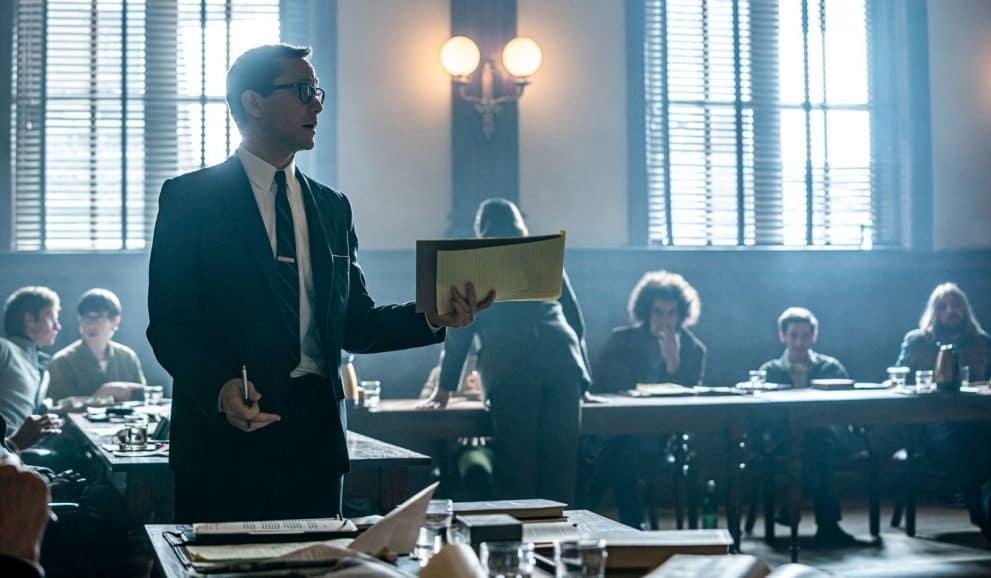 Early on, as the trial started in September, "the defendants would go in high-spirited – there's still a lot of enthusiasm and hope," and so, things would be lit somewhat more brightly. By the time we're towards the end, in January and February, and Lyndon Johnson's attorney general, Ramsey Clark – played by Michael Keaton – is explaining why his justice department found nothing prosecutable in what "the Seven" did (unlike Nixon's attorney general, John Mitchell, who succeeded him – all testimony ultimately barred by the judge), those scenes "are played moodier," as the inexorable verdicts become clear.
"I had the luxury of assigning different moods to different scenes," he emphasises. "For the reading of the verdict, when Tom Hayden stands up reading the names of all the soldiers in Vietnam, I thought I should hit him with a hard light (and we'd) see him (as) this glowing, angelic figure."
That scene, heroic as it is, wasn't how the trial actually ended, but Sorkin was redacting and winnowing a lot of historical material into the running time of the film and structuring it like… an Aaron Sorkin project. "It's all very non-linear," Papamichael agrees. "It's all about the rhythm of the language, and its pacing."
Which meant that "you can't design long shots – it's really like a commercial. You're only going for three to five seconds sometimes." Some sequences have a witness, usually an undercover cop, recounting an allegedly incriminating event, then cutting to the event itself, then sometimes cutting to Baron, as Hoffman, doing political stand-up at a club, riffing about the same event, then returning to court, where "you're not back with same guy," as someone new has taken the stand.
"The biggest challenge was tracking, maintaining a coherent flow to my lighting," Papamichael says. "The other problematic thing was a limited budget; we were struggling with extras a lot. Only on very few occasions could I fill the courtroom with an audience," often meaning that he had to limit himself "to the angles where I wouldn't see any crowd. I would have to change lighting situations, three or four times a day. And then turn around and shoot those remaining shots of those scenes when I actually had them available.
"It was helpful to have this very excellent script supervisor," he adds, referring to the work of Shane B. Smith's dictation of the shot list.
I went with the same package – a large frame with expanded anamorphics we custom-built and discovered with Ford v Ferrari.

Phedon Papamichael ASC GSC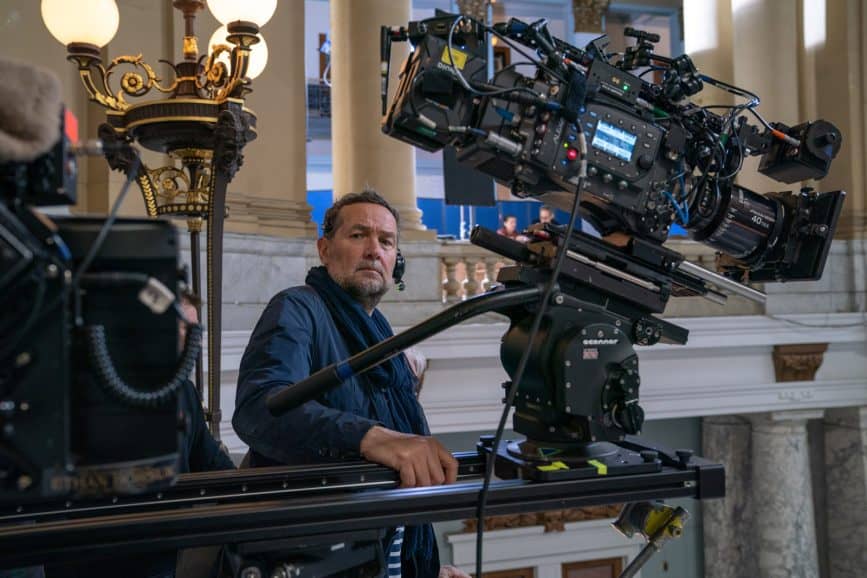 He also had a bit of help before shooting began, in the form of Panavision's Dan Sasaki. The optical engineering VP "became quite busy proceeding to expand over 60% of the anamorphics they had available" he notes, of the aforementioned lenses.
Which was good, since they'd "been used a lot since I started on Ford v Ferrari," and while there was a period when they weren't as readily obtained, by the time prep for Chicago 7 rolled around "there were several expanded lens sets (available) in New York." Though this time he added in the T-series.
And the "close focus" that the T's provided was part of how he worked with Sorkin, who was in his sophomore directing project, after 2017's Molly's Game.
In terms of shot selection, "Aaron would be first to say 'I left it up to the cinematographer,'" but Papamichael knew that for the playwright-turned show runner-turned Oscar-winning screenwriter, he wanted to be "very… understanding (of) the importance of the pacing of his words, and not creating shots that get in the way of the rhythm."
Sorkin, he noted, "would often have his eyes closed, sitting at the monitor," simply focused on hearing the dialogue, and how it was working, or not, between characters. Which meant that sometimes he would ask "'why are we doing this shot? Do I need that?' The only thing really crucial to him is having the person speaking on camera." Which meant, for Papamichael, that "I thought there was great value in connecting (to) the person speaking in the courtroom. So I'm always trying to connect people, even in close-ups," where, usually, only one would visually dominate. But this was a technique he'd used in Ford v. Ferrari, where he'd "go physically closer with a wider lens, but not isolate (the character) that way."
Which is not to say that Sorkin didn't have certain visual cues or motifs in mind. "Every once in a while," Papamichael notes, "he had something specific he'd insist on, key visual elements that were important to him." He cites an image of a Molotov cocktail hitting a recruitment centre sign, but not wanting to see what kind of sign it was before the light flares up; another was when and how the blood would reveal itself as cops kept hitting demonstrators in unrelenting close-up.
Sorkin "has such a specific vision for what the rhythm is on screen, and doesn't want anything extra," he continues. This contrasts a little with how Mangold worked on Ford v Ferrari, being "very involved, with the lensing, the speed of the (camera) move. Aaron is not involved to that degree. But of course, he does recognise and does see when something's working," and, like any director worth their salt, "will express his discontent when something's not working for him."
But many of the visuals were worked out in advance, too. "I was very involved in the layout, how much distance there should be," between adversaries in the courtroom, and even some of the structure of the set, as rendered by production designer Shane Valentino.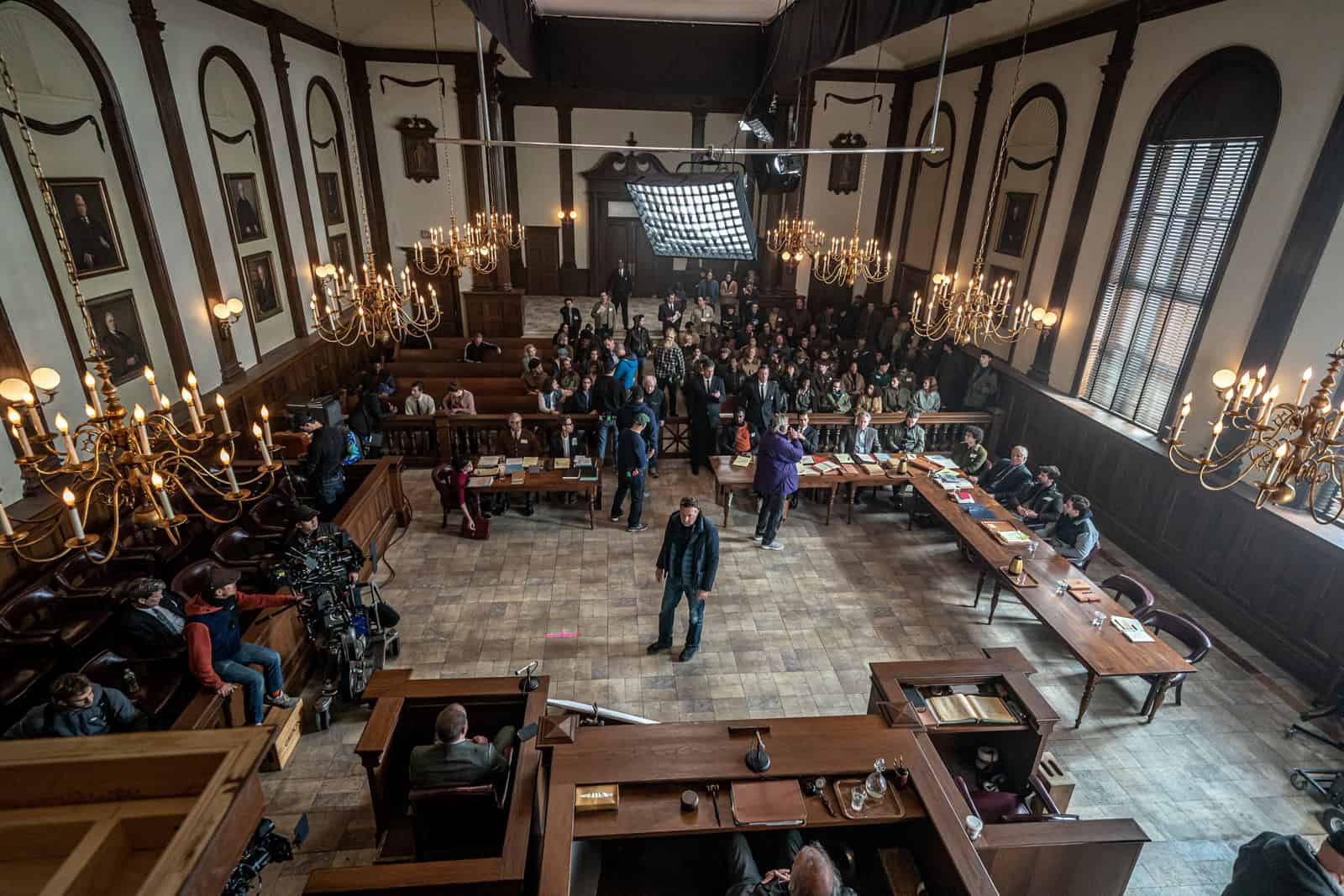 The tables for defendants and lawyers made "the shape of an L," so then it was a question of arranging "the main characters, we put Hayden in the corner, we put Abby two or three seats down. I remember moving the witness booth forward – (previously) it was flush with the judge." Papamichael knew he wanted three-quarter views from Judge Hoffman's imperial seat. "All these angles you work out in your head, thinking you're going to have multiple cameras."
Which in this case they did, which was especially helpful since there was no second unit. The trio of cameras wound up being two ARRI Alexa LFs, and "for the third camera I used a regular Mini, with anamorphic (lens). I pretty much stuck with anamorphics."
Papamichael and everyone else also stuck to a very tight schedule: "We had, like 35 days. And it was a relatively small budget (especially for) being a period movie with so many extras." Or sometimes, the extras he'd wished he'd had, but who weren't there.
There were similar challenges outside the courtroom. The production did have access to some of the locations where this particular history unfolded including "the actual location at the actual park," Chicago's Grant Park, where one of the riots erupted.
"When I did the riot, because of the limitations of the crowd – there were 10,000 people at the actual event, I had maybe at best 200 in the park – I would plant my two operators (getting) hand-held footage. I told (them) to basically make a documentary about what (they were seeing)."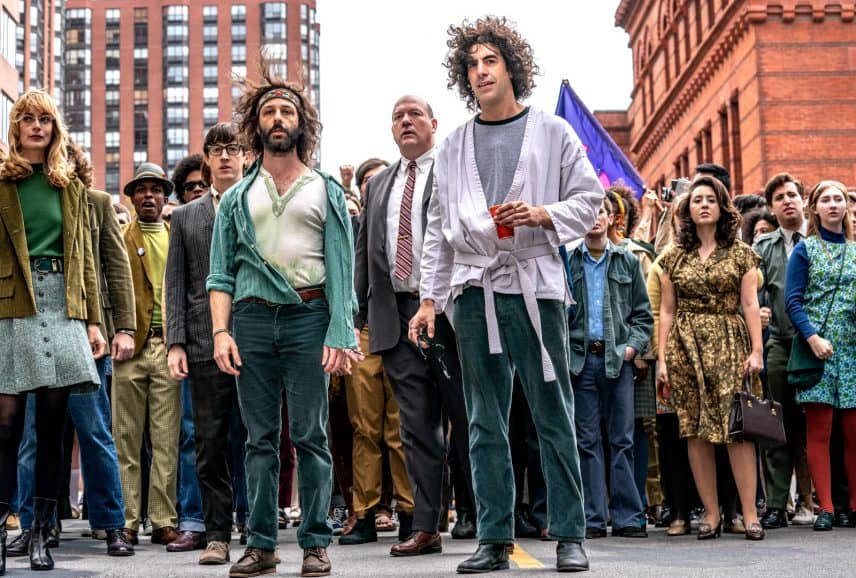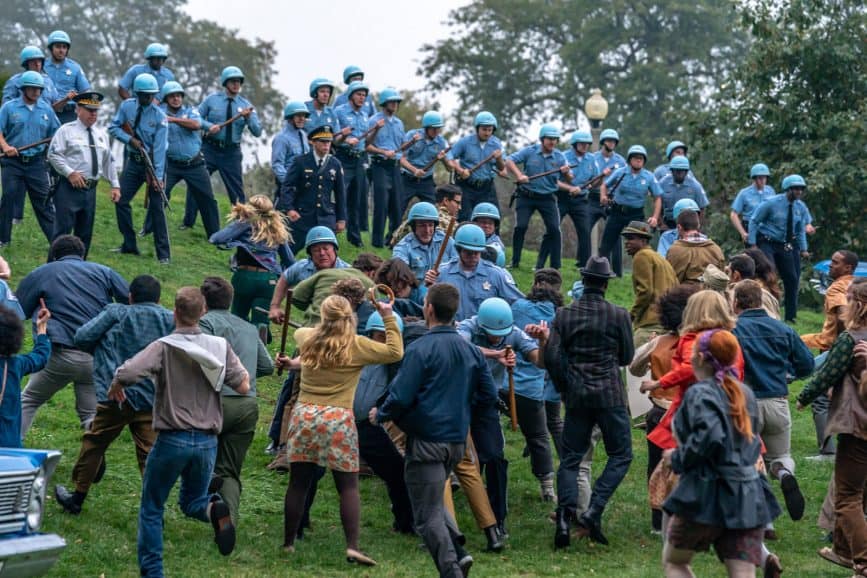 He also had them reference the late Haskell Wexler's great Medium Cool, a more contemporaneous film about many of those same Chicago events. "I was actually at AFI when Haskell came in, I don't know, 30 years ago, and talked about directing that," he recalls, with Wexler – with whom he'd go on to develop a friendship – "talking to the students about what it was like working with another cinematographer," although, in addition to being both writer and director, and one of the producers, Wexler has the DP credit on the film, as well.
It was through another producer that Papamichael met Sorkin, namely Stuart M. Besser, who'd produced not only the earlier 3:10 to Yuma remake which he'd shot with Mangold, but Sorkin's Molly's Game. "He told me how Aaron is. He doesn't really get involved in the execution of the shots (and) wouldn't really block it so much."
But there were those rhythmic words: "Some of the scenes were sixteen pages!" he notes. "Big chunky dialogue scenes we had to run through at many angles." But those nouns and verbs, of course, were all for a purpose. "I was very respectful of his vision," Papamichael says. After all, he concludes, "ultimately that is our job as cinematographer."
In addition to helping pass along a critical snapshot of history, for those who are seeing it for the first time.