Ice Ice Baby 
Phedon Papamichael ASC, GSC / The Huntsman: Winter's War
Ice Ice Baby 
Phedon Papamichael ASC, GSC / The Huntsman: Winter's War
Universal Pictures' dark fantasy action-adventure movie, The Huntsman: Winter's War,  is the prequel/sequel to the studio's $170m production Snow White And The Huntsman  (2012). It is based on the characters from the German fairy tale "Snow White" by the Brothers Grimm, as well as "The Snow Queen" by Hans Christian Andersen.
The new movie marks the directorial debut of Cedric Nicolas-Troyan, who acted as VFX supervisor on the first film, with the screenplay written by Craig Mazin, Martin Solibakke and Evan Spiliotopoulos. The production stars Chris Hemsworth, Charlize Theron, Nick Frost and Sam Claflin reprising their roles, along with newcomers Emily Blunt, Rob Brydon and Jessica Chastain. Principal photography was under the auspices of Phedon Papamichael ASC GSC, whose work includes Walk The Line (2005), 3:10 To Yuma (2007), The Descendants (2011), Nebraska (2013), for which he was Oscar nominated, and The Monuments Men (2014), which saw him shooting briefly in the UK for the first time.
"I was prepping Alexander Payne's Downsizing, which had been on and off, then on and off again, and I had passed on a lot of movies, when The Huntsman: Winter's War came to me out of the blue," Papamichael recalls. "This fantasy genre is not one that I have watched much of, nor photographed before, although I had seen Snow White And The Huntsman (DP Greig Fraser) and thought the photography it had a great stylised look. It terms of the tableaux productions I have worked on before – often with simple compositions and Spartan storytelling  – this was 100% in the opposite direction; theatrical, operatic and grand in scale.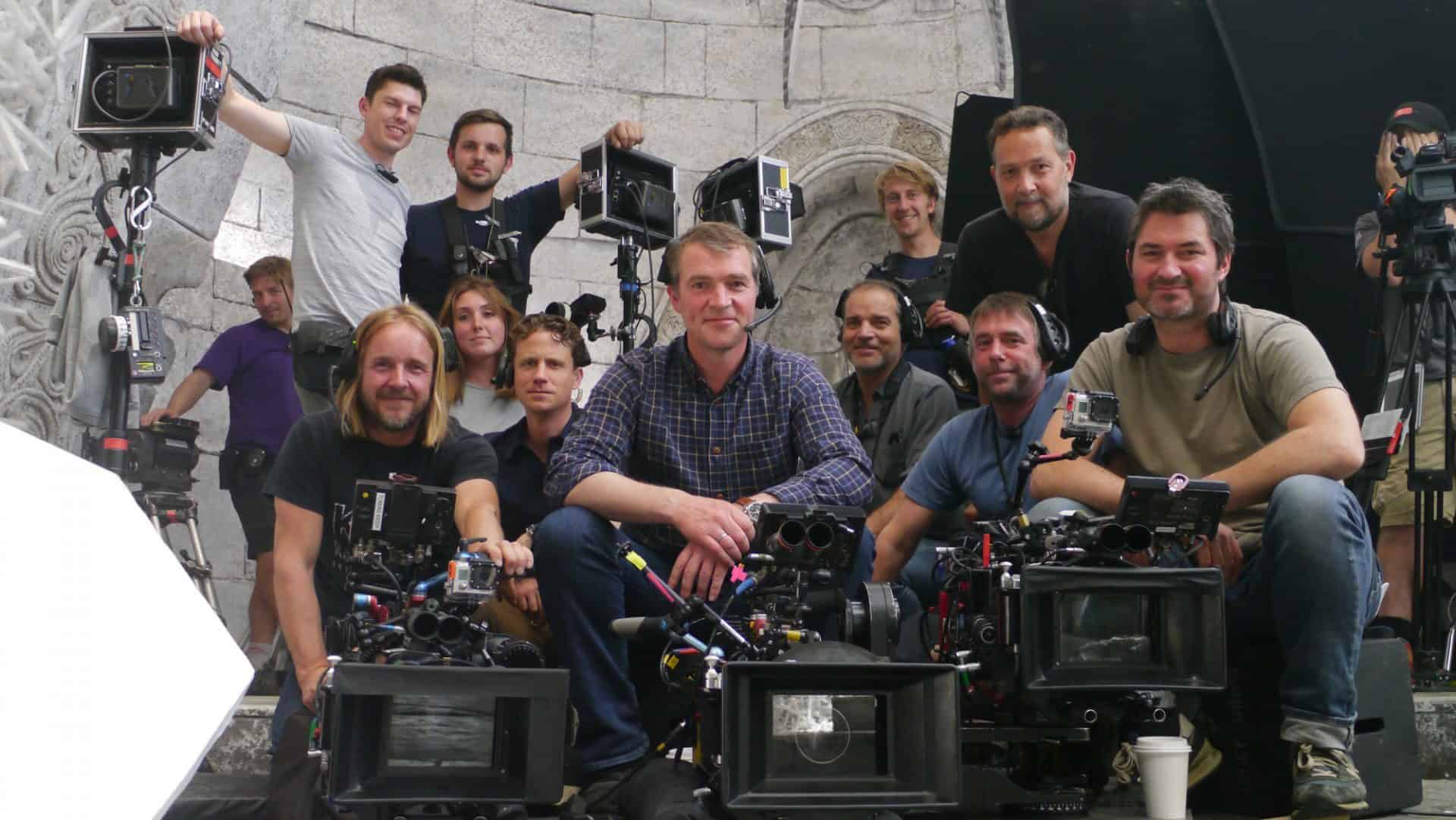 "While it was an opportunity to do something I have never done before, I was not keen on shooting a lot of greenscreen VFX. As it turned out Cedric and I had worked together on Gore Verbinski's The Weather Man (2005), where he was the VFX supervisor. I was quickly reassured that not only was he very knowledgeable about the VFX – he figured out how to capture the dwarves in the first movie in a very simple way – but also that this movie was first and foremost a location picture, where the job was to control the sun, fog the forests and create atmosphere. There would be some digital set extension work, and almost zero greenscreen. The VFX would be layered on top of the live action material."
Shooting began on April 6, 2015, with locations including Waverley Abbey in Surrey, Windsor Great Park's South Forest and Johnson's Pond, as well as in the Deer Park near Snow Hill. Shooting also took place in Wells Cathedral and Wells Bishop's Palace in July, and at Puzzlewood in the Forest Of Dean. A small number of studio shoots took place at Shepperton Studios, including the Great Hall of the Ice Palace set, on the voluminous H Stage.
"While it was an opportunity to do something I have never done before, I was not keen on shooting a lot of greenscreen VFX. As it turned out Cedric and I had worked together on Gore Verbinski's The Weather Man."
- Phedon Papamichael ASC GSC
Much to Papamichael's delight he discovered the movie would take audiences through a broad spectrum of visual moods. "While the first movie was ominous and monochromatic, this production was more humorous, romantic and a little bit racy," he says. "Overall it had a more diverse colour palette, which I thought would be fun to work with – moving from cool and desaturated through to warm and lush. The extraordinary costume design by Colleen Atwood, incredible set design by Dominic Watkins, and people such as Enzo Angileri, who was Charlize's hair stylist, made it feel all the more theatrical and operatic."
Regarding the look of the production, Papamichael notes: "Cedric was clear that he wanted a filmic look, with my natural lighting approach and not an overly-lit piece, although I enjoyed and embraced the classical beauty lighting on the three strong female characters. For Emily's character, Freya the Ice Queen, the emphasis was on her white, translucent skin tones and icicle costume. With her spectacular gold-plated wardrobe, Evil Queen Ravenna, played by Charlize, had to be burnished in gold. The third character, Sara the Warrior, played by Jessica, is more of a tomboy. She is naturally beautiful, so the lighting was a bit rougher and textural, more appropriate for her warrior nature and the action surrounding her amazing specialised weapons and ninja fighting skills."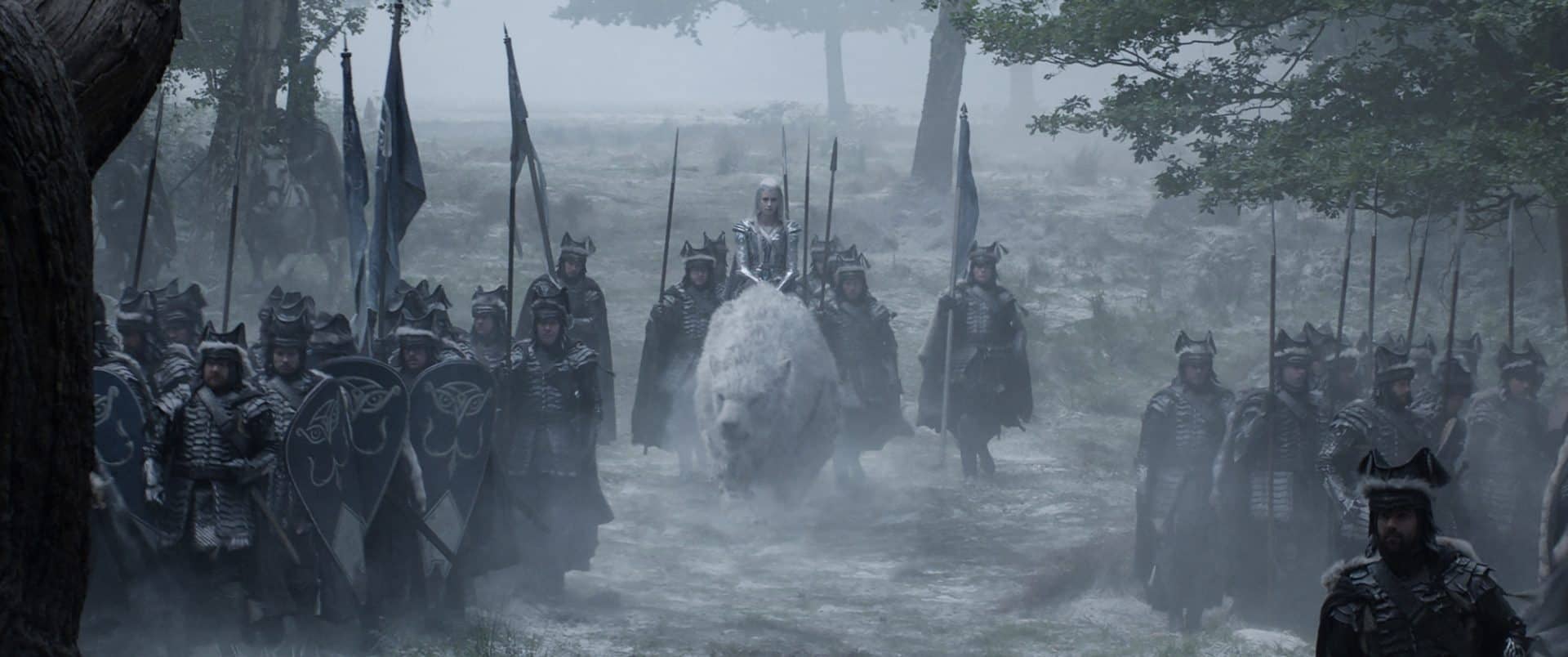 With all of this in mind, the cinematographer says he referenced movies such as Yimou Zhang's Hero (2002, DP Chris Doyle) and Stanley Kubrick's Barry Lyndon (1975, DP John Alcott), and Excalibur (1981) and Legend (1985) (DP Alex Thomson), where classic lighting techniques help create the illusion of fantasy.
As for the origination format, Papamichael says that whilst the result has a filmic quality, the movie was always going to be digital. "With there being few film labs available it's difficult to worry about film support these days," he remarks. "Through my work on the night scenes and interiors on The Monuments Men, and the whole of Nebraska, which I shot digitally, I have developed an understanding of how to arrive at a filmic look with grain and film-like curves in the DI. Also, as there were going to be a lot of digital VFX added later in post production, I knew shooting ARRIRAW 444 would favour the workflow."
Along with ARRI Alexa XT cameras, Papamichael's arsenal also featured an ARRI Alexa 65, which has been previously used by Robert Elswit ASC to shoot the extended underwater sequence in Mission: Impossible – Rogue Nation. Papamichael says he used the Alexa 65 several times every day – mainly on a 50ft Technocrane – to capture wide, Barry Lyndon-esque landscapes, the magical looks provided by dusk, and the natural beauty and atmosphere of fogs and mist. He estimates that thirty percent of the final movie is Alexa 65 material, and that it integrated well with the Alexa XT footage during the final DI.
To frame the action, Papamichael used an older set of Anamorphic C-series lenses, supplemented with E-series glass, specially selected by Charlie Todman and his team at Panavsion in London, along with the rehoused Hasselblad lenses, which come with the Alexa 65.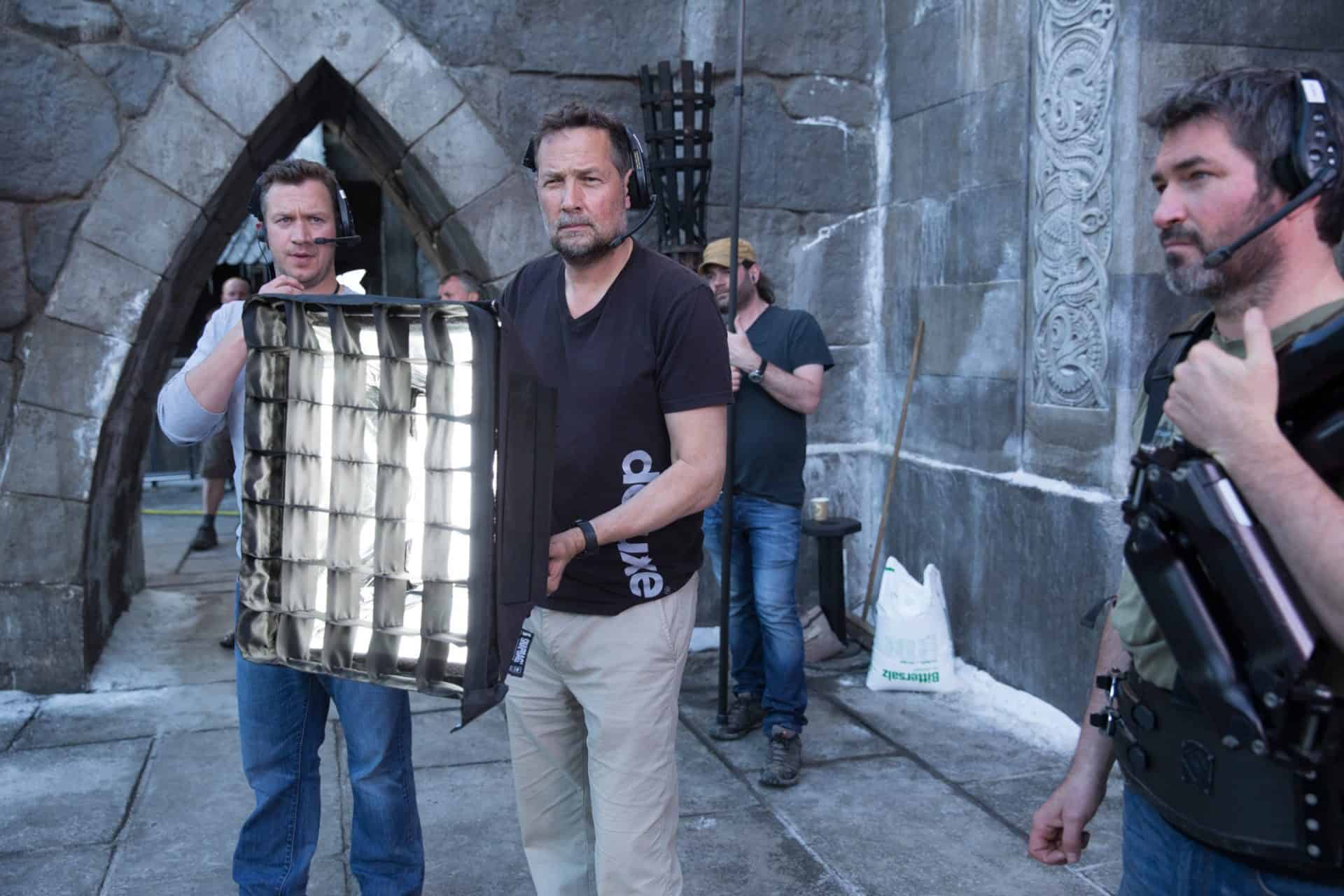 "The C-series lenses have nice fall-offs and flares, and the painterly feel I was looking for," he says. "By nature of being an older set of lenses they are less sharp, so I needed very little diffusion to soften the image. I perhaps put a light Classic Soft on selected close-ups of Emily and Charlize as we needed smooth and glowing skin quality. Although there are some nice tools to deal with skin textures and eye shadows in the DI these days, I prefer to work on this aspect at the production stage than in post."
To help scope-out a UK crew, Papamichael says he called on his great friend Haris Zambarloukos BSC GSC for assistance. "Haris was kind enough to put me in touch with some of his regular camera crew. Their talents and knowledge were of great support to me in managing the lighting and camera package effectively during production."
Normally Papamichael prefers to operate A-camera himself. However, with three and sometimes four cameras on The Huntsman: Winter's War, Simon Baker was charged with operating A-camera/Steadicam, with Luke Redgrave on B-camera and Hamish Doyne-Ditmas on C-camera. Olly Tellet was first assistant A-camera, with Tobias Eedy assisting on B-camera.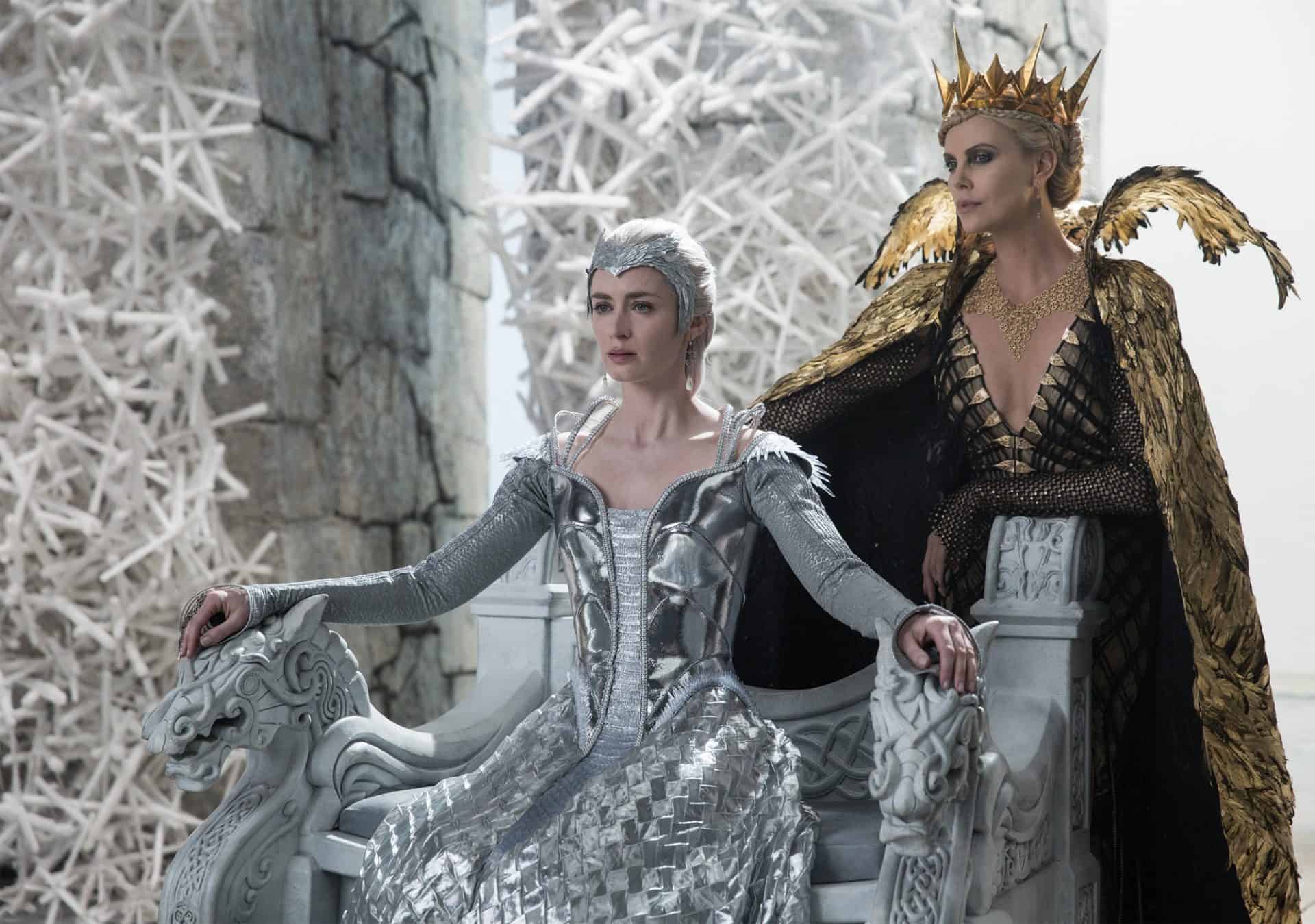 "I had every confidence that the camera crew would understand the lighting instructions and shoot what I needed. One of the things I discussed with Cedric early-on were textural detail shots, that he wanted to sprinkle in throughout the film– an insert of a dress gliding across the floor, shots of clouds forming, moss-covered tree roots, or a leaf blowing in the wind, on to which he might later composite a magical creature. Hamish (C-camera) was often assigned to go off into the woods and "find us some gold" – a beautifully detailed shot to be cut into the main unit photography," he states.
The gaffer was David Sinfield, with John Fleming the key grip, and Jack Fleming the dolly grip on A-camera. "David and John, and their respective lighting and grip teams, were really up for the challenge. I was impressed by their resourcefulness in getting lights, the Technocrane and specialty camera rigs into all sorts of tight spots – especially the forests, where there was barely any space to swing a Steadicam".
Papamichael also applauds the work of DIT Ben Appleton, "who set beautiful LUTS, proved a great help in pulling the irises on three cameras in tune with the changeable weather conditions. He also helped communicating directly with the VFX team about the fog levels in the forests. Very helpful when dealing with the winds and ever changing cloud conditions during our long takes! Ben also had a good rapport with Mike Hatzer, my colourist at Technicolor in Hollywood, in helping to transition the movie into the DI."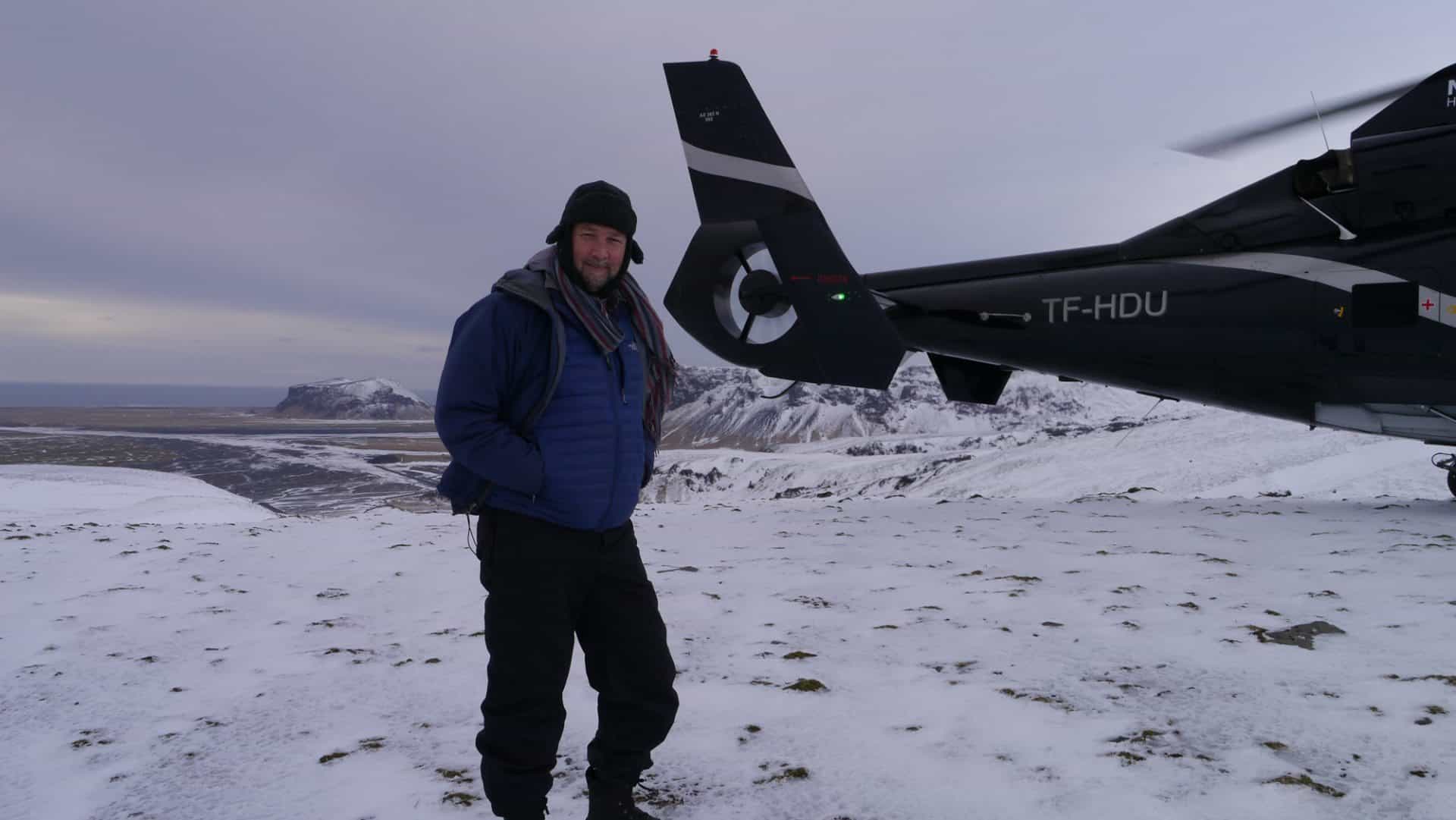 The Huntsman: Winter's War shot for 78 days, wrapping on July 25th. The production had a five-day-week schedule, with ten-hour days and a working lunch appearing in a box. "We call this system French Hours in the US and I like it," he says, "except that the camera crew never get a proper break, and often the boxes come at wrong time. So you might find one of the crew with a Technocrane in one hand and a sandwich in the other. We perhaps had one rough week, with a couple of 12plus-hour days, but in general we stuck to ten hours. This working schedule helps on long shows like this, and all the crew came through safely and without injuries or burn-out."
As an aside he notes: "It was incredible to be in London at that time. I was there when multiple big-budget productions including SPECTRE, Jungle Book, King Arthur, Star Wars and Bourne were all in production. They are golden times for the UK, and there are clearly enough top-notch crew and facilities to go around."
When asked to assess the fruits of his labours on The Huntsman: Winter's War Papamichael says, "I showed it to my eight-year-old daughter and asked what she thought. She told me that she luuuuuved it. So I guess it must be fine!"