Conspiracy Theories
Phedon Papamichael ASC / The Ides of March
Conspiracy Theories
Phedon Papamichael ASC / The Ides of March
Just in time for the 2012 United States presidential race comes The Ides Of March, a political thriller in which a young, idealistic staffer learns a hard lesson in dirty politics, writes David Heuring.
The script, based on a successful stage play by Beau Willimon, caught the eye of George Clooney, who directed and stars as the ruthless politician whose career is threatened when the staffer, played by Ryan Gosling, makes a misstep. The cast also includes Paul Giamatti, Philip Seymour Hoffman, Marisa Tomei, and Evan Rachel Wood.
Cinematographer Phedon Papamichael ASC is the son and namesake of a rakish production designer best known for his work on John Cassavetes films. Born in Greece and mostly raised in Munich, the younger Papamichael moved to the US in the early 1980s and, at first, scraped by shooting medical videos at UCLA. He shot student films which eventually led to projects for Roger Corman, where his crew sometimes included Janusz Kaminski as gaffer, Mauro Fiore ASC as key grip, or Wally Pfister ASC as operator. Since then he has forged an eclectic career that includes award-winning television (Wild Palms, White Dwarf), independent credits (The Million Dollar Hotel, Sideways), mainstream effects blockbusters (Mousehunt, Knight And Day), offbeat comedy (The Weather Man, 10 Items Or Less), a classic Western (3:10 To Yuma), and dramatized biography (W., Walk the Line).
Along the way, Papamichael has directed four films of his own, experience that informs his work as a cinematographer. "My goal is to figure out how a director sees the story, and then give that to him," he says. Clooney met Papamichael on the set of The Descendants, an Alexander Payne film shot in Hawaii and slated for US theatres in late November with a European rollout starting in January 2012.
The filmmaking method on The Ides of March took some cues from the approach used on The Descendants. "I think George responded to the method of working that Alexander and I have developed," says Papamichael, who previously photographed Sideways with Payne. "It's not overcomplicated. The workflow is pretty streamlined. There's not a lot of debate about blocking. I think as an actor, George has had experiences in which he felt coverage and takes were overdone. Doing fewer takes keeps the actors fresh and the days short. Also, George has a lot of respect for Alexander as a filmmaker."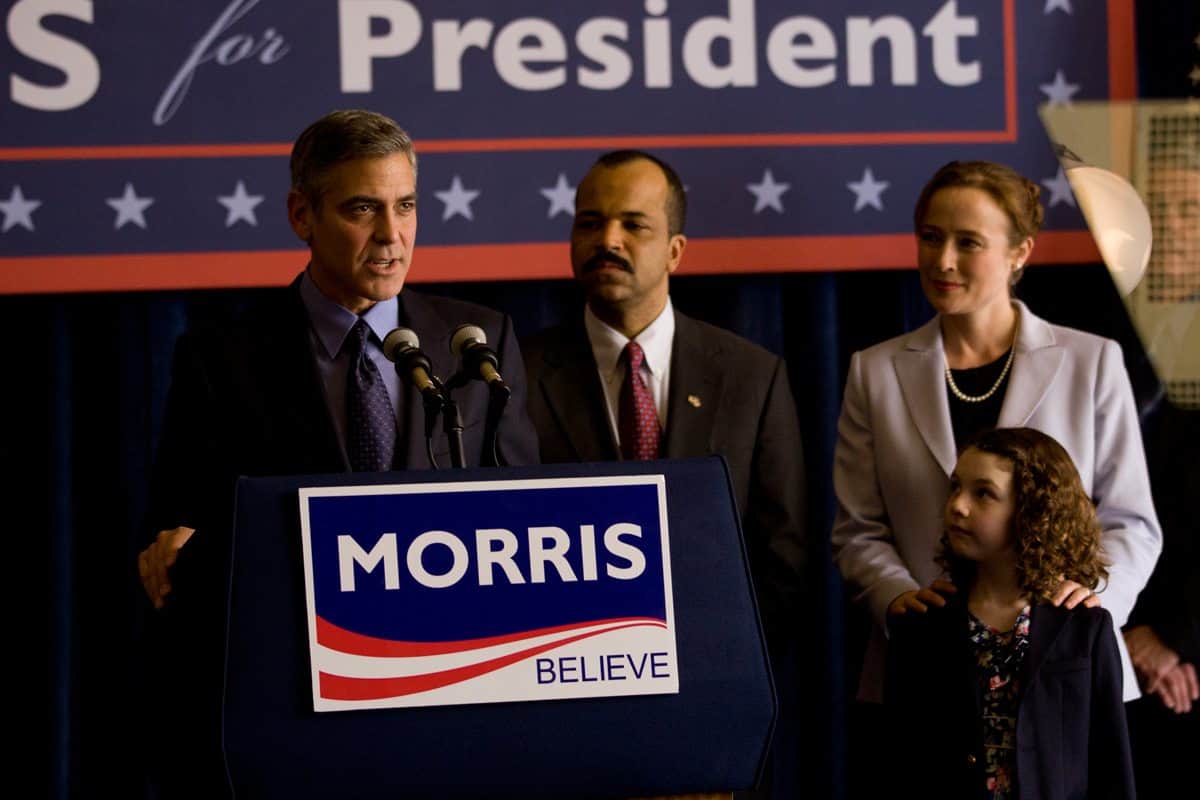 Papamichael describes the look as hearkening back to 1970s films like Three Days Of The Condor, The Candidate, and The Godfather, Part II. Production designer Sharon Seymour used a controlled colour palette that emphasised muted tones in the environments and in the wardrobe. The only saturated colours in the film are red and blue, in keeping with the political campaign milieu.
After performing an extensive series of tests, the filmmakers chose to frame the story in a 2.40:1 widescreen aspect ratio. They shot in the 3-perf Super 35 format using Kodak Vision3 500T Colour Negative 5219 for the entire film.
The lighting plan made extensive use of large, soft sources, often bounced off bleached muslin or diffused through a half grid or other materials. In addition to 18K HMIs and other large tungsten units, Papamichael and his gaffer Rafael Sanchez, with whom he's collaborated on 24 feature films, made extensive use of "bat strips," which are essentially an 8-foot aluminum channel mounted with a row of sockets into which large, soft white incandescent 65-watt bulbs are inserted. These can be placed high or low, level or tilted, used singly or arranged in a "V" shape, and mounted on a wall or flown on a stand, according to the needs of the scene. They wrap nicely, don't require fill light, and provide an almost shadowless illumination, according to Papamichael.
All of the day interiors were lit with large HMIs, mostly indirectly through the windows. Inside, the light would often be controlled or redirected using only a 4x4 bounce of bleached muslin. Sometimes, key grip Ray Garcia would hold the bounce in place and adjust it during the shot as necessary.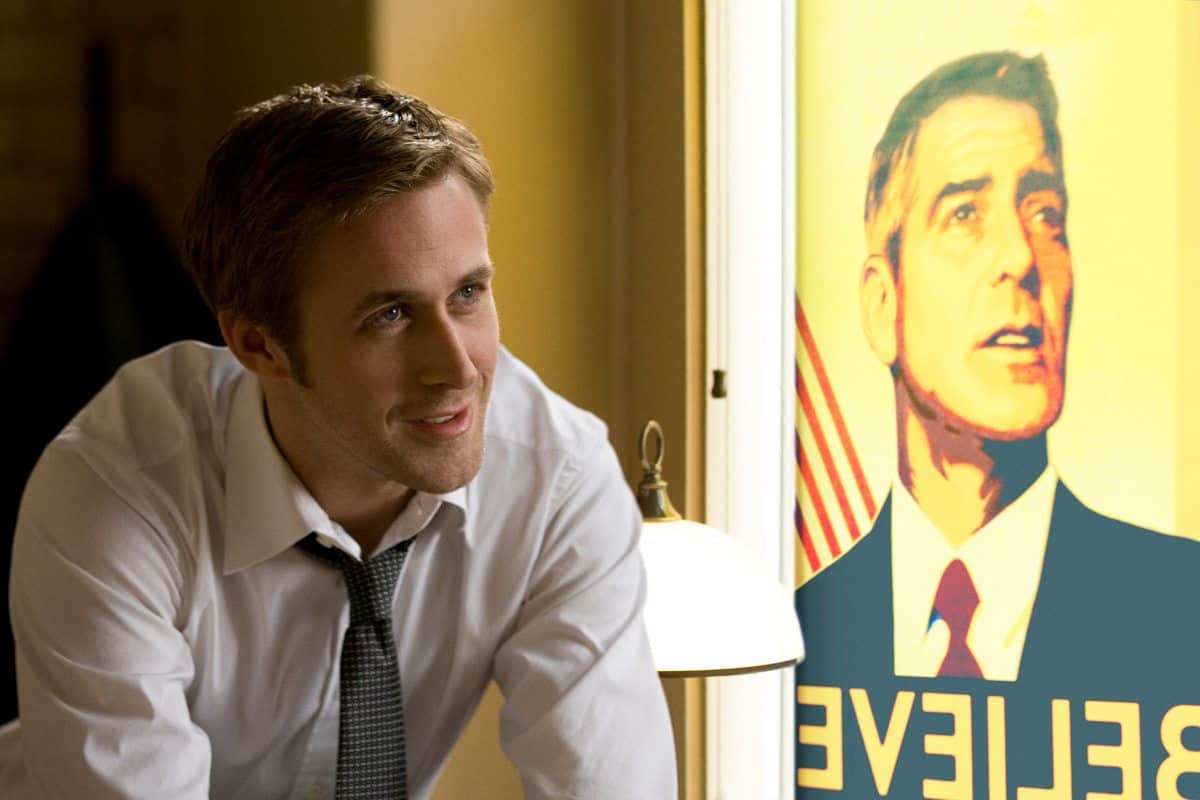 "I'm pleased to reconfirm in postproduction that there's a nice amount of film grain, and a nice texture."
- Phedon Papamichael ASC
In other situations, Papamichael's team would arrange a bank of bounce cards low along a wall, or in a "C" shape around the actor, hitting them with multiple smaller lamps. Each segment could then be adjusted individually in terms of intensity and direction. Papamichael would sometimes set the reflected light to come up from below to reach into the actors' eyes. He says Garcia is a key collaborator. "We spend a lot of time precisely cutting the light," Papamichael explains. "Shaping the light with various nets and diffusion is a major part of my lighting. On this film, we also used a lot of negative fill to add contrast in the flat winter light."
In smaller day interiors, a cool, wintry ambience through the windows usually served as the key. On location, Clooney was accommodating when it came to adjusting the blocking to work with the natural light, or natural light re-created through windows. That flexibility was crucial in the constantly fluctuating Midwestern winter light. "We would often keep an eye on how things looked outside, and jump outside and grab the shots when the light and skies were right, and then go back inside," says Papamichael. "You need the support of the director to work that way."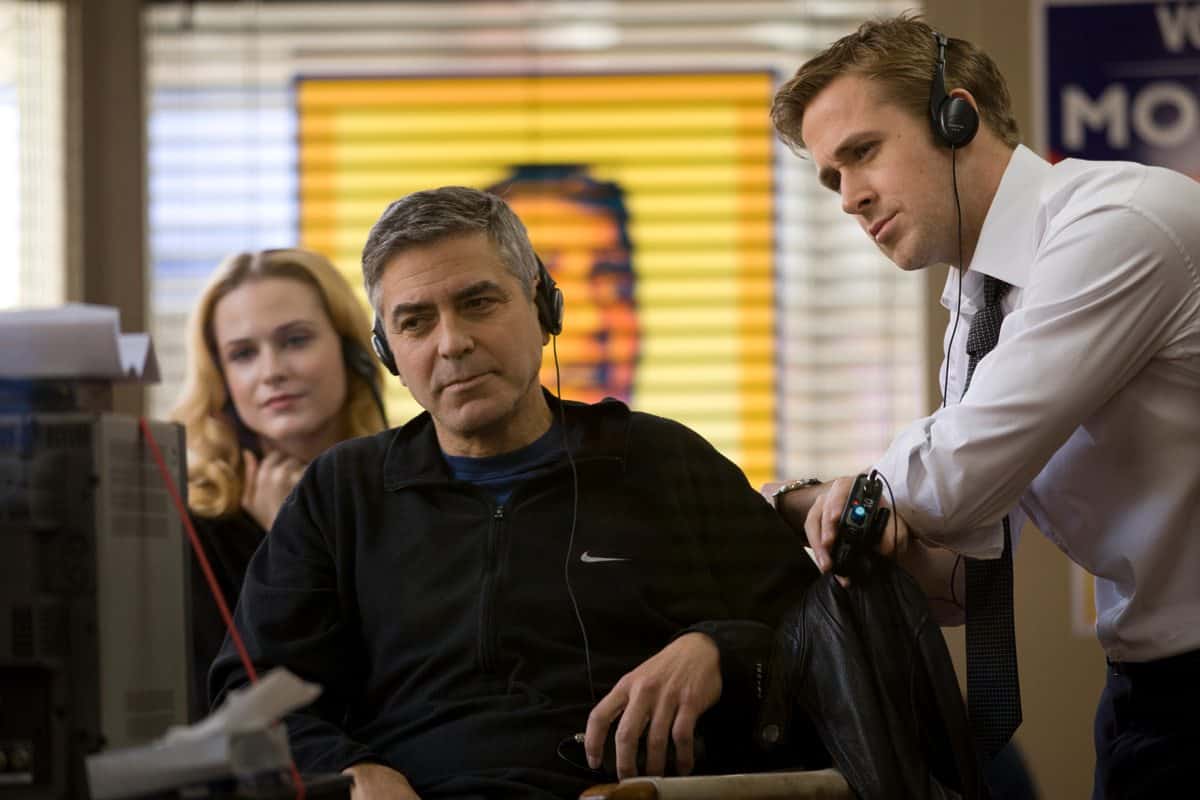 The A camera and Steadicam operator was Scott Sakamoto, who had also worked with Papamichael and Clooney on The Descendants. "The Ides of March called for very traditional, classic framing, and Scott is a very clean and very precise operator," says Papamichael. "The coverage was so limited and focused that it was usually pretty obvious what the framing should be. With the Steadicam, we weren't trying to create any sort of energetic movement. They almost feel like dolly shots. It's a great asset to have a Steadicam operator who can execute that. The actors' performances are so powerful. Part of our job is to create an environment where they can practice their art, and then capture it."
Papamichael is pleased with the decision to make The Ides of March on film. "I'm pleased to reconfirm in postproduction that there's a nice amount of film grain, and a nice texture," he says. "I'm enjoying that. In some ways, this story feels like a 1970s movie. We could have come close on the Alexa, but why use a piece of equipment to copy or emulate the look that happens naturally when you shoot film?"