Nothing but the truth

Letter From America / Roy H Wagner ASC HFRPS
Nothing but the truth

Letter From America / Roy H Wagner ASC HFRPS
Here I am, completely enthralled, watching a low-budget B&W film made in 1946. Yet I am unable to sit through the first twenty minutes of "the biggest and best film" of 2017.
I can watch old films one hundred times or more. And my choice is not a big film. It was a tiny Hollywood movie in fact.
But, wait a moment. I meant to say, it was made by a Hollywood Studio with an international community of filmmakers. Many of them came to Hollywood, but their roots were far-removed from whatever place Hollywood has ever been.
We often speak about "Hollywood movies", although my experience has been they seldom make motion pictures. They never did. Motion pictures are the signatures of those many artists before and behind the camera.
So, while the technology and intellect available to modern filmmakers allows us to create unfathomable illusions and express deeply considered ideas, why then can't they keep us in our seats?
Alas, 2017 is unusual in that we've had more independent thought than normal, and yet the greater portion of studio films are a disappointment.
I've got a library of over 4,000 Blu-rays and DVDs. I find solace in embracing those old friends from Italy, Germany, England, Japan and Sweden, from the likes of Rank, Ealing, RKO (the true Warner Brothers) and Toho. Today we see them as innocent. Yet in their day, weren't they often biting commentaries?
Many of the Ealing Comedies, from my observations, were filmic versions of Dickens' classic stories. Indeed, films such as Man In the White Suit (1951, dir. Alexander Mackendrick, DP Douglas Slocombe BSC) were biting social commentaries about a condition, or way of life, in England – often about the common man versus the establishment.
We also have the wonderful haunting films of Swedish director Ingmar Bergman that communicated to all of us internationally, and yet they were so strongly a condition of the isolation and inner struggles of their filmmaker.
That these great films came from places so far-removed from the "sophistication" of Hollywood makes me wonder if great artistic expressions are derived from lives lived in provincial ways, by those far more closely related to moral or ethical constructs. I know there are some extraordinary provincial films that few ever see in today's cinemas. Films that express communal ideas or tales that are unique to the filmmaker's particular journey.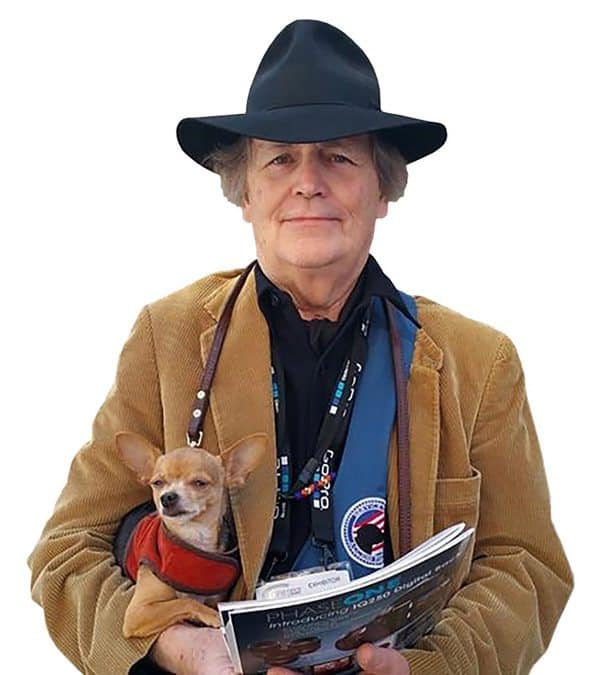 "Why were those "old" films so much better? I think the answer is simply that those filmmakers were not attempting to remake successful films or television shows."
- Roy H Wagner ASC HFRPS
I want that same enchantment when I pay a lot of money to see a modern film. I do not need the fake construct that comes with cheap emulations of previous success films. Can anyone explain to me why master filmmakers chose to 'remake' The Ladykillers (1955, dir. Alexander Mackendrick, DP Otto Heller)?
Why were those "old" films so much better? I think the answer is simply that those filmmakers were not attempting to remake successful films or television shows. Their ideas came from a more provincial place, from family legends or ideas that were informed by a measured reason for telling. Is it that they are closer to their core experience, communicating from places far-removed from the industrial centres for film manufacturing?
Even the least of most Hollywood films could not truly be stamped as 'factory output', for very few were raised in that city. They came from every corner of the universe. With them they brought memories, ideas, and tales from their past.
What's happened to us? We've lost the strongest value that makes our films unique and that is the individual voices of those who create our films. I'm not just talking about the writer and director. I'm talking about all of those hands and eyes and voices that tell the stories that we've all embraced in the dark.
The voices of the many unique communities fill the puzzle of truth that makes great storytelling. As we close our minds, not to mention our borders, we seal that fate which destroys all great societies. Without the many there cannot be unity.
Why are great works of art so commercially embraceable? Who would have imagined that Casablanca (1942, dir. Michael Curtiz, DP Arthur Edeson), Lolita (1962, dir. Stanley Kubrick, DP Oswald Morris BSC), 8½ (1963, dir. Federico Fellini, DP Gianni Di Venanzo), The Red Shoes (1948, dirs. Michael Powell/Emeric Pressburger, DP Jack Cardiff BSC), Kind Hearts & Coronets (1949, dir. Robert Hamer, DP Douglas Slocombe BSC) and High And Low (1963, dir Akira Kurosawa, DPs Asakazu Nakai/Takao Saito) would last long past anyone's expectations?
I believe that truth can only be complete amidst diversity. A society that is myopic cannot completely communicate or connect with the "many". It's only through diversity that we can discover the truth. It's through diversity that ideas assemble into life lessons.
Any society that insists that only it holds the truth is subject to an insular truth that negates the attempt to become civilised.