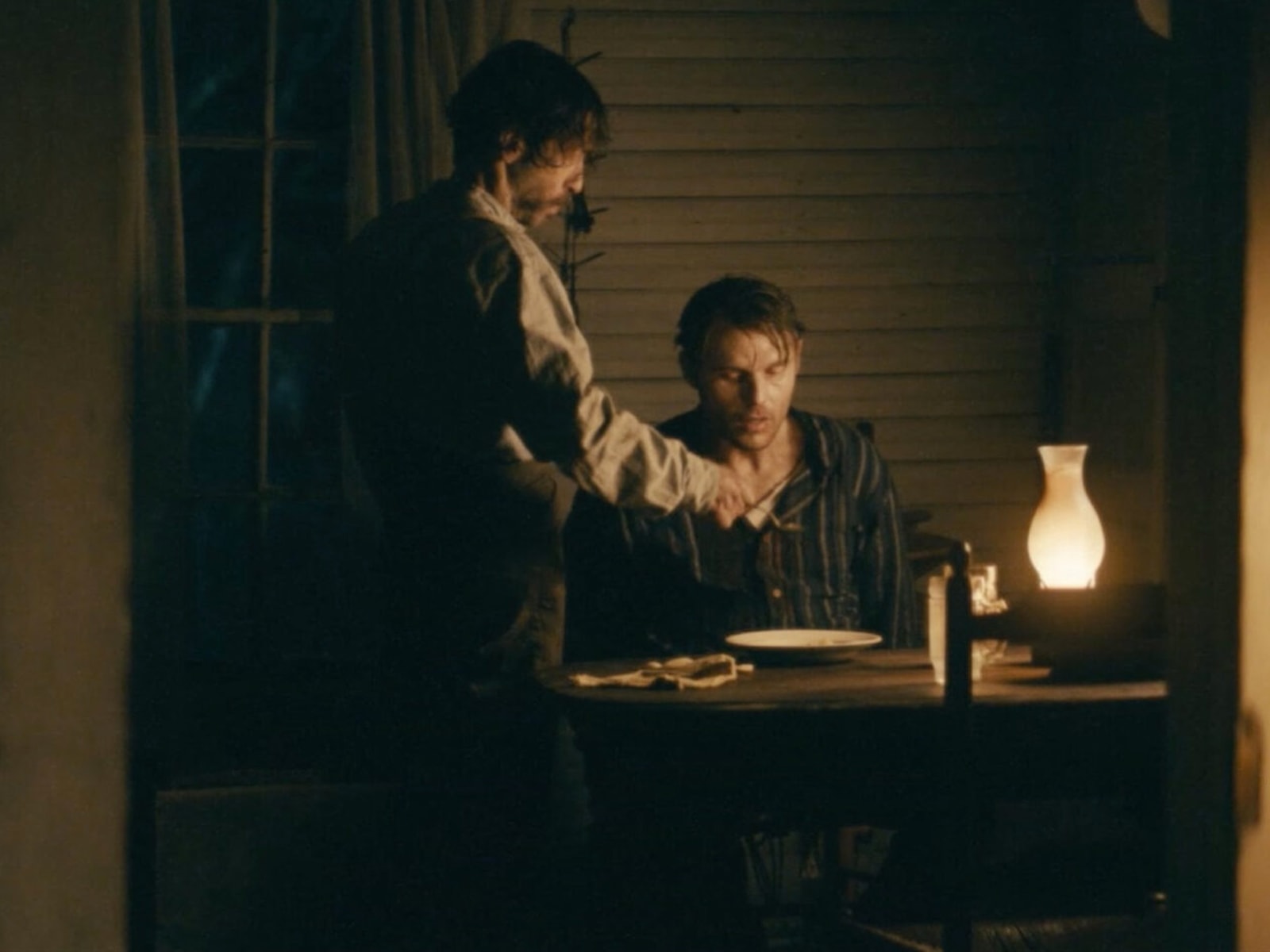 Reaching for a historic lens is an almost instinctive choice for modern cinematographers, especially those keen to transport an audience back in time.
On Old Henry, cinematographer John Matysiak took a different approach to creating a realistically harsh and unforgiving world for director Potsy Ponciroli's western. Inspired by photographers of the time, Matysiak used carefully chosen Tiffen diffusion filters to control contrast and sharpness while also enjoying the consistency and speed of precise modern lenses.
Matysiak and Ponciroli's historic fiction exists in a decidedly imperfect world, one where we watch hard-bitten characters in images carefully touched with glow and flare. The prototypical sun-baked deserts of classic westerns are absent. The story plays out largely under a bleak overcast sky, or in the lambent flicker of candles and oil lamps. Filter choices augment both, creating images far removed from common assumptions about anamorphic photography— and from the sometimes-excessive sharpness and clarity of modern lenses.
"There are a lot of ways to create texture in an image," Matysiak begins. "I think the choice of lens is one of them, and choice of filtration is another." Older glass, particularly given his desire to shoot anamorphic, might have been less versatile than adding a selection of filters. "We were going to be creating a world," Matysiak continues,"and I did not want to be distracted by distortions we couldn't control." With that in mind, he chose ARRI Master Anamorphic lenses and Tiffen Pearlescent, Black Satin and Black Pearlescent filters, selecting types and strengths based on the specifics of each frame, and particularly favouring Black Satin filters for their balance of halation, diffusion and contrast control. "Black Satins probably won out more," he recalls. "I feel like it was mainly Pearlescents on exterior stuff, and Black Satins on interiors, but I'm not that categorical. It goes back to emotion. Is this filtration working on this shot or on this sequence?"
"It was a very gray, overcast palette. We avoided shooting in full sun." Lighting, especially any light source in frame, particularly influenced his choices. "One of the biggest challenges in a film that takes place before the advent of electricity is how to motivate light sources at night. We used a mix of actual oil lamps as well as lamps that we'd wired up with our own bulbs." One night interior, featuring Tim Blake Nelson as the titular Henry and Scott Haze as a wounded gunslinger, used both approaches. With a finely divided range of filter strengths, Matysiak could carefully pursue what he calls "the right balance of halation and highlight control."

Bolder effects appear during a flashback sequence, for which Matysiak's fiery backlight provoked what he describes as "a surreal quality… the filtration added this slight imperfection to the image that ended up feeling truly authentic to the emotion we were trying to convey. That was really enhanced in camera by the different strengths of filtration we used. That's what I like about Pearlescents and Black Satin. You can select how much halation you want to have based on the highlighting in the frame."
Much of the film used filter strengths between 1/8 and 1/2, with stronger filters used on day exteriors and subtler options where halation might become too obvious. "If there was too much halation you might go down to a 1/8 but never, never clean. Not even on the night exteriors. We always had some filters in the mattebox to keep consistency."
Meanwhile, the performance of modern lenses allowed Matysiak to keep sharpness consistent, even in difficult circumstances, and all the while enjoying the unique look of anamorphic. "As soon as we lost that direct light on our exteriors," he remembers, "that's when we were going to shoot our big wides. I learned on one of my first jobs using Master Anamorphics that you can shoot wide open, distort it with filters, and then shoot an extra half hour. That's an eternity, enough to get the second half of a scene!"
Monitoring and grading choices naturally interact with filters, and Matysiak integrates the two carefully. "For Old Henry, we took LUTs that I'd developed and adjusted them to be a little more in tune with the look we were after, but there are certain things you can't get in grading. You need to have the optical effects, and filtration is key to that—you can't just add a filter in post."
Ensuring everyone is aware of the cinematographer's intent, Matysiak says, is most easily achieved using in-camera tools. "It's rare we have the kind of control we'd need to say we're going to do something in post. I try to leave every project with something I'm happy to present to the world. Some cinematographers keep filtration secrets, but I'm pretty much an open book. While different cinematographers might use the same filters or the same set of lenses, every image is ultimately going to be uniquely your own."