Song and dance
Linus Sandgren FSF / La La Land
Song and dance
Linus Sandgren FSF / La La Land
Although it was produced for a modest $30million, La La Land has big production panache. It looks set to be a box office sensation too.
At the time of going to press the colourful movie had just scooped all of the seven awards it was entered for at the 2017 Golden Globes, and garnered BAFTA and ASC nominations for its Swedish cinematographer, Linus Sandgren FSF.
Directed by Damien Chazelle, and shot on Super 35mm film by Sandgren, the romantic musical follows Mia (Emma Stone), an aspiring actress, and Sebastian (Ryan Gosling), a determined jazz musician who is struggling to make ends meet. The pair are both pursuing their dreams in Los Angeles, the capital city of dreams, which can also wreck hopes and break hearts. With the modern day city as the backdrop to a multitude of song and dance routines, the story asks what is more important: once-in-a-lifetime love or the glare of the spotlight?
Principal photography began on August 10, 2015, and filming took place in more than 60 locations around LA, including the Downtown trolley, houses in the Hollywood Hills, Angels Flight funicular railway, Colorado Street Bridge, South Pasadena, Grand Central Market and Watts Tower, with many scenes captured in one take. It took 42 days to complete shooting, with production wrapping in mid-October.
Ron Prince caught up with Sandgren, who was in London shooting Walt Disney Picture's The Nutcracker And The Four Realms with director Lasse Hallström, also on film, to discover more.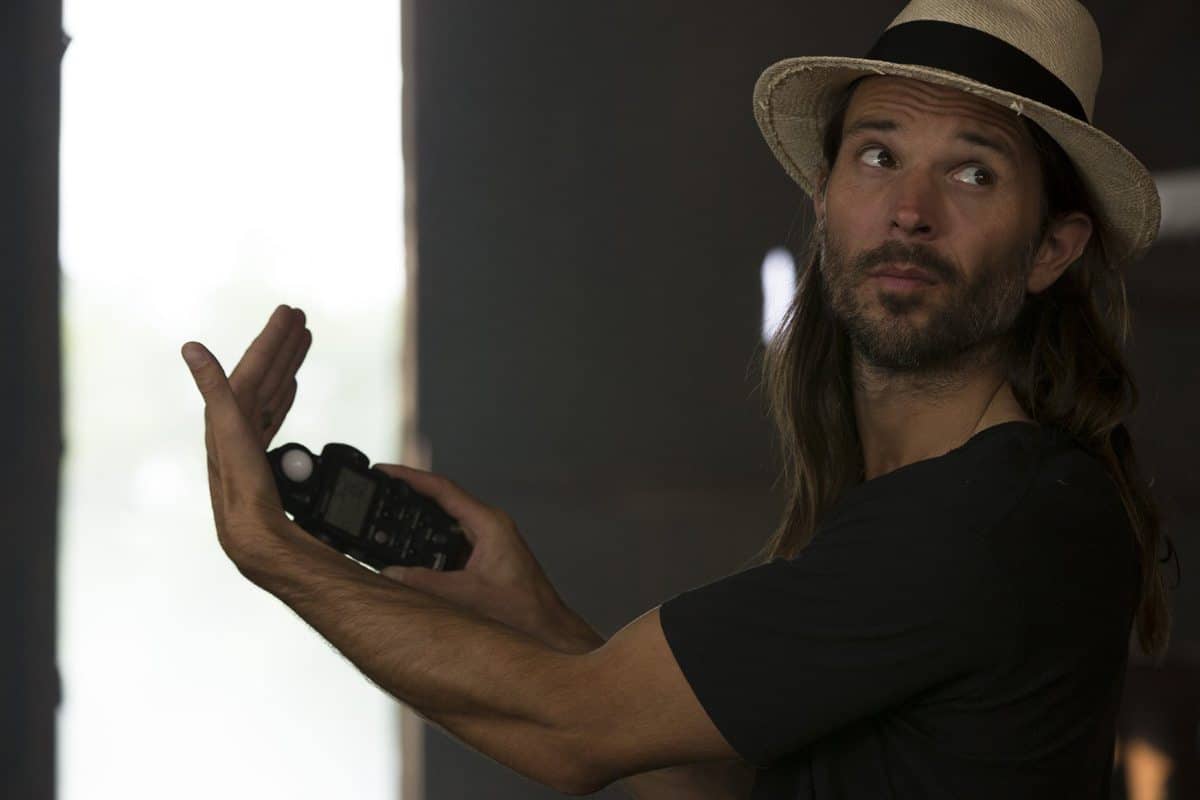 How did you come to get involved in La La Land?
LS: I was one of several cinematographers invited for interview by Damien.
I had already read the script and was a great admirer of his movie Whiplash.
He played me some of the music for La La Land. I liked the combination of melancholic, jazz and operatic songs, and their harmony with Damien's original storyline.
We connected very quickly during that meeting. I think this was partly because we found we are kind of old-school by heart, both appreciating the practical methods of filmmaking. We prefer backdrops over greenscreen and practical visual effects.
Also, we are both outsiders to LA – I'm from Sweden, and he's from the US East Coast. We both see the city with other eyes, whilst sharing a mutual love for the place – the big skies, the variety of architecture, that dramatic view over the vast conurbation, with Downtown in the distance, from the I-105/I-110 interchange ramp. We even love the places that others think are ugly, such as Lincoln Blvd, around Venice, where it's a mess of ads, gas stations, streetlights and telegraph poles. But to us, LA can look wondrous and beautiful, especially in magic hour.
Whatever we spoke about, we just became more and more connected. I was impressed and intrigued by Damien's knowledge of film in general and his clear, powerful vision of how he wanted to tell the story of La La Land visually.
Tell us more about Damien's vision for La La Land?
LS: The movie's title has a double entendre – it's the city's nickname and can be taken as being out-of-touch with reality. Damien felt there is something poetic about the city, which was built and is inhabited by people with dreams, probably unrealistic dreams, and how people often put everything on-the-line for that. It's a contemporary drama, and wanted real LA locations to feature strongly, but for the audience to feel that magic can happen around any street corner.
From the very beginning he expressed that he wanted the film's musical numbers to be filmed head-to-toe, paying homage to the 1950s Hollywood style in wide-screen Cinemascope, and for the song and dance routines to be performed and captured in single takes.
We discussed using a naturalistic light, but heightened with a colourful palette – no black night skies, but blue instead, and no sodium vapour orange from the streetlights, but mercury vapour. He preferred to shoot the daytime scenes in bright sunlight, and to embrace and heighten the romance of the city locations, architecture and LA's amazing skies, by shooting in magic hour and night scenes at near-dusk. So we worked out a palette of blues, greens, pinks and purples for nights. All of this whilst keeping something of a sense of melancholy to the visuals and always lingering in the land between realism and dream.
Did you look at any references?
LS: Damien has seen most Hollywood musicals, and we watched a lot of these during prep. We took some inspiration from Jacques Demy's The Umbrellas Of Cherbourg (Les Parapluies De Cherbourg) (1964, DP Jean Rabier). Visually it's very experimental and highly-original, not a copy of anything, with locations painted in crazy colours and the camera moving freely between a top shot to a tilt up and a head-to-toe. The film dialogue is all sung, and even the most casual conversation is in the style of an opera. We also looked at George Cukor's A Star In Born (1954, DP Sam Leavitt) for its depiction of heartbreaking torch-songs, extensive production numbers and the colours of Technicolor, and Vincente Minnelli's An American In Paris (1951, Alfred Gilks), for its elaborate dance routines choreographed by Gene Kelly. For atmosphere, we also looked at the lighting, framing and camera movements in some of Alfred Hitchcock's movies.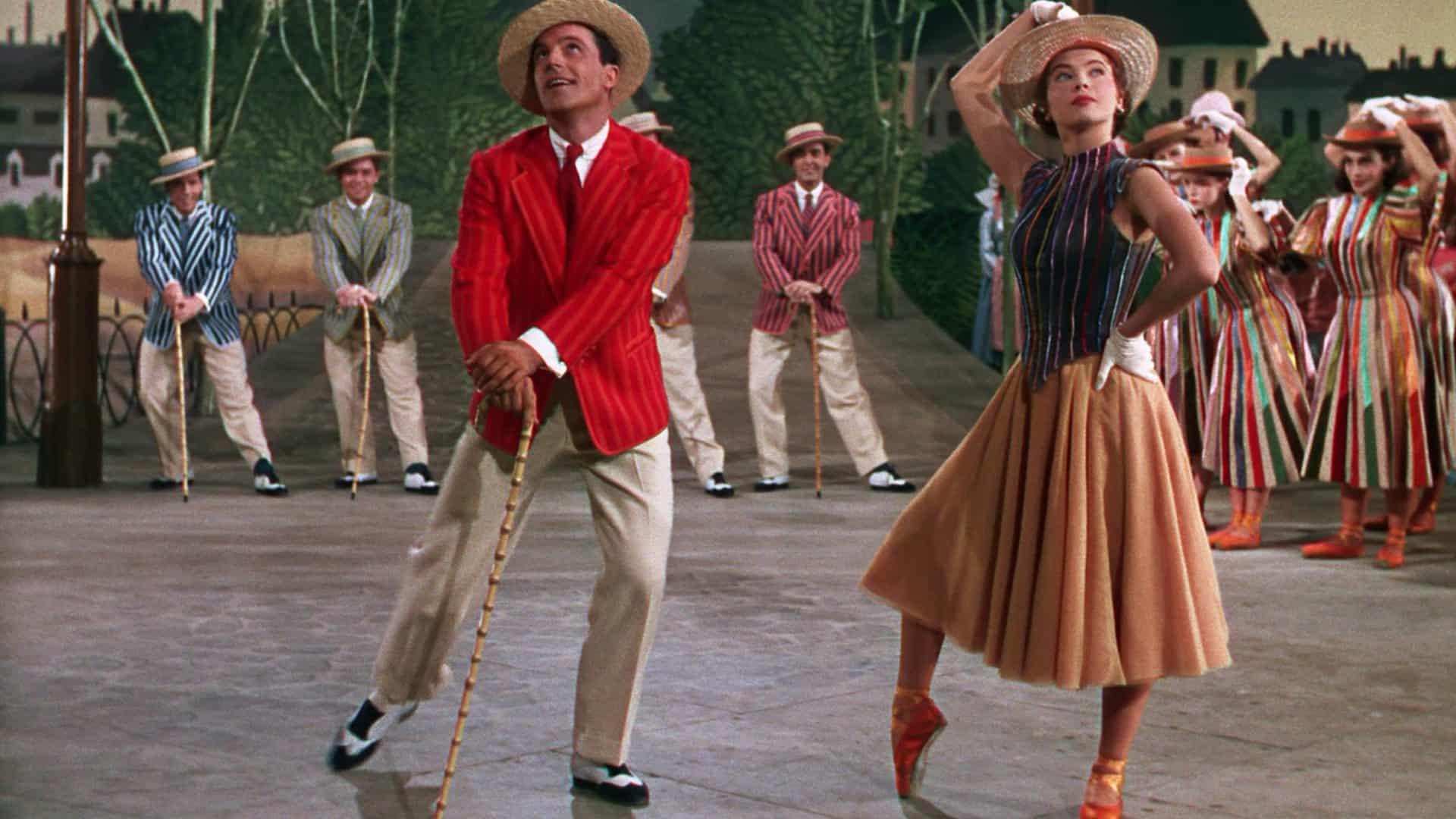 Was there a film versus digital debate?
LS: No, La La Land was a film shoot from the start. Film feels personal, seductive and it taps into emotions well. With the grain, each frame is alive and has texture. This movie was about long takes, fluid camera movements, capturing a sense of place, the nuances of colour and the unfolding romance. So 35mm film was the only option, as you cannot readily achieve that with digital. With any digital camera you might select, there's always a compromise between colour-depth and resolution – but not so with film. Also, film is much more secure for the future. When you look at early movies shot in digital, some of them do not look so nice these days. There was a nostalgia factor too, about paying an aesthetic respect to the MGM musicals from the 1950s and 1960s.
Tell us about the choice of the aspect ratio?
LS: This was a key creative decision from the start. Damien wanted to shoot Anamorphic 2.40:1. But I proposed we use more negative in the Super 35 gate and to shoot in 2.55:1, as that was the original Cinemascope ratio, and it would lend the same kind of atmosphere to the production as those older Hollywood musicals. As the cinematographer, you can do a lot with this format with regards to framing – it's great for composing with one, two or multiple characters – in close-up, mid shot and head-to-toe – as well as landscapes.
Which lenses did you select?
LS: We shot most of the film using Panavision C-series Anamorphics – mainly with 40mm or 50mm primes – and one or two E-series lenses. The C-series have the blue flare streak, and a very nice bokeh. There's also something in the coating which gives the image a nice oily, contrasty and not completely clean look, and overall they look charming and beautiful. As the framing in a shot might go from an extreme close-up to a wide shot, Dan Sasaki and the team at Panavision LA modified the C-series primes for me, so, for example, the close focus on the 40mm was just 19-inches. Panavision also did some new ground glass to give the correct widescreen view in the eyepiece. When the Anamorphic primes are fitted on a Panavision XL2, the package is small and light enough to use nicely on a Steadicam. I also shot some 16mm with specially-built 16mm Anamorphics, when Mia and Sebastian are watching an old move that is being projected.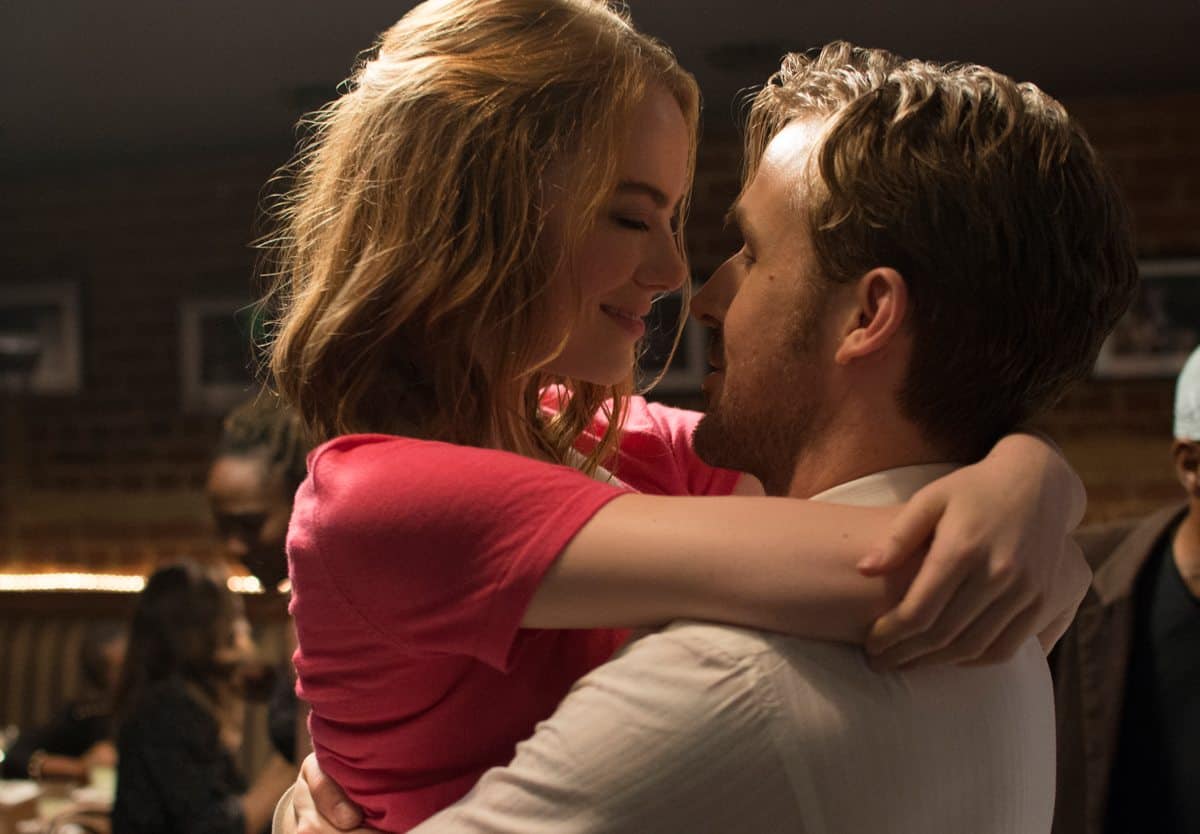 "(Damien Chazelle) wanted the film's musical numbers to be filmed head-to-toe, paying homage to the 1950s Hollywood style in wide-screen Cinemascope, and for the song and dance routines to be performed and captured in single takes."
- Linus Sandgren FSF
Which film stocks did you select and why?
LS: We shot the interiors and dusk exteriors on Kodak 5219 500T, and filmed the daytime exteriors on Kodak 5207 250D. They are both great in terms of colour rendition, and I knew their grain structures would match well visually. I wanted immature blacks, to protect detail in the whites, lower the overall contrast on the footage and have fine grain structures, so I decided to pull process all of the negative one stop. On-set I overexposed a stop and a third, and had the negative underdeveloped in the bath at Fotokem. The result is a clean, soft, elegant colourful image, with a lovely palette, with lots of image detail – a bit like the old Kodachrome colour slide film, but with less contrast.
Who were your crew?
LS: The crew is always crucial for me, and I had a great crew on this production. Ari Robbins, the A-camera/Steadicam operator, is someone with whom I have only worked on commercials before, but he got on instantly with Damien and he nailed it during even the most complex sequences. Jorge Sanchez was the A-camera focus-puller, who really knows the craft when working on film, and can judge distance with his eyes. We had a similar rock-solid pairing on second unit/B-camera with Davon Slininger operating supported by Jack Ellingwood on focus. Brad Hazen, my local regular on commercials, was my gaffer, and although it was our first feature together, he did a great job with his team. Tony Cady was my key grip, He and his team, with Bogdan Iofciulescu operating the Moviebird 45 himself, were crucial for our camera moves. I also have to mention Peter Kohn, the first AD, who was superbly creative and very efficient with the planning.
How did you work with Damien on the visual language of the movie?
LS: Damien wanted the camera to be emotionally involved with the story, as if it was a character, observing and reacting emotionally to the performances. It had to be fluid, to feel as if it could move anywhere and look from all sorts of angles. He didn't want a socially-realistic film where you end-up cutting to the song and dance routines, rather he wanted seamless transitions between reality and musical numbers.
It was a very collaborative process throughout and he draw a lot of storyboards. In prep we went through the script every morning to figure out the blocking of the scenes. I then drew floorplans and I figured out how to best shoot things in a musical way according to each location.
We had to shoot some elaborate musical numbers without coverage to cut away to, and to give the production its own distinctive visual language. Getting this right also meant working closely with Mandy Moore, the choreographer, and the actors during many rehearsals.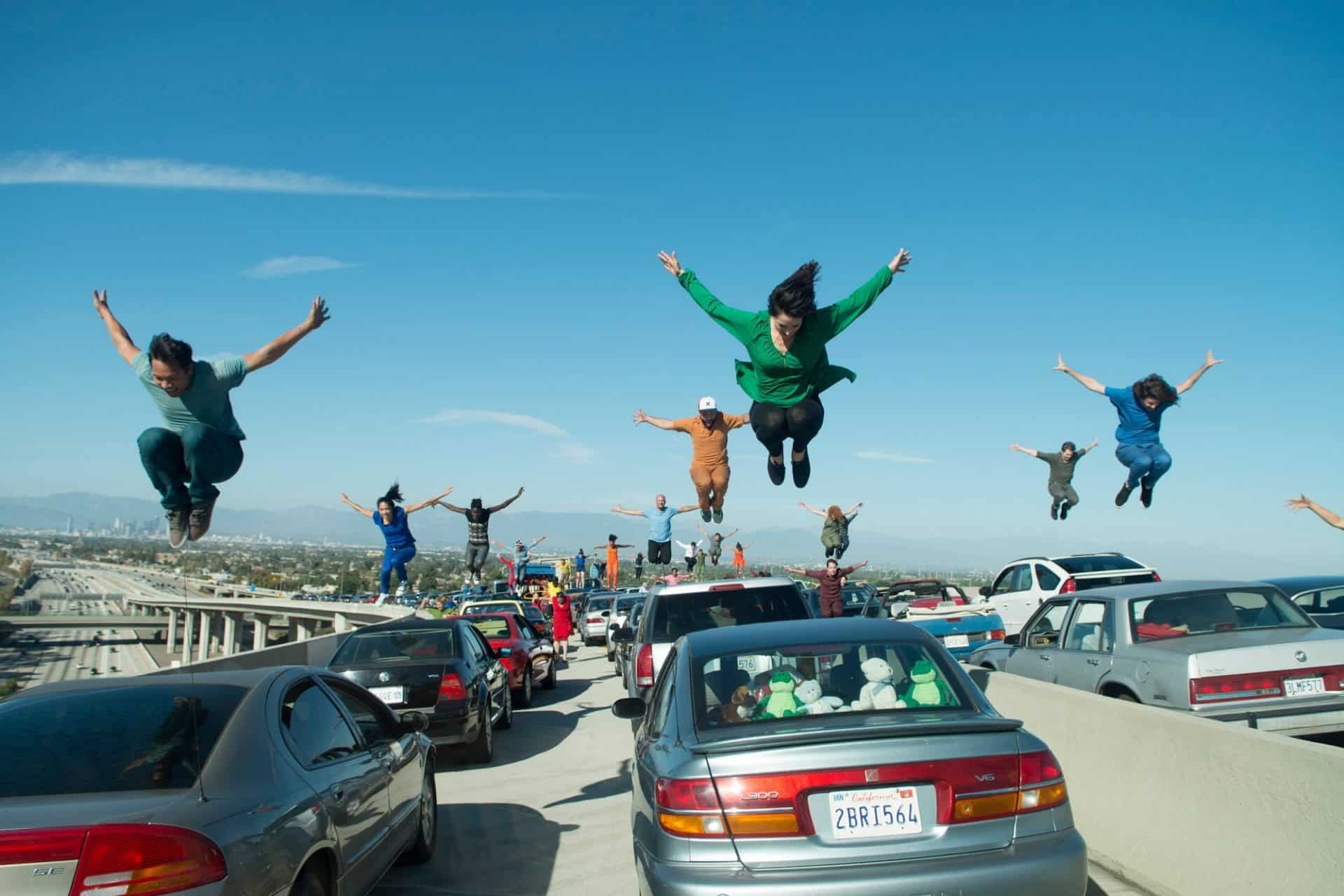 How did you shoot the opening scene on the freeway interchange ramp?
LS: It was pretty complex to figure out how to shoot that traffic scene. There was a median (concrete barrier) in between the freeway lanes, so there was no way we could simply walk around or over it with a Steadicam. Also, as the camera moves so much, we had to consider how to avoid shadows of the camera equipment falling across the actors.
The production was based on a lot in East LA, with the main production office, production design, studio space for rehearsals and an area outdoors where we could park cars, all together. During prep, we carefully positioned cars on our private parking lot, as they would be for real on the day, and started rehearsing camera moves on crane bases using an iPhone at first, then Steadicam. We then kept adjusting and refining the camera moves bit-by-bit, until we felt we had it right.
We spent a weekend on the location and had a full rehearsal with cranes and cameras before we turned-over. By the time we came to shoot the opening number for real, we knew exactly where the cranes would be, their moves, and the step-ons and step-offs required by Ari who operated Steadicam. There are one or two minor bounces in the final take, but they only add to the sense of the camera playing a part in the action.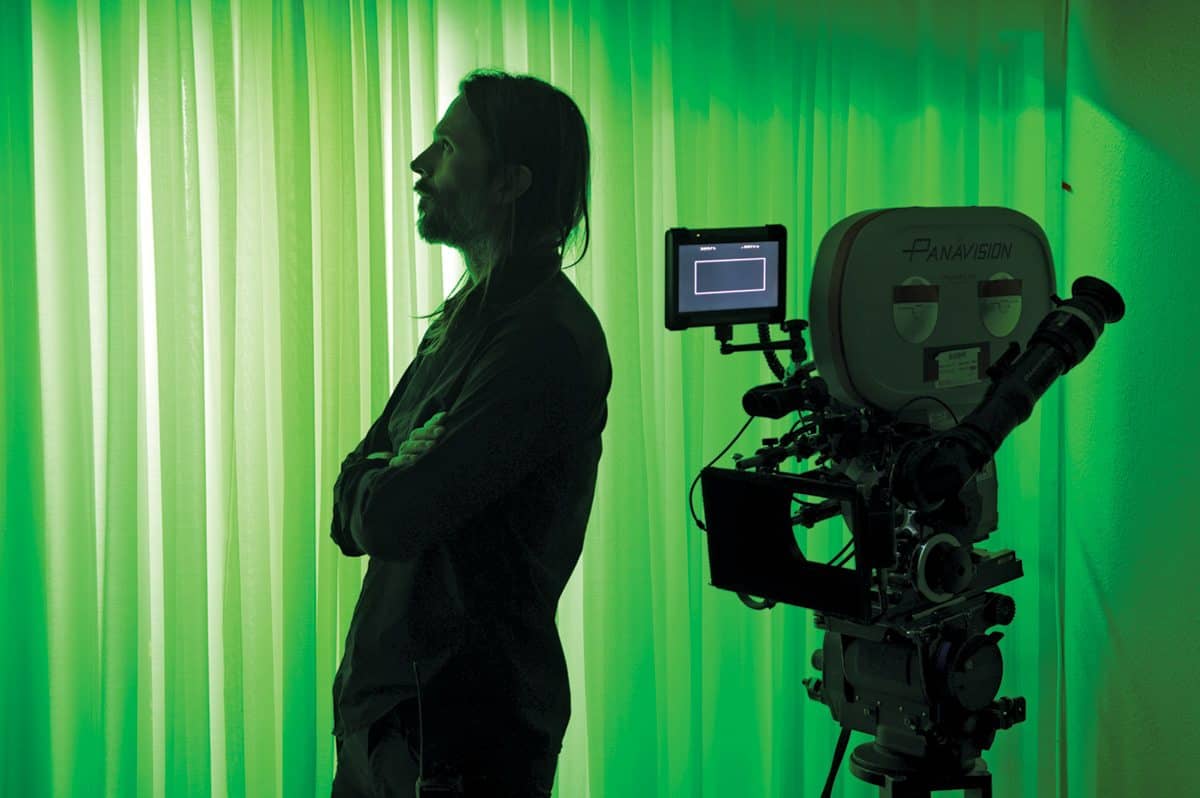 Give us some details about your lighting?
LS: I am very sensitive to light and colour, so I prefer to always work with coloured lights – in this film, such as existing green street lights, blue fluorescents, yellow practicals and the brought-in LEDs on-set. For night scenes I lit with extra green in the key lights so that I could balance out the final picture by adding magenta in the DI to achieve our chosen colour palette and create pink skies. When the drama gets very intimate, such as in the jazz nightclub, we had all of the lights, including the practicals on a dimmer board. This meant we could quickly create simple pools of light and make the rest of the set just disappear to emphasise the moment.
Tell us about the DI post?
LS: I did digital dailies colour timing, using Kodak film emulation LUTS, with Matt Wallach at EC3 Labs, part of EFILM. This was to make sure that the footage which went to editorial was as close as possible to my original intention on-set. If you leave this for later-on in the process, you run the risk of the director and production executives falling in love with the wrong look.
The final DI was done by Natasha Leonette at EFILM in non-consecutive sessions over the course of about three weeks. Because we already had the solid basis for the look, the DI was really all about balancing the shots, finessing touches of colour and making the blacks less intense and more shiney. We also focussed on perfecting the skin tones. But that was pretty much it, and with Natasha's help we quickly delivered the final result.