BONDED TOGETHER
Linus Sandgren ASC FSF and director Cary Joji Fukunaga discuss capturing the action in the latest Bond adventure whilst ensuring the audience feel a connection to the characters.
After three theatrical release delays caused by the pandemic, audience members are going to be able see the final outing of Daniel Craig as the iconic MI6 agent who comes out of retirement to thwart the mysterious Lyutsifer Safin (Rami Malek) from using a dangerous new technology. No Time to Die introduces filmmaker Cary Joji Fukunaga (Beasts of No Nation) and cinematographer Linus Sandgren ASC FSF (La La Land) to the James Bond franchise which for decades has been under the stewardship of Eon Productions owned by stepsiblings Barbara Broccoli and Michael G. Wilson.
Login to continue reading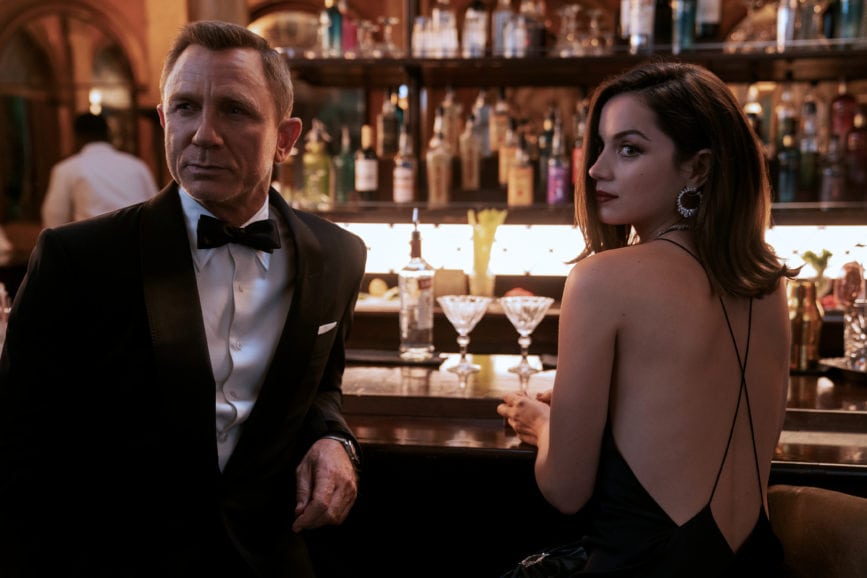 "In a lot of ways, we were picking up where things left off from the previous Daniel Craig films," notes Cary Joji Fukunaga. "There is a lot of Bond history in the film that came about more as a pleasure for those involved with it."
That is not to say that the visual language is an exact replica of what has come before. "You need to be true to what the script tells you this film is when you decide on everything," says Linus Sandgren. "It is a mistake to take it as a rule for action movies that you need to have a lot of big cool shots. Sometimes it can be interesting to go intimate because you would rather see it from the perspective of the character."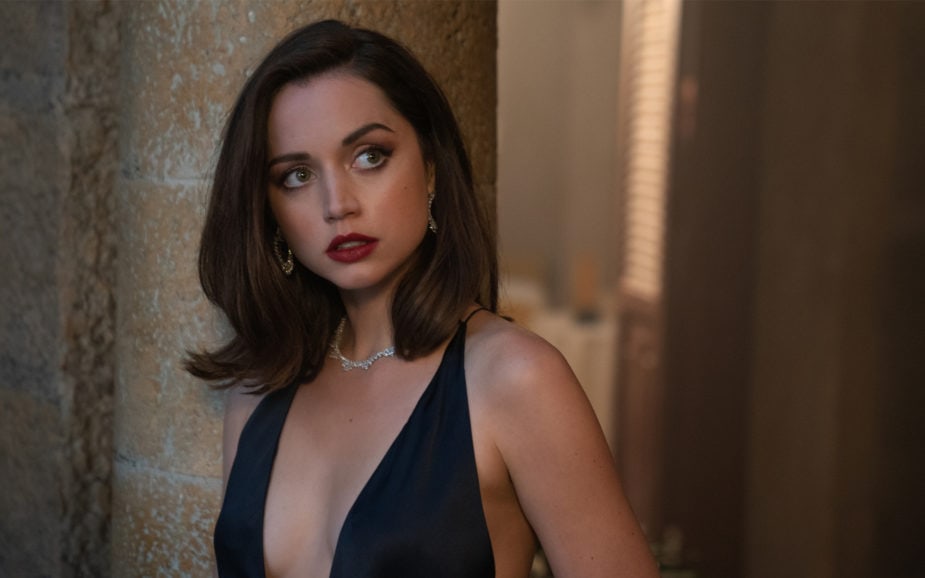 Fukunaga adds, "My task in the first half of the story was to make sure that we care about the characters so when these action sequences do take place, we don't know whether the people close to Bond are actually going to make it through. Quite often you can tune out action sequences because you know that your hero is going to survive."
Adversity for the production came in the form of original director Danny Boyle (Slumdog Millionaire) being replaced, a stage getting blown-up at Pinewood Studios, and Craig requiring ankle surgery. "Reshuffling was happening all of the time," says Fukunaga. "Quite often if we finished a set that was it. There was no going back. It wasn't like two months later we can pickup a shot. We rewrote the script from page one which meant that the art department couldn't used a lot of the concepts they had prepped. Writing took place all the way through production and not because we were changing things, but because we were still writing fresh pages for the third act or other pieces that made the whole thing come together. It was a high-wire act, but I did something similar like that on Maniacs where we were writing and shooting at the same time."
No Time to Die was captured using IMAX 15-perf 65mm and 4-perf 35mm which included Kodak Vision3 500T 5219, 250D 5207, and 50D 5203. "Bond films usually shoot on film so at least we had the precedent because when I can, I much prefer to shoot on film," observes Fukunaga. "Linus and I talked about how to use IMAX in this film and in ways that hadn't been done yet with the format." The majority of viewers would be seeing the 2.40:1 version opposed to the IMAX 1.43:1. "Trying to figure out that aspect ratio switch was a fun challenge. It mattered to us because a different frame gives you a different feeling."
Sandgren had a 2.40:1 ground glass put inside the IMAX camera to protect the aspect ratio. "Anything below and over was more asphalt moving behind your feet or more things flying above your head, but your view is still in the middle of the frame."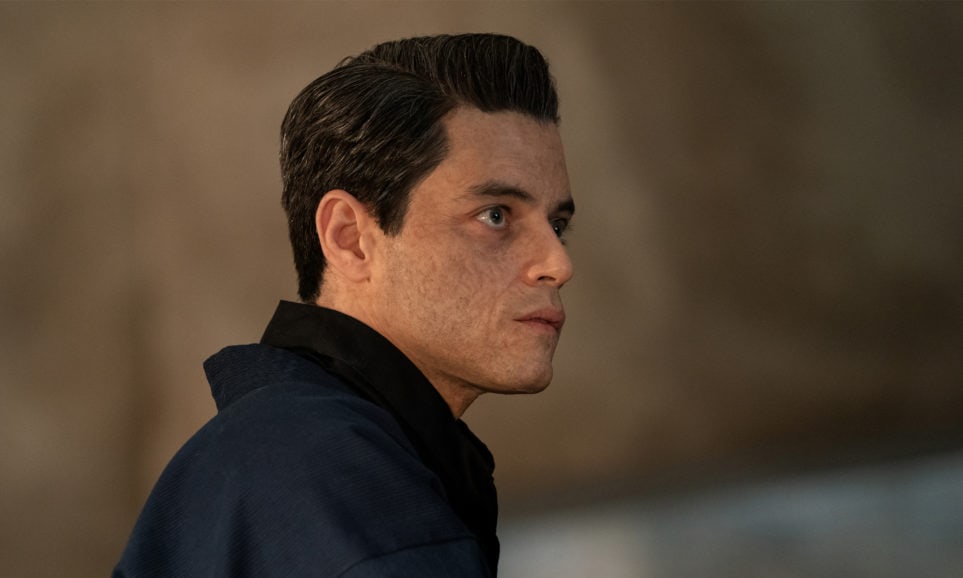 IMAX cameras are known to be quite large, but this didn't impede the ability to shoot action sequences. "Trying to do oners on an IMAX camera is difficult because they're beasts," admits Fukunaga. "But I would actually say that the IMAX cameras were nimbler in some ways than the five-perf cameras we were using."
Sandgren was able to adapt to the situation. "With the right supporting tools, like proportional remote heads, and with some planning, the size or weight was no issue. We took those cameras under water, up in the air, on cranes, cables, helicopters and did a great amount of handheld with these cameras too, which could seem daunting at first. We were able to do all shots as we wanted thanks to a strong and positive camera crew. We also shot some IMAX sequence dialogue scenes with Panavision System 65 and ARRI 765 65mm cameras. The majority of the film was shot with Panavision XL2 cameras in 35mm anamorphic."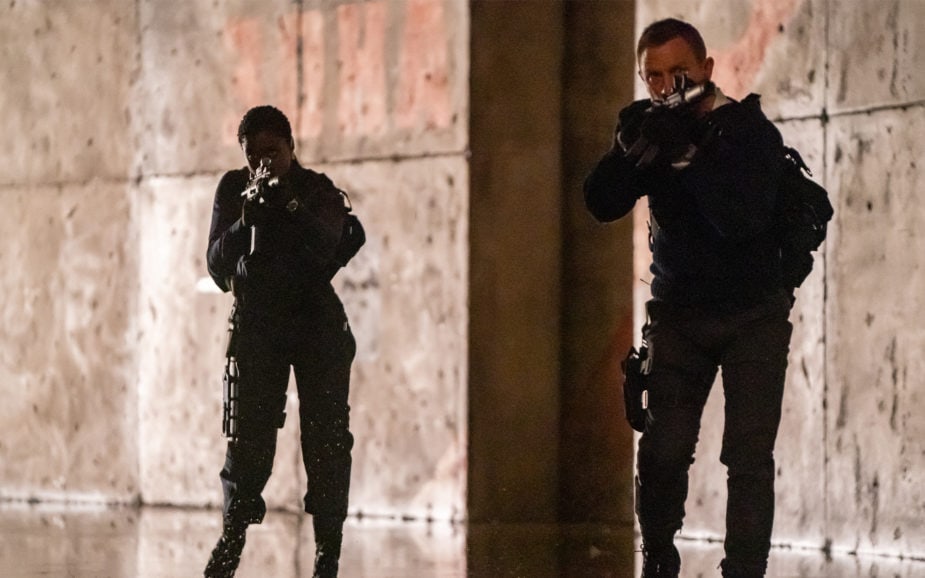 Some custom lenses were created by Dan Sasaki at Panavision. "We got a set of high-speed IMAX Primes as well as a 460-1430mm IMAX zoom made for the show," says Sandgren. "And we custom-made many light fixtures that were built into the sets, like waterproof tube lights, or a wall built of thousands of illuminated Plexiglass rods. But we did use all kinds of existing equipment you can think of, like helicopter, cable cam, body cams, buggies, motorbikes, a 35mm from a drone, and IMAX underwater. For the most part, we used the 40mm anamorphic and the 80mm in IMAX. I also used 100K SoftSuns as the main light source for the scenes in the third act as well as the 200K SoftSuns that we had custom built for First Man.
"It was a little challenging to light something like 10 massive sets on multiple stages simultaneously while scouting locations in other countries, but my gaffer David Sinfield and I made detailed plans, all the lights were always connected to light tables and we created colour palettes ahead of time which made it easy for us to quickly adjust lights on the day of. At one point, we had more than 1,000 SkyPanels rigged on various sets at Pinewood, a dozen mobile cranes with light boxes standing by on the backlot, and ten 100K SoftSuns rigged on four different stages."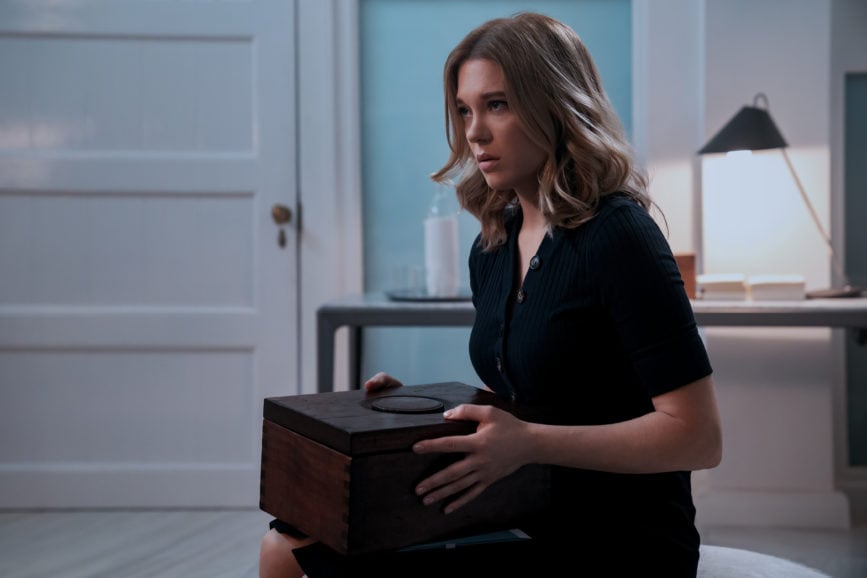 Location photography took place in Norway, Italy, and Jamaica. "We worked out a great range of rich unique environments for the audience to experience through this rough fight for survival," says Sandgren. "We follow Bond through fire, under water, across ice and through air. Tropical locations cuts to ice cold snowy landscapes. We lean towards a dramatic, expressive, suspenseful, and romantic look where we play with a lot of contrasts. For the camera, we based the language on the dramatic moods of the film, which includes fast forward motion like energetic action, suspense, and humour, and also physical tough obstacles like rough fights and traps that we shot in visceral handheld mode.
"We sometimes linger in an epic vista, and we ended up choosing locations that Cary found interesting and then, we always altered them into fitting the story, and gave them a more Bond-esque style. For example, in Jamaica, instead of shooting at an existing house for Bond's beach house, we picked a really nice beach with an existing pier, and Mark Tildesley [production designer] and his team drew a romantic hideaway and simply built the entire house on that existing location. In Matera, we built an interior hotel room on scaffolding, right in front of the most popular viewpoint in town."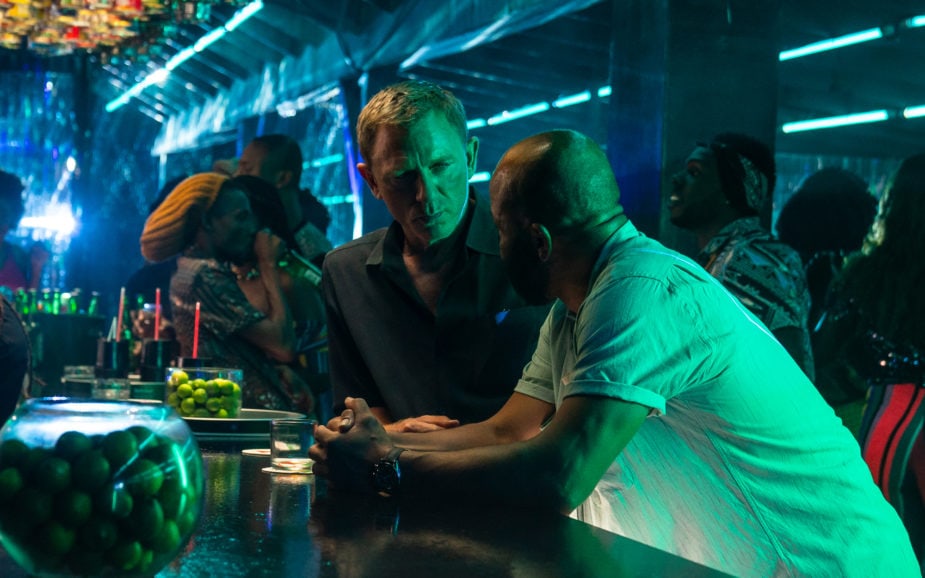 Despite having a massive production machine and all the necessary tools available, one thing that could not be controlled was the weather. "The key for us in Italy was that it had to be sunlight," recalls Sandgren. "We had a situation where there was supposed to be a romantic scene in the water by the coast and a hailstorm came in. We thought we were doomed! Just before sunset, the hailstorm dissipates, and a slight gap appears in the clouds. This low sun comes in and kisses the water. We shoot it right there in IMAX. It became one of my favourite shots in this film because we were so lucky."
The crew faced a similar challenge in Norway which they scouted before Christmas when it was frosty, cold, and beautiful. "We decided to build a house in London on a stage, disassembled it, and assembled it in Norway on a lake," says Sandgren. "We dug down into the shallow water. It was a 2,000 square feet two-storey house. When we came back to shoot, the weather was against us. It was sunny and windy, and the ice started melting around the set. Getting access to the house was harder. We couldn't put Condors or lights around the house as we had planned to. We had to work around it and cut out the sunlight. All around the lake we had fog machines and we captured moments. One is my favourite shots occurs at dusk – we have the pink sky with the blue ice and shoot a man running across the ice, the wind settles, and our haze comes in over the ice. It was one of those moments where the light looked beautiful, and the film captured it in a beautiful poetic way."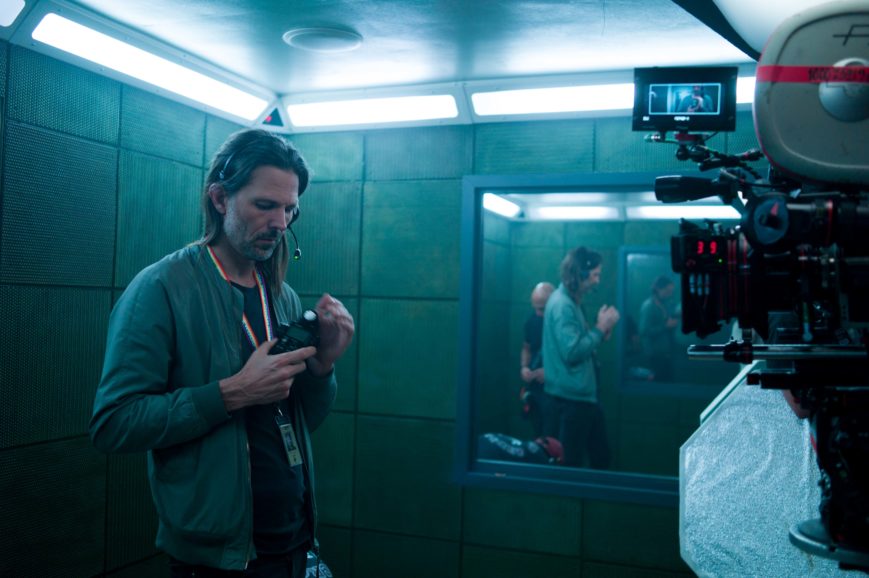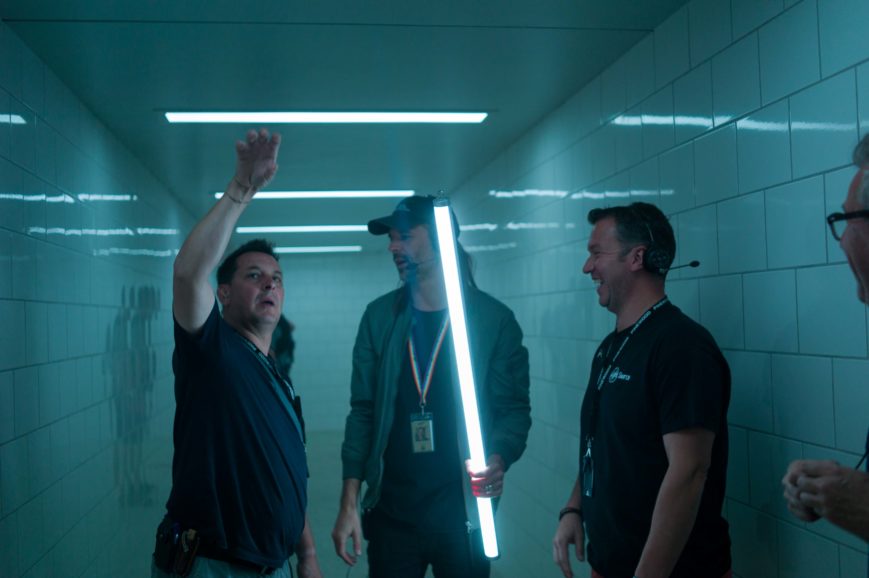 An emphasis was placed upon practical effects. "Special effects supervisor Chris Corbould [Inception] has made a name for himself in trying to figure out some wizardry to do live in camera as safely as possible," states Fukunaga. "The tricky part of our compressed timeline on this one was not having the amount of the time that you normally would have to prep action sequences. It required all hands-on-deck trying to figure out which parts do we do as visual effects or practically by Chris and the stunt team."
Storyboards, previs, and animatics were created for shots that had to be precise. "Specific shots were rehearsed and recorded," says Sandgren. "Sometimes we blocked the scenes on the day and figured out the specifics in the moment. Cary is a confident director who always shoots what he knows he needs and likes to tell the story with the camera and doesn't generally rely on coverage."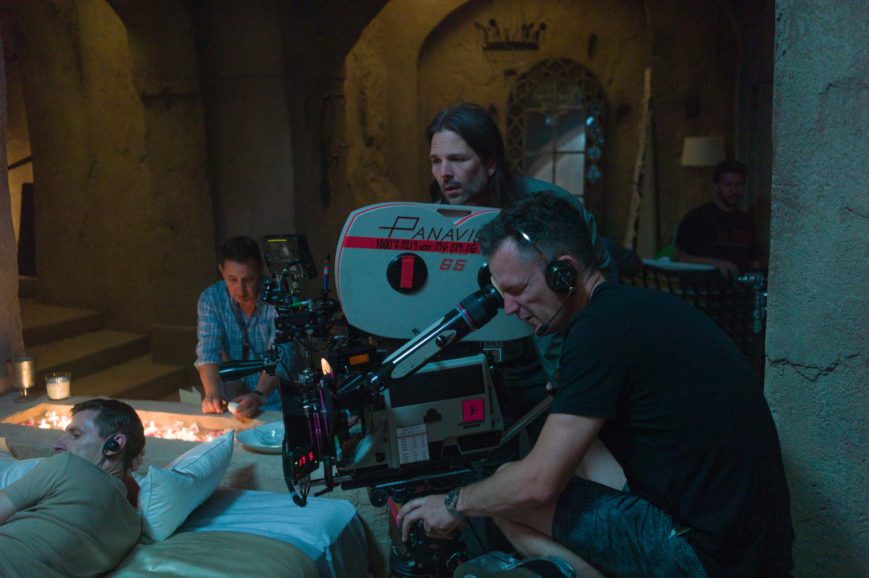 The cast of Craig, Léa Seydoux, Ben Whishaw, Naomie Harris, Jeffrey Wright, Christoph Waltz, Ralph Fiennes Rami Malek, Lashana Lynch, and Ana de Armas eased the pressure on Fukunaga. "Trying to fill a forest with smoke and keeping that consistent sometimes would be more challenging than a dramatic emotional scene because we have some of the best actors in the UK working who can deliver all of that emotional firepower. Even Linus was brought to tears at certain scenes while we were shooting. Whereas I'm looking at it from the editorial eye every time we're shooting. He was getting to experience as an audience through the camera."