A huge domestic and international hit, the BBC and AMC six-part drama The Night Manager was adapted from John le Carré's espionage novel by David Farr and guided to the screen by producer Rob Bullock, director Susanne Bier, and cinematographer Michael Snyman.
"When I read the initial scripts, I was immediately drawn to the huge ambition they portrayed," Snyman recalls. "The images that were presenting themselves in my head were nothing short of spectacular. I knew this was a journey I had to be part of."
Along with the attractive playing of stars Hugh Laurie and Tom Hiddleston, one of the keys to the miniseries' success lies in its creation of a world of glamour and wealth with a level of gripping paranoia normally associated with gritty genre thrillers.
"Art director Tom Burton had been looking at a few locations prior to me coming on board," notes Snyman, a native of South Africa. "When we began collaborating on the scripts, we travelled through Europe for six weeks conceptualising and brainstorming ideas. We fed those ideas to Susanne whose knowledge of Europe's nooks and crannies is profound. I've been extremely fortunate to work with Susanne prior to The Night Manager. We have a well-earned creative trust in one another, which I think was paramount to the outcome of the show."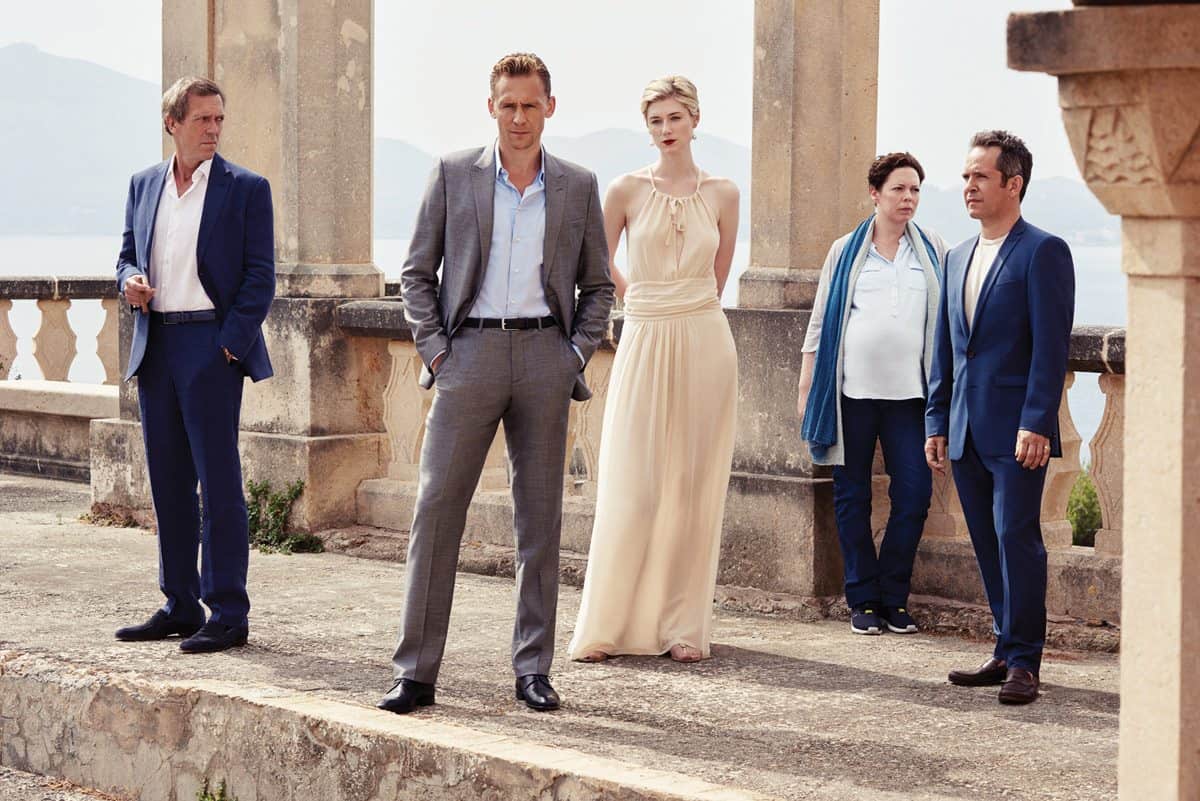 According to Snyman, that scouting journey through Europe – including Mallorca (which doubled for Istanbul), Morocco (doubling for Cairo), Devon, London, and the Swiss Alps – was visually important to grasp the atmosphere of the locations and translate them into the script. "It gave me a good sense of where this film should live cinematically."
Snyman's approach was to treat The Night Manager like a feature film and to service the ambition and scale that the script deserved. "At the outset, I was concerned about the pitfalls of lighting and photographing (operating a camera) such a huge and complex script," he says. "In hindsight, it put me inside the story – into our amazing cast's every action, nuance and subtlety that they so brilliantly portray."
The show's commissioners requested a 4K deliverable. Well-versed in the RED Epic camera's capabilities, having shot with it on most of his previous commercials and TV projects, Snyman selected three Epics with Dragon sensors, fitted with Panavision Primos, hired from Panavision London, with lighting kit from Panalux.
"The Night Manager was so diverse and vast that I really enjoyed using the RED," Snyman relays. "There is a certain 'organic-ness' that is created by this camera that I felt would be great for the story. I have had a great relationship with the camera. I can shoot in very low light, and I know how the pictures work and how to work with them in post. We ran two cameras most of the time to get that appealing 'off angle' look."
The ability to calibrate the image in post was important on The Night Manager which demanded distinct colour palettes for each location.
"There were so many different worlds in the scripts that it presented me with the opportunity to treat each location with a different look and feel," he describes. "It came down to how the lighting should work, how the camera should move, and how the relationships between the characters developed. It was important not to be contrived but rather to find the subtlety in our approach. All the creatives were on board with this concept."
For example, Snyman explains that London was a place of political turmoil in the story, so he thought the city should remain relatively cold and settled with less handheld work, whereas the quality of light in Mallorca was serene and beautiful, a lot cleaner and warmer.
"Apart from the script, I felt we had to find a camera language to create certain tensions and then keep it there," he adds. "I wanted to find the chaos in the locations and therefore connect the audience to the film."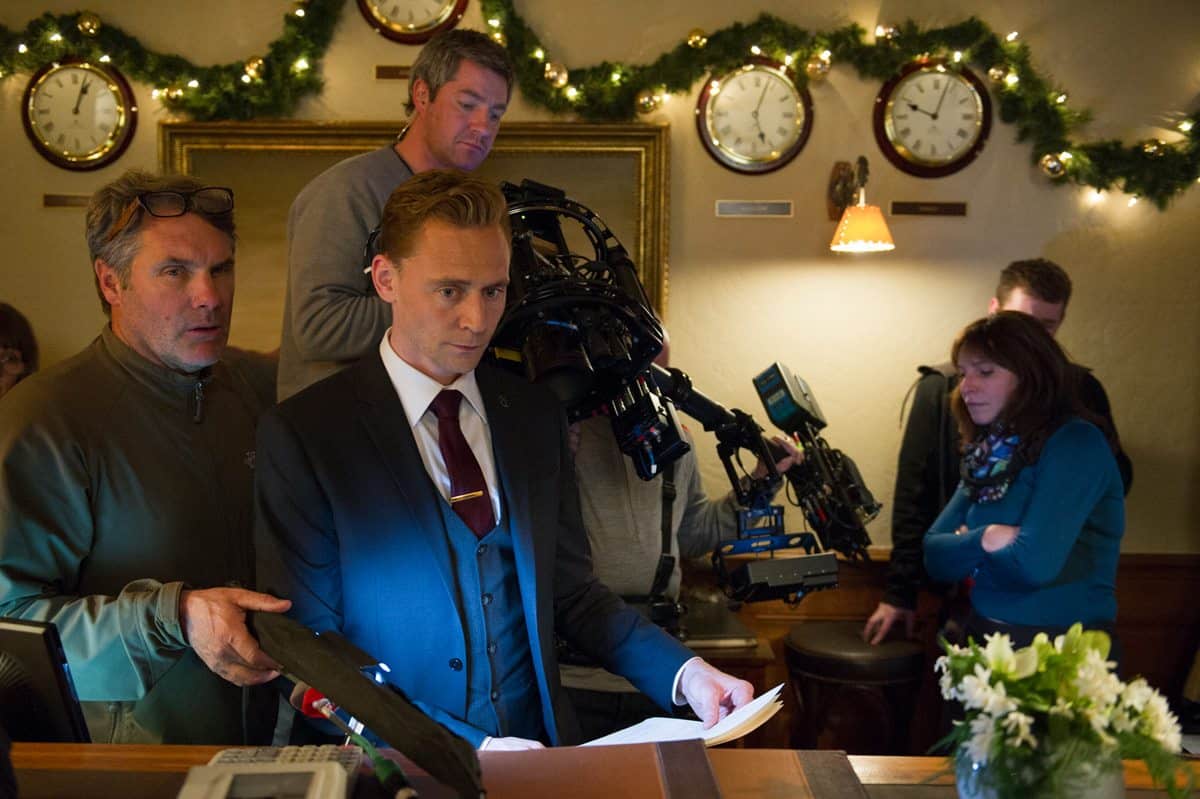 Snyman shot A-camera handheld which, he soon found, "put me in the picture between the two main characters" – Laurie's arms dealer Richard Roper and Hiddleston's former soldier Jonathan Pine – who are at logger heads trying to take one another down.
This was normally operated in tandem with Matt Fisher's Steadicam to achieve the "off angle." Snyman also used cranes very selectively. "I feel it takes the audience out of the show. You remove yourself from that tension, and it's often not the right thing to do. That sort of equipment can make people very aware of the camera."
As with most television productions, the demanding schedule was a major challenge, which was constantly in flux due to the mere logistics involved. "There was a lot of improvisation that took place, and the assistant directors made our seemingly impossible schedule work. The crew was amazing. I was awed by their commitment to a really tough schedule and their professionalism."
Because of the number of locations, rather than shooting episodes, the production block-shot all the scenes in each episode. "That was tricky for Susanne and the actors, but I think it went well," says Snyman, who reports that the production shot for 12 weeks, with about 11 days per episode.
He was heavily involved in the grade, collaborating with colourist Jet Omoshebi at Encore London to carry the different looks through to final delivery. The show has earned 12 Emmy Award nominations, including Outstanding Limited Series, along with acting, writing, casting, sound and others.