NATURAL BEAUTY
When lensing the modern retelling of Black Beauty, cinematographer David Procter's pursuit of an authentic world was central in creating an empathetic connection with the audience and ensuring the film's core themes remain relatable.
Writer/director Ashley Avis's contemporary take on the much-loved classic Black Beauty relocates the narrative of Anna Sewell's 1877 novel from Victorian England to a modern-day US, in turn raising awareness of the mistreatment of wild horses captured in the American West.
Cinematographer David Procter's taste and sensibility perfectly aligned with Avis's as he helped craft a film that takes the audience on a powerful cinematic journey, interspersed with nods to Hollywood classics. "I've always been drawn to issues-based drama, films with underlying political or social commentary. By repurposing the classic story, it now resonates with updated relevance," he says.
Upon reading the emotive script it was clear humanising Beauty was the primary goal and that Avis wanted the film to remain Beauty's story. Strict visual parameters were needed to maintain a subjective viewpoint from Beauty's paddock or stable, reducing the number of interior scenes and adding complexity to blocking.
The orchestral music helped imbue our subconscious with fluidity and calmness, translating into elegant camera movement.

David Procter
While visual references were drawn from the work of cinematographers such as Adam Arkapaw, Sean Bobbit BSC, Mikhail Krichman RGC, and Darius Khondji AFC ASC, as well as photographers including Eric Giovon and Hojjat Hamidi, music also influenced the creative process. "Ashley compiled a playlist prior to prep featuring music from composers such as David Nevue, Rachel Portman and John Barry. Operators Damien Pawle and Dale Rodkin and I embellished this with Ludovico Einaudi and Angelo Milli and sometimes listened whilst operating. The orchestral music helped imbue our subconscious with fluidity and calmness, translating into elegant camera movement," says Procter.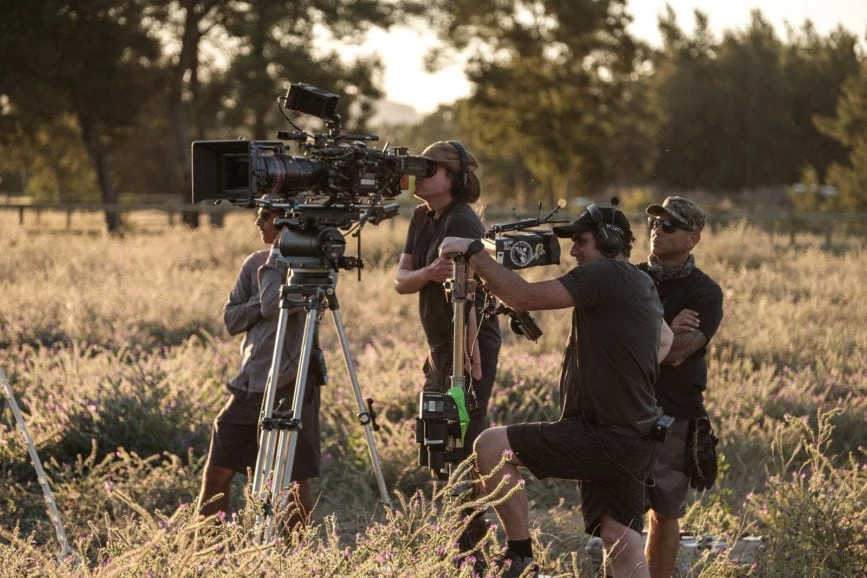 Time for horse prep and developing bespoke tools to safely cover key sequences was incorporated into the six-week pre-production period in Cape Town. "Several horses played Beauty and I regularly shot tests of dyes, horse make-up and photographic studies of which horses could match from different angles," says Procter.
Six weeks of principal photography then commenced in mid-October 2019 on location and at Cape Town Film Studios, followed by two days on location in New York in February 2020. Filming locations ranged from central Cape Town to the regions of Stellenbosch and Piketberg, with Procter heavily involved in the scouting process. Alongside Avis and production designer Darryl Hammer, Procter explored scene blocking and studied sun paths to optimise their positioning.
"Fundamentally, all locations doubled for real North American counterparts. I had to ensure, whilst topographically accurate, they worked for light," he adds. "The cottage at Birtwick stables was built, as was the section for the stable complex that burns down and the wild horse holding facility."
COMPLEXITY AND COMPLETION
Whilst shooting most of the opening scenes in the mountainous region of Piketberg, Procter elevated the aesthetic from natural documentary footage using an off-road Teryx tracking vehicle with a small crane arm. It allowed him to react to the herd of wild horses whilst capturing spontaneous moments with a scale and grace.
A helicopter round-up scene achieved entirely in camera also required extensive planning. Shot across several areas, Procter drew aerial plots of proposed routes, liaising closely with the horse team. To ensure the horses' safety, rocks were removed, holes filled, and additional dust was laid. "Due to the complexity of coordination and the 40°C heat, we were only able to do the run a handful of times, utilising six cameras on an array of tracking vehicles, drones and fixed camera positions," says Procter.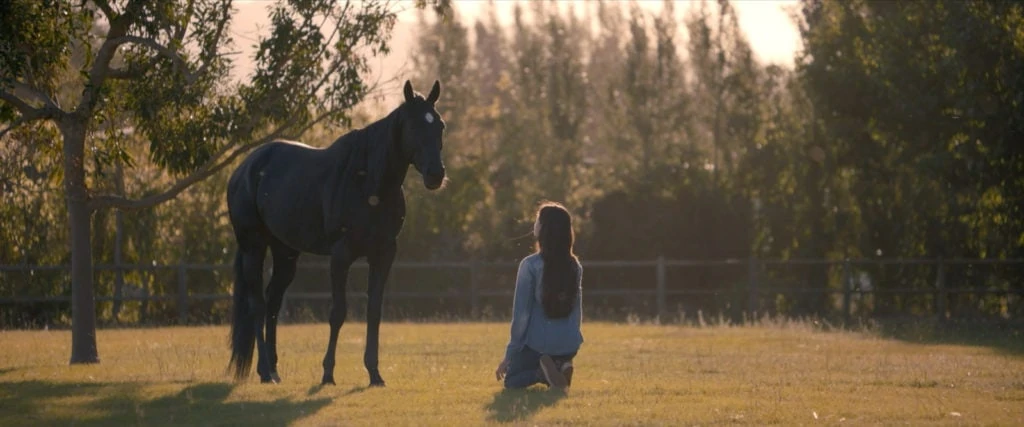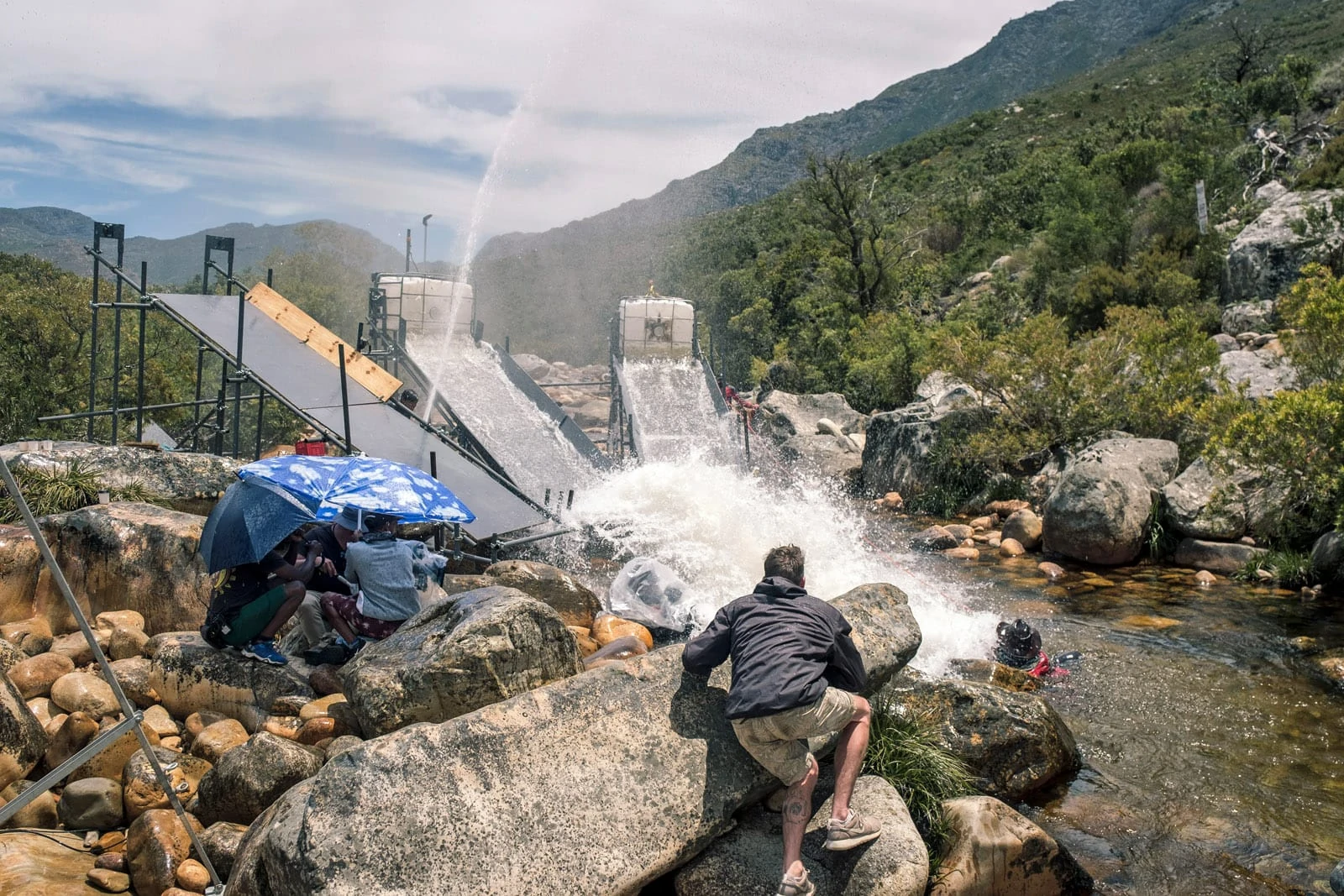 The biggest logistical challenge was presented by a river rescue scene shot on location in Du Toitskloof Pass. Months were spent building access in an environmentally neutral way while guaranteeing safety for the horses.
"On a photographic level, the river is in complete sunlight all day, and crane access for lighting control was impossible. Knowing that direct sunlight would conflict with our stormy aesthetic, we chased the backlight for three days, shooting downriver in the morning, across in the day, and upriver as the sun went down. 1st AD Lance Roehrig was a close ally in piecing the schedule together with three units shooting simultaneously in different sections of the river," says the DP.
Whilst some of the white water was achieved practically using three dump-tanks, multiple water jets and rain towers, VFX supervisor Marc Bloch and the VFX team worked their magic adding large volumes of water.
I discovered the gorgeous, re-housed Russian lenses whilst shooting commercials in LA… they have beautiful flare characteristics.

David Procter
Serviced by Media Film Services in Cape Town, the Disney film was predominantly shot using two ARRI Alexa Minis which offered the desired form factor, natural colour rendition and anamorphic capability. Alexa SXTs were chosen for high-speed sequences, with more complex scenes demanding coverage with up to six cameras.
Principal lenses were Optica Elite S7 anamorphics, selected for their unusual fall-off and imperfections. "I discovered the gorgeous, re-housed Russian lenses whilst shooting commercials in LA… they have beautiful flare characteristics," says Procter.
A set of Zeiss Highspeed T1.3 spherical primes were perfectly suited for capturing the many key scenes set at dawn or dusk. The wider aperture gave the crew more than 20 minutes additional shooting time each day and allowed extra coverage. An Angenieux 12:1 zoom was used for more unpredictable horse coverage and additional Kowa and Hawk anamorphics were used on multi-cam days.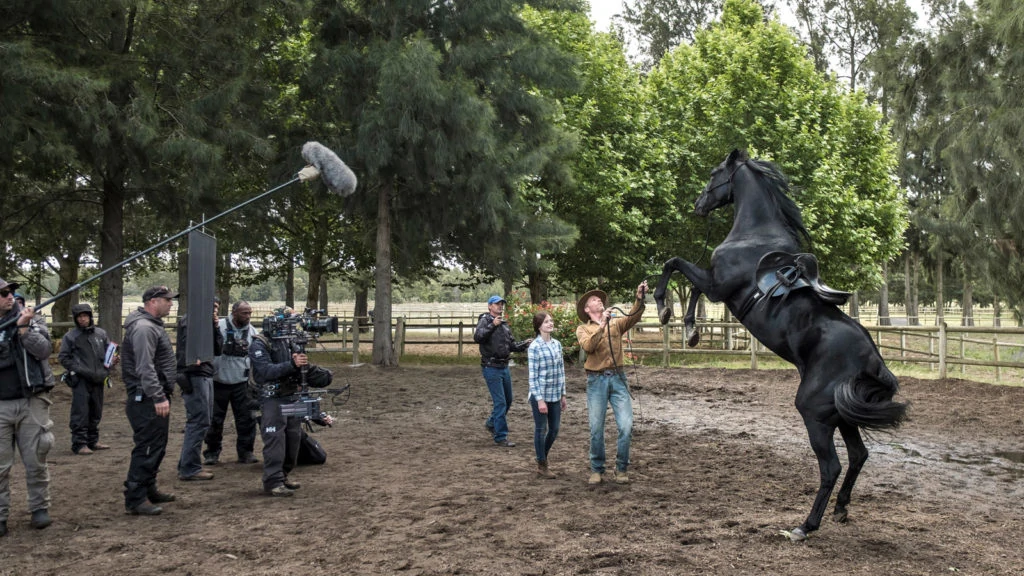 "My entire camera and lighting team were world-class. Their speed and passion enabled us to shoot a Hollywood biopic in a fraction of the time," says Procter. "A-Cam op Damien Pawle, with whom I've worked closely for over a decade, and B-Cam/Steadicam op Dale Rodkin brought such artistry to the film. Huge thanks also go to Damien Pawle, Kai Krause, Josh Kraszewski, and Manoel C Ferreira for their additional photography on splinter units."
A LYRICAL JOURNEY
The film's sweeping landscapes and raw natural scale made the classic width of a 2.39 ratio a natural fit. As the intimacy grows between Beauty and Jo – the teenage girl she develops a friendship with – Procter's cinematography conveys detachment and then connectivity through over-shoulders and shared frames. "The film is a lyrical journey and we wanted to approach the photography in a balletic way, embracing gentle camera moves and subtle parallax. We used drones and cranes for moments of scale, and wides and mids are frequently laterally tracking."
Procter also adopted handheld techniques to convey emotional distress in certain scenes. To strengthen the audience's connection with Beauty he moved physically close with the camera which could present challenges when on the move or in confined spaces.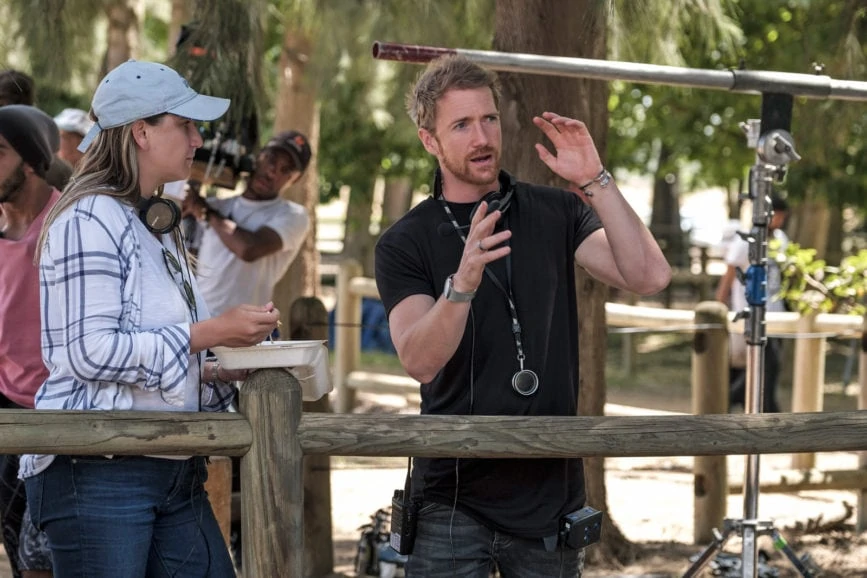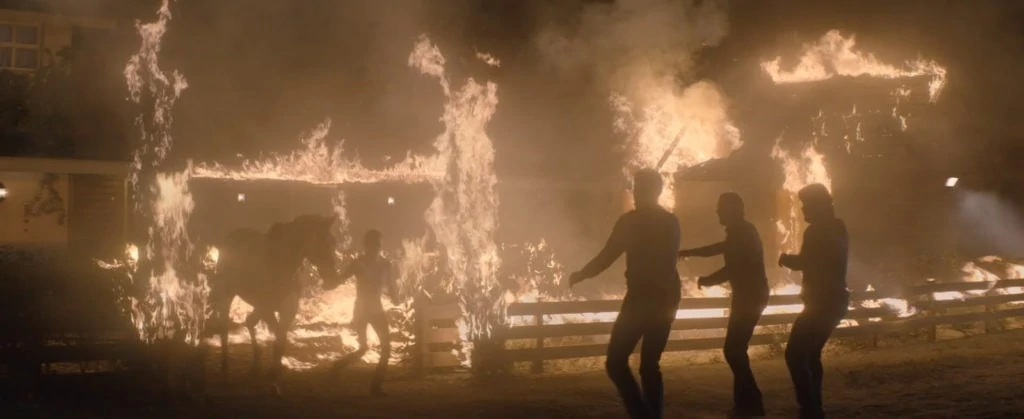 "For safety, we wanted to minimise unnecessary machinery around the horses. Key grip Rob Fischer introduced me to the Skyhook system which allows a Movi-XL to be suspended from a 130ft cherry-picker on a weight adjustable spring-balancer, rendering the camera completely weightless," says Procter, who used the system extensively for riding ring scenes and intimate moments in the paddock between Jo and Beauty.
While drones and the Teryx tracking vehicle were appropriate tools for wide and medium coverage, to embellish narrative subjectivity the camera crew needed to be much closer to Beauty – leading to the creation of the H2H (Horse-to-Horse) rig.
"After testing variants of saddle-mounted stabilised heads, backpack rigs, handheld mini-libras and even straight handheld, we were astounded by the results from the DJI Ronin-S with a Blackmagic Pocket Cinema Camera and Rokinon primes," says Procter. "Operator/gimbal tech Rob Weidner designed a rig that could be held by a stunt rider right in the fray with the horses, yet the head and focus could be controlled remotely using a Futaba transmitter and Teradek RT FIZ. Using a wireless Teradek 3000 and multiple hidden receivers, the H2H rig captured shots across vast distances that would have been otherwise impossible to achieve safely."
To achieve aerial success, Procter precisely planned coverage with pilot Wez Green and operators Jonathan Searle and Duncan Walker at Big Bird. They used a heavy-lift carrying an Alexa Mini for high-contrast scenes such as sunsets and a DJI Inspire2 for landscapes where less latitude was required.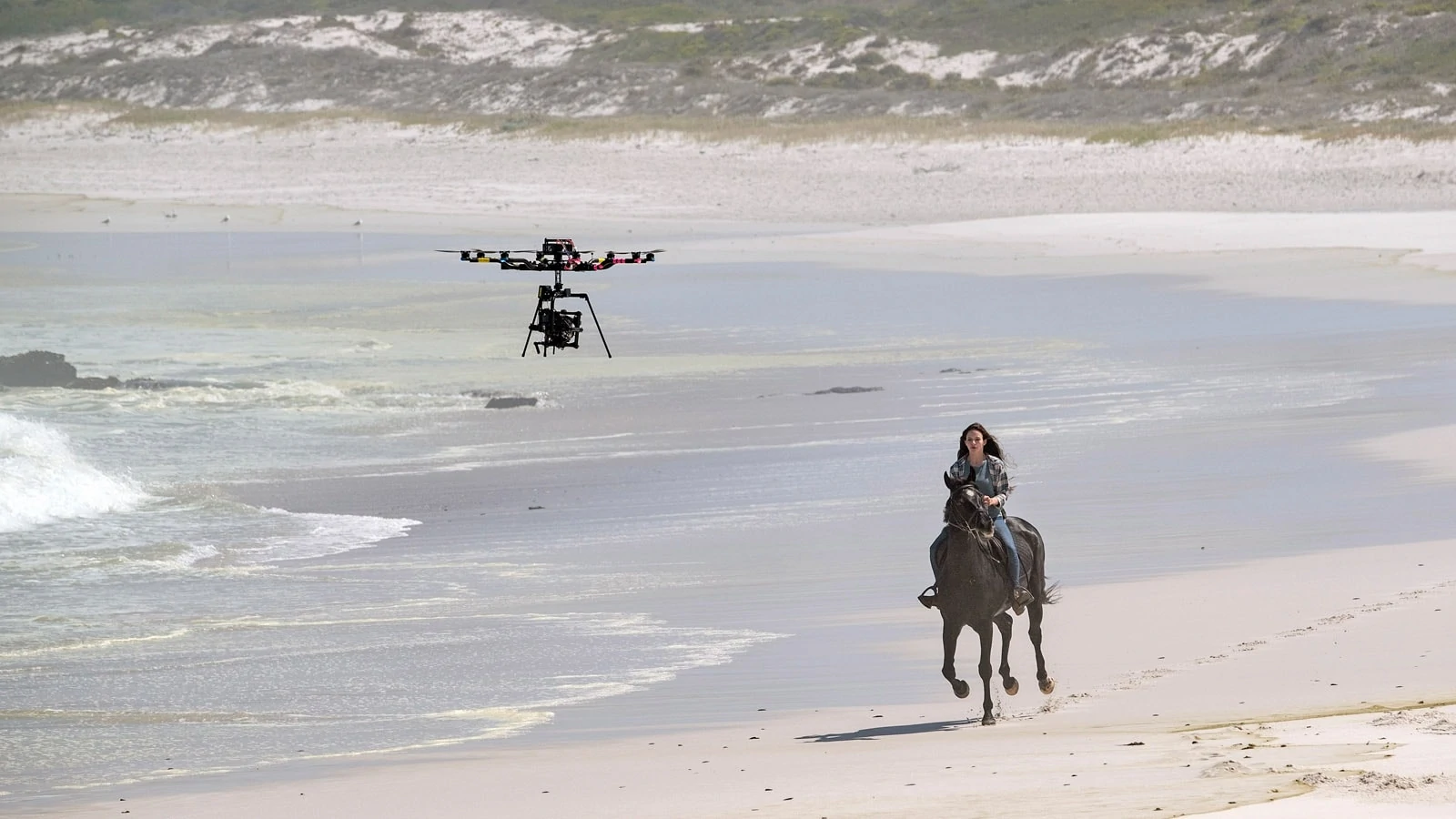 STRIVING FOR REALISM
Perfectionist Procter quickly learnt that working with animals can be a tough lesson in compromise: "Our horse team, Film Equus, were incredible but we realised we couldn't be too precious about composition. Even when horses hit their marks, flexibility was required for improvisation."
No camera was completely locked off, instead working on track or sliders, even when still frames were required, to allow for constant reactive re-framing. As the horses would seldom stay still for long, even a shift of bodyweight could move their head by a foot. "A choreographed dance ensued with the Steadicam and Skyhook running for extended takes, aesthetically fishing for moments. These tools allowed the reactivity of handheld yet delivered fluid and graceful imagery."
To achieve a bold juxtaposition between the vast expanse of nature and claustrophobic frames in stables, Procter studied the lead horse's body language and expressions during prep and designed reciprocal frames for her based on traditional human coverage.
"We wanted to avoid the animal-movie trope of generic cutaways, and to give Beauty the same consideration any leading lady warrants. The architecture of a horse's face and expressions are very different to a human's and we found the eyes and ears to be critical emotive beacons," he says. "I explored the resonance of moving above and below eye-lines and intentionally pushed our lenses to their optical limits, finding that aberrations, distorted bokeh and flare helped create painterly and evocative portraiture."
As the South African sunrise and sunsets finish so quickly, 'magic hour' was aptly renamed 'tragic hour' and dusk or dawn scenes were often shot across multiple dusks, with wides shot in natural light and closer coverage lit with Arrimax 18ks or T20s.

David Procter
Striving for realism throughout, source lighting was crucial for Procter, with everything naturally motivated. "As the script unfolds heavily in day exteriors, this meant a daily struggle with the sun. We didn't have the luxury of moving to interiors during the peak of South African summer's brutal top-light, instead having to shoot through."
Manitous with 30'x20' black-out and silks were used, but this was sometimes impossible due to South Africa's frequent high winds. When the angle was problematic, Procter flagged the sun and backlit with pairs of Arrimax 18ks on another machine.
"Capturing scenes with any semblance of lighting continuity was a daily battle led by gaffer Justin Paterson and his team. As the South African sunrise and sunsets finish so quickly, 'magic hour' was aptly renamed 'tragic hour' and dusk or dawn scenes were often shot across multiple dusks, with wides shot in natural light and closer coverage lit with Arrimax 18ks or T20s," adds Procter.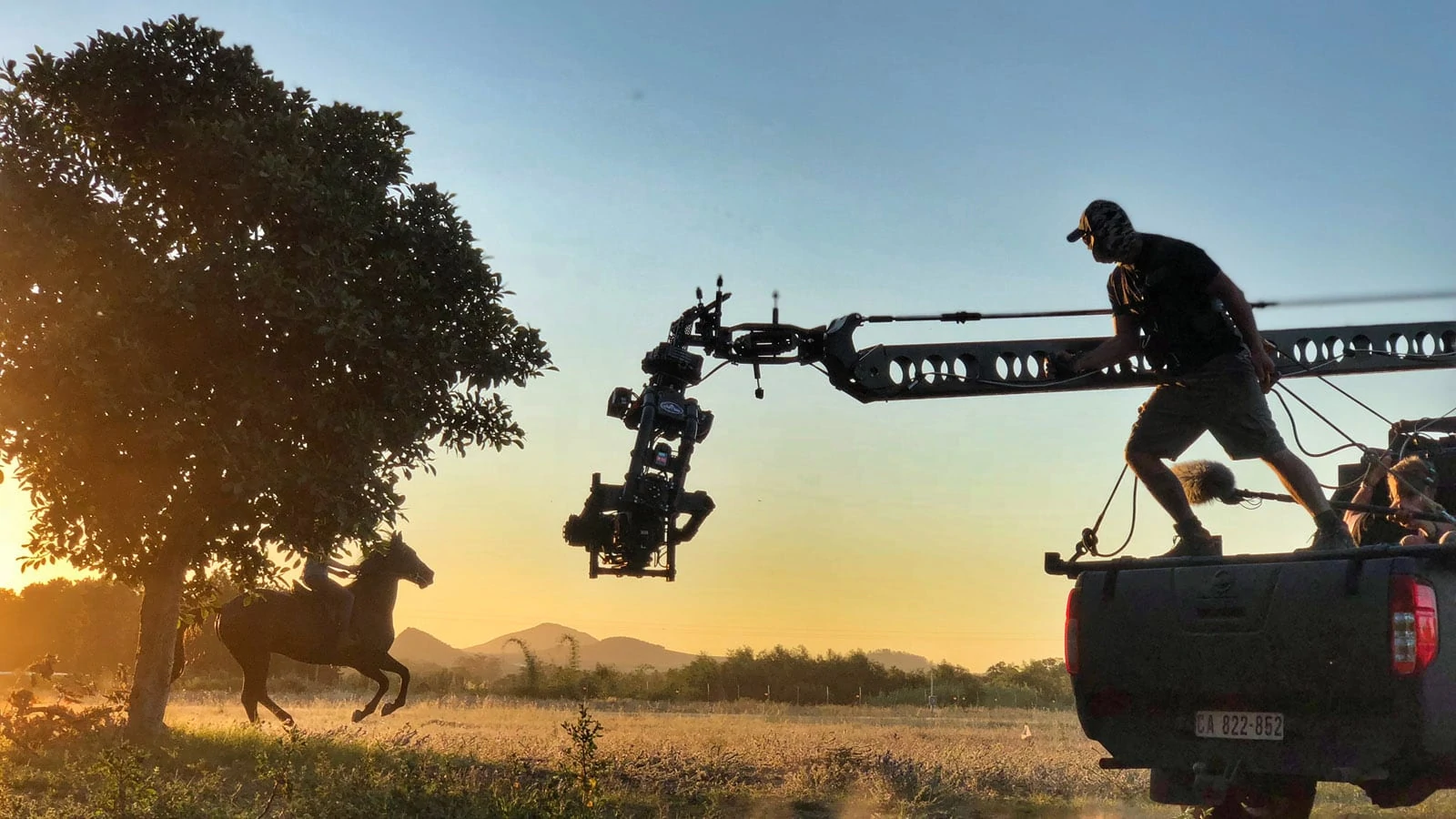 When lighting Beauty, whose coat tone relied heavily on reflective light and direct sources, experience was drawn from shooting car commercials and pack shots. In some paddock scenes she was lit with an Arrimax18k and 20'x20' ultra-bounces for reflective light. With so much emotion carried in Beauty's eyes, large circular sources ensured a glinting eye light.
For night work, multiple manitous and cherry pickers were used with Arrimax 18ks, M90s and large SkyPanel softboxes. As Procter believes creating a convincing moonlight requires lighting deep into the background, the crew was mindful to rake light to the perceived horizon.
Dailies were handled by colourist Allan Taylor at The Refinery and Procter developed a show LUT with DIT Arno Durandt based on a Kodak 5207 250D stock. Taylor balanced the scenes, frequently shot in volatile lighting conditions, and delivered via Moxion. The HDR grade was carried out during lockdown at Light Iron in LA, with colourists Corinne Bogdanowicz and Ethan Schwartz. Procter viewed live and remotely from London via Streambox on an iPad Pro and during three four-hour sessions on a Sony X300 at The Look in London.
"We wanted to avoid the archetype high-contrast, heavily saturated images one might associate with this genre of film. We pursued a gentler, more painterly aesthetic, with restrained use of the HDR range, embracing the elemental tones of nature," says Procter.
Reflecting on a phenomenal production experience, he adds: "Being my first studio film, I had initial apprehension about the potential politics of such large-scale production, but producers Jeremy Bolt and Dylan Tarason assembled the most devoted and dedicated team I'd ever encountered. The passion and energy were infectious."