Never surrender
David Higgs BSC / Churchill
Never surrender
David Higgs BSC / Churchill
The historical thriller Churchill, directed by Jonathan Teplitzky and shot by cinematographer David Higgs BSC, is an intimate portrait of Winston Churchill in the 96 hours before D-Day, which took place on Tuesday, 6th June 1944.
The $10m production opens with a striking scene of the solitary leader wandering a deserted beach – haunted by ghostly flashbacks to the catastrophic Gallipoli campaign of World War I, for which Churchill felt responsible – with blood-soaked waves and young bodies piled on the sand. It then explores Churchill's private, brandy-soaked, cigar-chomping anguish as he variously wrestles with his depressive black dogs and deep misgivings surrounding the imminent execution of the Allied Forces' invasion of Europe, under the auspices of US Army general Dwight D. Eisenhower. With Operation Overlord looming, only Churchill's wife, Clemmie, appears able to help Churchill deal with his demons and his doubts.
Written by Alex von Tunzelmann, the production features Brian Cox as Winston Churchill, Miranda Richardson as Clementine Churchill and John Slattery as Eisenhower. Reviews have highlighted the emotionally engaging nature of the production, aided by the striking and pleasingly painterly look created by Higgs' cinematography.
"The script for Churchill was written with tight, below-the-line finances in mind. So whilst it examines Churchill's inner turmoil, it also had quite a lot of men in rooms talking," says Higgs. "From the very start, Jonathan and I were on the same page in wanting to broaden it out and give it some open air."
Taking this at its most literal, Higgs opted for a widescreen 2.35:1 aspect ratio from the very start, knowing it would enable a wider array of dramatic image compositions of single and multiple actors within frame than squarer formats typically afford, whilst also allowing him to introduce a sense of depth to the 2D medium, with one actor in close-up and others in the deep background.
Higgs says the camera movement was also an important element in breathing life into the on-screen image. As he explains, "Jonathan likes to move the camera, and we both felt it was important to keep the story travelling visually and not to end-up with static, dialogue-heavy mid-shots."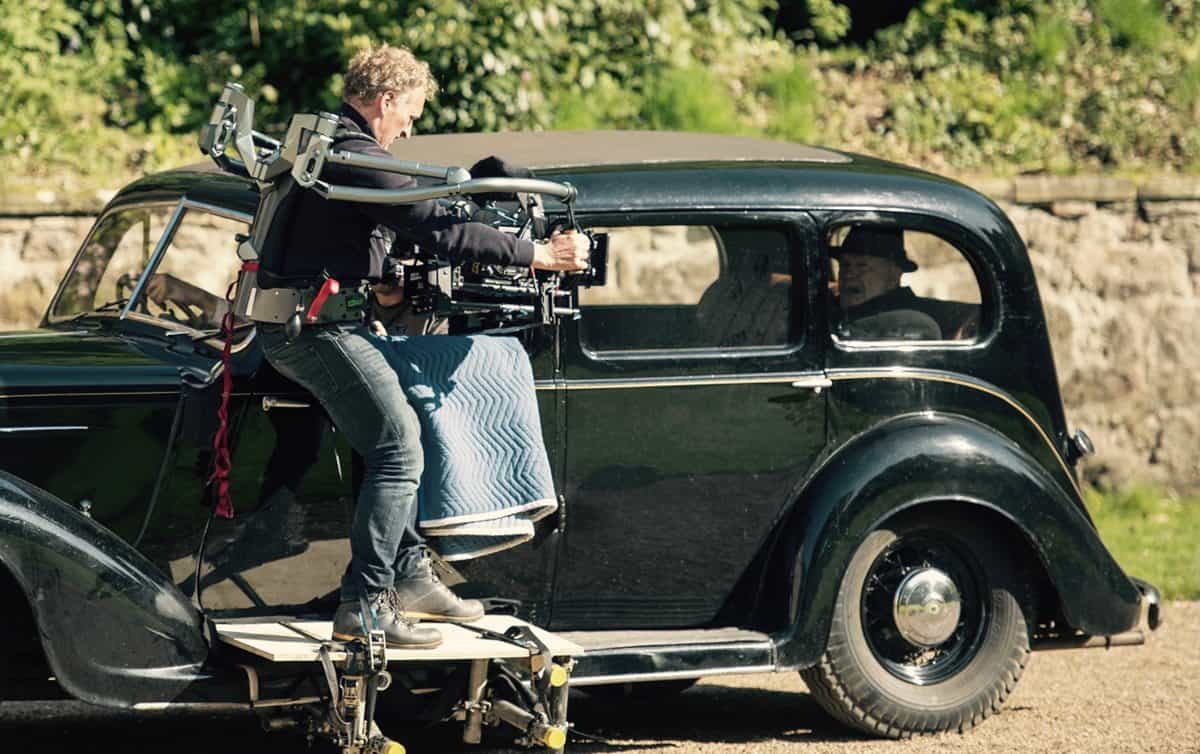 With this in mind, Higgs incorporated handheld camera into the mix, but eschewed the obvious recourse to Steadicam, electing instead to motivate the camera by using the Double Helix camera stabiliser, developed by US firm Letus. At other times, the camera was mounted and moved on a Mark Roberts UltiHead fixed to jib arm. "I like the fluid freedom of movement you get from these systems, plus they are inherently more stable than the alternatives," he says.
To further expand the scope of the visuals, Higgs and Teplitzky actively sought, where possible and appropriate, to remove the action from the confines of Whitehall Offices and War Rooms. This saw the director and cinematographer dedicate themselves to a good number of recces during pre-production, in and around the backstreets of Edinburgh and Glasgow, which would double in the movie for war-time London, along with scouts to local rural locations.
After prepping during April 2016, principal photography on Churchill began on May 23rd, concluding five weeks later.
"We put a lot of effort into finding locations that would work aesthetically and practically," Higgs says. "Many of the building exteriors had not been cleaned for some time, and their blackened appearances were authentic for 1944. That said, shooting in June, it was quite a job dodging the tourists."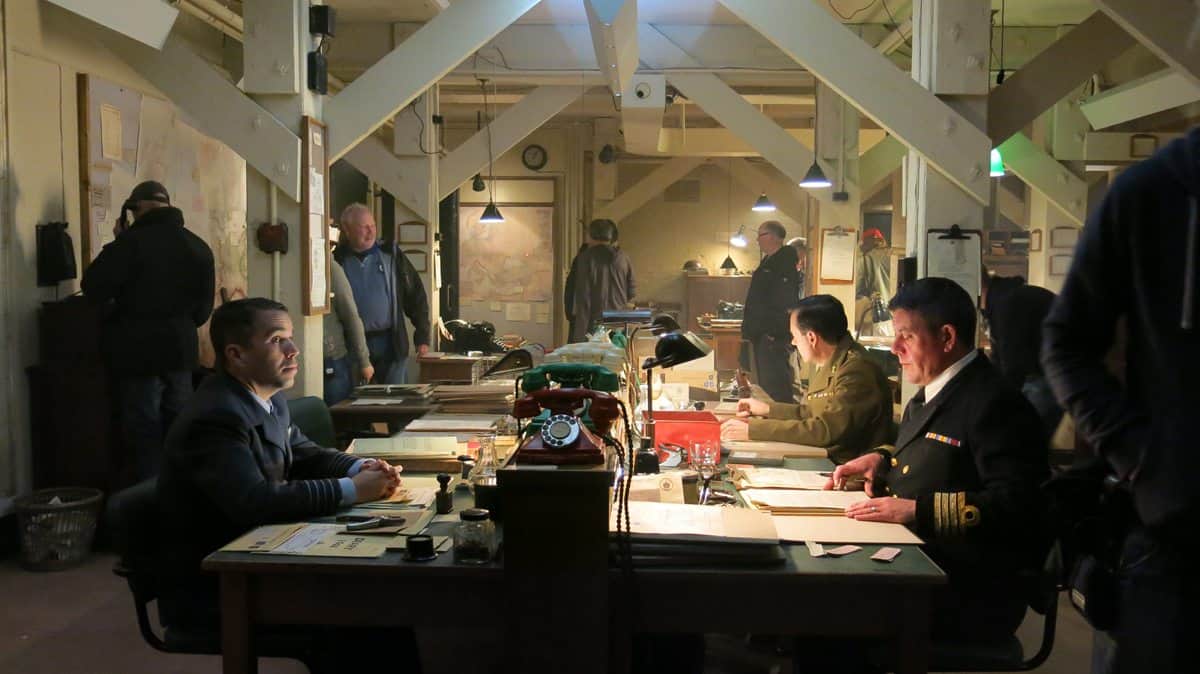 In terms of the overall look, Higgs says, "We resisted the temptation to place the production in time by giving it a particular period look. As the focus was more about depicting Churchill the man – illustrating his bleak moments and his momentous dilemmas in sending people off to war – we chose to let the set design, costume and lighting create the appropriate contemporary feeling."
Regarding his lighting strategy, Higgs says, "My general approach is to keep the illumination organic and natural, in empathy and appropriate to the reality of the locations. As such, I tend not to use much light from outside sources, nor hang many fixtures in the room, and on this production there was never any overhead light."
In the main, Higgs, assisted by his long-time gaffer Scott Napier, lit the interiors on Churchill using practicals, supplemented by LEDs discreetly hidden behind furniture or out of shot on the floor. When additional light was called for, Higgs typically bounced flat light from Pars around the set using a variety of mirrors and polys.
Over time, Higgs has accrued a personal inventory of cameras and lenses, and provided the production with two of his own ARRI Alexa XTs, plus an Alexa Mini, specially-purchased in advance of production. These were variously fitted with Leica Summilux lenses and a brace of Fujinon Premier Zooms, 24-180mm and 75-100mm.
"I rated the cameras at 800ASA for most of the shoot, but tended to adjust to 400ASA for some of the night exterior scenes, as this gives more depth in the blacks. The Leica lenses are very fast, which helped with the exposure on-set in those nighttime scenes. Overall, they have a really nice look too, with an attractive bokeh and flaring, and I knew they would match well with the Fujinons."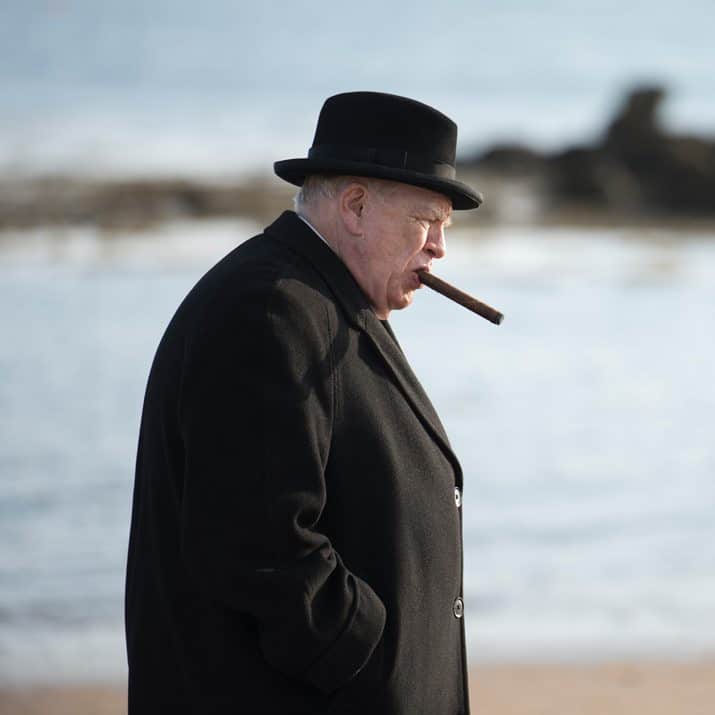 "We resisted the temptation to give it a particular period look. As the focus was more about depicting Churchill the man – illustrating his bleak moments and his momentous dilemmas in sending people off to war – we chose to let the set design, costume and lighting create the appropriate contemporary feeling."
- David Higgs BSC
To soften the look, particularly on interior scenes, the cinematographer used Tiffen Satin filters. "They give a nice, gentle halation around the practicals, and this sort of delicate optical softening also moderates contrast and is kinder on the actors."
In the main, Churchill was a one-camera shoot, with Higgs operating and his long-term focus puller Anna Benbow on focus. However, with 25 set-ups required per day, Higgs made sure to always have two other cameras at-the-ready. For scenes involving multiple characters, Matt Poynter joined the production to operate B-camera.
The working regime on Churchill was mainly 12-hour days, including a lunch break, five days a week. "It's a nice pattern, that works well, and I'd like to see the industry move towards this more," remarks Higgs.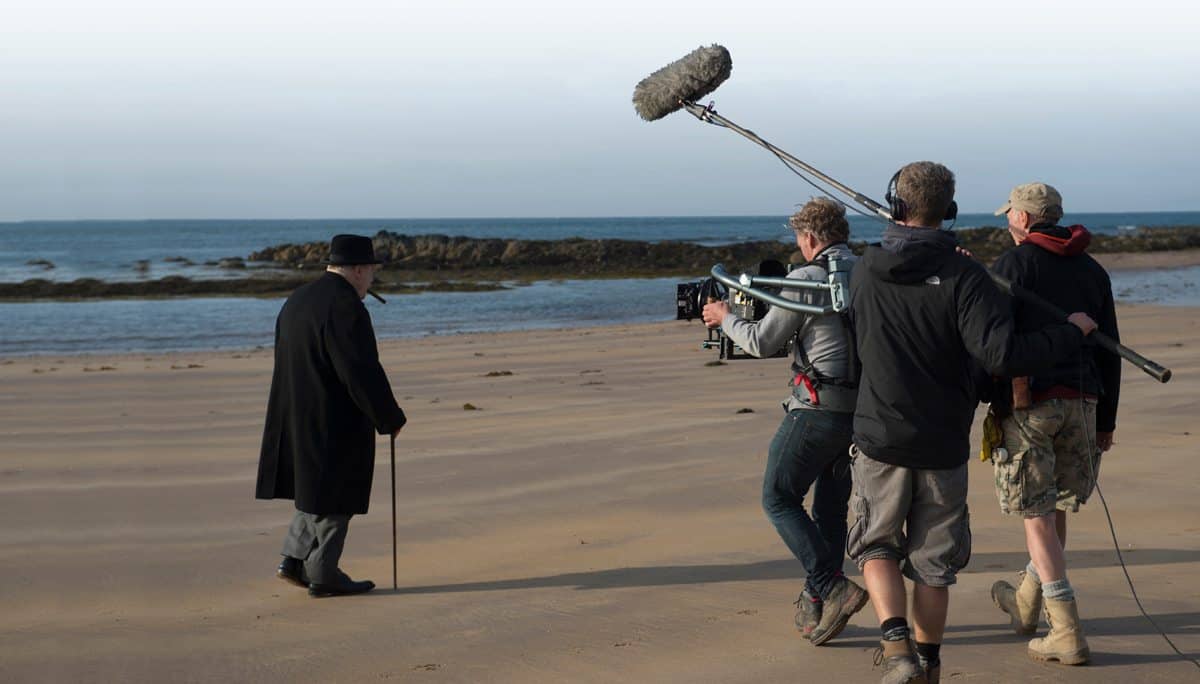 Of all the moments he captured during the production of Churchill, Higgs says one of his favourites is the dramatic opening scene.
"It looks like we had a smoke machine on the beach, but it was just the natural mist on the beach. So we were lucky with that," he says. "The Double Helix rig allowed us to get close to the action, but not to invade Brian's space, to tilt down as his homburg tumbles into the sea, and to then jib up in time to reveal Clemmie over his shoulder. As opening shots go, it's portentous of the drama that is about to unfold."