GIRL AND THE HOOD
Alice Brooks captures the vibrant spirit of New York's immigrant neighbourhood in In the Heights.
When Lin-Manuel Miranda debuted his theatrical musical sensation Hamilton in 2015, only stage aficionados were aware that he had created a previous Broadway smash with his semi-autobiographical work In the Heights. Now, after a yearlong delay due to the pandemic, the film version of his 2005 musical of the same name is on general release. Directed by Jon M. Chu, (Crazy Rich Asians) from a screenplay by Quiara Alegría Hudes, who wrote the original book, the film is photographed by Alice Brooks. One creative goal was to retain the dizzying energy and street-level vibrations of the Tony-winning Broadway smash.
Brooks and Chu studied film at the USC School of Cinematic Arts and went on to make web series The LXD [aka The Legion of Extraordinary Dancers] in 2010-11 and feature Jem and the Holograms (2015), both of which were dance and music-based stories. Their previous project together was the drama Home Before Dark (pilot and season one) for Apple TV.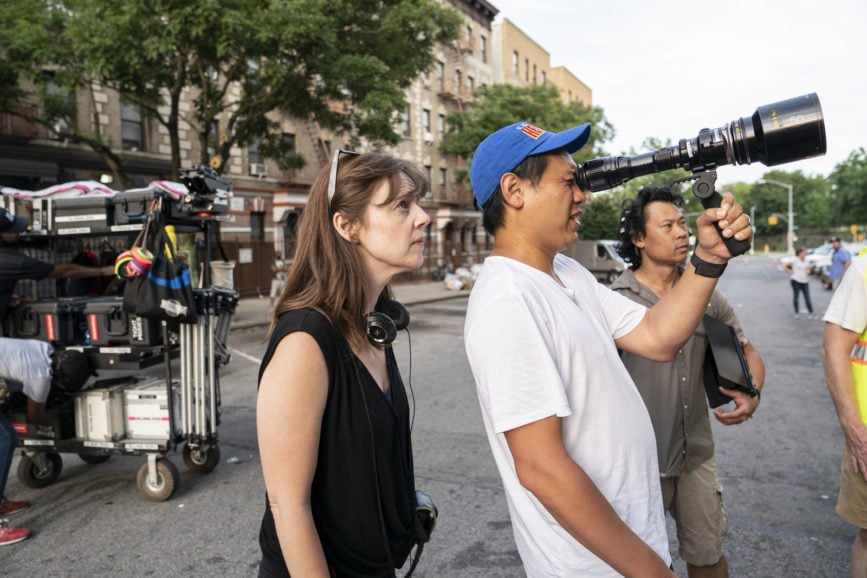 The opening 10 minutes of In the Heights, leading to the main title, comprise a self-contained story introducing the ensemble cast, led by Anthony Ramos, Corey Hawkins and Leslie Grace, going in and out of song, and painting New York's Washington Heights' neighbourhood.
We started looking at all these beautiful architectural spaces in New York including the Palace Theater in Washington Heights, but they all felt too grand in a way. Jon did want some theatricality, but we didn't to tip the scales into fantasy.

Cinematographer Alice Brooks
"Jon and Lin Manuel [also the film's producer] felt they needed to shoot as much as possible in Washington Heights itself," Brooks says. "The characters express their hopes and dreams, their anxieties and fears not just in song and dance but through the environment around them."
In the Heights, is after all, a story of immigrants' emotional struggle between home and place, cultural identity and the strength of family and community. The story is set over the course of three hot summer days, involving characters in the largely Dominican and Puerto Rican neighbourhood with which Miranda is intimately familiar. Brooks joined Chu and production designer Nelson Coates on extensive location shoots in March 2019.
"We started looking at all these beautiful architectural spaces in New York including the Palace Theater in Washington Heights, but they all felt too grand in a way. Jon did want some theatricality, but we didn't to tip the scales into fantasy."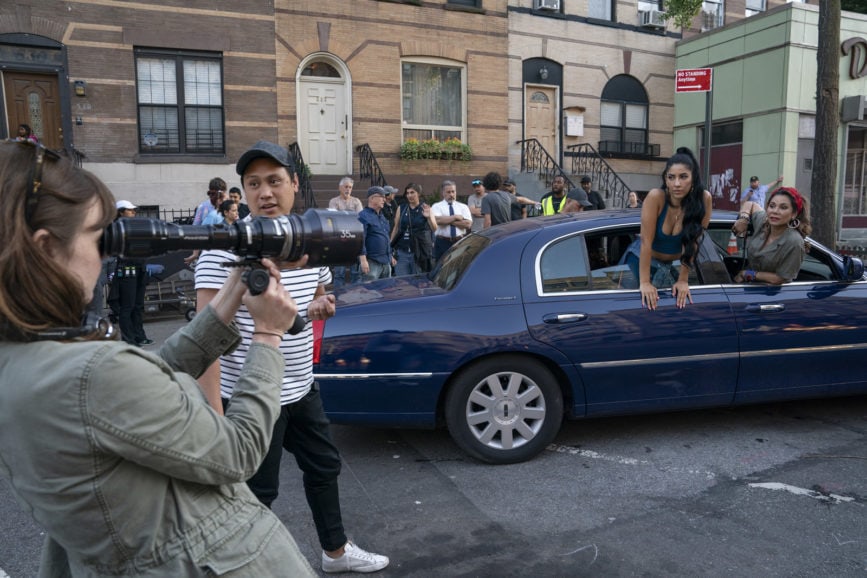 Brooks' filmic references for the shoot take this aesthetic into account. Although a lifelong fan of musicals like My Fair Lady it was classic New York stories like Moonstruck and Do the Right Thing which were her touchstone.
"Anamorphic was an immediate intuition for both John and I," she says. "We loved the idea of large format combined with anamorphic. While this is a huge musical spectacular it's also a very personal story and we loved the depth of field."
Nonetheless anamorphic wasn't a slam dunk. They tested sphericals and looked at the ARRI Alexa LF and LF Mini before alighting on a Panavision package of DXL2 (7K 6:5 2x Anamorphic 2.40) with G-series lenses customised for the occasion.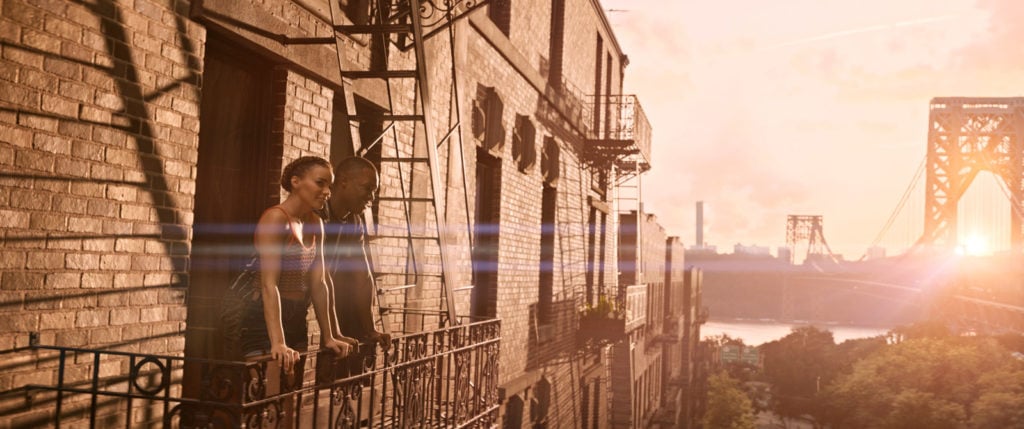 "The LF Mini had only just released and came just a little too late for our production," she says. "Panavision has supported John and I throughout our careers. Jon has this letter he sent to Panavision asking to shoot on an F900 Panavised camera 18 years ago and a positive reply from [then president] Bob Harvey. They have just been an amazing resource.
"To me, the DXL2 and G-Series felt like the right choice in terms of shooting long New York city streets with the backgrounds out of focus. The bokeh is beautiful."
Much of the movie is shot handheld but A camera operator Mark Schmidt apparently felt the DXL's balance very similar to a 35mm camera. "He felt it grounded him in a way that some lighter cameras don't," Brooks says.
With Schmidt, Brooks' camera department included 1st AC Basil Smith, 2nd AC second AC Marvin Lee; 1st AC B-camera Gavin Fernandez and C-cam / vfx Denise Bailie. Her gaffer was Mike Hoffman and key grip Kevin Lowry.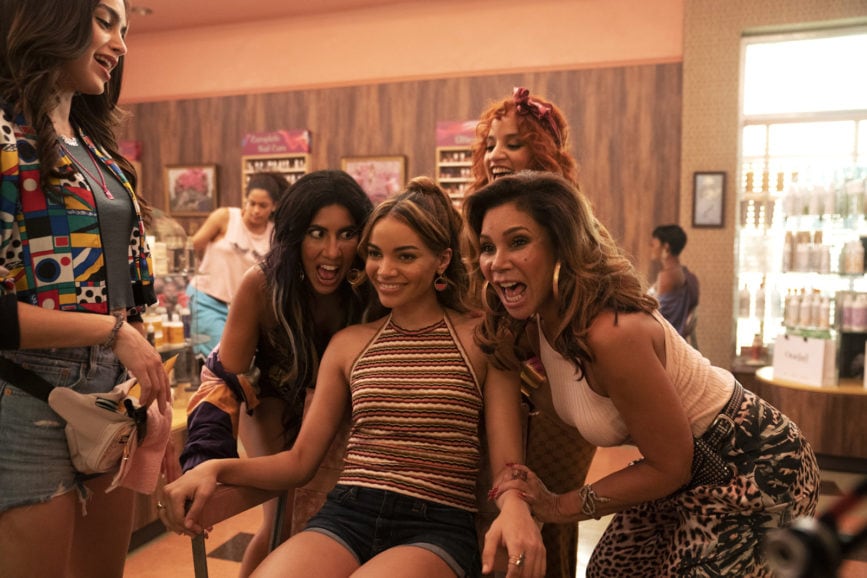 The light and look of The Heights
When the DP first arrived in Washington Heights, she began to notice the things that differentiated the area from adjacent blocks. "It has a very different colour," she observes. "The sunlight is different to anywhere else I've been in the world. It's not a tropical summer, not a LA summer, it's definitely not a Hawaiian summer. It's an urban summer but it's not even like the rest of New York City. Washington Heights has these grey and yellow brick buildings whereas the rest of Manhattan has red brick and new buildings. Washington Heights buildings are much lower, and the way sunlight hits them really influenced my choice in the DI.
"We started colouring the movie in the middle of the film with a number called 'Carnaval del Barrio' which takes place in a courtyard. I could have gone with full out saturated primary colours in that scene in the DI, I could have cranked it all up, but we worked really hard to not do that. I kept talking to colourist Stephen Nakamura at Company 3 about bringing it back and we ended up desaturating the whole film to achieve a colourful but pastel feeling."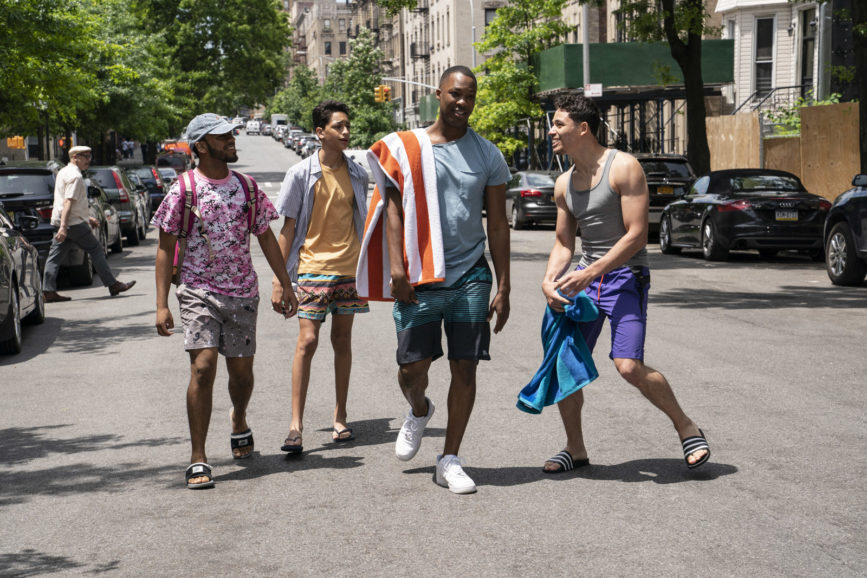 Nakamura and Brooks created a LUT based on the Light Iron film LUT. "We started with that as our base and then tweaked it. The final version is better than our dailies, as you'd expect, but it wasn't a huge shift from our dailies to what the final look was. When they screened the movie, our colour was already 90 percent there."
They shot for about four weeks on location with another period on soundstage where they recreated the main intersection of the film at 175th Street and Audubon Ave and several interiors. To match studio lighting to real locations, Brooks used Arrimax 18Ks, ARRI SkyPanel S60s and an array of 20K Fresnel and 20K Mole beams to accurately recreate the light of the sun and sky.
"We were able to get access to buildings all the way up and down the blocks in both avenue and street directions. We used a lot of Arri SkyPanels with S360s on tops of buildings for night work."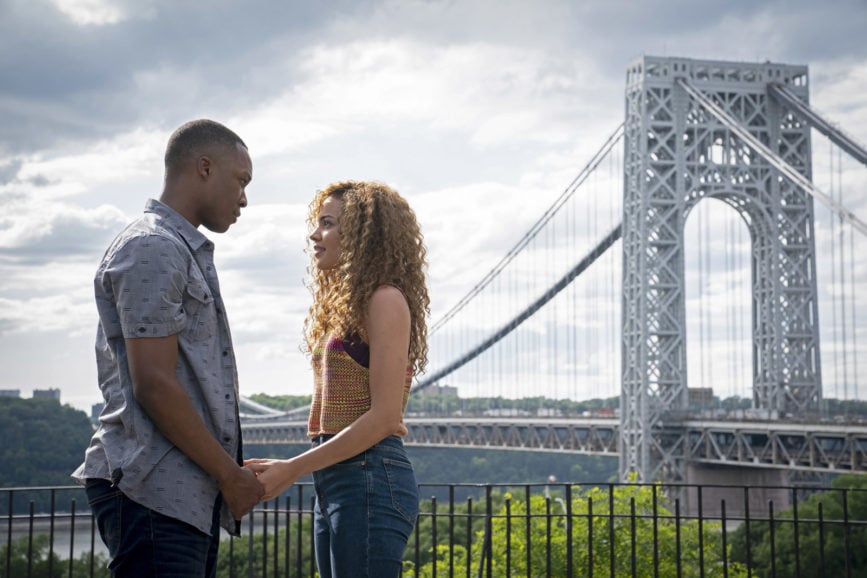 She deployed SkyPanels to create firework effects for the musical number 'Blackout' which builds to a critical narrative moment (at the end of Act 1 in the play). "Our dimmer board operator was able to dial in the colours of the fireworks for different streets and see them play off the buildings. It was fantastic." For another number, she lit a subway tunnel with Astera LED tubes and fixtures obtained from a theatrical lighting house in New Jersey.
Most of the musical numbers were pre-recorded, save a few songs which were recorded live. 'Champagne' was one such tune which was executed on set as a 'oner' which took fourteen takes to nail. This is a two-person number between Usnavi, the owner of a Bodega, and his would-be flame Vanessa who works at a beauty salon. It is set in the apartment of Usnavi's abuela (grandmother), a narrow 14ft wide by 30ft long railroad townhouse with a window at either end.
"We wanted it to feel almost like a yo-yo as these two people come together and pull apart," Brooks describes. "The apartment had a mirror built into its fireplace and we used that with another piece of glass in a kitchen cabinet and used the reflections to see both characters at the same time.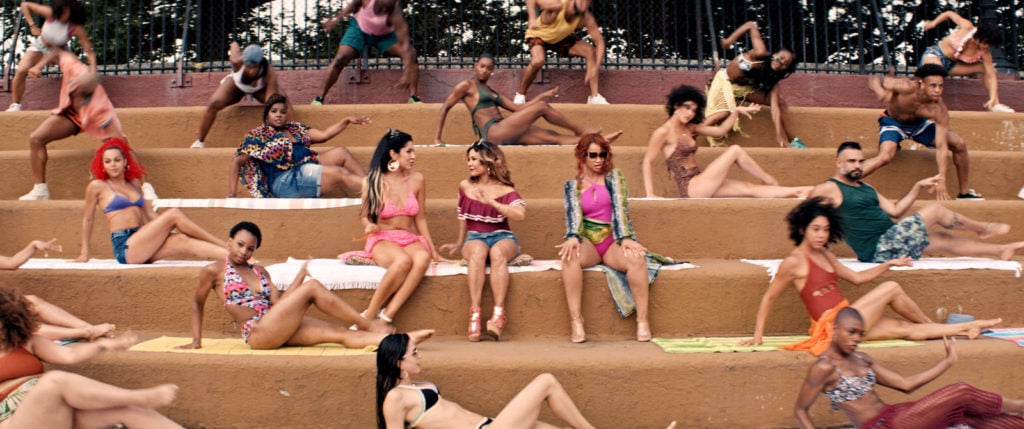 "The week before we shot that, Jon and [choreographer] Chris Scott and I spend a day at the apartment location with our iPhones walking though the space. It took maybe eight hours to figure out how we could move the camera. It's less of a dance, more of a choreographed movement and we used the entire house which is three rooms interconnected so you can see into each room.
"The following day, we were due to shoot the movie's finale outside, but it thundered and rained so much we were able to pivot quickly and walk everyone through the blocking we had prepped inside the apartment."
With Scott and Chu, Brooks forms quite a team. They had all worked on The LXD. "It really felt like this was the movie we'd been working our whole careers to make. We are very in sync and have great shorthand. While Jon and I were out working on shot lists, Chris would be at dance rehearsal. We'd meet up, he'd show us his work, we'd share our ideas, and we'd revise accordingly. It was a very fluid collaboration."
Principal photography had finished, and Brooks was already at work on her next film – another musical, this time directed by Miranda called Tick, Tick…Boom! – before COVID struck.
"I'd started the DI when I was in New York but had to finish it remotely with Stephen in LA. We had a direct stream using Sohonet ClearView Flex which I was able to view on my iPad which worked very well."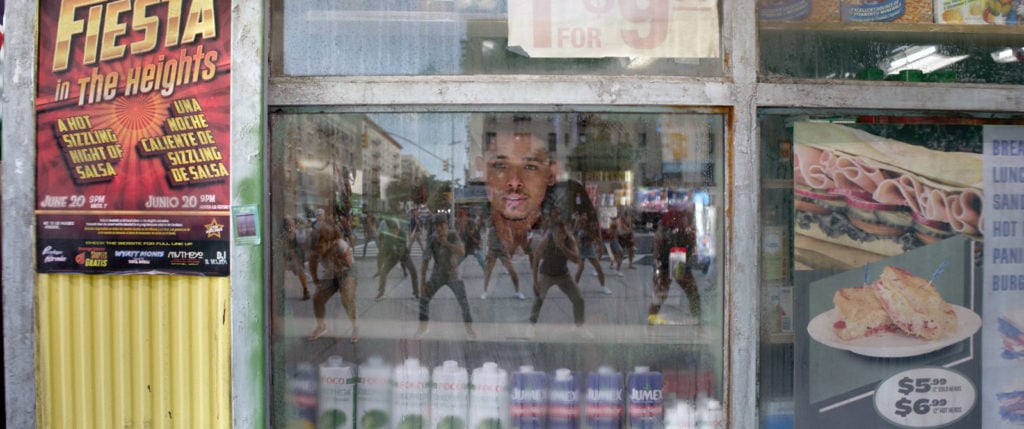 Brooks' personal take-away from the film is the feeling of community she found in those few blocks of the city. "I'd been there eight or nine weeks and realised I had fallen in love with Washington Heights. I'd fallen for the smells and the light and the sound and the people and realised that my job was not to make The Heights into something it wasn't but to show the beauty that already exists there on screen."
Brooks' industry roots run deep, having acted in more than 40 national commercials as a child. Her father was a playwright, her actress mother introduced her to Broadway shows, and she says she spent her teenage downtime in a darkroom.
"We even lived across the street from Warner Brothers for a while. I'd watch the camera people make magic. I knew by the age of 15 that I no longer wanted to act but that I absolutely wanted to be a cinematographer."