Overview: Caterpillar (Sâu Buóm) follows a young Vietnamese boy, who is a victim of modern-day slavery. In the aftermath of a failed escape attempt, his relationship with his overseer becomes even more complicated. 
What were your initial discussions about the visual approach for the film? What look and mood were you trying to achieve?
Together with the director/writer Marcus Thomas, we talked about the dark mood of the script. The film tells a rather hopeless yet realistic story of a small Vietnamese boy who is a victim of human trafficking. We didn't want to underline this with a gritty and handheld documentary look which is often associated with social realism. Instead we wanted to have an observational camera establishing the state of things while still mostly sticking on the eye level of the child. We wanted to highlight the stillness of life inside the house where the boy is living in captivity. Lighting wise, I was looking for a balance between realism, and a strong look of deep blacks and vivid colours. I decided to go with bolder tones but keep the lighting rough and simple and avoid polishing it too much for close ups. 
What were your creative references and inspirations? Which films, still photography or paintings were you influenced by?
I think I brought up Shoplifters by Hirokazu Kore-eda in our first meeting before we had even decided to work together. This visual reference carried through the process all the way to the colour grade. While reading the script for the first time and knowing Marcus's style before hand, I wanted to apply some aesthetics typical of Asian cinema: strong colours and deep blacks inspired by amazing films such as Nobody Knows, Happy Together and Parasite. We also thought a lot about how to portray a child's perspective and studied films such as Room, Ilo ilo and Beasts of the Southern Wild.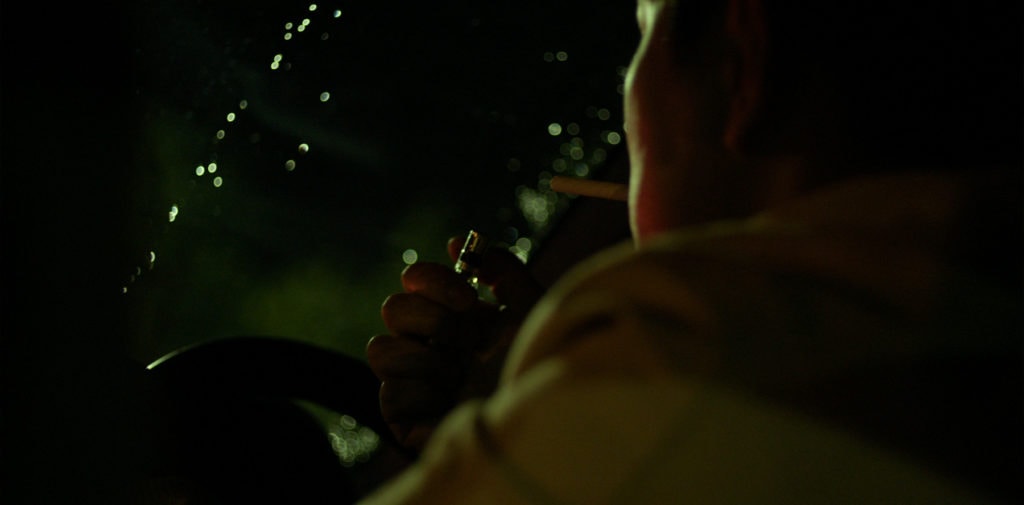 What filming locations were used? Were any sets constructed? Did any of the locations present any challenges?
All the interiors of the film were shot on stage. We built two sets side by side – a ground floor set with a staircase with an elevated wall and a first floor set with a hand railing suggesting the presence of the staircase. We built the set to match an exterior location, a street of terraced houses in Luton. The biggest challenge and stress was to get permission from the council as most of their staff was still being furloughed last summer. We had to go forward with our set build plans whilst we got the permissions sorted only a week before the shoot. Thankfully it all worked out!
Can you explain your choice of camera and lenses and what made them suitable for this production and the look you were trying to achieve?
I decided to go with a trusty combination of Alexa Mini and Cooke Speed Panchros. I love the Cooke look and especially this set of vintage glass. They gave me the pleasant and natural look I needed to keep the world realistic yet cinematic. 32mm is my favourite focal length and was definitely the most used lens in this film too.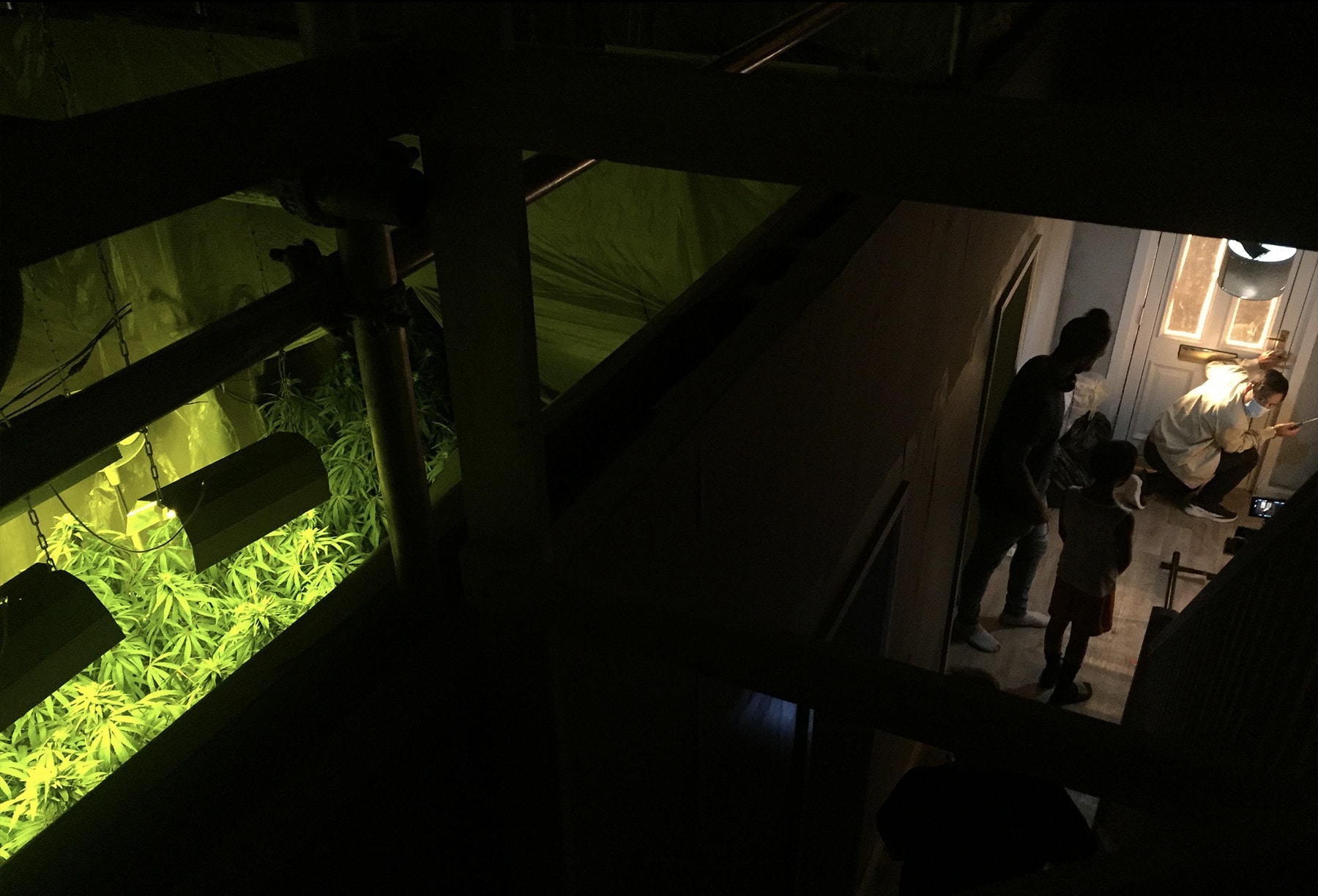 What role did camera movement, composition and framing and colour play in the visual storytelling?
Through framing I wanted to deliver the main character's loneliness and smallness. I aimed to do this by using exaggerated headroom, short sided compositions and an observational physical distance. Most of the film consists of fixed frames and of very slow and controlled tracking shots which hopefully enhances the stillness and timelessness of the life inside the house. In the film there is a short scene where we get to see our main character as a care-free child. For this moment, I used handheld camera on a wider lens in order to get closer to his experience and to emphasise his innocence. 
What was your approach to lighting the film? Which was the most difficult scene to light?
A key visual element and a starting point to all of my lighting were the growing lights of the cannabis farm in the house. With the growing lights I wanted to go with a cool and greenish yellow tone instead of orange and warm. This to me felt visually more striking and it helped me to differentiate it from the sodium vapour toned street lights. For me, the most challenging scene lighting wise was the opening scene in which the boss is driving around and finds the boy from the street. Our street location didn't have any existing lights so it was a pitch black starting point. We utilised good old 2K blondes with sodium vapour gels as streetlamps and fine tuned the close ups with a S-30 SkyPanel. Despite the stressfully limited working hours due to a combination of a night shoot and a child actor, we managed to tackle the scene. 
What were you trying to achieve in the grade?
Its a fine balance – we tried to maintain a sense of realism whilst pushing for darker blacks and more vivid colours. I wanted to cool down the growing lights a touch more in the grade to further differentiate those from the orange streetlight.
Which elements of the film were most challenging to shoot and how did you overcomethose obstacles?
Creating seamless transitions with our interiors shot on stage, and exteriors shot on location was always a key challenge to me. During the first location recce I realised that as we needed to shoot some POV shots from an actual window of a first floor flat, we could also shoot shots with our main character by the window on location. I think this tremendously helped us to sell the idea of one location.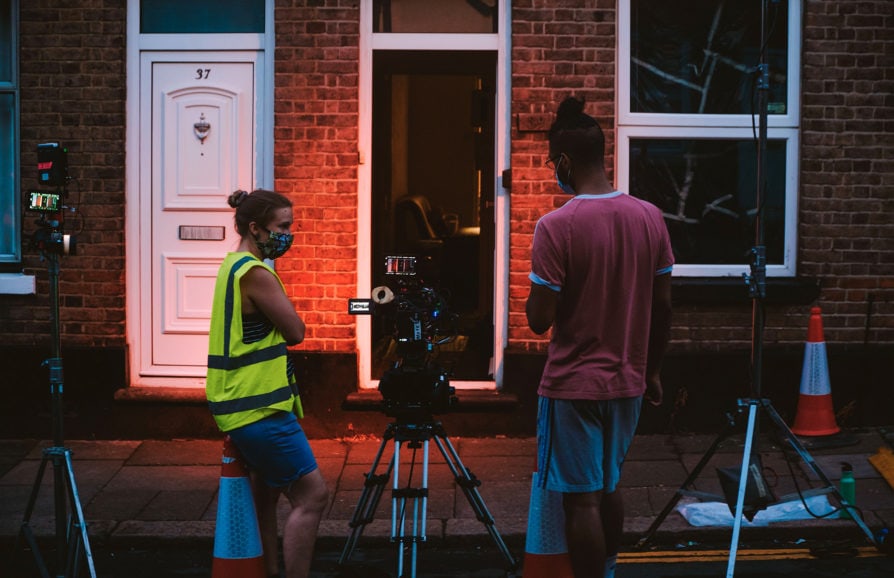 What was your proudest moment throughout the production process or which scene/shot are you most proud of?
I'm very proud of the atmosphere we managed to create on the shoot. Once we hit the set it was all calm and well planned after a very stressful and hectic pre-production, with all the COVID safety regulations being figured out. Marcus and I had a very clear shotlist with us but as we knew the story inside out, and knew what each moment needed to deliver, we were able to keep our eyes and minds open for alternative solutions. A shot that I'm most proud of wasn't part of our original plan. On the night before the shooting day I literally woke up to this epiphany of how the execution of this vital scene could work out within one single tracking shot. Once we started blocking the scene, I introduced the idea to Marcus who was straight away on board. It took around 10 takes to make it all land nicely but it was definitely worth taking the time to finesse it. 
What lessons did you learn from this production you will take with you onto future productions?
This film gave me a lot of self confidence. Before the NFTS I would have thought it to be an impossible task to shoot a realistic film like this believably and elegantly on stage. I gained a lot of experience making decisions together with the production designer and the director regarding all questions related to this scale of a set build. I hope I'll get the opportunity to apply these experiences and skills in the future productions too. I'm excited to see what the future holds!
> DISCOVER MORE 'FICTION' FILMS FROM THE 2021 NFTS GRADUATE SHOWCASE
> GO TO BRITISH CINEMATOGRAPHER 'HOME' PAGE
> BACK TO TOP