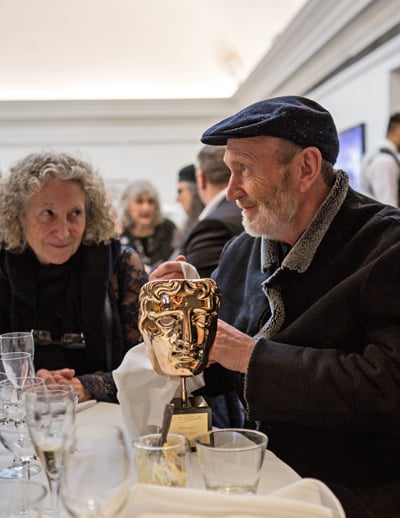 Cinematographer Roger Pratt BSC has been honoured with a Special Award for outstanding contribution to cinematography, at a BAFTA-hosted tribute event last Sunday (20th January).
The special tribute event was compered by BAFTA-winning producer Stephen Woolley. Speakers included directors Mike Leigh, Terry Gilliam, Richard Eyre, and BAFTA-winning gaffer Chuck Finch, all of whom spoke highly of Pratt's lifelong achievements, which include working as director of photography on more than 35 films.
Comedian and BAFTA Fellow Michael Palin presented Pratt with the prestigious award in front of an audience of industry professionals, friends, and family, including BAFTA-winning production designer Stuart Craig OBE, and BAFTA-winning producer Duncan Kenworthy OBE.
May Phillips, Roger Pratt's daughter, commented: 'We couldn't be more thrilled that Roger's contribution to the British film industry is being recognised and celebrated by BAFTA. Roger has never been one to sing his own praises – so we are very glad, especially now, that others can do it for him!'
Stephen Woolley, commented: 'Roger is one of the creative forces behind not only '80s cinema but going on through the '90s and up until today. Roger personified the often clichéd term "painting with light", and as a producer I feel privileged to work with him.'
After graduating from the London Film School, Roger Pratt debuted as director of photography on Roger Christian's The Sender in 1982 and has since worked in his role as a cinematographer on over 35 films. Pratt's work has included memorable use of both light and shadow, having worked on an impressive repertoire of films, including Terry Gilliam's Brazil (1985), Neil Jordan's Mona Lisa (1986), Tim Burton's Batman (1989) and Kenneth Branagh's Mary Shelley's Frankenstein (1994). Chocolat (2000) earned Pratt his second of two BAFTA nominations, with the first for his stunning work on The End of the Affair (1999), for which he was also Oscar-nominated. The balance of rich colours and deep shadows also mark his exceptional cinematography on two Harry Potter films, and Wolgang Peterson's epic Troy (2004).