Immersive images
Natasha Braier / The Swimmer
Immersive images
Natasha Braier / The Swimmer
The London 2012 Olympics are being hailed as a showcase for British talent, history and pride, not just on the sporting track and field but for the nation's arts scene as well. Film is a major strand of the Cultural Olympiad and in addition to encouraging young people to take their first steps in filmmaking to record their notions of Britishness, the project has commissioned four short films from leading directors to examine the country's image of itself.
Rising documentary star Asif Kapadia (Senna) has produced The Odyssey, a mixture of aerial photography by Adam Dale, whose upcoming credits include new Bond movie Skyfall, audio interviews and archive material. In What If?, the Streetdance duo of Max Giwa and Dania Pasquin focus on Britain's youth scene of BMX, skateboarding and free running, set to the nation's favourite poem, If by Rudyard Kipling. Meanwhile the grand old man of English working class comedy-drama, Mike Leigh, has teamed up with DP Dick Pope BSC for A Running Jump, starring twins Danielle and Nichole Bird, Eddie Marsan and Lee Ingleby.
Perhaps most intriguing is The Swimmer, directed by Lynne Ramsay, fresh from the Grand Guignol of We Need to Talk About Kevin. Ramsay describes the 13-minute short as a "stream of consciousness" that follows a young man on an endurance swim through a shifting background of country rivers and urban waterways. As he cuts through the water old British songs play on an intelligently designed sound-track, intermingled with snatches of dialogue.
The Swimmer was shot by Argentinian cinematographer Natasha Braier, who first met Ramsay during preparation for Kevin. "I've always liked Lynne's work a lot, so it was a dream to get to work with her and people like [sound designer] Paul Davies and [production designer] Jane Morton, who have worked with her for a long time," she says.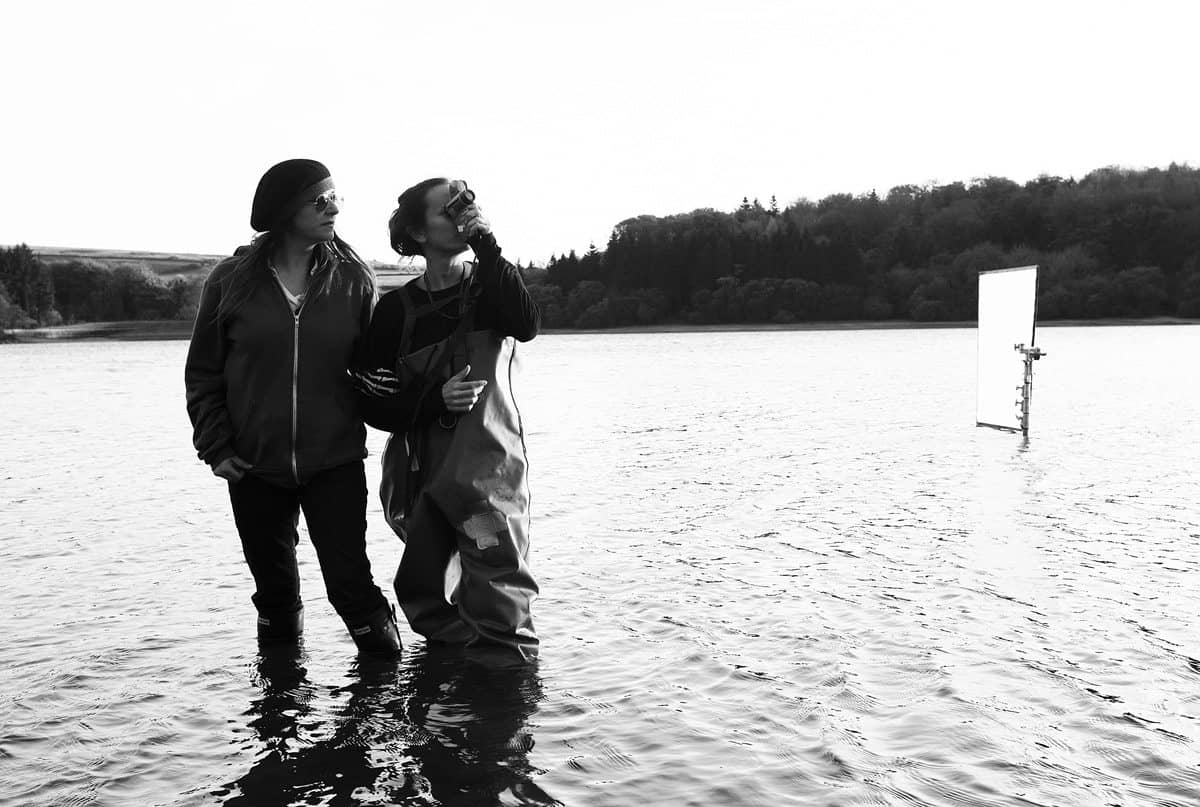 Ramsay sent Braier a treatment for the film, along with a compilation of music she wanted to use and reference images as a starting point. "That's the way she works, very organic and conceptual," Braier comments. "The treatment was a piece of art in itself, with poetry and links to click so I could listen to these British songs she wanted to use. This was quite impressionistic, based on feelings."
The B&W film sets out to portray different aspects of the British summer, with the swimmer of the title linking the different scenes. Unfortunately, by the time the shoot began it was October moving into November, which brought extra complications on top of filming around water.
Casting started in Devon with a group of wild swimmers, but eventually Ramsay decided the main performer should be someone with more professional discipline. Tom Litten was cast in the title role; he had been training for the Olympics, but just missed out on being selected for Team GB. "We fell in love with his swimming style," Braier says.
Wild swimmers were also used as stand-ins for some shots, but Litten also had to endure bitingly cold water for many of his scenes, shot at a reservoir using a crane-mounted ARRI 435. "The water was about 9 degrees Celsius," Braier says, "so Tom could swim for only two and a half minutes and then get out and warm up for a couple of hours before we could shoot again for another two minutes. We couldn't do takes longer than that otherwise he would have been close to hypothermia. That meant everything had to be very precise, planning all the shots and then going for one take with no rehearsal. That was quite challenging."
"I always operate the camera myself, but I had to have someone else for that for the underwater shots, even though I'm an advanced diver. "
- Natasha Braier
The bridge scene was also filmed on location, this time in East London, but Braier, Litten and the crew did get to work in warm water at both The Underwater Studios in Basildon, where the weeds and twigs of the reservoir were recreated, and in the tank at Pinewood for clean water. Underwater cameraman Mark Silk and his team from Watertight Films worked on the project with Braier, who has diving qualifications up to advanced level.
"I always operate the camera myself," she says, "but I had to have someone else for that for the underwater shots, even though I'm an advanced diver. So Mark operated for that but I was still lighting all the scenes underwater."
Braier and Silk had worked together previously on a commercial, which she says was good timing because everyone was used to working as a team, or, as she puts it, "a family". She adds, "To do things underwater is really exciting, although it's not as different a world as people who are not familiar with it might think."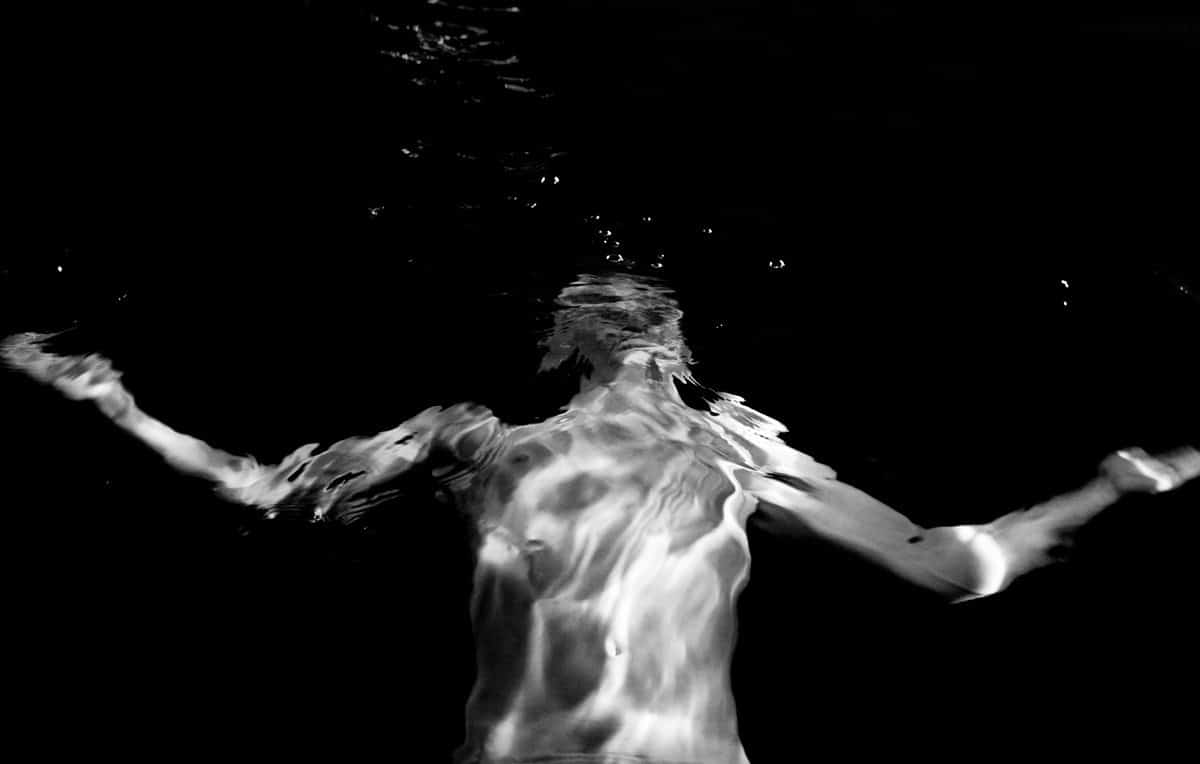 Braier took charge of the camera again for the above water sequences, shooting 3-perf 35mm in 185 format. While she could control the lighting underwater, bearing in mind such principles as the flares refracting in a different way, Braier was at the mercy of nature for the bank-based shots.
These, she says, were technically challenging, working with tracks laid on the riverbank for the crane, which was extended up to 60 metres in the air. "Tracking along with the swimmer was probably the biggest technical thing in the piece. We had to find a place where he could swim in a straight line and somewhere solid to lay the track so the crane wouldn't sink in mud."
Natural light was used for these scenes and Braier had to be in the right place to catch the sun at different times of day. "We scouted round and found the best spot for the crane," she recalls. "We were also very lucky that it was a sunny day, but we had to time each sequence so the lighting was right for the different angles to shoot Tom from the side, back and front. Combined with only being able to have him in the water for two and a half minutes at a time it was a big challenge."
Braier and Ramsay originally wanted to shoot on B&W stock but tests showed this was too grainy. Colour footage was later converted into B&W, with processing at the Soho Film Lab. The film was then graded at MPC.
With all this work for a short film - and one that is part of such a high-profile event - it's little wonder Natasha Braier was eager for it to have its first public screening: "I'm excited to see what happens when people see The Swimmer."