While decidedly the "International" Cinematographers Guild, IATSE Local 600 is nonetheless headquartered across the pond, here in LA. They've also just had an election for new officers, with camera assistant Baird B. Steptoe Sr. elected to a three-year term to replace outgoing President John Lindley ASC, with results expected to be certified at the local's next board meeting in June (doubtless to be certified with much less stress or fabulism than certain other American elections).
On the other hand, quite akin to average American elections, only about a third of the membership cast ballots (in contrast to the high numbers and unanimous support that last year's strike authorisation received). This roughly compares to midterm elections here, where usually around 40% bother to show up (compared to a 60% average in US Presidential elections).
Steptoe was already a long-standing member of the guild's executive board, and becomes the first African-American President in ICG's history. While his election is for a three-year term, it also comes on the heels of the announced resignation of Rebecca Rhine, the local's executive director, who'll be stepping down when her contract expires in September.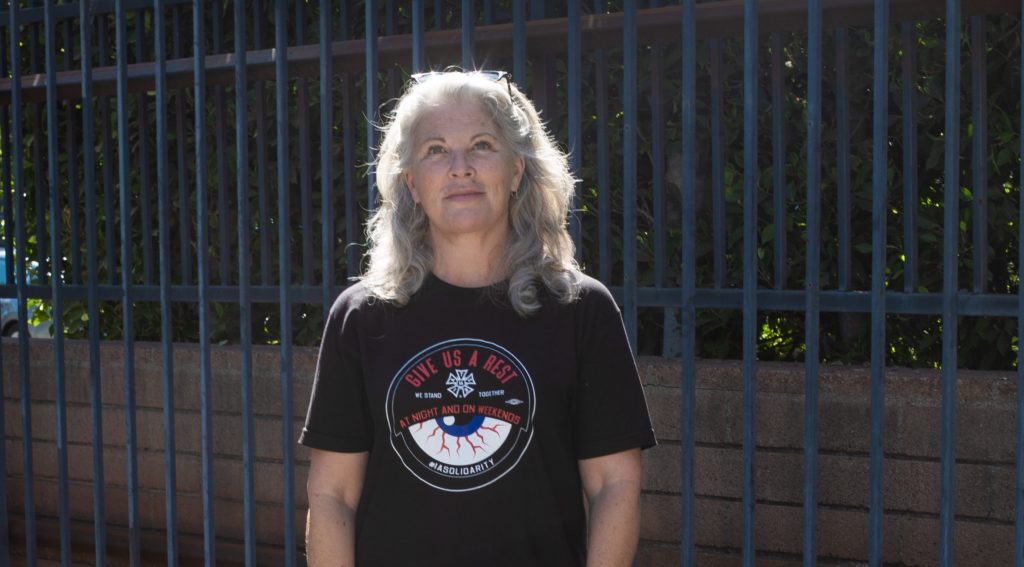 In the letter she sent to members, she wrote "this Local has so much heart and so much potential, but it can be undermined by mistrust and our tendency to turn on each other… Building a stronger union requires patience, collaboration, and hard work. That means instead of posting about how it should be done, do something. That means if you are going to talk about what is wrong, offer some ideas for how you think it could be done right. That means bringing members together to educate and empower them by telling them the truth, even when it isn't what they want to hear."
This may refer to the cinematographer's earlier rejection of IATSE's proposed settlement with producers, which was ultimately negated as enough locals assented, to the agreement.
At that time, Rhine co-signed, along with her counterparts in other locals, an earlier letter, which said "to those of you opposed – we hear you, we see you, and we recognise we collectively still have work to do to change the culture of our industry.
"We ask you to stand with us as we move forward. Our future success will depend on our ability to stay united rather than being divided. That only serves our employers.
"Let's move forward together and take ownership in advocating for the long overdue cultural change needed in this industry. It doesn't stop here, and in fact, it has just begun. "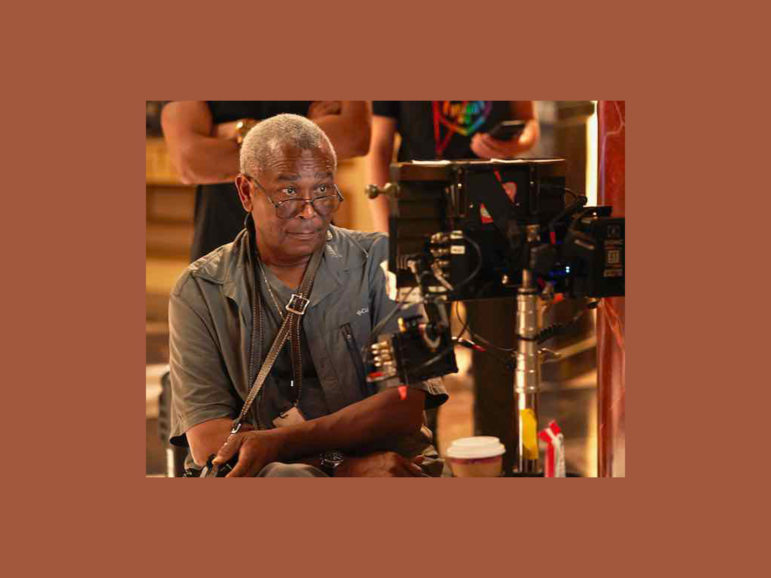 This somewhat parallels what Rhine said in her more recent letter, asking 600's members to "turn your attention outward to the fight that matters to working members, the one with our employers for better wages, benefits, and working conditions."
And Steptoe – and his counterparts, overseeing other guilds – will have quite a few of those fights to contend with during this three-year tenure: not only another contract with producers, but two Federal elections in the US, where the very viability of unions, in a certain sense, will be on the line.
There will also be brewing challenges as a result of America's quickly heating "culture war," including the health rights of women in worker benefit packages, fear of "wokeness" in employee training (or even in hires), and many other issues once thought settled.
More specific to crew folk, women may have to consider – especially if they're pregnant, or on birth control, etc – whether they will even want to work in a state (such as Georgia , Florida or Texas) where abortions are outlawed, birth control regulated, and any doctor visits along those lines have to be reported to the state (or can be spied on by locals, for bounty money).
Would someone want to spend three months on a shoot, under those conditions?
As for Rhine, she ended her letter mentioning she'll be working for a smooth transition with her successor, adding that she believes "the fight for working families is the most righteous fight there is."
As members of 600 – and members of every local, everywhere – will find out soon enough, that will increasingly be tied into all the other fights unfolding all around us.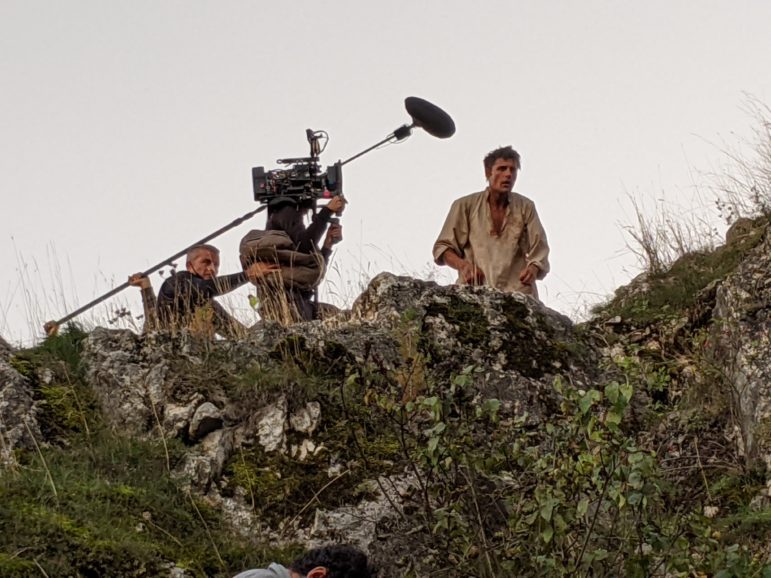 And if all that makes being human feel like even more of a puzzlement than usual right now, well, that's part of the mystery that new indie horror film You Won't Be Alone attempts to examine, or perhaps unlock.
Written and directed by Goran Stolevski, it's set in his native Macedonia, but was primarily crewed out of Australia, where he mostly lives and works. And where he partnered with cinematographer Matthew Chuang.
Or rather how he partnered, since Chuang, though from Down Under, is here in the bucolic throes of drought-riddled Los Angeles.
"They had signed on Bethany Ryan as the production designer," and Stolevski, in sudden need of a DP after earlier options didn't pan out, asked if she knew "anyone I hadn't thought of." She mentioned Chuang, who confirms "they hadn't heard of me; I hadn't been in Australia," at least, not for a while.
And while shot in Eastern Europe, "technically it's an Australian film."
Once Chuang, who'd previously shot Blue Bayou with director (and writer/star) Justin Chon was on board, the plan was to head to Serbia, around spring of 2020. But "we all know what happened there."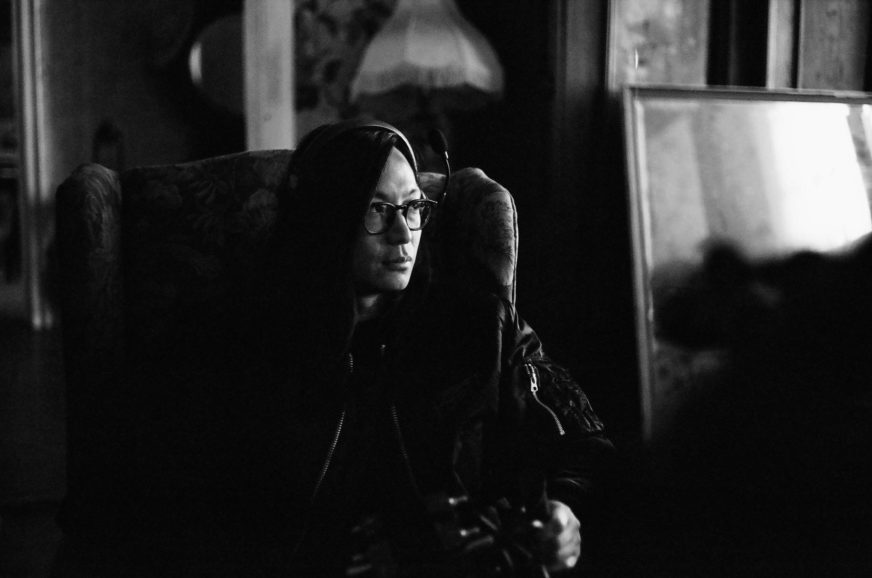 Regrouping later to shoot in "a city called Pirot, which is three hours away from Belgrade," they found their location an additional thirty minutes farther in a mountainside village, all of it far enough from any outbreaks that the area served as its "own kind of quarantine," with everyone tested before they arrived.
Set around the time the 18th century is bleeding into the 19th, the story is about a village girl taken and raised by a "forest entity," who might even be a witch. But in learning of her powers during this particularly dark apprenticeship, the girl, Biliana, finds a way to start seeing through the eyes of the victims she amasses, and a kind of profound ache at the fleetingness and fragility of life starts to overtake the story, so that it becomes, as Chuang puts it "a supernatural thriller with some elements of Terrence Malick," (or as one reviewer said of the same comparison, "the goriest film that Malick never made").
You Won't Be Alone "never came across as a straight horror film," he adds, calling it something "far more humanistic, and quite bold in its ideas." As more and more genre storytellers are doing — or perhaps the best ones always have, and now it's increasingly evident in horror – "Gar is using the medium to explore more of a human element."
If Malick and forest witches still sounds like an unconventional mashup (though, does it really?), it was shot unconventionally too. "As we started filming, Gor started letting the actors do their own thing," especially since Ryan's sets – including a cave where the village girl-cum-entity spends most of her childhood in the first act – allowed actors the "freedom to move around the space and to interact with whatever's there."
With Chuang wielding an ALEXA Mini, lashed up to some Cooke Panchro glass, Stolevski would "direct me while we were shooting. Nothing was rehearsed when we were blocked out. That's why the camera was so spontaneous. Because anything could happen at any point… I was lighting through the camera, framing (things) in a way where we'd try these ideas, discovering these really amazing moments… The crew started to get the idea, embracing this unorthodox way… The boom operator (would) be prepared for anything."
As would the gaffer, who often worked a dimmer, since fire was the main source of light in most indoor spaces, and Chuang notes there were no stands on the set. The "biggest thing was the placement of fire," and then "a combination of what would make sense – quite a lot of time we'd have flame bars for the fire, and supplement with a custom fire box my gaffer had set up – two 1ks on a dimmer board that were gelled." The gaffer would "ride the dimmer, depending where the actors were in that space," though usually they were preceded there by the director who'd "move around and act it out himself," while they were "adapting to the lighting of the day," and "once the actors came, Gar would walk it through with them while I would get myself in a state of mind about what the main actor was feeling at that point."
His subsequent collaboration with Stolevski perhaps left a wee bit less to serendipity, as it's "more structured – a gay coming of age story." Though he allows that they did move "fast and spontaneously," he also allows that "it wasn't as crazy as You Won't Be Alone."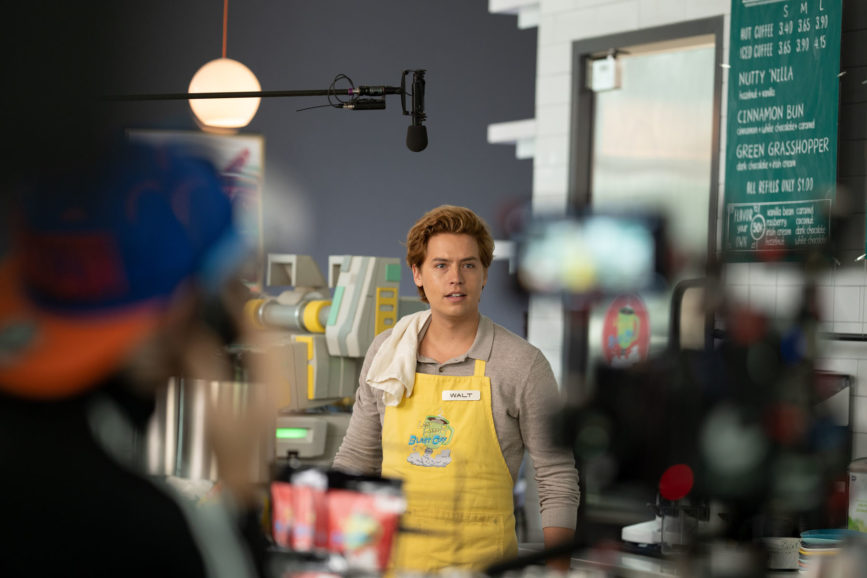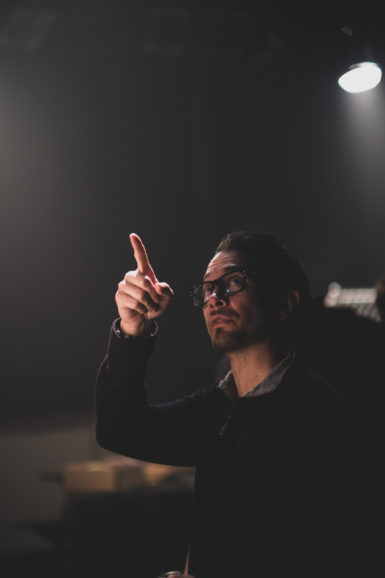 And if chronicling our mythic past is as crazy as the past itself, how much crazier is the seeming future that lies ahead? HBO Max's mashup of a romcom, Moonshot, is also a science-fiction story, set in a 2040s-ish future, where surprisingly, the ravages of climate change have yet to kick in. Still, the future can't shed itself of Elon Musk-like figures, and so it is that Zach Braff's Leon Kovi runs a company that not only has begun settling Mars but offers high dollar tourism – with a few scholarships – to visit the Red Planet.
Which is how his-head-in-a-nebula college coffee shop worker, Walt, meets her-future- rigorously-planned student Sophie, headed the next planet over to see her fiance.
Complications – further complicated by space travel – ensue.
DP Brendan Uegama came on board through a longstanding relationship with producer Sarah Schechter, and after meeting director Christopher Winterbauer, quickly wrapped the show he was doing in LA, and found himself "in Atlanta to start prepping Moonshot. We shot in June, til the end of August of last year – there were heavy protocols."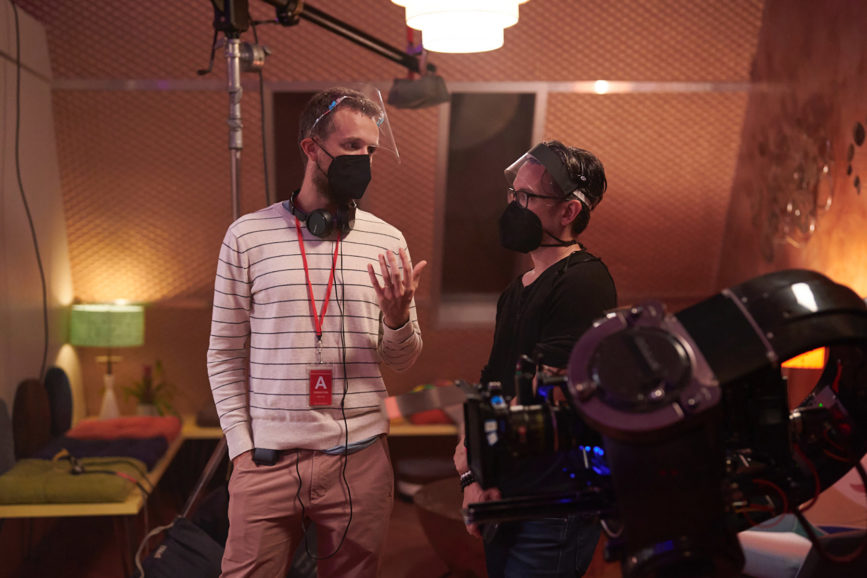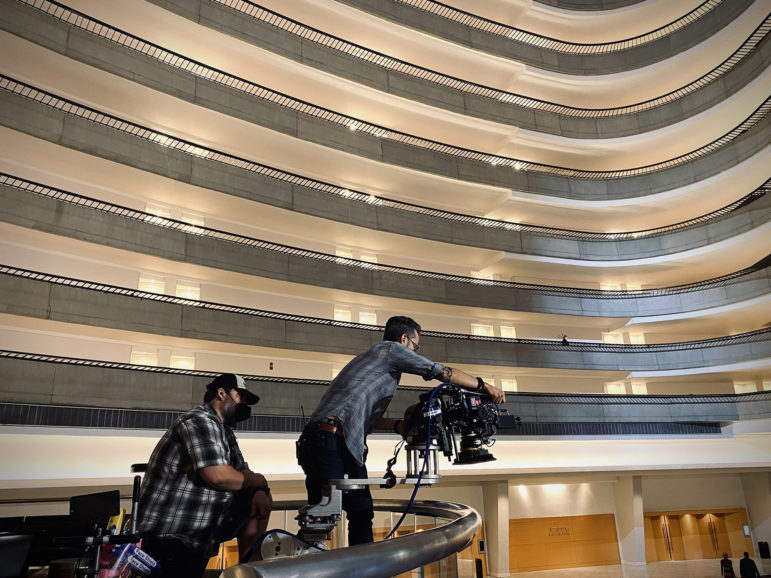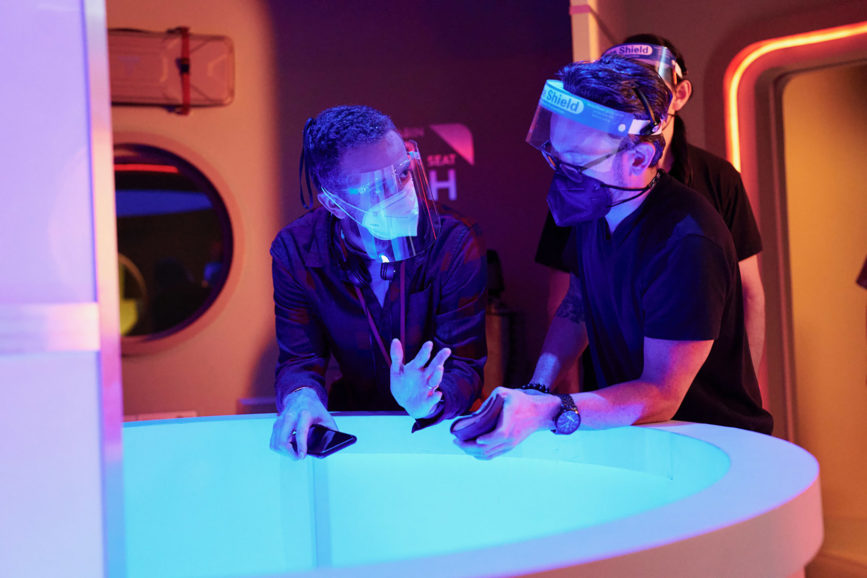 And though they were balancing genres, "in prep there was a lot of conversation about the sci-fi elements," much of which, per the aforementioned protocols, took place via Zoom. "We were storyboarding everything and doing previs of certain sequences. On shooting days, we constantly had visual elements to take into consideration; we would always have to remind ourselves to treat all these sci-fi elements properly. But at the heart of it, it's a romcom."
Which, given the story's overlapping sensibilities, probably further explains why he used three different lenses for each act of the film, "to really create a feel that was different" for each part.
With each connected to an ALEXA Mini, he did "the first act on old (Zeiss) Super Speeds, and the second on Hawk hybrid anamorphics (from Vantage). (They) give this great bokeh (and) look great on actors." And when the story finally winds up on Mars, he switched to "Leitz SUMMILUX-C lenses. Love them, I've done numerous shows on them. They're nice compact lenses."
In contrast to cross-solar system mood shifts, the show he did after, Iron Mike, "was a completely different world," as it would be, since it's set not only just on this one, but in the sub-world of boxing, and Mike Tyson's journey in it. But "that was great, too," he says. "Every project I do, there's something I take forward."
And being back on this world, yet still looking to move forward, is more or less where we came in this month. See you next round. @TricksterInk / [email protected]