All images: Credit: Clay Enos
WORLD OF WONDER
Matthew Jensen ASC reunites with director Patty Jenkins to help bring a vision of an optimistic, pure, pop-oriented movie to fruition, enhanced by bold colour, authentic '80s styling and action sequences of epic proportions.
The year is 1984 and a 12-year-old Matthew Jensen is immersed in film classes in the basement of the Natural History Museum at the Smithsonian in Washington, D.C., dreaming of one day becoming a filmmaker. Cut to an early morning in 2018, and ASC-accredited cinematographer Jensen is lighting the same Natural History Museum rotunda for director Patty Jenkins' Wonder Woman 1984.
"That 12-year-old kid in me was grinning from ear to ear, amazed that a dream came true," says Jensen, who became familiar with Jenkins' unique filmmaking style when their talents combined on Wonder Woman (2017) and on two episodes of mini-series I Am the Night (2019).
"Having spent many hours together behind the camera, by the time we started Wonder Woman 1984 I really knew what Patty likes and responds to thematically and visually. I had a sixth sense for where she was going," says Jensen. "Patty wanted to make a film that looked different to the first Wonder Woman. This more pop-oriented and glamourous movie would be set in a brighter, more cheerful world with intense colour."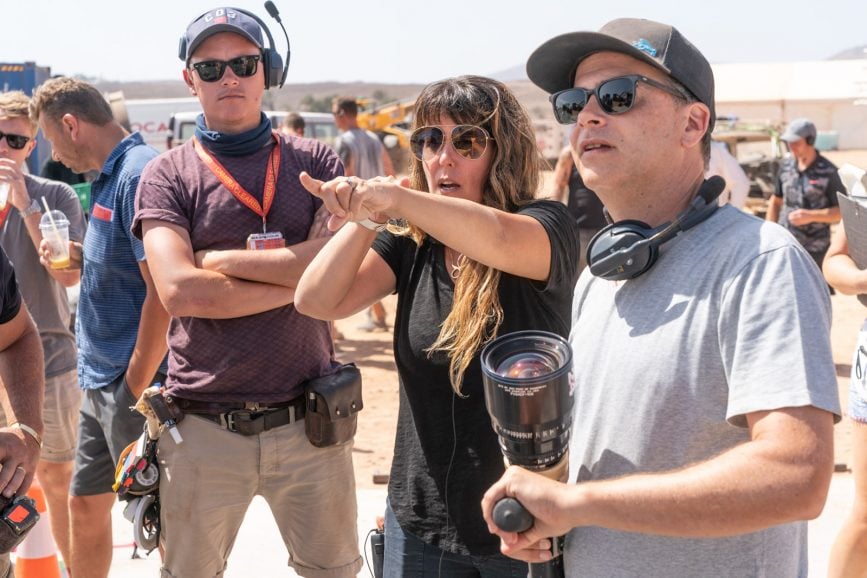 Bursting with retro vibrancy and action, Wonder Woman 1984 transports us to an '80s version of Washington, D.C. and sees Amazonian Princess Diana Prince (Gal Gadot) take on supervillains Max Lord and Cheetah – quite a contrast to Wonder Woman which was mostly set during World War I. Jensen enjoyed the script's commentary on consumer culture's emptiness and the belief material items can improve or fill a void in one's life.
"The film ultimately says that is not the correct path forward which I thought was a wonderful message. The fact Patty connected this to the 1980s is also very prescient. Of course, I loved the fact it is set in Washington, D.C. where I grew up in that era," he says.
Films made in the late '70s to early '80s were revisited for inspiration as the filmmakers endeavoured to create a similar scope to early Steven Spielberg productions such as Close Encounters of the Third Kind (1977) and Raiders of the Lost Ark (1981) and Richard Donner's Superman (1978) and Superman II (1980). The look and feel of films such as 9 to 5 (1980) and Heaven Can Wait (1978) were also referenced.
"The key takeaway from those movies is their uncynical approach. They unabashedly have fun and shift tones between drama and action to outright comedy whilst still having a level of pathos and character development. That's quite different to what we experience in many current blockbusters. They're more self-aware and seem to reference themselves with each subsequent sequel. Patty wanted to make a pure movie with a slightly more innocent tone," explains Jensen. He also looked to '80s fashion photography and modern fashion photography referencing the '80s in its lighting, saturated or neon colour and glamorous presentation of models.
An international affair
The globe-trotting production visited three countries between principal photography commencing in June 2018 until filming ended that December, with additional photography taking place for a month in August 2019.
Four weeks spent in Washington, D.C. allowed them to capture many of the large exterior scenes including iconic locations such as the Lincoln Memorial, the Washington Monument and riot scenes on Pennsylvania Avenue with the Capitol in the background.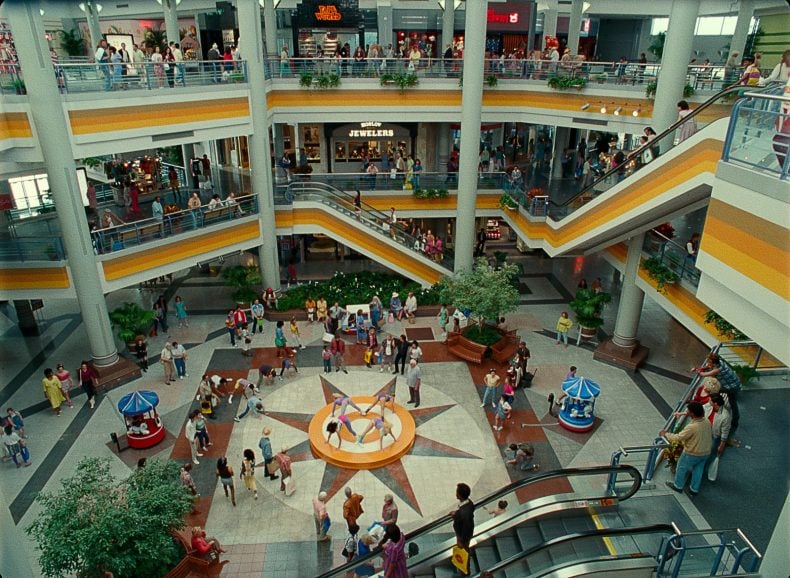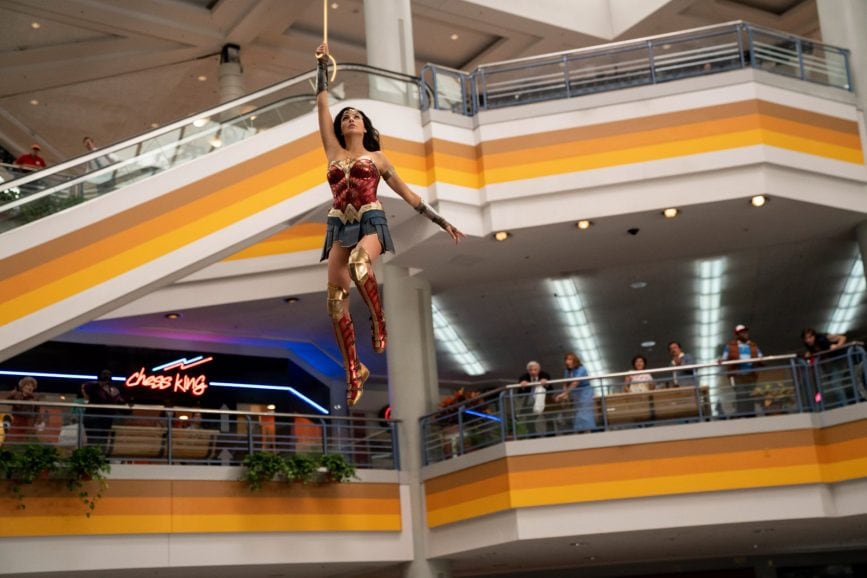 Shopping mall scenes were filmed at an abandoned mall in Alexandria, Virginia. Split across three levels and featuring an open atrium, the mall offered the scale to stage a big action sequence when Wonder Woman swings from level to level.
The art department recreated more than 60 stores of the period – a massive design and lighting undertaking. "We had to put ballasts back in, rewire many of the fluorescent fixtures and find old fluorescent fixtures to power them," says Jensen. "I think we used every last fluorescent fixture in the United States just to get the raw power to light the stores."
The team also spent a month shooting in Spain, Almeria and Tenerife and Fuerteventura in the Canary Islands to recreate Cairo and parts of Wonder Woman's homeland Themyscira. Many interior scenes were filmed at Warner Bros. Studios Leavesden and additional sequences were captured in London, which doubled up as some locations in Washington, D.C.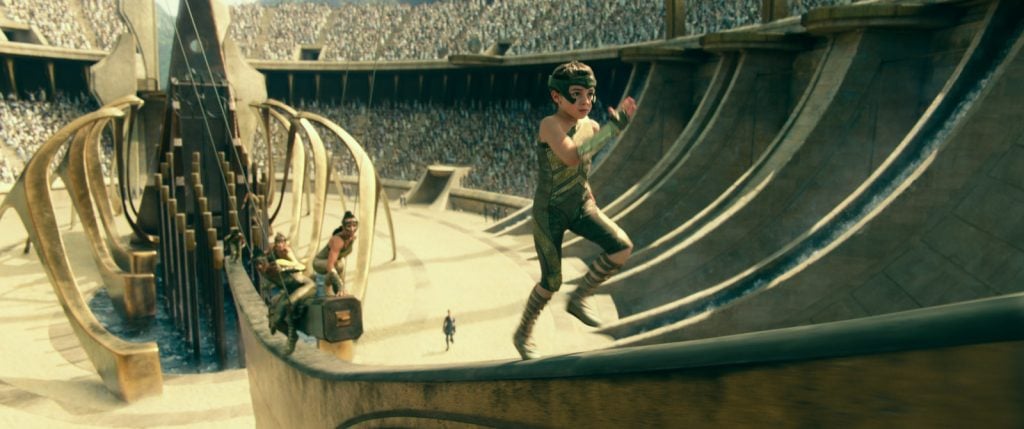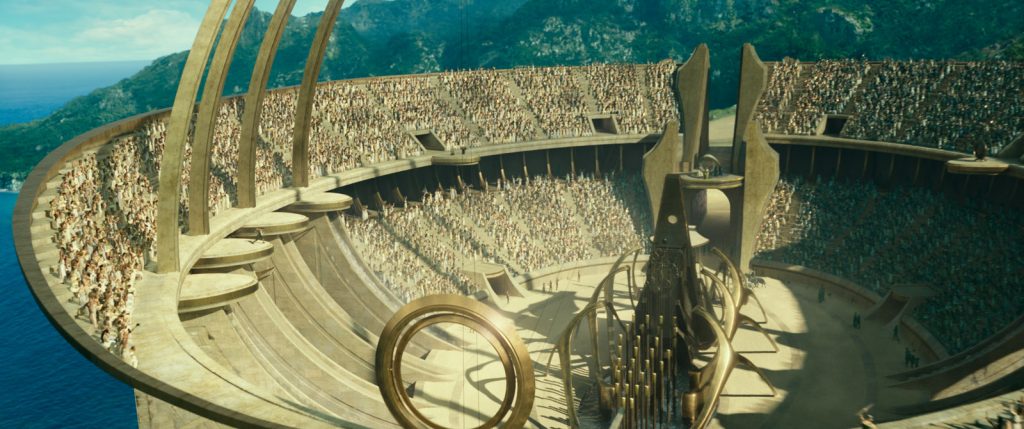 The filmmakers' exploration of '80s films and fashion photography shaped the production design as Jensen worked alongside production designer Aline Bonetto and her team and set dresser Anna Lynch-Robinson to produce an authentic retro world. "I was very involved in the details of the mall as we were on my home turf in the '80s. I told the production design team about an arcade with a unique design in Washington, D.C. called Time Out. They used reference photos to recreate it down to the smallest detail for the scene set in the video game arcade," he says.
Detailed lighting fixture discussions between Jensen and Lynch-Robinson led to the introduction of neon in the background of certain scenes. "In a close-up shot when Diana dines alone in Georgetown she is lit in a beautiful soft white light. It's great for flesh tone, but there are spots of colour in the background, not only from the streetlight but from lighting from the stores," he explains.
Jensen, the lighting crew and set design team created LED fixtures to mimic the look of neon from the era, with LED being easier to use and offering greater colour control. "Our approach was to put all the saturated colours in the background but keep the talent nicely lit and glamorous with beautiful flesh tones," he adds.
Bonetto also shared design ideas for the other spaces the narrative would unfold in, of which there were many due to the film's immense scope. "There are locations in Cairo, missile silos in the US and in Russia, and many more. The look of each was different and all the fixtures had to be integrated into the design. Aline was great at communicating exactly what she wanted to do throughout."
Jensen's vision for the film's lighting was in line with Jenkins' overall aesthetic goal – to be brighter and more saturated. He wanted to let the costumes, art direction and practical lighting do the heavy lifting in terms of the colour. "I would then light the faces in a glamorous way and in the appropriate mood before focusing on lighting the different environments and selecting colours, which was a little trickier," he says.
To achieve this, Jensen relied predominantly on classic lighting tools including large 20K tungsten lights and ARRI Studio T12s. "These were used through 8×8 or 12×12 frames, full grid, close to the actors, when I was shooting close-ups, to wrap the light around them," he explains.
HMIs were chosen for outdoor shots. LED – a combination of SkyPanels and LED tubing – helped achieve more saturated colours in scenes such as one sequence in the Smithsonian when Quasar LED tubes mimicked neon fluorescent tubes in glass casing behind Barbara Minerva (Kristen Wiig) and Diana.
"Gaffer David Sinfield and his whole lighting team were brilliant. I really value their hard-work and intelligence. They often gave up their weekends to pre-light sets so we were ready to shoot during the week," says Jensen.
Shooting disciplines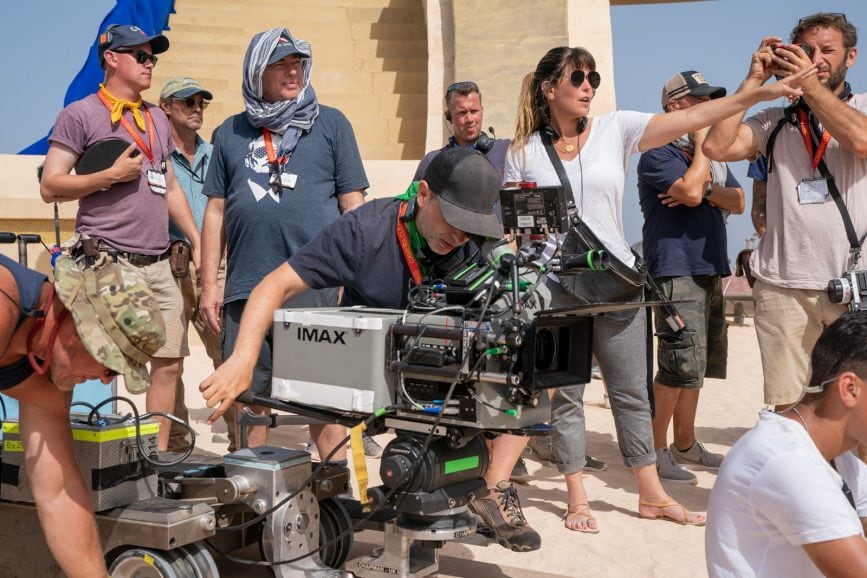 Advocates of shooting on film, Jensen and Jenkins adopted a mixture of formats, shooting on 35mm, 65mm 15-perf and IMAX. "Scenes we shot on IMAX were technically difficult, but the results are so stunning that it was it was worth all the effort," says Jensen.
Director Jenkins agrees, believing the immersive medium of IMAX helps create the spectacle required. For her, film still has a quality that is hard to duplicate. According to Gadot, who also produced the movie, Wonder Woman 1984 – a film already so visceral, vivid, and beautifully shot – is taken to the next level by being shot on IMAX.
"There have been a lot of advances in digital and I've achieved very good results, but I still prefer film for certain things. Patty and I agree it's a little kinder and gentler on faces than digital. I just love shooting 35mm," says Jensen.
Film also allows Jensen to adopt an on-set working method he enjoys. "There's a discipline to shooting film because everybody's on their A game when you clap the slate and the film rolls through the camera. There isn't the sense that you can just roll and roll," he says.
Jensen also enjoys the process of lighting when shooting on film. "Everything is in my head, so it comes down to my eye, my light meter and looking through the lens. It makes me more present on set whereas on digital I'm always running back to the monitor and I feel like I'm a little removed from the process.
"However, one challenge when shooting on film is each LED manufacturer's fixture has a different colour response. With digital, you can see it on the monitor and tweak accordingly but on film you must test out all the manufacturers' products to see how they respond, so we tended to stick primarily to mixing SkyPanels and Litepanels with the kind of tungsten lighting we were working with."
There have been a lot of advances in digital and I've achieved very good results, but I still prefer film for certain things. Patty (Jenkins) and I agree it's a little kinder and gentler on faces than digital. I just love shooting 35mm.

Matthew Jensen ASC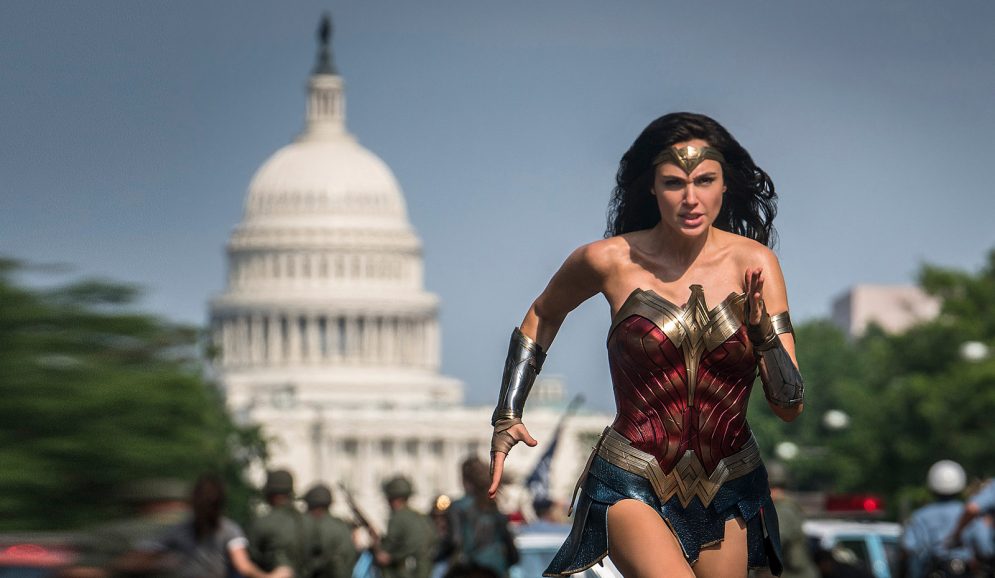 Wonder Woman 1984 was primarily shot on Kodak VISION3 5219 500-speed tungsten stock. "All interiors were shot with that stock. I love its colour saturation, response to flesh tones and speed. It allows me to light in a manner I'm comfortable with and to try to not overheat the sets as much as possible," says Jensen. "It's been a workhorse stock for me. It holds overexposure very well, so I feel like I can be bold when I need to blast sunlight. When recreating sunlight on stage, for instance, I know I can produce the feeling of daylight by overexposing three stops and the film handles it beautifully."
The day exteriors, particularly in Themyscira and the chase scene in Cairo, were shot on Kodak VISION3 50D 5203 50-speed stock. "It's beautiful and clean and offers incredible colour rendition. I used Kodak's 250 daylight stock for the more mixed colour temperature environments because it handles extremes in tungsten light and daylight very well. For the darker days in the UK, it was nice to have that extra speed."
All 35mm dailies were scanned by Company 3 in 4K because the filmmakers wanted a 4K finish to produce the highest quality 35mm image which would compete with IMAX. "This allowed us to scan that material once and not have to go back at the end," says Jensen. "We scanned the IMAX and 65mm 15-perf at 2K. That material was processed in the USA at Fotokem, splitting scanning duties with IMAX in Canada before the IMAX material was re-scanned at 8K for the final version."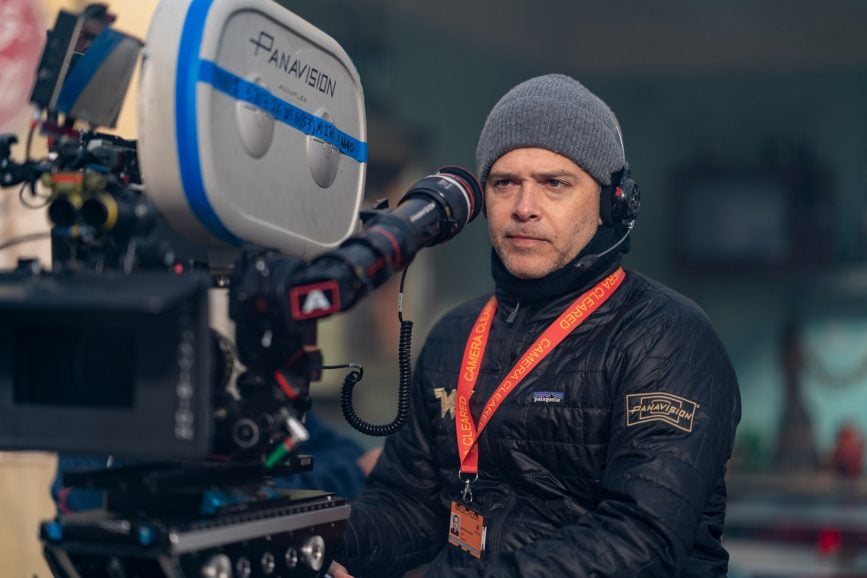 Jensen shot the 35mm scenes primarily on the Panavision Millennium camera with Panavision Primo lenses, IMAX sequences with IMAX's cameras and proprietary lenses, referring to the 50mm and 80mm "as IMAX workhorse lenses". The IMAX MSM 9802 65mm 15-perf cameras with large-format lenses were chosen for dialogue portions within the IMAX sequences. "The IMAX cameras can be quite loud, making it difficult to record dialogue, so we used the quieter 5-perf sync sound camera," he says.
ARRI's Alexa XT was selected for shooting sequences in Washington, D.C. such as scenes underground in the Metro where supplemental lighting could not be used, and Jensen needed the digital format's ability to work at a high ISO. "Those sequences were shot at 1280 ISO with Primo lenses. The night-time scene when Diana and Steve Trevor (Chris Pine) walk around the Lincoln Memorial was also shot on digital because it was such a huge space. There were many permit restrictions on the amount of lighting I could bring in and I couldn't light the Washington Monument in the background."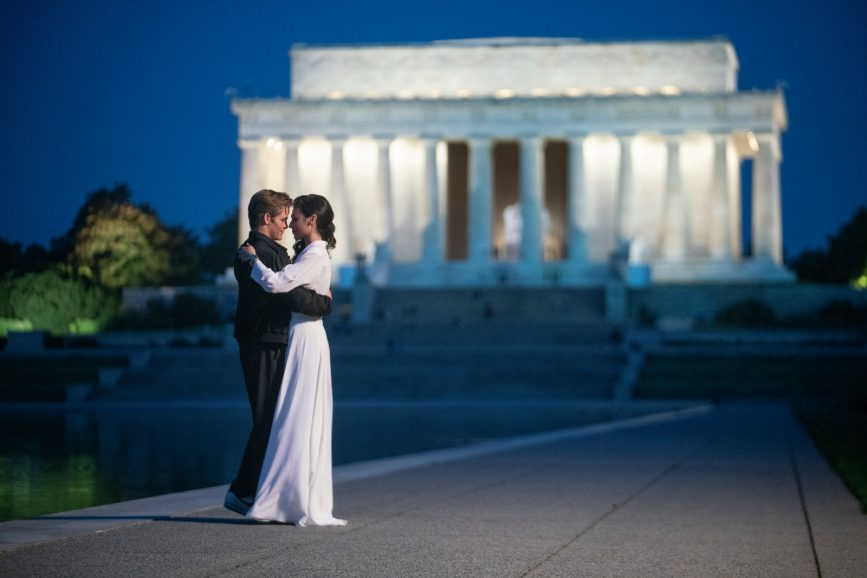 To overcome this, Jensen balanced the whole scene to the Washington Monument and again worked at a very high ISO on the Alexa XT, finding it blended well with the footage shot on film once a grain layer was added in post.
As Wonder Woman was shot in 2.40 (super 35mm, spherical), Jensen and Jenkins wanted to maintain a consistency in the sequel's 35mm material. But when switching formats to IMAX, Jensen opted for a 1.90 aspect ratio as it offered the required size and scope without being too jarring a transition back to 2.40. "When we tested this aspect ratio transition in an IMAX theatre, we found the 1.90 gently filled your peripheral vision when you were used to watching a 2.40 image," he says.
Static shots are rare in Wonder Woman 1984 as Jenkins likes to keep the camera moving, wanting the imagery to flow. "So even in simple scenes the camera gently drifts. The camera is particularly attuned to Diana's emotional state and physical rhythms, so we move it to keep up with her. We tend to use dollies, cranes and Steadicam to achieve this as they have a graceful feel and Patty and I are averse to hand-held," says Jensen.
The spectacular camera crew was headed up by camera operator and Jensen's close collaborator for over a decade Simon Jayes. He worked on the US, UK, and travel portions of the film. "Along with Sam Barnes, A camera first AC; Simon Finney, B camera operator; and René Adefarasin, B camera 1st AC, they dealt with the myriad of formats with skill and grace. Key grip Kevin Fraser is also an artist when it comes to rigging and moving the camera to tell the story," says Jensen.
The many filmmaking triumphs include an epic scene that opens Wonder Woman 1984 with impact, complete with colossal crowds and battles. Most of the stunt work in the opening was shot by 2nd unit DP Tim Wooster with 2nd unit director Dan Bradley. Wooster and Jensen's rapport from the first film helped them communicate clearly about how to hand off to each other this time around. Following extensive storyboarding and pre-vis the DPs and ADs divided the work and assessed how to shoot the scene.
"It required a lot of thought because it was on IMAX. It's a large camera that is hard to move and the film loads take three minutes," says Jensen. "Visual effects supervisor John Moffatt and his team were also heavily involved, and we talked at length while on scouts about where the sun was supposed to be and what time of day to shoot certain action elements."
Each shot was broken down to determine which rig to use and how. "For example, should the IMAX camera be on a crane with a G-3 head or on the dune buggy with the G-3 head? Those questions and decisions loomed over every set-up. Terrain, sun position, action of the horses or the actors also needed to be considered."
Soaring shots
Aerial sequences throughout the movie were shot on a variety of formats, including 65mm IMAX film by Helicopter Film Services using a Shotover K1 and Airbus Twin-Star helicopter in Spain, and 35mm film on an ARRIFLEX 235 mounted to the company's Aerigon drone in the UK. Additional aerial sequences were captured using ARRI Alexa Mini and the Angenieux 10:1 zoom lens in the Shotover F1. "It was great that we were able to shoot film on a drone and that we had a camera that was light enough to do that," says Jensen.
Helicopter Film Services were initially required to shoot plates for VFX which involved close-up filming of pyrotechnics, capturing sequences at a disused airfield in the UK, including passes directly through the bursting fireworks at 300ft. Intense planning and coordination with Toby Alloway at Titanium Fireworks produced stunning results.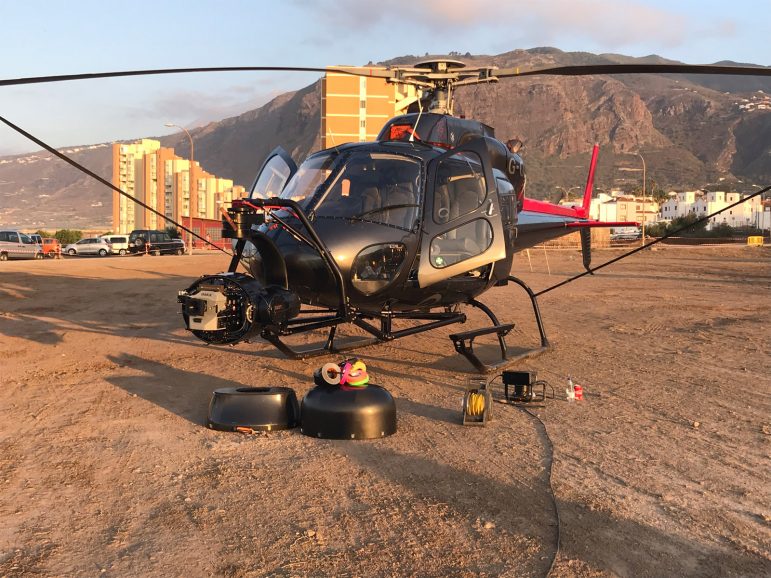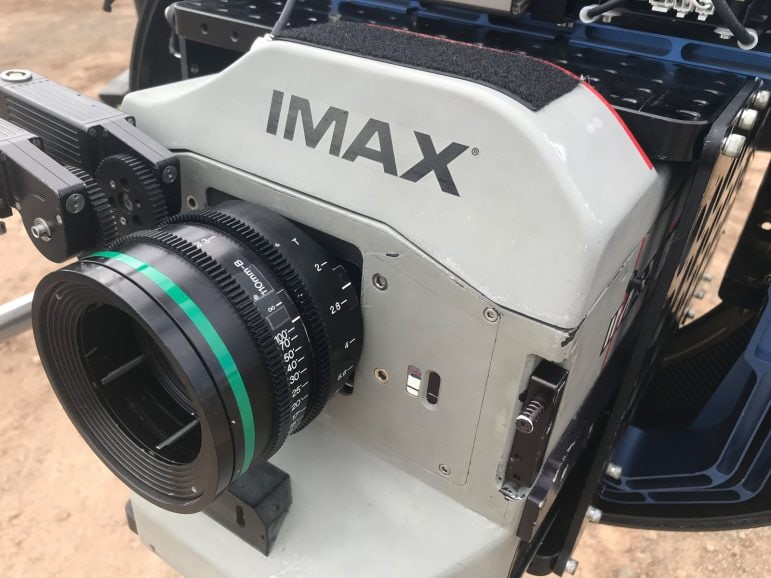 Helicopter Film Services' specialist six-camera array, the Typhon, comprising six ARRI Alexa Minis and 20mm Zeiss Ultra Prime lenses in a toe-out configuration offered a large field of view for the fireworks scene. The Shotover K1 gimbal and Typhon camera array rig were driven very close to the pyros, which were suspended on a wire stretching down the runway 100 feet above ground. "We were on a Lenny III crane from Chapman Leonard – a 50-foot crane arm mounted on the back of a three axle Bickers tracking vehicle. The crane was locked off at about 30 feet in the air, with the vehicle driving forwards and then turning to come back down the runway in the other direction," says Helicopter Film Services' Jeremy Braben, Assoc. BSC aerial DP/camera operator.
The crew used a variety of camera angles, driving along the line to capture the fireworks exploding, and achieving motion as they passed through the pyros. "You could see lots of individual elements from each starburst and the perspective was interesting as the debris passed quite close to the camera," says Braben.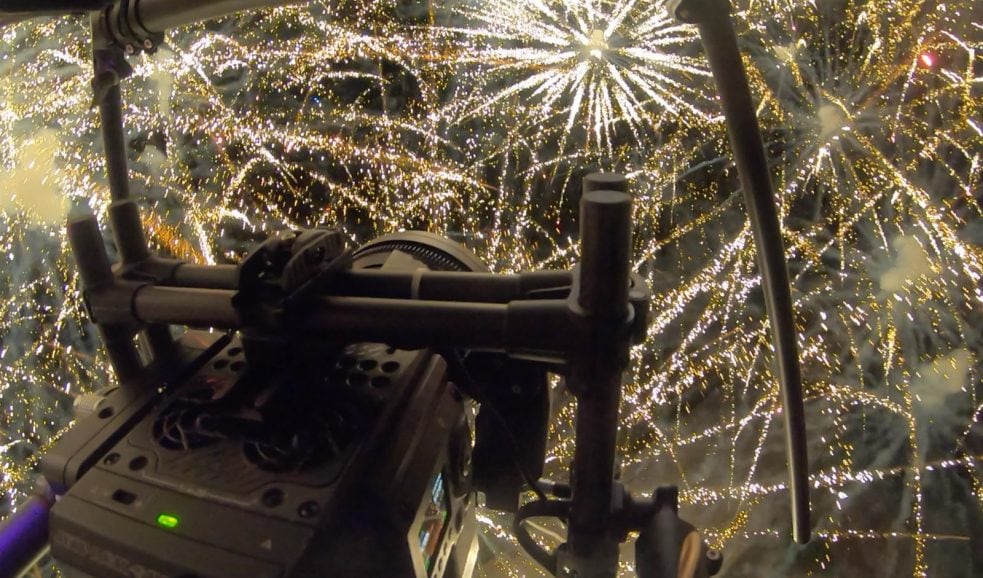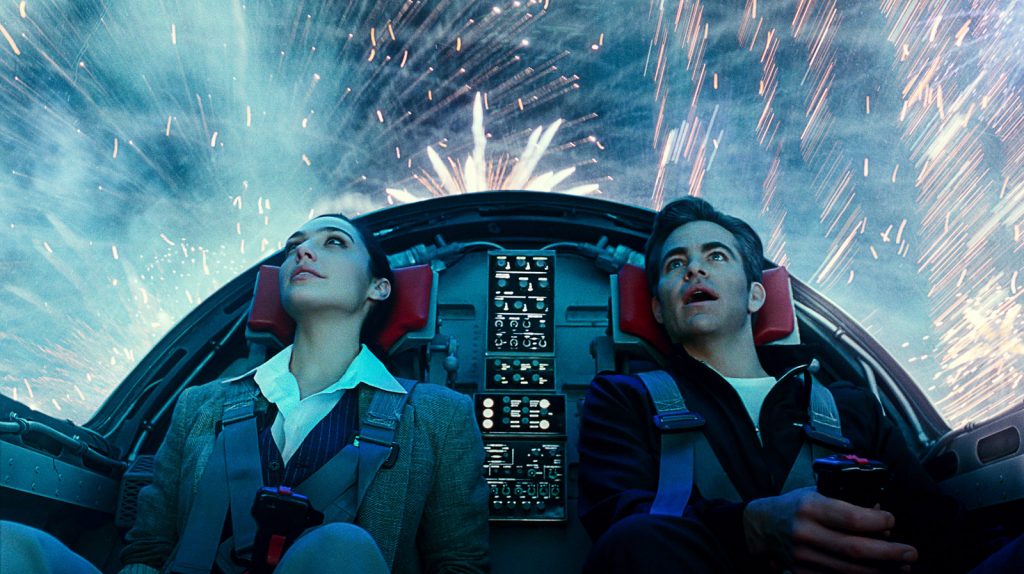 As production wanted a high frame rate, the crew shot in 2.8K ARRI RAW, allowing 48 frames per second to capture more detail of the explosions. "Normally we'd use the Alexa Minis in Open Gate Raw, but this format was limited to 30 per second," explains Braben. "This requirement meant each camera's field of view was reduced, so we used 20mm ARRI Zeiss Ultra Prime lenses to maintain the overlap between the cameras. Normally we'd use the 24mm Ultra Prime."
Helicopter Film Services integrated the use of a focus and iris control via remote control on each lens for the first time, working with six iris motors and six focus motors. This meant they could individually calibrate each lens to counter any mechanical difference in the scales of the focus and iris.
A cowling was fabricated as a first line of defence to deflect any burning debris that could get lodged inside the kit. Clear optical flats were used as filters to protect the lenses and Helicopter Film Services' second-generation Typhon now has a custom carbon fibre dome to protect the array.
Joining Braben on the aerial crew were Oliver Ward, senior engineer, Helicopter Film Services; Alan Perrin, drone pilot; and Sam Thurston, drone AC.
Productions only work when there is mutual respect between co-workers and I'm so lucky to have worked with so many talented people in every department. Everyone pulling together and communicating was key.

Matthew Jensen ASC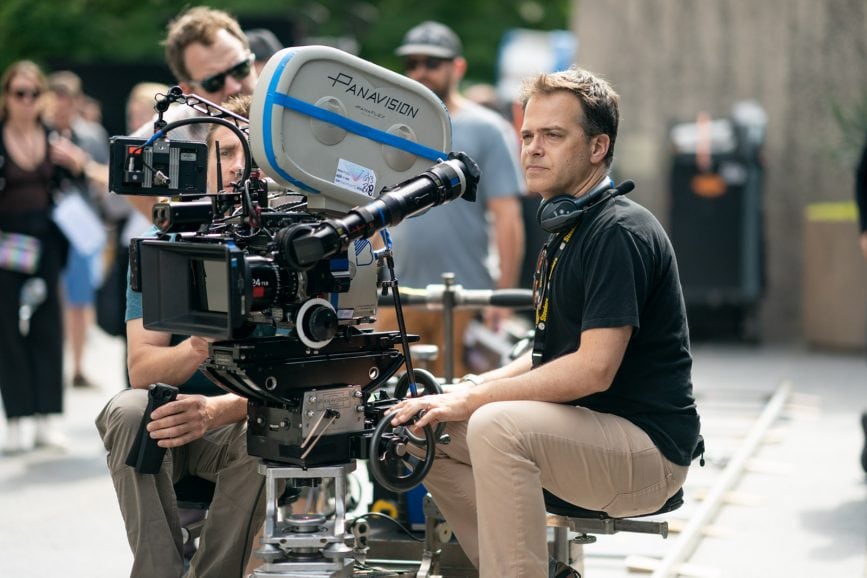 Photoreal ambitions
Visual effects supervisor John Moffatt and Jensen worked closely from the outset, with a shared desire to make everything as photoreal as possible. "If we created anything digitally, John wanted a plate or a reference shot on film that the animators could work from. That was great and led us to shoot a lot of plates in Tenerife that served as a basis for the opening shots of Themyscira," says Jensen.
A model of the stadium was built to use as a reference and Jensen was in constant contact with Moffatt and his previs team when they designed shots for the big visual effects sequences. Moffatt provided Jensen's team with Simulcam, a fusion of a real and virtual camera, for scenes including those in the Themyscira stadium.
"So even though much of the stadium wasn't there, through Simulcam we could see where it would be and could then line up our shots to work out how high the stadium was or how low we needed to be to incorporate the upper part of the stadium. Using an iPad, we could visualise where the stadium would be behind some of the actors," says Jensen. "If I needed help erasing a light stand I couldn't get out of the frame, John would just say 'no problem, shoot a clean plate and we'll take care of it'. Whatever lighting they create in the virtual world has been suggested by me in the real world, so we have to be in close communication about how to blend those environments."
Visual effects studio DNEG delivered varied and challenging visual effects work across key sequences, creating a blend of fully digital environments, extensive set extensions, VFX development for key characters and events, full digi-doubles and character animation work, plus full CG shots. Framestore created the Cheetah character and lightning lasso effects, helped Wonder Woman fly through the clouds, and augmented environments.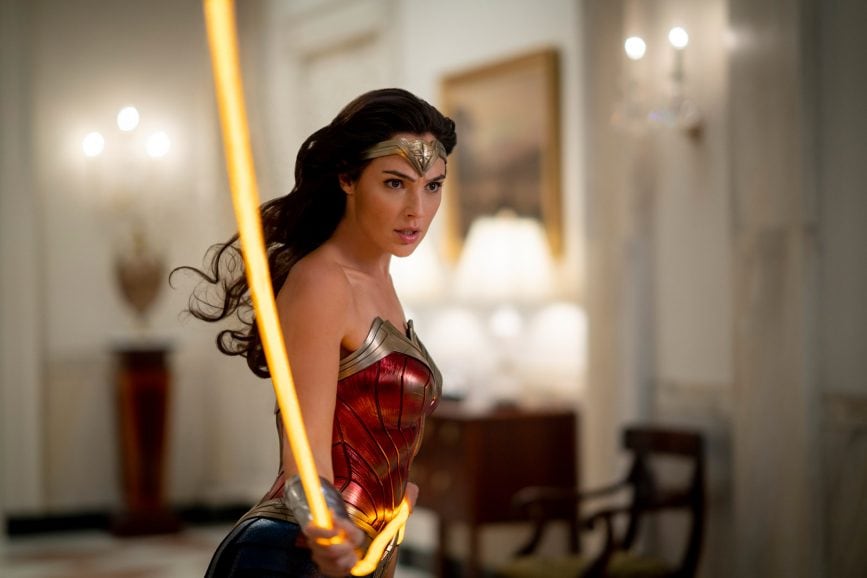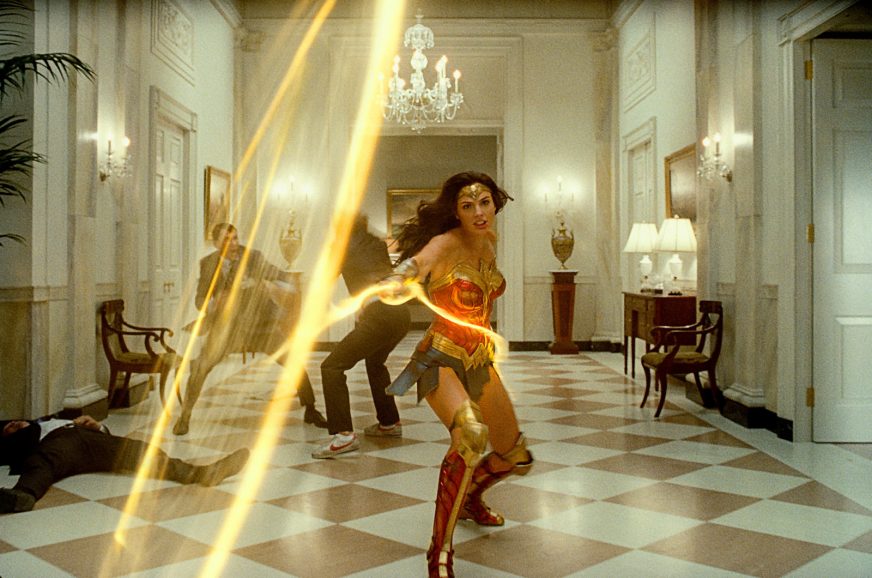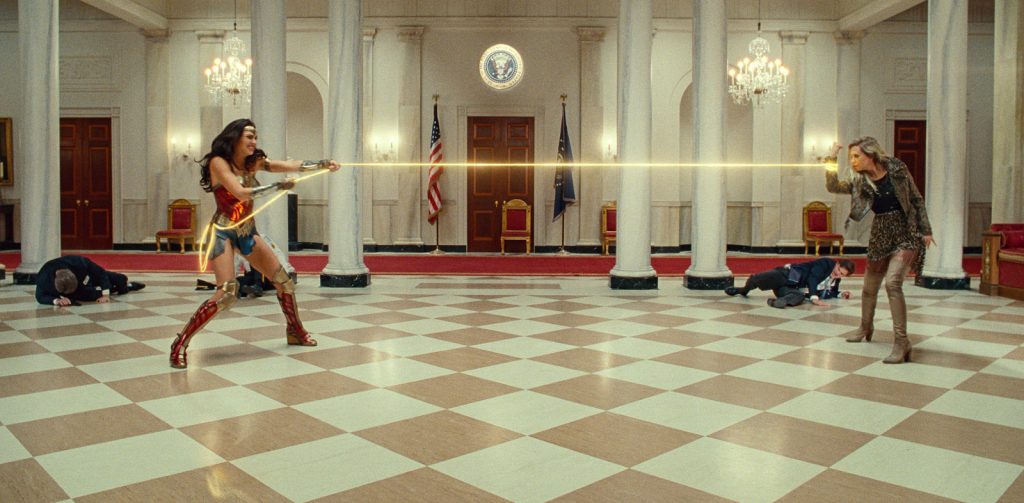 The final colour grade was completed by Company 3's Stefan Sonnenfeld. "He's a talented artist and I trust his taste," says Jensen. "I had limited availability for the DI due to another project, so I checked in with Stefan and Patty after I set some initial looks. It was helpful we are all in sync and have a shorthand from the first movie."
Many of the decisions Jensen made in the dailies with James Slattery from Company 3's UK office were carried through to the final colour grade. "James is an extraordinary dailies timer," adds Jensen. "He was my closest confidant throughout the production. I would check in with him very early in the mornings before going to set and we would tweak and finesse the fine work he had begun.
"Many of the ideas for the film's look were set in those days while shooting. The final DI is an enhancement of these ideas when more tools were available and as the VFX work was integrated, colour and contrast shifted to accommodate the blending of live action with the CGI."
Not only was Wonder Woman 1984 shot in multiple countries, but the crew also worked with a myriad of formats, with teams in the US and UK coordinating and cooperating to guarantee success – an exciting filmmaking challenge Jensen admits is "not for the faint of heart".
"That was just background to the size and scope of the movie, with action set pieces, quiet dramatic moments, visual effects, stunts, period details and costumes. You name it, we faced it on this movie," he says.
"Productions only work when there is mutual respect between co-workers and I'm so lucky to have worked with so many talented people in every department. Everyone pulling together and communicating was key."
Wonder Woman 1984 is available to rent on Premium Video on Demand.