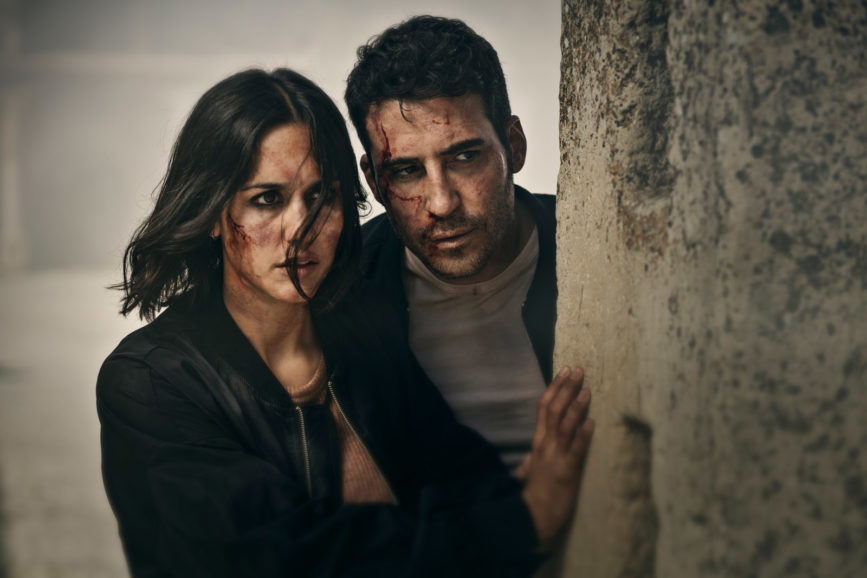 Directed and co-written by acclaimed horror master, Álex de la Iglesia, (The Day of the Beast, The Last Circus), 30 Coins takes viewers into a world where nothing is as it seems, and nobody can be trusted.
HBO Europe's eight-episode drama series follows Father Vergara (Eduard Fernández), an exorcist, boxer and ex-convict, who is exiled by the church to be the priest of a remote town in Spain. As past enemies come back to haunt him, strange things begin to happen. The town's ambitious mayor Paco (Miguel Ángel Silvestre) teams with local veterinarian Elena (Megan Montaner) to unearth the secrets of Vergara's past. The three find themselves in the middle of a global conspiracy to control the 30 pieces of silver paid to Judas Iscariot when he betrayed Jesus of Nazareth. The coins are, as one might imagine, cursed, and contain supernatural powers.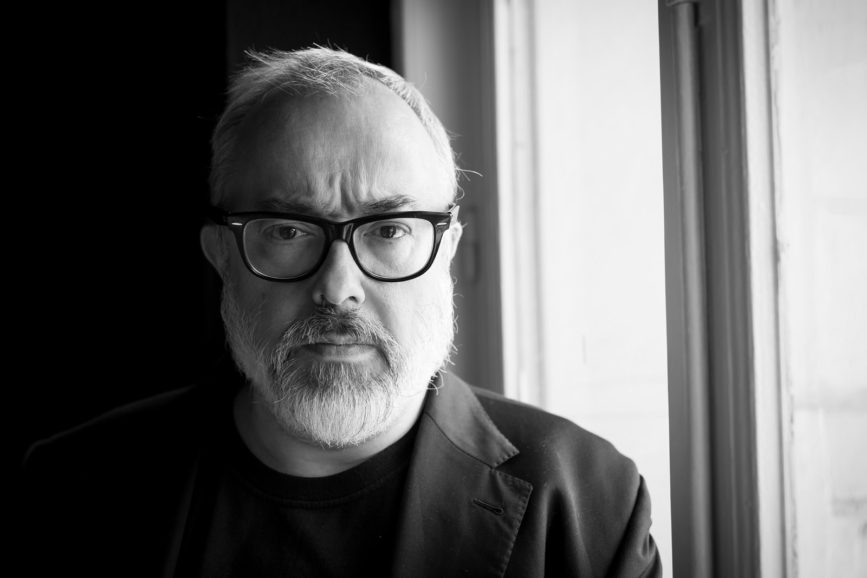 Lending the story its distinct and unsettling visual style is director of photography, Pablo Rosso, ([Rec], Veronica) working closely with regular collaborator, Chema Alba, senior colourist at Deluxe Madrid.
"Pablo is a wonderful person to create with," begins Chema. "Our starting point was discussing texture more than colour. In pre-production we did a lot of lens tests to get the best anamorphic 'feel' with a special interest in flares, blurred corners and chromatic aberrations.
"I've also worked with Alex before and I know that he likes a lot of contrast, but you have to give him the possibility of seeing into the blacks and the shadows."
When principal photography ended after a six month shoot in December 2019 and Chema had receipt of the first raw edit of the pilot, he and Pablo asked the production company if they could take a week out to prep the show together.
"Just before Christmas, we spent a week together brainstorming without being under pressure to commit ideas immediately to screen. This really helped us to hit the ground running when colour correction began properly in February."
The pair had already curated a colour bible of looks and moods, which really helped to keep the series on track when the pandemic enforced lockdown in March, as Chema was able to complete a lot of the work on his own.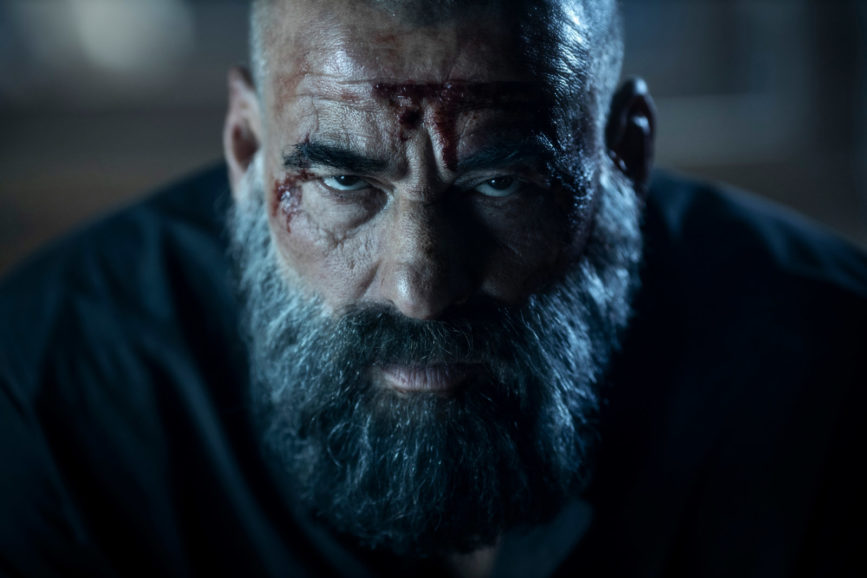 30 Coins is acquired on the Sony Venice, mounted with anamorphic Hawk Vintage '74 lenses. Rosso shot 6K framed for 2.1 aspect ratio for a 4K UHD deliverable. Aside from a few scenes filmed in New York, Jerusalem and Rome, the bulk of the show was shot on location in a small town near Madrid.
"The lenses themselves generated a natural blur around the edge of the frame, which helped with texture. For large parts of the show we enhanced and accentuating the soft blur of the image. The action stays central to the image, but the surrounding area has a lot of blue tones, grain and textures."
Chema explains that the overall look of the show harks back to the classic horror films of the '70s which featured soft imagery and a deathly green colour palette.
"We are set in a Spanish town so there is a lot of yellow and orange in there, but we pushed the greens every time we could, especially in the shadows. We avoided blues at night and instead opted for grey hues, with black and white contrast for skin tone."
Chema partnered with colourist Charlie Villafuerte, and together the pair made a huge number of shot composites in DaVinci Resolve.
In one episode, Chema and Charlie were tasked with including different layers within 300 shots, most of which contained complex VFX (DMP or 3D integrations). But there were no plates of the layers shot in-camera; they were all created in Resolve.
"VFX gave us different plates and we just played around with the image, depending on the type of shot, angle of the lens and the size of the flies, and we composited layer upon layer," Alba explains. "Alex always wanted the ability to change things in the last moment. I had 5 to 10 different plates of animated flies and we'd move them closer or further from the camera in real-time. Some shots have seven layers of image composited in Resolve. We have the source camera, then VFX and now we have half a dozen different layers – all combining together in 4K. We were exploring the limits of the Resolve software and the hardware."
Chema performed a significant amount of the compositing with the Curves Editor. "I used curves to make two different contrasts, one for about 80 percent of the image and a lower contrast, about 20 percent outside this curve, in the same image. This allows me to put a lot of contrast in that main curve, while retaining the raw image for the shadows. This technique allows you to get a lot of detail.
"We had a lot of texture and contrast across the show but if you push too much texture it works for the male characters, because they are rough or tattooed, but was too harsh for the skin tone on the female characters. So, for 10 or 20 shots across the show we removed the extra texture to soften some of the skin."
In the final episode the director wanted a really dense atmospheric look which drew on all the colourists' skill. Resolve combined VFX, multiple layers of atmospheric elements and blur, with the actors rotoscoped in the middle.
"Thanks to FX simulations or 2D/3D creative assets, our VFX department provided us with 30 different layers with diverse speeds, movements and density. We used a combination of layer blending modes in the editing page, plus extra alpha outputs to isolate people or buildings. We used up to 3 or 4 layers of elements for each shot, played with contrast and tuned with Lens Blur FX get the final texture. It was pretty challenging."
The biggest challenge grading this show was simply time. "Since every episode has about 2000 shots because of the fast-paced nature of the edit, and because there are a lot of layers to craft, so trying to get this amount of work done in three of four days per episode you have to go really fast.
"I've been working with Resolve for three years so I am very familiar with it. Resolve is really easy to use, it is so intuitive and really helped us manage the demand."
30 Coins is co-written by Iglesia and Jorge Guerricaechevarría. Executive producers for HBO Europe are Steve Matthews, Miguel Salvat, and Antony Root. Iglesia and Carolina Bang are executive producers for Pokeepsie Films. The series was produced with participation from HBO Latin America.
OnLine Editors at Deluxe Madrid are Mario Martínez Duque and Juan Ugarriza and postproduction producers are Yolanda Hurtado and Paula Lidón.