What Ho Biggles!
Clapperboard / John Higgins
What Ho Biggles!
Clapperboard / John Higgins
One of the cinematograoher's best friends during a production is the chief lighting technician, or gaffer. Along with managing resources as broad as electrical generators, lights, cabling, and manpower, they also have to know the appropriate gel to cover a light or window for a romantic scene, how to flicker the lights in a thunderstorm, and even turn day into night.
Amongst the best known exponents is John Higgins, nicknamed "Biggles" due to his predlicition of sporting and handsome handlebar moustache and flying-style leather jackets, who has worked with an array of talented cinematographers on some of Hollywood's biggest blockbuster movies. These include: Sweeney Todd: The Demon Barber Of Fleet Street (2007), shot by Dariusz Wolski ASC; Sleepy Hollow (1999) and Children Of Men (2006), which were both shot by Emmanuel Lubezki; Interview With The Vampire: The Vampire Chronicles (1994), lensed by Philippe Rousselot AFC, and Skyfall (2012), shot by Roger Deakins BSC ASC. David Ellis caught up with Higgins during his latest project Thor: The Dark World, with Kramer Morgenthau ASC.
Higgins was born in Athlone, Ireland in 1953. After leaving school he trained as an electrician. He came to England and trained at night school to become an electrical engineer, spending three years with Shell. He spotted an advert for an electrician in a film studio and, aged 27, that was the start of a long and illustrious career in the movie business.
"I loved going to the cinema but never thought I would work in the business," he said "I never realised how films were made, but once I'd started, I liked it and it was the beginning of learning a new craft."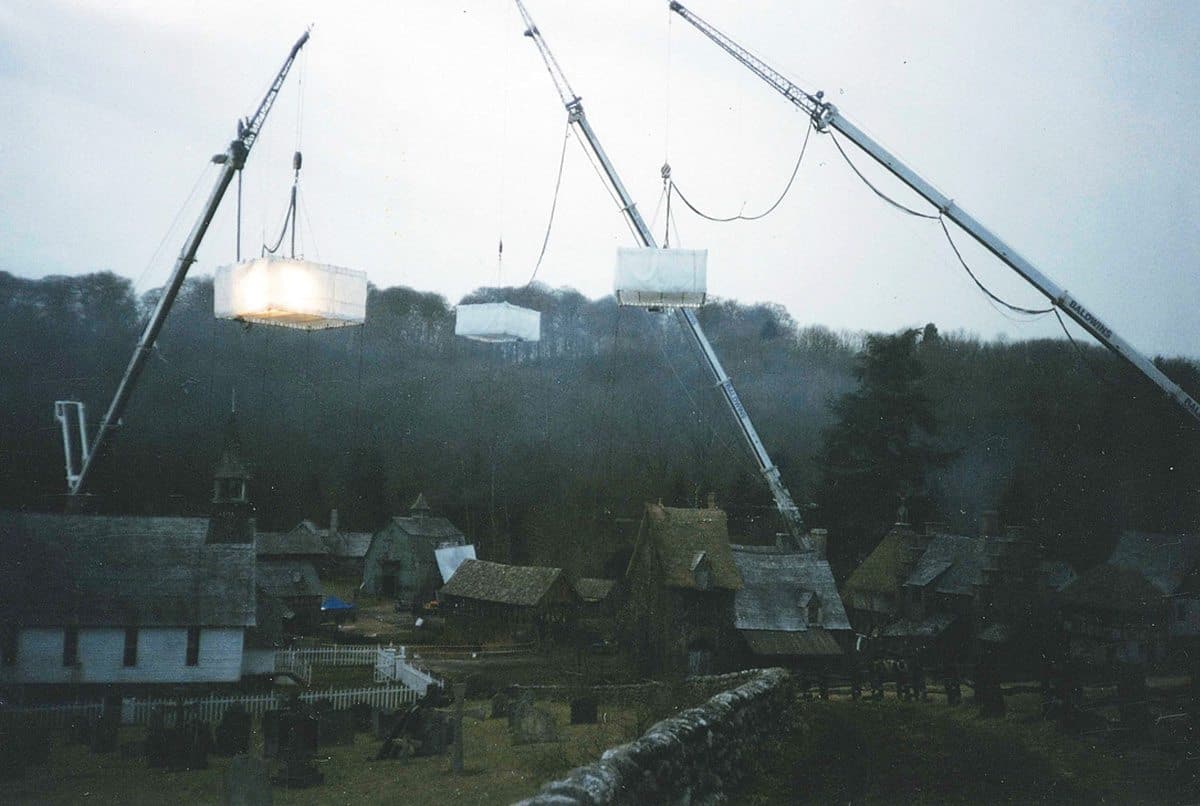 His first job was for the Samuelson group, based in North London. He then moved on to freelancing and two of his early features as an electrician were The Great Muppet Caper (1981) and The Dark Crystal (1982). His first 35mm film as a gaffer was Nineteen Eighty-Four, photographed by Roger Deakins BSC ASC. Higgins said, "In terms of my favourites, it's top of my list. It was a huge and interesting film to do."
As a busy and successful gaffer, working on many high-profile features,  he necessarily has to have a finger on the pulse of technology, and says the computerised dimming system is amongst his favourite pieces of equipment. "It gives you amazing control of the lighting. It can give the cinematographer a greater choice and speeds up the process of lighting a set."
Just like the cinematograhers with whom he collaborates, the first thing Higgins says he looks at when taking on a film is the script, noting, "There is so much to work out togeher with the cinematographer from that."
Higgins enjoys working with different DPs "I think if you worked with one person all the time, you would be less knowledgeable than if you have a wide palette of experience with other DPs. Though the results may be broadly similar the techniques that different DPs use are varied. They all have likes and dislikes. Once you are aware of these you build on that with the DP to get a result they are happy with," he said.
When asked which film has proven the most challenging, he remarked they are all challenging in their own way, adding, "Usually the weather can be very challenging. If you get night work in windy conditions it can be very challenging. Above a certain wind speed the cranes don't work, so weather cover at that point becomes very important."
Has he any industry heroes? "I've got lots of them. I've been fortunate to work with some of the best cinematographers in the world, and one of my great heroes is Roger Deakins. He trusted me and gave me my first start."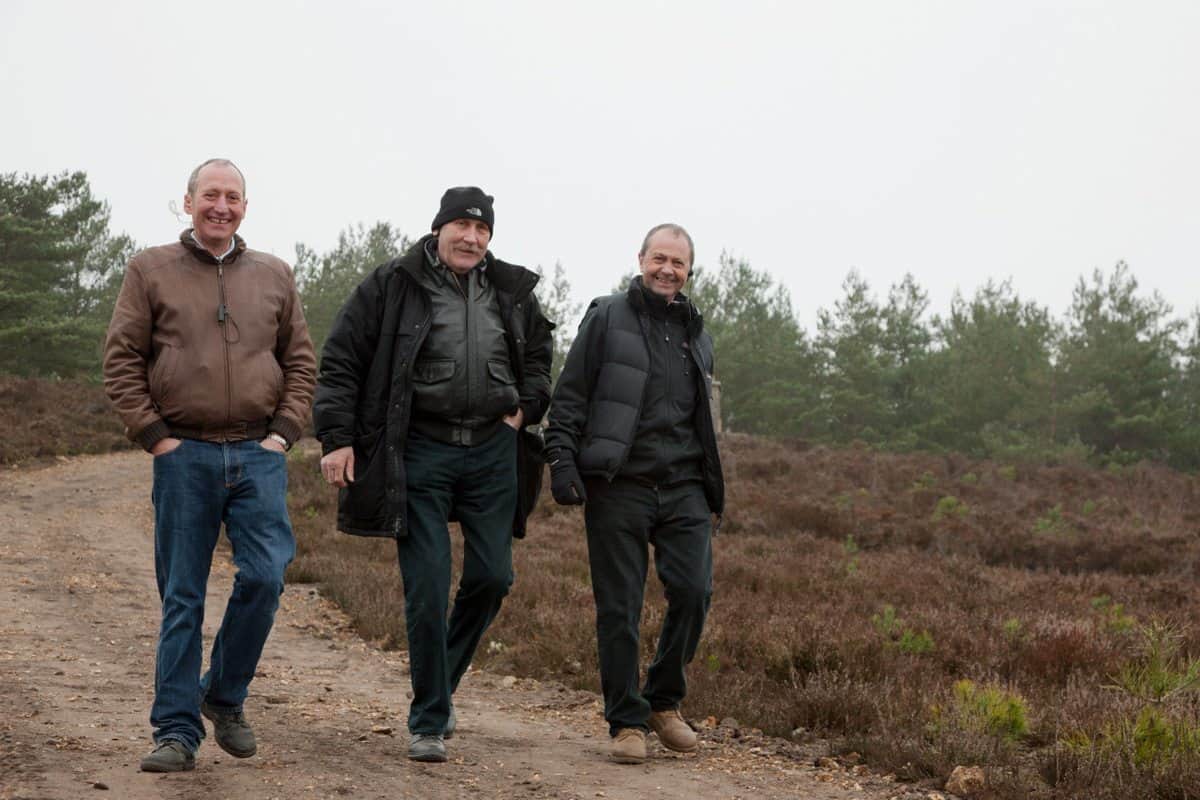 And trust was called on again when Deakins asked Higgins to work on the latest 007 James Bond offering Skyfall, which took around twenty weeks to shoot.
Comment about Higgins, Deakins said: "The first thing I did when starting on Skyfall was to ring up Biggles to see if he was available as my gaffer. He is a truly wonderful guy and a good friend. The first job we did together was a music video for Genesis, on which he was the rigging gaffer. Soon after that I asked him to work with me on Nineteen Eighty- Four, which we shot in 1984. After that we worked on at least fifteen films in the UK together. He's always been good and he's even better now."
Speaking about his work on Skyfall, Higgins commented, "It was a very tough schedule, but we knew we were making a good product. The Chinese locations were taken back to the UK so our department had a very tall order. We were getting the sets very late to complete the lighting on them. They were shot at Pinewood on the stages and back lot. The results look very much like China. There is a lot of CGI work on the the movie too, and it has some of the best visual effects I've ever seen – they're seamless."
Higgins says that one of his toughest shoots was Wolfman (2010) with DP Shelly Johnson, saying, "So much of that consisted of night exteriors, all over the place. There were huge rigs and physically that was very gruelling."
He worked again with Johnson on Captain America: The First Avenger (2011) and said, "I think that film had the most sets I've ever seen, over a hundred and twenty."
"You can never have enough knowledge and skills. The technology in every sense is changing all the time. Good communication skills are also essential."
- John Higgins 
Speaking about his working collaboration with Higgins, Johnson said: "Before I came to the UK to shoot The Wolfman, Biggles was described to me as a 'one-off.' Well, no truer words were ever spoken. A true collaborator and iconic name in motion picture lighting. His respect and expertise bring out the best in any cinematographer, and any cinematographer would be lucky to have him. When I came back to London to shoot Captain America, Biggles was there at my side. A certain super-hero behind the scenes. He doesn't wear a cape, but he knows how to pick a fine red wine. Work with him and you have a friend for life."
So, does Higgins like working on digital and film shoots equally? "Yes I do, because there is little change in our techniques. We don't downsize the lights. The requirement for digital is the same as shooting on film. For a gaffer there is no change."
When asked what advice would he give to aspiring gaffers, he commented, "Learn as much as you possibly can. Get the best crew possible, not just in technical ability but also in people-skills, because you are working with a lot of departments that have their own problems and if you have a hostile crew it reflects badly on you."
And when asked what makes for a great gaffer, he said, "You can never have enough knowledge and skills. The technology in every sense is changing all the time. Good communication skills are also essential."
Finally, Higgins noted: "One thing that really pleased me was a couple of years ago I was asked to become a friend of the BSC. That's a great honour."