Night Train
Angus Hudson BSC / Last Passenger
Night Train
Angus Hudson BSC / Last Passenger
Last Passenger is an indie thriller about a handful of everyday passengers on a speeding London commuter train which is hijacked by a mysterious driver. The £1.8m movie stars Dougray Scott and is the feature debut of writer/director Omid Nooshin.
It was shot by Angus Hudson BSC in just 26 days at Shepperton's H Stage, with a further 3 days of pickups on Pinewood's Bond stage (Pinewood Films is one of the movie's backers).
Initially, Hudson was hesitant about committing to such an ambitious project with a comparatively low budget, but a sales tool made by the director eventually swung him around. In order to showcase the movie's commercial potential, Nooshin had created a fake teaser, shot on a Canon 5D using homemade anamorphic lenses, for a mere £500. Not only did it help to raise finance, the teaser also proved a valuable tool in laying the foundations of the film's aesthetic.
"Normally when one has a meeting about a film, you get a script, you may get a few visual references, and you discuss a few movies," explains Hudson. "What was particularly useful about having a teaser made by the director in advance was that it showed me exactly what Omid was trying to do. The aesthetic he had discovered was very cinematic and very similar to my own. It was a fantastic place to start."
Not being able to afford to shoot on 35mm the filmmakers opted to use the ARRI Alexa along with anamorphic lenses (the 4x3 Alexa had not been released at that time). Hudson says "The problem with the camera and lenses we had chosen was that we would be shooting x2 anamorphics on a 16x9 sensor (in Log-C), thereby ending up with an unsqueezed image of 32x9 which, once cropped back to 2.35:1, would mean we'd lost about 32% of our available resolution. But having seen the test results it was something we were comfortable with."
Hudson and Nooshin opted for the Cooke Xtal Express range of anamorphic lenses, originally spherical lenses from the 1930s that had been re-housed and modified with anamorphic elements by Joe Dunton in the 1980s. Hudson says, "These lenses are enormously 'characterful' and flare beautifully, really helping to soften the image. When combined with the lower resolution and Tiffen black Pro-Mist filters they give the film a very velvety feel."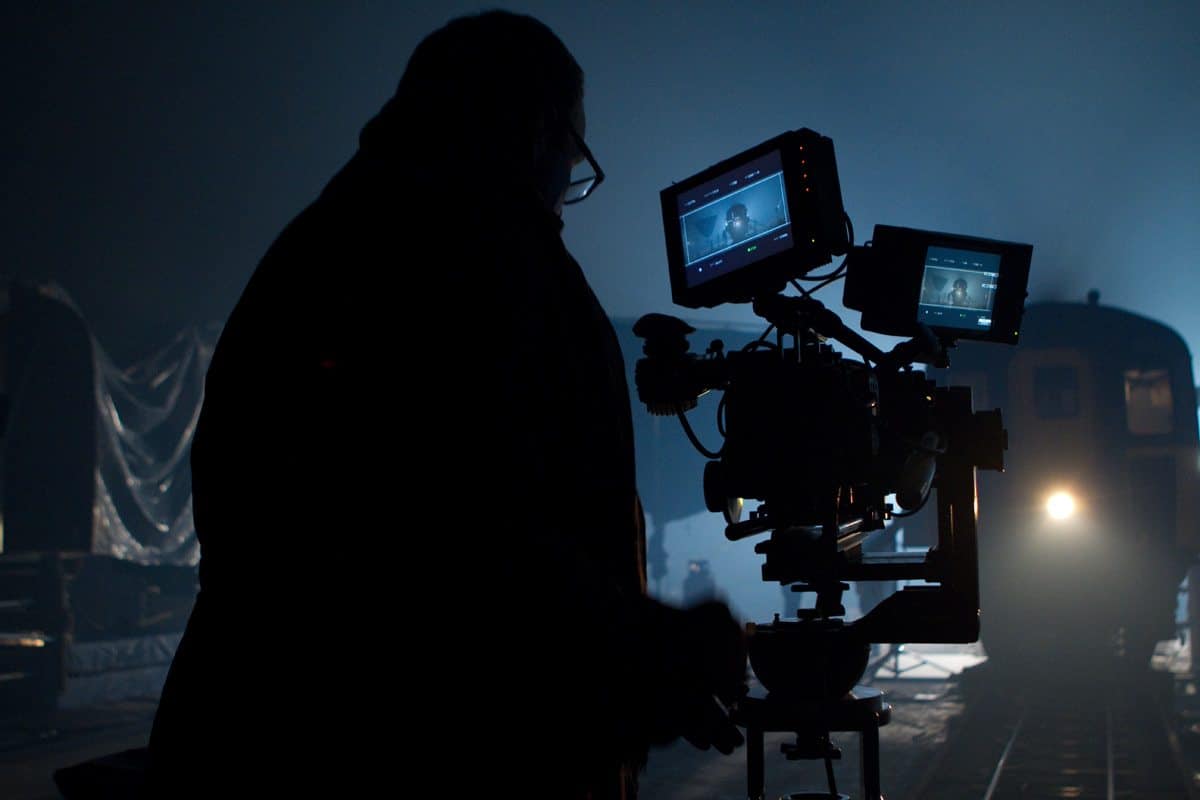 The decision to shoot in the 2.35:1 anamorphic was as much to do with storytelling as aesthetics. For budget reasons, Last Passenger used a real train as its set (mounted on hydraulic rams to create movement), although one drawback was that the crew couldn't fly any walls. Nooshin wanted as much peripheral vision as possible to define space without losing the intimacy of seeing the actor's faces, and the anamorphic format allowed this.
Hudson also felt that the feel of the anamorphic lenses would aid the film's throwback sensibilities, paying homage to classical thrillers of a bygone era. "There's a visual shorthand with anamorphic that takes you back to the epics of the '60s and '70s. Essentially we got a very traditional look in a very untraditional way."
Another challenge of filming on a real train was trying to come up with interesting angles and camera movement, whilst working around existing seats and narrow corridors, which would have been taxing on any schedule, let alone a 26-day feature. One way to combat this spatial limitation was an overhead tracking system, dubbed the 'Glider,' which Nooshin had conceived sitting on a real train. He noticed that the tops of the luggage racks were about the same distance apart as the length of a Ubangi style slider, and they ran the length of the carriage. He asked the art department to machine rails that were then incorporated permanently and invisibly onto the luggage racks of the studio train on which a bespoke 'dolly' with a 5' slider attached would run, with the camera underslung beneath. The operator (Hudson and Nooshin shared operating duties) could then travel the length of the carriage in three-quarter angle, or execute moves and complex masters that would otherwise have been impossible.
"There's a visual shorthand with anamorphic that takes you back to the epics of the '60s and '70s."
- Angus Hudson BSC
One key element of Last Passenger was the use of rear projection for the landscape passing outside of the train. This was more of an aesthetic choice than practical or budgetary - Nooshin simply felt the process was more realistic than greenscreen. Conducting tests on his home projector, Nooshin found that the illusion of motion parallax held for about 90 degrees angle of view, which meant three angles were needed (forward 45 degree, 90 degree, and rear 45 degree) for the plate shots for each side of the train. These plates were captured simultaneously on a real night train journey using six Canon 5D cameras filming out of the rear driver's compartment on both sides of the train. Twelve hours of footage was recorded and then edited and interlinked for synched playback and projection via a d3 digital media server and four Christie HD projectors.
Hudson adds, "We created condensation and rain drops on the train's windows in which the rear projected images outside would refract, adding a further level of realism," a process that was greatly appreciated by the cast. "The actors loved it because they had something to react to. If we whizzed through a station in the script, it actually happened outside the windows."
One key rear projection shot in the film shows Dougray Scott's screen son, Max, looking out of the window at another train pulling alongside, and then a little boy on that train waving at him. The shot was achieved by first filming (from the outside of the train) the plate of the waving boy sitting on the studio train, then taking him off, going inside (now with Max), and projecting the plate of the waving boy outside the window. The result is so realistic one would never question the illusion of trains passing in the night.
Hudson cites that shot as one of his favourites, and for him it also highlights the leap of faith all filmmakers take. "As you make a film you think, 'I hope this is going to work,' and you come away from it saying, 'I think we got away with that,' and then a year down the line you're looking at the end result and you're thinking, 'Wow, that really did work.'"