IMAGO now counts 53 national cinematographic societies, and more than 4,500 professional cinematographers, from the four corners of the world among its members. Professional cinematographers often have, more or less, the same challenges over the world. Working together will greatly enhance the opportunity to solve our most important challenges, faster. That has always been one of IMAGO's main aims: by standing together our voices will be stronger, and we will be heard!
Working conditions
Almost 14 years after Haskell Wexler and Roderick E. Stevens formed the non-profit organisation "12-On/12-Off", and Haskell released his documentary Who Needs Sleep?, far too little has happened. Far too frequently, reports come to us about cinematographers and film teams who work under tough, often unacceptable working conditions, often with such long days that could be characterised as dangerous. Serious accidents, and even deaths, are reported every year, and the number does not decline. IMAGO is planning a closer focus on this problem, beginning with a meeting with EU representatives in September this year, and followed by an international conference on working conditions in 2019, planned in cooperation with EU, FERA (the European Federation of Film Directors) and others.
Cinematographers still "below-the-line" in many countries
In too many countries, cinematographers are still "below-the-line" when it comes to being regarded as visual artists with authorship or co-authorship rights.
If a stills photographer takes a photo they have full authorship rights. But, if a cinematographer makes exactly the same image, they don't have any rights at all.
More and more around the world are finding this unacceptable. Many are questioning the fact that cinematographers such as Sven Nykvist, Vittorio Storaro, Roger Deakins (and the list of course goes on and on and on in many countries) have never formally have been recognised as creators of art.
Thanks to the never ending and extraordinary stamina of people like Vittorio Storaro AIC ASC and Jost Vacano BVK ASC, the world luckily is moving forward, slowly but surely.
IMAGO will intensify the work to look into this important matter in the months and years to come, starting, amongst other plans, with initiating a closer collaboration with existing national collecting societies, with the objective to better secure the cinematographer's remuneration when their work is being utilised or transmitted abroad.
IMAGO in 2018
Sharing experiences and knowledge over the borders! This year will be another active year for IMAGO. Several masterclasses will be held. Already one masterclass with Bruno Delbonnel AFC ASC has been arranged in Oslo, an extensive hands-on session has been arranged in Munich, and many more activities are being planned. Another masterclass will soon be arranged with Chris Menges BSC ASC, and an extensive series of masterclasses is being planned in Vienna this coming winter by the IMAGO Masterclass Committee.
IMAGO will be strongly represented both at CineGear and at the International Cinematography Summit ICS arranged by the American Society Of Cinematographers in Los Angeles from 4th to 7th of June.
In September, IMAGO will attend Cinec in Munich, and we will be cooperating to arrange several new masterclasses and sessions during the Manaki Brothers Film Festival in Bitola, Macedonia.
In November we will, of course, be strongly present at this year's Camerimage Festival in Bydgoszcz, Poland. Cooperation is planned with both Camerimage and ASC on new seminars and masterclasses for cinematographers. Also a new and extensive exhibition of stills photographs from IMAGO society members is being planned.
Second IMAGO International Cinematographer's Awards
The second IMAGO International Cinematographer's Awards will take place in Belgrade, Serbia, in March 2019. Again, it will be time for cinematographers to honour the best work from our fellow international colleagues. Many awards will be handed out, among them awards for Best Cinematography in Feature films, TV-Drama and Documentary films.
IMAGO's first Awards Ceremony, arranged in Helsinki, Finland, in November 2017 can be characterised as no less than a success, with more than 250 colleagues attending from all over the world. The call for submitting films to be considered by the IMAGO juries will go out to all our member societies in October, and again we look forward to a grand international celebration of the great art of cinematography. More information will follow, so stay tuned.
The HFF/IMAGO Hands-On xK International Workshops in Munich
Report from Tony Costa, chair IMAGO Education Committee.

To host a full week of seminars and workshops is already a tradition in the HFF Film & Television School in Munich. Every year in March, during the semester vacation, studios, auditoriums and the facilities are open to receive dozens of lecturers and professionals for a full week of experimenting with the latest equipment and to exchange knowledge, with IMAGO strongly involved. The concept is directed towards professionals and teachers to improve knowledge, to get acquainted with new equipment and new trends, and, most of all, to learn from each other's experiences.
This year was especially different. With more workshops and more companies being involved, there was a lot more state-of-the-art equipment supplied by the manufacturers and rental houses. It was indeed a very hectic week.
In the building, every single studio, seminar room and theatre was occupied by a lecture, with a total of 36 masterclasses running at the same time. Almost all fields were covered. Post-production, VR, advanced post, VFX, 360-degrees, camera, lenses, lighting, documentary film, sound, sound for 360-degrees, production, color grading, green production, green shooting, thesis shots for PhD researches, and extensive testing of cameras and lenses done by many of the lecturers present.
The industry, let's say, the manufacturers and rental houses, support the initiative by supplying large amounts of equipment for experimentation and testing. This year was a record-breaker in terms of the considerable number of lenses – rehoused glass from P+S Technik; Vantage with several Anamorphics; and sphericals from Zeiss, ARRI, SW Sonderoptic/Leica and Fujinon.
Almost 60 manufacturers attended, among them ARRI, Canon, Sony, Zeiss, Vitec, Vantage, Rosco, Panasonic, RED, and many many more, to tell about the latest developments and plans, and for testing of equipment during the week, which culminated with the screening of all tests and workshops in the blue cinema room, where attendees and lecturers shared their experiments and conclusions.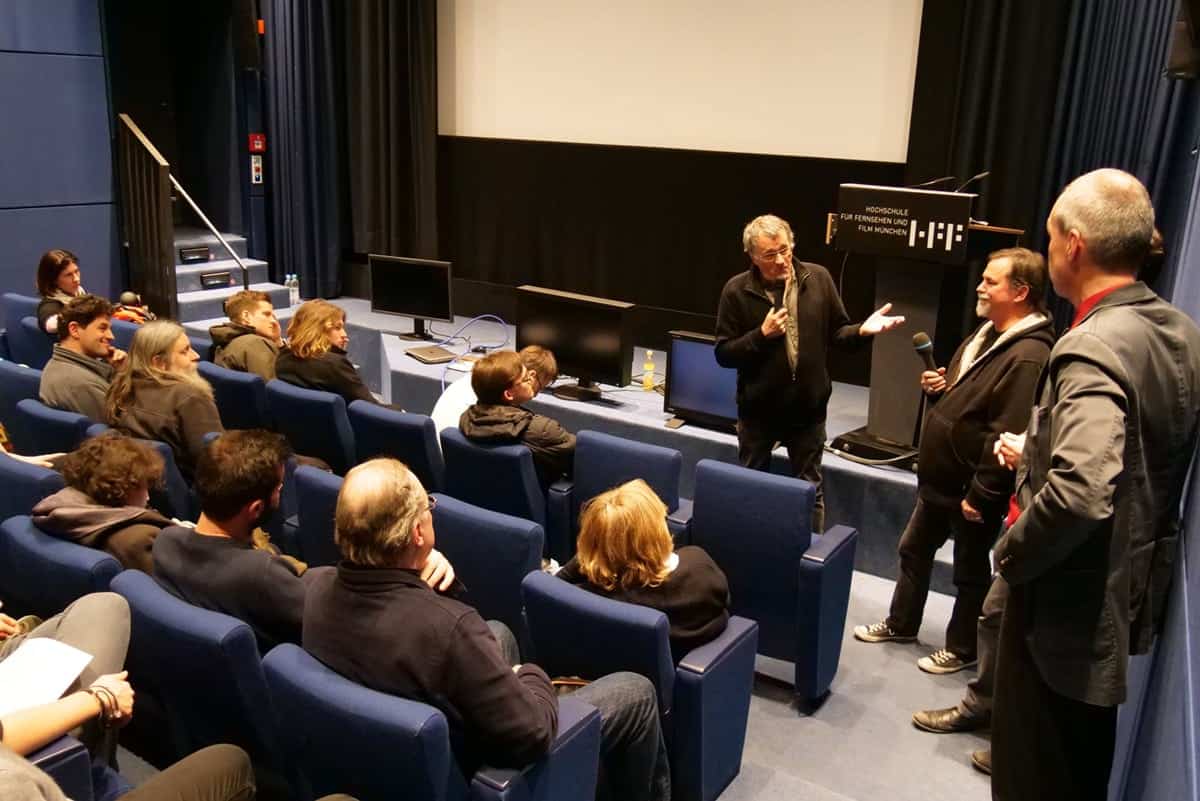 To put all this together is only possible with the support of the SFT (Das Studienzentrum für Filmtechnologie), The Study Centre for Film Technology, which is an independent institute associated with HFF Munich. The aim of the German institution is to mediate between the users and manufacturers of film equipment, supporting a wide range of exchange activities of industry projects, for example, CINEC, the well-known film technology exhibition, in Munich. This trade fair takes place every two years and, by the way, the next one is this coming September. The Institution supports various industry forums, in collaboration with film trade associations and other organisations like Hands On International, lead by Katrin Richthofer and Peter Slansky, head of the technological department of the film school.
This is a unique event, with educational purposes and epic proportions, for advanced professionals and teachers in the field of image capture – all condensed into one week.
Rome Microsalon 2018
Report by Louis Philippe Capelle SBC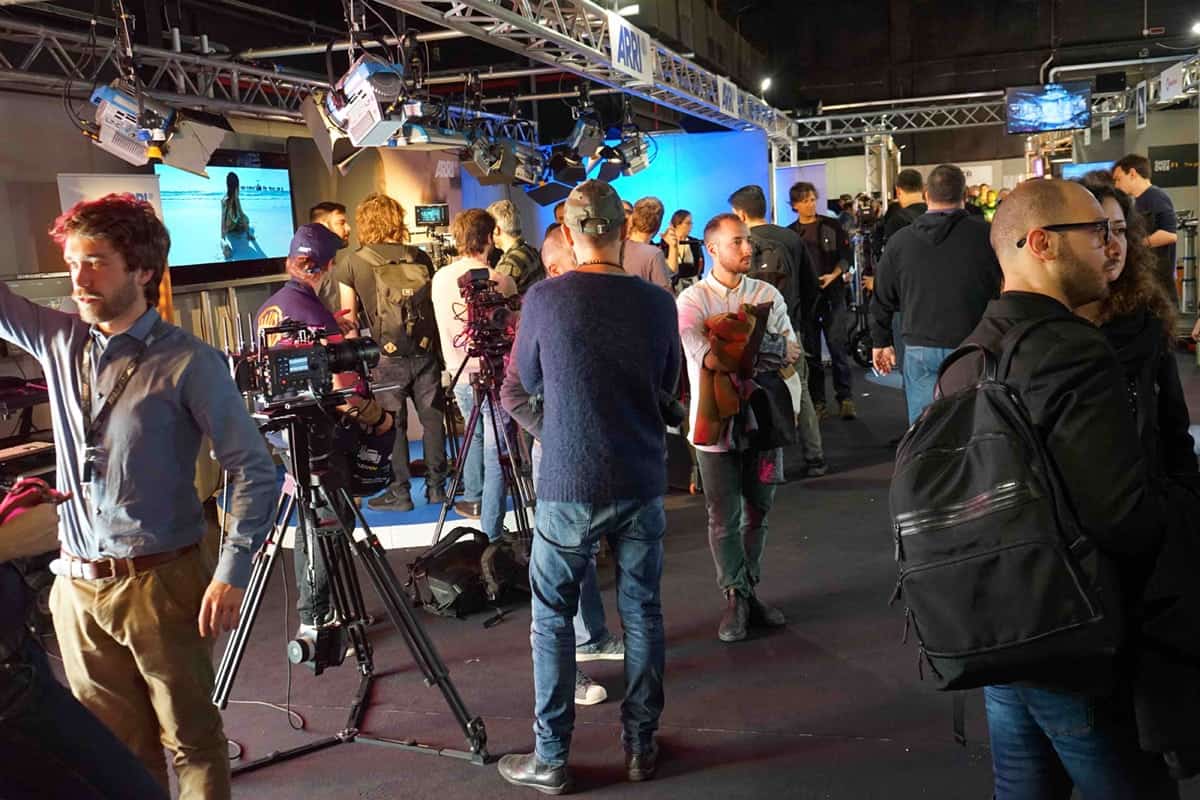 The idea of the "Micro Salon" is spreading. Started in Paris by the AFC, there are now Micro Salons in both Spain and Italy – all very useful for getting updated on the last developments and equipment. And more are planned.
In Rome, it is organised at Cinecitta Studios, where the legend of Italian cinema started more than 80 years ago. The studio compound of 600,000sq/m is now back in public hands and currently hosting two major shoots: a TV series based on Umberto Ecco's novel In The Name Of The Rose, shot by John Conroy, and The Pope, a Netflix production, directed by Fernando Mereilles, shot by DP Cesar Charlone, starring Anthony Hopkins and Jonathan Pryce.
For the sixth edition, the AIC invited "autori italiani cinematografia" and film technicians to their Micro Salon Italia, on March 17th and 18th. Daniele Nannuzzi AIC, president of the AIC, and AIC's general secretary Simone Marra, are the key organisers who brought this year's edition to a major success. More than 5,000 visitors gathered to discover the exhibition, checking new equipment and meeting manufacturers and equipment dealers. A lot of IMAGO's friends were there, across the 56 booths and more than 80 brands. All of the main manufacturers were present. Italian presentations included the new ARRI LF (large format camera and lenses), and the new Sony Venice system. Cooke Optics and Carey Duffy, together with their Cooke TV team, shared space with RED's Italian dealer.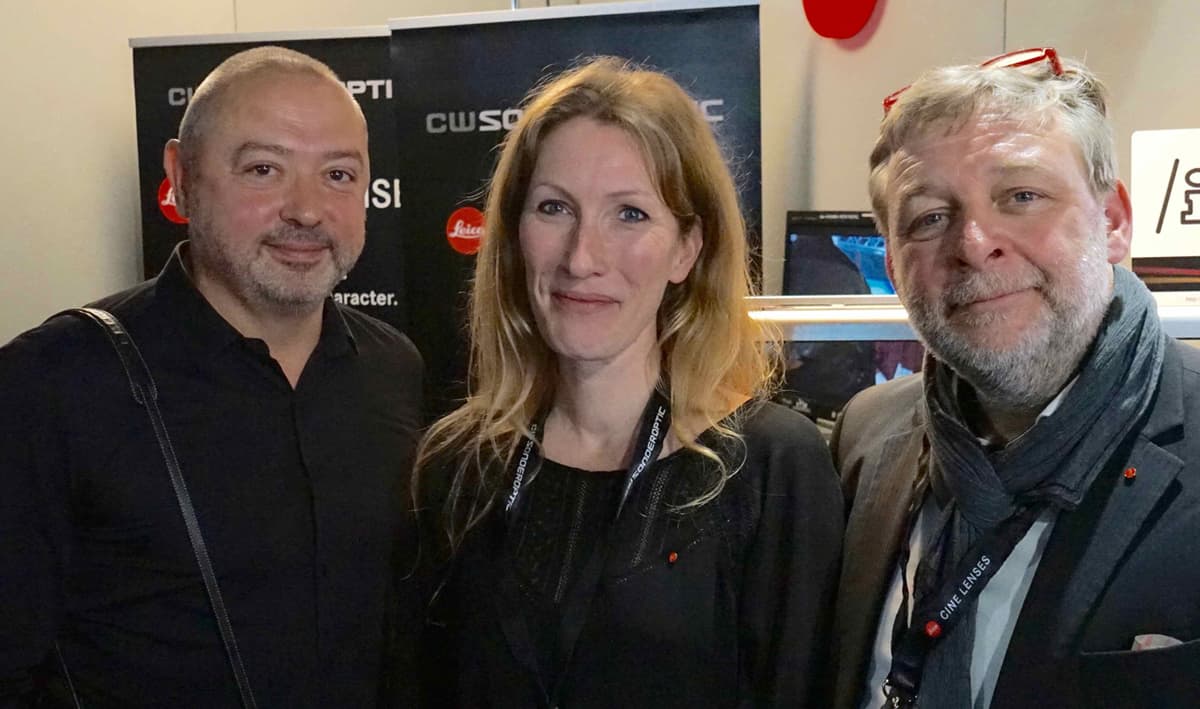 At the back of the studio, a space was dedicated to the workshops, mostly packed with an enthusiastic crowd. Luciano Tovoli AIC ASC presented the Italian edition of his book about the restoration of Dario Argento's masterpiece film Suspiria. On the last night, Vittorio Storaro AIC ASC held his masterclass entitled "Who's Afraid Of Red, Green & Blue?", which included his collaboration on Woody Allen's movie Wonder Wheel. Brilliant, concise and enlightening, Vittorio brought his views of the creative role of the cinematographer to a packed audience in the emblematic Fellini Theatre. He shared generously the stage with his colorist and DIT.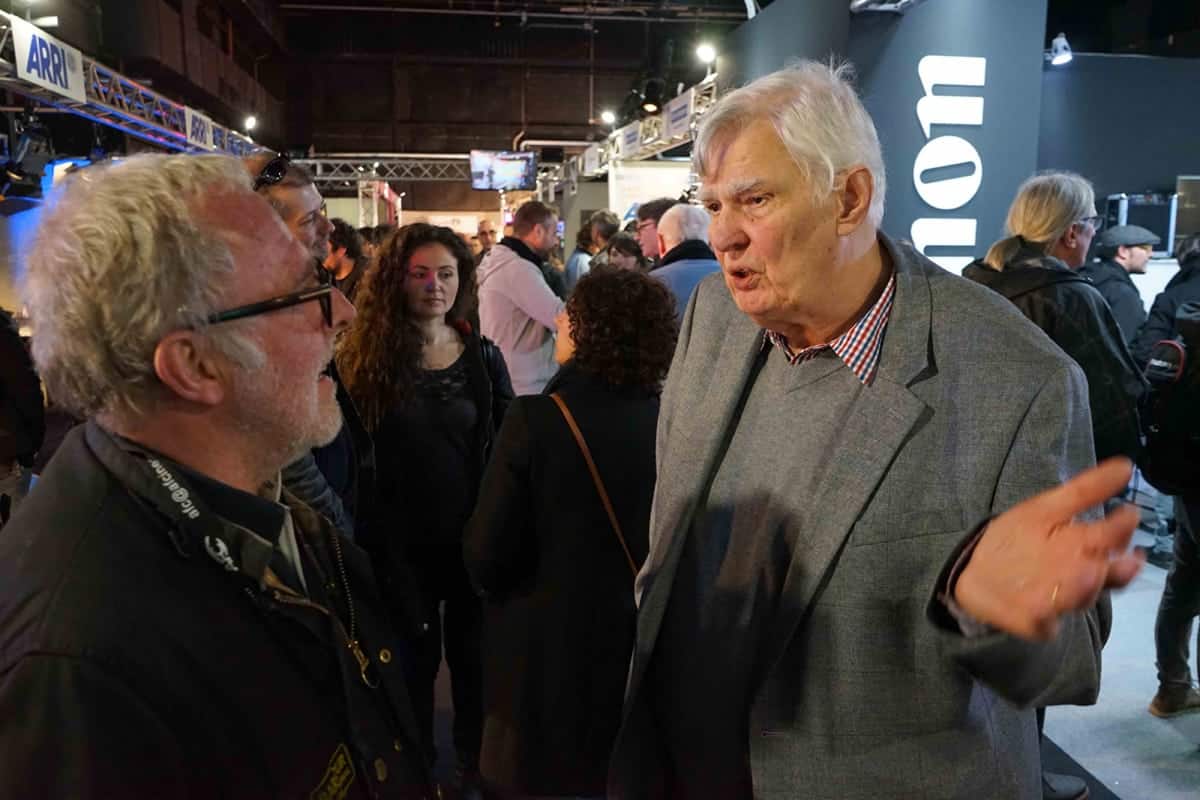 The IMAGO Technical Committee held a fruitful meeting on the Sunday morning, and the IMAGO Authorship Committee had an informal meeting in the AIC's impressive camera museum, discussing the direction forward, headed by Luciano Tovoli AIC ASC and Arko Okk ESC.
Daniele Nannuzzi, AIC's President hosted his exhibition of stills, "Un Cinematographer All' Opera", which proved a beautiful showcase of his impressive work as a light designer in many prestigious Opera houses around Europe. Not to mention, the ARRI dinner on the Friday night, which, as always, had a great atmosphere and, of course, great food.
So we say "Arriverderci" to this great event in Roma, and we already look forward to seeing you next year.
If you would like to receive information about, and invitations to IMAGO's many activities, please sign-up for our regular newsletter at www.imago.org