Nocturnal narratives
Stuart White reveals how he crafted the Fincher-esque aesthetic of Raindance-selected feature Warhol.
In the words of Elliot Grove, founder of the UK's Raindance Film Festival, the new feature film Warhol "effortlessly crosscuts between three gripping storylines: a shock-jock seeking to up his show's ratings, a deaf girl struggling to win her girlfriend back and a homeless veteran trying to convince a young gang member not to kill a rival." The film, selected for this year's Raindance roster and also nominated for the Best UK Feature award is the latest collaboration between writer/director Adam Ethan Crow and DP Stuart White. Warhol started life as a short film back in 2014 as their first project together, and the resulting film had an extensive film festival run and won numerous awards.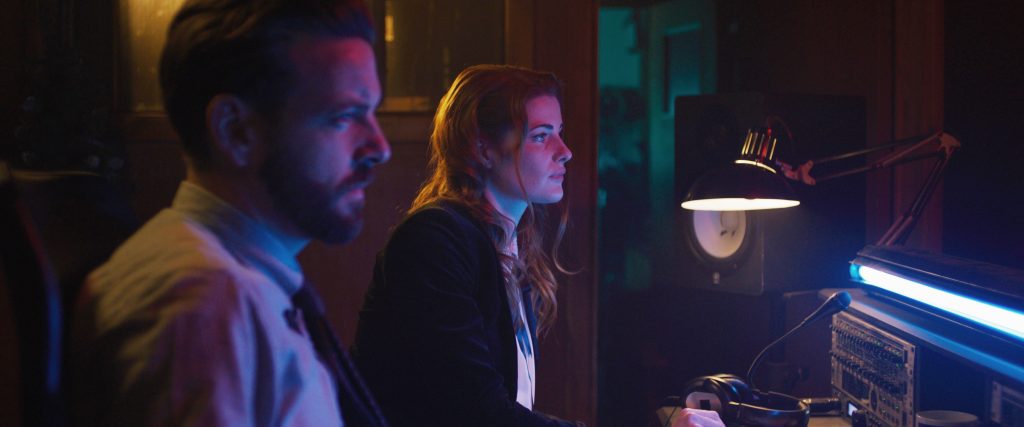 Warhol's production, overseen by producer Shelley Atkin, was fast-paced, as was the shoot itself. Shot in just 11 days in three London locations (Tower Bridge, Chiswick and Addlestone) the film has a late-night setting as it follows the lives of three separate groups of characters intertwined by the radio show of US exile 'Dangerous' Dave Dawson, a night-shift radio DJ with a penchant for the sensational. Dave's journey to work takes him past Solomon, a homeless army veteran, to whom he throws both food and pithy one-liners. We visit Solomon throughout the film after he encounters and converses with Nile, a young man with a lost soul and a difficult choice ahead of him. Dave's journey also skirts a competition outside the radio station where a group of hopefuls firmly keep their hands on a new car, in the dead of a cold night, in an attempt to make it theirs.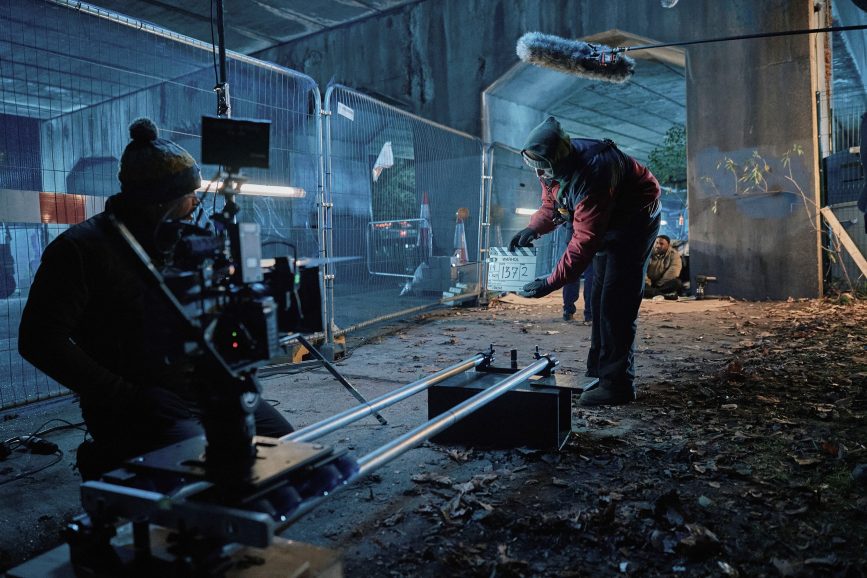 DP White worked on lighting tests to find a look that worked for all of the chosen locations – a down-at-heel radio station, a busy underpass roundabout and the night exterior car competition. Being given David Fincher's pantheon for reference it was important to allow the darkness to penetrate the overall aesthetic whilst complementing the actors' placement within these nocturnal settings. White worked with his close friend (and main unit spark) Daniel Svilenov on initial lighting tests before expanding it with main unit gaffer Tom Nowell. A decision was made to carry a base layer of colours throughout each location – warm tungsten, steel green and black – and then adding touches where and when they augmented the scenes. Using large soft sources to lift the blackness, the imagery was then given a higher contrast by placing tungsten practicals in frame, namely anglepoise lamps in the radio station, fence-mounted work lights at the underpass and truss-mounted par cans at the car set.
Warhol is a dialogue-heavy movie, characters punching lines at each other like pugilists, and as such the camera moves were minimal and meaningful, more often using 3ft/6ft and 10ft sliders rather than Steadicam or gimbal. This, along with the work to pre-light the sets for flexible filming, helped to complete the tight schedule.
Elliot Grove also comments that, "Warhol features atmospheric cinematography by Stuart White who created the look and feel of a movie that appears to have been shot way above its budget." The film was shot using RED cameras and ARRI Ultra Prime lenses.