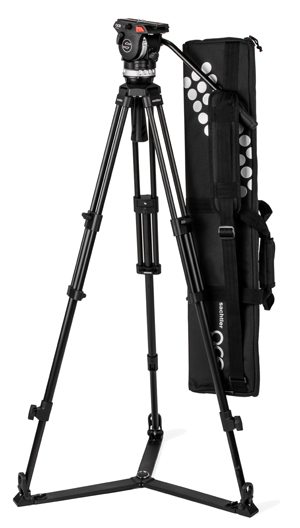 Sachtler, a Vitec Group brand, has introduced two new aluminium tripod systems to the company's popular ACE XL family. Equipped with the new ACE XL 75mm fluid head, the new ACE XL GS AL and ACE XL MS AL tripod systems offer many of the benefits of their carbon-fibre counterparts in a lower-cost package.
Both the ACE XL GS AL (with a ground spreader) and ACE XL MS AL (with a mid-level spreader) are ideal for use with DSLR cameras and with the latest cine-style cameras, such as Blackmagic Design's URSA Mini Pro, Canon's EOS C200 and EOS C300 Mark II, Panasonic's Lumix GH5, and Sony's PXW-FS7. The 75mm fluid head supports an extended payload range of 2 to 8 kilograms (up to 17.6 pounds), giving it the versatility needed to support a broader range of configurations — from a lightweight, video-enabled DSLR camera to a heavier rig with camera accessories or even an HDV camcorder.
Both tripod systems offer eight counterbalance steps for quick and easy camera balancing, and the ACE XL's patented SA drag (synchronised actuated drag) damping provides an authentic broadcast feel and familiar dependability for precise panning and tilting. The long 104mm (4.1-inch) sliding range of the ACE camera plate allows for quick camera setup, and clearly marked counterbalance settings aid in setting repeatable moves and provide a tilt range of +90 degrees to -75 degrees. The ACE XL GS AL and ACE XL MS AL can operate in a broad temperature range, from -30C/-22F to 60C/140F.