SILENT TERROR
The family focus remains at the heart of the story in A Quiet Place Part II as the Abbotts face new threats exploring the wider post-apocalyptic world. As the tension builds, roving cameras follow their journey, with the texture and dilapidation of the abandoned surroundings beautifully captured on 35mm film.
"The scripts that draw me in are those with a strong emotional core balanced with powerful visual landscapes that I feel connected to," says Polly Morgan BSC ASC. That connection to the narrative was achieved in the cinematographer's latest creative venture, Paramount Pictures' A Quiet Place Part II, as the visual language in writer-director John Krasinski's script ensured the characters, locations, and action-packed yet heartfelt story were vividly communicated in an "immersive and emotive" form.
"John wrote the film how he saw it, so the beautifully visceral storytelling drew me in immediately. The script was a blueprint for how we would execute the movie," says Morgan. "The wonderful thing about this film is people's physical reaction when watching it, the gasps of fear or responses to the touching moments. The central story of the family trying to survive together was appealing, especially as I was a new mother when filming began. There's the action aspect, but at its heart, it's a family drama."
Before exploring visual concepts for A Quiet Place Part II, Morgan and Krasinski discussed the energy and premise of the A Quiet Place (2018) – a more intimate experience set in a post-apocalyptic world that sees the Abbott family silently seeking refuge from blind creatures that hunt by sound. The story's continuation in the second instalment follows Evelyn (Emily Blunt) and her children Regan (Millicent Simmonds) and Marcus (Noah Jupe) as they explore the world beyond.
"It becomes a race for survival, requiring energy in the camera – it needed to go on this journey with them."

Polly Morgan BSC ASC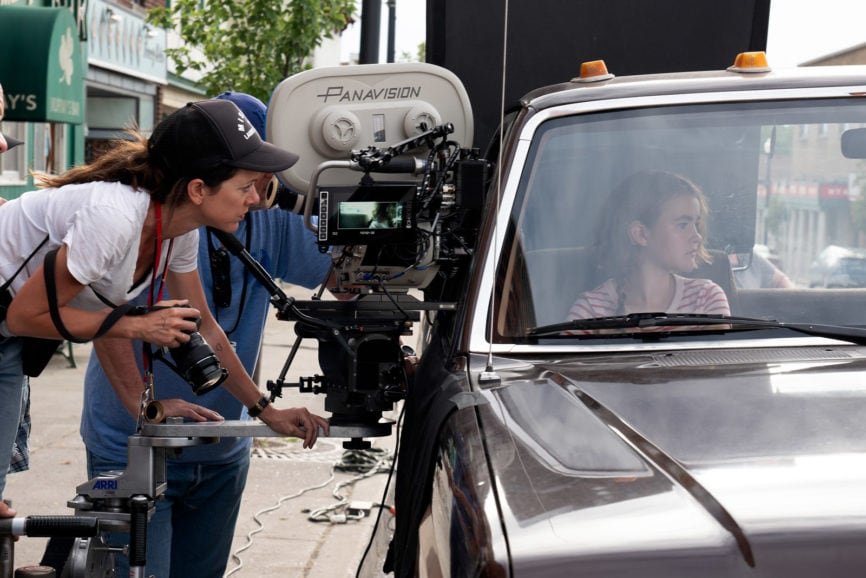 "We shot the first film on just a few key sets in and around New York's Hudson Valley, but for A Quiet Place Part II, I wanted to completely open up the film's universe to show the scale and how the whole world is under siege," says Krasinski. "I had a vision of a road movie with characters weaving in and out of spaces which are both intimate and vast. Our story is so chaotic and insane at times that I wanted to be able to open it up, close it down, then open it back up again, almost like the aperture of a camera."
"It becomes a race for survival, requiring a dynamic camera, that was a participant in their journey," adds Morgan.
The action in A Quiet Place – beautifully lensed by Charlotte Bruus Christensen ASC – mainly unfolds in a farmhouse. While the family's journey and world expand in the sequel, Morgan wanted a seamless transition between the films, not a distracting change in look. "I imagined people watching the movies back-to-back, so I wanted to continue Charlotte's look and feel, referencing some of the visual language," she says.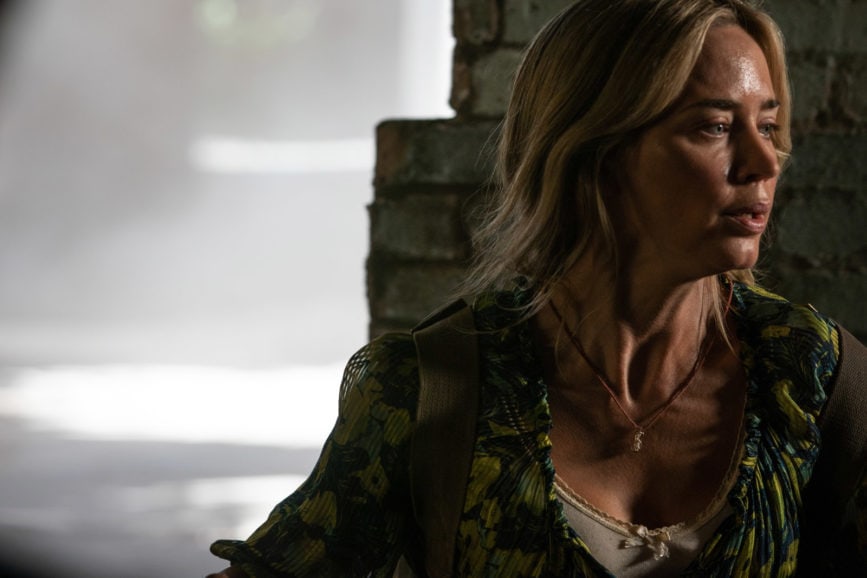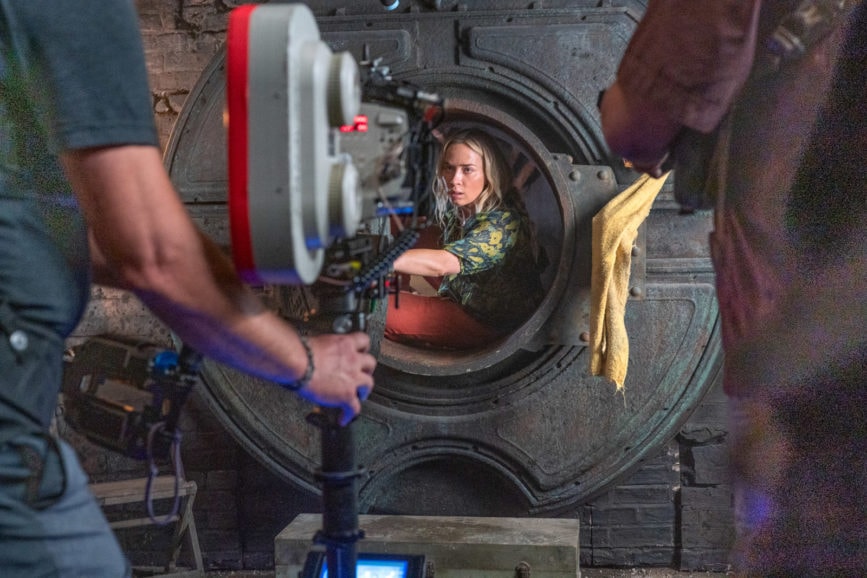 "I wanted to keep the warm, saturated colour of the first movie, so Polly decided to continue using 35mm celluloid film. It also helped to juxtapose the grit and decay of the sets in the new movie with the colour of the family in the expanded world," adds Krasinski.
Creative influence was drawn from filmmaking greats such as Steven Spielberg - Jaws (1975) and Jurassic Park (1993) especially inspired Krasinski – and Ridley Scott's Alien (1979), as well as modern westerns such as the Coen Brothers' No Country for Old Men (2007) and Alfonso Cuarón's fast-paced Children of Men (2006). "We were making a modern Western and wanted to capture the epic landscape and intimate drama within it," says Morgan. "The nostalgia and classic style of moviemaking were important to convey, and this film is reminiscent of the late '70s and early '80s films John grew up watching. That feeling of nostalgia could also be seen in Charlotte's classical framing and use of the Panavision C Series anamorphic lenses for the first film."
The way in which widescreen framing captures landscapes and close-ups once again made it the best choice, especially now the family was exploring new terrain. "Setting the characters alone within this wide frame creates a sense of insecurity and makes you wonder what's behind them," says Morgan.
Pace and rhythm were paramount during prep, from how to affect the audience's emotions through the push and pull of the camera to when to adopt a slow build-up of tension. "John is a natural risk-taker, always pushing everybody to improve the movie. He would tell me what he imagined and then ask, 'How can we pull this off?'" says Morgan. "We examined the coverage needed to convey tension when the family hides from the creatures and how camera movement could evoke feelings in the viewer when the Abbotts venture outside."
BUILDING A POST-APOCALYPTIC WORLD
Plans to shoot in Upstate New York were altered when production designer Jess Gonchor sent Krasinski photos from Buffalo, New York, thrilled by the possibilities the location presented. Upon joining the pair on a location scout in April 2019, Morgan realised the setting perfectly suited the world they hoped to create, boasting abandoned steel mills, giant structures such as lighthouses, and expansive overgrown plots of land. "There was so much history there and an industry that had died out. Everything was beautifully aged and dilapidated, offering so much patina and texture," says Morgan. "The greens department and set decorators were phenomenal at building upon that and creating the post-apocalyptic feel of an abandoned world."
During the initial weeks of prep, Morgan and colourist Stefan Sonnenfeld at Company 3 examined test footage shot in New York and discussed how best to ensure a direct continuation of the look of A Quiet Place, which Sonnenfeld also graded. The family's bond is at the heart of both films – A Quiet Place centring around parents protecting their children from the horrors of the outside world. A Quiet Place Part II is a coming-of-age story where the children take charge and protect their vulnerable youngest sibling and mother.
"We wanted it to feel warm and to lean into the family drama aspect of the story rather than using a cool, somber tone. It's about the characters' emotions and relationships, so we wanted to embrace the outside world's colours, the deep greens and natural light," says Morgan. "Shot at the same time of year, both films had the same warm tones. Stefan built a LUT that would be applied to the few sequences we captured digitally as well as the film negative scans."
Following a month of prep in New York, Morgan and Krasinski spent extensive periods in Buffalo during pre-production visiting each spot, dissecting every scene, and exploring blocking and camera movement. While most of the film was shot on location in Buffalo, scenes inside the furnace, at the radio station, water tower, and in the farmhouse basement and barn basement, were sets built at Buffalo FilmWorks. "Using mainly existing locations allowed us to have a much deeper authenticity, but it was as exciting as it was stressful," says Krasinski.
Some street scenes were filmed in Akron, New York, and certain environments, such as the train carriage, were explored in virtual reality before they were built. "That was a real train carriage transported from Mississippi to Buffalo and then modified," says Morgan. "VR allowed us to visualise where the hole Regan peers through could be placed, what could be seen outside the window, and how we might position the train on the track to get the best vista outside."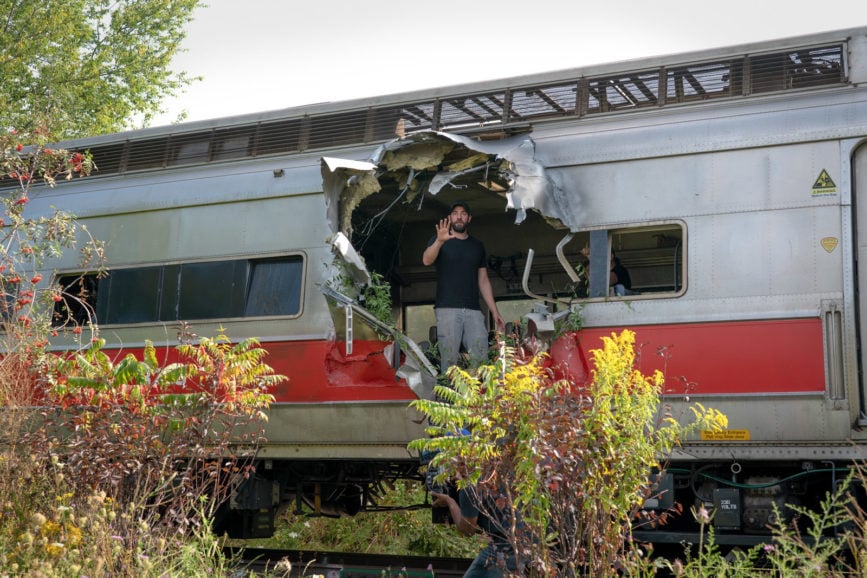 A close creative partnership formed between Morgan and production designer Gonchor during the build of the furnace inside the vault, a set which presented some complications. Initially designed it was quite large to accommodate four actors. "But the main intention was for the film to feel real, so the furnace needed to feel small," says Morgan. "It was shrunk until it was so small the actors were crouching inside."
The fixed-ceiling furnace incorporated panels that could be removed to allow access for camera, but when filming, they either removed the back of the furnace or the door and pulled the camera back and forth using a Mo-sys head on an Aero Jib.
A FREEING EXPERIENCE
Shooting on 35mm film inherently captures the texture and grain in a way that is unachievable shooting digitally, according to Morgan. "It was a glorious experience; something I hadn't done for about five years. I love how the texture is baked into the image – something I have attempted to recreate with the Live Grain tool used in the DI with digital capture. I was impressed by how the film negative retained the detail. Sometimes my highlights were more than six stops over and the detail was preserved. With digital, you have to be careful not to clip the highlights – once they're gone, they're gone."
"We felt shooting on film would capture all the textures and tones of the abandoned world. Celluloid provided an unparalleled depth and palette to the image, creating a feeling of timelessness and nostalgia."

Polly Morgan BSC ASC
Morgan found shooting on film "amazingly freeing", allowed her to collaborate more closely with Krasinski and to have conversations side-by-side on set rather than running back and forth to the DIT tent. "I just loved walking around with my light metre and not worrying about the monitor," she says. "John and I passionately felt shooting on film would capture all the textures and tones of the abandoned world. Celluloid provided an unparalleled depth and palette to the image, helping to create a feeling of timelessness and nostalgia."
The extra sensitivity offered by the Kodak Vision3 500T 5219 stock saw it used for around 80% of the film, including the many night scenes and some sequences shot on stage. The Kodak Vision3 250D 5207 was selected for the remaining day exteriors and a selection of interior sequences. "I extensively tested a whole range of stocks at Panavision New York. The Kodak stocks I selected are a great modern rendition of the older stocks I used when I first started shooting film. For the prologue flashback sequence, I used the 5207 daylight, and was really impressed with the colours," says Morgan. "I'm very sensitive to green and this movie featured so much foliage it needed to look perfect. The way film captures greens is a lot more true to our eye. Digital greens can often look artificial and can be tricky to work with, but the film negative captured it beautifully."
As Morgan wanted to use FotoKem for film scanning and EFILM for dailies, the exposed negatives were shipped from Buffalo to Los Angeles, where both companies are located. "There were no direct flights, and the negatives took time to be processed, so it could be a few days before we watched the dailies, which was nerve-racking but worth the wait," she says.
Morgan shot with the 35mm Panavision Millennium XL2 paired with Panavision T Series anamorphic lenses, predominantly using wider lenses. Morgan and the camera crew worked with three XL2 bodies, supplemented with the ARRI Alexa Mini for an elaborate shot in a Volvo, a marina sequence, and an underwater scene. While Charlotte Bruus Christensen shot the first film on Panavision C Series lenses and used spherical lenses, which were faster for the night work, Morgan opted to shoot with one set of anamorphic lenses.
Panavision's Dan Sasaki modified a set of the more modern T Series anamorphic lenses so they produced an identical look to the C Series. "The modified T Series lens set allowed me to shoot at 2.8 and not have to stop down for unwanted artifacts. I also needed good close focus because we shot wide and close," says Morgan. "I've loved working with Panavision ever since I was a runner at Ridley Scott's company, RSA. Their lenses are incredible and the Millennium XL2 felt like a natural choice, partly due to the compact 35mm body."
Water work required Hydroflex underwater housing and a Chapman Leonard Amphibian remote head. During an underwater scout at the marina where the shoot was planned, Morgan discovered the visibility was poor as bad weather had made the water murky. Therefore, a half-day underwater shoot in a pool was required. "Luckily, Pete Romano from Hydroflex was in New York and assisted us with that sequence – his skill was invaluable."
NATURAL MOTIVATIONS
"Polly found such beautiful ways to work with the lighting and to capture these huge spaces and really helped build on what we created in the first film, expanding it out into a wider world."

Writer-director John Krasinski
Largely motivated by natural sources, Morgan's lighting choices made maximum use of "the gorgeous times of the day", embracing contrasting warm and cool hues, from the blue light of dusk through to glowing sunsets. "Polly found such beautiful ways to work with the lighting and to capture these huge spaces and really helped build on what we created in the first film, expanding it out into a wider world," says Krasinski. "We wanted to focus a lot on natural lighting, on the coolness of the moonlight and the warmth of the fires."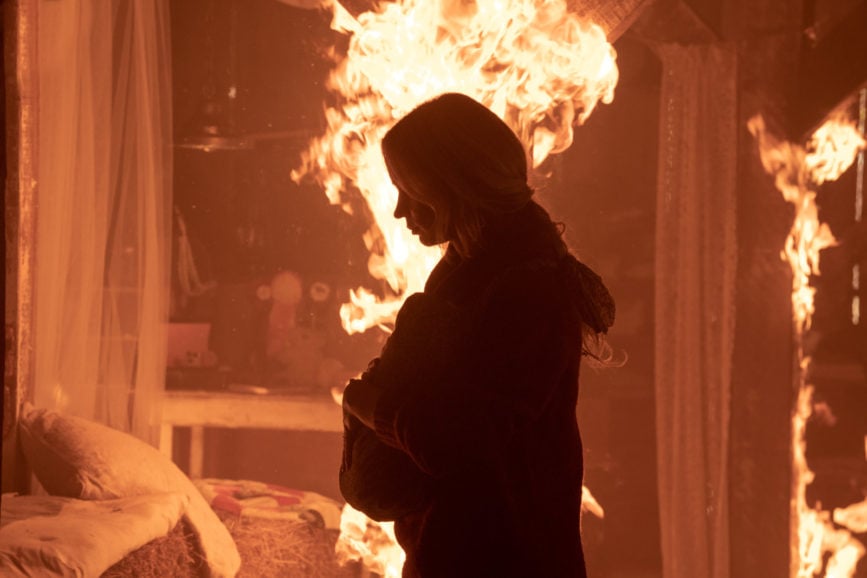 As Morgan highlights, "a world abandoned through fear leaves little room for artificial sources", but when natural lighting was not possible, modern sources that could connect remotely to a dimmer board were used, allowing quick intensity and colour changes. "We needed to move quickly. As soon as the camera changed direction, the lighting had to respond accordingly," she says.
Working in Buffalo in the summer meant limited night-time hours, which could prove to be problematic with much of the film taking place at night. Working with minors also limited shooting time, so the crew would often ring the set with lights.
The interior steel mill scenes were captured at Buflovax – a large, abandoned beautiful warehouse which allowed enough space for SkyPanel 360s on scissor lifts inside, with multiple ArriMax 18K lights on Condors outside and a Bebee Light illuminating through the many windows. "The space was so big, and we really had to light it up because we were shooting on film. I didn't want to push the film if I could help it, as I didn't like what it did to the bottom of the gamma curve, so I always tried to rate the 5219 500 at 400," says Morgan. "I used LRX remote control heads for the first time, with either fresnels or PARs, meaning no manpower was needed in the buckets of the lifts and we could respond quickly on the ground."
The compact space in the furnace inside the vault also presented a lighting conundrum, especially as many shots developed from a wide and pushed into a close-up, making it difficult to hide lights. "I never wanted to impede John's vision for a shot by saying we couldn't light a space. It had to feel moody in the furnace and I didn't want to pull the viewer out of the moment. To make it more terrifying, it needed to feel like we were in there with the characters, seeing it from their perspective.
"We already knew we would mainly tell the story through camera movement, so I had to fit my lighting around that. It was difficult to hide lights in what was essentially a tiny dark tunnel, but luckily, we made use of both the ribs inside and props to hide little Litegear pads with snow blanket. I tried putting more diffusion around it, but because of the anamorphic frame and wide lens, the lighting often came into shot."
Difficulties were also faced when illuminating the underground room that the furnace sits inside due to the approach of starting wide and then pushing in close. Morgan first discussed practical lighting options with production designer Gonchor and gaffer Dan Riffel, testing lanterns and double-wick and triple-wick candles. An ETC Source Four was bounced into unbleached muslin on the ceiling to produce the desired ambience and a High End Systems SolaFrame 3000 created a spotted shaft of light coming down through a hole in the top of the vault. Astera Tubes were hidden behind columns and SkyPanels and Astera Tubes were hung to create the flickering candlelight, with the SkyPanels' slow flicker effects delivering soft, subtle results and easy colour temperature adjustment using the DMX board.
"I wanted to light Emily [Blunt] beautifully, so we often used a DMX dimmer board and ARRI SkyPanels S30s and Astera Tubes to bring up the light on her face as the camera pushed in".
For night work, Morgan used HMIs and SkyPanel 360s, half correcting the HMIs back to tungsten, to prevent the moonlight from appearing too blue. "The HMIs were corrected with 1/2 CTO and the SkyPanels matched at 4400 Kelvin. While the daylight sequences were motivated by windows, night-time scenes were motivated by fire, candles, or moonlight. I looked at True Grit because Roger Deakins' moonlight and the contrast with warm light is so gorgeous. The big night exterior scene at the marina was challenging to light as there were many things to contend with including fire and water. It was one of a handful of scenes we shot digitally using the ARRI Alexa and then surrounded the area with LRX Fresnels on lifts and 360s on barges. An approach that could be that could be easily controlled as we moved around."
PERPETUAL MOTION
Krasinski wanted to use a constantly roving camera "which, like the Abbotts, can never stop". "I also wanted a sense of fluidity in the camera movement, so I wanted to use long, sinuous takes, without any cuts which might relieve the tension," he says. "This took a lot of planning, but was necessary to immerse the audience in the unabating sense of impending danger, keeping them on the edge of their seats, especially as the camera moves with the actor, following them through the action. The camera often starts very wide and pulls in close to create a steady rhythm but also a sense of life before the danger."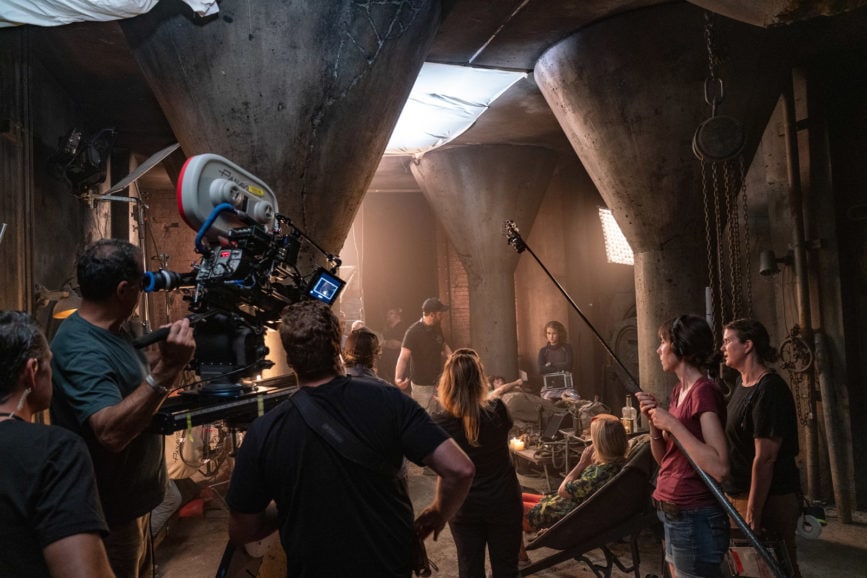 Morgan and Krasinski were eager to embrace myriad methods of moving the camera to follow the characters on their journey. And with so much dynamic movement, there was an abundance of arms and tools to explore to capture the action. "The nature of the movement is different from the first film. It is an emotional family drama, but it's also in a way an action movie requiring a lot of tools. When the actors are running full pelt, we wanted to be right there with them," says Morgan.
The pair agreed a fluid and dynamic camera would create a subjective feeling while shot length determined the film's rhythm. "The long shots created tension through pacing, allowing us to connect those in danger with the source of that danger, creating real drama in the frame without relying on cutaways and editing," says Morgan. "You always hear that a movie is made in prep, but this one really was. We only shot for 50 days and the limited night hours and with the child actors meant we really planned ahead and were very specific about what gear we would need for each location."
Morgan considers shooting episodes of FX/Marvel Television series Legion, created by writer-director Noah Hawley, a "wonderful education" in preparation for the action-packed A Quiet Place Part II. "There was a lot of camera movement in that series – we were always using some kind of arm." Hawley, who Morgan also collaborated with on Lucy in the Sky (2019), was a fan of using camera movement as a storytelling tool, like Krasinski. "A Quiet Place Part II was a natural progression. "Being so comfortable working with all the tools right from the initial conversations and through prep was essential in achieving the days when we got onto set," says Morgan.
When moving the camera with the characters as they cross the countryside, the day-to-day package helping create the desired energy while fleeing from the creatures comprised of a GF8 fixed-arm crane, an Aero Jib, a Mo-Sys L40 remote head, and a Libra remote head.
Multiple types of electric car were used, often with Chapman Leonard Miniscope, a small telescopic crane, attached. It was ideal for capturing the characters running over uneven ground at Bethlehem Steel Mill and on the streets of Akron. The range the telescopic arm on top of an electric vehicle was particularly useful for a oner tracking a character through town, into a truck, re-emerging and then walking towards a police car just before the creature attacks.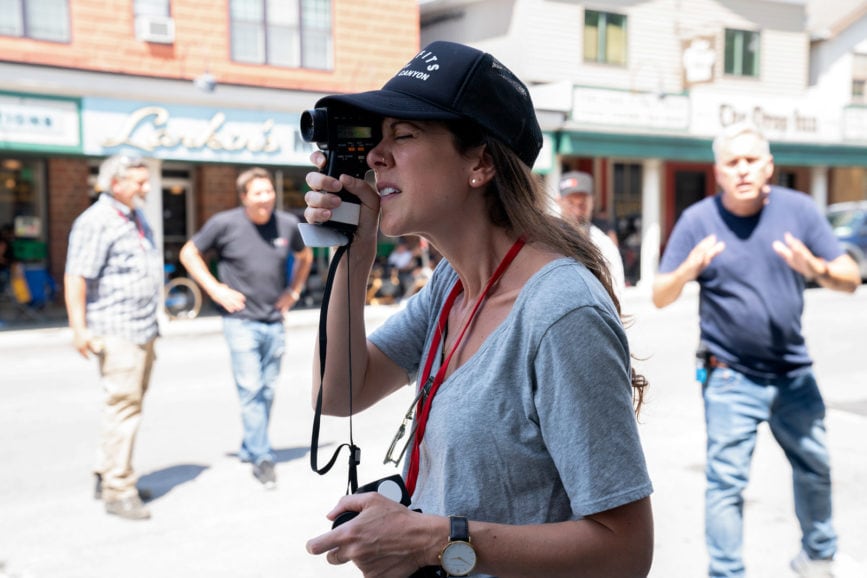 "We could never do that in one shot, because the special effects department needed to rig the police car for the impending attack," says Morgan. "The Miniscope allowed us to track along the pavement, telescoping over the cars in the foreground, then pull back on the electric car. As the camera came around to the car, I could push the camera close to the bonnet and then as we moved further right there was a hidden cut as the camera moves through the windscreen."
This action-packed scene also required a unique, complex custom-made sliding rig inside a modified Volvo [this will be explored in detail in a follow-up Masterclass in the July issue]. Some sequences were captured by Steadicam on rickshaws, including a fast-paced chase when the characters sprint and weave in and out of the steel mill. "That was a complex dance between cast and crew. Our wonderful Steadicam and A camera operator Matt Moriarty ran backwards with a Steadicam to capture the action," says Morgan. "Not only were we shooting an action movie, it was also an action pace of shooting and Steve Cueva, our A cam 1st AC, also did a phenomenal job of dealing with the logistics, moving between different modes of camera operation and working with the multiple heads and camera systems."
While the team mainly worked with the GF 8 and Aero Jib to achieve constant motion in the scenes shot on stage, for sequences shot on location they relied on 73-foot and 32-foot Chapman Leonard Hydrascope telescopic cranes, a 60-foot MovieBird crane, and a 50-foot Technocrane. "We were also always trying to control the sun, so we used huge cranes such as the Champion Crane with 60 x 60 rags on them. Key grip Manny Duran, who I worked with on Lucy in the Sky and Legion, was incredible when we were working with all this equipment. I couldn't have made this movie without him. He was always thinking ahead, helping me decide what the best tool for the job was and controlling the sun. There was a lot of demanding rigging and large equipment, which Manny handled brilliantly."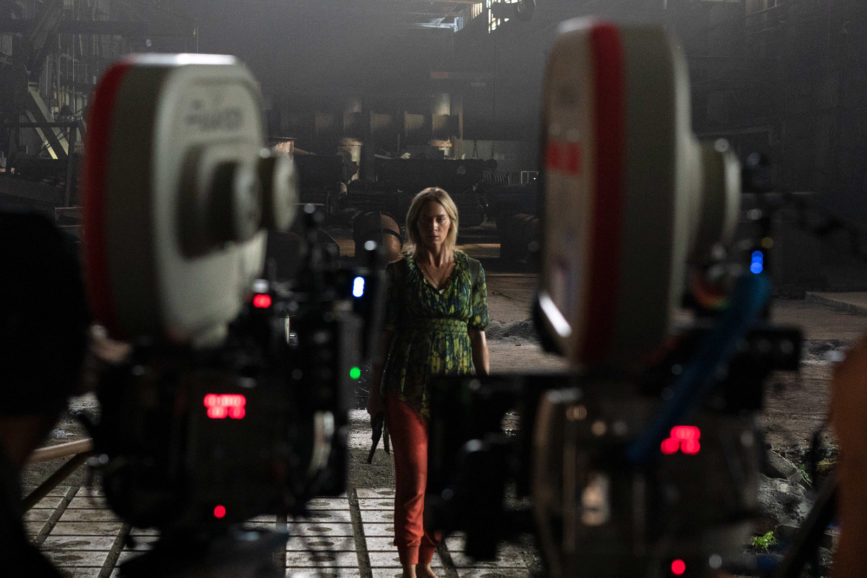 While as much as possible was captured in camera, visual effects magic was required to bring the creatures to life in all their terrifying glory. Morgan felt "incredibly spoiled" by the visual effects talent on offer: "Visual effects supervisor Scott Farrar and his team at Industrial Light & Magic (ILM) were phenomenal. They built the creature – nicknamed Happy – as an element for the first movie, so it was a continuation and evolution of that process.
"So we could frame up for the creature and ensure it was the right height when running towards the actors, we had a Happy stand-in – a person holding a stick with a paper face on it. The VFX team gave us plenty of flexibility to shoot without feeling constrained. We shot a lot of plates, they did their own digital capture, and many blue screens went up, but they never restricted the creative vision."
No matter how much action is packed into a production, for Morgan, it always comes back to the heart of the film. "It's all about the performance and those quiet scenes too," she says. "The movies that speak to me and the things I love shooting most are those gentler scenes and performances. While it is exciting to be challenged and to work with multiple departments to figure out how to pull something off on a big scale, my favourite elements of this movie are the quieter moments when it's just the actors and the scene unfolding in front of the camera. This film really lives in the close-ups."
Krasinski seconds this sentiment: "One thing I said when we started was, 'I won't do this film if the intimacy is lost'. So even though we're entering bigger realms, the core values of this family still drive everything. Intimacy keeps the themes from being overpowered. All the action and special effects come from the story rather than vice-versa. I love special effects as much as anybody, but I wanted everything to feel organic to what is happening to Evelyn, Regan and Marcus."