Tough Stuff
Philippe Rousselot AFC ASC / The Nice Guys
Tough Stuff
Philippe Rousselot AFC ASC / The Nice Guys
The bruising action in The Nice Guys  spins like a modern Raymond Chandler yarn, through different parts of 1970s Los Angeles and different social classes.
Directed by Shane Black, from an original screenplay he wrote with Anthony Bagarozzi, the crime-mystery-buddy-cop-action-comedy follows down-on-his-luck private eye Holland March (Ryan Gosling) and hired enforcer Jackson Healy (Russell Crowe) who are obliged to work together to solve the case of a missing girl and the seemingly unrelated death of a porn star. During their investigations they uncover a shocking criminal conspiracy, which reaches up to the highest circles of power.
The movie was produced by Joel Silver (Non-Stop, The Matrix and Sherlock Holmes films) through his Silver Pictures firm, with distribution by Warner Bros. Pictures. Under the auspices of cinematographer Philippe Rousselot AFC ASC principal photography began on October 27, 2014, at locations in Atlanta and Decatur, Georgia, doubling for Los Angeles. After a break for Christmas, shooting also took place in LA in January 2015 at locations including The Comedy Store, House Of Blues, Griffith Park, plus suburban streets in Pasadena and The Valley area, before production wrapped at the end of the month.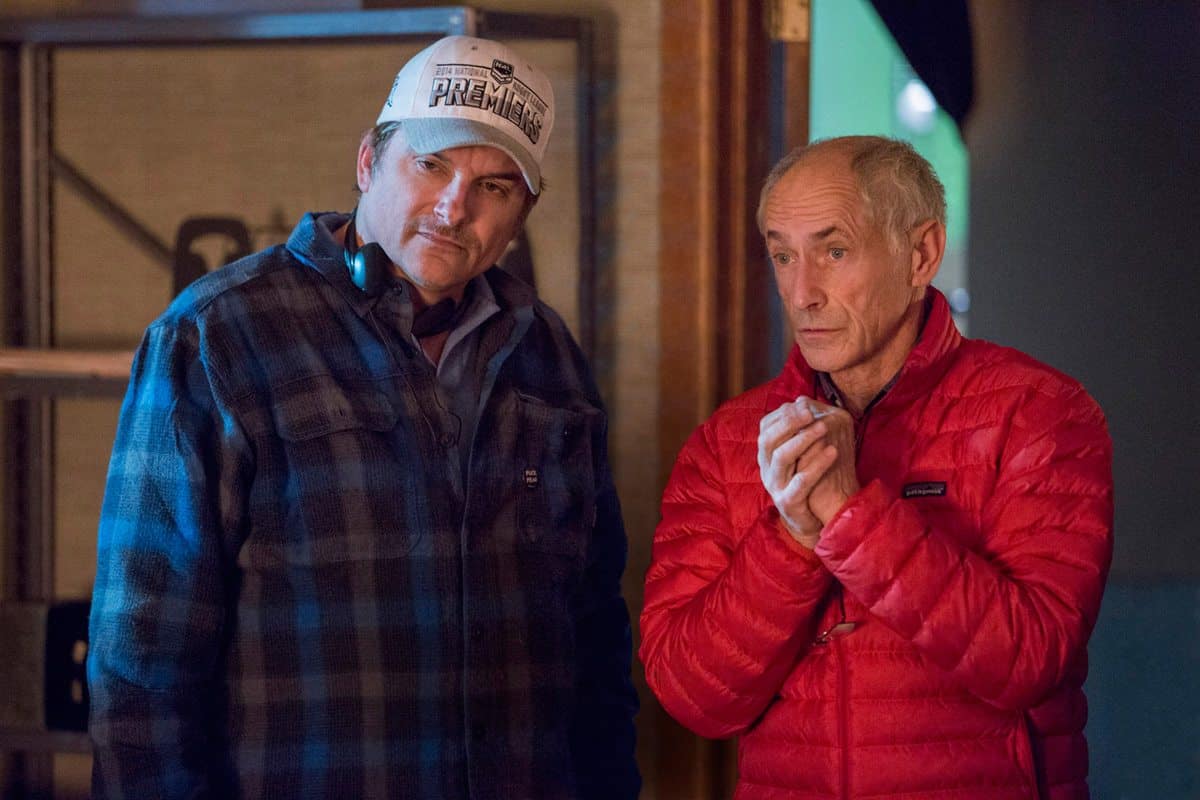 Rousselot's involvement with the production came through Silver, with whom he had worked on a number of motion pictures produced by the Hollywood mogul, including the hugely-successful Sherlock Holmes (2009) and Sherlock Holmes: A Game Of Shadows (2011).
"Joel asked me to read the script and I found it really, really funny, with great one-liners, dialogue and action," enthuses Rousselot. "It had a self-deprecating humour that I love. I did not know Shane Black, but thought his neo-noir crime comedy Kiss Kiss Bang Bang (2005) was a great film. So there was absolutely every reason to say yes."
Key to any movie is the relationship with the director, and Rousselot recounts the first discussions he had with Black envisioning the look. "We spoke about the period and whether we would make it look like a period movie. It was a short conversation. I am now at an age that I remember shooting in the 1970s myself. There was not a typical look of that era as there were so many experiments in cinematography – old fashioned hard lighting, with shadows on walls; softer bounced light by Néstor Almendros; the flashing of film by Freddie Young and Vilmos Zsigmond; Claude Lelouch zooming in and out for no reason at all. The films of the 1970s were very different. So I didn't think we had to add or create a period look for The Nice Guys, when we already had a visual aesthetic through the locations, costume and hair."
"Before production began I made some basic LUTs with Arthur To, the DIT, to emulate the look of Kodak 5219 and applied these to the shots in production, with all on-set grades recorded by the CDL."
- Philippe Rousselot AFC ASC
In terms of creative references to inspire the look of the movie, Rousselot admits, "there were none, and inspiration is a word I fear. I get my inspiration from what is in front of the camera, and I let this lead my instincts. Every morning you go to the set and have a scene in front of you that you cannot deny and must embrace. The sets, the houses, streets, landscapes, actors and action – each dictate your every decision."
He notes: "This movie was a buddy movie and wherever we were shooting it had to look like 1970's LA. My take was to be very practical and efficient. We had a lot of locations, action scenes and night sequences, and just 50 days to shoot everything. With comedy and action you have to give the material as soon as possible to the editor to make sure the scene is working. You cannot just point the camera at the action and shoot. You have to be much more clever and considered than that."
With this in mind, Rousselot selected the ARRI Alexa XT, which features the in-built Codex ARRIRAW workflow enabling the speedy transfer of material from set-to-post, a good dynamic range, and the ability to record night scenes at 1280ASA and still get a great image.
"Although this was my first full-length feature with the Alexa XT, I was familiar-enough with it from shooting commercials, so we did not need to do extensive camera test," he explains. "Before production began I made some basic LUTs with Arthur To, the DIT, to emulate the look of Kodak 5219 and applied these to the shots in production, with all on-set grades recorded by the CDL."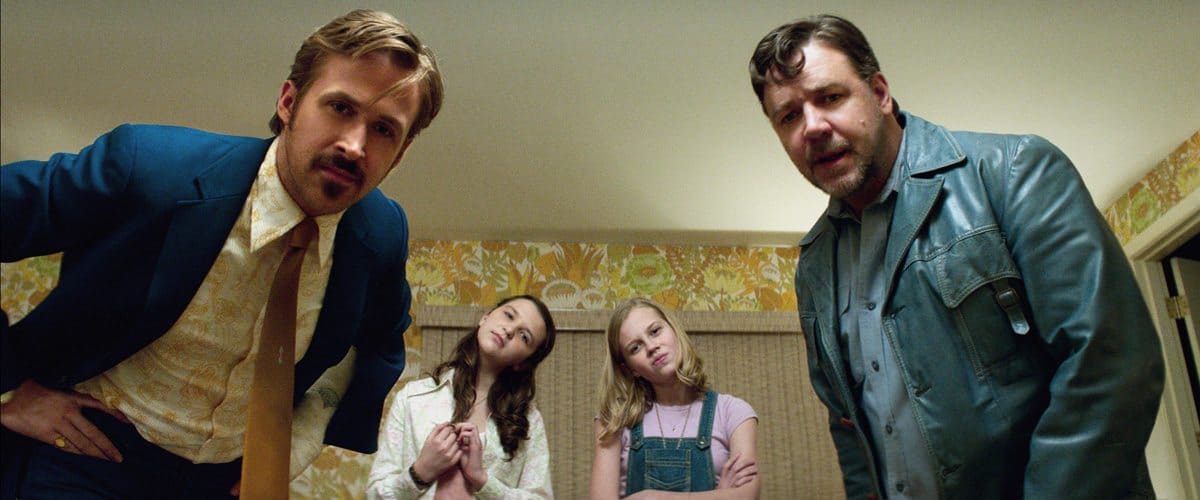 He says he pushed for Anamorphic lenses for various reasons. "I love the overall aesthetic and they tend make the digital image more attractive through the softening, depth-of-field, breathing and bokeh. I'm not too crazy about Anamorphic flaring though – you have to be judicious about that. I went with the G-series lenses, supplied by Panavision, as they are modern and robust and you can work quickly with them. Although close focus can be a problem, I knew they would lend themselves to the framing of the two incredible leads in this movie, and add to their on-screen presence."
Rousselot's crew on The Nice Guys included Will Arnot on A-camera/Steadicam, and Tom Marvel on B-camera. Either Hilda Mercado or Rousselot himself operated C-camera when required. The first AC on A-camera was Valentine Marvel, with Matthew McGinn the first AC on B-Camera. Joshua Stern was the gaffer, with Wayne Parker acting as key grip. Arthur To was the DIT.
"I had a very fine crew – a collection of close buddies and trusted associates," he says. "Much of the movie, especially dialogue scene with the two actors, was shot using two cameras. I like this approach as it can save the actors, you can move quickly, and the shots match, which makes it much easier for the editor."
Speaking about his strategy for moving the camera, Rousselot says, "At the start of the movie the two characters and the plot are established with a voiceover. Shane and I decided the image should move between the two in an elegant way, to reveal the characters and give the viewer a sense of place. When you start moving the camera you never stop after that. Obviously you have to have some static shots to break the rhythm, but moviemaking is about the correlation of movement and time – especially on an action packed movie like this."
He continues: "There are different ways to do action sequences: you can shake the camera or have fast cuts, and these can be done really well. Personally, I prefer a more conventional, conservative and practical approach. I like to show the action scene to the audience and make it easy to understand. I prefer it when the camera dances. When it shakes you can easily confuse people. I remember Claude Chabrol's rule, which was to put the camera in front of the action where you can see things happening. So for The Nice Guys we might catch a punch in a fight scene with some handheld, or follow an actor through a crowd using a Steadicam, otherwise the camera moves simply on the dolly or a Technocrane, or just sits on the sticks."
Rousselot's approach to the lighting was similarly simple, describing his illumination as, "almost minimalist. I never had it in mind to light it like you might a comedy. It's a thriller. So I went for more of a darker, brooding feeling. There were a lot of exterior night locations, and I would subtly augment the existing sodium or white streetlights as appropriate, but not much. The sets were seedy and colourful with neon lights, and the costumes were very 1970s, with beautifully horrible lapels and big hair. I wanted these to really pop. So we had to have lots of contrast. On interiors I used LED panels, built by my gaffer Josh Stern, which were especially convenient when there was not much room and we had to work fast."
One of Rousselot's favourite shots involving clever lighting is a night scene in which a beaten-up Russell Crowe waits in his darkened apartment for his assailants. He distracts his enemies by switching the lights on, to temporarily blind them. "This scene was very hard to light," he explains, "but I loved the way Shane had of turning the cliché of tricking an opponent upside down by switching the lights on, rather than off."
Due to weather and availability of the actors, production on The Nice Guys lasted for 53 days. Rousselot had six weeks of prep time, and the working regime during the shoot was mainly five-day-weeks, with lunch breaks during 12 to 14-hour days. "This was a nice routine for us. Six day-weeks can be tiring, and with transport to-and-from the set you can find yourself working for 15 or 16 hours a day, which is exhausting and can leave you pretty messed up."
The final DI grade on The Nice Guys was conducted in London as Rousselot was prepping Fantastic Beast And Where To Find Them at Warner Bros' Studios Leavesden. The grade was done by Adam Inglis (who did DI on both Sherlock Holmes movies lensed by Rousselot) working out of at Lipsync. It took around two weeks spread over a three months period, due to availabilities of both the cinematographer and the colourist.
"I don't enjoy being in the dark for weeks on end, as I am an outdoor person, but I do love the DI," remarks Rousselot. "The Nice Guys was pretty conventional and straightforward, just enhancing what we did on-set and bringing out faces of the actors a bit more. Nothing huge, except for a couple of scenes that needed a bit of finessing work such as clean-ups and VFX set extensions."
Rousselot concludes: "Although we were under great pressure with the schedule, The Nice Guys was a very happy production. Shane is lovely, a very good director, and he made it very pleasant for us all. There are great expectations for this movie and you will not be disappointed at all."