Twilight Tenderness
Benoit Delhomme AFC / One Day
Twilight Tenderness
Benoit Delhomme AFC / One Day
Benoît Delhomme AFC burst onto the international cinematography scene in 1993 with The Scent Of Green Papaya, a visual poem in which images and sounds took precedence over dialogue. That film was well-received at the Camerimage Festival of the Art of Cinematography, and in subsequent years, Delhomme worked with directors including Mike Figgis, Anthony Minghella, Michael Winterbottom and Michael Radford. His bold, widescreen images for The Proposition also garnered acclaim in 2004.
His most recent assignment, One Day, based on David Nicholls's much-loved book, paired him with Lone Scherfig, a director known for subtle characterisation.
"In her previous movies, I admired the way she filmed the actors," says Delhomme. "I always like directors who take care in that regard. I was also glad for the chance to work with Anne Hathaway, who is very photogenic, but doesn't hesitate to play comedy. Also, my resumé includes quite a few darker movies, and I thought it was a good idea to making something lighter and more romantic. 
The script for One Day presented some unusual opportunities. In it, a young couple spend the night together as they graduate from college. The film checks in on them for one day a year as their lives evolve. Sometimes they are together, and sometimes not. As a result of this structure, the nine-week shooting schedule would feature a new set almost every day, and a range of time periods starting in the 1980s and ending over 20 years later.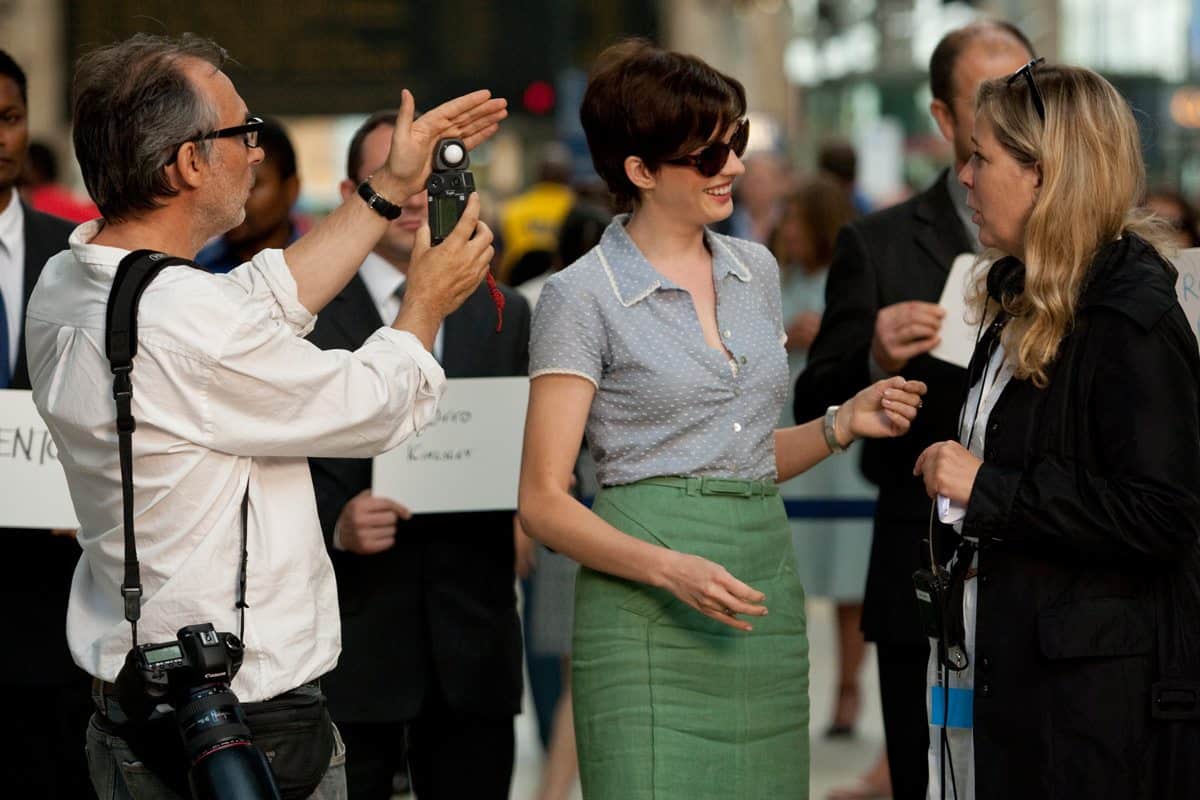 Delhomme says that Scherfig was committed to shooting in a 2.35:1 aspect ratio before he even came onto the project. "Lone wanted to make the film in a classic Hollywood way," he says. "She wanted a certain elegance. I am a big fan of Gordon Willis's lighting for comedy in films like Annie Hall and Manhattan. He never hesitates to take risks, or to add more contrast. I don't like comedies that are flat and soft."
The format was spherical Super 35. Delhomme and Scherfig decided that a different photographic look for each time period would be too complicated and distracting. They depended on production design, especially costumes, to indicate the period. The lighting took its cues from the emotional content of the scene.
"I tried to dedicate myself to the actors," says Delhomme. "My main goals were to make them comfortable and to make them look good. There were many close-ups, and classic compositions. We wanted simplicity."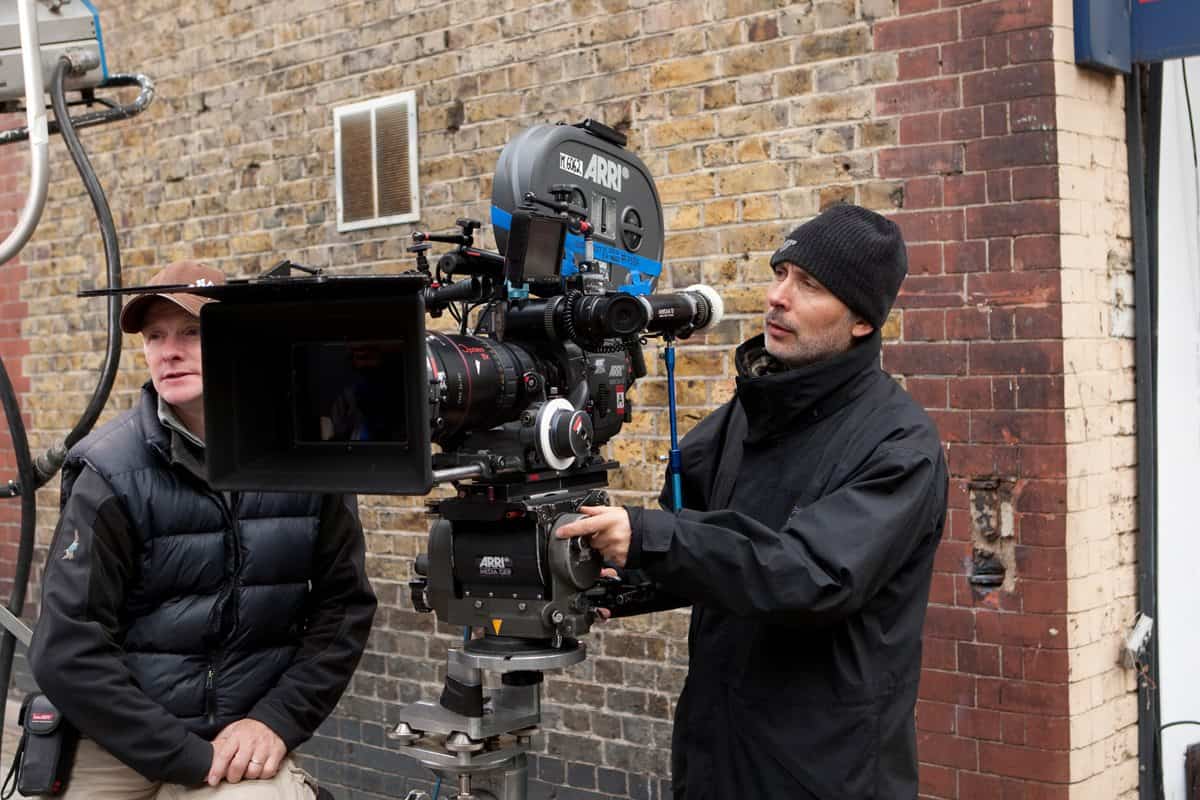 The movie opens with a long scene that takes place just before dawn on empty city streets in Edinburgh. Delhomme's puzzle was to figure out how to maintain consistency. "It was tricky, because we had to shoot on location," he says. "We shot it over the course of several evenings, because it was easier for the actors than shooting at dawn. We had a B unit shooting real dawn to connect things. We carefully scouted and found locations where walls and other elements protected us from direct sun a bit longer."
Later in the film, the couple travels to Brittany, where long dialogue scene plays out at twilight. In this case, the filmmakers shot the close-ups on a stage at Pinewood Studios, outfitted with a Translite.
"I'm quite proud of this scene," says Delhomme. "I think it looks as though it was shot real time. Usually in comedies, people don't play twilight. I can see why people don't use blue – because it's tricky, and easy to go too far. But I'm pleased with how these scenes turned out."
"I used the DI to play with the emotions using colour. I felt this film needed a mix of sadness and happiness. So some images are warmer and some are cooler. It's like life that way."
- Benoit Delhomme AFC
Delhomme used ARRI cameras and Cooke S4 primes lenses, along with Optimo zooms, especially the 15-40mm and the 28-76mm. For day interiors and exteriors, the cameras were loaded with Kodak Vision3 250D Colour Negative Film 5207. Twilight and night scenes were filmed on Vision3 500T Colour Negative Film 5219.
"I wanted the images to be organic," says Delhomme. "I needed to do the lighting for a medium I know. I limited the stocks to two. I didn't play with the process much. I exposed normally. The digital intermediate was done with my friend (colorist) Adam Glasman at Ascent Media in London. I used the DI to play with the emotions using colour. I felt this film needed a mix of sadness and happiness. So some images are warmer and some are cooler. It's like life that way."
Filmmaking rules-of-thumb dictate that comedy requires a wider frame, in order to incorporate more of the actor's body language. Delhomme says that Scherfig maintained a delicate balance in this regard.
"This film has some dramatic, emotional moments," he says. "Lone balanced the wide shots and the close-ups in a very sophisticated way. We use medium shots quite a bit as well. On this film, you need to see the sets. You need to see the props and the clothes, which indicate the period. We tried to provide as many options as possible, and she made a very beautiful story out of it."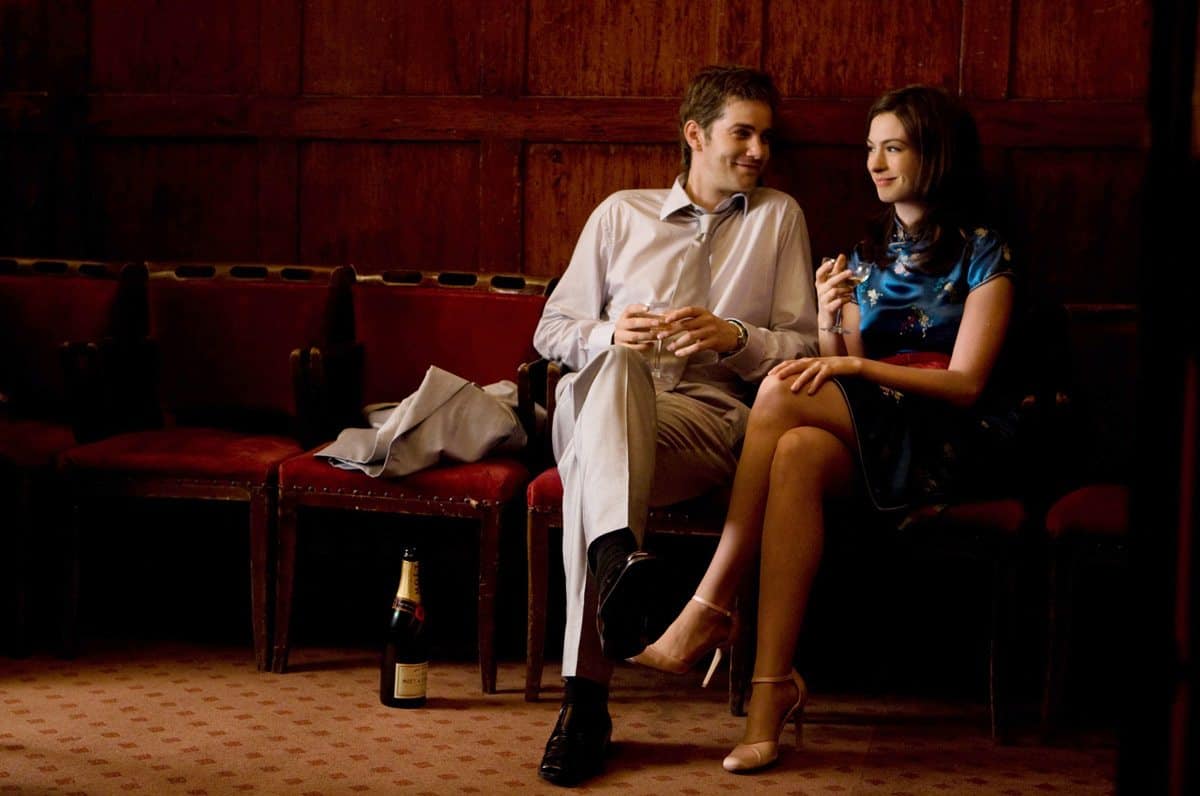 Delhomme says that his job was to push the emotion as far as possible. "When I think about Annie Hall, and the other movies Gordon Willis made with Woody Allen, the lighting is so beautiful," he says. "I don't know how they could achieve it. There is very little coverage, and you don't miss it. That's the kind of movie that made me want to become a cinematographer.
"I think this kind of filmmaking has a certain bravery that we are missing now," he says. "We always refer to the films of this period, the early 1970s, but we aren't brave enough now to make films that way. You always have someone saying 'Shouldn't we cover ourselves a bit more?'
"We have so many tools now," he says. "We just need good stories and good directors, and we have to believe in them."