Glastonbury Festival: Live at Worthy Farm was a project shot over seven days on location at Worthy Farm, the home of Glastonbury Festival. It comprised of 11 live music performances and nine spoken word performance interludes, with each artist captured and cut live in a bespoke location, with a tidy up edit the following day, to create a six-and-a-half-hour cinematic global live stream film. It was broadcast 24 hours after it finished shooting to viewers at home around the world and over 300 cinemas.
Director Paul Dugdale shares details about the ambitious project and the talented team and cutting-edge technologies responsible for recreating the spirit of the festival in film form. (Lead image credit: Adriano Martelli).
How did you first get involved with the film? Why was it important for you to be part of the project?
I was approached to be part of the project by the team at Driift Live and Emily Eavis and her husband Nick Dewey, who of course run Glastonbury Festival. I had previously directed The West Holts Stage at Glastonbury for the BBC, and during the last 18 months of COVID was lucky enough to have directed and exec produced two other high-profile live streams for Driift. I was also in the process of working on several projects with Coldplay at the time, who were engaged early in the LAWF project, so it seemed like a perfect fit.
Glastonbury is so important to me. It has been the gateway to creating so many incredible memories, both personal and professional. I've attended, as a happy camper, many times. It is the jewel in the crown of the live music year, and has a history so decorated and vast, it's a huge honour to have been a small part of its history. I was thrilled to be asked and it really meant a lot to be able to work with the team to attempt to recreate the spirit of the festival in film form. Recreating millions of peoples' favourite weekend of the year was a job steeped in both giddy excitement and nerve-racking responsibility.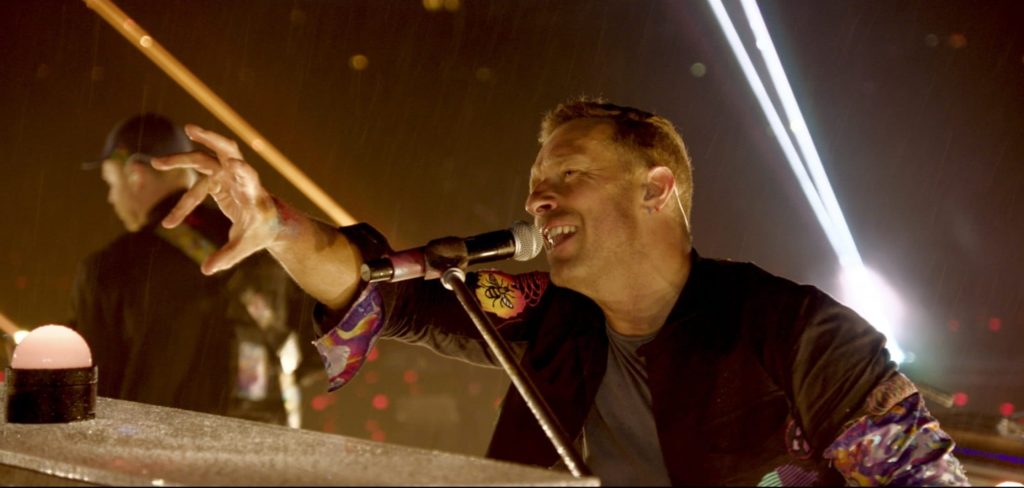 What made the film stand out from other productions you've worked on?
I have been lucky enough to do several projects which transcend just doing a job – it becomes a proper life experience. Touring Latin America with The Rolling Stones, for example, which I was lucky enough to make a film about in 2016, was not only incredibly rich for a filmmaker, but as a human being you are placed in such bizarre and sensational circumstances, you come away from it having truly grown as a person. It sounds so cheesy saying it like that, but it's really true. This project was the same sort of adventure. It was a step into the unknown. It's incredibly exhilarating and rewarding. The barometer for me is when you are working a crew really hard, with long hours and difficult conditions, but everyone is so full of energy and enthusiasm for the project despite all the challenges. For me, that's the measure of something special.
What creative references did you consider? What were your inspirations? What research was carried out?
In 2019, before COVID, hit I shot a live to air broadcast for Coldplay in the Amman Citadel, Jordan. It was location based, meaning that the environment really did a lot of heavy lifting in terms of creating an atmosphere and aesthetic for the piece, and strangely for that time, like this Glastonbury project, it didn't have a live audience. That film became a bizarrely prescient blueprint for a lot of my work during the pandemic.
For the Coldplay project, we had examined what we felt made a live capture engaging, and how to capture the humanism of a performance even without the exchange of energy that a live audience provides. I found it really fascinating and enlightening to dissect. It was live to air, so it was a straight performance without the option of doing anything again or doing multiple passes or pick-ups. There was something brilliant about that, so spontaneous and wild. My experience making that really informed how we approached Live at Worthy Farm.
Through my research there were of course a great deal of other inspirations and references which included obvious links such as Pink Floyd's Live at Pompeii, the 1971 Glastonbury Fayre film, Punch Drunk's The Third Day, through to less obvious things such as Bird Man, A Very Murray Christmas or Wim Wenders' Buena Vista Social Club. Using the environment as a character in the film was important, and many of the references use locations as a protagonist to help frame performance. I found that really interesting and important for this project.

What did your initial discussions about the look and feel of the film include?
One of the best things about actually being at a real Glastonbury Festival is stumbling across things that you weren't expecting, whether it's hidden bars, surprise DJ sets, strange interactive theatre, mind-blowing art installations or simply an artist you had never heard whose music you become obsessed with. A lot of the time, you come away from the festival with your favourite moment being something entirely unexpected. We really wanted to try to grasp that feeling of never quite knowing what's around the corner and translate it to the screen. Because the film has such an extraordinary ensemble cast, we had a great opportunity to create a sense of movement and a journey around the farm. This unpredictability carries great currency, and can be a very engaging device if managed well. We knew we wanted the performances themselves to also have a feeling of spontaneity and adventure, and to help promote this we didn't want to shoot the performances multiple times. I wanted it to feel like we were balancing on a line of documentary and movie, where performances felt super real and honest, but in an environment that we had manufactured or embellished. I wanted to capture 'a happening', imagining the performances were happening at Glastonbury already, but we just happened to be there with cameras.
We always wanted the viewer to feel physically close to the artists too. It's relatively rare for me to shoot artists without having to consider the live audience experience, which often results in camera positions being compromised and ending up further away than one would choose. Having that music video/movie proximity, while still being able to shoot wide shots of the artists in their environments without having a tonne of hardware blocking the way was a really fun challenge, but as a 'live' director, it was one I relished.
Another key thing was that it was vital that we moved this project away from the regular festival coverage aesthetic and created something new, and something that would feel at home in a cinema. The project deserved and earned that elevation, and I think that in this instance, changing the aesthetic like that demands the audience to be less passive in watching it because it feels like something less familiar which again is crucial to hold engagement for something like this.
How did you work with the cinematographers to ensure the creative vision was realised?
Myself and the cinematographers had a mutual vision for the aesthetic and feel of the film. That bit was easy. It was the mechanics of the execution which required a bit of work. Vital to a capture of this nature, when you only get one chance, is nailing camera positioning. I come from a camera background, having previously worked as a camera operator and photographer, so I am very conscious of what I want in terms of lensing and positioning, but because in every location we were coming to a unique set-up, we had to work very closely as a team to lens, rig and be set in time for each show.
The key team was headed up by DP Brett Turnbull. Brett was the overall DP and would carry out all the duties you would expect during each capture. Our schedule was such that we were shooting two artists a day in different locations across a 900-acre farm. Additionally, locations would be being de-rigged from the previous day and rigged for the following day. This meant we needed to be working and solving problems in multiple locations at the same time.
DP James Rhodes was essentially our 'advance party' who was able to prepare each of the following days' locations before we got there, based on a camera plot that I had created. We would collectively try to grab 10 minutes in each location the day before we shot, so that we could confirm lensing and positioning. Once there, camera supervisor Rob Mansfield got into the nitty gritty in terms of placement and making sure all the camera ops had what they needed. Each day we dived into something completely new, with very little time for rehearsal so we had to be really tight. Not only are they brilliant at what they do, but crucially those three guys are some of the coolest cats I've ever worked with, so even in the most high-pressure situations, we were never not smiling.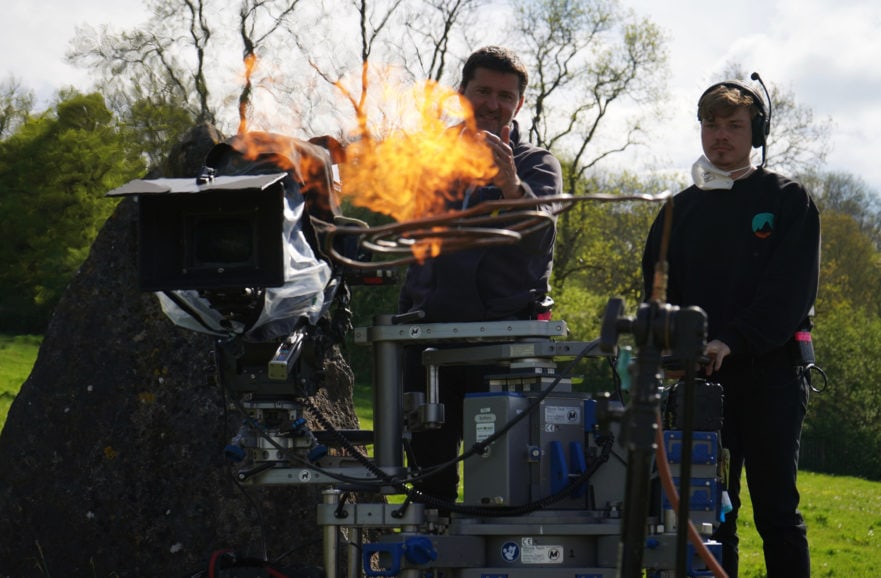 How did you make a film based around live performance feel cinematic?
I approach every live gig or performance like I would if I were shooting a drama scene. This isn't a music lesson. For me, music performance is about humans and their relationships. We are capturing and documenting people creating something. It's a very human and cerebral thing, so I always want to capture real passion, real tension, real drama, real escapism. Capturing relationships. There are so many tropes and bad habits in capturing music, often emerging from television performances driven by the fear of people turning the channel over. The appearance of something that is cut fast might 'seem' like it has energy and excitement, but often it doesn't, it's just a distraction from the fact that it doesn't have much energy or excitement.
We aren't interested in creating false energy like that. Creating true engagement with a viewer comes from somewhere else. The most basic example is having a close shot of a singer when they are not singing. In a lot of TV music coverage that would rarely happen, but the currency of seeing that, and the emotion on their face, is worth so much in creating feeling and emotion, which is what it's all about. Every decision is made to accent the drama of the music, just as one would do with a movie script. It's as simple as that. Punctuating, and emphasising emotion- that's what drives us, just as it would if we were shooting a scripted film. It's not just about a shallow depth of field.
Who made up the core filmmaking team you worked most closely with and why do you think those collaborations were so successful?
It was an incredibly complex workflow as the project had to be so fast moving. We were outside every day, but there was no option of not capturing an artist on their scheduled day so every day felt very fragile and vulnerable. People key to me are the obvious ones. Number one was producer Amy James. She was the pilot of the whole project and able to drive it forward in an incredible way. Scheduling something like this was like cracking the enigma code and she did it brilliantly across the whole project. My other key conspirators were my galley team: AD Hayley Collett and live vision mixer Dan Winterburn, the DPs and camera team, lighting director Tim Routledge, the art directors and co-creatives, Stephen Gallagher and Gideon Berger from Block9, technical director Peter Taylor, Emma Reynolds-Taylor who was responsible for all the staging, 2nd unit director Bartleberry Logan, Tom Watson, Ben Wainwright-Pearce, and Leo Manning-Jones, the astounding sleep deprived edit team, and of course working with the team from Driift Live and Emily and Nick from Glastonbury were all my closest conversations.
Team work was absolutely crucial, as was patience and sense of humour. We were really at the mercy of the weather, so decisions often had to be made very late in the day. Even with the best preparation, there was constant pressure, last minute changes, pivots, but that's all part of the job really, and what made it so unique. I felt very lucky with the team we put together. I have never done a job where we were so utterly reliant on the talents of each department to pull it off, creating things so accomplished at pace, even though in many instances the final touches were being made as the artists were walking to stage.
How did you use framing and composition creatively throughout the visual storytelling?
For me, the storytelling of live music is about relationships, so that guided our choices. A band's relationship with one another, and their relationship with the environment were the things that really drove our approach.
What benefits and challenges did the shooting locations deliver?
Benefits were broad. Live music is synonymous with a dark room. Rock 'n' roll lighting. A proscenium stage. When you remove all those things, and quite literally think outside the box, you get the same performance from the artist but in a completely new environment. This unfamiliarity and fresh dynamic immediately feel exciting to watch. In this instance, in an ensemble cast film, each different location provided a bespoke environment/ready-made stage for each artist, so it constantly felt as though the film and its aesthetic was evolving.
Even with The Stone Circle, a landmark location for the festival and a space we return to three times in the film, we ensured that we would not only change the master orientation of each artist, but consciously placed the performances at different times of the day – during daylight, at sunset, and at night-time – so every time we returned the environment felt unique, and different, despite its recognisable aesthetic.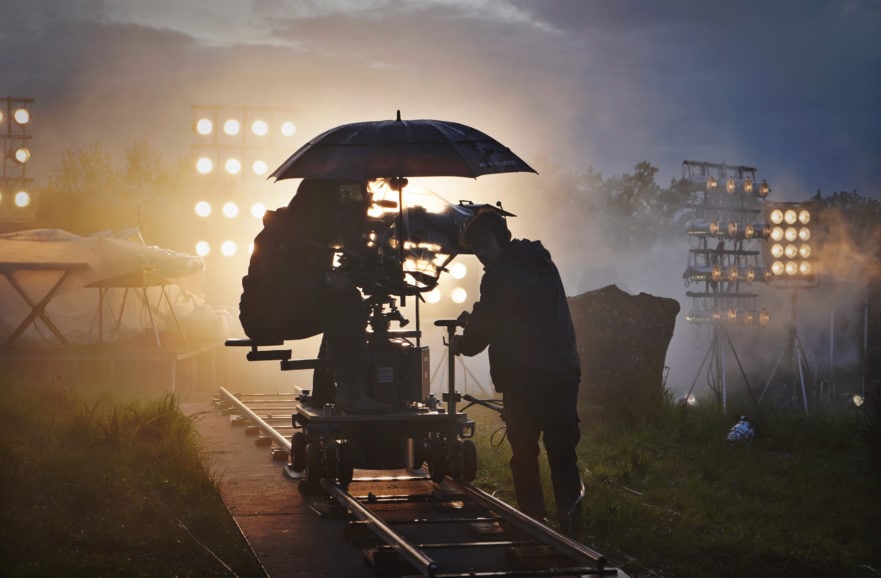 Challenges were enormous. I think everyone knows, the farm during the festival can be an unforgiving, unhospitable environment, and so if you add in all that camera kit, band equipment, and staging, it is hugely challenging. During our seven days shooting, we had several severe weather warnings. One such warning caused us to completely shut down the power of the entire unit due to a lightning threat. The farm is set over 900 acres so moving locations was a big deal and time consuming. We were shooting a minimum of two locations per day. Some of those location moves required a complete unit move, driving our arctic-sized trucks across a water-logged farm. Rain was our biggest challenge, and luckily we had some very hardy artists who were prepared to risk completely trashing their gear for the sake of a good performance. The weather gave the film incredible texture, and I think Kano and Coldplay's performances, where it was pretty torrential, weirdly benefitted from it, but it added immense pressure to an already challenging project.
What camera package did you use and why was it so well suited to the production?
Cameras were ARRI Alexa Minis and Amiras shooting S35. I love the ARRI aesthetic. Lenses were a mixture of Angenieux, Canon, Fuji, and Cooke, depending on what best suited the application. Remarkably, we had absolutely no technical problems with any of the tech, despite it being outside for the entire time. A real testament to the team and the kit.
Who supplied the equipment?
The team at Procam Take 2 supplied the majority of the kit. Set-ups ranged from six to 12 cameras. The run up to the project was complicated to navigate for several reasons, so we weren't able to green light anything until incredibly late in the day. Procam Take 2 were very courageous in getting involved at a late stage and I was very grateful for them taking something on when they knew it would be under immense pressure. They were faultless.
Ever conscientious, the BBC technical director Peter Taylor told me after we had wrapped that they had brought a small compliment of TV cameras should we need it "just in case". We were fine despite the tough working environment and together with Procam Take 2, Arena, and the BBC with Peter Taylor at the helm, did an absolutely stellar job in the project's technical execution.
How did you use camera movement throughout?
Movement as a whole for this production was incredibly important. We wanted to show the whole of the farm and give the viewer the impression of moving from one area of the site to another, just as you would if you were at the festival for real. Within the performances themselves, we really treated our shooting approach very differently for every artist. We used camera movement as an accent to complement the different styles of music, and it's crucial to me, in anything I do, that those elements are intrinsically linked. This helped make the performances feel bespoke to each artist. For example, Wolf Alice was predominantly a handheld, almost documentary verité approach. Damon Albarn was slow and elegant. The Smile (Radiohead's Thom Yorke and Jonny Greenwood with Drummer, Tom Skinner) were completely locked off and awkward, leaving some cameras entirely unmanned. Kano was lots of first-person perspective, him playing to camera. Idles was completely berserk. At the top of my notes for Idles I had written, 'Make virtually unwatchable'.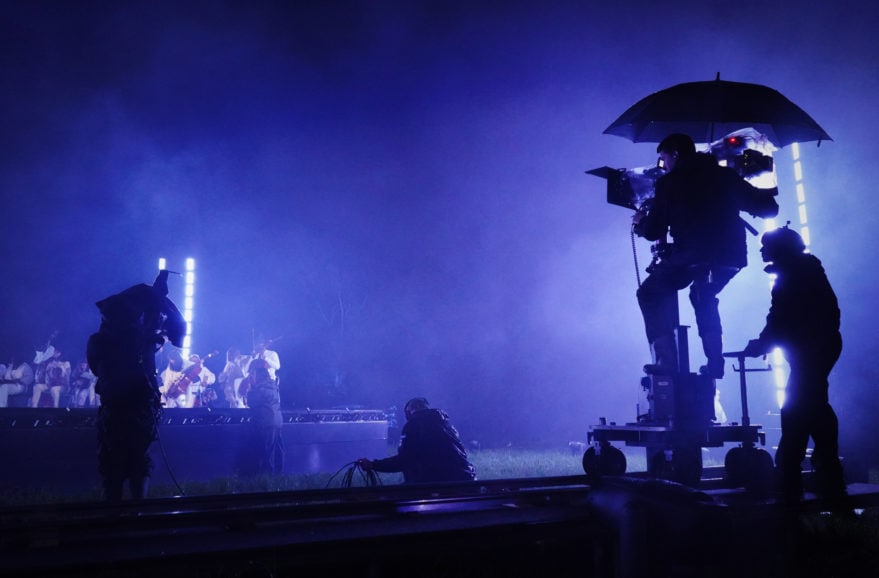 With each performance we wanted to drive points of difference between artists, so changing the shooting approach whilst always being guided by the music was very important to create colour and texture to the overall feel of the film. I have always done that for multi-artist captures. Even when working for the BBC on regular television coverage for Glastonbury, I would constantly shift the camera plot throughout the day during the band changeovers, guided by the type of music the next artist was playing and what would suit each performance more appropriately.
How did you capture the action of the live performances?
Our method for capturing the action was different for every artist. A common key value across the performances was always switching between something intimate and something epic. Shifting the sense of scale throughout the capture, and reminding the viewer that this is all happening in a really interesting and amazing environment. Generally, though, the approach for capturing action had to change each time because of the variety of set-ups and environments we were shooting in.
For Coldplay, for example, I requested a circular stage so not only could we easily get around the whole band, and look in every direction, it also really promoted linking the band members together and seeing their relationships, creating more warmth, as well as having versatility in terms of coverage for all the different instrumentation they had on stage. Kano, on the other hand, was more like a contemporary theatre piece. We covered it with a focus very much on first-person perspective, as though the viewer was stood on stage with him a lot of the time. It made the confrontation and drama of the lyrics so powerful and direct, but also meant that when we stepped away from that angle, the change felt more dramatic and impactful.
What camera tricks, effects and new techniques did you use?
We used lots of different approaches to camera placement and grip, but I'm not sure I could say anything was brand new. Track and dolly, Steadicam, tower cam, drone, remote dollies, helicopter, hotheads, tracking vehicle. There was lots of it, but all standard fair. We consciously didn't want to be too 'effects' orientated on this one because we wanted everything to feel 'real', and more like a hybrid between documentary and movie, than anything overly artificial.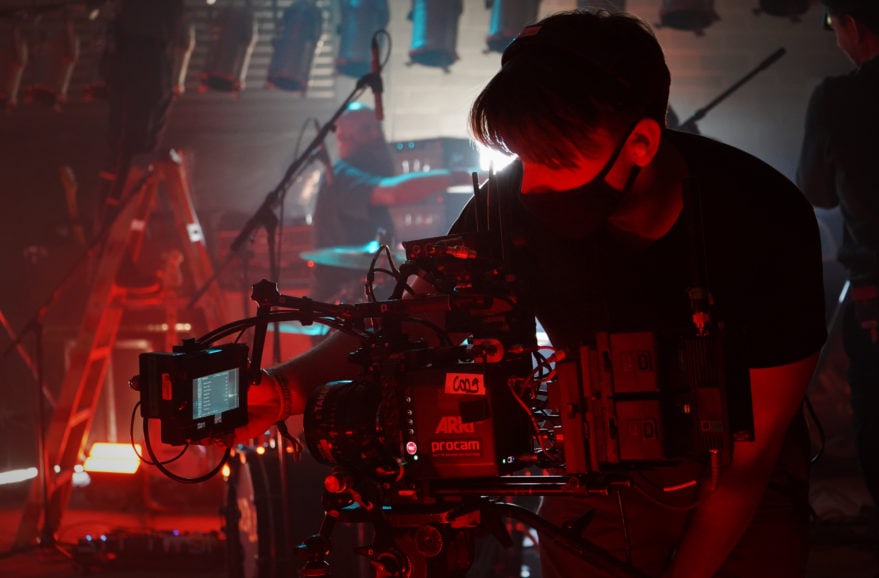 I think the most experimental it got was our mini cam set up for Radiohead off shoot, The Smile. We wanted to have really low-grade CCTV style 4:3 mini cams shooting the band, but also have them available to us in mission control where we were live cutting everything. Richard Turner and team and their van emblazed, provided a solution where we were able to reach the precise level of weirdness that we deemed great. The back of his van looked like a mad professor's lab, with all manner of cable spaghetti and special junction boxes. He would affect the cameras live while we were shooting by touching wires together and disrupting the video signal. It really was incredible to see such an accomplished and versatile solution creating something so destructive and subversive. It was wonderful to watch and meant we could have precise control of it in the moment, making it more and more odd as the music grew in ferocity.
What was your approach to lighting?
Tim Routledge was the project's lighting designer and, along with the art directors Block9, was an absolute lynch pin in helping create the looks that ended up on screen. He is such a versatile and creative designer, and his experience and resourcefulness really were essential to the success of the project, particularly given the pressure from time and weather that we were working under.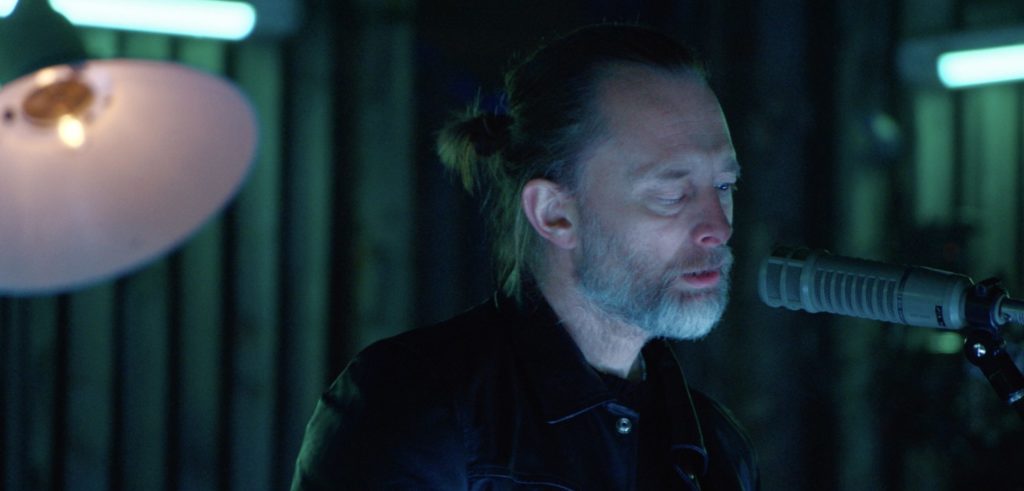 Tim engaged with the artists and their teams to design lighting for the majority of the individual performances, but crucially for me, it meant that he had a sense of the palette for the whole film. This was very advantageous to us in terms of seeing this as a complete piece and not just a collection of disparate performances. It meant the lighting approach and aesthetic could be curated to work for both the artists 'in the moment' and the piece as a whole, preventing any obvious repetition or similarity in aesthetic, allowing us to create more of a sense of evolution and surprise.
How did you use natural light?
Natural light was really important to us. Again, it comes down to audience expectations. For the film's opening performance by Wolf Alice, for example, I wanted to lean on the spirit of the 1971 film of the first ever Glastonbury, Glastonbury Fayre. This film was very much a DIY type recording. All first-person documentary verité approach. My creative for Wolf Alice's was essentially that there was 'no creative' and we kick the film off by stripping everything back to the simplicity of the natural environment and the artist. It was just so pure. Seeing a band performing in the Stone Circle for the first time ever. That's it. No lighting whatsoever or any fancy effects. The result is so powerful because it feels so real, and again, it comes down to seeing an incredible, passionate performance in a relatively 'normal' environment. That in itself creates an incredibly intoxicating friction that can be so powerful from doing so little.
We also used daylight to help illustrate time. The broadcast started at 7pm and we wanted the light level of the performances to follow the real time of day, so that as a viewer you could really feel the change from day, through sunset and into the night. When you are at Glastonbury or any festival, sunset and the arrival of the night is a real marker for your day and the anticipation of the adventures one might have after the sun sets. If you're really convicted, you might even see it come up again.
How did you approach the grading?
Before each artist we would set a camera look. In the past I have used live grade, where we have been colouring using Resolve in real time, during live to air broadcasts, to great effect. On this project, to protect budget and workflow, we painted the cameras live through Arena's truck. Vision supervisor Mark Dunning, under the guidance of DP Brett Turnbull and myself, would set the aesthetic ahead of recording. The post-production workflow didn't allow for each set to be coloured post record, so live painting was the only option. Mark and his team did a fantastic job in realising our vision.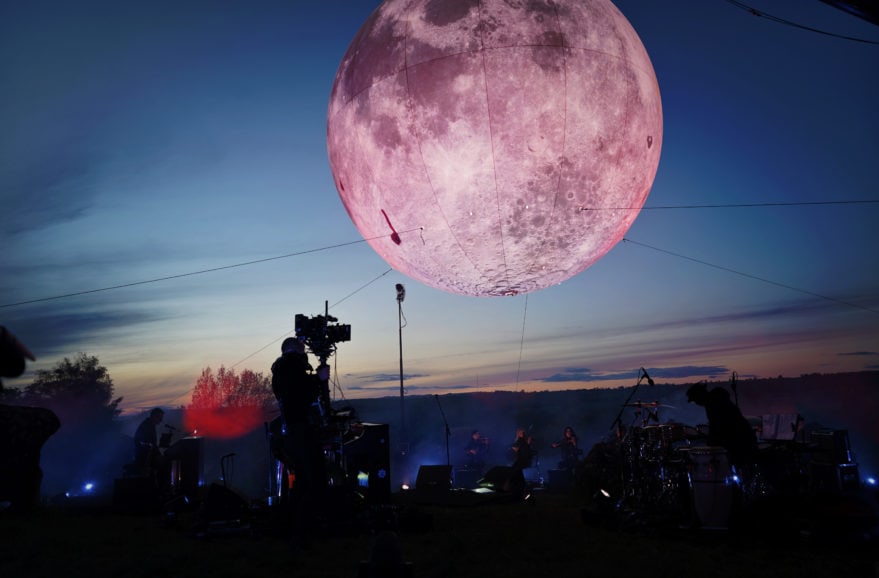 What were the biggest challenges the production presented and how did you overcome them?
COVID, severe weather, logistics of artists, schedule of delivery, and an enormous 900-acre location. There was a litany of challenges which made this undoubtedly the hardest project I have ever been part of pulling off. It was very long hours, but above all, it was the type of project driven by uncertainty, such is the price when filming almost entirely outside for a week, in very unpredictable weather, without being able to break schedule. Because of this we just had to be very reliant on each department and on the crew being absolutely at the top of their game and coming through with the goods every time. We were incredibly lucky in that sense, but in many ways, it highlights how collaboration and team spirit is so essential and wonderful, particularly when emerging back into the world post COVID. It was thrilling to see everything come together each day.
What was your proudest moment throughout the production process?
Well, the sense of pride was slightly stunted because the initial first broadcast was delayed due to faulty encryption codes for ticket buyers. The problem was resolved with only a relatively small percentage of people effected, but it was fairly excruciating in the moment. Micheal Eavis (the festival's 85-year-old creator) had gone to his local working men's club in the village to watch it with his friends. Their live stream worked perfectly fine, and I heard he liked it. I think that was one of the proudest moments – knowing that he had enjoyed it. His approval meant a lot to me, as someone who loves his festival so much.
What lessons did you learn you will take with you onto future productions?
For me, it really crystalised ideas about what the essence of live music capture is all about. Identifying the key values and ingredients that are required to make a record of something special. I feel very lucky to have had the opportunity to be part of a project that attempted to do just that.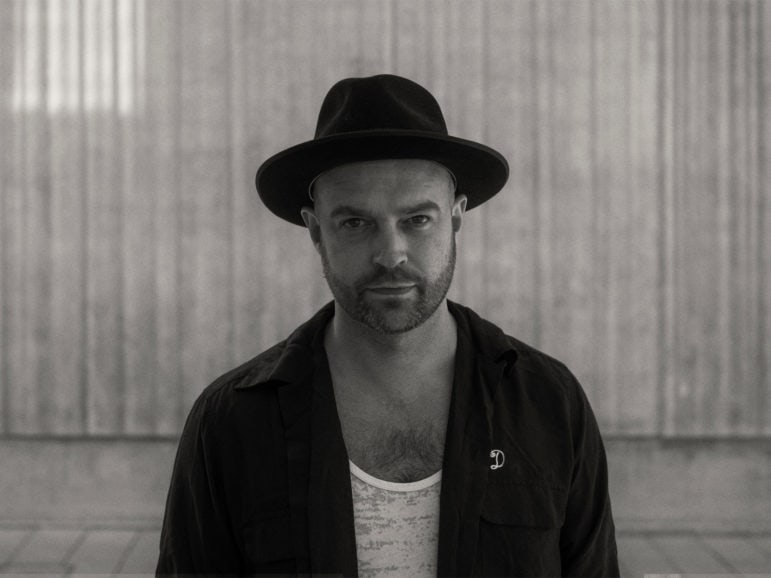 Lead image credit: Adriano Martelli